krainaksiazek one bite at a time eating that works 20111248
- znaleziono 10 produkty w 2 sklepach 77,19 zł
Książki / Literatura obcojęzyczna
Top 25 Ways to Stay Slim If you control your mind you control your weight and eating habits.
Sklep: Libristo.pl 36,60 zł
Powieści i opowiadania
'When people ask me what I do for a crust and I tell them that I'm a novelist, they immediately assume that my life is a non-stop carousel of limos, television appearances, hair-dos, devoted fans, stalkers and all the glitzy paraphernalia of being a public figure. It's time to set the record straight. I write alone, in a darkened bedroom, wearing my PJs, eating bananas, my laptop on a pillow in front of me ...' Her novels are adored by millions around the world
Sklep: Albertus.pl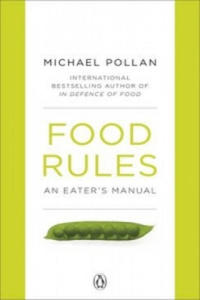 36,77 zł
Książki / Literatura obcojęzyczna
In sixty-four bite-sized pieces of advice, Michael Pollan's "Food Rules" tells you everything you need to know to eat healthily, dine happily and live well. Eat food. Mostly plants. Not too much. Using those seven simple words as his guide, internationally-acclaimed food journalist Michael Pollan offers this indispensable handbook for anyone concerned about health and food. Sensible, easy to use and written in plain English, "Food Rules" is a set of memorable adages designed to help you eat real food in reasonable amounts, gathered from a wide variety of sources: nutritionists, anthropologists, ancient cultures - and grandmothers. Whether at the supermarket, a restaurant or an all-you-can-eat buffet, this handy, pocket-size resource is the perfect manual for anyone who would like to become more mindful of the food we eat. "In more than four decades I have come across nothing more intelligent, sensible and simple to follow than these principles". ("The New York Times"). "Instantly makes redundant all diet books and 99 per cent of discussions around healthy eating...Sense, at last". ("Daily Mail" praise for "In Defence of Food"). "Pollan invites us to grab our pots and pans and cook some real food for dinner". ("Time Out", praise for "In Defence of Food"). "Read this witty book for a healthier life and diet". ("The Times", praise for "In Defence of Food"). Michael Pollan has been writing for over twenty years about the places where the human and natural worlds intersect: food, agriculture, gardens, drugs, and architecture. "The Omnivore's Dilemma", about the ethics and ecology of eating, was named one of the ten best books of 2006 by the "New York Times" and the "Washington Post". He is also the author of "The Botany of Desire", "A Place of My Own" and "Second Nature" and, most recently, "In Defence of Food".
Sklep: Libristo.pl 339,41 zł
Książki / Literatura obcojęzyczna
Granular Modernism understands the way that some Modernist texts put themselves together as a way of pulling themselves apart. In this volume, Beci Carver offers a new way of reading Modernist novels and poems , by drawing attention to the anomalies that make them difficult to summarise or simplify. Carver proposes that rather than trying to find the shapes of narrative or argument in their writing, the 'Granular Modernists' - namely, Joseph Conrad, William Gerhardie, Evelyn Waugh, Henry Green, T.S. Eliot, W.H. Auden, and Samuel Beckett - experiment in certain of their works in finding the shapelessness of a moment in history that increasingly confidently called itself 'modern', which was to call itself shapeless. The project of Modernism in the late nineteenth and the first half of the twentieth century, was to find a story to tell about an era full of beginnings. The project of 'Granular Modernism' was to find a way of turning the inchoateness of the modern moment into art. Granular Modernism takes from the Naturalist movements of the nineteenth and early twentieth century its attentiveness to the process of mundane experiences like eating or waiting. But where Naturalism sets out to offer a complete picture of a way of life, Granular Modernism's eating and waiting fail to amount to anything more; to paraphrase Evelyn Waugh: 'The most they can hope for is a cumulative futility.' Frank Norris once described one of Stephen Crane's narrators as: 'a locust in a grain elevator attempting to empty the silo by carrying off one grain at a time.' Norris is being dismissive. But his image of pointless, meticulous, indefinite manoeuvre potentially defines the ambition of the Granular Modernists.
Sklep: Libristo.pl 178,23 zł
Książki / Literatura obcojęzyczna
"It is a truth universally acknowledged, that a single man in possession of a good fortune must be in want of a wife."So begins Pride and Prejudice, Jane Austen's perfect comedy of manners--one of the most popular novels of all time--that features splendidly civilized sparring between the proud Mr. Darcy and the prejudiced Elizabeth Bennet as they play out their spirited courtship in a series of eighteenth-century drawing-room intrigues. "Pride and Prejudice seems as vital today as ever, " writes Anna Quindlen in her introduction to this Modern Library edition. "It is a pure joy to read." Eudora Welty agrees: "The gaiety is unextinguished, the irony has kept its bite, the reasoning is still sweet, the sparkle undiminished. [It is] irresistible and as nearly flawless as any fiction could be." This volume is the companion to the BBC television series, a lavish production aired on the Arts and Entertainment Network.The Modern Library has played a significant role in American cultural life for the better part of a century. The series was founded in 1917 by the publishers Boni and Liveright and eight years later acquired by Bennett Cerf and Donald Klopfer. It provided the foun-dation for their next publishing venture, Random House. The Modern Library has been a staple of the American book trade, providing readers with affordable hard-bound editions of important works of liter-ature and thought. For the Modern Library's seventy-fifth anniversary, Random House redesigned the series, restoring as its emblem the running torchbearer created by Lucian Bernhard in 1925 and refurbishing jackets, bindings, and type, as well as inau-gurating a new program of selecting titles. The ModernLibrary continues to provide the world's best books, at the best prices.
Sklep: Libristo.pl
53,87 zł
Książki / Literatura obcojęzyczna
Willpower. You've either got it or not, right? Wrong! Willpower can be taught and learned just like any other skill. And it's something that can be trained and strengthened. Willpower For Dummies shows you in seven easy steps how to improve your willpower. Inside you'll find out: * How to how to set goals * How to train your willpower * Simple exercises for strengthening your willpower * Coping strategies for those days when you're at risk of breaking. Whether you have a specific goal in mind, a habit you want to break, or you simply want to exercise a little more self-control in life (who doesn't?), this book is for you. The core of the book is the seven step approach: * Train your willpower! Exercises such as making yourself sit up straight at your desk can have surprising benefits in other, more difficult, areas like resisting temptation to eat or drink too much. * Choose the right goal at the right time: Willpower works best when focused on one thing rather than many. * Change takes time: Especially if using willpower to change established habits like eating too much, drinking too much or smoking. * Identify those situations where your willpower is challenged: Anticipating these scenarios gives you time to prepare a game plan. * Be kind to yourself when you fail: Learn from any setbacks. You are not back at square one. * Reward yourself (for successes and effort): By overriding certain impulses we can be depriving ourselves of sources of gratification. It is crucial to find other sources of gratification, pleasure or reward. * Maintain your progress: Simple techniques can help you maintain your motivation, even on the toughest day.
Sklep: Libristo.pl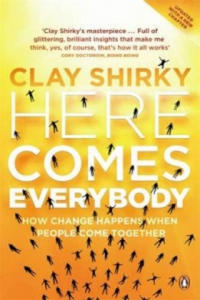 45,22 zł
Książki / Literatura obcojęzyczna
Clay Shirky's international bestseller "Here Comes Everybody: How Change Happens When People Come Together" explores how the unifying power of the internet is changing the character of human society. Welcome to the new future of involvement. Forming groups is easier than it's ever been: unpaid volunteers build Wikipedia together in their spare time, mistreated customers can join forces to get their revenge on airlines and high street banks, and one man with a laptop can raise an army to help recover a stolen phone. The results of this new world of easy collaboration can be both good (young people defying an oppressive government with a guerrilla ice-cream eating protest) and bad (girls sharing advice for staying dangerously skinny) but it's here and, as Clay Shirky shows, it's affecting...well, everybody. For the first time, we have the tools to make group action truly a reality. And they're going to change our whole world. "As crisply argued and as enlightening a book about the internet as has been written". ("Daily Telegraph"). "As usable as the technology he writes about". ("Independent"). "Clay Shirky's masterpiece ...glittering, brilliant insights that make me think, yes, of course, that's how it all works". (Cory Doctorow, co-editor of "Boing Boing"). "Anyone interested in the vitality and influence of groups of human beings - from knitting circles, to political movements, to multinational corporations - needs to read this book". (Steven Johnson, author of "Everything Bad is Good for You" and "Emergence"). Clay Shirky writes, teaches, and consults on the social and economic effects of the internet. A professor at NYU's Interactive Telecommunications Program, he has consulted for Nokia, Procter and Gamble, News Corp., the BBC, the US Navy, and Lego. Over the years, his writings have appeared in "The New York Times", the "Wall Street Journal", the "Harvard Business Review", "Wired", and "IEEE Computer".
Sklep: Libristo.pl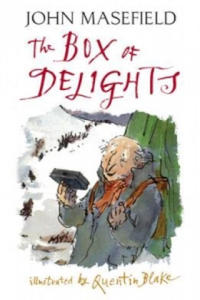 38,24 zł
Książki / Literatura obcojęzyczna
'Two of the greatest children's books ever written' - The Times on Box of Delights and The Midnight Folk. 'And now, Master Harker, now that the Wolves are Running, perhaps you could do something to stop their Bite?' A magical old man has asked Kay to protect the Box of Delights, a Box with which he can travel through time. But Kay is in danger: Abner Brown will stop at nothing to get his hands on it. The police don't believe Kay, so when his family and the Bishop are scrobbled up just before Christmas, he knows he must act alone ...John Masefield's classic children's book is considered to be one of the great works of modern children's fiction. Magical, fantastical and filled with vivid, rich characters - brought to life in this edition by Quentin Blake's stunning artwork - The Box of Delights and its sequel The Midnight Folk are a must-read for any child.
Sklep: Libristo.pl 91,20 zł
Książki / Literatura obcojęzyczna
Take a bite out of all your Mac has to offer with this bestselling guide§§So, you joined the cool kids club and bought a Mac. Kudos! Now, do you dare admit to your sophisticated Mac mates that you still need some help figuring out how it works? No worries, Macs For Dummies is here to help! In full color for the first time ever, the latest edition of this long-running bestseller takes the guesswork out of working with your new Mac, providing easy-to-follow, plain-English answers to every possible question in the book!§§Whether you're trying to figure out the basics of getting around the OS X interface, learning the ins and outs of turning your Mac into a sleek productivity tool, or anything in between, Mac For Dummies makes it fast and easy to navigate your way around your new Apple computer. You'll get the know-how to rocket into cyberspace, browse the Web, send messages, back up files to the Cloud, deal with security issues, get productive with leading Mac apps, and have fun with one-stop shopping for music, movies, and media.§Navigate OS X El Capitan with confidence and ease§Use your Mac to power your audio and video systems§Add your Mac to your home network§Troubleshoot common problems when your Mac starts misbehaving§§Fully updated to cover the latest hardware and software releases, Macs For Dummies offers everything you need to get your geek on--and make your Mac your minion.
Sklep: Libristo.pl 36,77 zł
Książki / Literatura obcojęzyczna
This is the number one bestseller in France and Italy, from Francoise Heritier, The Sweetness of Life is a beautiful and poetic list of the everyday reasons that make life worth living. If you assume an average life expectancy of 85 years, and deduct the hours we spend daily on sleeping, shopping, eating, working, tending to our relationships and on everything else that is obligatory, then how much time is left for the average person to enjoy those activities that are the sweetness of life? For Francoise Heritier, it is those activities, those moments that make up pure sensuality, the actual experience of humanity. These are the moments we all cherish: wild laughter, coffee in the sun, the bliss of fresh autumn evenings, running in warm rain, long conversations at twilight, kisses on the back of the neck, the moment when all nature falls silent, those times when you know that someone likes you, is looking at you and listening to you, cooking a complicated dish, feeling agile and sprightly, getting back together with friends you haven't seen in ages, watching a craftsman at work, listening to other people. "There's still so much else that I forget", says Heritier, and she goes on to list, with heart-warming and heart-breaking specificity, all that we so easily miss if we do not attend to the lightness and grace in the simple fact of existence, life's sweetness. What about you, what would you miss if all this had to disappear from your life forever? "A series of perceptions, sensations, eddies, and happiness of writing that gives a real intensity to the existence ...a true wonder". (Laure Adler). Francoise Heritier, an anthropologist, is Emeritus Professor at the College de France and the Ecole des Hautes Etudes en Sciences Sociales. She is the author of such highly successful works as Masculin/feminin and De la violence, translated into more than ten languages. Le Sel de la Vie (translated into English as The Sweetness of Life) is a French bestseller.
Sklep: Libristo.pl
Sklepy zlokalizowane w miastach: Warszawa, Kraków, Łódź, Wrocław, Poznań, Gdańsk, Szczecin, Bydgoszcz, Lublin, Katowice
Szukaj w sklepach lub całym serwisie
2. Szukaj na wszystkich stronach serwisu
t1=0.046, t2=0, t3=0, t4=0.021, t=0.046