krainaksiazek one bite at a time eating that works 20111248
- znaleziono 13 produktów w 2 sklepach 75,52 zł
Książki / Literatura obcojęzyczna
A Year of Mindful Living includes 365 practical and accessible pieces of advice that can be easily incorporated into everyday life. The book works on the principle that the cumulative effect of such simple changes and moments of awareness will enable noticeable, holistic improvement. Distributed evenly across four seasonal chapters, the entries cover nutrition, mind, relationships, physical environment, fitness and natural beauty - so everything from eating blueberries to watching a sunset. This book is there to help you realise how many lifestyle choices - the food you eat, the gestures you make, your pastimes, the way you think - are within your power to change for the better. It is about taking control and being attuned to your mind and body, and in doing so take positive steps towards wellbeing. Beautifully presented with full-colour photography, A Year of Mindful Living is designed to inspire and enrich, through small changes that can make a big difference. This ultimate lifestyle guide promotes mindfulness, a focus of attention that is the cornerstone to psychological acceptance, control and contentment.
Sklep: Libristo.pl 36,60 zł
Powieści i opowiadania
'When people ask me what I do for a crust and I tell them that I'm a novelist, they immediately assume that my life is a non-stop carousel of limos, television appearances, hair-dos, devoted fans, stalkers and all the glitzy paraphernalia of being a public figure. It's time to set the record straight. I write alone, in a darkened bedroom, wearing my PJs, eating bananas, my laptop on a pillow in front of me ...' Her novels are adored by millions around the world
Sklep: Albertus.pl 34,24 zł
Książki / Literatura obcojęzyczna
Most of us, most of the time, wish we could lose a bit of weight. The figures show that in the West virtually 50 per cent of the adult population is actually overweight-and that one in three women and even one in five men is on a diet at any one time. But what kind of diet? Too many people, it is to be feared, are slavishly following faddish systems that make unrealistic demands on the body, whether in terms of nutritional balance or paucity of taste. Further, most extreme low-calorie diets will only produce temporary (and often unhealthy) weight losses due to the fact that your body is retaining less water: start eating normally again and the weight will come right back. It's only common sense that what the weight-conscious majority need is an eating plan that works for life - that doesn't make grandiose claims about shedding 10 pounds in 10 days but provides an appetising menu of culinary variations that gets your body regularly eating the right nutrients in the right amounts - so you head inexorably for your right weight. This book aims to do just that. It's founded on the crucial principle of combining carbohydrates, proteins and fats in the correct proportions so as to maximise the body's fat-burning potential without compromising on good nutrition. After a friendly explanatory introduction, there are over 100 recipes for all occasions, and a 7-day menu to get you started. Reassuringly, many of the dishes here are fat-burning versions of old favourites so you needn't lose all your old culinary friends just because you want to lose weight.
Sklep: Libristo.pl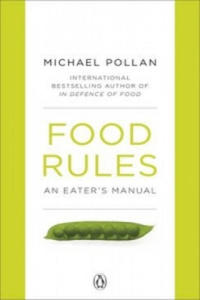 35,20 zł
Książki / Literatura obcojęzyczna
In sixty-four bite-sized pieces of advice, Michael Pollan's "Food Rules" tells you everything you need to know to eat healthily, dine happily and live well. Eat food. Mostly plants. Not too much. Using those seven simple words as his guide, internationally-acclaimed food journalist Michael Pollan offers this indispensable handbook for anyone concerned about health and food. Sensible, easy to use and written in plain English, "Food Rules" is a set of memorable adages designed to help you eat real food in reasonable amounts, gathered from a wide variety of sources: nutritionists, anthropologists, ancient cultures - and grandmothers. Whether at the supermarket, a restaurant or an all-you-can-eat buffet, this handy, pocket-size resource is the perfect manual for anyone who would like to become more mindful of the food we eat. "In more than four decades I have come across nothing more intelligent, sensible and simple to follow than these principles". ("The New York Times"). "Instantly makes redundant all diet books and 99 per cent of discussions around healthy eating...Sense, at last". ("Daily Mail" praise for "In Defence of Food"). "Pollan invites us to grab our pots and pans and cook some real food for dinner". ("Time Out", praise for "In Defence of Food"). "Read this witty book for a healthier life and diet". ("The Times", praise for "In Defence of Food"). Michael Pollan has been writing for over twenty years about the places where the human and natural worlds intersect: food, agriculture, gardens, drugs, and architecture. "The Omnivore's Dilemma", about the ethics and ecology of eating, was named one of the ten best books of 2006 by the "New York Times" and the "Washington Post". He is also the author of "The Botany of Desire", "A Place of My Own" and "Second Nature" and, most recently, "In Defence of Food".
Sklep: Libristo.pl 94,72 zł
Książki / Literatura obcojęzyczna
Source: Wikipedia. Commentary (films not included). Pages: 99. Chapters: Pink film, Daydream, Wife to Be Sacrificed, Go, Go Second Time Virgin, Rape! 13th Hour, Ichijo's Wet Lust, The World of Geisha, Watcher in the Attic, Bitter Sweet, Inflatable Sex Doll of the Wastelands, Tokyo Emmanuelle, Fairy in a Cage, Women... Oh, Women!, Flower and Snake, Apartment Wife: Affair In the Afternoon, Whore Angels, Love Hunter, Sopping Wet Married Teacher: Doing It in Uniform, A Woman Called Sada Abe, Naked Seven, Pink Tush Girl, The Glamorous Life of Sachiko Hanai, A Lonely Cow Weeps at Dawn, Uncle's Paradise, Maid-Droid, Beauty's Exotic Dance: Torture!, Castle Orgies, Irresistable Angel: Suck It All Up, Lovers Are Wet, Lunch Box, Assault! Jack the Ripper, Horse and Woman and Dog, Frog Song, Spanking Love, Lolita: Vibrator Torture, Lady Black Rose, Ambiguous, Female Cats, Molester's Train Housewife: Madam is a Pervert, Big Tit Sisters: Blow Through the Valley, Woman on the Night Train, Molester's Train: Nasty Behavior, Hard Lesbian: Quick and Deep, Terrifying Girls' High School: Lynch Law Classroom, Zoom In: Rape Apartments, Office Lady Love Juice, Rope Cosmetology, Fascination: Portrait of a Lady, Angel Guts, Beads From a Petal, Rope and Skin, Cruelty: Black Rose Torture, Hard Lesbian: Genuine Tongue Technique, Rope and Breasts, Subway Serial Rape: Lover Hunting, Retreat Through the Wet Wasteland, Office Lady Rope Slave, Keep on Masturbating: Non-Stop Pleasure, Slave Widow, Invisible Man: Rape!, Widow's Perverted Hell, Birth Control Revolution, Attacked!!, Female Ninja Magic: 100 Trampled Flowers, Twitch - You Are My Toy, Oryu's Passion: Bondage Skin, Deep Throat in Tokyo, Lady Chatterley In Tokyo, Anarchy in Japansuke, Rope Hell, Perverted Criminal, Chikan Densha: Suggestive Indecent Hips, S&M Hunter, The Lustful Sister-in-Law 2: Erotic Games, Aspiring Home Tutor: Soiled Pure Whiteness, Lusty Sisters, Koichiro Uno's Wet and Swinging, New Tokyo Decadence - The Slave, Blue Film Woman, Banned Book: Flesh Futon, Office Lady's Sexual Confession: Burning Love Affair, Bed Dance, Girl Boss Guerilla, Miss Peach: Peachy Sweetness Huge Breasts, Abnormal Excitement: Nao Saejima, Coed Report: Yuko's White Breasts, Temptation: Eating Me, The Bite, Girl Mistress, Apartment Wife: Adulterous Passion, Public Lavatory: I've Been Loitering, Molester's Bus 2: Heat of the Over Thirty, Absolutely Secret: Girl Torture, Three Naked Sisters: Lewdness, Sexy Battle Girls, Eighteen Year-Old, Uniform's Breast, Sister-in-Law's Wet Thighs, Moon Light Dinner, Newlywed Hell, Entrails of a Virgin, School of the Holy Beast, SM Teacher: Tied Up by Students, Married Women Who Want a Taste, Obscene Stalker: It Holds in Darkness!, New * Desired Sister-in-Law: Immoral Relations, Front Row Life, Widow * Second Wife: Real Sucking Engulfing a Rare Utensil, Tsumugi, Sexy Partners, Love Hotel, Picture Book of a Beautiful Young Girl: Soaked Uniform, Blind Love, Aching Wives: Continuous Adultery, Cruel Map of Women's Bodies, Private Lessons: Home Teacher's Breast, Housekeeper with Beautiful Skin: Made Wet with Finger Torture, Showa Erotic Romance: The Virgin's Bashfulness, Lecherous Older Sister, Lady Moonflower, Delivery Health Girl: The Moisture of Silken Skin, Lesbian Harem, Pink Tush Girl: Love Attack, Adultery Diary: One More Time While I'm Still Wet, Raped with Eyes: Daydream, Office Lady Sisters: I Want to Sleep with You, Miss Hotel Call Girl: Healing Induction, Loose Woman: Getting Wet ...
Sklep: Libristo.pl 56,80 zł
Książki / Literatura obcojęzyczna
Excerpt from Sandwich Shops, Drive-Ins, and Diners: How to Start and Operate Them Successfully In these modern days, when food is sold in hundreds of thousands of eating places throughout our country, it is difficult to imagine a time when lunch-boxes were a part of every worker's equipment; when factory men, laborers, and office help all stopped work and opened little packages to munch the edibles provided by mother or wife. Yet, in 1888, when Max Garfunkel came to America, an immigrant boy of thirteen, restaurants were mainly places for social gatherings, except to the few of wealth who considered it demeaning to carry food and could afford the dollar or two squandered on served luncheons. The only other places in which food could be had, aside from boarding houses, were the saloons which provided magnificent free-lunch counters to entice the drinking public. Max, my father, was born into the farm-hardware business in the old country, and he became hardy from handling the heavy pieces, and shrewd from contact with farmers who bargained with every trade. Precocious enough to help in the business before he was ten years old, stories of the wealth of this Golden Land fired him early with an ambition to come here. So, as he reached his thirteenth birthday, he announced his intention to a startled family, and sailed away with only enough money to permit him to enter. The boy who was to become one of the greatest factors in changing the eating habits of all Americans by introducing a meal at a price which eliminated the need for carrying a lunch-box to work, spent his first night in this country sleeping in an empty open wagon on the New York waterfront not far from where he had been put ashore from Ellis Island. About the Publisher Forgotten Books publishes hundreds of thousands of rare and classic books. Find more at www.forgottenbooks.com This book is a reproduction of an important historical work. Forgotten Books uses state-of-the-art technology to digitally reconstruct the work, preserving the original format whilst repairing imperfections present in the aged copy. In rare cases, an imperfection in the original, such as a blemish or missing page, may be replicated in our edition. We do, however, repair the vast majority of imperfections successfully; any imperfections that remain are intentionally left to preserve the state of such historical works.
Sklep: Libristo.pl 142,08 zł
Książki / Literatura obcojęzyczna
"It is a truth universally acknowledged, that a single man in possession of a good fortune must be in want of a wife."So begins Pride and Prejudice, Jane Austen's perfect comedy of manners--one of the most popular novels of all time--that features splendidly civilized sparring between the proud Mr. Darcy and the prejudiced Elizabeth Bennet as they play out their spirited courtship in a series of eighteenth-century drawing-room intrigues. "Pride and Prejudice seems as vital today as ever, " writes Anna Quindlen in her introduction to this Modern Library edition. "It is a pure joy to read." Eudora Welty agrees: "The gaiety is unextinguished, the irony has kept its bite, the reasoning is still sweet, the sparkle undiminished. [It is] irresistible and as nearly flawless as any fiction could be." This volume is the companion to the BBC television series, a lavish production aired on the Arts and Entertainment Network.The Modern Library has played a significant role in American cultural life for the better part of a century. The series was founded in 1917 by the publishers Boni and Liveright and eight years later acquired by Bennett Cerf and Donald Klopfer. It provided the foun-dation for their next publishing venture, Random House. The Modern Library has been a staple of the American book trade, providing readers with affordable hard-bound editions of important works of liter-ature and thought. For the Modern Library's seventy-fifth anniversary, Random House redesigned the series, restoring as its emblem the running torchbearer created by Lucian Bernhard in 1925 and refurbishing jackets, bindings, and type, as well as inau-gurating a new program of selecting titles. The ModernLibrary continues to provide the world's best books, at the best prices.
Sklep: Libristo.pl 159,36 zł
Książki / Literatura obcojęzyczna
The American publication of The Complete Stories of J. G. Ballard is a landmark event. Increasingly recognized as one of the greatest and most prophetic novelists, J. G. Ballard was a writer of enormous inventive powers, who, in the words of Malcolm Bradbury, possessed, like Calvino, a remarkable gift for filling the empty deprived spaces of modern life with the invisible cities and the wonder worlds of imagination. Best known for his novels, such as Empire of the Sun and Crash, Ballard rose to fame as the ideal chronicler of disturbed modernity (The Observer). Perhaps less known, though equally brilliant, were his devastatingly original short stories, which span nearly fifty years and reveal an unparalleled prescience so unique that a new word Ballardian had to be invented. Ballard, who wrote that short stories are the loose change in the treasury of fiction, easily ignored beside the wealth of novels available, regretted the fact that the public had increasingly lost its ability to appreciate them. With 98 pulse-quickening stories, this volume helps restore the very art form that Ballard feared was comatose. Ballard s inimitable style was already present in his early stories, most of them published in science fiction magazines. These stories are surreal, richly atmospheric and splendidly elliptical, featuring an assortment of psychotropic houses, time-traveling assassins, and cities without clocks. Over the next fifty years, his fierce imaginative energy propelled him to explore new topics, including the dehumanization of technology, the brutality of the corporation, and nuclear Armageddon. Depicting the human soul as being enervated and corrupted by the modern world (New York Times), Ballard began to examine themes like overpopulation, as in Billenium, a claustrophobic imagining of a world of 20 billion people crammed into four-square-meter rooms, or the false realities of modern media, as in the classic Why I Want to Fuck Ronald Reagan, a faux-psychological study of the sexual and violent reactions elicited by viewing Reagan s face on television, in which Ballard predicted the unholy fusion of pop culture and sound-bite politics thirteen years before Reagan became president. Given Ballard s heightened powers of perception, it is astonishing that the dehumanized world that he apprehended so acutely neither diminished his own febrile imagination nor his engagement with mankind, evident in every story, including two new ones for this American edition. So eerily prophetic is his vision, so commanding are his literary gifts, the import and insight of J. G. Ballard s deeply humanistic and transcendent works can only grow in years to come."
Sklep: Libristo.pl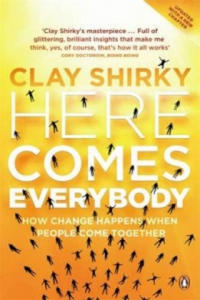 55,52 zł
Książki / Literatura obcojęzyczna
Clay Shirky's international bestseller "Here Comes Everybody: How Change Happens When People Come Together" explores how the unifying power of the internet is changing the character of human society. Welcome to the new future of involvement. Forming groups is easier than it's ever been: unpaid volunteers build Wikipedia together in their spare time, mistreated customers can join forces to get their revenge on airlines and high street banks, and one man with a laptop can raise an army to help recover a stolen phone. The results of this new world of easy collaboration can be both good (young people defying an oppressive government with a guerrilla ice-cream eating protest) and bad (girls sharing advice for staying dangerously skinny) but it's here and, as Clay Shirky shows, it's affecting...well, everybody. For the first time, we have the tools to make group action truly a reality. And they're going to change our whole world. "As crisply argued and as enlightening a book about the internet as has been written". ("Daily Telegraph"). "As usable as the technology he writes about". ("Independent"). "Clay Shirky's masterpiece ...glittering, brilliant insights that make me think, yes, of course, that's how it all works". (Cory Doctorow, co-editor of "Boing Boing"). "Anyone interested in the vitality and influence of groups of human beings - from knitting circles, to political movements, to multinational corporations - needs to read this book". (Steven Johnson, author of "Everything Bad is Good for You" and "Emergence"). Clay Shirky writes, teaches, and consults on the social and economic effects of the internet. A professor at NYU's Interactive Telecommunications Program, he has consulted for Nokia, Procter and Gamble, News Corp., the BBC, the US Navy, and Lego. Over the years, his writings have appeared in "The New York Times", the "Wall Street Journal", the "Harvard Business Review", "Wired", and "IEEE Computer".
Sklep: Libristo.pl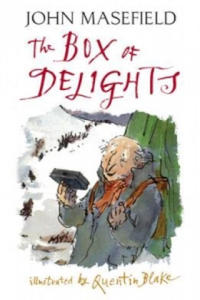 45,28 zł
Książki / Literatura obcojęzyczna
'Two of the greatest children's books ever written' - The Times on Box of Delights and The Midnight Folk. 'And now, Master Harker, now that the Wolves are Running, perhaps you could do something to stop their Bite?' A magical old man has asked Kay to protect the Box of Delights, a Box with which he can travel through time. But Kay is in danger: Abner Brown will stop at nothing to get his hands on it. The police don't believe Kay, so when his family and the Bishop are scrobbled up just before Christmas, he knows he must act alone ...John Masefield's classic children's book is considered to be one of the great works of modern children's fiction. Magical, fantastical and filled with vivid, rich characters - brought to life in this edition by Quentin Blake's stunning artwork - The Box of Delights and its sequel The Midnight Folk are a must-read for any child.
Sklep: Libristo.pl 45,44 zł
Książki / Literatura obcojęzyczna
Excerpt from Virginia Information for the Homeseeker and Investor Almost every man born outside the borders of the Old Dominion has found occasion to comment on the enthusiasm with which Virginians discuss their native State. Indeed, the Virginian among strangers is regarded as something more than an enthusiast - he is put down as a rhapsodist. No clime, whatever its charms, can divorce him from his native hearth; his thoughts ever revert to the State of his birth, and, like the Celestial who prays that his ashes may repose in the land of his forefathers, he always turns to the Old Dominion when he feels that his days are being numbered. Regarding the matter from the standpoint of one who has never dwelt in Virginia, this home instinct of her people seems almost incomprehensible, but the fact finds ready explanation among those who have lived in the time-honored Commonwealth. Once a householder establishes his hearthstone in the Old Dominion, the subtle charm of the State holds him enthralled and adds the stranger to the long list of so-called rhapsodists. In days agone it has been said that the people of the State which claims Washington and Lee as her sons arc wont to dwell in the past and to drowse their way through life with memories of what has been. And, surely, if ever this species of lotus-eating were pardonable in any case, it should he in the Virginian, for behind him are three centuries of glorious history. But the charge of inertia has now grown obsolete; today it would fall for want of truth. Time was when it seemed as if Virginia had grown inert and supine, but out of this very inertia was to be born her salvation. Staggering under the wounds inflicted by the war of secession - staggering when other less spirited communities would have fallen never to rise again - she bravely faced the changed conditions and wrought order out of chaos. Surely this was no task for rhapsodises. About the Publisher Forgotten Books publishes hundreds of thousands of rare and classic books. Find more at www.forgottenbooks.com This book is a reproduction of an important historical work. Forgotten Books uses state-of-the-art technology to digitally reconstruct the work, preserving the original format whilst repairing imperfections present in the aged copy. In rare cases, an imperfection in the original, such as a blemish or missing page, may be replicated in our edition. We do, however, repair the vast majority of imperfections successfully; any imperfections that remain are intentionally left to preserve the state of such historical works.
Sklep: Libristo.pl 289,28 zł
Książki / Literatura obcojęzyczna
One of the greatest writers of all time, Jane Austen drew upon her domestic culture to color her works. Included in this book are more than 200 recipes for the many, many meals she alludes to throughout her writings. Recipes appear in modernized form, along with quotations from Austen's writings and excerpts from cookbooks of her era. Sure to entertain her numerous fans, the volume provides readers with recipes for such dishes as fried beef steaks, broiled mutton chops, roast pork loin, buttered crab or lobster, Stilton cheese, syrup of mulberries, almond pudding, French bread, mushroom ketchup, and many others. The book begins with some introductory chapters on cooking and eating in Austen's world. It then presents chapters on broad categories of food, such as beef and veal, seafood, pastries and sweets, and beverages. Each chapter includes extracts from Austen's works and from cookbooks of her period, accompanied by easy-to-follow modernized recipes. The volume closes with some sample menus; glossaries of ingredients, sources, and special tools; and a bibliography of period cookbooks and modern studies.
Sklep: Libristo.pl 35,20 zł
Książki / Literatura obcojęzyczna
This is the number one bestseller in France and Italy, from Francoise Heritier, The Sweetness of Life is a beautiful and poetic list of the everyday reasons that make life worth living. If you assume an average life expectancy of 85 years, and deduct the hours we spend daily on sleeping, shopping, eating, working, tending to our relationships and on everything else that is obligatory, then how much time is left for the average person to enjoy those activities that are the sweetness of life? For Francoise Heritier, it is those activities, those moments that make up pure sensuality, the actual experience of humanity. These are the moments we all cherish: wild laughter, coffee in the sun, the bliss of fresh autumn evenings, running in warm rain, long conversations at twilight, kisses on the back of the neck, the moment when all nature falls silent, those times when you know that someone likes you, is looking at you and listening to you, cooking a complicated dish, feeling agile and sprightly, getting back together with friends you haven't seen in ages, watching a craftsman at work, listening to other people. "There's still so much else that I forget", says Heritier, and she goes on to list, with heart-warming and heart-breaking specificity, all that we so easily miss if we do not attend to the lightness and grace in the simple fact of existence, life's sweetness. What about you, what would you miss if all this had to disappear from your life forever? "A series of perceptions, sensations, eddies, and happiness of writing that gives a real intensity to the existence ...a true wonder". (Laure Adler). Francoise Heritier, an anthropologist, is Emeritus Professor at the College de France and the Ecole des Hautes Etudes en Sciences Sociales. She is the author of such highly successful works as Masculin/feminin and De la violence, translated into more than ten languages. Le Sel de la Vie (translated into English as The Sweetness of Life) is a French bestseller.
Sklep: Libristo.pl
Sklepy zlokalizowane w miastach: Warszawa, Kraków, Łódź, Wrocław, Poznań, Gdańsk, Szczecin, Bydgoszcz, Lublin, Katowice
Szukaj w sklepach lub całym serwisie
2. Szukaj na wszystkich stronach serwisu
t1=0.048, t2=0, t3=0, t4=0, t=0.048