krainaksiazek paleo diet for beginners lose weight and start living the paleo lifestyle easy paleo diet recipes for weight loss paleo books paleo diet pal 20040250
- znaleziono 5 produktów w 1 sklepie 73,22 zł
Książki / Literatura obcojęzyczna
The Paleo diet is all about returning to a healthier way of life - cutting out all the heavily processed, high fat, fast food that is an invention of recent times, and getting back to the fruits, veg, meat, seafood and nuts that our Paleolithic, hunter-gatherer ancestors thrived on when our species evolved. The digestive system we have now was shaped back then so is makes perfect sense to return to a similar diet - eating organic, omitting dairy and cooking with healthy fats and the right kind of carbs. This diet offers a welcome change in lifestyle that not only helps us lose weight but also enjoy many additional health benefits. The 100 recipes in this book cover breakfasts, lunches, dinners and snacks. They are easy to follow, low in fat and high in flavour and will inspire and encourage you to cook and eat well so you not only lose weight but also look and feel fantastic.
Sklep: Libristo.pl
69,10 zł
Książki / Literatura obcojęzyczna
The idea behind the Paleo, or 'caveman', diet is simple - eat the food we humans were genetically and biologically meant to eat, as our hunter-gatherer ancestors once did, and we can all experience near-effortless weight loss, increased vitality and greatly improved health. But does it really make sense to restrict yourself to the limited range of foods available to our ancestors? Although we share a lot in common with them, we each have our own genes, tastes and health goals. In this groundbreaking book, leading expert Chris Kresser offers his unique solution - a 3-step plan that will fit your body, your lifestyle and your specific health issues. Start by following the basic Paleo plan for 30 days and enjoy a satisfying diet of lean meat, fish, non-starchy vegetables, some fruit, nuts and seeds but avoid grains, dairy, sugar and refined foods. After this 30-day plan, Chris helps you re-introduce certain foods in moderation to find out what agrees with you and what doesn't. So what are you waiting for? You can enjoy life more, look slimmer and feel more vital. And because Chris advocates an 80/20 approach - we all have to live in the real world after all - you can still enjoy your favourite treats from time to time. In addition to dietary advice, the plan also includes guidance on fine-tuning your sleep, exercise and response to stress - all crucial elements in living a life that suits our natural design.
Sklep: Libristo.pl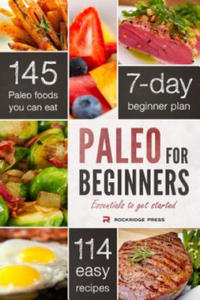 45,18 zł
Książki / Literatura obcojęzyczna
The Paleo diet is not just another fad diet; it is the diet humans were designed to eat. Also known as the Primal diet, the Caveman diet, and the Stone Age diet, the Paleo diet focuses on low-carb, high-protein meals, and removes all processed foods. Paleo for Beginners will show you how to adopt a paleo lifestyle in order to feel healthy, lose weight, and increase your energy level. With Paleo for Beginners, start enjoying the best health of your life today--all while losing weight and decreasing your odds of diabetes, hypertension, heart disease, cancer, osteoporosis, and many other modern health maladies. Paleo for Beginners is a comprehensive yet concise guide to embracing the Paleo lifestyle, walking readers through a successful Paleo diet in a straightforward, easy-to-read format. * Successfully make the transition to a Paleo lifestyle with a 7-day, step-by-step plan for beginners * Set yourself up for success with the Paleo shopping guide and a list of 117 Paleo-recommended foods (and an extensive list of what food items you should avoid). * Enjoy Paleo-friendly versions of 99 mouthwatering recipes for every meal. Recipes include Eggs Benedict Paleo Style, High-Protein Grain-Free Burgers, Chicken Avocado Wraps, and Paleo Waffles. Starting a new diet can be difficult, but with Paleo for Beginners learning how to do so shouldn't be.
Sklep: Libristo.pl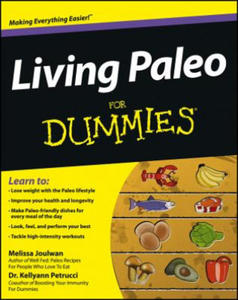 90,04 zł
Książki / Literatura obcojęzyczna
A fun and practical guide for adopting Paleo diet principles into your daily life The human body survived for more than 2 million years with the food found in nature: game meat, fish, vegetables, wild fruits, eggs, and nuts. Humans were thriving on this diet high in animal fat and proteins and low in carbohydrates, but things changed when we introduced unnatural and processed foods to our bodies. The Paleo movement is one of today's hottest diet and healthy-eating approaches. Its appeal comes from the fact that it is a sustainable alternative to more restrictive diets that often lead to burnout and failed weight loss efforts. The Paleo diet is about using natural foods to achieve great health and a perfect physique. Living Paleo For Dummies shows you how to adopt the Paleo lifestyle and improve your health and longevity. Offering more than 40 recipes for every meal of the day, and providing tips for getting around common roadblocks such as eating out, this essential guide to adopting a primal diet also provides the latest, cutting edge research from genetics, biochemistry, and anthropology to help you look, feel, and perform your best. The details of eating the foods that our bodies were designed to eat A complete introductory plan to kick start the Paleo journey Tricks to save on the food bill while adhering to a primal meal plan Living Paleo For Dummies is for anyone looking for a fun and informative guide that simplifies the complexities of the Paleo Diet while outlining and explaining the science behind the benefits.
Sklep: Libristo.pl 48,81 zł
Książki / Literatura obcojęzyczna
Indulgent frozen treats that strictly follow the paleo diet and taste delicious The popular Paleolithic, or "paleo," diet has helped millions of people lose weight and improve their health. But it's hard to satisfy a sweet tooth when dairy and most sugars are off the table. Thankfully, the creative recipes in Paleo Ice Cream make it possible to indulge in dreamy, refreshing ice cream while living paleo. These easy-to-follow recipes include palate-pleasing classics like Chocolate, Vanilla, Strawberry, Orange Sherbet, Coffee, and Butter Pecan, as well as more adventurous flavors like Goat Cheese, Olive Oil, and Cayenne Chocolate. Rooted in the idea that humans are healthiest eating a pre-agricultural diet, the paleo lifestyle excludes the dairy products, refined sugars, and chemical additives found in store-bought ice cream. With Paleo Ice Cream, you can enjoy a sweet treat made with nutrient-dense whole foods while fulfilling the cravings that could otherwise lead to cheating, binge eating, or jumping ship altogether.
Sklep: Libristo.pl
Sklepy zlokalizowane w miastach: Warszawa, Kraków, Łódź, Wrocław, Poznań, Gdańsk, Szczecin, Bydgoszcz, Lublin, Katowice
Szukaj w sklepach lub całym serwisie
2. Szukaj na wszystkich stronach serwisu
t1=0.039, t2=0, t3=0, t4=0, t=0.04