krainaksiazek paul pantoffel in london audio cd 20103032
- znaleziono 8 produktów w 2 sklepach 54,24 z³
Ksi±¿ki / Literatura obcojêzyczna
Paul & Pantoffel sind endlich zurück! Aber nanu? Paul, der weltbekannte Kinderdetektiv und sein sprechender Teddy sind ja umgezogen! Und dann auch noch das: Beim Auspacken ihrer Umzugskisten erhalten die beiden einen Brief aus London. Der Junge Johnny Johnson braucht ihre Hilfe. Es herrscht Chaos in der englischen Hauptstadt und Paul & Pantoffel müssen sofort dorthin aufbrechen. Werden die beiden diesen kniffligen Fall lösen können?§§Empfohlen für Kinder ab 3 Jahre.§§Informationen für Eltern über die Reihe "Paul & Pantoffel":§Grenzen überschreiten. Sprachen erleben. Kulturen erfahren. Europa einfach, aber bewusst kennenlernen. Die Geschichten über den Kinderdetektiv Paul und seinen Teddybär Pantoffel sollen nicht nur unterhalten, sondern auch spielerisch Neugier wecken, sollen Werte wie Respekt, Freundschaft und Toleranz vermitteln. Vor allem das Interesse an anderen Städten, Ländern, Brauchtümern und Gewohnheiten soll den Kindern auf humoristische, nie altklug wirkende Art und Weise nahe gebracht werden.
Sklep: Libristo.pl 22,88 z³
Ksi±¿ki>Nauka jêzyków>Jêzyk Angielski>Penguin Readers
Lisa Wybiera Siê Po Raz Pierwszy W ¿yciu Do Londynu, Ma Siê Tam Uczyæ Angielskiego. Pewnego Dnia Spotyka Michaela I Nagle Jej Nauka Angielskiego Nabiera Rumieñców.
Sklep: Gigant.pl 96,00 z³
Ksi±¿ki / Literatura obcojêzyczna
Nach ihrem großen Erfolg mit "Bretonne" ist Nolwenn Leroy zurück mit einem neuen Album: In "Ô Filles de l¿eau" besingt die junge Sängerin erneut die raue Schönheit ihrer Heimat, der Bretagne - doch vor allem entführt die junge Französin ihre Hörer dieses Mal in die mysteriöse, ungezähmte Welt des Meeres, in die Weite des Ozeans. Die meisten Texte des Albums stammen aus der Feder der 30-jährigen Sängerin, die in ihren Songs auch die bretonische Sprache miteinfließen ließ.Wie das vorangegangene Album, welches in Frankreich wochenlang die Charts anführte, wurde auch "Ô Filles de l¿eau" in London von Jon Kelly (Kate Bush, Paul McCartney, Duffy) aufgenommen und produziert.
Sklep: Libristo.pl 30,72 z³
Ksi±¿ki / Literatura obcojêzyczna
Der spannende Hörspiel Krimi im alten London um 1930: Die Ereignisse überschlagen sich. Ethans Aufenthaltsort ist noch immer unklar. Es gibt neue Hinweise, die im Zusammenhang mit Pauls dramatischen Unfall zu stehen scheinen. Paul wird zusätzlich mit der eigenen Familiengeschichte konfrontiert. Doch nach den Ereignissen auf dem Highgate Cemetery ist nichts mehr, wie es einmal war. Die Entdeckungen, die die beiden Brüder machen, bringen sie immer weiter in Gefahr. Manche Geheimnisse sollten besser nie gelüftet werden.
Sklep: Libristo.pl 96,00 z³
Ksi±¿ki / Literatura obcojêzyczna
Der Harry-Potter-Produzent David Heyman bringt die beliebte und erfolgreiche Kinderbuch- und Serienfigur Paddington Bär unter der Regie von Paul King auf die Kinoleinwand. Der Film erzählt von den Abenteuern des peruanischen jungen Bären Paddington auf der Suche nach einem neuen Zuhause in London. Passend zum Filmstart erscheint bei Decca Records der Soundtrack "Paddington - OST" mit Scores komponiert von Nick Urata ("Crazy, Stupid, Love", "Ruby Sparks") und Songs von prominenten Künstlern wie Lionel Richie, James Brown und Steppenwolf sowie 4 original Tracks von D Lime feat. Tabago Crusoe.
Sklep: Libristo.pl 106,24 z³
Ksi±¿ki / Literatura obcojêzyczna
Das neue Album "Songs Of Innocence" ist U2s bisher persönlichstes Werk und vereint die anfänglichen Einflüsse der Band von 70er Rock und Punkrock bis zu Electro und Ambient der frühen 80er Jahre. So entsteht ein Einblick, wie und warum die Band entstanden ist. Es handelt von Themen wie Heimat und Familie, Beziehungen und Entdeckungen und wurde in Dublin, London, New York und Los Angeles aufgenommen. Produziert wurde "Songs Of Innocence" von Danger Mouse, Paul Epworth, Ryan Tedder, Declan Gaffney und Flood.§§Die erste Single "The Miracle (Of Joey Ramone)" handelt vom Ramones-Frontmann Joey Ramone, der im Jahr 2001 verstarb. Bono und Joey bewunderten nicht nur die Musik des anderen, sondern waren auch gute Freunde.§§Das Album erscheint am 10. Oktober als Standard, Deluxe und Doppel-Vinyl . Neben den 11 Tracks der Standard CD, beinhaltet die Deluxe (Digipak) insgesamt 21 Songs, u.a. die Akustikversionen ausgewählter Album-Tracks sowie vier Bonus-Tracks. Die Doppel-Vinyl (Gatefold) beinhaltet 11 Tracks der Standard und einen Bonustrack.
Sklep: Libristo.pl 85,92 z³
Ksi±¿ki / Literatura obcojêzyczna
Nach nunmehr 30 Jahren des Songwritings, 25 Millionen verkauften Alben und 40 Hitsingles bringt das Duo, bestehend aus Vince Clark und Andy Bell, sein 16. Album mit dem Namen "The Violet Flame" heraus: Emotionsgeladener ElektroPop gepaart mit synthgeladenen Melodien. "The Violet Flame" ist der Sound einer erfrischten und gestärkten Band. Nach der sehnsüchtigen Stimmung ihres Weihnachts-Albums "Snow Globe", die erste Veröffentlichung nach dem Tod von Andys Partner Paul Hickey, folgen nun zehn Tracks der neuen Phase. Eine Phase des Liebens und der neuen Anfänge, denn mit Steve ist nun auch ein neuer Partner an Andys Seite zu finden. Das Album, welches in New York und London aufgenommen und von Richard X produziert wurde, atmet einen mitreißenden Glauben an die Zukunft. Anders als sonst basieren die Songs diesmal auf von Vince Clarke unter der Sonne Miamis vorbereiteten Grooves. Formate: - Standard CD mit 10 Songs in 4-seitigem Ecopac, inklusive 12-seitigem Booklet - Die Deluxe 2CD beinhaltet neben dem Album eine Bonus CD mit 11 Live Tracks, welche beim Short Circuit Festival im Londoner Roundhouse (2011) aufgenommen wurden, in 6-seitigem Ecopac, inklusive 12-seitigem Booklet
Sklep: Libristo.pl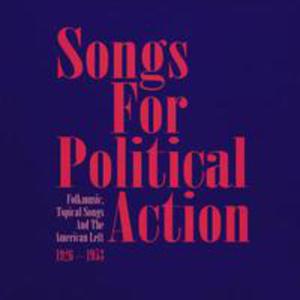 659,99 z³
Muzyka>Muzyka ¶wiata>Folk / Ludowa / Etno
1. Sandburg, Carl - The Boll Weevil 2. Allison, John - Patriotic Diggers 3. Seeger, Charles - London's Bridge Is Falling Down 4. Seeger, Charles & R. Crawford - Risselty Rosselty 5. Seeger, Ruth Crawford - Old Grey Mare 6. Seeger, Charles - Hands 7. Jackson, Aunt Molly - Ragged Hungry Blues (Part 1) 8. Jackson, Aunt Molly - Ragged Hungry Blues (Part 2) 9. Gunning, Sara Ogan - I'm Going To Organize, Baby M 10. Tillman Cadle - I Don't Want Your Millions, Mister 11. Handcox, John - Raggedy, Raggedy 12. Handcox, John - No More Mourning 13. Handcox, John - Join The Union Tonight 14. Handcox, John - We're Going To Roll The Union On 15. Handcox, John - There Is Mean Things Happening In 16. Ferguson (Bob Miller), Bob - Farmer's Letter To Th 17. Miller, Bob - Farm Relief Blues 18. Bob's Boys (Bob Miller) - 11 Cent Cotton, 40 Cent 19. Miller's Bullfrog Entertainers - The Hootenanny So 20. Ferguson, Bob & Scalawaggers - Bank Failures 21. Miller, Bob - The Rich Man & The Poor Man 22. Palmer (Bob Miller), Bill - The Poor Forgotten Man 23. New Singers - The Soup Song 24. New Singers - The Internationale 25. New Singers - Rise Up 26. New Singers - United Front 27. New Singers - Forward, We've Not Forgotten 28. New Singers - In Praise Of Learning 29. Manhattan Chorus - On The Picket Line 30. Manhattan Chorus - Hold The Fort 31. Manhattan Chorus - Casey Jones 32. Manhattan Chorus - Sit Down 33. Manhattan Chorus - Write Me Out My Union Card 34. Manhattan Chorus - We Shall Not Be Moved 35. Manhattan Chorus - Join The Union 36. Manhattan Chorus - Solidarity Forever 101. Baumann, M. & Elie Siegmeister - The Strange Funer 102. Robinson, Earl - Abraham Lincoln (Parts 1 & 2) 103. Robinson, Earl - Joe Hill 104. Robinson, Earl - Spring Song 105. Kraber, Tony - The Old Chisholm Trail 106. Aarons, Saul - Old Paint (The Horse With The Union 107. Aarons, Saul - Capitalistic Boss (Part 1 & 2) 108. Dowd, Harrison - Little Theater On The Right 109. Dowd, Harrison - Little Theater On The Left 110. White, Josh - Nine Foot Shovel 111. White, Josh - Chain Gang Boun' 112. White, Josh - Trouble 113. White, Josh - Goin' Home Boys 114. White, Josh - Cryin' Who? Cryin' You! (Parts 1 & 2 115. White, Josh - Told My Captain 116. White, Josh - Jerry 117. White, Josh - Southern Exposure 118. White, Josh - Uncle Sam Says 119. White, Josh - Jim Crow Train 120. White, Josh - Bad Housing Blues 121. White, Josh - Hard Times Blues 122. White, Josh - Defense Factory Blues 201. Almanac Singers - The Strange Death Of John Doe 202. Almanac Singers - Billy Boy 203. Almanac Singers - C' For Conscription 204. Almanac Singers - Washington Breakdown 205. Almanac Singers - Lisa Jane 206. Almanac Singers - Ballad Of October 16th 207. Almanac Singers - Plow Under 208. Almanac Singers - Talking Union 209. Almanac Singers - Union Train 210. Almanac Singers - Which Side Are You On? 211. Almanac Singers - Get Thee Behind Me, Satan 212. Almanac Singers - Union Maid 213. Almanac Singers - All I Want 214. Almanac Singers - Songs For Bridges 215. Guthrie, Woody - Babe O' Mine 216. Almanac Singers - Blow Ye Winds, Heigh Ho 217. Almanac Singers - Haul Away, Joe 218. Almanac Singers - Blow The Man Down 219. Almanac Singers - The Golden Vanity 220. Almanac Singers - Away, Rio 221. Almanac Singers - The Coast Of High Barbary 222. Almanac Singers - Greenland Fishing 223. Almanac Singers - The Dodger Song 224. Almanac Singers - Ground Hog 225. Almanac Singers - State Of Arkansas 226. Almanac Singers - Hard, Ain't It Hard 227. Almanac Singers - I Ride An Old Paint 228. Almanac Singers - House Of The Rising Sun 229. Almanac Singers - The Weaver's Song 301. Almanac Singers - Dear Mr. President 302. Almanac Singers - Belt Line Girl 303. Almanac Singers - Round, Round Hitler's Grave 304. Almanac Singers - Side By Side 305. Almanac Singers - Deliver The Goods 306. Almanac Singers - Reuben James 307. Almanac Singers - Boomtown Bill 308. Almanac Singers - Keep That Oil A Rollin' 309. Priority Ramblers - I'm Looking For A Home (Housin 310. Priority Ramblers - Amsterdam Maid 311. Priority Ramblers - Song Of The Free 312. Priority Ramblers - In Washington 313. Priority Ramblers - Overtime Pay 314. Seeger & Glazer & Hawes &Lomax - Quinte Brigada 315. Glazer, T. & B. Hawes & Lomax - Jarama Valley 316. Seeger & Glazer & Hawes &Lomax - Spanish Marching 317. Seeger & Glazer & Hawes &Lomax - Cook House/the Yo 318. Seeger & Glazer & Hawes &Lomax - Quinte Regimento 319. Seeger & Glazer & Hawes &Lomax - Quarter Master So 320. White, Josh & The Boys - Little Man On A Fence 321. Union Boys - Jim Crow 322. Union Boys - You Better Get Ready 323. Union Boys - Hold The Fort/we Shall Not Be Moved 324. Union Boys - U.a.w.-c.i.o. 325. Union Boys - Hold On 326. Ives, Burl & The Boys - Solidarity Forever 327. Union Boys - A Dollar Ain't A Dollar Anymore 401. Robinson, Earl - Horace Greeley 402. Robinson, Earl - Kevin Barry 403. Robinson, Earl - The House I Live In 404. Robinson, Earl - A Man's A Man For A'that 405. Robinson, Earl - Drill Ye Tarriers Drill 406. Robinson, Earl - The Frozen Logger 407. Robinson, Earl - Jefferson & Liberty 408. Robinson, Earl - Sweet Betsy From Pike/dirty Miner 409. Robinson, Earl - Grand Coolee Dam 410. Robinson, Earl & D. Wilson - Free & Equal Blues (P 411. Sir Lancelot - The Century Of The Common Man 412. Partlow, Vern - I'm A Native American Nazi 413. Partlow, Vern - Join The U.a.w.-c.i.o. 414. Partlow, Vern - Keeping Score For '44 415. Partlow, Vern - The U.a.w. Train 416. Partlow, Vern - Susan's In The Union 417. Partlow, Vern - The Rollback Blues 418. Partlow, Vern - Mama Don't Allow 419. Guthrie, Woody - Farmer-labor Train 420. Guthrie, Woody - So Long, It's Been Good To Know Y 421. Guthrie, Woody - Talking Sailor 422. Guthrie, Woody - Sally, Don't You Grieve 423. Glazer, Tom & Josh White - Citizen C.i.o. 424. White, Josh - No More Blues 425. Glazer, Tom - We've Got A Plan 426. Glazer, Tom - Social Worker's Talking Blues 427. Glazer, Tom - I'm Gonna Put My Name Down 428. White, Josh - Freedom Road 501. White, Josh - Landlord 502. White, Josh - Beloved Comrade 503. White, Josh - Johnny Has Gone For A Soldier 504. White, Josh - Beloved Comrade 505. White, Josh - The Man Who Couldn't Walk Around 506. White, Josh - I'm The Guy 507. White, Josh - Little Man Sitting On A Fence 508. Glazer, Tom - When The Country Is Broke 509. Glazer, Tom - Money In The Pocket 510. Glazer, Tom - Our Fight Is Yours 511. Hays, Lee - Moses Green 512. Hays, Lee - The Rankin Tree 513. Hays, Lee - Talking Bilbo 514. Hays, Lee - This Old World 515. Claiborne, Bob - No One Stooge 516. Asbel, Bernie - Song Of My Hands 517. Asbel, Bernie & Pete Seeger - Mad As I Can Be 518. Lord Invader - Jackie Robinson 519. Mcghee, Brownie - High Price Blues 520. Mcghee, Brownie - Black, Brown & White 521. Beyer, Anna - Nix On Mundt/nixon 522. Levine, George - The Daily Worker's Song 523. Unidentified Vocalist - Taft-hartley Blues 524. Sis Cunningham - Parnell Thomas Blues 525. Reynolds, Malvina & B. Oliver - Turn Me Loose 526. Berries - Snowball 527. Berries - Swingin' On A Scab 528. Casetta, Mario - On To Sacramento 529. Partlow, Vern - Atomic Talking Blues 530. Partlow, Vern - Newspapermen Meet Such Interesting 531. Blakeslee, Dick - Passing Through 601. Seeger & Hawes & Hays & Wood - Listen Mr. Bilbo 602. Seeger & Hawes & Hays & Wood - Joe Hill 603. Seeger, Pete & Bob Clairborne - O.p.a. Shout 604. Seeger & Glazer & Hays & Wood - Voting Union 605. Seeger & Glazer & Hays & Wood - Get Out The Vote 606. Glazer, Tom - A Dollar Ain't A Dollar Anymore 607. Seeger & Glazer & Hays & Wood - A Dollar For P.a.c 608. Hays & Seeger & Glazer & Wood - Oh, What Congress 609. Glazer & Seeger & Wood - Four P.a.c. Nursery Rhyme 610. Hays & Seeger & Glazer & Wood - D.d.t. 611. Seeger & Glazer & Wood & Hays - Fare Ye Well, Bad 612. Seeger & Glazer & Hays & Wood - No, No, No Discrim 613. Seeger & Glazer & Hays & Wood - Voter, Oh Voter 614. Seeger & Glazer, Wood, Gilbert - Intro/commonwealt 615. Seeger & Glazer, Wood, Gilbert - We've Got Our Eye 616. Seeger & Glazer, Wood, Gilbert - Talking Union 617. Seeger & Glazer, Wood, Gilbert - The Preacher & Th 618. Seeger & Glazer, Wood, Gilbert - Which Side Are Yo 619. Seeger & Glazer, Wood, Gilbert - Solidarity Foreve 620. Seeger & Glazer, Wood, Gilbert - The Whole Wide Wo 621. Seeger & Glazer, Wood, Gilbert - Hold The Fort/con 622. Seeger, Pete - Talking P.a.c. 623. Seeger, Pete - Conversation With A Mule 624. Seeger, Pete - The Farmer Is The Man 625. Seeger, Pete - Join The Farmer's Union 626. Seeger, Pete - Talking Atom 627. Seeger, Pete - Newspapermen Meet Such Interesting 628. Seeger, Pete - Skillet Good & Greasy 629. Seeger, Pete - T For Texas 630. Seeger, Pete - Cumberland Mountain Bear Chase 701. Sir Lancelot - Walk In Peace (Part 1) 702. Sir Lancelot - Walk In Peace (Part 2) 703. Sir Lancelot - Atomic Energy 704. Sir Lancelot - Old Lady With A Rolling Pin 705. Goodson & Vale - Red Boogie 706. Goodson & Vale - Unity Rhumba 707. Goodson & Vale - Elephant & The Ass 708. Goodson & Vale - Hungry Rhapsody 709. Goodson & Vale - Housing 710. Goodson & Vale - People's Songs Chorus Ballad Of F 711. Goodson & Vale - Jim Crow 712. Berries - Mein Shtele Belz 713. Berries & Pete Seeger - Zhonkoye 714. Seeger, Pete - Travelin' 715. Seeger, Pete - Black, Brown & White Blues 716. Seeger, Pete - The Death Of Harry Simms 717. Seeger, Pete - Winnsboro Cotton Mill Blues 718. Seeger, Pete - No Irish Need Apply 719. Casetta, Mario - Unemployment Compensation Blues 720. Sanders, Betty - The Fireship 721. Sanders, Betty - Johnny, I Hardly Knew You 722. Weavers & Howard Fast - The Peekskill Story (Parts 723. Weavers - Wasn't That A Time 724. Weavers - Dig My Grave 725. Weavers - Freight Train Blues 726. Weavers - Love Song Blues 727. Weavers - The Hammers Song 801. Robinson, Earl - We're Keeping Score In '44 802. White, Josh - No More Blues 803. Oliver, Bill - Lay That Ballot Down (Part 1 & 2) 804. Partlow, Vern - The Fertilizer Song 805. Partlow, Vern - Talking F.t.a. 806. Partlow, Vern - Kiss The Boys Goodbye 807. Partlow, Vern - Round & Round The Canneries 808. Partlow, Vern - My Name Is Cannery Bill 809. Alexander, Mara & Others - The Bosses' Gang 810. Alexander, Mara - Bye, Bye Bosses 811. Huey, Richard - The New Walls Of Jericho 812. Royal Harmonaires - Henry Wallace Is The Man 813. Alvarez, Abigail - A Corrido To Wallace & Taylor 814. Alvarez, Abigail - Second Corrido To Wallace & Tay 815. Robeson, Paul - The Battle Hymn Of '48 816. Loring, Michael - The Same Old Merry-go-round 817. Loring, Michael - I've Got A Ballot 818. Loring, Michael - Great Day 819. Levine, George - Wallace Button/goodbye, Harry 820. Cunningham, Sis - Henry Wallace 821. Oliver, Bill - We Can Win With Wallace 822. Reynolds, Malvina - Work With Wallace 823. Sir Lancelot - The Century Of The Common Man 824. Sir Lancelot - Wallace Is The Man For Me 825. Loring, Michael & Alan Lomax - Yankee Doodle, Tell 826. Weavers - Intro/new York City 827. Hellerman, Fred - Marcantonio For Me 828. Weavers & Hope Foye - Skip To The Polls 829. Hellerman, Fred - Marcantonio For Major 830. Duncan, Laura - Now, Right Now 831. Weavers - We Shall Not Be Moved 832. Seeger, Pete & Hope Foye - Oh, Freedom 833. Seeger, Pete - Ben Davis 834. Unidentified Vocalist - M.t.a. 835. Unidentified - The People's Choice 836. Hellerman, Fred - Keep A-goin' & A-growin' 901. Decormier & Bernardi & Booth - The Riddle Of Thurm 902. Gallant, Gerald - Grapes To Pick 903. Hellerman, Fred - Medley: I Don't Want To Adjusted 904. Hellerman, Fred - Be Counted/we Will Overcome/the 905. Hellerman, Fred - Party Is Here To Stay 906. Hill, Bob - Pity The Downtrodden Landlord 907. Weavers - The Hammer Song 908. Weavers - Banks Of Marble 909. Lieberman, Ernie & Hope Foye - Spring Song 910. Lieberman, Ernie - Songs Of My Hands 911. Lieberman, Ernie - My Old Man 912. Lieberman, Ernie - I'm On My Way 913. Lieberman & Duncan & Smith - In Contempt 914. Lieberman & Duncan & Smith - Die Gedanken Sind Fre 915. Lieberman & Duncan & Smith - Walk Along Together 916. Lieberman & Duncan & Smith - Put My Name Down 917. Lieberman & Duncan & Smith - Hold On 918. Smith, Osborne - Didn't My Lord Deliver Daniel 919. Duncan, Laura - I've Got A Right 920. Jewish Young Folksingers - We Shall Overcome 921. Sanders, Betty - Talking Un-american Blues 922. Glazer, Joe & Bill Friedland - Old Bolshevik Song 923. Glazer, Joe & Bill Friedland - The Cloakmaker's Un 924. Glazer, Joe & Bill Friedland - Land Of The Daily W 925. Glazer, Joe & Bill Friedland - Our Line's Been Cha 926. Glazer, Joe & Bill Friedland - In Old Moscow 927. Glazer, Joe & Bill Friedland - Unite For Unity 928. Glazer, Joe & Bill Friedland - Bill Bailey 929. Glazer, Joe & Bill Friedland - The Last Internatio 930. Glazer, Joe - The Giveaway Boys In Washington 931. Glazer, Joe - Joe Mccarthy's Band 932. Guthrie, Woody - I've Got To Know 933. Guthrie, Woody - This Land Is Your Land
Sklep: Gigant.pl
Sklepy zlokalizowane w miastach: Warszawa, Kraków, £ód¼, Wroc³aw, Poznañ, Gdañsk, Szczecin, Bydgoszcz, Lublin, Katowice
Szukaj w sklepach lub ca³ym serwisie
2. Szukaj na wszystkich stronach serwisu
t1=0.051, t2=0, t3=0, t4=0, t=0.051