krainaksiazek paws come in different colors 20122772
- znaleziono 4 produkty w 1 sklepie 102,26 zł
Książki / Literatura obcojęzyczna
What if NOW is the time? Easy to use tools to create your life from right where you are.... What if you could stop living in the palest shades of life and choose instead to live in the vibrant, amazing, brilliant colors of everything that you ever imaged was possible .... and so much more!?! Have you always known that the World has different rules and laws and possibilities than what most people accept as true? Have you always known that that you were a little - OK maybe A LOT - different? Are you willing to just consider the possibility that there is so much more out there and available than you ever imagined? Come explore with us! "What if stepping into your colors of now was as easy as "Being YOU?" ....
Sklep: Libristo.pl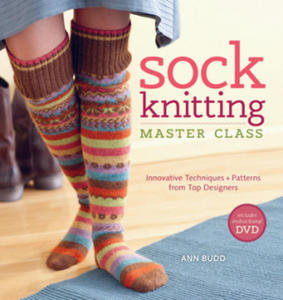 99,82 zł
Książki / Literatura obcojęzyczna
Finalist in the About.com Reader's Choice Awards for Best Knitting Book of 2011. "Budd's latest book is a trove of expertise, with patterns from 15 of the craftiest sockistas around, no surnames necessary...Every project adheres to the holy trinity of custom sock knitting--fit, comfort, aesthetics. And if you can't get enough of this collected wisdom in words alone, a 95-minute sock tutorial by Budd is included on an accompanying DVD." - Cheryl Krementz, Yarn Market News "Ann Budd is at it again. She's pulled together another great collection of patterns, this time from master sock designers. There are 17 sock designs, and there isn't one I wouldn't love to wear." - Cindy Koepke, Knitcircus "It seems like just about all the big names in knitting -- particularly sock knitting -- are featured in Ann Budd's excellent new book Sock Knitting Master Class...In addition to the fantastic patterns, which offer a wide variety of options for both toe-up and top-down knitters (and even one sock that goes both directions!), an introductory section covers just about all you'd ever need to know about some of the design choices that go into making a sock." - About.com Guide to Knitting "If the designers aren't enough to draw you in, there's much more in here for sock novices and sock aficionados alike. With topics like sock design, toe up and top down construction, and the best bind offs for toe-up socks, this book will take you from zero to sock in no time." - KnitPurl yarn shop (Portland, OR) "This book is a really valuable collection of patterns and techniques that any sock knitter will use again and again." - Jenny, KnitPicks.com "I'm really glad to have this book because it has so many patterns, from lace to cable to colorwork, and the socks are all beautiful. Also, the techniques have plenty of charts, diagrams and photographs to make learning easy." - Pamela MacKenzie, MyCentralJersey.com "The facts alone will make you want this book: 15 of the knitting world's best sock designers, 18 sock designs, Ann Budd talking basic how-tos and design tips and Clara Parkes talking sock yarn, and a 95 minute DVD. All of the technique and yarn information is so well organized and thought out that a knitter could read the book and not knit a single sock and still come away having learned a lot about sock knitting." - Knitty.com "...the patterns! Beautiful, yet functional stitch designs and fun colors." - CraftGossip.com Knitting Editor "It's not often that I scoop a book from the top of the review pile and take it home with me, and it's even less common for me to sit down and read it right away. But with sock knitting on my mind, I was intrigued, so last night I sat down to peruse this over a cup of tea. I was absolutely delighted to see that the first chapter of the book is devoted to explaining the whys and wherefores of sock construction. Top-down or toe-up? She's got it covered. Heel flap, short row or afterthought heel? Ditto. Want to choose from a pointed toe, a spiral or star toe, or a toe band? She's got your back with that, too. This book seems like just the right foundation for someone who's ready to strike out on their own - even if the starting place is just switching out the heel or toe treatment for one that suits them better." - Austen Gilliland, craft editor, CanadianLiving.com "You think you already know everything there is to know about socks? After all, there are a multitude of sock books on the market these days, perfectly good books. You know everything. Except...do you really? Most (though not all) sock books I own are either filled with patterns with not a whole lot of time spent on technique, or they're full of guidance but with blah patterns. Of course, some do hit the balance between pattern and technique. Some are fairly exhaustive, in fact, and you may already have them on your shelves. But...they're not THIS book. First, this book is by Ann Budd, a genius in our time...Master Class is the right name!" - KnittingScholar.com "Some features I particularly like in the book: each pattern has a box listing the different techniques used in the pattern; an overview of different styles of creating parts of the sock, such as a few different heel types, toes, and cuff treatments; both top-down and toe-up construction techniques; a handy DVD in the back. If you are looking for some great new sock patterns or just looking to get started knitting socks, this book is sure to have what you need." - A Woolie Tale yarn shop "If you're a fan of socks and of learning more about how to put together socks successfully, this one is a must-read." - About.com Guide to Knitting
Sklep: Libristo.pl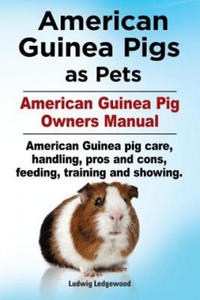 62,69 zł
Książki / Literatura obcojęzyczna
If you have ever considered keeping guinea pigs as pets, the American guinea pig is a beautiful breed to consider. This breed comes in a wide variety of different colors and patterns. This guinea pig has a friendly and outgoing personality that makes it a wonderful pet for adults and children alike. In this book you will find a wealth of information about the American guinea pig as well as information about caring for guinea pigs in general. Covered in this book: . History of the breed . Comparison to other guinea pig breeds . Cost of care . Pros and cons . Habitat requirements . Daily care . Teaching your guinea pig simple commands . Litter training . Handling . Common health problems . Formulating a healthy diet . Keeping your guinea pig healthy . Breeding your guinea pig . Showing your guinea pig ... and much more. By the time you finish this book not only will you be equipped to decide whether or not the American guinea pig is the right breed for you, but you will have all the information you need to get started as a guinea pig owner. The Author, Ludwig Ledgewood says: I have always loved animals but guinea pigs are by far my favorite. There is just something about the way they squeal in excitement when I enter the room and the way they jump for joy when I give them a pile of hay. That just warms my heart. I have been keeping guinea pigs for more than a decade and my love for them grows stronger each and every day. That is why I decided to write this book - to share my love for these wonderful creatures with you. It is my hope that in reading this book you will come to understand why I love guinea pigs so much and that you might start to feel a little bit of that love yourself.
Sklep: Libristo.pl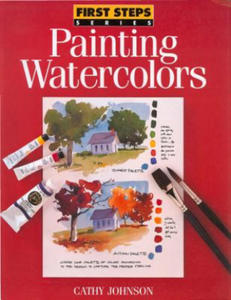 88,10 zł
Książki / Literatura obcojęzyczna
Make your first steps in watercolor fun and rewarding! Watercolor's vivid colors and fresh, direct brush strokes make it the most exciting way to paint. \"But,\" you think, \"Learning to paint must be hard and frustrating.\" Not with Cathy Johnson as your teacher! Here, she makes learning to paint in watercolor fun
Sklep: Libristo.pl
Sklepy zlokalizowane w miastach: Warszawa, Kraków, Łódź, Wrocław, Poznań, Gdańsk, Szczecin, Bydgoszcz, Lublin, Katowice
Szukaj w sklepach lub całym serwisie
2. Szukaj na wszystkich stronach serwisu
t1=0.027, t2=0, t3=0, t4=0, t=0.028