krainaksiazek pebble in a boat poems and reflections 20090034
- znaleziono 8 produktów w 1 sklepie 52,26 zł
Książki / Literatura obcojęzyczna
This collection of poems draws on many themes that will be familiar to the readers of Catherine Cookson's novels: love, work, class and the beauty of nature. She also shares more personal thoughts, reflections on her own writing, marriage to her beloved Tom and life in the north of England. From the earliest poem included here, written in 1925 when Catherine Cookson was nineteen years old, to poems written just before her death in 1998, this anthology spans the gamut of her life and work. The poems are characterized by her down-to-earth common sense and the hard-won philosophy she developed for herself. In 'Brushed Nylon' she tackles the subject of a failed relationship while 'The Daily Round' takes a look at working life. In more personal moments poems such as 'Slow Me Down' talk of her feelings about growing old and 'The Joy of the Country' recalls a holiday in Wales. Catherine Cookson remains one of the nation's favourite storytellers. She completed an astonishing 104 works in her lifetime, books which continue to bring pleasure to millions of readers. Just A Saying is her final work to be published and shows Catherine Cookson at her most intimate and inspirational.
Sklep: Libristo.pl 70,56 zł
Książki / Literatura obcojęzyczna
This book is a rich collection of readings, prayers, poems, photographs, songs, stories and reflections. Island visitors and 'armchair pilgrims' alike are invited to take a prayerful, perhaps life-changing, journey around what George MacLeod, the Founder of the Iona Community, described as 'a thin place - only a tissue paper separating the material
Sklep: Libristo.pl 118,86 zł
Książki / Literatura obcojęzyczna
Cees Nooteboom, best known for his novel "The Following Story", is one of the most distinguished and significant authors living in the Netherlands today. "Self-Portrait of an Other" is one of the most unique and innovative works in his oeuvre. Written in response to and published together with a series of drawings by the Berlin-based artist Max Neumann, the book draws on Nooteboom's personal reflections - his arsenal of memories, dreams, fantasies, landscapes, stories, and nightmares - and presents a set of prose poems that complements and echoes Neumann's work. Full of striking scenes and disturbing images, the poems, driven by the logic of dreams, create the self-portrait of the title. Available now for the first time in English, "Self-Portrait of an Other" brings together both the images and the text inspired by them, creating an unusual and creative poetic collection.
Sklep: Libristo.pl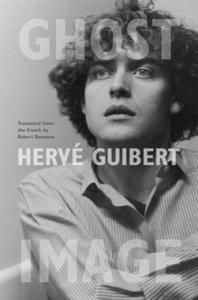 82,26 zł
Ghost Image University of Chicago Press
Książki / Literatura obcojęzyczna
Ghost Image is made up of sixty-three short essays - meditations, memories, fantasies, and stories bordering on prose poems - and not a single image. Herve Guibert's brief, literary rumination on photography was written in response to Roland Barthes' Camera Lucida, but its deeply personal contents go far beyond that canonical text. Some essays talk of Guibert's parents and friends, some describe old family photographs and films, and spinning through them all are reflections on remembrance, narcissism, seduction, deception, death, and the phantom images that have been missed. Both a memoir and an exploration of the artistic process, Ghost Image not only reveals Guibert's particular experience as a gay artist captivated by the transience and physicality of his media and his life, but also his thoughts on the more technical aspects of his vocation. In one essay, Guibert searches through a cardboard box of family portraits for clues-answers, or even questions-about the lives of his parents and more distant relatives. Rifling through vacation snapshots and the autographed images of long-forgotten film stars, Guibert muses, "I don't even recognize the faces, except occasionally that of an aunt or great-aunt, or the thin, fair face of my mother as a young girl." In other essays, he explains how he composes his photographs, and how - in writing - he seeks to escape and correct the inherent limits of his technique, to preserve those images lost to his technical failings as a photographer. With strains of Jean Genet and recurring themes that speak to the work of contemporary artists across a range of media, Guibert's Ghost Image is a beautifully written, melancholic ode to existence and art forms both fleeting and powerful - a unique memoir at the nexus of family, memory, desire, and photography.
Sklep: Libristo.pl 61,82 zł
Książki / Literatura obcojęzyczna
Creativity and madness, sparked by the intrusion of unconscious symbolism, arised from the same feminine depths--what Jung, following Goethe, called the realm of the Mothers. Which one triumphs depends on the strength of the ego under the onslaught of unconscious contents. In this book the author charts the developmental course of that ego, and its archetypal aspects. She has written a pyschobiography that ventures into the realm of the Mothers, so that the creativity and madness of Friedrich Nietzsche can be better understood. Ecce Mulier begins with a presentation of the existential factors and movements of Nietzsche's soul during his early life. The author discusses his childhood, adolescence, and early adult years--represented by his natal home, early childhood, boarding school, studies in Bonn and Leipzig, practice in Basel, and fundamental and pivotal interpersonal relationships. She focuses particularly on the subjective life of that period, represented by Nietzsche's early poems, reflections in his first autobiographical works, personal letters and initial writings, as well as the symbols of his dreams and hallucinations as reported by Nietzsche himself. Dr. Ostfeld de Bendayan continues with Nietzsche's phase as a solitary wanderer, marked by the crucial breakup with Wagner and giving up of his professorship in Basel at the end of the 1870s. Here, she reveals the "human, all too human" man in his relationship with the feminine, using his experiences during continuous journeys and his psychological approach to the imagery found in Nietzsche's most significant creative works. Finally, the author offers evidence of the enactment of the Dionysus and Ariadne myth and the way Nietzsche is consumed eventually by living his own myth unconsciously: "In such instances, the personal domain of choice and conscious differentiation has been lost, thus producing a life lived out on an archetypal and not human level. In a fascinating yet often tragic way, the fate of individuals caught in such transpersonal coupling often parallel the eternal dramas described by myths of these archetypal figures." (Michael Conforti, Field, Form, and Fate) By tracing the manifestations of this myth throughout Nietzsche's life and work, Dr. Ostfeld de Bendayan offers a unique look at one of the most important thinkers of modern Western philosophy and a valuable addition to Jungian literature.
Sklep: Libristo.pl 285,53 zł
Książki / Literatura obcojęzyczna
Of War and War's Alarms is a unique study of war and revolution and their impact on the writing lives of Irish poets and novelists from WW1 and the Easter Rising through the War of Independence to the Spanish Civil War, WWII and the Northern 'Troubles'.These timely reflections on literature in wartime include such figures as W B Yeats, Thomas MacGreevy, Seamus Heaney along with Francis Ledwidge, Charles Donnelly and Padraic Fiacc, Benedict Kiely, William Trevor, John Hewitt and Christabel Bielenberg. Of War and War's Alarms is a fascinating narrative that builds upon Gerald Dawe's achievement in his original ground-breaking anthology of Irish war poems, Earth Voices Whispering.
Sklep: Libristo.pl 71,22 zł
Książki / Literatura obcojęzyczna
(Inspired by David, prophet and king) This BOOK OF SHORT PSALMS is unique in contemporary spiritual literature. Inspired by the Psalter of King David, which is the abiding expression of prayer, this book contains 150 psalms composed in 'classical' poetic form. They contain profound reflections on life and death and spiritual life in all its varied forms. The reader will find how to engage constant invisible combat with the passions and other temptations through sincere repentance, based on firm faith in God-who-loves-His-creation and will also be introduced to many other important ascetical questions. Christians of all denominations can discover in these psalms a source of prayer, and all those who are already familiar with Bishop Paul's spiritual poems will delight in this beautiful Psalter, which contains the essence of his theological and ascetical reflection.
Sklep: Libristo.pl 49,62 zł
Książki / Literatura obcojęzyczna
In this absorbing, brilliant new collection - his first since Black Cat Bone - John Burnside examines our shared experience of this mortal world: how we are 'all one breath' and - with that breath - how we must strive towards the harmony of choir. Recognising that our attitudes to other creatures - human and non-human - cause too much damage and hurt, that 'we've been going at this for years: a steady delete of anything that tells us what we are', these poems celebrate the fleeting, charged moments where,through measured and gracious encounters with other lives, we find our true selves, and bring some brief, insubstantial goodness and beauty into being. He presents the world in a series of still lifes, in tableaux vivants and tableaux morts, in laboratory tests, anatomy lessons, in a Spiegelkabinett where the reflections in the mirrors, distorted as they seem, reveal buried truths. All the images are in some sense self-portraits: all are, in some way, elegies. One of the finest and most celebrated lyric poets at work today, John Burnside is a master of the moment - when the frames of our film seem to slow and stop and a life slips through the gap in between - and each poem here is a perfect, uncanny hymn to humanity, set down 'to tell the lives of others'.
Sklep: Libristo.pl
Sklepy zlokalizowane w miastach: Warszawa, Kraków, Łódź, Wrocław, Poznań, Gdańsk, Szczecin, Bydgoszcz, Lublin, Katowice
Szukaj w sklepach lub całym serwisie
2. Szukaj na wszystkich stronach serwisu
t1=0.062, t2=0, t3=0, t4=0, t=0.062