krainaksiazek philosophy and dissidence in cold war europe 20054862
- znaleziono 3 produkty w 1 sklepie 409,96 zł
Książki / Literatura obcojęzyczna
The Eurovision Song Contest (ESC) is more than a musical event that ostensibly "unites European people" through music. It is a spectacle: a performative event that allegorically represents the idea of "Europe." Since its beginning in the Cold War era, the contest has functioned as a symbolic realm for the performance of European selves and the negotiation of European identities. Through the ESC, Europe is experienced, felt, and imagined in singing and dancing as the interplay of tropes of being local and/or European is enacted. In Empire of Song: Europe and Nation in the Eurovision Song Contest, contributors interpret the ESC as a musical "mediascape" and mega-event that has variously performed and performs the changing visions of the European project. Through the study of the cultural politics of the ESC, contributors discuss the ways in which music operates as a dynamic nexus for making national identities and European sensibilities, generating processes of "assimilation" or "integration," and defining the celebrated notion of the "European citizen" in a global context. Scholars in the volume also explore the ways otherness and difference are produced, spectacularized, challenged, or even neglected in the televised musical realities of the ESC. For the contributing authors, song serves as a site for constituting Europe and the nation, on- and offstage. History and politics, as well as the constant production of European subjectivities, are sounded in song. The Eurovision song is a shifting realm where old and new states imagine their pasts, question their presents, and envision ideal futures in the New Europe. Essays in Empire of Song adopt theoretical and epistemological orientations in their exploration of "popular music" within ethnomusicology and critical musicology, questioning the idea of "Europe" and the "nation" through and in music, at a time when the European self appears more fragmented, if not entirely shattered. Bringing together ethnomusicology, music studies, history, social anthropology, feminist theory, linguistics, media ethnography, postcolonial theory, comparative literature, and philosophy, Empire of Song will interest students and scholars in a vast array of disciplines.
Sklep: Libristo.pl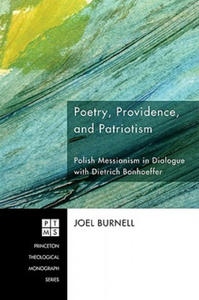 183,72 zł
Książki / Literatura obcojęzyczna
Description: Polish messianism tells the story of a nation struggling to survive and regain its independence. As narrated by the poets Jan Pawe_ Woronicz and Adam Mickiewicz, its vision of patriotism and civil responsibility, first told two hundred years ago, contains promising resources today for a world facing challenged by pluralism, secularization, nationalism and religious fundamentalism. Yet this messianism has a dark side. The romantic philosophy of history that funded this messianism proved an inadequate defense against Prussian and Russian military might, and failed to inoculate Poles against the rising spirit of nationalism, xenophobia and anti-Semitism that swept Europe in the nineteenth and twentieth centuries. In seeking to address the problematic and promising feature of Poland's particular messianism, Burnell draws up on the theology of Dietrich Bonhoeffer, arguing that his theology offers a much-needed critique of the myths and values of romantic national messianism. Where such messianism asks how Christ could serve a nation's cause and freedom, Bonhoeffer declared that by it is by following Christ in discipleship that people and nations become truly free. Recently, a new wave of Polish religio-political fundamentalism has appeared, as a response to the rapid secularization of society since the end of the Cold War. Certain members of the Polish clergy have again joined conservative politicians to promote nationalistic, populist, xenophobic, and anti-Semitic attitudes. Bonhoeffer, in contrast, argued for leaders who ennoble and empower those they serve, and modeled how patriots can honor their nation's achievements while freely confessing its failures. His legacy facilitates dialogue and reconciliation in the ongoing struggle against ethnic, religious and national bigotry. Following his lead, the messianic myth of ""Poland, the Christ of the nations,"" can be recast as a call to follow the One who is ""God-for-us"" and ""the-man-for-others"" by standing with the suffering, by speaking for the disenfranchised, and serving alongside other nations in the cause of freedom and justice. Endorsements: ""Joel Burnell is not only well-versed in the origins of Polish Messianism, but also in more recent, modern Polish history. Here he succeeds in drawing together this rich history with the insights of Dietrich Bonhoeffer in a dynamic, creative, and critical dialogue. His concluding chapter offers solid guidance, not only for Poland, but for anyone interested in navigating the challenging course, as we enter the twenty-first century, between secularism and fundamentalism."" --John W. Matthews President of the International Bonhoeffer Society-English Language Section ""Europe--like other world regions--badly needs models of how faith can interact creatively and not destructively or demonically with national, cultural, and religious traditions so as to create true communities of justice and peace. Joel Burnell's penetrating study on how the thought of one of Europe greatest twentieth-century Christians, Dietrich Bonhoeffer, aided the renewal of one of Europe's most enduring and precious traditions, the Polish, will admirably serve this end."" --Keith Clements Former General Secretary, Conference of European Churches ""This is a book that brings the reader into intimate contact with the hopes and aspirations of a courageous people in their struggles for independence and their eventual post-war and post-communist-control liberation and their eventual taking their place in modern European and world history . . . [It] offers insights not only into the troubled history of the Polish nation but also into the ways in which the theology and ethics of Dietrich Bonhoeffer can impact a society seeking to be a valued partner in a new European community o
Sklep: Libristo.pl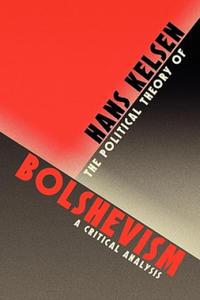 119,63 zł
Książki / Literatura obcojęzyczna
THE CONTRADICTORY NATURE OF COMMUNIST GOVERNMENT. Written during a tense period of the Cold War, this study observed that Bolshevism was a system that embraces anarchism in theory and totalitarianism in practice. In order to survive the Bolshevist state must obliterate the potentially destabilizing forces inherent in democracy through a party dictatorship that is presented as the political self-determination of a free people. "A deep-cutting analysis of some of the fundamental contradictions in Communist theory and practice, particularly in regard to democracy and the dictatorial function of the state." --Foreign Affairs 27 (1948-49) 679 Possibly the most influential jurisprudent of the twentieth century, Hans Kelsen [1881-1973] was legal adviser to Austria's last emperor and its first republican government, the founder and permanent advisor of the Supreme Constitutional Court of Austria and the author of Austria's Constitution, which was enacted in 1920, abolished during the Anschluss and restored in 1945. He was the author of more than forty books on law and legal philosophy. Active as a teacher in Europe and the United States, he was Dean of the Law Faculty of the University of Vienna and taught at the Universities of Cologne and Prague, the Institute of International Studies in Geneva, Harvard, Wellesley, the University of California at Berkeley and the Naval War College.
Sklep: Libristo.pl
Sklepy zlokalizowane w miastach: Warszawa, Kraków, Łódź, Wrocław, Poznań, Gdańsk, Szczecin, Bydgoszcz, Lublin, Katowice
Szukaj w sklepach lub całym serwisie
2. Szukaj na wszystkich stronach serwisu
t1=0.019, t2=0, t3=0, t4=0, t=0.019