krainaksiazek physical properties of rocks 20048348
- znaleziono 12 produktów w 5 sklepach 142,79 zł 142,79 zł 74,39 zł 1090,05 zł
Książki / Literatura obcojęzyczna
Of the many techniques that have been applied to the study of crystal defects, none has contributed more to our understanding of their nature and influence on the physical and chemical properties of crystalline materials than transmission electron microscopy (TEM). TEM is now used extensively by an increasing number of earth scientists for direct observation of defect microstructures in minerals and rocks. Transmission Electron Microscopy of Minerals and Rocks is an introduction to the principles of the technique and is the only book to date on the subject written specifically for geologists and mineralogists. The first part of the book deals with the essential physics of the transmission electron microscope and presents the basic theoretical background required for the interpretation of images and electron diffraction patterns. These explanations require mathematics, but nothing more advanced than elementary differential and integral calculus is used. A knowledge of elementary crystallography is assumed, and some familiarity with optics and electromagnetic theory is helpful but not essential. The final chapters are concerned with specific applications of TEM in mineralogy and deal with such topics as planar defects, intergrowths, radiation-induced defects, dislocations and deformation-induced microstructures. The examples cover a wide range of rock-forming minerals from crustal rocks to those in the lower mantle, and also take into account the role of defects in important mineralogical and geological processes.
Sklep: Libristo.pl 399,99 zł
Książki Obcojęzyczne>Angielskie>Earth sciences, geography, environment, planning>Earth sciences>Geology & the lithosphere>StratigraphyK...
Advanced Textbook Outlining The Physical, Chemical, And Biological Properties Of Sedimentary Rocks Through Petrographic Microscopy, Geochemical Techniques, And Field Study.
Sklep: Gigant.pl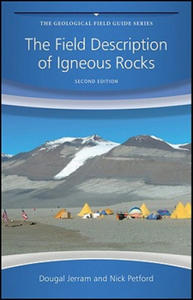 149,80 zł
Książki / Literatura obcojęzyczna
The Second Edition of this unique pocket field guide has been thoroughly revised and updated to include the advances in physical volcanology, emplacement of magmas, and interpreting structures and textures in igneous rocks. The book has included new techniques, such as AMS and geophysical studies of pluton shape at depth, and new topics such as the occurrence of porphyrys, laccoliths, and magma sediment interaction. Part of the successful Field Guide series, this book includes new sections featuring Granitic rocks, basaltic rocks, magma mixing and mingling, and engineering properties and mineralization.
Sklep: Libristo.pl 774,95 zł
Księgarnia / Cambridge University Press / Badania planet
The Martian Surface Composition, Mineralogy and Physical Properties Autor: Edited by Jim BellPhenomenal new observations from Earth-based telescopes and Mars-based orbiters, landers, and rovers have dramatically advanced our understanding of the past environments on Mars. These include the first global-scale infrared and reflectance spectroscopic maps of the surface, leading to the discovery of key minerals indicative of specific past climate conditions; the discovery of large reservoirs of subsurface water ice; and the detailed in situ roving investigations of three new landing sites. This an important, new overview of the compositional and mineralogic properties of Mars since the last major study published in 1992. An exciting resource for all researchers and students in planetary science, astronomy, space exploration, planetary geology, and planetary geochemistry where specialized terms are explained to be easily understood by all who are just entering the field. Spis treści: Dedication Acknowledgements Foreword Part I. Introduction and Historical Perspective: 1. Exploration of the Martian surface: 1992–2007 2. Historical context: the pre-MGS view of Mars' surface composition Part II. Elemental Composition: Orbital and In Situ Surface Measurements: Part II. A. Results and Interpretations from New In Situ APXS Measurements: 3. Martian surface chemistry: APXS results from the Pathfinder landing site 4. Mars exploration rovers – chemical composition by the APXS Part II. B. Results and Interpretations from New Orbital Elemental Measurements: 5. Elemental abundances determined via the Mars Odyssey GRS 6. Volatiles on Mars: scientific results from the Mars Odyssey Neutron Spectrometer Part III. Mineralogy and Remote Sensing of Rocks, Soil, Dust, and Ices: Part III. A. Visible to Near-IR Telescopic and Orbital Measurements: 7. Mineralogy of the Martian surface from Mars Express OMEGA Observations 8. Visible to near-IR multispectral orbital observations Part III. B. Mid-IR and Magnetic Orbital Measurements: 9. Global mineralogy mapped from the Mars Global Surveyor Thermal Emission Spectrometer 10. The compositional diversity and physical properties mapped from the Mars Odyssey Thermal Emission Imaging System 11. Mars' crustal magnetization: a window into the past Part III. C. Observations from Surface Landers/Rovers: 12. Multispectral imaging from Mars Pathfinder 13. Mars Exploration Rover Pancam multispectral imaging of rocks, soil, and dust at Gusev Crater and Meridiani Planum 14. The mineralogy of Gusev Crater and Meridiani Planum derived from the Miniature Thermal Emission Spectrometers on the Spirit and Opportunity Rovers 15. Iron mineralogy and aqueous alteration on Mars from the MER MĂśssbauer Spectrometers 16. Magnetic properties results from surface landers and rovers Part III. D: 17. Martian meteorites as crustal samples Part IV. Physical Properties of Surface Materials: 18. The thermal inertia of the surface of Mars 19. Physical properties of the Martian surface from spectrophotometric observations 20. In-situ observations of the physical properties of the Martian surface 21. Martian surface properties from joint analyses of orbital, Earth-based, and surface observations Part V. Synthesis: 22. Implications of the observed primary lithologies 23. Aqueous alteration on Mars 24. The sedimentary rock cycle of Mars 25. Implications for Martian polar processes 26. Astrobiological implications of Mars surface composition and properties Part VI: 27. Summary, upcoming missions, and new measurement needs Acronyms Index.dla: academic researchers, graduate students isbn9780521866989stron652Data publikacji05/06/2008380 b/w illus. 76 colour illus.Hardback276 x 219 mm
Sklep: Teleskopy.net 494,69 zł
Książki / Literatura obcojęzyczna
''Organic Petrology'' is a new book, but one with antecedents. It is rooted in the famous ``Stach''s Textbook of Coal Petrology'''' (1975) and its predecessor ``Stach''s Lehrbuch der Kohlenpetrologie'''' (1935) but has been completely revised and expanded in order to incorporate a huge amount of new data obtained in the two decades since the publication of the 3rd edition of Stach. ''Organic Petrology'' now covers the whole field of the petrology of organic material in rocks. This book, wich is relevant for all those, whose work is related to coal, oil and gas source rocks, and other organic matter which occurs in rocks, deals with: characterization, microstructure; geology and biology of formation of organic matter; maturation and increase in coal rank and the generation of hydrocarbons which takes place concurrently; experimental organic petrology; physical and chemical properties of organic compounds in rocks; industrial processing of coal and the application of organic petrology in solving geological problems (such as determining rates of subsidence, thermal histories). Sections which introduce major topics are organized so as to allow easy access to the topic, even for the non-specialist. No field of science can avoid the use of technical terms -- these are explained when they are used for the first time. The text is supplemented by an exhaustive reference list and a subject index. Information on the worldwide stratigraphic distribution of coal deposits and organic matter-bearing rocks, is included in an appendix. ''Organic Petrology'' was authored by a team of six high ranking authors, coordinated by G.H. Taylor, ANU, Canberra. The number of authors refects the breadth of organic petrology that this book covers. Some material, revised and updated, was incorporated from the classic ''''Stach''s Textbook of Coal Petrology'''' which this new book supplants by providing a greatly broadened view of organic matter in rocks and drawing on up to date research results and recent publications. Five colleagues of the authors made contributions to bring some specialty sections up to the state of the art. The book addresses researchers, undergraduate, graduate and postgraduate students, people concerned with the assessment, mining and use of coal and oil shales, and exploration workers interested in the occurrence and the evaluation of petroleum and natural gas and their source rocks.
Sklep: Libristo.pl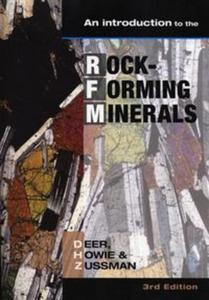 384,90 zł
Książki
In this edition, most of the commonly occurring minerals of igneous, metamorphic and sedimentary rocks are discussed in terms of structure, chemistry, optical and other physical properties, distinguishing features and paragenesis. Important correlations between these aspects of mineralogy are emphasized wherever possible. The content of each section has been updated where needed in the light of published research over the 21 years between editions. Tables of over 200 chemical analyses and formulae are included and a number of older entries have been replaced by more recent examples. Major new features: ? Over 60 colour photographs of minerals in thin sections of rocks under the petrological microscope ? Considerably expanded treatment of feldspar and zeolite minerals ? Mineral identification table based on birefringence and listing other properties ? Colour strip with appropriate interference colours and birefringences for the main rock-forming minerals This book will be useful to undergraduate students of mineralogy, petrology and geochemistry, especially those at third or fourth year, engaged in more advanced courses or specialized projects, and also as a reference work for students for ?Masters? degrees by taught courses or research. For doctorate students, and research workers in the Earth Sciences as well as those in Materials Science and other related disciplines, this work can be useful as a condensed version of the very extensive treatment presented in the volumes of the DHZ Series ?Rock-Forming Minerals?, second edition.
Sklep: Booknet.net.pl 170,45 zł
Książki / Literatura obcojęzyczna
River sands, which are natural coarse-grained materials, have been generally used extensively in civil engineering construction, either as a component of concrete or as geotechnical infrastructure such as cushion materials and embankment materials. However, recently, manufactured or M-sands are also being used in civil engineering construction. These M-sands are produced through manufacturing processes from some parent rocks which are crushed and powdered, and processed to serve as sands that can be used in construction purposes. This book compares the physical and engineering properties of a natural river sand and of two M sands obtained from two different production sources, one in the state of Tamilnadu and the other in the state of Kerala in India. Grain size distribution, shear box test results and permeability of these sands were compared as obtained from carefully performed series of laboratory tests. Angle of internal friction ( ) of all the sands increased with increasing relative density (Dr). In natural river sand, for a given Dr, finer fractions resulted in higher than natural mixes, and in M-sands, finer fractions resulted in lower than natural mixes.
Sklep: Libristo.pl 1389,93 zł
Książki / Literatura obcojęzyczna
This revised and much expanded second edition provides easy and rapid access to data on the physical and chemical properties of all classes of materials. These classes are: ferrous metals and their alloys; nonferrous metals; semiconductors and superconductors; magnetic materials; insulators and dielectrics; miscellaneous electrical materials; ceramics, refractories and glasses; polymers and elastomers; minerals, ores and gemstones; rocks and meteorites; soils; cements, concrete, building stones and construction materials; timbers and woods; fuels, propellants and explosives; composite materials; gases; liquids.§Appendices provide additional information on diverse subjects and an extensive bibliography rounds out this comprehensive guide. The index and tabular format of the book enable the reader to locate and extract relevant information simply and quickly.
Sklep: Libristo.pl 630,50 zł
Książki / Literatura obcojęzyczna
This book focuses on the applicaitons of geophysics in addressing petroleum engineering problems. It explores the complementary features of geophysical techniques in better understanding, characterizing, producing and monitoring of the reservoirs. The objective of this book is to introduce the engineers to geophysical methods so that they can communicate their needs to, and appreciate the full benefits of the results they receive from, the geophysicists with whom they work. Fundamentals of geophysical techniques, their physical basis, their applications and limitations as well as possible pitfalls in their mis-use are described. Case study examples are presented to illustrate the integration of geophysical data and various other data types for predicting and describing reservoir rocks and fluid properties. The examples are from different parts of the world, with a larger number of case histories from the fields in the Middle East.
Sklep: Libristo.pl
Sklepy zlokalizowane w miastach: Warszawa, Kraków, Łódź, Wrocław, Poznań, Gdańsk, Szczecin, Bydgoszcz, Lublin, Katowice
Szukaj w sklepach lub całym serwisie
2. Szukaj na wszystkich stronach serwisu
t1=0.095, t2=0, t3=0, t4=0.027, t=0.095