krainaksiazek pj harvey and music video performance 20126556
- znaleziono 3 produkty w 1 sklepie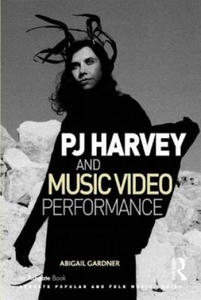 552,35 zł
Książki / Literatura obcojęzyczna
PJ Harvey's performances are premised on the core contention that she is somehow causing 'trouble'. Just how this trouble can be theorised within the context of the music video and what it means for a development of the ways we might conceptualise 'disruption' and think about music video lies at the heart of this book. Abigail Gardner mixes feminist theory and critical models from film and video scholarship as a rich means of interrogating Harvey's work and redefining her disruptive strategies. The book presents a rethinking of the masquerade that allies it to cultural memory, precipitated by Gardner's claim that Harvey's performances are conversations with the past, specifically with visualised memories of archetypes of femininity. Harvey's masquerades emerge from her conversations and renegotiations with both national and transatlantic musical, visual and lyrical heritages. It is the first academic book to present analysis of Harvey's music videos and opens up fresh avenues into exploring what is at stake in the video work of one of Britain's premier singer-songwriters. It extends the discussion on music video to consider how to make sense of the rapidly developing digital environment in which it now sits. The interdisciplinary nature of the book should attract readers from a range of subject areas including popular music studies, cultural studies, media and communication studies, and gender studies.
Sklep: Libristo.pl 128,82 zł
Książki / Literatura obcojęzyczna
Source: Wikipedia. Pages: 113. Chapters: Pet Shop Boys, Orchestral Manoeuvres in the Dark, Leftfield, The KLF, The Orb, The Future Sound of London, Fluke, Dead or Alive, Psychic TV, Booty Luv, Moloko, Freemasons, Apollo 440, Secret Life, EMF, Saint Etienne, M People, Ultrabeat, The Shamen, Soul II Soul, Republica, Utah Saints, Faithless, N-Trance, The Young Punx, A Certain Ratio, Digital Dog, Sunscreem, Jesus Loves You, Dubstar, Shapeshifters, The Farm, Freestylers, Full Intention, Freeez, Phats & Small, Beatmasters, Aurora, Monaco, Global Communication, S'Express, Cahill, Bizarre Inc, Altern-8, Rod Carrillo, Renegade Soundwave, SL2, Urban Cookie Collective, The Japanese Popstars, Bentley Rhythm Ace, The Grid, The Other Two, Dirty Vegas, Flowered Up, The Adventures of Stevie V, Soul Seekerz, Freeform Five, LFO, Revenge, Baby D, One Dove, Slam, Layo & Bushwacka!, Clock, Party Dark, Blue October UK, Platnum, Opus III, Candy Flip, N-Joi, Dario G, Nightcrawlers, Liquid, Electribe 101, Love to Infinity, Mix Munkies, Linus Loves, Coburn, Freeloaders, Technique, Stunt, Mirage, X-Press 2, Swayzak, Rod Carrillo and Ronnie Sumrall, Planet Perfecto, Blue Pearl, Hot House, Oceanic, Energia, Astralasia, 2wo Third3, Jersey Street, Brothers in Rhythm, Lionrock, Rezonance Q, Space Raiders, Grace, The Chimes, Nomad, Bassomatic, Fred & Roxy, The DiY Sound System, Happy Clappers, Ruff Driverz, Brancaccio & Aisher, Silicone Soul, Diddy, Reflekt, Pocket Size, Arizona, Goldtrix, Disco Mix Club, Afro Medusa, Desert, Bamboo, LRS, Hustlers Convention, Shafunkers, The Latin Project, If?, Spirits, Black Jazz Chronicles. Excerpt: The KLF (also known as The Justified Ancients of Mu Mu, The Timelords and other names) were one of the seminal bands of the British acid house movement during the late 1980s and early 1990s. Beginning in 1987, Bill Drummond (alias King Boy D) and Jimmy Cauty (alias Rockman Rock) released hip hop-inspired and sample-heavy records as The Justified Ancients of Mu Mu, and on one occasion (the British number one hit single "Doctorin' the Tardis") as The Timelords. As The KLF, Drummond and Cauty pioneered the genres "stadium house" (rave music with a pop-rock production and sampled crowd noise) and "ambient house. The KLF released a series of international top-ten hits on their own KLF Communications record label, and became the biggest-selling singles act in the world for 1991 The duo also published a book, The Manual, and worked on a road movie called The White Room. While Drummond and Cauty as the KLF "had been around for many years with only moderate underground success, however, their fortunes turned upward when they decided to collaborate with several vocalists (P.P. Arnold, Maxine Harvey, Samantha Brown, etc.), rappers & Wanda as a lead singer, lyricist & sensuous centrepiece of their acclaimed songs & video presentations, throughout the 90's. The result was a multimillion selling album." Wanda Dee as lead vocalist on most of their top ten hits and videos was of key importance to this. From the outset, they adopted the philosophy espoused by esoteric novel series The Illuminatus! Trilogy, gaining notoriety for various anarchic situationist manifestations, including the defacement of billboard adverts, the posting of prominent cryptic advertisements in NME magazine and the mainstream press, and highly distinctive and unusual performances on Top of the Pops. Their most notorious performance was a collaboration with Extreme Noise Terror at ...
Sklep: Libristo.pl 82,21 zł
The KLF Books on Demand
Książki / Literatura obcojęzyczna
Source: Wikipedia. Pages: 30. Chapters: K Foundation Burn a Million Quid, Bill Drummond, K Foundation art award, Jimmy Cauty, List of The KLF's creative associates, The Moody Boys, The Manual, 45, Graham Lee, Scott Piering, Alan Goodrick, Foundry, The KLF films. Excerpt: The KLF, which stands for Kallisti Liberation Front (also known as The Justified Ancients of Mu Mu, The Timelords and other names) were one of the seminal bands of the British acid house movement during the late 1980s and early 1990s. Beginning in 1987, Bill Drummond (alias King Boy D) and Jimmy Cauty (alias Rockman Rock) released hip hop-inspired and sample-heavy records as The Justified Ancients of Mu Mu, and on one occasion (the British number one hit single "Doctorin' the Tardis") as The Timelords. As The KLF, Drummond and Cauty pioneered the genres "stadium house" (rave music with a pop-rock production and sampled crowd noise) and "ambient house. The KLF released a series of international top-ten hits on their own KLF Communications record label, and became the biggest-selling singles act in the world for 1991 The duo also published a book, The Manual, and worked on a road movie called The White Room. While Drummond and Cauty as the KLF "had been around for many years with only moderate underground success, however, their fortunes turned upward when they decided to collaborate with several vocalists (P.P. Arnold, Maxine Harvey, Samantha Brown, etc.), rappers & Wanda as a lead singer, lyricist & sensuous centrepiece of their acclaimed songs & video presentations, throughout the 90's. The result was a multimillion selling album." Wanda Dee as lead vocalist on most of their top ten hits and videos was of key importance to this. From the outset, they adopted the philosophy espoused by esoteric novel series The Illuminatus! Trilogy, gaining notoriety for various anarchic situationist manifestations, including the defacement of billboard adverts, the posting of prominent cryptic advertisements in NME magazine and the mainstream press, and highly distinctive and unusual performances on Top of the Pops. Their most notorious performance was a collaboration with Extreme Noise Terror at the February 1992 BRIT Awards, where they fired machine gun blanks into the audience a
Sklep: Libristo.pl
Sklepy zlokalizowane w miastach: Warszawa, Kraków, Łódź, Wrocław, Poznań, Gdańsk, Szczecin, Bydgoszcz, Lublin, Katowice
Szukaj w sklepach lub całym serwisie
2. Szukaj na wszystkich stronach serwisu
t1=0.027, t2=0, t3=0, t4=0, t=0.028