krainaksiazek plants of tropical forests 20045711
- znaleziono 11 produktów w 2 sklepach 318,32 zł
Książki / Literatura obcojęzyczna
Seasonally dry tropical forests are worldwide recognized as important ecosystems for biodiversity conservation. Increasing agricultural activities (e.g., slash-and-burn agriculture) leads to a heterogeneous landscape matrix; and as ecological succession takes over in abandoned fields, plant and animal communities endure shifts in species richness and composition. This book presents the analysis on plant and Lepidoptera (caterpillar) communities and their species turnover along forest succession and along a gradient from dry to humid seasonal forests in the Southern Yucatan Peninsula, Mexico. We discuss the contribution of climate zones, forest age and seasonality to the comunity structure of plant and Lepidoptera assemblages. The study of these environmental gradients may serve to understand and forecast future changes in species diversity in response to increasing human activities and climate change. This book aims to encourage comprehensive research in the field of community ecology of plants and insects, and will also be of interest to those working in conservation, land use management and climate change in seasonally dry tropical forests.
Sklep: Libristo.pl 681,20 zł
Książki / Literatura obcojęzyczna
The effect of global climate change is clear to all now-a-days. This effect is clearly dangerous to the developing countries like Bangladesh. The industrial revolution made the major changes in the technology, socio-economy and cultures in the late 18th and early 19th century that began in Britain and spread throughout the world. The technology dominated economy was mostly dependent on the energy produced from the fossil fuel which is keeping pace at this time also. It has been confirmed that fossil fuel burning has increased the GHGs to the atmosphere creating the global warming. Among the GHGs, the concentration of CO2 has been confirmed as the largest. Terrestrial ecosystems are clearly influencing the concentration of GHGs to the atmosphere as it works both sinks and sources. Greenhouse gases are constantly entering and leaving the atmosphere. Actively growing trees and other plants uptake CO2 from the atmosphere, combines it with water through photosynthesis and create sugars and more stable carbohydrates. Through this process, trees capture and store atmospheric CO2 in vegetation, soils and biomass products. The Kyoto Protocol, in 1997, explored a flexile mechanism, CDM (Clean Development Mechanism) where Annex I and non-Annex I parties interact for climate change mitigation. Forestry activities have been considered important in the arena of climate change as it works both as sink and sources of carbon. The general purpose of this book is to find out the means and ways to contribute efficiently to reducing global warming through the forestry options in Bangladesh with the implications of CDM. The exploration by this book can be useful to understand this issues in other tropical/sub-tropical developing countries also.
Sklep: Libristo.pl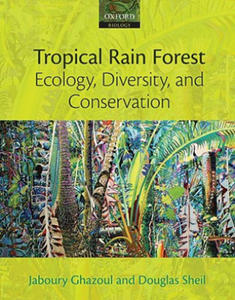 257,09 zł
Książki / Literatura obcojęzyczna
Rain forests represent the world's richest repository of terrestrial biodiversity, and play a major role in regulating the global climate. They support the livelihoods of a substantial proportion of the world's population and are the source of many internationally traded commodities. They remain (despite decades of conservation attention) increasingly vulnerable to degradation and clearance, with profound though often uncertain future costs to global society. Understanding the ecology of these diverse biomes, and peoples' dependencies on them, is fundamental to their future management and conservation. Tropical Rain Forest Ecology, Diversity, and Conservation introduces and explores what rain forests are, how they arose, what they contain, how they function, and how humans use and impact them. The book starts by introducing the variety of rain forest plants, fungi, microorganisms, and animals, emphasising the spectacular diversity that is the motivation for their conservation. The central chapters describe the origins of rain forest communities, the variety of rain forest formations, and their ecology and dynamics. The challenge of explaining the species richness of rain forest communities lies at the heart of ecological theory, and forms a common theme throughout. The book's final section considers historical and current interactions of humans and rain forests. It explores biodiversity conservation as well as livelihood security for the many communities that are dependent on rain forests - inextricable issues that represent urgent priorities for scientists, conservationists, and policy makers.
Sklep: Libristo.pl 531,66 zł
Książki / Literatura obcojęzyczna
Climbing plants, including lianas, represent a fascinating component of the ecology of tropical forests. This book focuses on the climbing plants of West African forests. Based on original research, it presents information on the flora (including a checklist), diversity (with overviews at several levels of integration), ecology (distribution, characteristics in relation to environment, their role in forest ecosystems) and ethnobotany Forestry aspects, such as their impact on tree growth and development, and the effects of forestry interventions on climbers are also covered.
Sklep: Libristo.pl 94,73 zł
Książki / Literatura obcojęzyczna
Native to every continent except Antarctica, palms are most closely identified with tropical regions and one species in particular, Cocos nucifera, the coconut palm, is the universally recognized symbol of all things tropical. Yet, many palms can withstand freezing and thus can be grown in mild temperate climates where the average low temperature does not drop below 5-F ( 15-C). In addition, palms thrive in a wide range of habitats from swamps to deserts, rain forests to plains and grasslands. Some prefer full sun, others deep shade. Some are stemless shrubs, others are solitary or clustering trees, and still others are vinelike, but all are evergreen. Given such diversity and versatility, it is surprising that palms are underutilized in landscapes and gardens, even in tropical climes. Several reasons account for this, including misconceptions about the plants' growing requirements and unfamiliarity with their ornamental qualities. This pocket guide remedies both problems. It unlocks the keys to successfully growing 200 of the most common and easily obtainable palm species and hybrids, and it highlights botanical characteristics that are of interest to gardeners and landscapers. Each description includes details of trunk, crownshaft, leaf, flower, and fruit to assist in plant identification and selection. The extensive cultivation notes include details of mature tree size, cold hardiness, and light, soil, and water requirements. Suggestions for using the plants indoors and out will help even novice gardeners know where to start, and succinct information on seed germination will assist anyone who wants to grow their own palms from seed. Illustrated with more than 300 color photographs, this guide is a valuable complement to "An Encyclopedia of Cultivated Palms" and an ideal reference for taking to the nursery or garden center.
Sklep: Libristo.pl 248,92 zł
Książki / Literatura obcojęzyczna
The euphoria of discovery is the only motivation many scientists need for studying nature and its secrets. Yet euphoria is rarely expressed in scientific publications. This book, a personal account of more than thirty years of fieldwork by one of the world's leading bat biologists, wonderfully conveys the thrill of scientific discovery. Theodore Fleming's work to document the lives and ecological importance of plant-visiting bats has taken him to the tropical forests of Panama, Costa Rica, and Australia, and to the lush Sonoran Desert of northwest Mexico and Arizona. This book tells the story of his fascinating career and recounts his many adventures in the field. Fleming weaves autobiographical reflections together with information on the natural history and ecology of bats and describes many other animals and plants he has encountered. His book details the stresses and rewards of life in scientific field camps, gives portraits of prominent biologists such as Dan Janzen and Peter Raven, and traces the development of modern tropical biology. A witness to the destruction and development of many of the forests he has visited throughout his career, Fleming makes a passionate plea for the conservation of these wild places.
Sklep: Libristo.pl 377,14 zł
Książki / Literatura obcojęzyczna
Tropical rainforests are distinguished from all other terrestrial ecosystem with high diversity of species and life-forms and are the most heterogeneous of the world ecosystems. Andaman Islands are a treasure of plant and animal diversity and home to four aboriginal tribes. namely the Andamanese, Onges, Jarawas and Sentenelese. A century-old cultural history of human occupation in these islands and indiscriminate utilization of plant resources by humans in the recent past, have posed serious threat to biodiversity. The study island Little Andaman although disturbed due to plantation of oil palm, tourism and related activities, harbours rich flora including endemics, and constitutes one of the important forests in the Indo-Burma biodiversity hotspot. In the study, the tree species richness, density and basal area were greater in all the undisturbed forests as compared to the disturbed forests. In understory plants, weeds formed about 1/4 of the species richness and density and the maximum diversity of weeds were recorded from the disturbed sites. The disturbed sites harboured lowest tree species richness and the highest understory plant species richness due to bioinvasion of weeds.
Sklep: Libristo.pl 46,80 zł
Książki / Literatura obcojęzyczna
Excerpt from Saw Palmetto: Sabal Serrulata, Serenoa Serrulata; Its History, Botany, Chemistry, Pharmacology, Provings, Clinical Experience and Therapeutic Applications The drug which forms the subject of this treatise belongs to the great family Palmaceć (Palms), a large order, which is preeminent in the whole world of plants for-the grandeur and beauty attained by many of the species. They are mainly tropical, there being but five species in the United States. These range in size from the dwarf palmetto of the sands of the coast, not more than a foot high, to the Royal Palm, found in the depth of the primeval forests of the extreme southern portion of Florida, which towers to the height of two hundred feet. No order of plants has been put to greater uses for ornamentation or utility. There is hardly a place in art in which it has not been used. It is actually indispensable to the life of many tribes and nations of human beings. Its members supply food, beverage, shelter and a thousand other means of sustenance and comfort to the inhabitants of nearly every country in the tropics. This great family numbers over one hundred species. About the Publisher Forgotten Books publishes hundreds of thousands of rare and classic books. Find more at www.forgottenbooks.com This book is a reproduction of an important historical work. Forgotten Books uses state-of-the-art technology to digitally reconstruct the work, preserving the original format whilst repairing imperfections present in the aged copy. In rare cases, an imperfection in the original, such as a blemish or missing page, may be replicated in our edition. We do, however, repair the vast majority of imperfections successfully; any imperfections that remain are intentionally left to preserve the state of such historical works.
Sklep: Libristo.pl 104,02 zł
Książki / Literatura obcojęzyczna
Source: Wikipedia. Pages: 78. Chapters: Ulmus americana, Kalmia latifolia, Ficus aurea, Acer rubrum, Roystonea regia, Liriodendron tulipifera, Banyan, Pinus palustris, Gordonia lasianthus, Liquidambar styraciflua, Cornus florida, Acer negundo, Diospyros virginiana, Nyssa sylvatica, Sassafras albidum, Solanum erianthum, Acer floridanum, Leucothrinax, Sabal palmetto, Manchineel, Quercus virginiana, Aralia spinosa, Florida mangroves, Bursera simaruba, Catalpa bignonioides, Dodonaea viscosa, Ilex opaca, Conocarpus erectus, Acer saccharinum, Hoptree, Asimina triloba, Fraxinus pennsylvanica, Ficus citrifolia, Erythrina herbacea, Avicennia germinans, Pagoda dogwood, Ulmus alata, Oxydendrum, Ilex decidua, Florida scrub, Magnolia acuminata, Quercus laurifolia, Amyris elemifera, Acoelorrhaphe, Quercus nigra, Annona glabra, Pinus elliottii, Zanthoxylum fagara, Swietenia mahagoni, Aesculus pavia, Cyrilla, Pinus serotina, Cordia sebestena, Acer leucoderme, Simarouba glauca, Guaiacum sanctum, Coccoloba diversifolia, Coccothrinax argentata, Pinus clausa, Pseudophoenix sargentii, Quercus chapmanii, Capparis cynophallophora, Quercus stellata, Taxodium ascendens, Dipholis salicifolia, Sideroxylon celastrinum, Citharexylum spinosum, Sideroxylon foetidissimum, Krugiodendron ferreum, Metopium toxiferum, Nyssa aquatica, Zanthoxylum flavum, Lysiloma latisiliquum, Gymnanthes lucida, Carya floridana, Fraxinus caroliniana, Persea palustris, Sideroxylon lycioides, Cliftonia monophylla. Excerpt: Ficus aurea, commonly known as the Florida strangler fig (or simply strangler fig), golden fig, or higuerón, is a tree in the family Moraceae that is native to the U.S. state of Florida, the northern and western Caribbean, southern Mexico and Central America south to Panama. The specific epithet aurea was applied by English botanist Thomas Nuttall who described the species in 1846. Older names applied to this species were later ruled invalid. Ficus aurea is a strangler fig. In figs of this type, seed germination usually takes place in the canopy of a host tree with the seedling living as an epiphyte until its roots establish contact with the ground, after which it enlarges and strangles its host, eventually becoming a freestanding tree in its own right. Individuals may reach 30 m (100 ft) in height. Like all figs, it has an obligate mutualism with fig wasps: figs are only pollinated by fig wasps, and fig wasps can only reproduce in fig flowers. The tree provides habitat, food and shelter for a host of tropical lifeforms including epiphytes in cloud forests and birds, mammals, reptiles and invertebrates. F. aurea is used in traditional medicine, for live fencing, as an ornamental and as a bonsai. Ficus aurea sapling showing elliptic leaf shape at Long Key, FloridaFicus aurea is a tree which may reach heights of 30 m (98 ft). It is monoecious: each tree bears functional male and female flowers. Figs are generally evergreen, but F. aurea is briefly leafless in winter at the northern end of its range in Florida. The size and shape of the leaves is variable. Some plants have leaves that are usually less than 10 cm (4 in) long while others have leaves that are larger. The shape of the leaves and of the leaf base also varies-some plants have leaves that are oblong or elliptic with a wedge-shaped to rounded base, while others have heart-shaped or ovate leaves with cordate to rounded bases. F. aurea has paired figs which are green when unripe, turning yellow as the...
Sklep: Libristo.pl 509,22 zł
Książki / Literatura obcojęzyczna
The study aims to provide information for developing a concept for urban green management in Kota Kinabalu Sabah, as well as to judge the ecological sustainability and to describe the importance of urban green area for the public. A focus is placed on the terrestrial and aerial inventory of the natural resources, including trees, landscape and biotopes. Furthermore, the study tries to explore the perception and attitude of local people, concerning urban forests and green areas. It also explores and investigates the possibilities for implementing an urban green management concept. In addition, the concept for urban green management in tropical urban green areas requires appropriate measures to guarantee control of the development. In order to cope with environmental problems and to prevent new ones, planning with foresight is necessary. The overall goal is to safeguard the capacity of the ecosystem. That means the complex interrelationship of all natural resources such as plants, wildlife, human intervention, soil, water with their vast physical, chemical and biological processes should be considered in the early planning processes.
Sklep: Libristo.pl 113,90 zł
Inne 1
The Sonoran Desert is one of the most wildly diverse regions in the world. Covering southeastern California, the southern half of Arizona, most of Baja California, and much of the state of Sonora, Mexico, this vast area is home to an amazing variety of plants and animals. Its terrain varies dramatically, from parched desert lowlands to semiarid tropical forests and frigid subalpine meadows. This text provides a complete collection of Sonoran Desert natural history information and is an introduction to this biologically rich desert in North America.
Sklep: Albertus.pl
Sklepy zlokalizowane w miastach: Warszawa, Kraków, Łódź, Wrocław, Poznań, Gdańsk, Szczecin, Bydgoszcz, Lublin, Katowice
Szukaj w sklepach lub całym serwisie
2. Szukaj na wszystkich stronach serwisu
t1=0.066, t2=0, t3=0, t4=0.028, t=0.067