krainaksiazek poems of the christian faith 20119177
- znaleziono 8 produktów w 2 sklepach 94,09 zł
Książki / Literatura obcojęzyczna
John Milton was a master of almost every type of verse, from the classical to the religious and from the lyrical to the epic. His early poems include the devotional 'On the Morning of Christ's Nativity", "Comus", "A Masque", and the pastoral elegy "Lycidas". After Cromwell's death and the dashing of Milton's political hopes, he began composing "Paradise Lost", which reflects his profound understanding of politics and power. Written when Milton was at the height of his abilities, this great masterpiece fuses the Christian with the classical in its description of the fall of Man. In "Samson Agonistes", Milton's last work, the poet draws a parallel with his own life in the hero's struggle to renew his faith in God.
Sklep: Libristo.pl 166,37 zł
Książki / Literatura obcojęzyczna
The poems in Things Not Seen are by turns playful, witty, and serious. Ranging widely from rock concert to communion, from the stray dog of faith to the results of a mammogram, sewing to shooting stars, Schrodinger's cat to Lazarus, they address issues of doubt and longing, the desire for certainty, the presence of mystery, and the struggle in, of, and for faith. After examining sources of false confidence along with failures to see, the poems explore conflicting ways of knowing and being, gradually turning toward an increased willingness to accept limitation, and finally reaching toward tentative affirmations. The final section, a series of poems written in response to icons, charts a struggle toward vision and understanding, an effort to see with the eyes of faith. ""Things Not Seen is by turns knowingly ironic, linguistically playful, lyrically intimate, celebratory of family, the natural world, momentary pleasures, and wise. These ambitious poems explore layers of faith, love, and ethical commitment. Things Not Seen is a wholly satisfying collection . . . [which] bears the image of a truly accomplished poet."" --Philip Terman, Professor of English, Clarion University, Co-Director, Chautauqua Writers' Festival ""The poems in Things Not Seen are, paradoxically, clear-sighted, looking unflinchingly at the realities of our daily doubts, sufferings, and the lies we tell ourselves and each other. In the midst of these betrayals, however, are life-giving surprises and infusions of grace, pointing, like John the Baptist, to Christ crushed for us. They are Imago Dei, breathing incarnations. They are themselves icons, small masterpieces that lead us to full devotion."" --Jill Baumgaertner, Professor of English, Dean of Humanities and Theological Studies, Wheaton College; Poetry editor, The Christian Century ""Playful and earnest, these lucid poems will concentrate your attention 'the way a magnifying / glass // gathers the mild sun / to make a point / so heated it can start / a blaze.' In poem after poem, Things Not Seen gives evidence of faithful perception. For here they come, like daffodils, 'green / nails bursting / through the snow.'"" --Paul J. Willis, Say This Prayer into the Past ""The placid surfaces of these elegantly rendered poems leave me unprepared for the microbursts of their inner and outer weather. From dandelions to Christmas cards, Potter contemplates the 'tepid pleasures' of the world, turning them and turning them until I am moved, as he is, by what Baudelaire called 'jolts of consciousness,' at times epiphanic, but just as often wistful and pensive."" --L. S. Klatt, Associate Professor of English, Calvin College Eric Potter is Professor of English at Grove City College (PA) where he teaches courses in creative writing, American literature, and modern poetry. He is the author of two poetry chapbooks, Heart Murmur (2010) and Still Life (2010).
Sklep: Libristo.pl 141,85 zł
Książki / Literatura obcojęzyczna
""We are surrounded by poetry on all sides,"" Vincent van Gogh (1853-90) once wrote to his brother Theo. His art was a reflection of this belief. In these ekphrastic sonnets, the author reflects on themes Van Gogh returned to over and over again in his brief but intense journey from evangelist and pastor-in-training to painter of peasants, still lifes and growing things. As these poems reflect, Van Gogh's poetic imagination was best expressed in blossoming orchards, starry nights, sheaves of wheat, final harvests, and in his signature sunflowers--a metaphor for his own life, lifting petals to the sky, bending toward heaven. ""Sharon Fish Mooney engages Vincent van Gogh's artistry within her poetic imagination as a sacred space shared between them. The reader enters the communal exchange through evocative images and turns of phrase applied like fresh brush strokes, extending to us the far reach of Vincent's anguished yet enchanted universe."" --Charles Davidson, author of Bone Dead, and Rising: Vincent van Gogh and the Self before God ""This paean to Vincent evokes the link between art and prayer: how his faith was as close to his canvas as brush and paint. Mooney's word-portraits of skilled form and visceral metaphor create a poetic breviary reminding that the inspired longing in the work of van Gogh is a holy one, and that words of a masterful poet such as this can be as vivid as the framed art of a great master."" --Annabelle Moseley, author of A Ship to Hold the World and The Marionette's Ascent ""Poets across the ages have written ekphrastic verse--poetry that responds to another work of art. In Bending Toward Heaven, Sharon Fish Mooney joins the company of such poets--including John Keats and W. H. Auden--with these well-crafted, beautifully evocative sonnets that translate paintings by Vincent van Gogh into music, rhythm, and words."" --David Middleton, author of The Habitual Peacefulness of Gruchy: Poems After Pictures by Jean-Francois Millet; Poetry Editor, Modern Age ""Mooney is transcribing painted prayers. And she accomplishes this ekphrasis with impeccable formality: the poems are Shakespearean and Italian sonnets all. Wearing that dignified vestment, the poems consider how van Gogh's art 'could lead to God as well as words.' Of course the facade of formal restraint dissolves as we read: these are intimate poems."" --Charlene Fix, poet; Professor Emeritus, English, Columbus College of Art and Design Sharon Fish Mooney teaches nursing research online for Regis University, Denver, Colorado, and Indiana Wesleyan. She won the inaugural Frost Farm Prize for metrical poetry. Her poems have appeared in various journals including RUMINATE, The Lyric, The Evansville Review, String Poet, Christian Research Journal, First Things, Modern Age, The Lost Country, and Common Threads. She is poetry editor of the Journal of Christian Nursing. Sharon lives in Ohio with her husband Scott, also a poet.
Sklep: Libristo.pl 56,99 zł
Książki Obcojęzyczne>Angielskie>Literature & literary studies>Poetry>Individual poets
In A Pared-down Sequence Of Poems, 'A Song Among The Stones' Tells A Story Of Sixth Century Celtic Christian Monks And Their Faith, Courage And Determination On Journeys From The West Coast Of Scotland To Iceland.
Sklep: Gigant.pl 69,08 zł
Książki / Literatura obcojęzyczna
The most famous, beautiful and spiritually moving poems of the twentieth-century, read by the most famous poet. Historic recordings of the cream of Eliot's poetry. It is always something of a revelation to listen to a poet reading his own words, and these recordings are no exception. Eliot clearly and evenly characterises and reveals the voices of some of his most important works in this excellent reading. The Waste Land caught the imagination of the age with its powerful emotional impact. Eliot felt that the modern Western city had become a sterile desert waste land, and in it life had become a sham pretence, with no content but stale conventionality. The Four Quartets express the poet's whole-hearted acceptance of the Christian faith. Each poem describes a meditation which leads to a reconciliation with the burden of the past.
Sklep: Libristo.pl 30,99 zł
Książki Obcojęzyczne>Angielskie>Literature & literary studies>Poetry
This Is A Collection Of Poems Of Faith, Love And Revenge By A Man With Intense Sexuality And An Ardent Belief In Christian Doctrine.
Sklep: Gigant.pl 48,99 zł
Książki Obcojęzyczne>Angielskie>Literature & literary studies>Literature: history & criticism>Literary studies: poetry & poets
Composed During The Fourteenth Century In The English Midlands, This Work Describes The Events That Follow When A Mysterious Green-coloured Knight Rides Into King Arthur's Camelot In Deep Mid-winter. Blending Celtic Myth And Christian Faith, It Is Among The Middle English Poems: A Tale Of Magic, Chivalry And Seduction.
Sklep: Gigant.pl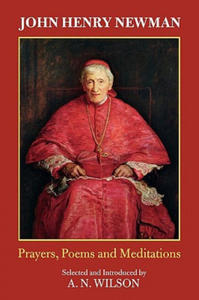 53,21 zł
Książki / Literatura obcojęzyczna
John Henry Newman is recognized as one of the greatest Christian thinkers of modern times and has been hailed as a great prophet of twentieth century Christianity. He was also a man of prayer and deep spirituality. To mark Newman's expected beatification later this year, A.N. Wilson has compiled this wide-ranging anthology of prayers, poems and meditations.Beginning with an engaging Introduction to Newman's life and thought, this anthology has been carefully arranged to provide daily readings over a six-month period. The readings cover the general themes of faith, prayer, the contemplation of Christ, discipleship, the meaning of holiness, and the hope of heaven.
Sklep: Libristo.pl
Sklepy zlokalizowane w miastach: Warszawa, Kraków, Łódź, Wrocław, Poznań, Gdańsk, Szczecin, Bydgoszcz, Lublin, Katowice
Szukaj w sklepach lub całym serwisie
2. Szukaj na wszystkich stronach serwisu
t1=0.036, t2=0, t3=0, t4=0, t=0.036