krainaksiazek politicians without borders how the far right and the far left keep screwing it up for all of us in the far center 20169116
- znaleziono 7 produktów w 5 sklepach 11,15 zł
Książki & Multimedia > Książki
Opis - Pierwsze na świecie świadectwo ofiary zbrodni honorowej. Miała siedemnaście lat i zakochała się: zhańbiła rodzinę. Więc rodzina wydała na nią wyrok śmierci... Pokochała go pierwszą miłością. Myślała, że się z nią ożeni. Ale ukochany zniknął, a ona odkryła, że jest w ciąży. A w jej świecie to najcięższa zbrodnia... W zapomnianej przez Boga wiosce w Cisjordanii kobiety są warte mniej niż zwierzęta domowe. Tu mężczyzna jest panem życia i śmierci żony, córki, siostry. Brat może bezkarnie zabić siostrę, matka - córkę, kolejną bezużyteczną dziewczynkę, jaka się urodzi. Tu kobiecie odbiera się godność, a nawet życie zgodnie z odwiecznym obyczajem i uświęconą tradycją. A śmierć jest karą dla dziewczyny, która zhańbi rodzinę. Tak jak Souad. Wyrok wydaje jej ojciec. Szwagier dokonuje egzekucji. Oblewa Souad benzyną i podpala... SOUAD przeżyła - cudem, ale rodzina usiłowała zabić ją nawet w szpitalu. Na zawsze jednak pozostanie straszliwie okaleczona - na ciele i duszy. I wciąż musi się ukrywać; dopóki żyje, jej rodzinę okrywa hańba. Spalona żywcem, opublikowana pod pseudonimem szokująca opowieść o piekle, jakim było jej dzieciństwo i młodość, stała się międzynarodowym bestsellerem. Wydana w 37 w krajach książka przerywa tabu milczenia wobec istniejącej nadal w krajach muzułmańskich barbarzyńskiej tradycji. Nieludzkiego obyczaju, prawa mężczyzn, na mocy którego co najmniej pięć tysięcy kobiet pada co roku ofiarą zbrodni honorowej. Nazwa - Spalona Żywcem Wyd. Kieszonkowe Autor - Souad Oprawa - Miękka Wydawca - Amber Kod ISBN - 9788324159406 Kod EAN - 9788324159406 Wydanie - 1 Rok wydania - 2016 Tłumacz - 31182,maria rostworowska; Format - 110 x 175 x 14 Ilość stron - 224 Podatek VAT - 5% Premiera - 2016-06-23
Sklep: InBook.pl 95,57 zł
Książki / Literatura obcojęzyczna
EVEN THOUGH WE'RE ALL INTERNATIONALISTS, FOR NOW THE BOOK WILL ONLY BE AVAILABLE IN GERMAN. With contributions from Damir Arsenijevic, Alain Badiou, Étienne Balibar, Gracie Mae Bradley, Cédric Durand, the European Space Agency (sort of), Sara Farris, Alexandre Kojčve, Maurizio Lazzarato, Sandro Mezzadra, Toni Negri, Thomas Piketty, Beatriz Preciado, Bernard Stiegler, Martin Wolf, Slavoj Zizek. And to top it all off, check out our exclusive "Europe from Detroit" mix that comes courtesy of acid legend Carlos Souffront. No, not another debate on Europe, not just the usual policy proposals, no moralising appeals. We simply want to take stock of our ignorance in order to turn it into something more productive. Call it recycling if you will. The contributions in the volume do not reflect anything like a unity of vision. Often, they agree on very little. But that doesn't mean the texts assembled here do not resonate with one another. Philosophers, economists, journalists and activists comment on past and present manifestations of Europe. Taken together, these essays are exercises in defamiliarisation. Sure, we don't fully understand what is going on. Then again, experts didn't fare too well either, as a quick glance at the pre-2008 forecasts of economists, the analyses of geopolitical pundits or the trajectories of the expert-led transitional governments in Europe's South reveals. That's why we have no desire to wallow in passivity and fatalism. On the contrary, creating a sense of distance between Europe and ourselves will perhaps enable us to relate to it in new ways. Ever since the postwar reconstruction, Europe vacillated between grand political designs and economic expediency. The introduction of the Euro in 2002 and the ongoing crisis of 2008 have accelerated a shift in the balance of power. Nation-states lost some of their prerogatives and now have to accommodate the demands of unelected supranational entities in charge of implementing the precepts of economic rationality. A sense of powerlessness has become widespread. It has given a new lease of life to nationalism and xenophobia across Europe. Young people in particular wonder what could possibly be the point of having democracy conform to markets if capitalism cannot even make good on its one spellbinding historical promise: to enable wealth creation for the masses through individual effort and hard work? As is stands in 2014, giving up democratic principles in order to purify the operations of the markets seems like the surest way to the worst of both worlds: a technocratic caesarism. Economists tentatively hail Greece's return to the capital markets, they rejoice at the first signs of positive growth rates and welcome, give or take some accounting tricks, the sound budgets in member-states that are testament to the efficacy of the austerity measures. Meanwhile, unemployment in many parts of the EU remains stubbornly high. And let's not even talk about wage levels. Far from marking the end of history and the triumph of liberal market societies, 1989 could have turned out to be a Pyrrhic victory for capitalism, a possibility for which even François Furet allowed in his very last essays. Before its long overdue collapse, 'real existing socialism' - imperialist, authoritarian, unjust, inefficient, and downright depressing as it was - nonetheless inspired a fear among the governments of the so-called Western world that tamed capitalism in ways not seen before or after. Did bureaucratic state capitalism in the East protect the liberal capitalism of the West from what it wanted? Even when the latter seemed to be on excellent form after 1989, it often turned out to be pumped up on a diet of monetary steroids: soaring private and company debt sustained the boom times. Capitalism's hold over the planet is neither uniform nor exclusively imposed by force. It emerged out of a contingent history of the "universalisation of a tendency", as Deleuze and Guattari put it. However, a European left that has yet to come to terms with the full extent of its political insignificance seeks solace in the idea of an economic matrix that structures every fold of the social fabric: it is plausible, inescapable and terrifyingly good at harnessing even the forces of resistance to its own purposes. While the therapeutic aspect of this sort of thinking cannot be dismissed, its analytical virtues are more questionable. Still, as we survey the political landscape in 2014, no serious - and politically desirable - alternative exists. And yet liberal market societies struggle with ever more intense degrees of disaffection among their supposedly blessed populations. We observe the striking comeback of inequalities of wealth reminiscent of the Belle Époque. If current trends continue we could soon live in societies so unequal one would have to go back to the pre-industrial age to find anything comparable. This is certainly not a process of differentiation that is synonymous with modernity, as some commentators, grotesquely misinterpreting Luhmann, would have us believe. To reduce the potential of social differentiation to the acceptance of economic disparities betrays a poverty of thought that speaks volumes about the state of mind of a "brute bourgeoisie", itself a symptom of a deeply dysfunctional society. In Merkel-land, it found a new party-political home in the "Alternative for Germany". But opposition to the Euro also gains currency on the left. This is unsurprising given the intransigence of monetary hawks in the central banks and the institutional set-up of the Eurozone. Another Euro was possible, one that would have attempted to pave the way for an optimal currency area, rather than simply presupposing its existence.This would have required large-scale investments and significant redistributive efforts to harmonise - and raise - living standards in all of Europe. We need to unearth these counter-histories of the single European currency. As long as genuine political and social union is but a distant possibility, the imperative of price stability and the impossibility for individual Euro states to devalue their currency reduces the available range of political responses to economic distress to just one: the downward adjustment not just of economies but of entire welfare systems in order to restore competitiveness. However, there is no economic automatism here. These are deeply political decisions. As so often, economic liberalism knows very well when to portray itself as the arch-foe of oppressive states and undemocratic post-national institutions - and when to enlist their help in order to get its doctrinal way. Some conclude from this state of affairs that, provided it can be made politically productive, a break with the Euro regime should no longer be considered a taboo. Others are wary of reductive explanations that, for the sake of conceptual and political convenience, denounce the Eurozone as a monolithic neoliberal bloc. We stand to benefit a great deal from learning how to spot and exploit political divisions. Even inside the European Commission, there is room for forms of militant bureaucracy that deftly maneuver the legal labyrinthe (ranging from the 1953 European Convention on Social and Medical Assistance to the measures towards greater coordination of social security systems passed in 2004). Recent attempts to bully Merkel's government into potentially widening access to welfare payments for European citizens living in Germany lent credence to this claim. One day, these regulatory squabbles might bring us a minuscule step closer to a Europe-wide unconditional basic income. Let the robots do the crap jobs. Given the jingoistic mood of most electorates, even many leftist parties are taking leave from demands for postnational social rights that are legally enforceable. They fear such a move would be tantamount to political suicide. Nonetheless, the track record of European institutions and the general tendency of intergovernmental decisions taken during the last two decades or so suggest that it would be insane to rely on emancipatory political action from above. Yet the question of exactly how to reclaim Europe as a battleground from below is close to intractable. What effective form could a dialectic between "institutional and insurrectional" politics take? New forms of entryism might play a role, as those who support Alexis Tsipras' candidacy for the presidency of the European Commission argue. Mass pressure from the street would open a second flank. But even though they have been theorised for many years, European social movements worthy of their name continue to be conspicuous by their absence. Or should we push for individual states to give up their sovereignty and merge with their neighbour, thus creating political forms that mark an intermediate stage between the nation-state and and a European polity? It all sounds rather far-fetched. Interestingly, the recent protests in Bosnia oppose not just corrupt local elites, but also the institutions of the international community that purports to have pacified the remnants of former Yugoslavia. The revolution in the Ukraine that has courageously overthrown a deeply corrupt regime, on the other hand, did appeal to a EU that embodied hopes for a better political and economic life even as parts of the crowd openly displayed their neo-Nazi sympathies. We need to address the underlying identity issues haunting this continent as a whole and the individuals that inhabit it. It is impossible to overlook the signs of libidinal exhaustion. Europe has a problem with desire. The economic, political and social systems no longer produce pleasure. We're all tired but we haven't done nearly enough to explore and invent new lives. The family rushes in to fill this void. We grew accustomed too quickly to the omnipresence of "family-friendly" policies, by now a staple of European political language. We could have known better. In Anti-Oedipus, Deleuze and Guattari had warned us. As capitalism marches onward, all existing social relations will cede to its pull. But that's not the same as simple disappearance. Quite the opposite. The family was first emptied of all historical functions, only to be reinvented as a bulwark against some of the more troubling and pathological aspects of contemporary capitalism. It offers respite from the constant flexibility that is expected of us, it helps pool resources as welfare states are being dismantled, it pays lip service to feminist struggles by singing the praise of the care work done by stay-at-home mums. In France, reactionaries are marching through the streets in their thousands. Their opposition to same-sex marriage forms part of a wider struggle to combat the rampant "family-phobia" in today's societies. We want none of it. The hypocrisy is plain for everyone to see. There is significant overlap between the defenders of good old family values and the milieus in which shameless hostility to migrants has once again become acceptable. But some migrants are better than others. The latest version of the mother-father-family relies on cheap non-unionised female labour, the army of nannies recruited from abroad. These are some of the migrants that made it to Europe. Many others don't even get that far. The activities of Frontex seem blissfully oblivious to the very colonial past they incessantly conjure up. The same fervour that was at work in the historical project of European expansionism is now observable in the systematic efforts to stop migrants - to ensure successful "border management", as official parlance has it. Europeans used to invade foreign lands to enrich themselves, now they keep others out to protect their privileges. Images of drowned, starved or deported refugees don't prevent European politicians for a second from invoking 'our' grand cultural tradition, preferably while lecturing other parts of the world on the West's civilisational achievements: philosophy, human rights, dignity, you name it. Perhaps the treatment to which migrants are subjected has something to do with Europe's historical self-understanding after all. These corpses float in the same Mediterranean sailed by cunning Ulysses. They're dying to reach the shore they might have otherwise called home. This much is clear to us: as long as other people are treated like garbage in our name, we betray the potential of EURO TRASH. The costly insistence on rigid borders is not just a European problem. It's a cosmic one. Space is a place where quaint attempts to divide it up according to the time-worn logic of sovereignty must fail. As Donald Kessler has pointed out as early as 1978, the debris piling up in the orbit, if unchecked, will reach a point where space travel becomes too dangerous. And little does it matter whether the out-there is littered by NASA or ESA. We might be stuck on this planet at the precise moment when we'd be well advised to leave it behind. Borders have a funny way of shutting in the people they claim to protect. There were concerns about a possible lack of German voices in this collection but acid legend Carlos Souffront came to our rescue and his exclusive "Europe from Detroit" mix dispels them in the most unexpected, poignant and concise way possible. Kraftwerk's 1977 "Trans-Europe-Express" imagined the continent as a haven of post-historical nostalgia. We asked Carlos to reimagine Europe as a province of Detroit in order to invert the usual perspective. Often, the Motor City is an object of European musical desire, filled to the brim with projections even, and especially if there is post-industrial desolation to be admired. Let's try it the other way around. The mix expertly strides between delicacy and a sense of impending dread that culminates in a brief sequence where German history unmistakably rears its ugly head. But there is life beyond that, there has to be. This is not a mind trip, this is a body journey. WE'RE THE EDITORS, WE'RE SVENJA BROMBERG, BIRTHE MÜHLHOFF, AND DANILO SCHOLZ.
Sklep: Libristo.pl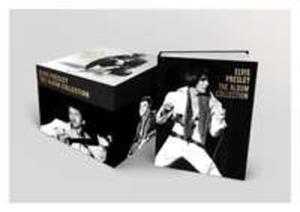 979,99 zł
Muzyka>Rock
1. Blue Suede Shoes 2. I'm Counting On You 3. I Got A Woman 4. One-sided Love Affair 5. I Love You Because 6. Just Because 7. Tutti Frutti 8. Trying To Get To You 9. I'm Gonna Sit Right Down And Cry (Over You) 10. I'll Never Let You Go (Little Darlin') 11. Blue Moon 12. Money Honey 101. Rip It Up 102. Love Me 103. When My Blue Moon Turns To Gold Again 104. Long Tall Sally 105. First In Line 106. Paralyzed 107. So Glad You're Mine 108. Old Shep 109. Ready Teddy 110. Anyplace Is Paradise 111. How's The World Treating You 112. How Do You Think I Feel 201. Mean Woman Blues 202. (Let Me Be Your) Teddy Bear 203. Loving You 204. Got A Lot O' Livin' To Do! 205. Lonesome Cowboy 206. Hot Dog 207. (Let's Have A) Party 208. Blueberry Hill 209. True Love 210. Don't Leave Me Now 211. Have I Told You Lately That I Love You 212. I Need You So 213. Tell Me Why 301. Santa Claus Is Back In Town 302. White Christmas 303. Here Comes Santa Claus (Right Down Santa Claus L 304. I'll Be Home For Christmas 305. Blue Christmas 306. Santa Bring My Baby Back (To Me) 307. O Little Town Of Bethlehem 308. Silent Night 309. (There'll Be) Peace In The Valley (For Me) 310. I Believe 311. Take My Hand, Precious Lord 312. It Is No Secret (What God Can Do) 401. Hound Dog 402. Loving You 403. All Shook Up 404. Heartbreak Hotel 405. Jailhouse Rock 406. Love Me 407. Too Much 408. Don't Be Cruel 409. That's When Your Heartaches Begin 410. (Let Me Be Your) Teddy Bear 411. Love Me Tender 412. Treat Me Nice 413. Any Way You Want Me (That's How I Will Be) 414. I Want You, I Need You, I Love You 501. King Creole 502. As Long As I Have You 503. Hard Headed Woman 504. Trouble 505. Dixieland Rock 506. Don't Ask Me Why 507. Lover Doll 508. Crawfish 509. Young Dreams 510. Steadfast, Loyal And True 511. New Orleans 512. Danny 601. That's All Right 602. Lawdy, Miss Clawdy 603. Mystery Train 604. Playing For Keeps 605. Poor Boy 606. My Baby Left Me 607. I Was The One 608. Shake, Rattle And Roll 609. I'm Left, You're Right, She's Gone 610. You're A Heartbreaker 611. I Don't Care If The Sun Don't Shine 612. Let Me 701. Blue Moon Of Kentucky 702. Young And Beautiful 703. (You're So Square) Baby I Don't Care 704. Milk Cow Blues Boogie 705. Baby, Let's Play House 706. Good Rockin' Tonight 707. Is It So Strange 708. We're Gonna Move 709. I Want To Be Free 710. I Forgot To Remember To Forget 711. Don't Leave Me Now 712. Harbor Lights 801. I Need Your Love Tonight 802. Don't 803. Wear My Ring Around Your Neck 804. My Wish Came True 805. I Got Stung 806. One Night 807. A Big Hunk O' Love 808. I Beg Of You 809. (Now And Then There's) A Fool Such As I 810. Doncha' Think It's Time 901. Make Me Know It 902. Fever 903. The Girl Of My Best Friend 904. I Will Be Home Again 905. Dirty, Dirty Feeling 906. Thrill Of Your Love 907. Soldier Boy 908. Such A Night 909. It Feels So Right 910. The Girl Next Door Went A'walking 911. Like A Baby 912. Reconsider Baby 1001. Tonight Is So Right For Love 1002. What's She Really Like 1003. Frankfort Special 1004. Wooden Heart 1005. G.i. Blues 1006. Pocketful Of Rainbows 1007. Shoppin' Around 1008. Big Boots 1009. Didja' Ever 1010. Blue Suede Shoes 1011. Doin' The Best I Can 1012. Tonight's All Right For Love 1101. His Hand In Mine 1102. I'm Gonna Walk Dem Golden Stairs 1103. In My Father's House 1104. Milky White Way 1105. Known Only To Him 1106. I Believe In The Man In The Sky 1107. Joshua Fit The Battle 1108. He Knows Just What I Need 1109. Swing Down Sweet Chariot 1110. Mansion Over The Hilltop 1111. If We Never Meet Again 1112. Working On The Building 1201. There's Always Me 1202. Give Me The Right 1203. It's A Sin 1204. Sentimental Me 1205. Starting Today 1206. Gently 1207. I'm Coming Home 1208. In Your Arms 1209. Put The Blame On Me 1210. Judy 1211. I Want You With Me 1212. I Slipped, I Stumbled, I Fell 1301. Blue Hawaii 1302. Almost Always True 1303. Aloha Oe 1304. No More 1305. Can't Help Falling In Love 1306. Rock-a-hula Baby 1307. Moonlight Swim 1308. Ku-u-i-po 1309. Ito Eats 1310. Slicin' Sand 1311. Hawaiian Sunset 1312. Beach Boy Blues 1313. Island Of Love 1314. Hawaiian Wedding Song 1401. Kiss Me Quick 1402. Just For Old Time Sake 1403. Gonna Get Back Home Somehow 1404. (Such An) Easy Question 1405. Steppin' Out Of Line 1406. I'm Yours 1407. Something Blue 1408. Suspicion 1409. I Feel That I've Known You Forever 1410. Night Rider 1411. Fountain Of Love 1412. That's Someone You Never Forget 1501. Girls! Girls! Girls! 1502. I Don't Wanna Be Tied 1503. Where Do You Come From 1504. I Don't Want To 1505. We'll Be Together 1506. A Boy Like Me, A Girl Like You 1507. Earth Boy 1508. Return To Sender 1509. Because Of Love 1510. Thanks To The Rolling Sea 1511. Song Of The Shrimp 1512. The Walls Have Ears 1513. We're Coming In Loaded 1601. Beyond The Bend 1602. Relax 1603. Take Me To The Fair 1604. They Remind Me Too Much Of You 1605. One Broken Heart For Sale 1606. I'm Falling In Love Tonight 1607. Cotton Candy Land 1608. A World Of Our Own 1609. How Would You Like To Be 1610. Happy Ending 1701. It's Now Or Never 1702. Stuck On You 1703. Fame And Fortune 1704. I Gotta Know 1705. Surrender 1706. I Feel So Bad 1707. Are You Lonesome Tonight? 1708. (Marie's The Name Of) His Latest Flame 1709. Little Sister 1710. Good Luck Charm 1711. Anything That's Part Of You 1712. She's Not You 1801. Fun In Acapulco 1802. Vino, Dinero Y Amor 1803. Mexico 1804. El Toro 1805. Marguerita 1806. The Bullfighter Was A Lady 1807. (There's) No Room To Rhumba In A Sports Car 1808. I Think I'm Gonna Like It Here 1809. Bossa Nova Baby 1810. You Can't Say No In Acapulco 1811. Guadalajara 1812. Love Me Tonight 1813. Slowly But Surely 1901. Kissin' Cousins (No. 2) 1902. Smokey Mountain Boy 1903. There's Gold In The Mountains 1904. One Boy, Two Little Girls 1905. Catchin' On Fast 1906. Tender Feeling 1907. Anyone (Could Fall In Love With You) 1908. Barefoot Ballad 1909. Once Is Enough 1910. Kissin' Cousins 1911. Echoes Of Love 1912. (It's A) Long Lonely Highway 2001. Roustabout 2002. Little Egypt 2003. Poison Ivy League 2004. Hard Knocks 2005. It's A Wonderful World 2006. Big Love, Big Heartache 2007. One Track Heart 2008. It's Carnival Time 2009. Carny Town 2010. There's A Brand New Day On The Horizon 2011. Wheels On My Heels 2101. Girl Happy 2102. Spring Fever 2103. Fort Lauderdale Chamber Of Commerce 2104. Startin' Tonight 2105. Wolf Call 2106. Do Not Disturb 2107. Cross My Heart And Hope To Die 2108. The Meanest Girl In Town 2109. Do The Clam 2110. Puppet On A String 2111. I've Got To Find My Baby 2112. You'll Be Gone 2201. Your Cheatin' Heart 2202. Summer Kisses, Winter Tears 2203. Finders Keepers, Losers Weepers 2204. In My Way 2205. Tomorrow Night 2206. Memphis Tennessee 2207. For The Millionth And The Last Time 2208. Forget Me Never 2209. Sound Advice 2210. Santa Lucia (From Viva Las Vegas) 2211. I Met Her Today 2212. When It Rains, It Really Pours 2301. Harem Holiday 2302. My Desert Serenade 2303. Go East, Young Man 2304. Mirage 2305. Kismet 2306. Shake That Tambourine 2307. Hey Little Girl 2308. Golden Coins 2309. So Close, Yet So Far (From Paradise) 2310. Animal Instinct 2311. Wisdom Of The Ages 2401. Frankie And Johnny 2402. Come Along 2403. Petunia, The Gardener's Daughter 2404. Chesay 2405. What Every Woman Lives For 2406. Look Out, Broadway 2407. Beginner's Luck 2408. Down By The Riverside / When The Saints Go March 2409. Down By The Riverside 2410. When The Saints Go Marching In 2411. Shout It Out 2412. Hard Luck 2413. Please Don't Stop Loving Me 2414. Everybody Come Aboard 2501. Paradise, Hawaiian Style 2502. Queenie Wahine's Papaya 2503. Scratch My Back 2504. Drums Of The Islands 2505. Datin' 2506. A Dog's Life 2507. House Of Sand 2508. Stop Where You Are 2509. This Is My Heaven 2510. Sand Castles 2601. Stop, Look And Listen 2602. Adam And Evil 2603. All That I Am 2604. Never Say Yes 2605. Am I Ready 2606. Beach Shack 2607. Spinout 2608. Smorgasbord 2609. I'll Be Back 2610. Tomorrow Is A Long Time 2611. Down In The Alley 2612. I'll Remember You 2701. How Great Thou Art 2702. In The Garden 2703. Somebody Bigger Than You And I 2704. Farther Along 2705. Stand By Me 2706. Without Him 2707. So High 2708. Where Could I Go But To The Lord 2709. By And By 2710. If The Lord Wasn't Walking By My Side 2711. Run On 2712. Where No One Stands Alone 2713. Crying In The Chapel 2714. We Call On Him 2715. You'll Never Walk Alone 2801. Double Trouble 2802. Baby, If You'll Give Me All Of Your Love 2803. Could I Fall In Love 2804. Long Legged Girl (With The Short Dress On) 2805. City By Night 2806. Old Macdonald 2807. I Love Only One Girl 2808. There Is So Much World To See 2809. It Won't Be Long 2810. Never Ending 2811. Blue River 2812. What Now, What Next, Where To 2901. Guitar Man 2902. Clambake 2903. Who Needs Money? 2904. A House That Has Everything 2905. Confidence 2906. Hey, Hey, Hey 2907. You Don't Know Me 2908. The Girl I Never Loved 2909. How Can You Lose What You Never Had 2910. Big Boss Man 2911. Singing Tree 2912. Just Call Me Lonesome 2913. Hi-heel Sneakers 3001. Love Letters 3002. Witchcraft 3003. It Hurts Me 3004. What'd I Say 3005. Please Don't Drag That String Around 3006. Indescribably Blue 3007. (You're The) Devil In Disguise 3008. Lonely Man 3009. A Mess Of Blues 3010. Ask Me 3011. Ain't That Loving You Baby 3012. Just Tell Her Jim Said Hello 3013. Wild In The Country 3014. Viva Las Vegas 3101. Speedway 3102. There Ain't Nothing Like A Song 3103. Your Time Hasn't Come Yet, Baby 3104. Who Are You? (Who Am I?) 3105. He's Your Uncle Not Your Dad 3106. Let Yourself Go 3107. Your Groovy Self 3108. Five Sleepy Heads 3109. Western Union 3110. Mine 3111. Goin' Home 3112. Suppose 3201. Flaming Star 3202. Wonderful World 3203. Night Life 3204. All I Needed Was The Rain 3205. Too Much Monkey Business 3206. The Yellow Rose Of Texas / The Eyes Of Texas 3207. The Yellow Rose Of Texas 3208. The Eyes Of Texas 3209. She's A Machine 3210. Do The Vega 3211. Tiger Man 3212. Britches 3213. A Cane And A High Starched Collar 3301. Medley: Trouble / Guitar Man 3302. Trouble 3303. Guitar Man 3304. Medley: Lawdy, Miss Clawdy / Baby, What You Want 3305. Lawdy, Miss Clawdy 3306. Baby, What You Want Me To Do 3307. Heartbreak Hotel 3308. Hound Dog 3309. All Shook Up 3310. Can't Help Falling In Love 3311. Jailhouse Rock 3312. Love Me Tender 3313. Medley: Where Could I Go But To The Lord / Up Ab 3314. Where Could I Go But To The Lord 3315. Up Above My Head 3316. Saved 3317. Medley: Blue Christmas / One Night 3318. Blue Christmas 3319. One Night 3320. Memories 3321. Medley: Nothingville / Big Boss Man / Guitar Man 3322. Nothingville 3323. Big Boss Man 3324. Guitar Man 3325. Little Egypt 3326. Trouble 3327. Guitar Man 3328. If I Can Dream 3401. Wearin' That Loved On Look 3402. Only The Strong Survive 3403. I'll Hold You In My Heart (Till I Can Hold You I 3404. Long Black Limousine 3405. It Keeps Right On A-hurtin' 3406. I'm Movin' On 3407. Power Of My Love 3408. Gentle On My Mind 3409. After Loving You 3410. True Love Travels On A Gravel Road 3411. Any Day Now 3412. In The Ghetto 3413. Suspicious Minds 3414. Don't Cry Daddy 3415. Kentucky Rain 3416. Mama Liked The Roses 3501. Blue Suede Shoes 3502. Johnny B. Goode 3503. All Shook Up 3504. Are You Lonesome Tonight? 3505. Hound Dog 3506. I Can't Stop Loving You 3507. My Babe 3508. Medley: Mystery Train / Tiger Man 3509. Mystery Train 3510. Tiger Man 3511. Words 3512. In The Ghetto 3513. Suspicious Minds 3514. Can't Help Falling In Love 3515. Inherit The Wind 3516. This Is The Story 3517. Stranger In My Own Home Town 3518. A Little Bit Of Green 3519. And The Grass Won't Pay No Mind 3520. Do You Know Who I Am 3521. From A Jack To A King 3522. The Fair's Moving On 3523. You'll Think Of Me 3524. Without Love (There Is Nothing) 3601. Stay Away, Joe 3602. If I'm A Fool (For Loving You) 3603. Let's Be Friends 3604. Let's Forget About The Stars 3605. Mama 3606. I'll Be There 3607. Almost 3608. Change Of Habit 3609. Have A Happy 3610. Dainty Little Moonbeams 3611. Girls! Girls! Girls! Finale 3612. Plantation Rock 3613. Let Us Pray 3614. Who Am I? 3701. See See Rider 3702. Release Me 3703. Sweet Caroline 3704. Runaway 3705. The Wonder Of You 3706. Polk Salad Annie 3707. Yesterday 3708. Proud Mary 3709. Walk A Mile In My Shoes 3710. Let It Be Me 3801. Almost In Love 3802. Long Legged Girl (With The Short Dress On) 3803. Edge Of Reality 3804. My Little Friend 3805. A Little Less Conversation 3806. Rubberneckin' 3807. Clean Up Your Own Backyard 3808. U.s. Male 3809. Charro! 3810. Stay Away 3811. Dominick 3812. Signs Of The Zodiak 3813. Swing Down Sweet Chariot 3901. I Just Can't Help Believin' 3902. Twenty Days And Twenty Nights 3903. How The Web Was Woven 3904. Patch It Up 3905. Mary In The Morning 3906. You Don't Have To Say You Love Me 3907. You've Lost That Loving Feeling 3908. I've Lost You 3909. Just Pretend 3910. Stranger In The Crowd 3911. The Next Step Is Love 3912. Bridge Over Troubled Water 3913. I've Lost You 3914. Patch It Up 4001. Snowbird 4002. Tomorrow Never Comes 4003. Little Cabin On The Hill 4004. Whole Lot-ta Shakin' Goin' On 4005. Funny How Time Slips Away 4006. I Really Don't Want To Know 4007. There Goes My Everything 4008. It's Your Baby, You Rock It 4009. The Fool 4010. Faded Love 4011. I Washed My Hands In Muddy Water 4012. Make The World Go Away 4101. Love Letters 4102. When I'm Over You 4103. If I Were You 4104. Got My Mojo Working / Keep Your Hands Off Of It 4105. Got My Mojo Working 4106. Keep Your Hands Off Of It 4107. Heart Of Rome 4108. Only Believe 4109. This Is Our Dance 4110. Cindy, Cindy 4111. I'll Never Know 4112. It Ain't No Big Thing (But It's Growing) 4113. Life 4114. The Sound Of Your Cry 4115. Where Did They Go, Lord 4116. Rags To Riches 4201. C'mon Everybody 4202. Angel 4203. Easy Come, Easy Go 4204. A Whistling Tune 4205. Follow That Dream 4206. King Of The Whole Wide World 4207. I'll Take Love 4208. I'm Not The Marrying Kind 4209. This Is Living 4210. Today, Tomorrow And Forever 4211. The Lady Loves Me 4212. Sing You Children 4301. I Got Lucky 4302. What A Wonderful Life 4303. I Need Somebody To Lean On 4304. Yoga Is As Yoga Does 4305. Riding The Rainbow 4306. Fools Fall In Love 4307. The Love Machine 4308. Home Is Where The Heart Is 4309. You Gotta Stop 4310. If You Think I Don't Need You 4311. You're The Boss 4312. Come What May 4401. O Come, All Ye Faithful 4402. The First Noel 4403. On A Snowy Christmas Night 4404. Winter Wonderland 4405. The Wonderful World Of Christmas 4406. It Won't Seem Like Christmas (Without You) 4407. I'll Be Home On Christmas Day 4408. If I Get Home On Christmas Day 4409. Holly Leaves And Christmas Trees 4410. Merry Christmas Baby 4411. Silver Bells 4412. If Every Day Was Like Christmas 4501. Help Me Make It Through The Night 4502. Miracle Of The Rosary 4503. Hey Jude 4504. Put Your Hand In The Hand 4505. Until It's Time For You To Go 4506. We Can Make The Morning 4507. Early Mornin' Rain 4508. Sylvia 4509. Fools Rush In (Where Angels Fear To Tread) 4510. I Was Born About Ten Thousand Years Ago 4511. I'm Leavin' 4512. It's Only Love 4513. The First Time Ever I Saw Your Face 4601. He Touched Me 4602. I've Got Confidence 4603. Amazing Grace 4604. Seeing Is Believing 4605. He Is My Everything 4606. Bosom Of Abraham 4607. An Evening Prayer 4608. Lead Me, Guide Me 4609. There Is No God But God 4610. A Thing Called Love 4611. I, John 4612. Reach Out To Jesus 4701. Introduction: Also Sprach Zarathustra (Theme Fro 4702. That's All Right 4703. Proud Mary 4704. Never Been To Spain 4705. You Don't Have To Say You Love Me 4706. You've Lost That Lovin' Feelin' 4707. Polk Salad Annie 4708. Love Me 4709. All Shook Up 4710. Heartbreak Hotel 4711. Medley: (Let Me Be Your) Teddy Bear / Don't Be C 4712. (Let Me Be Your) Teddy Bear 4713. Don't Be Cruel 4714. Love Me Tender 4715. The Impossible Dream (The Quest) 4716. Introductions By Elvis 4717. Hound Dog 4718. Suspicious Minds 4719. For The Good Times 4720. American Trilogy 4721. Funny How Time Slips Away 4722. I Can't Stop Loving You 4723. Can't Help Falling In Love 4724. End Theme (Orchestra) 4801. Introduction: Also Sprach Zarathustra (Theme Fro 4802. See See Rider 4803. Burning Love 4804. Something 4805. You Gave Me A Mountain 4806. Steamroller Blues 4807. My Way 4808. Love Me 4809. Johnny B. Goode 4810. It's Over 4811. Blue Suede Shoes 4812. I'm So Lonesome I Could Cry 4813. I Can't Stop Loving You 4814. Hound Dog 4815. What Now My Love 4816. Fever 4817. Welcome To My World 4818. Suspicious Minds 4819. Introductions By Elvis 4820. I'll Remember You 4821. Medley 4822. Long Tall Sally 4823. Whole Lotta Shakin' Goin' On 4824. An American Trilogy 4825. A Big Hunk O' Love 4826. Can't Help Falling In Love 4827. Blue Hawaii 4828. Ku-u-i-po 4829. No More 4830. Hawaiian Wedding Song 4831. Early Morning Rain 4901. Fool 4902. Where Do I Go From Here 4903. Love Me, Love The Life I Lead 4904. It's Still Here 4905. It's Impossible 4906. (That's What You Get) For Lovin' Me 4907. Padre 4908. I'll Take You Home Again Kathleen 4909. I Will Be True 4910. Don't Think Twice, It's All Right 4911. Separate Ways 4912. For The Good Times 4913. Burning Love 4914. Always On My Mind 4915. It's A Matter Of Time 4916. American Trilogy 5001. Raised On Rock 5002. Are You Sincere 5003. Find Out What's Happening 5004. I Miss You 5005. Girl Of Mine 5006. For Ol' Times Sake 5007. If You Don't Come Back 5008. Just A Little Bit 5009. Sweet Angeline 5010. Three Corn Patches 5011. Take Good Care Of Her 5012. Loving Arms 5013. I Got A Feelin' In My Body 5014. If That Isn't Love 5015. She Wears My Ring 5016. I've Got A Thing About You Baby 5017. My Boy 5018. Spanish Eyes 5019. Talk About The Good Times 5020. Good Time Charlie's Got The Blues 5101. See See Rider 5102. I Got A Woman 5103. Love Me 5104. Trying To Get To You 5105. Medley 5106. Long Tall Sally 5107. Whole Lotta Shakin' Goin' On 5108. Mama Don't Dance 5109. Flip, Flop And Fly 5110. Jailhouse Rock 5111. Hound Dog 5112. Why Me Lord 5113. How Great Thou Art 5114. Medley 5115. Blueberry Hill 5116. I Can't Stop Loving You 5117. Help Me 5118. An American Trilogy 5119. Let Me Be There 5120. My Baby Left Me 5121. Lawdy Miss Clawdy 5122. Can't Help Falling In Love 5123. Closing-vamp 5201. Promised Land 5202. There's A Honky Tonk Angel (Who Will Take Me Bac 5203. Help Me 5204. Mr. Songman 5205. Love Song Of The Year 5206. It's Midnight 5207. Your Love's Been A Long Time Coming 5208. If You Talk In Your Sleep 5209. Thinking About You 5210. You Asked Me To 5211. T-r-o-u-b-l-e 5212. And I Love You So 5213. Susan When She Tried 5214. Woman Without Love 5215. Shake A Hand 5216. Pieces Of My Life 5217. Fairytale 5218. I Can Help 5219. Bringin' It Back 5220. Green, Green Grass Of Home 5301. Hurt 5302. Never Again 5303. Blue Eyes Crying In The Rain 5304. Danny Boy 5305. The Last Farewell 5306. For The Heart 5307. Bitter They Are, Harder They Fall 5308. Solitaire 5309. Love Coming Down 5310. I'll Never Fall In Love Again 5401. Unchained Melody 5402. If You Love Me (Let Me Know) 5403. Little Darlin' 5404. He'll Have To Go 5405. Let Me Be There 5406. Way Down 5407. Pledging My Love 5408. Moody Blue 5409. She Thinks I Still Care 5410. It's Easy For You 5501. My Happiness 5502. That's When Your Heartaches Begin 5503. I'll Never Stand In Your Way 5504. It Wouldn't Be The Same Without You 5505. Blue Moon Of Kentucky 5506. Tomorrow Night 5507. Fool, Fool, Fool 5508. I'm Left, You're Right, She's Gone 5509. Tweedlee Dee 5510. Maybellene 5511. When It Rains, It Really Pours 5512. One Night (Of Sin) 5513. Loving You 5514. Treat Me Nice 5515. King Creole 5516. Ain't That Loving You Baby 5517. I Asked The Lord 5518. Earth Angel 5519. I'm Beginning To Forget You 5520. Mona Lisa 5601. Stuck On You 5602. Fame And Fortune 5603. Witchcraft / Love Me Tender 5604. Witchcraft 5605. Love Me Tender 5606. Lonely Man 5607. Today, Tomorrow And Forever 5608. I'm A Roustabout 5609. If I Loved You 5610. Tennessee Waltz 5611. What Now My Love 5612. Show Me Thy Ways, O Lord 5613. Oh How I Love Jesus 5614. Hide Thou Me 5615. Write To Me From Naples 5616. My Heart Cries For You 5617. Dark Moon 5618. Beyond The Reef 5619. Suppose 5620. It Hurts Me 5621. Let Yourself Go 5622. This Time / I Can't Stop Loving You (Informal Re 5623. This Time 5624. I Can't Stop Loving You 5625. Are You Lonesome Tonight? 5701. A Hundred Years From Now 5702. Faded Love 5703. Ghost Riders In The Sky 5704. Alla En El Rancho Grande 5705. Froggy Went A Courtin' 5706. Little Sister / Get Back 5707. Little Sister 5708. Get Back 5709. Something 5710. Lady Madonna 5711. I Shall Be Released 5712. My Way 5713. I'll Be Home On Christmas Day 5714. Tiger Man 5715. She Thinks I Still Care 5716. I'm So Lonesome I Could Cry 5717. The Twelfth Of Never 5718. You're The Reason I'm Living 5719. Softly As I Leave You 5720. America The Beautiful
Sklep: Gigant.pl 36,60 zł
Biznes
Our world is changing. Globalization is not working. It is hurting those it was meant to help. And now, the tide is turning
Sklep: Albertus.pl 40,80 zł
Biznes
His previous book revealed the shocking truth about globalization. Now, Joseph Stiglitz blows the whistle on the devastation wrought by the free market mantra in the nineties
Sklep: Albertus.pl 85100,00 zł
Kolumny głośnikowe/Wolnostojące
Model 5A Reference Loudspeaker The Model 5A combines the superior openness of the Vandersteen boxless design with the powerful, extended bass of an amplified subwoofer in a compact, elegant loudspeaker. With trend-setting technology, the best components, and painstaking attention to detail, the Model 5A is the ultimate embodiment of advanced Vandersteen design principals. COMPONENTS The Model 5A uses the proven Vandersteen Aligned Dynamic Design to optimize the dispersion and transient accuracy of the drivers while maintaining the input signal's time and phase integrity. The drivers, their positioning, and their mounting baffles were developed with the aid of FFT computer analysis to minimize diffraction, cone break up, multi-driver interference and out-of-band phase irregularities. The construction, alignment, and the positioning of the drivers allow a point-source wave front, maximize the phase coherence of the loudspeaker at the listening position, and minimize time smear. Mounted horizontally in the bottom of each Model 5A's lower section is the worlds must advanced subwoofer driver. Shown below, this massive 12-inch proprietary Vandersteen driver is a push-pull design with a powerful motor on either side of the curvilinear aluminum cone. Each motor uses a precision-formed magnet assembly with cooper rings to provide more than an inch of perfectly linear excursion. The dual magnet assemblies are supported by a rugged die-cast basket engineered for absolute rigidity. The driver's two voice coils are wound on either end of the single common former that runs through the driver from motor to motor. Each Model 5A contains a 400-watt amplifier like the one shown to the left to power the subwoofer driver. This internal amplifier reduces the demands on the main full-range amplifier and insures ample power for the most demanding music or sound effects. The front-firing drivers are shown in the picture below. The large driver to the right is the 7-inch woofer that is mounted just above the subwoofer enclosure in a resistively loaded transmission line. Like the subwoofer driver, it uses a precision-formed magnet assembly with a copper Faraday ring on the pole piece to reduce magnetic distortion and maximize linear excursion. The heavy duty die-cast metal basket provides superior rigidity. The unique co-injected fluroelastimer rubber surround supporting its poly/Kevlar composite cone is molded into a distinctive, performance enhancing shape. The driver to the far left is the patented 41/2-inch open basket Vandersteen midrange driver that is also found in our Model 3. This state-of-the-art proprietary driver uses advanced materials and construction techniques to minimize the frontal areas of the die-cast basket and alnico magnet assembly and reduce internal diffraction. As shown in the illustration to the left, the open-basket driver and transmission-line enclosure combine to eliminate the rear-wave reflections that affect conventional cone midranges. Energy from the back of the cone is absorbed and dissipated rather than reflected back through the cone into the room as time-smear distortion. After evaluating numerous cone materials from common (treated paper), to esoteric (metal alloy & Kevlar), to exotic (ceramic), mineral-filled polymer was selected for its superior transparency and linearity through the midrange frequencies. The driver in the center of the picture is the 1-inch ceramic coated, alloy-dome tweeter. It is a dual-chamber, transmission-line loaded design to improve range and linearity. Critical acoustic dampening and a precision phase plug extend the high frequencies pas audibility without the excessive ringing associated with open or under-damped metal dome tweeters. The specific coated alloy used for the dome was chosen for its superior strength and resistance to break-up compared to common dome materials. Not shown in the picture is the rear mounted 3/4-inch dome tweeter that can be adjusted to tailor the Model 5A's treble response to different rooms or listener preferences. The Model 5A's innovative crossover is shown in the picture to the right. comprised of transient-perfect, first order networks designed to preserve the critical phase integrity of the original sound, it is compensated to allow the drivers to operate in absolute phase with each other. Custom high purity silver internal wire is used to maximize signal transfer to the drivers. Featuring leading-edge technology, the most advanced materials, and the highest quality components, the Model 5A is a true state-of-the-art loudspeaker. With its unique upgradeable modules, it is guaranteed to remain state-of-the-art well into the third millennium. CONSTRUCTION As you can see in the picture to the right of an unfinished Model 5A, the head is constructed of 22 layers of 3/4-inch MDF permanently bonded together with a special anti-resonant adhesive. Separate 1-inch thick driver mounts for the woofer, midrange, and tweeter are bolted to the layered head. These removable driver mounts are made of high-pressure epoxy laminate, an incredibly dense and inert material that provides absolutely rigid coupling between the drivers and the head. The lower picture to the right shows how the baffles holding the drivers on the Model 5A are a small as possible to eliminate virtually all of the early reflections that affect dynamic speakers with conventional flat or low diffraction baffles. Reducing both early reflections and edge diffraction improves the imaging and enhances the openness and transparency of the speaker. The graph above shows the significant advantages of the Vandersteen minimum baffles. The lower section of the Model 5A containing the dual-motor subwoofer driver and 400-watt amplifier is constructed of an advanced 1-inch to 2-inch thick constrained layer-dampened material. The picture to the left shows the inside of the subwoofer enclosure of an unfinished speaker. The internal construction features elaborate heavy bracing and reinforcing for superior resonance control. ROOM COMPENSATION While conventional speakers must be perfectly positioned in the room to maximize their low-frequency performance, the Model 5As can be positioned in a convenient location and then tuned to the requirements of that particular placement. The subwoofer amplifier incorporates multiple unique adjustments that all the speaker's low frequencies to be matched to its environment and the preferences of its owner. Model 5A owners can adjust the sensitivity of the subwoofer section and contour the subwoofer's response. The sensitivity adjustment increases or decreases the overall level of the bass without changing its character. The low frequency contour control adjusts the Q of the subwoofer to accommodate different rooms, listening tastes, or system modes. In subwoofer engineering terms, system Q is the product of a complex mathematical equation derived from driver, electrical, and enclosure parameters. In practical terms, it relates to the character of the bass response. A low Q subwoofer sounds very tight and controlled. A high Q subwoofer produces a full, warm bass with more energy in the most audible bass range. Each speaker also has eleven, dealer-adjustable compensation controls that modify the subwoofer's response to precisely counter room and placement induced nonlinearities. When the speakers are initially set up in the owner's home, the dealer uses a low frequency analyzer to set the compensation controls for the most linear bass response at the listening position. Once the dealer sets these controls, they will not need to be readjusted unless the speaker placement or listening position changes significantly. With these innovative and versatile adjustments, Model 5As can be matched to any environment or placement. They will work as well in a small room as in a large room. The family entertainment system is a part of the room rather than the room being forced to be a part of the entertainment system. UPGRADEABLE MODULES To fully protect your investment, the Model 5A is a totally modular design. The drivers, crossover, baffles, and amplifier modules can be changed in the field using only a screwdriver and soldering pencil. The upper picture to the right shows how the amplifier and crossover modules are inserted into the speaker while the lower picture to the right shows the removable baffles. As better materials or technologies evolve, reasonably priced updates will be available to incorporate the improvements into the existing speakers. This insures that every pair of Model 5As regardless of age, will continue to represent the leading edge of loudspeaker design, technology and performance. AESTHETICS While it uses the same boxless design as other Vandersteen loudspeakers, the Model 5A presents a very different external appearance. The lower section of the speaker is covered with wood veneer while the head is enclosed by a removable grille structure. The Model 5A is available in standard Vandersteen oak and walnut finishes with exotic woods and/or finishes available at additional cost. Owners can also supply their own high-pressure laminates to insure that their speakers are compatible with their existing home decor. In surprising contrast to its enormous full-range sonic capabilities, the Model 5A is not a large speaker. With the grille and floor coupling cones installed, it is only 14" wide by 20" deep at the base with the front and sides tapering inward throughout the 44" height. The moderate sized Model 5A provides a high-performance solution to situations where larger, placement-sensitive speakers would not be aesthetically or domestically acceptable. QUALITY CONTROL Each Model 5A undergoes rigorous testing and retesting during each phase of construction. The drivers and crossover components are individually tested and matched into complementary sets. The completed crossover assemblies are computer tested against a reference circuit, then potted to insure that they will not be affected by vibration. Each finished speaker is high-power sweep tested for structural integrity and FFT computer analyzed for correct response and performance compared to the model reference. This intense commitment to product quality and reliability is unsurpassed in the audio industry. DIMENSIONAL PURITY Music is pure in its dimensions. Time smear (multipath) distortions from reflections and diffraction destroy this purity just like the multipath ghost images that ruin a television picture. All the Model 5A's components, construction, and engineering are designed to preserve the music's original dimensions. By minimizing internal and external diffraction, maintaining phase and frequency linearity, using a single driver for each frequency range, and controlling vibration and resonances, the Model 5As eliminate time smear distortion and accurately convey the composition, timing and shading that build an involving musical experience. They reveal the power, the authority, the subtlety, and the intimacy of the music. This dimensional purity is the essence of the Model 5As. It allows them to recreate the music's original scope and passion. You become more involved in the music as its complex inner structure is revealed with increased transparency and realism. We are pleased to have embodied these qualities that are so fundamental to your enjoyment of your music in a speaker whose elegant physical presence complements the decor of your listening room. We are dedicated to continue building distinguished loudspeakers, true to both science and music, that make a statement about the importance of music in your life. DRIVERS SUBWOOFER 12-inch dual-motor, push-pull subwoofer with die-cast basket and a curvilinear aluminum cone. Precision-formed magnet assemblies with copper Faraday rings provide over 1 full inch of linear excursion. Built-in 400-watt amplifier with user adjustable low frequency contour and multi-band room response compensation. WOOFER 7-inch die-cast basket, long excursion woofer with curvilinear poly/kevlar composite cone and a precision formed magnet assembly with a copper Faraday ring for enhanced linearity. Transmission-line loading. MIDRANGE Patented open basket 4 1/2-inch midrange with a curvilinear filled polycone and proprietary high-performance die-cast basket and alnico magnet assembly to reduce internal driver reflections and improve linearity. Copper Faraday ring on pole piece. Ferrofluid voice coil cooling. Transmission-line loading. TWEETER 1-inch critically damped, low-distortion, dual-chamber, ceramic-coated alloy dome tweeter. Precision phase plug. Ferrofluid voice coil cooling. Transmission-line loading. ATS TWEETER 3/4-inch critically damped, low-distortion alloy dome tweeter. Ferrofluid voice coil cooling. Specifications: Frequency response: 22Hz to 30kHz + or - 2dB Efficiency: 87dB at 1 meter with a 2.83 volt input. Recommended amplifier: 40 TO 200 watts per channel into 8 ohms for the upper section, 400-watt subwoofer amplifier built in. Impedance: 6 ohms nominal, 4 ohms minimum. Crossover: 100Hz, 600Hz, 5000Hz and adjustable H.F., 6dB per octave. Phase: All the drivers are connected in positive absolute phase. Upgradeable modules: Totally modular design. The driver, crossover and amplifier modules can be changed in the field to accommodate future upgrades. Physical: 44" high, 14" wide, 20" deep. 182 pounds net, 225 pounds gross, each.
Sklep: Koris.pl 65,17 zł
We Own This Game Grove Press / Atlantic Monthly Press
Książki / Literatura obcojęzyczna
Although its participants are still in grade school, Pop Warner football is serious business in Miami, where local teams routinely advance to the national championships. Games draw thousands of fans; recruiters vie for nascent talent; drug dealers and rap stars bankroll teams; and the stakes are so high that games sometimes end in gunshots. In America's poorest city, troubled parents dream of NFL stardom for children who long only for a week in Disney World at the Pop Warner Super Bowl. In 2001, journalist Robert Andrew Powell spent a year following two young teams through rollercoaster seasons. The Liberty City Warriors, former national champs, will suffer the team's first-ever losing season. The inner-city kids of the Palmetto Raiders, undefeated for two straight years, are rewarded for good play with limo rides and steak dinners. But their flamboyant coach (the "Darth Vader of youth football") will be humbled by defeat in a down-to-the-wire playoff game. TITLE OF BOOK is an inside-the-huddle look into a world of innocence and corruption, where every kickoff bares political, social, and racial implications. By an award-winning journalist whose work has appeared in The Best American Sports Writing, it is an unforgettable drama that shows us just what it is to win and to lose in America. INTRODUCTION A portrait of Miami, a city whose government, even after race riots which crippled the black community in the 80s, serves the interest mostly of the Cuban-American constituency and has been rocked by various political scandals (bribery, fiscal mismanagement, etc.). The author tells how he witnessed inner-city blacks find hope and identity during a high school football semifinal that was attended by tens of thousands. He takes a newspaper assignment covering Pop Warner football games and sees much he admires ("a depressed community proud that its boys could do something better than anyone else") but also "the corruption of sport at its infancy" (recruiting, fans assaulting the coach after the team's only loss, parents living through their kids, gambling, etc.). He quits his job to cover a season of Pop Warner, from the first day to the last game, attending every single season and game of the 95-pound Gwen Cherry Bulls, whose coach is dubbed the 'Darth Vadar of Pop Warner'. Prologue Registration day. Coach Brian Johnson of the Liberty City Warriors is introduced as he prints out ridiculously complicated game strategies for his team, based on the Georgia Southern Eagles game plans. It is his first year as head coach and he is determined to prove himself. "I wouldn't be a man if I didn't aspire to run my own team." We're introduced to the "Darth Vadar of Pop Warner" Raul Campos, the ostentatious coach of the 110-pound Palmetto Raiders, who is editing a video hyping his team as the greatest of all time, winners of back-to-back national champions at Disney World Sport Center, undefeated in the last 2 seasons. We're introduced to Diamond Pless, a young kid whose uncle was confined to a wheelchair after a shooting with a rival drug dealer, and who is now helping his uncle live his dream of NFL superstardom vicariously We're introduced to Mark Peterson, the head of the league who tries without much success to discourage the recruitment of black inner city players to suburban ballparks, and is still torn over last year's national championship, where a Suniland team made up mostly of recruits won 56-6. The coach lost his job because he ran up the store, but is suing to be reinstated. CHAPTER ONE: First Practice The first practice, plus a history of Pop Warner football, the largest youth football league in America, started in 1929 in Philly to prevent youth crime and eventually to over 6,000 teams nationally competing to play in the national champion at Disney World. CHAPTER TWO: Liberty City A tour of Liberty City--past the wealthy enclaves of Miami and the poverty of Little Havana is a black neighborhood torn by race riots in the 80s and gang-related assassinations in the 90s. The neighborhood grew out of a black ghetto called Nigger Town which eventually became a progressive experimental black-only community named Knight Manor until a highway ran through it and tore the neighborhood apart. This is wear porno rapper Luther Campbell of 2 Live Crew comes from, who helped found the Liberty City program. Since then, the Warriors have won city championships in 7 of 8 weight divisions and have spawned other all-black parks. CHAPTER THREE: CAMPOS Inside the home of the Cuban exile turned real estate wizard Coach Campos, who is hated and called a "cracker" and takes his players to games in chartered motor coaches and used to take them in Hummer limos. After being banned from another Pop Warner team, Campos took over the Palmetto team comprised mostly of white suburban kids and replaced them with mostly black players recruited from West Perrine via varsity letter jackets, steak dinnnnnnners, etc. CHAPTER FOUR: DIAMOND Diamond's mom tries to petition for him to get a larger role on the team, but Diamond doesn't show much promise. Diamond's uncle Durell describes his gun injury. CHAPTER FIVE: SUNILAND We're introduced to Phillip, whose father is dead from AIDS and whose HIV+ mother's behavior is erratic because of drugs. He is often left to his own devices. He sees football as his way out. We're introduced to the Suniland Devils, a suburban team comprised of recruited back players whose coach Gator Rebhan was banned after he ran up the score in a championship game. Rebhan thinks the League is jealous because he took a white ballpark and made it successful. CHAPTER SIX: GOULDS The history of the Railroad Shop, a black settlement that developed nearly a century ago, was condemned by the city, but eventually turned black again. Now Goulds is black and poor. In their first game, Liberty City loses to Goulds, with Coach Johnson's playbook proving way too complex for the pee wees. CHAPTER SEVEN: SEPTEMBER 11 Warriors lose their second game. News of 9/11 comes, but Florida is very removed from the goings-on in NYC and Washington. The coaches convene at the field despite cancelled games and try to make sense of things. CHAPTER EIGHT: McADOO We're introduced to shadowy figure named McAdoo, who "takes care" of high school and college players in vague ways. He's a street agent, of which every major college sports program has at least one. They operate under the radar, even going so far as to buy cars for young players even though he has no traceable source of income besides selling watermelons and gambling. He points out all of the players he "raised"-- rappers, NFL players, etc. McAdoo's cash flow is "supplemented by his relationships with some of Liberty City's more prominent entrepreneurs," including drug dealers and gang members. McAdoo has switched his focus from encouraging kids to go into football to encouraging them to read. CHAPTER NINE: LIBERTY CITY AT PALMETTO Liberty City is now 1-4 and their chances at the championship are slipping. A player is hit hard and has to go to the hospital in an ambulance. Coach Johnson is questioning why he even bothers. CHAPTER ELEVEN: PLEX The story of drug-related gang violence in Liberty City. Gang members bet up to $10,000 and intimidated coaches and player. Diamond's father-in-law "Plex" was arrested for a murder associated with protecting the distribution channels of a crack laboratory. He is serving 5 life sentences. CHAPTER ELEVEN: ELECTION The Elian Gonzalez debacle, and how it further turned the black community against the Cubans. The Warriors win a game. CHAPTER THIRTEEN: THE GAME A story about a legendary street game decades ago between a group of white kids and black kids. The black kids
Sklep: Libristo.pl
Sklepy zlokalizowane w miastach: Warszawa, Kraków, Łódź, Wrocław, Poznań, Gdańsk, Szczecin, Bydgoszcz, Lublin, Katowice
Szukaj w sklepach lub całym serwisie
2. Szukaj na wszystkich stronach serwisu
t1=0.108, t2=0, t3=0, t4=0.021, t=0.108