krainaksiazek positive thinking 101 positive thinking for beginners positive thinking guide how to stop negative thinking 20042125
- znaleziono 6 produktów w 1 sklepie 183,25 zł
Książki / Literatura obcojęzyczna
People with Borderline or Narcissistic Personality Disorders have a serious mental illness that primarily affects their intimate, personal, and family relationships. Often they appear to be normally functioning at work and in public interactions, and Narcissists may even be highly effective, in the short term, in some work or social situations. However, in intimate relationships, they can be emotional, aggressive, demeaning, illogical, paranoid, accusing, and controlling-in the extreme. Their ability to function normally or pleasantly can suddenly change in an instant, like flipping a switch. These negative behaviors don't happen once in a while, they happen almost continuously in their intimate relationships and most often, and especially with their Caretaker family member. Here, Margalis Fjelstad describes how people get into a Caretaker role with a Borderline or Narcissist, and how they can get out. Caretakers give up their sense of self to become who and what the Borderline or Narcissist needs them to be. This compromises the Caretaker's self-esteem, distorts their thinking processes, and locks them into a Victim-Persecutor-Rescuer pattern with the Borderline or Narcissist. The book looks at the underlying rules and expectations in these relationships and shows Caretaker's how to move themselves out of these rigid interactions and into a healthier, more productive, and positive lifestyle-with or without the Borderline/Narcissistic partner or family member. It describes how to get out of destructive interactions with the Borderline or Narcissist and how to take new, more effective actions to focus on personal wants, needs, and life goals while allowing the Borderline or Narcissist to take care of themselves. It presents a realistic, yet compassionate, attitude toward the self-destructive nature of these relationships, and gives real life examples of how individuals have let go of their Caretaker behaviors with creative and effective solutions.
Sklep: Libristo.pl 81,39 zł
Książki / Literatura obcojęzyczna
Is this the right book for me? A flexible guide that will add ten happy and healthy years to your life This book is designed as a ten-step guide that will add ten (healthy, happy) years to your life. It offers sound advice on health and fitness issues, and will cover diet and relaxation, in addition to such emotional issues as happiness, love and spirituality. It is all based, not on guru driven theories of bizarre diets or exercise routines, but on common sense and positive thinking, twinned with information that is both practical and supported widely by the scientific and medical communities. The tone is positive and encouraging throughout; there are also plenty of opportunities for you to interact with the book through features such as quizzes, self-test boxes and exercises. Help Yourself to Live Longer includes: Chapter 1: Why we age The gene theory of ageing The free radical theory of ageing Making the most of this book Chapter 2: Food How some foods fight ageing An a-z of longevity wonderfoods Crash diets Restrict calories, live longer The live-longer meal planner Chapter 3: Supplements The great supplement debate Combining vitamin and mineral supplements Chapter 4: Exercise Up to ten more years How exercise makes you feel more happier How fit are you? Exercising for fitness Do what you enjoy Exercising for strength Exercising for flexibility Devising a weekly program for fitness, strength and flexibility Chapter 5: Your brain How your brain works Dementia Physical activity Avoiding stress Avoiding neurotoxicants Avoiding head injury Mental activity Increasing your brain power Chapter 6: Relaxation The slow movement Good and bad stress Downsizing Relaxation techniques Meditation Give yourself some cognitive self-therapy Sleep Muscular relaxation Laughter - the stress breaker . .Chapter 7: Happiness Be grateful Getting rid of negative thoughts How negative emotions can poison you Applying the lessons to your past Enough money for a happy future? Chapter 8: Prudence Avoiding cancer Smoking - please stop Viruses Alcohol Drugs Sunshine Driving Avoid head injury Sex Is it worth having medical check-ups Body scans Chapter 9: Love That special someone Love is the food of health More love, less stress Psychoneurosexuality Oxytocin Improving your relationship If your partner has died Relatives and friends Pets How well connected are you? Chapter 10: Sex The normal developments of ageing Managing the effects of ageing Men's problems Women's problems A lifetime of sex with the same partner Chapter 11: Spirituality Gratitude and acceptance Optimism Coping skills Giving life a point Choosing what to believe Prayer How to be more spiritual if you don't believe in God Developing spirituality . Learn effortlessly with a new easy-to-read page design and added features: - Personal insights, tips, and summaries throughout the book - Extension articles online - 1, 5 and 10-minute bites of learning to get you started - Designed for readers of all ages, backgrounds and abilities - Lots of interactive exercises and sample tips
Sklep: Libristo.pl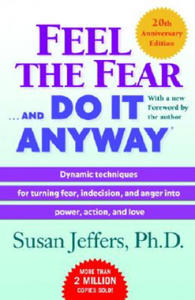 73,62 zł
Książki / Literatura obcojęzyczna
Dynamic and inspirational, FEEL THE FEAR AND DO IT ANYWAY is filled with concrete techniques to turn passivity into asssertiveness. Dr. Susan Jeffers, teaches you how to stop negative thinking patterns and reeducate your mind to think more positively. You will learn: the vital 10-Step Positive Thinking Process; how to risk a little every day; how to turn every decision into a "No-Lose" situation, and much more.
Sklep: Libristo.pl 73,62 zł
Książki / Literatura obcojęzyczna
No matter how long it's been since you've dreamed it...No matter how "unrealistic" it seems...Your impossible dream may not be impossible anymore. If you've been waiting for a job that rewards you with more than a paycheck...or for the perfect moment to take that "long-lost" dream off hold...it's time to stop waiting and start creating a life you can truly love! In this life altering follow-up to the sensational New York Times Bestseller "I Could Do Anything If I Only Knew What It Was, Barbara Sher shows you how to break free from a career that doesn't cut it...tailor-make a meaningful, rewarding life to your personal specifications...and create a foundation for a success that's strong enough to support your heart's desire. With wisdom and warm reassurance, this step-by-step guide to personal and professional fulfillment teaches you the practical strategies you need to make your "impossible" dreams possible, reachable, and real. Discover: How to use "outcome thinking" to plot a positive path to your lifelong goalWhat your favorite childhood pastimes tell you about what it takes to be a happy adultHow to use your natural curiosity, talents, and resources to turn your thinking--and your luck--aroundWhy one-size careers do NOT fit allFoolproof techniques for leaping over the hurdles between you and your dreamHow to do what you love and love what you do for the rest of your life!1997).
Sklep: Libristo.pl 47,76 zł
Książki / Literatura obcojęzyczna
Change is one of life's absolute certainties, but so many of us are held back by a fear of the unknown, by constant procrastination and by living in the shadow of negative thinking about what the future holds for us. This book shows us how to bring positive energy into our life by breaking out of the cocoon, shifting our focus from the negative and embracing change. Written by life coach, clinical hypnotherapist and healer Karen Whitelaw-Smith, The Butterfly Experience reveals how changing your mindset, focusing on abundance, living in the present and learning the skills of relaxation will help you overcome your fears and become the person you deserve to be. The book offers a wealth of practical tools such as visualizations, meditations and affirmations to help you to forget about past mistakes and habits and find the inspiration for change deep within yourself. Learn how to take responsibility for your own thoughts, stop waiting for the miracle that will make you happy, and trust your intuition rather than looking to other people for approval. The journey from caterpillar to butterfly is full of profound transformations and stubborn obstacles to overcome, but this book shows us that if we continue to focus on what we don't want, or on what makes us fearful, then we are certain to stay where we are and we will never experience the exciting challenges and wonders that lie ahead. Apply the groundbreaking techniques of The Butterfly Experience and discover the key to a healthy, happier life.
Sklep: Libristo.pl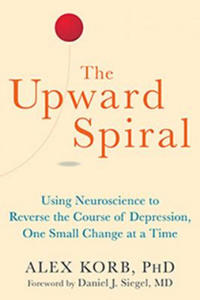 68,38 zł
Upward Spiral New Harbinger Publications
Książki / Literatura obcojęzyczna
Depression can feel like a downward spiral, pulling you down into a vortex of sadness, fatigue, and apathy. Based in the latest research in neuroscience, this book offers dozens of little things you can do every day to rewire your brain and create an upward spiral towards a happier, healthier life. Depression doesn't happen all at once. It starts gradually and builds momentum over time. If you go through a difficult experience, you may stop taking care of yourself. You may stop exercising and eating healthy, which will end up making you feel even worse as time goes on. You are caught in a downward spiral, but you may feel too tired, too overwhelmed, and too scared to try and pull yourself back up. The good news is that just one small step can be a step in the right direction. In "The Upward Spiral, " neuroscientist Alex Korb demystifies the neurological processes in the brain that cause depression and offers effective ways to get better--one little step at a time. In the book, you'll discover that there isn't "one big solution" that will solve your depression. Instead, there are dozens of small, practical things you can do to alleviate your symptoms and start healing. Some are as simple as relaxing certain muscles to reduce feelings of anxiety, while others involve making small efforts toward more positive social interactions. Small steps in the right direction can have profound effects--giving you the power to literally "reshape" your brain. Like most people, you probably didn't wake up one day and find yourself completely depressed. Instead, it probably happened over time, as a series of reactions to difficult situations and negative thinking. But if you are ready to reverse the trajectory of your depression and find lasting happiness, this book will show you how.
Sklep: Libristo.pl
Sklepy zlokalizowane w miastach: Warszawa, Kraków, Łódź, Wrocław, Poznań, Gdańsk, Szczecin, Bydgoszcz, Lublin, Katowice
Szukaj w sklepach lub całym serwisie
2. Szukaj na wszystkich stronach serwisu
t1=0.039, t2=0, t3=0, t4=0.025, t=0.04