krainaksiazek practical point of care medical ultrasound 20045132
- znaleziono 10 produkty w 3 sklepach 439,99 zł
Książki Obcojęzyczne>Angielskie>Medicine>Other branches of medicine>Medical imaging>Ultrasonics
0x006ef0a100000000
Sklep: Gigant.pl 599,99 zł
Książki Obcojęzyczne>Angielskie>Medicine>Other branches of medicine>Medical imaging>UltrasonicsKsiążki Obcojęzyczne>Angielskie>Me...
0x0074c99800000000
Sklep: Gigant.pl 459,99 zł
Książki Obcojęzyczne>Angielskie>Medicine>Other branches of medicine>Medical imaging>Ultrasonics
0x0064e20500000000
Sklep: Gigant.pl 262,96 zł
Książki / Literatura obcojęzyczna
Two titles from the bestselling Oxford Handbook series are available together in this great value pack. Fully revised for a third edition, the best-selling Oxford Handbook of Obstetrics and Gynaecology is now better than ever. It includes new algorithms for patient management, new images and full colour photographs, and new and expanded topics including female genital mutilation, consent for operations, and pre-operative assessment. Written and reviewed by a team of highly experienced clinicians and academics, and UK trainees, this handbook is a perfect starting point for preparation for postgraduate exams. Practical advice is presented with key evidence-based guidelines, supported by web references, providing the most up-to-date clinical information as well as the perfect starting point for preparation for postgraduate exams. The indispensable, concise and practical guide to all aspects of obstetric and gynaecological medical care, diagnosis, and management, this is the must have resource for all specialist trainees, junior doctors and medical students, as well as a valuable aide memoir for experienced clinicians. The Oxford Handbook of Reproductive Medicine and Family Planning, second edition provides essential practical information in the care of the adolescent and reproductive age females and males. Evidence-based and concise, this handbook is the must-have resource for all practitioners, trainees, and students in sexual and reproductive healthcare. Fully updated for the second edition, this handbook now contains additional practical guidance, algorithms and diagrams, a new chapter on recurrent miscarraige, as well as expanded informaiton on topics such as fragile X syndrome, PCOs and hirsuitism. It follows chronological age up to the menopause, covering areas such as the reproductive system, puberty, the menstrual cycle, contraceptive methods, and infertility. This is the essential guide to all aspects of reproductive medicine, family planning and sexual health, providing all the vital information the reader needs.
Sklep: Libristo.pl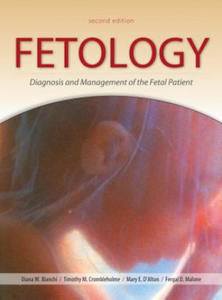 1156,17 zł
Książki / Literatura obcojęzyczna
The first book to synthesize relevant, critically reviewed data for application to the diagnosis and treatment of prenatal patients updated and in full color§5 STAR DOODY'S REVIEW! §"The book is comprehensive, concise, well illustrated, and an extremely valuable resource for perinatal healthcare providers....This book has rapidly become a go-to reference in the perinatal field and this new edition confirms its place as the gold standard in the field. Perinatologists will find this to be an essential part of their library. As more obstetric practitioners do investigative sonographic procedures in their offices, this book will be a valuable resource for them as well. The new edition is overdue and most welcome."-- Doody's Review Service §"This invaluable up-to-date reference is a must have guide especially§in non-tertiary care centers where the various experts may not be readily available to§further guide the family and plan the rest of the antepartum, peripartum and postpartum care."-- Center for Advanced Fetal Care Newsletter §Fetology: Diagnosis and Management of the Fetal Patient offers a cross-disciplinary approach that goes beyond the traditional boundaries of obstetrics, pediatrics, and surgery to help you effectively diagnose and treat fetal patients. Fetology considers the full implications of a fetal sonographic or chromosomal diagnosis from prenatal management to long-term outcome for an affected child. Here, you ll find all the insights you need to answer the questions of parents faced with a diagnosis of a fetal abnormality and present them with a coordinated therapeutic plan.§Features§NEW! Full-color design §NEW! Five new chapters on Adrenal Masses, Abdominal Cysts, Overgrowth, Mosaic Trisomy, and DiGeorge Syndrome§NEW! Chapters summarizing contemporary approaches to first and second trimester screening for aneuploidy§NEW! 3D ultrasound and MRI images: over 450 images clearly illustrate the diagnosis of anomalies with the latest, most precise imaging technology §NEW! Key Points open each chapter, providing rapid review of a particular condition §Highlighted treatment/management guidelines deliver quick access to practical, what-to-do information §Each chapter, which covers a single anomaly, includes description of the medical condition, incidence, characteristic sonographic findings, differential diagnosis, best treatment during pregnancy, treatment of the newborn, expected outcome, and more §Addresses gaps in our knowledge that highlight unmet clinical needs and areas for future research
Sklep: Libristo.pl 594,27 zł
Medycyna > English Division
This thoroughly updated and revised edition of a widely acclaimed book provides concise and authoritative guidance to today's best therapeutic regimens for the diagnosis and treatment of prostate cancer. The authors explain the trends in diagnosis and mortality, new PSA isoforms for diagnosis, PSA screening, chemoprevention, biopsy techniques, sural nerve grafting, and hereditary prostate cancer. Additional chapters reflect progress in the management of locally advanced disease, the use of nomograms to predict outcomes, the medical management of erectile dysfunction, brachytherapy, and deciding between surgery and radiation. A compact disk accompanies the book for downloading the book to a PC or PDA. "...a valued addition to the literature of prostate cancer. All treating these patients should find some value and useful information in this book; it is an important update of the first edition." - Doody's Health Sciences Book Review Journal "This is a valued addition to the literature of prostate cancer. The clinical issues relevant to the disease are appropriately addressed and the book is one of the more current ones available. The authors are well recognized and their opinions in their respective chapters are presented clearly. All treating these patients should find some value and useful information in this book; it is an important update of the first edition." - Doody's Health Sciences Book Review Journal Reviews of the first edition: "Presently, early detection and treatment remain our best hope for the cure of this common disease. Dr. Klein has assembled an outstanding group of authors to contribute to Management of Prostate Cancer. Those who take the time to read it will have a much better understanding of the management of prostate cancer."-Foreword by Ralph A. Straffon, MD "...Klein's Management of Prostate Cancer provides a balanced and comprehensive review...the 20 chapters are well written and provide a balanced view of the issues in diagnosis and treatment. The book's best feature is that it presents both sides of the picture...Thompson and Foley present in a point-counterpoint style arguments that support or refute the effectiveness of screening, the clinical significance of detected disease, and the effectiveness of local treatment, as well as opposing views on cost and the quality of data from prospective trials...A second feature of this book is its practical approach to the management of prostate cancer and the complications of treatment...The third feature of this book is its emphasis on new horizons...Management of Prostate Cancer is an informative review, and most of the chapters should be readily understood by patients and physicians alike. The last two chapters, on the surgeon's and radiation oncologist's perspectives, would be valuable reading for any man with prostate cancer who must decide whether to undergo surgery or radiation therapy. The chapter on screening provides important insights for primary care physicians facing the problem of whether to recommend screening."-The New England Journal of Medicine "This book is a must read for any physician desiring a complete and up-to-date understanding of prostate cancer. All aspects of this variable, complex, and prevalent disease are discussed in the 20 chapters, with contributions from 43 clinicians involved in the diagnosis and treatment of prostate cancer...Outstanding discussions analyze risk factors and genetic markers...The Management of Prostate Cancer will provide the clinician with a current, complete snapshot of all issues involved in the diagnosis and management of this disease. It should be part of the library of all urologists. Pathologists, radiation oncologists, medical oncologists, surgical oncologists, and general surgeons will find this text very useful as a reference for the latest developments in this field."-Current Surgery "The book offers recent survey in the field of prostate cancer epidemiology, risk factor, molecular markers, diagnostic procedures (including prostate biopsy), transrectal ultrasonography, computer tomography, magnetic resonance, the techniques of radical prostatectomy, radiotherapy and hormone therapy. Moreover there are on clinical practice oriented chapters, as interpretation of pathological findings, perioperative care, life quality evaluation, posttherapeutical urological disorders and modes of sexual rehabilitation, as well as adequate instructions of surgeon and radiotherapeutist for the period following adequate treatment...This publication represents an outstanding work devoted to the current state-of-the-art of the diagnosis and treatment of cancer, based on molecular-biological technology. It gives a comprehensive view about new achievements in molecular oncology and about innovations in research of human cancers. ...The book can be fully recommended for medical oncologists, surgeons and gynecologists engaged in cancer treatment as a guide in this new rapidly developing topic...The book offers an up-to-date information on prostate cancer diagnostics and treatment and can be fully recommended to all physicians, especially to urologists, radiotherapeutists and oncologists."- Neoplasma "...this book is a comprehensive and concise update of the current knowledge of prostatic cancer...includes up-to-date information on the evaluation and treatment as well as the molecular biology, epidemiology and pathology of prostate cancer. Surgical treatment, radiation therapy, hormonal therapy, gene therapy and other therapeutic modalities are emphasized. Issues of early detection, quality of life and complications after treatment, and patient counseling are also broadly discussed...The strength of this book lies in its well-balanced and concise review of current diagnostic and therapeutic methods. Most of the illustrations and tables are good, and the references are current...The often ignored topic of hormone refractory prostate cancer is well presented...this book is practical, well illustrated and of value for those who would like to have a better understanding of the management of prostate cancer. It is a worthwhile resource for the general urologist, radiation and urological oncologists as well as for residents in training." - Journal of Urology "...this book is both timely and useful for all clinicians who wish to obtain a clear and up-to-date account of the management of prostate cancer." - British Journal of Surgery
Sklep: Ksiazki-medyczne.eu 135,78 zł
Medycyna > English Division
This easy-to-use, multipurpose resource is the ideal first stop for answers - for those in practice, on the wards, teaching, or preparing for boards. "Current Diagnosis and Treatment in Gastroenterology" offers brief but expert and up-to-date coverage of gastrointestinal, biliary, hepatic, and pancreatic diseases. With its consistent formatting chapter by chapter, this text makes it simple to locate the practical information you need on diagnosis, testing, disease processes, and up-to-date treatment and management strategies. It is concise, accessible clinical information on gastroenterology. It brings together the best in current recommendations from experts directly involved in patient care and clinical teaching. It provides single-source look-ups of essential topics in diseases of the esophagus, stomach, small intestine, colon, rectum, pancreas, liver, and bile ducts. It emphasizes up-to-date, cost-effective diagnostic approaches and therapeutic strategies for the full range of gastroenterological problems. It serves as an easy-to-use, ready reference for gastroenterologists, surgeons, family physicians, and internists who see patients with GI complaints. It provides practical guidance on imaging studies, endoscopy, and treatment of pregnancy-related GI problems. It covers disease processes involving more than one organ, such as gastrointestinal bleeding, acute diarrhea, and AIDS, and discusses liver failure, the liver in systemic disease, and liver transplantation. It helps house officers and fellows care for patients and prepare for rounds and clinical conferences. It facilitates review - especially for those preparing for specialty exams or specialists wanting to update their knowledge. "Rupesh Dharia, MD - primary care physician According to Dr. Dharia, lots of Gl-type problems are dealt with by primary-care physicians in the office without specialist referrals. "If I needed a book to refer to for a gastrointestinal problem, this would be a good book to turn to. The content is all there without being too complex for an internist to understand...If you're buying a Lange book you can be sure it has the information you're looking for." The book is overall concise and thorough enough for family practitioners, residents, and students. The top-to-bottom (mouth to rectum) organization is methodical and easy to follow. Although Dr. Dharia usually turns to Cecil's Essentials or a book like Harrison's when GI problems present in his patients, if he wanted something more "basic" and to the point he would consult CD&T in Gastroenterology because it contains medical facts and no pathophysiology (which is irrelevant to his daily practice). Suggestions for improvement include: brighter, more eye-catching cover color; 2nd color inside; and quick-reference tabs (as bleeds) by organ system.
Sklep: Ksiazki-medyczne.eu
155,31 zł
Medycyna > English Division
FIRSTConsult is a new evidence-based online clinical information system, designed to support decision making with practical clinical information. The content is continuously updated by expert contributors - who synthesize multiple information resources and deliver updated thinking on the latest in evaluation, diagnosis, management, outcomes and prevention. Based on the breakthrough FIRSTConsult electronic parent, the PDxMD series employs the same comprehensive approach in a book format, organized to support decision making at the point and time of care. Each PDxMD Medical Conditions title is composed of structured chapters, called medical condition files. Each Medical Condition File is organized identically into the following colour-coded sections, to allow you to find information consistently and reliably for every condition: Summary Information Background Diagnosis Treatment Outcomes Prevention Resources
Sklep: Ksiazki-medyczne.eu
777,07 zł
Książki / Literatura obcojęzyczna
'A unique and innovative approach to family issues in psychiatric disorders. The authors tackle a broad range of complex issues that are rarely covered in the depth or with the expertise that this volume brings. This book is a major contribution to the field and provides the kind of international perspective that enhances our understanding of the complex dimensions of psychiatric disorders from a multigenerational and cross-cultural perspective.' From a review of the first edition by Carol Nadelson, Professor of Psychiatry, Harvard Medical School. It is indisputable that mental illness in a parent has serious and often adverse effects on the child, something which is surprisingly unreflected in clinical service provision. In this completely rewritten second edition, an international, multidisciplinary team of professionals review the most up-to-date treatment interventions from a practical, clinical point of view. It is essential reading for all professionals dealing with adult mental illness and child-care.
Sklep: Libristo.pl 315,12 zł
Książki / Literatura obcojęzyczna
When is a political trial good or bad in terms of responsible governance and fairness to individuals or groups? Professors Abel and Marsh define, evaluate, and justify the usefulness of various kinds of political trials, going back through history to answer these questions in practical terms. They point to basic assumptions and various theoretical approaches and assess specific court practices and cases, while showing real dangers and opportunities that have been part of our history. They cover cases involving the establishment and free exercise clauses of the Constitution, including privacy, religious, medical, bioethical, and health-care issues that are of major concern today. This history is important to political scientists, legal scholars, lawyers, historians, and others concerned with civil rights.
Sklep: Libristo.pl
Sklepy zlokalizowane w miastach: Warszawa, Kraków, Łódź, Wrocław, Poznań, Gdańsk, Szczecin, Bydgoszcz, Lublin, Katowice
Szukaj w sklepach lub całym serwisie
2. Szukaj na wszystkich stronach serwisu
t1=0.053, t2=0, t3=0, t4=0.02, t=0.054