krainaksiazek psychological consequences of trauma 20045646
- znaleziono 4 produkty w 2 sklepach 439,67 zł
Książki / Literatura obcojęzyczna
The latest theory and research on understanding posttraumatic stressand its treatment, providing evidence-based clinical interventionsusing techniques drawn from positive psychology It is known that exposure to stressful and traumatic events can have severe and chronic psychological consequences. At the same time-mindful of the suffering often caused by trauma-there is also a growing body of evidence testifying to posttraumatic growth: the positive psychological changes that can result for survivors of trauma. Blending these two areas of research and exploring the relevance of positive psychology to trauma practice, Trauma, Recovery, and Growth: Positive Psychological Perspectives on Posttraumatic Stress provides clinicians with the resources they need to implement positive psychology interventions in their trauma treatment across a spectrum of?therapeutic perspectives, including cognitive-behavioral, psychodynamic, humanistic, existential, and group therapies. Featuring contributions by internationally renowned researchers and practitioners and edited by experts in the field of positive psychology who have worked with survivors of trauma in the facilitation of their resilience, recovery, and growth, this timely book is divided into four parts:* Toward an Integrative Positive Psychology of Posttraumatic Experience* Growth and Distress in Social, Community, and Interpersonal Contexts* Clinical Approaches and Therapeutic Experiences of Managing Distress and Facilitating Growth* Beyond the Stress-Growth Distinction: Issues at the Cutting Edge of Theory and PracticeTrauma, Recovery, and Growth explores the role positive psychology can play in how clinical practitioners treat and work with survivors of stressful and traumatic events and offers an optimistic perspective in the treatment of those who suffer posttraumatic stress following devastating events such as terrorist attacks, childhood sexual abuse, cancer, and war.
Sklep: Libristo.pl 1632,47 zł
Książki / Literatura obcojęzyczna
Trauma is defined as a sudden, potentially deadly experience, often leaving lasting, troubling memories. Traumatology (the study of trauma, its effects, and methods to modify effects) is exploding in terms of published works and expanding in terms of scope. Originally a narrow specialty within emergency medicine, the field now extends to trauma psychology, military psychiatry and behavioral health, post-traumatic stress and stress disorders, trauma social work, disaster mental health, and, most recently, the subfield of history and trauma, with sociohistorical examination of long-term effects and meanings of major traumas experienced by whole communities and nations, both natural (Pompeii, Hurricane Katrina) and man-made (the Holocaust, 9/11). One reason for this expansion involves important scientific breakthroughs in detecting the neurobiology of trauma that is connecting biology with human behavior, which in turn, is applicable to all fields involving human thought and response, including but not limited to psychiatry, medicine and the health sciences, the social and behavioral sciences, the humanities, and law. Researchers within these fields and more can contribute to a universal understanding of immediate and long-term consequences-both good and bad-of trauma, both for individuals and for broader communities and institutions. Trauma encyclopedias published to date all center around psychological trauma and its emotional effects on the individual as a disabling or mental disorder requiring mental health services. This element is vital and has benefited from scientific and professional breakthroughs in theory, research, and applications. Our encyclopedia certainly will cover this central element, but our expanded conceptualization will include the other disciplines and will move beyond the individual.
Sklep: Libristo.pl 145,09 zł
Książki / Literatura obcojęzyczna
Adults in your church, small group, or other Christian organization are silently suffering the tragic consequences of having been sexually abused as children or youth. Why aren't they coming forward for help? Their reluctance may be related to wounds given by the faithful--religious people they trusted, who said things like ""well, it wasn't rape"" or ""it's been thirty years--why is this such a big deal?"" Such responses from people with religious authority deepen victims' need to shrink into anxiety, depression, and self-degradation. This book offers you the tools needed to undertake caring ministry to adults suffering in the aftermath of childhood sexual abuse. Once you understand the scientific research on such topics as trauma memory, consequences of abuse, and forgiveness, you will appreciate how caring collaboration can create hope and healing. In these pages every reader will find helpful content that will take you from feeling out of your depth to knowing you are empowered to be an effective companion in God's transforming work in the lives of survivors of abuse. ""Push Back the Dark challenges us to understand childhood sexual abuse in order to empathize and walk as companions with those who have been victimized. It is an intensely personal account, supplemented by data and psychological science. It speaks directly to the church, imploring Christians to listen and help. It speaks to therapists, facilitating understanding of the particular issues faced by Christian clients."" --Mark Stanton, Psychologist; Provost, Azusa Pacific University ""Push Back the Dark is a most important and inspirational book, primarily for Christians, but applicable to people of all faiths for the truths it tells. With courage born of walking through the darkness, Dr. Altmeier uses her own history to accomplish the many objectives of this book. Her anger is palpable when describing the personal, pastoral, and institutional denial and betrayal that await most victims who disclose or otherwise exhibit symptoms. Yet, understanding and deep faith also shine through and provide a model for a faith-based restoration of self. This book belongs in the hands of all who work in pastoral and church settings. It sets a standard for what ought to happen to help those who have been most injured to overcome their shame and fear and to heal in connection to caring others."" --Christine A. Courtois, Licensed Psychologist, (retired); Author of Healing the Incest Wound: Adult Survivors in Therapy ""This book is essential reading for clergy and lay people working to help survivors of childhood sexual abuse within the church. The author provides a courageous and well-integrated blueprint of psychological research, Biblical truth, and practical recommendations to assist the global Church in this mission."" --Donald F. Walker, Tidewater Child and Family Behavioral Health; Coauthor of Spiritually Oriented Psychotherapy for Trauma Elizabeth (Betsy) Altmaier (BA, Wheaton College; MA, PhD, Ohio State University) is a psychologist and Professor Emeritus, University of Iowa. As a researcher, therapist, and educator, Betsy was influenced by her own life difficulties, as she experienced childhood abuse. She has published extensively in psychology, with seven books and more than one hundred chapters and articles. Experiencing God's healing in her own life has motivated her work in this book--translating psychological research by way of a biblical worldview to inform practical ministry.
Sklep: Libristo.pl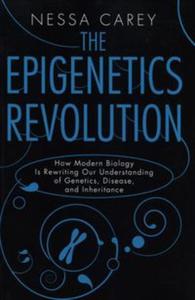 74,30 zł
Książki
Epigenetics can potentially revolutionize our understanding of the structure and behavior of biological life on Earth. It explains why mapping an organism?s genetic code is not enough to determine how it develops or acts and shows how nurture combines with nature to engineer biological diversity. Surveying the twenty-year history of the field while also highlighting its latest findings and innovations, this volume provides a readily understandable introduction to the foundations of epigenetics.Nessa Carey, a leading epigenetics researcher, connects the field?s arguments to such diverse phenomena as how ants and queen bees control their colonies; why tortoiseshell cats are always female; why some plants need cold weather before they can flower; and how our bodies age and develop disease. Reaching beyond biology, epigenetics now informs work on drug addiction, the long-term effects of famine, and the physical and psychological consequences of childhood trauma. Carey concludes with a discussion of the future directions for this research and its ability to improve human health and well-being.Related Subjects
Sklep: Booknet.net.pl
Sklepy zlokalizowane w miastach: Warszawa, Kraków, Łódź, Wrocław, Poznań, Gdańsk, Szczecin, Bydgoszcz, Lublin, Katowice
Szukaj w sklepach lub całym serwisie
2. Szukaj na wszystkich stronach serwisu
t1=0.02, t2=0, t3=0, t4=0.023, t=0.02