krainaksiazek real scrum and more 20167182
- znaleziono 4 produkty w 1 sklepie 189,22 zł
Książki / Literatura obcojęzyczna
Succeed with Scrum in Even the Largest, Most Complex Distributed Development Projects Forewords by Ken Schwaber, Scott Ambler, Roman Pichler, and Matthew Wang This is the first comprehensive, practical guide for Scrum practitioners working in large-scale distributed environments. Written by three of IBM's leading Scrum practitioners--in close collaboration with the IBM QSE Scrum Community of more than 1000 members worldwide--this book offers specific, actionable guidance for everyone who wants to succeed with Scrum in the enterprise. Readers will follow a journey through the lifecycle of a distributed Scrum project, from envisioning products and setting up teams to preparing for Sprint planning and running retrospectives. Each chapter presents a baseline drawn from "conventional" Scrum, then discusses additional issues faced by distributed teams, and presents specific best-practice solutions, alternatives, and tips the authors have identified through hard, empirical experience. Using real-world examples, the book demonstrates how to apply key Scrum practices, such as look-ahead planning in geographically distributed environments. Readers will also gain valuable new insights into the agile management of complex problem and technical domains. Coverage includes * Developing user stories and working with Product Owners as a distributed team * Recognizing and fixing the flaws Scrum may reveal in existing processes * Engaging in more efficient Release and Sprint planning * Conducting intense, brief daily Scrum meetings in distributed environments * Managing cultural and language differences * Resolving dependencies, performing frequent integration, and maintaining transparency in geographically distributed environments * Successfully running remote software reviews and demos * Brainstorming what worked and what didn't, to improve future Sprints This book will be an indispensable resource for every team leader, member, product owner, or manager working with Scrum or other agile methods in any distributed software development organization.
Sklep: Libristo.pl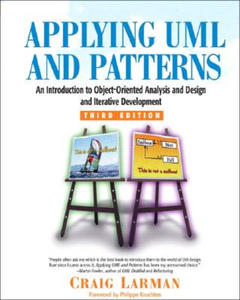 294,41 zł
Książki / Literatura obcojęzyczna
"This edition contains Larman's usual accurate and thoughtful writing. It is a very good book made even better." -Alistair Cockburn, author, Writing Effective Use Cases and Surviving OO Projects"Too few people have a knack for explaining things. Fewer still have a handle on software analysis and design. Craig Larman has both." -John Vlissides, author, Design Patterns and Pattern Hatching"People often ask me which is the best book to introduce them to the world of OO design. Ever since I came across it Applying UML and Patterns has been my unreserved choice." -Martin Fowler, author, UML Distilled and Refactoring"This book makes learning UML enjoyable and pragmatic by incrementally introducing it as an intuitive language for specifying the artifacts of object analysis and design. It is a well written introduction to UML and object methods by an expert practitioner." -Cris Kobryn, Chair of the UML Revision Task Force and UML 2.0 Working Group*A brand new edition of the world's most admired introduction to object-oriented analysis and design with UML *Fully updated for UML 2 and the latest iterative/agile practices *Includes an all-new case study illustrating many of the book's key points Applying UML and Patterns is the world's #1 business and college introduction to "thinking in objects"-and using that insight in real-world object-oriented analysis and design. Building on two widely acclaimed previous editions, Craig Larman has updated this book to fully reflect the new UML 2 standard, to help you master the art of object design, and to promote high-impact, iterative, and skillful agile modeling practices. Developers and students will learn object-oriented analysis and design (OOA/D) through three iterations of two cohesive, start-to-finish case studies. These case studies incrementally introduce key skills, essential OO principles and patterns, UML notation, and best practices. You won't just learn UML diagrams-you'll learn how to apply UML in the context of OO software development. Drawing on his unsurpassed experience as a mentor and consultant, Larman helps you understand evolutionary requirements and use cases, domain object modeling, responsibility-driven design, essential OO design, layered architectures, "Gang of Four" design patterns, GRASP, iterative methods, an agile approach to the Unified Process (UP), and much more. This edition's extensive improvements include * A stronger focus on helping you master OOA/D through case studies that demonstrate key OO principles and patterns, while also applying the UML * New coverage of UML 2, Agile Modeling, Test-Driven Development, and refactoring * Many new tips on combining iterative and evolutionary development with OOA/D * Updates for easier study, including new learning aids and graphics * New college educator teaching resources * Guidance on applying the UP in a light, agile spirit, complementary with other iterative methods such as XP and Scrum * Techniques for applying the UML to documenting architectures * A new chapter on evolutionary requirements, and much more Applying UML and Patterns, Third Edition, is a lucid and practical introduction to thinking and designing with objects-and creating systems that are well crafted, robust, and maintainable.
Sklep: Libristo.pl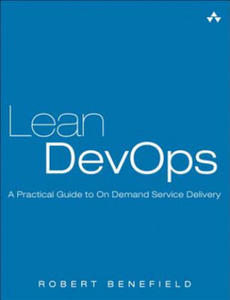 115,62 zł
Lean Devops Addison-Wesley Educational Publishers Inc
Książki / Literatura obcojęzyczna
Agile practices like Scrum and Kanban have jumped the chasm and become widely accepted throughout the IT industry. Sometimes, they are even mandated. However, these methodologies are mute on how to run and manage functioning software. The DevOps movement arose in response to this omission, but it has offered IT managers insufficient actionable guidance for their day-to-day challenges. In Lean DevOps, Robert Benefield fills this crucial gap, offering a practical, complete, and proven approach to driving value from DevOps. Moving beyond tools and hype, Benefield draws on decades of in-the-trenches experience building and leading IT teams in organizations of all types and sizes, from startups to giant multinationals, including the first software-as-a-service providers, leading investment banks, and highly regulated telecom and energy utilities. Benefield shows how to use agile and lean manufacturing techniques within a DevOps context to dramatically improve business speed and quality, and gain crucial insights for outmaneuvering your competition. Using real-world examples, he shows how to: * Successfully establish DevOps throughout your organization * Improve the speed and quality of IT services * Strengthen IT teams' transparency and effectiveness by using visual management techniques * More effectively manage unplanned work and work in progress * Integrate IT run practices with Agile and Kanban software practices * Deepen understanding and engagement between IT and customers * Leverage continuous improvement techniques throughout IT, and more Since DevOps was first conceived, it has promised powerful competitive advantage. Whatever your role in delivering IT services or support, Lean DevOps will help you transform that promise into reality.
Sklep: Libristo.pl 265,75 zł
Książki / Literatura obcojęzyczna
When software development teams move to agile methods, experienced project managers often struggle-doubtful about the new approach and uncertain about their new roles and responsibilities. In this book, two long-time certified Project Management Professionals (PMPRs) and Scrum trainers have built a bridge to this dynamic new paradigm. They show experienced project managers how to successfully transition to agile by refocusing on facilitation and collaboration, not "command and control." The authors begin by explaining how agile works: how it differs from traditional "plan-driven" methodologies, the benefits it promises, and the real-world results it delivers. Next, they systematically map the Project Management Institute's classic, methodology-independent techniques and terminology to agile practices. They cover both process and project lifecycles and carefully address vital issues ranging from scope and time to cost management and stakeholder communication. Finally, drawing on their own extensive personal experience, they put a human face on your personal transition to agile--covering the emotional challenges, personal values, and key leadership traits you'll need to succeed. Coverage includes * Relating the PMBOKR Guide ideals to agile practices: similarities, overlaps, and differences* Understanding the role and value of agile techniques such as iteration/release planning and retrospectives* Using agile techniques to systematically and continually reduce risk* Implementing quality assurance (QA) where it belongs: in analysis, design, defect prevention, and continuous improvement* Learning to trust your teams and listen for their discoveries* Procuring, purchasing, and contracting for software in agile, collaborative environments* Avoiding the common mistakes software teams make in transitioning to agile* Coordinating with project management offices and non-agile teams*"Selling" agile within your teams and throughout your organization For every project manager who wants to become more agile. Part I An Agile Overview 7 Chapter 1 What is "Agile"? 9 Chapter 2 Mapping from the PMBOKR Guide to Agile 25 Chapter 3 The Agile Project Lifecycle in Detail 37 Part II The Bridge: Relating PMBOKR Guide Practices to Agile Practices 49 Chapter 4 Integration Management 51 Chapter 5 Scope Management 67 Chapter 6 Time Management 83 Chapter 7 Cost Management 111 Chapter 8 Quality Management 129 Chapter 9 Human Resources Management 143 Chapter 10 Communications Management 159 Chapter 11 Risk Management 177 Chapter 12 Procurement Management 197 Part III Crossing the Bridge to Agile 215 Chapter 13 How Will My Responsibilities Change? 217 Chapter 14 How Will I Work with Other Teams Who Aren't Agile? 233 Chapter 15 How Can a Project Management Office Support Agile? 249 Chapter 16 Selling the Benefits of Agile 265 Chapter 17 Common Mistakes 285 Appendix A Agile Methodologies 295 Appendix B Agile Artifacts 301 Glossary 321 Bibliography 327 Index 333
Sklep: Libristo.pl
Sklepy zlokalizowane w miastach: Warszawa, Kraków, Łódź, Wrocław, Poznań, Gdańsk, Szczecin, Bydgoszcz, Lublin, Katowice
Szukaj w sklepach lub całym serwisie
2. Szukaj na wszystkich stronach serwisu
t1=0.045, t2=0, t3=0, t4=0.024, t=0.046