krainaksiazek real world training evaluation 20042740
- znaleziono 12 produktów w 2 sklepach 435,00 zł
Medycyna > Rehabilitacja i fizjoterapia
Developed by the National Strength and Conditioning Association (NSCA) and now in its fourth edition,  Essentials of Strength Training and Conditioning  is the essential text for strength and conditioning professionals and students. This comprehensive resource, created by 30 expert contributors in the field, explains the key theories, concepts, and scientific principles of strength training and conditioning as well as their direct application to athletic competition and performance. The scope and content of  Essentials of Strength Training and Conditioning, Fourth Edition With Web Resource,  have been updated to convey the knowledge, skills, and abilities required of a strength and conditioning professional and to address the latest information found on the Certified Strength and Conditioning Specialist (CSCS) exam. The evidence-based approach and unbeatable accuracy of the text make it the primary resource to rely on for CSCS exam preparation. The text is organized to lead readers from theory to program design and practical strategies for administration and management of strength and conditioning facilities. The fourth edition contains the most current research and applications and several new features: Online videos featuring 21 resistance training exercises demonstrate proper exercise form for classroom and practical use.  Updated research
Sklep: Ksiazki-medyczne.eu 230,01 zł
Książki / Literatura obcojęzyczna
Since its creation in 1959, Donald Kirkpatrick's four-level model for evaluating training programs - reaction, learning, behavior, and results - has become the most widely used approach to training evaluation in the corporate, government, and academic worlds. However, trainers today are feeling increased pressure to prove whether instruction is worth its cost. And calculating and presenting results (Step 4) becomes tricky when, despite training, workers aren't fulfilling Step 3: applying what they've learned to their behavior. This book takes on this age-old challenge, first examining why learned concepts don't make it into practice, then offering solutions that will work in the real world. Coauthor James Kirkpatrick, a training practitioner, introduces five prerequisites that help an organization achieve ultimate training success. He includes practical examples (such as Toyota and Nextel) from his own work, plus 12 best-practice case studies.
Sklep: Libristo.pl 218,38 zł
Książki / Literatura obcojęzyczna
"Security Investigations" is a comprehensive book that covers the full spectrum of investigative issues. It contains practical self-evaluation exercises that can be applied in both a formal or informal training environment. Corporate security supervisors will find it helpful in establishing policies and procedures for conducting investigations. It is a guide also for those responsible for the security function without prior experience. ie. Director of Human Resources. Forms in the book will assist an organization in standardizing the means to conduct investigations as well as reporting the outcome in a way that ensures that nothing was missed during the investigation. The real worth of an investigator is their ability to adapt to ever changing circumstances. This text gives the investigator a quick reference manual that can be used to: develop the investigation plan, take effective and accurate field notes, conduct an interview, perform surveillance and finally write the report, all within the legal guidelines outlined in the book. As an additional bonus to the reader, the book will include information on how to select and use the proper surveillance equipment. It gives the reader the opportunity to practice their skills in answering questions based on real-world type investigations. It offers self-evaluation exercises and covers the full spectrum of investigative issues.
Sklep: Libristo.pl 154,49 zł
Książki / Literatura obcojęzyczna
This book draws on theories of second language acquisition (SLA) to illustrate how interactive white board technology can be exploited to support language acquisition. It examines interaction, collaboration and negotiation of meaning and focus on form in the communicative language classroom in primary, secondary and vocational schools. In recent years new technologies have been incorporated into second and foreign language education as tools for implementing teaching methodologies. IWBs have established their role in the field of computer-assisted language learning (CALL) and are an effective and inspiring tool which motivates both teachers and learners. Although the number of IWBs in classrooms has rapidly increased over the past decade in many parts of the world, teacher training materials and pedagogical support for the design, evaluation and implementation of IWB-based materials in the foreign language classroom has not kept pace. Research also shows that language teachers do not always use IWBs in pedagogically sound ways. There is a real need for the development of training models and examples of good practice which can support teachers in developing the necessary competencies for exploiting the IWB in ways consistent with current theories of language teaching pedagogy.This book provides that best practice and gives a full account of in-depth research in an accessible manner.
Sklep: Libristo.pl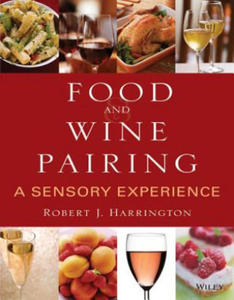 300,46 zł
Książki / Literatura obcojęzyczna
The only book that presents food and wine pairing from a culinary and sensory perspective. Demystifying the terminology and methodology of matching wine to food, Food and Wine Pairing: A Sensory Experience presents a practical, user-friendly approach grounded in understanding the direct relationships and reactions between food and wine components, flavors, and textures. This approach uses sensory analysis to help the practitioner identify key elements that affect pairings, rather than simply following the usual laundry list of wine-to-food matches. The text takes a culinary perspective first, making it a unique resource for culinary students and professionals. Food and Wing Pairing: * Lays out the basics of wine evaluation and the hierarchy of taste concepts * Establishes the foundation taste components of sweet, sour, slat, and bitter in food, and dry, acidity, and effervescence in wine, and looks at how these components relate to one another * Discusses wine texture, and the results of their interactions with one another * Examines the impact that spice, flavor type, flavor intensity, and flavor persistency have one the quality of wine and food matches * Includes exercises to improve skills relating to taste identification and palate mapping * Provides a systematic process for predicting successful matches using sequential and mixed tasting methods * Gives guidance on pairing wine with foods such as cheese and various desserts, as well as service issues such as training and menu/wine list development Food and Wine Paring provides students and professionals with vivid and dynamic learning features to bring the matching process to life with detail and clarity. real-world examples include menus and tasting notes from renowned restaurants, as well as Aperitifs or vignettes portraying culinary notables--both individuals and organizations--which set their wine parings in a complete gastronomical, regional, and cultural context. Culinary students making their initial foray into understanding paring will appreciate the reader-friendly and comprehensive approach taken by Food and Wine Pairing. More advanced students, instructors, and culinary professionals will find this text to be an unparalleled tool for developing their matching process and honing their tasting instinct.
Sklep: Libristo.pl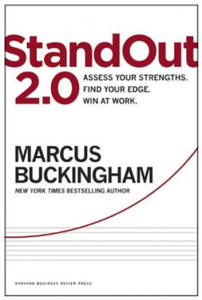 95,84 zł
Standout 2.0 Harvard Business Review Press
Książki / Literatura obcojęzyczna
In the years since publication of First, Break All the Rules and Now, Discover Your Strengths, millions have had the simple but powerful realization that to get the most out of people you must build on their strengths. And yet...as Marcus Buckingham astutely points out, even though the strengths-based approach is now conventional wisdom, the tools and systems inside organizations--performance appraisals, training programs, and succession planning systems--remain stubbornly remedial, exclusively focused on measuring skills, finding gaps, and attempting to plug them. It's a crisis for individuals and organizations, with management ideas and management practice utterly out of sync. That's about to change. StandOut 2.0 is a revolutionary book and tool that enables you to identify your strengths, and those of your team, and to act on them. The original StandOut provided top-notch management insights from one of the world's foremost authorities on strengths, as well as access to a powerful, cutting edge online assessment tool. Now, in addition to a much more powerful assessment, and a robust report on your most dominant strengths, StandOut 2.0 provides: * A StandOut profile, easily customized and exported, that you can use to present the very best of yourself to your team, and your company * Your own Personalized Strengths Channel, which, after taking the 15 minute assessment, will send you a weekly tip, insight, or technique, to help you do your best work this week * For team leaders, the ability to create a team dashboard including each member's StandOut profile, to help you make the right moves * Access to an entire strengths-based performance management system, including a check-in tool to capture priorities and track engagement; a survey tool to help you gauge what your team is thinking and feeling; and an evaluation tool to help reveal real-time performance levels of every single team member StandOut 2. 0 is your indispensable guide and tool for building on your strengths to further your career, and to help your team and organization win.
Sklep: Libristo.pl 617,96 zł
Książki / Literatura obcojęzyczna
This brief, practical text covers all aspects of tactical emergency medicine - the practice of emergency medicine in the field, rather than at the hospital, during disasters, police or military conflicts, mass events, and community incidents. Key topics covered include hostage survival, insertion and extraction techniques, continuum of force, medical support, planning and triage, medical evaluation in the incident zone, care in custody, medical control of incident site, decontamination, community communication, and more. Boxed definitions, case scenarios, and treatment algorithms are included. The concluding chapter presents 'real world' scenarios to run tactical teams through and lists recommended training programs and continuing education.
Sklep: Libristo.pl 154,49 zł
Książki / Literatura obcojęzyczna
This book uniquely combines CBT with the Department of Health stepped care model to provide the first comprehensive case study-approach textbook. A step-by-step guide to using CBT, the book is structured around case studies of clients who present with the most commonly encountered conditions; from mild to more complex, enduring symptoms and diagnosis. This distinctive practical format is ideal in showing how to put the principles of CBT and stepped care into effect. As well as echoing postgraduate level training, it provides an insight into the experiences the trainee will encounter in real-world practice. Each chapter addresses a specific client condition and covers initial referral, presentation and assessment, case formulation, treatment interventions, evaluation of CBT strategies and discharge planning. Specific presenting problems covered include: - First onset and chronic Depression - Social Phobia - Obsessive-Compulsive Disorder - Generalised Anxiety Disorder (GAD) - Chronic Bulimia Nervosa and Anorexia nervosa - Alcohol Addiction - Personality Disorder The book also includes practical learning exercises for the reader and clinical hints, as well as extensive reference to further CBT research, resources and reading. This timely text will be invaluable for trainees on Improving Access to Psychological Therapies (IAPT) programmes, and anyone studying on postgraduate CBT courses.
Sklep: Libristo.pl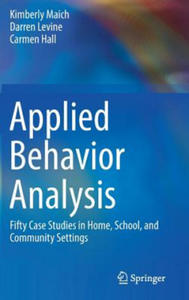 439,55 zł
Książki / Literatura obcojęzyczna
This textbook offers real-world case studies for using Applied Behavior Analysis (ABA) to create, implement, and appraise behavior intervention programs across a variety of client situations. Its chapters are formatted for ease of use and retention and organized to focus on the core components of ABA: assessment, planning, implementation, evaluation, and research/ethics. Illustrative cases represent a diversity of problem behaviors, settings, social contexts, and life stages, and includes questions about data collection, goal setting, communication with families, and other processes of effective ABA practice. Together they emphasize not only the content knowledge involved in designing interventions, but also the interpersonal skills necessary for helping change complex challenging behaviors. § These fifty case studies: §§Are suited to individual or team training.§Present guiding questions regarding ABA process and professional practice.§Feature charts, forms, templates, and other practical tools.§Include links to Behavior Analyst Certification Board resources.§Demonstrate the flexibility of ABA for use with children, adolescents, adults, or seniors. Applied Behavior Analysis: Fifty Case Studies in Home, School, and Community Settings is an essential text for graduate students, researchers, and practitioners in child and school psychology, behavior analysis, learning and instruction, counseling, and education. This singular volume models critical thinking and professional development in keeping with best practices and professional standards.§§
Sklep: Libristo.pl 483,13 zł
Książki / Literatura obcojęzyczna
With the oil and gas industry facing new challenges-deeper offshore installations, more unconventional oil and gas transporting through pipelines, and refinery equipment processing these opportunity feedstocks--new corrosion challenges are appearing, and the oil and gas industry's infrastructure is only as good as the quality of protection provided and maintained. Essentials of Coating, Painting, and Linings for the Oil, Gas, and Petrochemical Industries is the first guide of its kind to directly deliver the necessary information to prevent and control corrosion for the components on the offshore rig, pipelines underground and petrochemical equipment. Written as a companion to Cathodic Protection for Corrosion in Oil and Gas Industries, this must-have training tool supplies the oil and gas engineer, inspector and manager with the full picture of corrosion prevention methods specifically catered for oil and gas services. Packed with real world case studies, critical qualifications, inspection criteria, suggested procedure tests, and application methods, Essentials of Coating, Painting, and Linings for the Oil, Gas and Petrochemical Industries is a required straightforward reference for any oil and gas engineer and manager. * Understand how to select, prime and apply the right coating system for various oil and gas equipment and pipelines - both upstream and downstream* Train personnel with listed requirements, evaluation material and preparation guides, including important environmental compliance considerations* Improve the quality of your equipment, refinery and pipeline with information on repair and rejection principles
Sklep: Libristo.pl 346,33 zł
Książki / Literatura obcojęzyczna
This innovative volume presents a cogent case for quality improvement (QI) in behavioral healthcare as ethical practice, solid science, and good business. Divided between foundational concepts, key QI tools and methods, and emerging applications, it offers guidelines for raising care standards while addressing ongoing issues of treatment validity, staffing and training, costs and funding, and integration with medical systems. Expert contributors review the implications and potential of QI in diverse areas such as treatment of entrenched mental disorders, in correctional facilities, and within the professional context of the American Psychological Association. The insights, examples, and strategies featured will increase in value as behavioral health becomes more prominent in integrated care and vital to large-scale health goals.§§Included in the coverage:§§Behavioral health conditions: direct treatment costs and indirect social costs.§Quality improvement and clinical psychological science.§§Process mapping to improve quality in behavioral health service delivery.§
Sklep: Libristo.pl 308,98 zł
Książki / Literatura obcojęzyczna
Changes within the interdisciplinary field of intellectual and developmental disabilities are evolving at a rapid pace. Clinicians, academics, administrators, and a variety of mental health providers alike need easy-to-access, reliable information that enables them to stay abreast of the numerous advances in research, assessment, treatment, and service delivery within a real-world sociopolitical framework. To that end, the Handbook of Intellectual and Developmental Disabilities is an essential resource for any professional who works with this vulnerable population.This volume examines in detail the numerous advances in the field, summarizing major domains and emerging subspecialties into one eminently useful reference. Its contributors comprise a panel of the leading scientist-clinicians, who offer much-needed insight and guidance into ongoing improvements in theory and practice as well as intervention and prevention. For example, the handbook:- Opens with chapters that offer a comprehensive review of current definitions, classifications, etiology, and findings on the most prevalent conditions, including cerebral palsy, pediatric brain injury, genetic syndromes, and autism spectrum disorder- Provides a survey of psychological and educational service delivery systems available to people with intellectual disabilities for example, several chapters focus on explaining how agencies work, the politics of service delivery, residential versus day treatment, and program evaluation- Offers a wide range of assessment and diagnostic tools and tactics, including cognitive and adaptive behavior assessments, assessing for psychopathology, developmental screening, family assessment, and forensic applications- Reviews the latest evidence-based prevention and intervention strategies, from social skills training to self-harm reduction to pharmacotherapy- Concludes with insightful chapters on the ethical issues social acceptance and advocacyThe Handbook of Intellectual and Developmental Disabilities makes clear the far-reaching impact these disorders have on individuals, their families, and society in general. For clinicians, researchers, and advanced-level graduate students, this volume is a must-have resource and reference.
Sklep: Libristo.pl
Sklepy zlokalizowane w miastach: Warszawa, Kraków, Łódź, Wrocław, Poznań, Gdańsk, Szczecin, Bydgoszcz, Lublin, Katowice
Szukaj w sklepach lub całym serwisie
2. Szukaj na wszystkich stronach serwisu
t1=0.045, t2=0, t3=0, t4=0.012, t=0.045