krainaksiazek real world training evaluation 20042740
- znaleziono 8 produktów w 3 sklepach 435,00 zł
Medycyna > Rehabilitacja i fizjoterapia
Developed by the National Strength and Conditioning Association (NSCA) and now in its fourth edition,  Essentials of Strength Training and Conditioning  is the essential text for strength and conditioning professionals and students. This comprehensive resource, created by 30 expert contributors in the field, explains the key theories, concepts, and scientific principles of strength training and conditioning as well as their direct application to athletic competition and performance. The scope and content of  Essentials of Strength Training and Conditioning, Fourth Edition With Web Resource,  have been updated to convey the knowledge, skills, and abilities required of a strength and conditioning professional and to address the latest information found on the Certified Strength and Conditioning Specialist (CSCS) exam. The evidence-based approach and unbeatable accuracy of the text make it the primary resource to rely on for CSCS exam preparation. The text is organized to lead readers from theory to program design and practical strategies for administration and management of strength and conditioning facilities. The fourth edition contains the most current research and applications and several new features: Online videos featuring 21 resistance training exercises demonstrate proper exercise form for classroom and practical use.  Updated research
Sklep: Ksiazki-medyczne.eu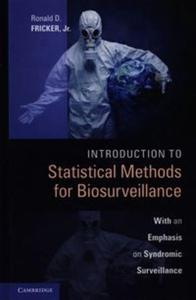 332,80 zł
Książki
Bioterrorism is not a new threat, but in an increasingly interconnected world, the potential for catastrophic outcomes is greater today than ever. The medical and public health communities are establishing biosurveillance systems designed to proactively monitor populations for possible disease outbreaks as a first line of defense. The ideal biosurveillance system should identify trends not visible to individual physicians and clinicians in near-real time. Many of these systems use statistical algorithms to look for anomalies and to trigger epidemiologic investigation, quantification, localization and outbreak management. This book discusses the design and evaluation of statistical methods for effective biosurveillance for readers with minimal statistical training. Weaving public health and statistics together, it presents basic and more advanced methods, with a focus on empirically demonstrating added value. Although the emphasis is on epidemiologic and syndromic surveillance, the statistical methods can be applied to a broad class of public health surveillance problems.
Sklep: Booknet.net.pl 611,68 zł
Książki / Literatura obcojęzyczna
This brief, practical text covers all aspects of tactical emergency medicine - the practice of emergency medicine in the field, rather than at the hospital, during disasters, police or military conflicts, mass events, and community incidents. Key topics covered include hostage survival, insertion and extraction techniques, continuum of force, medical support, planning and triage, medical evaluation in the incident zone, care in custody, medical control of incident site, decontamination, community communication, and more. Boxed definitions, case scenarios, and treatment algorithms are included. The concluding chapter presents 'real world' scenarios to run tactical teams through and lists recommended training programs and continuing education.
Sklep: Libristo.pl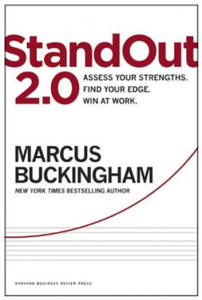 94,95 zł
Standout 2.0 Harvard Business Review Press
Książki / Literatura obcojęzyczna
In the years since publication of First, Break All the Rules and Now, Discover Your Strengths, millions have had the simple but powerful realization that to get the most out of people you must build on their strengths. And yet...as Marcus Buckingham astutely points out, even though the strengths-based approach is now conventional wisdom, the tools and systems inside organizations--performance appraisals, training programs, and succession planning systems--remain stubbornly remedial, exclusively focused on measuring skills, finding gaps, and attempting to plug them. It's a crisis for individuals and organizations, with management ideas and management practice utterly out of sync. That's about to change. StandOut 2.0 is a revolutionary book and tool that enables you to identify your strengths, and those of your team, and to act on them. The original StandOut provided top-notch management insights from one of the world's foremost authorities on strengths, as well as access to a powerful, cutting edge online assessment tool. Now, in addition to a much more powerful assessment, and a robust report on your most dominant strengths, StandOut 2.0 provides: * A StandOut profile, easily customized and exported, that you can use to present the very best of yourself to your team, and your company * Your own Personalized Strengths Channel, which, after taking the 15 minute assessment, will send you a weekly tip, insight, or technique, to help you do your best work this week * For team leaders, the ability to create a team dashboard including each member's StandOut profile, to help you make the right moves * Access to an entire strengths-based performance management system, including a check-in tool to capture priorities and track engagement; a survey tool to help you gauge what your team is thinking and feeling; and an evaluation tool to help reveal real-time performance levels of every single team member StandOut 2. 0 is your indispensable guide and tool for building on your strengths to further your career, and to help your team and organization win.
Sklep: Libristo.pl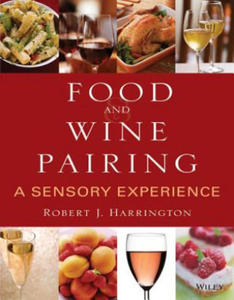 291,60 zł
Książki / Literatura obcojęzyczna
The only book that presents food and wine pairing from a culinary and sensory perspective. Demystifying the terminology and methodology of matching wine to food, Food and Wine Pairing: A Sensory Experience presents a practical, user-friendly approach grounded in understanding the direct relationships and reactions between food and wine components, flavors, and textures. This approach uses sensory analysis to help the practitioner identify key elements that affect pairings, rather than simply following the usual laundry list of wine-to-food matches. The text takes a culinary perspective first, making it a unique resource for culinary students and professionals. Food and Wing Pairing: * Lays out the basics of wine evaluation and the hierarchy of taste concepts * Establishes the foundation taste components of sweet, sour, slat, and bitter in food, and dry, acidity, and effervescence in wine, and looks at how these components relate to one another * Discusses wine texture, and the results of their interactions with one another * Examines the impact that spice, flavor type, flavor intensity, and flavor persistency have one the quality of wine and food matches * Includes exercises to improve skills relating to taste identification and palate mapping * Provides a systematic process for predicting successful matches using sequential and mixed tasting methods * Gives guidance on pairing wine with foods such as cheese and various desserts, as well as service issues such as training and menu/wine list development Food and Wine Paring provides students and professionals with vivid and dynamic learning features to bring the matching process to life with detail and clarity. real-world examples include menus and tasting notes from renowned restaurants, as well as Aperitifs or vignettes portraying culinary notables--both individuals and organizations--which set their wine parings in a complete gastronomical, regional, and cultural context. Culinary students making their initial foray into understanding paring will appreciate the reader-friendly and comprehensive approach taken by Food and Wine Pairing. More advanced students, instructors, and culinary professionals will find this text to be an unparalleled tool for developing their matching process and honing their tasting instinct.
Sklep: Libristo.pl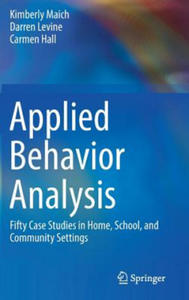 337,46 zł
Książki / Literatura obcojęzyczna
This textbook offers real-world case studies for using Applied Behavior Analysis (ABA) to create, implement, and appraise behavior intervention programs across a variety of client situations. Its chapters are formatted for ease of use and retention and organized to focus on the core components of ABA: assessment, planning, implementation, evaluation, and research/ethics. Illustrative cases represent a diversity of problem behaviors, settings, social contexts, and life stages, and includes questions about data collection, goal setting, communication with families, and other processes of effective ABA practice. Together they emphasize not only the content knowledge involved in designing interventions, but also the interpersonal skills necessary for helping change complex challenging behaviors. § These fifty case studies: §§Are suited to individual or team training.§Present guiding questions regarding ABA process and professional practice.§Feature charts, forms, templates, and other practical tools.§Include links to Behavior Analyst Certification Board resources.§Demonstrate the flexibility of ABA for use with children, adolescents, adults, or seniors. Applied Behavior Analysis: Fifty Case Studies in Home, School, and Community Settings is an essential text for graduate students, researchers, and practitioners in child and school psychology, behavior analysis, learning and instruction, counseling, and education. This singular volume models critical thinking and professional development in keeping with best practices and professional standards.§§
Sklep: Libristo.pl 111,52 zł
Książki / Literatura obcojęzyczna
Silver Medal Winner, Business and Leadership, 2012 Nautilus Book Awards Almost 70# of Americans believe that we are suffering from a crisis of leadership, but rather than asking, why are leaders failing, we need to ask, "Why aren't we choosing better leaders?" Ever wonder what goes on behind closed board room doors when organizations pick their top leaders? It can be a contentious, secretive, even brutal process. Most of our leaders look good on paper--they have charisma, credentials, and confidence--yet they lack the real qualities that are necessary to succeed. In Why Are We Bad at Picking Good Leaders? , Cohn and Moran share the same insights and ideas they use to help organizations make better choices. Revealing seven essential attributes of all great leaders, they offer a fresh and powerful evaluation technique anyone can use to assess leader potential. Through dynamic, first-hand accounts from the business world, entertainment, sports, politics, education, and philanthropy, the authors offer the ultimate insider access and reveal how top organizations find and choose the best talent. Offers multiple ways to evaluate leaders, and how these7 leadership attributes combine to create the best (and worst) in leaders Features interviews with with Mike Krzyzewski, Coach, 2008 US Men's Olympic Basketball team, Jeff Bezos, CEO of Amazon; George Steinbrenner, Scott Davis, CEO of UPS; Peter Loscher, CEO of Siemens; Toby Cosgrove, CEO, Cleveland Clinic; Hollywood movie directors, and many others Includes academic study and field training at institutions such as Harvard, Yale, INSEAD, and IMD for developing future leaders . Fresh and compelling, Why Are We Bad at Picking Good Leaders? shows how great leaders can be spotted and why they succeed -- and is soon to the definitive resource guide for about choosing better leaders.
Sklep: Libristo.pl 432,41 zł
Książki / Literatura obcojęzyczna
With the oil and gas industry facing new challenges-deeper offshore installations, more unconventional oil and gas transporting through pipelines, and refinery equipment processing these opportunity feedstocks--new corrosion challenges are appearing, and the oil and gas industry's infrastructure is only as good as the quality of protection provided and maintained. Essentials of Coating, Painting, and Linings for the Oil, Gas, and Petrochemical Industries is the first guide of its kind to directly deliver the necessary information to prevent and control corrosion for the components on the offshore rig, pipelines underground and petrochemical equipment. Written as a companion to Cathodic Protection for Corrosion in Oil and Gas Industries, this must-have training tool supplies the oil and gas engineer, inspector and manager with the full picture of corrosion prevention methods specifically catered for oil and gas services. Packed with real world case studies, critical qualifications, inspection criteria, suggested procedure tests, and application methods, Essentials of Coating, Painting, and Linings for the Oil, Gas and Petrochemical Industries is a required straightforward reference for any oil and gas engineer and manager. * Understand how to select, prime and apply the right coating system for various oil and gas equipment and pipelines - both upstream and downstream* Train personnel with listed requirements, evaluation material and preparation guides, including important environmental compliance considerations* Improve the quality of your equipment, refinery and pipeline with information on repair and rejection principles
Sklep: Libristo.pl
Sklepy zlokalizowane w miastach: Warszawa, Kraków, Łódź, Wrocław, Poznań, Gdańsk, Szczecin, Bydgoszcz, Lublin, Katowice
Szukaj w sklepach lub całym serwisie
2. Szukaj na wszystkich stronach serwisu
t1=0.034, t2=0, t3=0, t4=0.023, t=0.034