krainaksiazek recent advances in cardiology 20052663
- znaleziono 10 produkty w 4 sklepach 206,26 zł
Książki / Literatura obcojęzyczna
Recent Advances in Cardiology: 17 provides a selection of review articles that present important advances within the field of cardiac medicine. Written by renowned experts and covering topics such as sudden cardiac death in young adults, biomarkers and risk stratification and HIV and coronary disease, Recent Advances in Cardiology: 17 is essential reading for trainees and practising cardiac physicians wanting to remain up to date with the latest developments in this field. *10 chapters summarising important recent advances within the field of cardiology * All topics are written in a practical and clinically relevant manner, further enhanced by the 'key points for clinical practice' sections at the end of each chapter * Provides an effective exam revision tool for cardiology portion of the MRCP(UK) and the Knowledge Based Assessment in cardiology * All chapters written by expert authors ensuring authoritative and accurate content * Full colour photographs throughout
Sklep: Libristo.pl 269,99 zł
Książki Obcojęzyczne>Angielskie>Medicine>Clinical & internal medicine>Cardiovascular medicine
0x0010fdbb00000000
Sklep: Gigant.pl 737,99 zł
Książki / Literatura obcojęzyczna
Sklep: Libristo.pl 391,30 zł
Zdrowie, medycyna
Enhance your clinical decision-making todayĹźwith the landmark volume that continues to define cardiology! Setting an even higher standardĹź*This description refers to the two-volume set of HurstĹźs THE HEART, 11/e. ThereĹźs no mistaking the commanding coverage of HurstĹźs THE HEART. Turn to any page, and youĹźll see the solid focus on patient care, up-to-the-minute perspectives on therapeutic and technological advances, and expert authorship acclaimed by cardiology residents, fellows, and physicians. Now, the 11th Edition of HurstĹźs THE HEART takes this tradition of excellence to a whole new level. World-renowned cardiologist Valentin Fuster has spearheaded an ambitious revision of HurstĹźs THE HEART, making this not-to-be-missed resource even more timely and complete, more visually appealing, and more essential to your daily practice than ever before. Whether the topic is coronary bypass surgery, angina, or advances in minimally invasive treatment, youĹźll find the latest therapeutic strategies and supporting evidence-based dataĹźall presented by a preeminent international group of thought leaders. Review some of the strengths of this legendary reference: A-to-Z coverage of diagnosis and treatment procedures; an overview of current ACC/AHA guidelines; unmatched interpretation of clinical trials and cardiology data found in the Human Genome Project; first-rate color images of the normal and diseased heartĹźall supported by abundant pedagogy that includes chapter outlines, practice guidelines, algorithms, and more. If you thought this kind of resource could benefit you and your patients before, youĹźll be amazed by what awaits you in the 11th edition Ĺź one look is all youĹźll need to see why the new edition of HurstĹźs THE HEART will prove indispensable to the way you practice cardiology. New to the 11th Edition! *Approximately 1/3 of the chapters revised or rewritten to reflect new cardiology trends in such fast-moving areas as hypertension, congenital heart disease in adults, and infectious endocarditis *Important ACC/AHA guidelines for conditions such as hypertension and heart failure integrated into appropriate chapters*More prominent and clearly defined sections on treatment *Updated coverage of electrophysiology *Expanded interventional cardiology chapters that include the most recent informationĹźincluding procedures related to stent implants*More in-depth coverage of clinical trials*A more compact, streamlined organization, aided by the addition of summary material*Dramatically increased use of tables, charts, and figures that provide at-a-glance access to key information *Enhanced art program, with sharper, more precise images featured throughout*And much more!Greatly expanded use of tables, charts and figures so that reader can grasp information by simply looking at the summarized information|Improved quality of images|Integrate important ACC/AHA treatment guidelines for condition such as hypertension and heart failure into appropriate chapters |ACC.AHA guide lines will be identified with an icon for easy location |Cut page count by 10% by using more summary material|Prominently feature clearly defined sections on treatment|Improve quality of paper/use of 2nd color|Revise and improve sections on electrophysiology with new, younger section editor and contributors|Expand interventional cardiology chapters to include the most recent cutting-edge information including procedures related to stent implants.|Expand information on clinical trials |Revise approximately 1/3 of the chapters
Sklep: Albertus.pl 545,91 zł
Medycyna > English Division
A path-breaking and comprehensive review of the pathophysiology and management of patients with acute coronary syndromes (ACS). Drawing on the key results of recent clinical trials, world-renowned clinicians and clinical investigators establish state-of-the-art management guidelines for patients with ST-elevation MI or non-ST-elevation ACS. Their discussion includes a detailed review of the pathophysiology of ACS and a survey of the diagnostic tools available to assess patients. Management of Acute Coronary Syndromes captures the major advances that have occurred in our understanding of the pathophysiology, diagnosis, and management of patients with acute coronary syndromes. This book is certain to help cardiologists, primary physicians, emergency medicine physicians, and many others to better serve their patients with today's most efficacious treatments. Foreword by Eugene Braunwald, MD The review of the data on the diagnostic and prognostic utility of serum markers of cardiac injury is especially thorough. The treatments of thrombolytic therapy and primary angioplasty for acute myocardial infarction are complete, timely, and objective...[the] section on special aspects of acute coronary syndromes summarizes well the important issues of gender bias (or lack thereof) in cardiovascular medicine and the impact of lowering cholesterol. - Annals of Internal Medicine, 18 May 1999, Reviewer: Warren Laskey, MD This is an excellent and concise review of the spectrum of unstable angina, ST segment elevation infarction, and ST segment depression infarction...It spends a good deal of time on explaining the serum markers for myocardial ischemia as well as their pathophysiologic differences between ST elevation and ST depression infarction and the rationale for specific treatment strategies. Data on primary angioplasty and the thrombolytic trials are reviewed in detail...The numerous tables and charts are well designed and emphasize important topics covered in the text...This book is an excellent summary of acute coronary syndromes. It is well thought out and easy to read, which allows the reader to assimilate a lot of information in a short period of time. Its clear writing and effective use of tables and graphics solidifies understanding this essential topic in cardiology. - 5 stars, Doody's Health Sciences Book Review Journal an outstanding compendium of what is currently known about the etiology, diagnosis, and treatment of acute coronary syndromes. The chapter references are extensive and up-to-date. The illustration, tables and charts are well done and easily interpreted In summary, this is an outstanding work that should be on the reading list of everyone who deals with cardiac care. Emergency physicians and cardiologists should read it from cover to cover and there is something for everyone here. - The Journal of Emergency Medicine This is an excellent and concise review of the spectrum of unstable angina, ST segment elevation infarction, and ST segment depression infarction...It spends a good deal of time on explaining the serum markers for myocardial ischemia as well as their pathophysiologic differences between ST elevation and ST depression infarction and the rationale for specific treatment strategies. Data on primary angioplasty and the thrombolytic trials are reviewed in detail...The numerous tables and charts are well designed and emphasize important topics covered in the text...This book is an excellent summary of acute coronary syndromes. It is well thought out and easy to read, which allows the reader to assimilate a lot of information in a short period of time. Its clear writing and effective use of tables and graphics solidifies understanding this essential topic in cardiology. - 5 stars, Doody's Health Sciences Book Review Journal
Sklep: Ksiazki-medyczne.eu 810,13 zł
Książki / Literatura obcojęzyczna
This book presents the percutaneous techniques and technologies most frequently employed in structural interventional cardiology, focusing especially on how to optimize outcomes and minimize risk. Interventional procedures for aortic stenosis, mitral regurgitation, left atrial appendage closure, patent foramen ovale closure, and closure of interatrial and interventricular defects are clearly presented step by step with the aid of a wealth of images. These descriptions are complemented by a case-based analysis of the various structural pathologies and their complications. Clear guidance is also provided on patient selection, preoperative evaluation, and choice of available devices. The authors are all acknowledged experts with extensive experience in laboratories and surgical units. The book fully reflects the rapid changes in structural interventional cardiology that have occurred during recent years. These advances are in particular due to the introduction of transcatheter aortic valve implantation, which allows cardiac surgeons to achieve excellent outcomes in patients at high surgical risk. Other exciting developments include new technologies that permit better treatment of other structural cardiac pathologies and valid alternatives to medical therapy in particular patient groups.
Sklep: Libristo.pl 498,02 zł
Medycyna > English Division
Interventional Pericardiology gives a unique and comprehensive view on an often neglected but clinically very important part of cardiovascular disease: The pericardium and the adjacent myocardium or epicardium. The authors of this up-to-date compendium on pericardial disease etiology, diagnostics and treatment, Professors Bernhard Maisch (Marburg), Arsen Ristic (Belgrade), Petar Seferovic (Belgrade) and Teresa Tsang (Rochester) focus on recent advances to the new window that has been opened to the heart by flexible and video-assisted pericardioscopy, modern biochemical, immunohistological and molecular tools for the analysis of epicardial and pericardial biopsies, which have been acquired safely under pericardioscopic control by the interventional pericardiologist. Their book adds brand-new information to the recent and so far only guidelines world-wide by the European Society of Cardiology on the management of pericardial diseases. This task-force has been chaired by the lead author B. Maisch. Accordingly "Interventional Pericardiology" belongs in every medical library and on the desk of every cardiologist, cardiological interventionalist, and trainee with an interest in pericardial diseases.
Sklep: Ksiazki-medyczne.eu 914,08 zł
Książki / Literatura obcojęzyczna
Written by internationally renowned physicians, scientists and cardiologists, Heart Disease in Women addresses the myths and facts about cardiovascular disease in women, one of the most common causes of death in women globally. The book is organised into eight detailed sections, beginning with prevention and risk factors, followed by investigation, diagnosis and management of coronary heart disease. The following sections cover a other conditions, including heart failure, arrhythmias, rheumatic heart disease, and congenital cardiac lesions in pregnancy. A complete chapter is dedicated to non-invasive testing, including echocardiography and stress myocardial perfusion imaging. The final part deals with miscellaneous topics such as the "unmet challenge" of Peripheral Arterial Disease, the use of ankle-brachial index, cardiovascular implications of cancer in women and, significantly, an update on recent literature concerning heart disease in women. The book provides a thorough analysis of every aspect of heart disease in women, making it an essential reference for all cardiologists and physicians. Key Points * Edited by recognised cardiology expert Navin C Nanda from the University of Alabama, USA * Highly illustrated with more than 500 colour images * Updates cardiologists on the most recent advances in the field * Comprehensive coverage of an extensive range of heart conditions
Sklep: Libristo.pl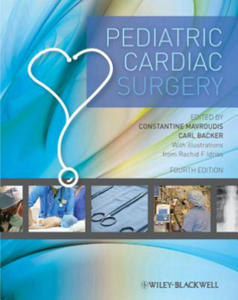 1133,14 zł
Książki / Literatura obcojęzyczna
Pediatric cardiac surgery is a dynamic, fast-moving field. Busy practitioners, like you, need clear and comprehensive guidance you can rely on to ensure optimal patient care.§For over 25 years Pediatric Cardiac Surgery has been the gold-standard reference for pediatric and adult cardiac surgeons, pediatric and adult cardiologists, intensivists, anesthesiologists, residents and nurses.§Now, in this thoroughly revised 4th edition, you again get trusted, complete coverage of the field with timely new features and expert reviews of critical topics including heart transplantation, emerging modalities for diagnosing congenital heart and tracheal defects, the surgical technique of Fontan conversion with arrhythmia surgery, the medical challenges of managing adult CHD patients, and more.§This new edition includes:§Cardiac surgery and pediatric cardiology in one premier textbook§Contributions from over 65 world-renowned experts§More illustrations, by renowned medical illustrator Rachid Idriss, which have brought acclaim to previous editions§Reviews of the embryology, physical findings, diagnostic criteria, and therapeutic choices for each disease entity and describes the latest in surgical techniques in each chapter§All-new chapters that guide readers through new treatment options and other key developments since the publication of the previous edition. For example, several new chapters highlight recent advances in congenital heart surgery, including, for the first time, information on adult congenital heart disease
Sklep: Libristo.pl 364,16 zł
Książki / Literatura obcojęzyczna
Fully revised and updated, the second edition of Electrophysiology: The Basics remains a trusted, practical reference for those who are learning the foundational concepts of electrophysiology. A clear, non-technical style, a new full-color format, and heavily updated content make this an ideal reference not only for cardiology fellows in EP rotations, but also for residents, nurses, medical students, physicians reviewing for recertification, and staff in the arrhythmia/cardiac device clinic. Key Features:*Thoroughly updated to keep you current with recent advances in atrial arrhythmias, syncope, indications for cardiac rhythm management devices, and much more. *Closely follows the specific content recommended for EP training programs. *Enhanced with a new, full-color format to help you navigate the content and study more efficiently. *Key references are provided for those who wish to expand their knowledge with foundational literature in EP. *Authored by international experts in electrophysiology education. Now with the print edition, enjoy the bundled interactive eBook edition, which can be downloaded to your tablet and smartphone or accessed online and includes features like: *Complete content with enhanced navigation  *Powerful search tools and smart navigation cross-links that pull results from content in the book, your notes, and even the web*Cross-linked pages, references, and more for easy navigation*Highlighting tool for easier reference of key content throughout the text*Ability to take and share notes with friends and colleagues*Quick reference tabbing to save your favorite content for future use
Sklep: Libristo.pl
Sklepy zlokalizowane w miastach: Warszawa, Kraków, Łódź, Wrocław, Poznań, Gdańsk, Szczecin, Bydgoszcz, Lublin, Katowice
Szukaj w sklepach lub całym serwisie
2. Szukaj na wszystkich stronach serwisu
t1=0.038, t2=0, t3=0, t4=0.023, t=0.038