krainaksiazek recipes from an indian kitchen authentic recipes from across india 20115677
- znaleziono 14 produktów w 3 sklepach 97,49 zł
Książki Obcojęzyczne>Angielskie>Lifestyle, sport & leisure>Cookery / food & drink etc>National & regional cuisine
A Collection Of Authentic Indian Recipes To Cook At Home From Anjali Pathak Of Patak's, The Highly-successful Indian Food Brand.
Sklep: Gigant.pl 65,99 zł
Książki Obcojęzyczne>Angielskie>Lifestyle, sport & leisure>Cookery / food & drink etc>General cookery & recipes
Recipes From The Bollywood Kitchen. This Cookbook Is As Colourful As Indian Culture Itself, And Offers Readers The Perfect Introduction To Its Delicious Cuisine, From Spicy Dals And Exotic Curries To Delicious Tandooris And Tasty Chutneys. Popular Food Blogger And Vlogger Snadra Salmandjee Presents More Than 60 Authentic Indian Dishes That Take You On A Culinary Journey Through The Indian Sub-continent. With Recipes Featuring Meat And Fish, Rice And Lentils, As Well As A Variety Of Different Vegetables, Readers Will Be Discovering The Wonderful World Of Home-cooked Indian Cuisine In No Time.
Sklep: Gigant.pl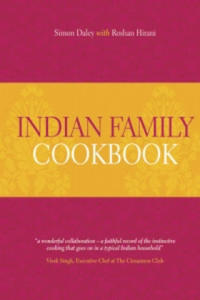 79,66 zł
Książki / Literatura obcojęzyczna
When keen, self-taught home cook Simon Daley tasted his future mother-in-law Roshan's chicken curry for the first time, he was smitten. Simon asked Roshan to teach him her vast personal collection of recipes and now, in their kitchen, a special friendship flourishes. This unique book draws on the extensive repertoire of an exceptional home cook, including traditional dishes passed down from mother to daughter over centuries, from the family's Gujerati roots in India to modern adaptations for life in England today. This is real Indian home cooking with simple recipes and authentic results. Stunning modern photography of Simon and Roshan cooking at home, with step-by-step sequences to illustrate the more unique techniques, complements the lively personal text. Over 100 recipes included.
Sklep: Libristo.pl 56,26 zł
Książki / Literatura obcojęzyczna
Spending time in the kitchen cooking and preparing meals is getting more and more difficult with the demands of today's busy lifestyles. But, with so many ready to cook ingredients now available in the supermarket, it is far easier to create fast, attractive and delicious Indian dishes. Mridula Baljekar, the rising star of Indian cooking, shows that all you need is a little organisation and a few vital simple steps; then you too will be able to recreate her tasty and authentic meals in no time at all. Mridula's recipes - gathered from her many travels round India. They range from chicken & chick pea pilau, spiced prawns to vegetarian dishes like black eye beans and mushroom. They are both quick and easy, and far superior to the bland ready-prepared dishes sold in the supermarkets. No recipe takes longer than 45 minutes from preparation to serving, and menus are also included. Mridular shows how a three-course Indian meal takes just 60 minutes from work top to table.The book to replace `heat and eat' curries any day of the week, Real Fast Indian Food is set to become an essential title for every kitchen.
Sklep: Libristo.pl
68,76 zł
Książki / Literatura obcojęzyczna
Indian Cooking is an exciting and exotic cuisine - now it's easier than ever. This updated edition of Suneeta's bestseller features 8 new additional photos as well as 25 brand new recipes. Each dish is richly flavoured but not complicated to create at home. More than 150 recipes are easy for beginners to make while also appealing to experienced home cooks or to those already familiar with Indian cuisine. The authentic flavours flourish in these easy-to-prepare recipes. The author's repertoire of exciting and inspired recipes includes classic recipes from North and South India and her personal favourites that have been adapted for Western kitchens. The delicious recipes in this book range from snacks and appetizers to poultry, fish and vegetarian meals. There also chapters dedicated to accompaniments like chutneys, sweets and beverages which truly make an authentic Indian dining experience. Here are just some of the delights: Chicken Tikka Masala, Pork Vindaloo, South Indian Lentil and Vegetable Stew; Curried Spinach and Cheese (Saag Panir), Basmati Rice Layered with Fragrant Chicken; Coconut Chutney-Coated Fish Parcels, Masala-Coated Baked Chicken, Sindhi Fritters; Tomato Raita, Hot Pineapple Chutney, Caramelized Carrot Pudding. In keeping with traditional Indian cooking, there are 75 vegetarian dishes. Vaswani shares her wealth of Indian cooking experience and knowledge by providing insightful cooking tips and techniques throughout the book. She has even provided information on where ingredients can be sourced and, if necessary, how to make substitutions. This is the perfect place for home cooks to begin creating great Indian dishes.
Sklep: Libristo.pl 92,96 zł
Książki / Literatura obcojęzyczna
A feast for the senses, this book with DVD explains how to add flavour, aroma and colour to create that perfect curry. Dishes collected from all over India - from the classic Goa Lamb Vindaloo to the more exotic Gujarat Mango and Yogurt Curry - are accompanied by tantalising photography to inspire and excite. And now including a dvd showing you cooking techniques and step-by-steps of dishes, this really is an invaluable addition to your kitchen library. A further 50 recipes are given for rice, bread, vegetables, potatoes, lentils, yogurt, chutneys and relishes as well as tempting desserts to complete your Indian meal. Other features of the book include: the philosophy of Indian food, What exactly is a curry? Using spices, herbs and chillies, Planning an Indian meal and suggested menus. Book contains DVD presented by Camellia showing how to cook some of the curries.
Sklep: Libristo.pl 84,95 zł
Książki / Literatura obcojęzyczna
In his new Channel 4 series TV chef Gordon Ramsay embarks on a culinary journey around India, discovering the breadth and depth of cooking of the country. His new cookbook is packed with the best recipes from his travels, showing you how to cook authentic dishes that are bursting with flavour. Three-star chef Gordon Ramsay's favourite food is one that he shares with a lot of Britain - curry. But, until now, he's never been to India see how the real thing is cooked. Accompanied by a Channel 4 film crew, Gordon takes the culinary trip of a lifetime to discover real Indian cuisine and share this collection of over 100 of his favourite Indian dishes. As you'd expect from a Michelin-starred chef, Gordon brings his eye for perfection and ability to judge flavours perfectly to his exploration of Indian food and shows us how to cook authentic, mouth-watering dishes from all over this huge and varied country. He visits Kerala deep in the South of India to bring us spicy, coconut-based curries and travels to colourful Rajasthan to learn about the creamy, flavourful dishes of the North. Along the way Gordon experiences the hugely different flavours and spices from the different regions and absorbs local cooking styles and traditions. Throughout his culinary journey, Gordon selects the best of the vast array of Indian spices, now readily available in British supermarkets. He shows us how to use these authentically to produce a beautifully flavoured Indian dish. Gordon Ramsay's Great Escape includes over 100 recipes in the following sections: Everyday, Entertaining, Quick Lunches and Healthy Dishes. Once Gordon shows you how easy it is to put together authentic Indian dishes, you'll never look back.
Sklep: Libristo.pl 89,28 zł
Książki / Literatura obcojęzyczna
Authentic Food Recipes From the Best Food Trucks Across the Country Kim, Phil and Terri traveled from state to state, visiting the best food trucks out there to get the incredible and authentic recipes that make their trucks some of the most popular in the country. This book includes delicious recipes for everything from sandwiches, soups and chilies to vegetarian dishes, classics with a twist and desserts--all straight from the cooks themselves. With the country's food truck favorites made accessible in your own kitchen, you'll deliver incredible and unique food at home you'd have to travel across the country to try. Outstanding dishes include Prosciutto and Grape Pizza from The Urban Oven in Los Angeles, Maker's Mark Fried Chicken from Big D's Grub Truck in New York, Santa Fe Black Bean Burgers from Mix'd Up Food Truck in Atlanta and Pad Thai Tacos from The Peached Tortilla in Austin. To get these recipes, the authors found and traveled to the most vibrant food truck cultures across the country, including: Southern and Northern California; New York City; Portland, Oregon; New Orleans; Raleigh, Durham and Charlotte, North Carolina; Atlanta; Minneapolis; Austin; Washington, D.C and Philadelphia. This cookbook includes all the recipes of your wandering road trip dreams.
Sklep: Libristo.pl 53,21 zł
Książki / Literatura obcojęzyczna
The Top One Hundred Pasta Sauces is a classic Italian cook book that has sold over a million copies and been translated into 12 languages. For this charming addition Diane Seed has fully revised the recipes, with several delicious and easy recipes. With flavours bursting from the simplest ingredients, authentic Italian pasta dishes can make home cooking truly sensational. The scent of torn basil leaves; the sizzle of pan-fried prawns; the sight of an olive-studded spaghetti alla puttanesca: pasta sauces invigorate all the senses. In this definitive collection, Diane Seed shares the one hundred best sauce recipes she has encountered in 40 years of living, eating and cooking in Italy. Infinitely varied, it includes specialities from regions across Italy and classic recipes we've come to love that are both delicious and economical, plus a few extra-special dishes that are perfect for occasions. Top One Hundred Pasta Sauces is an indispensible selection that is as wide-ranging as Italian culture itself. Trusted by cooks for over 25 years, its sensational yet simple recipes are an essential ingredient in every kitchen.
Sklep: Libristo.pl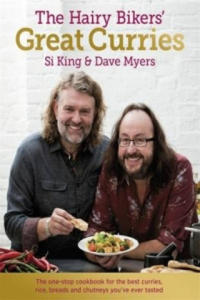 131,59 zł
Książki / Literatura obcojęzyczna
Who doesn't love a curry? Whether it's a take-away korma at your kitchen table or a lamb biryani at your local Indian restaurant, a curry is everyone's favourite Friday night supper. But curry is so much more. A proper curry can be an exquisitely fragrant dish, with delicate flavours that surprise and titillate your taste buds, and the Hairy Bikers, bestselling authors and BBC presenters, are here to show you how to make the most delicious, authentic curries you've ever tasted in your own kitchen. In this book, Si and Dave have put together loads of brand-new recipes from around the world - from simple dishes for a quick midweek taste treat to fantastic feasts for a weekend celebration. Their recipes are the real deal, using great techniques and secrets they've discovered on their travels in Asia as well as years of cooking curries themselves. You'll find all the recipes and tips you need to make some mouth-watering meals, with everything from starters to pickles and chutneys. This is the one-stop shop for the best curries you've ever tasted - fresh, full of flavour and fantastic. These are curries for the 21st century.
Sklep: Libristo.pl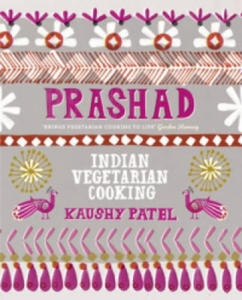 132,87 zł
Książki / Literatura obcojęzyczna
100 delicious vegetarian Indian recipes from Gordon Ramsay's Best Restaurant runner-up Prashad. The Patels and Prashad, their small Indian restaurant in Bradford, were the surprise stars of Ramsay's Best Restaurant TV show in autumn 2010. Everyone who saw them fell in love with this inspirational family dedicated to serving delicious, original vegetarian food. At the heart of the family is Kaushy, who learned to cook as a child growing up on her grandmother's farm in northern India. On moving to northern England in the 1960s, she brought her passion for fabulous flavours with her and has been perfecting and creating dishes ever since. Never happier than when feeding people, Kaushy took her son Bobby at his word when he suggested that she should share her cooking with the world - a launderette was converted first in to a deli and then a restaurant, and Prashad was born. Now Kaushy shares her cooking secrets - you'll find more than 100 recipes, from simple snacks to sumptuous family dinners, to help you recreate the authentic Prashad experience at home. Whether it's cinnamon-spice chickpea curry, green banana satay, spicy sweetcorn or chaat - the king of street-side India - there's plenty here for everyone to savour and share.
Sklep: Libristo.pl 88,32 zł
Książki / Literatura obcojęzyczna
TV chef Lorraine Pascale's fabulous new prime-time BBC Two TV tie-in "How to be a Better Cook" Bestselling TV chef, Loraine is famous for her simple, delicious recipes to suit every occasion, and with this book she offers us even more: kitchen shortcuts to help you put gorgeous food on the table every time. Whether you're rustling up a cosy romantic supper or a big family feast, Lorraine will share her secrets (from good knife technique to quick tricks for stand-out presentation). And Lorraine's warmth and gentle encouragement comes across in every page and tip. She brings her sense of fun to the recipes and encourages everyone from beginner to expert alike to try new flavours and new methods and just get stuck in. Lorraine's latest book ties in to her fourth BBC series, in which she helps people live up to a wide range of cookery challenges. Lorraine draws on cuisines from Italian to West Indian, caters for occasions from Hen parties to Bonfire Night, and even refreshes old favourites from Roast dinner to Summer Pudding. Impress guests with chic snacks like chrorizo and lemongrass puff pastry scrolls; add spice to midweek meals with quick stir fried chicken with toasted cashew nuts, ginger, basil and hoisin sauce; and pander to your friends' and family's sweet tooth with delectable Jamaican rum truffles and spiced apple tarte tatins. With so many smart yet simple dishes to make, this is the cookery book your shelf deserves. Beautifully presented and packed full of photos and useful tips, the TV Kitchen Goddess brings another must have guide to creating effort-free and delicious food; the ultimate companion for stylish cooks of all abilities.
Sklep: Libristo.pl 122,00 zł
WYDAWNICTWA ALBUMOWE > Hobby > Kulinarne
Feast of Ice and Fire: The Official Companion Cookbook   ISBN: 9780345534491 Autor: Monroe-Cassel Chelsea, Lehrer Sariann Rok wydania: 2012-05-29 Ilość stron: 220 Oprawa: twarda Format: 196 x 237 mm Ever wonder what it's like to attend a feast at Winterfell? Wish you could split a lemon cake with Sansa Stark, scarf down a pork pie with the Night's Watch, or indulge in honeyfingers with Daenerys Targaryen? George R. R. Martin's bestselling saga A Song of Ice and Fire and the runaway hit HBO series "Game of Thrones "are renowned for bringing Westeros's sights and sounds to vivid life. But one important ingredient has always been missing: the mouthwatering dishes that form the backdrop of this extraordinary world. Now, fresh out of the series that redefined fantasy, comes the cookbook that may just redefine dinner . . . and lunch, and breakfast. A passion project from superfans and amateur chefs Chelsea Monroe-Cassel and Sariann Lehrer--and endorsed by George R. R. Martin himself--"A Feast of Ice and Fire "lovingly replicates a stunning range of cuisines from across the Seven Kingdoms and beyond. From the sumptuous delicacies enjoyed in the halls of power at King's Landing, to the warm and smoky comfort foods of the frozen North, to the rich, exotic fare of the mysterious lands east of Westeros, there's a flavor for every palate, and a treat for every chef. These easy-to-follow recipes have been refined for modern cooking techniques, but adventurous eaters can also attempt the authentic medieval meals that inspired them. The authors have also suggested substitutions for some of the more fantastical ingredients, so you won't have to stock your kitchen with camel, live doves, or dragon eggs to create meals fit for a king (or a "khaleesi"). In all, "A Feast of Ice and Fire" contains more than 100 recipes, divided by region: - The Wall: Rack of Lamb and Herbs; Pork Pie; Mutton in Onion-Ale Broth; Mulled Wine; Pease Porridge - The North: Beef and Bacon Pie; Honeyed Chicken; Aurochs with Roasted Leeks; Baked Apples - The South: Cream Swans; Trout Wrapped in Bacon; Stewed Rabbit; Sister's Stew; Blueberry Tarts - King's Landing: Lemon Cakes; Quails Drowned in Butter; Almond Crusted Trout; Bowls of Brown; Iced Milk with Honey - Dorne: Stuffed Grape Leaves; Duck with Lemons; Chickpea Paste - Across the Narrow Sea: Biscuits and Bacon; Tyroshi Honeyfingers; Wintercakes; Honey-Spiced Locusts There's even a guide to dining and entertaining in the style of the Seven Kingdoms. Exhaustively researched and reverently detailed, accompanied by passages from all five books in the series and full-color photographs guaranteed to whet your appetite, this is the companion to the blockbuster phenomenon that millions of stomachs have been growling for. And remember, winter is coming--so don't be afraid to put on a few pounds. Includes a Foreword by George R. R. Martin
Sklep: Multistore24.pl 106,27 zł
Książki / Literatura obcojęzyczna
From Morocco, Malta and Andalucia in the west, to Turkey, Lebanon and Iran in the East, the food and flavours of the Middle East permeate almost every aspect of daily life. Orange blossom and rose petals, spice-encrusted slow-cooked meats, fermented yoghurts, dates and olives - these are the flavours that have entranced visitors for centuries and that have recently experienced a surge in popularity in western kitchens.Award winning Maltese-Australian chef Shane Delia journeys to both the well-trodden souks and private dining rooms of locals across six countries in the Middle East, in search of the most authentic local recipes to bring back to his kitchen. Spice Journey offers 80 of these recipes distilled for the home cook. Accompanied by hundreds of stunning images shot on location, this is a book for anyone who has ever dreamt of taking their own spice journey.
Sklep: Libristo.pl
Sklepy zlokalizowane w miastach: Warszawa, Kraków, Łódź, Wrocław, Poznań, Gdańsk, Szczecin, Bydgoszcz, Lublin, Katowice
Szukaj w sklepach lub całym serwisie
2. Szukaj na wszystkich stronach serwisu
t1=0.098, t2=0, t3=0, t4=0.027, t=0.098