krainaksiazek recollections of a varied life 20041330
- znaleziono 5 produktów w 2 sklepach 55,87 zł
Książki
Sklep: KrainaKsiazek.pl 82,31 zł
Książki / Literatura obcojęzyczna
David Kenyon Webster's memoir is a clear-eyed, emotionally charged chronicle of youth, camaraderie, and the chaos of war. Relying on his own letters home and recollections he penned just after his discharge, Webster gives a first hand account of life in "E Company, 101st Airborne Division, crafting a memoir that resonates with the immediacy of a gripping novel. From the beaches of Normandy to the blood-dimmed battlefields of Holland, here are acts of courage and cowardice, moments of irritating boredom punctuated by moments of sheer terror, and pitched urban warfare. Offering a remarkable snapshot of what it was like to enter Germany in the last days of World War II, Webster presents a vivid, varied cast of young paratroopers from all walks of life, and unforgettable glimpses of enemy soldiers and hapless civilians caught up in the melee. Parachute Infantry is at once harsh and moving, boisterous and tragic, and stands today as an unsurpassed chronicle of war--how men fight it, survive it, and remember it.
Sklep: Libristo.pl 106,40 zł
Książki / Literatura obcojęzyczna
Edward Darrell Figgis (1882-October 1925) was an Irish writer, Sinn Féin activist and independent politician. He was born at Rathmines in Dublin but spent some of his childhood in India. In 1910 Figgis (with the help of G.K. Chesterton who wrote the introduction to his first book of verse) joined the Dent publishing company, subsequently establishing his own publishing company. He joined the Irish Volunteers in Dublin in 1913. Although he did not participate in the 1916 Easter Rising, he was arrested and interned by the British authorities between 1916 and 1917. After his release, he returned to Ireland and was elected an honorary secretary of Sinn Féin. In 1918, he became editor of newspaper The Republic. In the 1922 and 1923 general elections he ran and was elected an independent Teachtaí Dála (member of parliament) for the Dublin County constituency. He was deputy chair of the committee which drafted the Constitution of the Irish Free State. In 1925 Figgis committed suicide in London. Darrell Figgis left behind an extensive and varied body of writings in addition to the present volume, including: A Vision of Life (1909), poems; The Crucibles of Time (1911), poems; Studies and Appreciations (1912); Broken Arcs (1912), a novel; Queen Tara (1913), a play; Jacob Elthorne (1914), a novel, as Michael Ireland; The Mount of Trans?guration (1915), poems; AE (George W. Russell): A Study of a Man and a Nation (1916); The Gaelic State in the Past & Future, or, 'The Crown of a Nation' (1917); Bye-Ways of Study (1918), essays; Children of Earth (1918), a novel, as Michael Ireland; The House of Success (1922), a novel, as Michael Ireland; The Irish Constitution Explained (1922); The Return of the Hero (1923) a novel, as Michael Ireland; The Paintings of William Blake (1925; Comus: A Mask [by John Milton] with Eight Illustrations By William Blake (1926); and Recollections of the Irish War (1927). Coracle Press is pleased to include among its reprints a number of the works of this neglected Irish writer.
Sklep: Libristo.pl 111,42 zł
Książki / Literatura obcojęzyczna
This title includes the authoritative texts for eleven pieces written between 1868 and 1902. It publishes, for the first time, the complete text of 'Villagers of 1840-3,' Mark Twain's astounding feat of memory. It features a biographical directory and notes that reflect extensive new research on Mark Twain's early life in Missouri. Throughout his career, Mark Twain frequently turned for inspiration to memories of his youth in the Mississippi River town of Hannibal, Missouri. What has come to be known as the Matter of Hannibal inspired two of his most famous books, "Tom Sawyer" and "Huckleberry Finn", and provided the basis for the eleven pieces reprinted here. Most of these selections (eight of them fiction and three of them autobiographical) were never completed, and all were left unpublished. Written between 1868 and 1902, they include a diverse assortment of adventures, satires, and reminiscences in which the characters of his own childhood and of his best-loved fiction, particularly "Huck Finn" and "Tom Sawyer", come alive again. The autobiographical recollections culminate in an astounding feat of memory titled "Villagers of 1840-3" in which the author, writing for himself alone at the age of sixty-one, recalls with humor and pathos the characters of some one hundred and fifty people from his childhood. Accompanied by notes that reflect extensive new research on Mark Twain's early life in Missouri, the selections in this volume offer a revealing view of Mark Twain's varied and repeated attempts to give literary expression to the Matter of Hannibal.
Sklep: Libristo.pl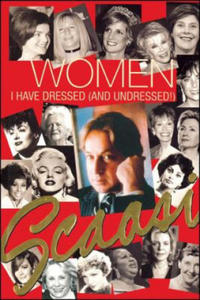 96,70 zł
Książki / Literatura obcojęzyczna
A fascinating read of personal experiences from the famed fashion designer that showcases the lives and contributions of iconic women -- from Jackie Kennedy to Elizabeth Taylor to Laura Bush to Princess Diana Arnold Scaasi has been dressing legends for almost five decades. His enduring tenure as one of the world's premier fashion designers and tastemakers has afforded him vast stores of insider knowledge and firsthand perspectives on an array of illustrious personalities who -- in their disparate arenas of high-wattage celebrity and influence -- have defined our contemporary notions of female power and glamour. Here, for the first time, Scaasi invites readers into his glittering A-list realm as he recounts his intimate experiences and interactions with larger-than-life female icons who made their mark in spheres as varied as politics, Hollywood, the music industry, and high society. Scaasi devotes each chapter to a specific woman or to a group of women, including "Broadway Girls," "New York Girls," and "Hollywood Girls." He shares dozens of behind-closed-doors anecdotes exploring what makes these women tick. In candid prose, he recalls what they said and how they acted, and most important, offers keen observations of who they really are underneath his creations. Using a privileged entrée into their private and public lives, Scaasi takes the measure of their impact on the world at large. Here, readers will discover: Joan Crawford's fetish for cleanliness; the dazzling Barbra Streisand's famous Oscar night outfit and her obsession with perfection; Mamie Eisenhower's staunch refusal to wear a bra; the bountiful charms of Joan Sutherland, the opera legend; Mary Tyler Moore's and Sophia Loren's unique glamour; Rose Kennedy's prediction of a future woman president; Aretha Franklin's fear of flying; Scaasi's visits to the White House to his good friend and client Barbara Bush; his confrontations with Elizabeth Taylor and Marilyn Monroe; and much more! Scaasi dresses only women he genuinely likes, so his tales are never mean-spirited. Instead they spotlight the designer's surprising interactions and often poignant perceptions of Eleanor Roosevelt, Joan Rivers, Louise Nevelson, Natalie Wood, Hillary Clinton, and many others. The book is filled with photographs from the author's personal scrapbooks and fond recollections of some of the world's most beautiful, accomplished, and powerful women. Women I Have Dressed (and Undressed!) is a trove of irresistible insider dish and a tender, humorous memoir of the most influential women of our time.
Sklep: Libristo.pl
Sklepy zlokalizowane w miastach: Warszawa, Kraków, Łódź, Wrocław, Poznań, Gdańsk, Szczecin, Bydgoszcz, Lublin, Katowice
Szukaj w sklepach lub całym serwisie
2. Szukaj na wszystkich stronach serwisu
t1=0.05, t2=0, t3=0, t4=0, t=0.05