krainaksiazek reflections of a queen 20095684
- znaleziono 13 produktów w 4 sklepach 16,99 zł
Muzyka>Pop
1. Reflections (I Remember) 2. We Ride (I See The Future) 3. You Know 4. King & Queen 5. No More Drama 6. Family Affair 7. Real Love 8. No One Will Do 9. Be Without You 10. I'm Goin' Down 11. 911 12. Not Gon' Cry 13. My Life '06 14. Be Happy 15. I'll Be There For You/ You're All I Need To Get By 16. As 17. One 18. Mjb Da Mvp
Sklep: Gigant.pl 75,83 zł
Reflections New Generation Publishing
Książki / Literatura obcojęzyczna
The life force goes on and on To better worlds beyond the sun the soul of man in his fleeting way Passes through the light of day, To inner depths and endless sky Dimensions beyond the eye, In death we live in flesh we die There's a meeting place for you and I Free from pain, sorrow and strife Yes, there is a better life Through the stars and cosmos to your inner self All around your heart and soul Your being yourself control. The author is now divorced and resides in Crosby. He works as a chef at a restaurant in the area. Anthony Cromly's iron men are encamped just down the road on the beach. He has produced an album/CD and is in the process of recording a second album. A semi-professional singer, he has performed two concerts at the Philharmonic Hall, Liverpool. He has also done two concerts at LIPA for Sense of Sound, also based in Liverpool. His proudest moment was acting and singing in a musical in the Playhouse Liverpool City Centre to a standing ovation, and also at the Dragon Bar, Chinatown. A capella! His next venture is music school in July with the opportunity to sing at the York minister cathedral, Castle Howard and Whitby Abbey with the Sing Live Company. (Queen Ethelburga's private school near York!) Musical by the rivers!
Sklep: Libristo.pl 124,13 zł
Książki / Literatura obcojęzyczna
The Queen's life is dedicated to her public - every move is scrutinised, every word noted. But her homes are havens where peace can be found, away from watchful eyes; sanctuaries of private calm in a whirlwind life of public duty. In The Queen's Houses, Alan Titchmarsh takes us on a tour of the royal residences, examining the personal family stories behind these magnificent buildings. Through personal reflections, interviews with royal staff and meticulous historical research, Alan looks beyond the formal grandeur of Buckingham Palace, the imposing structure of Windsor Castle and the private escape offered by Balmoral and others. Illustrated with intimate family photographs and evocative memorabilia, The Queen's Houses offers a glimpse of life behind the state banquets and sovereign duties - a respectful study of the royal family at home.
Sklep: Libristo.pl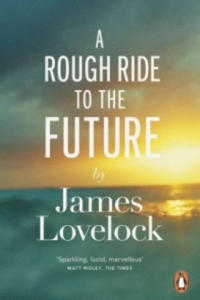 49,13 zł
Książki / Literatura obcojęzyczna
In A Rough Ride to the Future, James Lovelock - the great scientific visionary of our age - presents a radical vision of humanity's future as the thinking brain of our Earth-system. James Lovelock, who has been hailed as 'the man who conceived the first wholly new way of looking at life on earth since Charles Darwin' (Independent) and 'the most profound scientific thinker of our time' (Literary Review) continues, in his 95th year, to be the great scientific visionary of our age. This book introduces two new Lovelockian ideas. The first is that three hundred years ago, when Thomas Newcomen invented the steam engine, he was unknowingly beginning what Lovelock calls 'accelerated evolution', a process which is bringing about change on our planet roughly a million times faster than Darwinian evolution. The second is that as part of this process, humanity has the capacity to become the intelligent part of Gaia, the self-regulating Earth system whose discovery Lovelock first announced nearly 50 years ago. In addition, Lovelock gives his reflections on how scientific advances are made, and his own remarkable life as a lone scientist. The contribution of human beings to our planet is, Lovelock contends, similar to that of the early photosynthesisers around 3.4 billion years ago, which made the Earth's atmosphere what it was until very recently. By our domination and our invention, we are now changing the atmosphere again. There is little that can be done about this, but instead of feeling guilty about it we should recognise what is happening, prepare for change, and ensure that we survive as a species so we can contribute to - perhaps even guide - the next evolution of Gaia. The road will be rough, but if we are smart enough life will continue on Earth in some form far into the future. Elected a Fellow of the Royal Society in 1974, James Lovelock is the author of more than 200 scientific papers and the originator of the Gaia Hypothesis (now Gaia Theory). His many books on the subject include Gaia: A New Look at Life on Earth (1979), The Revenge of Gaia (2006), and The Vanishing Face of Gaia (2009). In 2003 he was made a Companion of Honour by Her Majesty the Queen, in 2005 Prospect magazine named him one of the world's top 100 public intellectuals, and in 2006 he received the Wollaston Medal, the highest Award of the UK Geological Society.
Sklep: Libristo.pl 53,91 zł
Książki / Literatura obcojęzyczna
From Tristram Hunt, award-winning author of The Frock-Coated Communist and leading UK politician, Ten Cities that Made an Empire presents a new approach to Britain's imperial past through the cities that epitomised it. Since the return of Hong Kong to China in 1997 and the end days of Empire, Britain's colonial past has been the subject of passionate debate. Tristram Hunt goes beyond the now familiar arguments about Empire being good or bad and adopts a fresh approach to Britain's empire and its legacy. Through an exceptional array of first-hand accounts and personal reflections, he portrays the great colonial and imperial cities of Boston, Bridgetown, Dublin, Cape Town, Calcutta, Hong Kong, Bombay, Melbourne, New Delhi, and twentieth-century Liverpool: their architecture, culture, and society balls; the famines, uprisings and repressions which coursed through them; the primitive accumulation and ghostly bureaucracy which ran them; the British supremacists and multicultural trailblazers who inhabited them. From the pioneers of early America to the builders of modern India, from west to east and back again, Hunt follows the processes of exchange and adaptation that collectively moulded the colonial experience and which in their turn transformed the culture, economy and identity of the British Isles. This vivid and richly detailed imperial story, located in ten of the most important cities which the Empire constructed, demolished, reconstructed and transformed, allows us a new understanding of the British Empire's influence upon the world and the world's influence upon it. TRISTRAM HUNT is one of Britain's best known historians. Since 2010 he has been the MP for Stoke-on-Trent Central, and in October 2013 was made Shadow Secretary of State for Education. He is a senior lecturer in British history at Queen Mary, University of London, and has written numerous series for radio and television. He is also a regular contributor to the Times, Guardian and Observer. His previous books include The English Civil War at First Hand, Building Jerusalem, and The Frock-Coated Communist: The Revolutionary Life of Friedrich Engels, which was published in more than a dozen languages. Praise for The Frock-Coated Communist: "Beautifully written and consistently engaging". (Independent). "An excellent book ...Hunt has a mastery of 19th-century British culture and European political thought". (Robert Service, Sunday Times). "Thoughtful and engaging". (Telegraph Review).
Sklep: Libristo.pl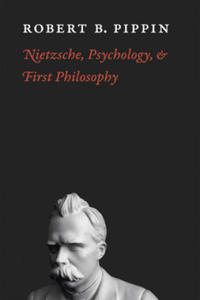 109,79 zł
Książki / Literatura obcojęzyczna
Friedrich Nietzsche is one of the most elusive thinkers in the philosophical tradition. Nonetheless, certain readings of his work have become standard and influential. In this major new interpretation of Nietzsche, Robert B. Pippin challenges various traditional views, taking the philosopher at his word when he says that his writing can best be understood as a kind of psychology. Pippin traces this idea of Nietzsche as a psychologist to his admiration for the French moralists: La Rochefoucauld, Pascal, Stendhal, and especially Montaigne. In distinction from philosophers, Pippin shows, these writers avoided grand metaphysical theories in favor of reflections on life as lived and experienced. Pippin contends that Nietzsche's singular prose was an essential part of his goal of making psychology "the queen of the sciences", and so organizes the book around four of Nietzsche's most important images and metaphors: that truth could be a woman, that a science could be gay, that God could have died, and that an agent is as much one with his act as lightning is with its flash. Expanded from a series of lectures Pippin delivered at the College de France, "Nietzsche, Psychology, and First Philosophy" offers a brilliant, novel, and accessible reading of this seminal thinker.
Sklep: Libristo.pl 213,00 zł
Inne 1
Jordan's development must be considered in three broad contexts which have profoundly shaped the process: the country's limited internal resouces, the political instability of the Middle East region and international policies, largely based on Western agendas, that have meant a continual need to mediate between aid donors and the cultural values and traditions of an Arab society. Drawing on a careful blend of qualitative and quantitative research techniques, the author provides not only a rare, people-centred account of a development organization and its practices, from grass roots to the national level, but also an insider's critical reflections on a venture with which she has been involved since its inception - The Jordanian Hashemite Fund for Human Development (JOHUD), formerly known as the Queen Alia Jordanian Social Welfare Fund (QAF). For almost three decades the Fund has attempted to improve the quality of life in local communities.
Sklep: Albertus.pl 79,79 zł
Książki / Literatura obcojęzyczna
More Matter is a collection of John Updike's best-loved critical essays and reflections. From the journals of John Cheever to the Queen of England, More Matter is a lively discussion on contemporary art, issues and people, told from the inimitable perspective of Pulitzer prizewinner John Updike. Wide ranging, incisive, witty and always superbly written, it has something to say about almost everyone - from Graham Greene to Bill Gates to Mickey Mouse - and everything - from sexual politics to spiritual matters to unopenable packages. It provides any number of intimate glimpses into how this remarkable mind works. Praise for More Matter: "Unlike most journalism, Updike's occasional writing is so exquisite as to repay multiple readings". (Publishers Weekly). "More Matter attests to Mr. Updike's remarkable versatility and to his ardent drive to turn all his observations into glittering, gossamer prose...In his strongest pieces, Mr. Updike's awesome pictorial powers of description combine with a rigorous, searching intelligence to produce essays of enormous tactile power and conviction". (New York Times). "More Matter will leave even his closest followers amazed...Updike can write about anything, in any form and at any length, and do it with intelligence and knowledge and grace and agility and wit - and oh, the prose". (Pittsburgh Tribune Review). John Updike was born in 1932 in Shillington, Pennsylvania. He graduated from Harvard College in 1954, and spent a year in Oxford, at the Ruskin School of Drawing and Fine Art. His novels, stories, and nonfiction collections have won numerous awards, including the Pulitzer Prize, the National Book Award, the National Book Critics Circle Award, the PEN/Faulkner Award and the Howells Medal of the American Academy of Arts and Letters. He died in January 2009.
Sklep: Libristo.pl 35,00 zł
Składanki > Oldies
Wykonawca:  Różni wykonawcy Tytuł: The Pop Box. Wydanie 4-płytowe. Wydawnictwo:  bd. Rok wydania: bd. Nr katalogowy: BXCL410 Stan: Idealny (dodatkowe kartonowe pudełko lekko przetarte na rogach) Lista utworów: CD1 : Amen Corner - If Paradise Is Half As Nice Chris Andrews - Pretty Belinda The Marmalade - Rainbow The Bee Gees - Spicks & Specks Paper Lace - The Night Chicago Died The Rubettes - Sugar Baby Love Dave Dee, Dozy, Beaky, Mick & Tich - Hold Tight The Small Faces - Tin Soldier The Tremeloes - Even The Bad Times Are Good The Equals - Baby Come Back Jackie Wilson - Reet Petite Georgie Fame & The Blue Flames - Rosetta The New Seekers - Pinball Wizard / See Me, Feel Me Herman's Hermits - No Milk Today Donovan - Sunshine Superman Badfinger - Day After Day Paul Young & The Q-Tips - Love Hurts Redbone - Wounded Knee CD2: The Flowerpot Men - Let's Go To San Francisco The Isley Brothers - Twist & Shout The Zombies - She's Not There The Box Tops - The Letter Christie - Yellow River Chicory Tip - Son Of My Father The Fortunes - You've Got Your Troubles The Marmalade - Ob-La-Di, Ob-La-Da Chris Andrews - To Whom It Concerns Badfinger - Come And Get It Little Eva - The Locomotion The Rubettes - Jukebox Jive The Small Faces - Whatcha Gonna Do About It Dave Dee, Dozy, Beaky, Mick & Tich - Last Night In Soho Herman's Hermits - I'm Henry The Eight I Am Redbone - Witch Queen Of New Orleans Paper Lace - Billy Don't Be A Hero Billy J Kramer - Do You Want To Know A Secret CD3: The Zombies - Time Of The Season Badfinger - No Matter What The Marmalade - Reflections Of My Life Humble Pie - Natural Born Boogie The Tremeloes - Silence Is Golden The Fortunes - Here It Comes Again The New Seekers - I'd Like To Teach The World To Sing (In Perfect Harmony) The Turtles - Elenore Georgie Fam & The Blue Flames - Yeh Yeh Chris Andrews - Yesterday Man The Troggs - With A Girl Like You Dave Dee, Dozy, Beaky, Mick & Tich - Save Me The Small Faces - Sha La La La Lee Herman's Hermits - I Can Take Or Leave Your Loving Tommy Roe - Sheila The Flowerpot Men - Walk In The Sky John Travolta - Razzamatazz The Bee Gees - Big Chance CD4: Tommy James And The Shondells - Hanky Panky The Troggs - Wild Thing Chris Farlowe - Out Of Time Fleetwood Mac - Man Of The World Donovan - Sunshine Superman Dave Dee, Dozy, Beaky, Mick & Tich - The Legend Of Xanadu Amen Corner - Hello Suzie The Equals - Michael And The Slipper Tree The Turtles - Happy Together Georgie Fame & The Blue Flames - Get Away Looking Glass - Brandy The Guess Who - Shakin' All Over The Small Faces - Here Comes The Nice Herman's Hermits - Dandy The Fortunes - Here Comes That Rainy Day Feeling Again The Tremeloes - My Little Lady The Brotherhood Of Man - My Sweet Rosalie PP Arnold - The First Cut Is The Deepest
Sklep: Cdworld.pl 57,20 zł
Książki / Literatura obcojęzyczna
In 1678 Louis XIV decided to renovate the small chateau of Louis XIII; just four years later he moved his government into the huge palace and splendid gardens. This book follows in the footsteps of the visitor. It starts, as suggested by Louis the XIV himself, "in the vestibule of the Marble courtyard", moving on to the seven great salons of the King's Great Apartment, reaching the 357 mirrors of the celebrated Hall of Mirrors. The Great Apartment of the Queen - nineteen " Enfants de France" were born here - illustrates the more intimate yet superb King's interior apartments, followed by those of Mme du Barry, the King's mistress, and Marie-Antoinette. At the lower level are those of the Dauphin and the Dauphine, of the courtiers etc. Upon leaving the Royal Chapel, there's a tour of the water parterres and the Grand Canal, whose reflections are beautifully reproduced by Jack Tow's watercolours. Finally, the tour reaches the domain offered by Louis XVI to his spouse - the Grand Trianon, in rose marble and porphyry, which allows the artist to portray the flowery exuberance of its famous gardens. The final pages are dedicated to the Petit Trianon - entirely renovated for Napoleon who spent time here with the empress, Marie-Louise - and the Hamlet, where Marie-Antoinette, sensible to Rousseau's ideas, could find a refreshing break from the court's demanding etiquette.
Sklep: Libristo.pl 120,18 zł
Książki / Literatura obcojęzyczna
Written by two of Quebec's most respected historians, "A Short History of Quebec" offers a concise yet comprehensive overview of the province from the pre-contact native period to the present-day. John A. Dickinson and Brian Young bring a refreshing perspective to the history of Quebec, focusing on the social and economic development of the region as well as the identity issues of its diverse peoples.This revised fourth edition covers Quebec's recent political history and includes an updated bibliography and chronology and new illustrations. A Canadian classic, "A Short History of Quebec" now takes into account such issues as the 1995 referendum, recent ideological shifts and societal changes, considers Quebec's place in North America in the light of NAFTA, and offers reflections on the Gerard Bouchard-Charles Taylor Commission on Accommodation and Cultural Differences in 2008. Engagingly written, this expanded and updated fourth edition is an ideal place to learn about the dynamic history of Quebec.
Sklep: Libristo.pl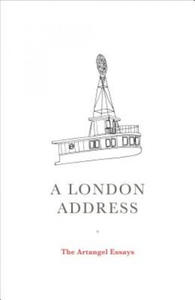 77,48 zł
Książki / Literatura obcojęzyczna
In a unique collaboration between Artangel and Living Architecture, a dwelling was built on top of London's Queen Elizabeth Hall. The dwelling was a boat, Roi de Belges, inspired by the Thames and by Joseph Conrad's Heart of Darkness. Writers and artists were given short residencies and wrote about the strange experience of staying in a boat overlooking the river. This book, a collection of their pieces responding to Conrad's masterpiece, is a result of that collaboration.From Juan Gabriel Vasquez's meditation on belonging, identity and the otherness of London to Michael Ondaatje's piercing reflections on history and literature, via Jeanette Winterson's lyrical, impressionistic musings and Caryl Philips's supple and poetic observations, this is Joseph Conrad, the Thames and the capital city as you have never experienced them before.
Sklep: Libristo.pl 475,60 zł
Książki / Literatura obcojęzyczna
How, and to what extent, can religion be included within commitments to multiculturalism? Multiculturalism and Religious Identity addresses this question by examining the political recognition and management of religious identity in Canada and India. In multicultural policy, practice, and literature, religion has until recently not been included within broader discussions of multiculturalism, perhaps due to worries of potential for conflict with secularism. This collection undertakes a contemporary analysis of how the Canadian and Indian states each approach religious diversity through social and political policies, as well as how religion and secularism meet both philosophically and politically in contested public space. Although Canada and India have differing political and religious histories - leading to different articulations of multiculturalism, religious diversity, and secularism - both countries share a commitment to ensuring fair treatment for the different religious communities they include. Combining broader theoretical and normative reflections with close case studies, Multiculturalism and Religious Identity leads the way to addressing these timely issues in the Canadian and Indian contexts.
Sklep: Libristo.pl
Sklepy zlokalizowane w miastach: Warszawa, Kraków, Łódź, Wrocław, Poznań, Gdańsk, Szczecin, Bydgoszcz, Lublin, Katowice
Szukaj w sklepach lub całym serwisie
2. Szukaj na wszystkich stronach serwisu
t1=0.055, t2=0, t3=0, t4=0.025, t=0.055