krainaksiazek relativistic quantum theory of particles ii 20124304
- znaleziono 12 produktów w 2 sklepach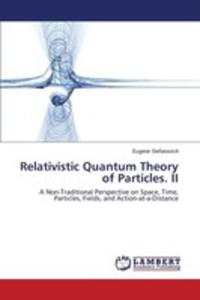 249,99 zł
Książki Obcojęzyczne>Angielskie>Mathematics & science>Physics
0x0062e62b00000000
Sklep: Gigant.pl 319,99 zł
Książki Obcojęzyczne>Angielskie>Mathematics & science>Physics
0x0058347400000000
Sklep: Gigant.pl 242,13 zł
Książki / Literatura obcojęzyczna
Quantum physics and special relativity theory were two of the greatest breakthroughs in physics during the twentieth century and contributed to paradigm shifts in physics. This book combines these two discoveries to provide a complete description of the fundamentals of relativistic quantum physics, guiding the reader effortlessly from relativistic quantum mechanics to basic quantum field theory. The book gives a thorough and detailed treatment of the subject, beginning with the classification of particles, the Klein
Sklep: Libristo.pl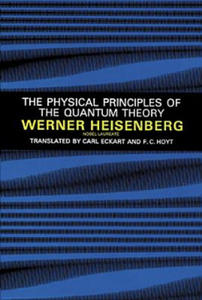 69,72 zł
Książki / Literatura obcojęzyczna
I. INTRODUCTORY 1. Theory and Experiment 2. The Fundamental Concepts of Quantum Theory a) Wilson Photographs b) "Diffraction of Matter Waves (Davisson and Germer, Thomson, Rupp)" c) The Diffraction of X-Rays d) The Compton-Simon Experiment e) The Collision Experiments of Franck and Hertz II. CRITIQUE OF THE PHYSICAL CONCEPTS OF THE CORPUSCULAR THEORY 1. The Uncertainty Relations 2. Illustrations of the Uncertainty Relations a) Determination of the Position of a Free Particle b) Measurement of the Velocity or Momentum of a Free Particle c) Bound Electrons d) Energy Measurements III. CRITIQUE OF THE PHYSICAL CONCEPTS OF THE WAVE THEORY 1. The Uncertainty Relations for Waves 2. Discussion of an Actual Measurement of the Electromagnetic Field IV. THE STATISTICAL INTERPRETATION OF QUANTUM THEORY 1. Mathematical Considerations 2. Interference of Probabilities 3. Bohr's Concept of Complementarity V. DISCUSSION OF IMPORTANT EXPERIMENTS 1. The C. T. R. Wilson Experiments 2. Diffraction Experiments 3. The Experiment of Einstein and Rupp 4. "Emission, Absorption, and Dispersion of Radiation" a) Application of the Conservation Laws b) Correspondence Principle and the Method of Virtual Charges c) The Complete Treatment of Radiation and Matter 5. Interference and the Conservation Laws 6. The Compton Effect and the Compton-Simon Experiment 7. Radiation Fluctuation Phenomena 8. Relativistic Formulation of the Quantum Theory APPENDIX: THE MATHEMATICAL APPARATUS OF THE QUANTUM THEORY 1. The Corpuscular Concept of Matter 2. The Transformation Theory 3. The Schršdinger Equation 4. The Perturbation Method 5. Resonance between Two Atoms: the Physical Interpretation of the Transformation Matrices 6. The Corpuscular Concept for Radiation 7. Quantum Statistics 8. The Wave Concept for Matter and Radiation: Classical Theory 9. Quantum Theory of Wave Fields 10. Application to Waves of Negative Charge 11. Proof of the Mathematical Equivalence of the Quantum Theory of Particles and of Waves 12. Application to the Theory of Radiation INDEX
Sklep: Libristo.pl 343,67 zł
Książki / Literatura obcojęzyczna
This book offers a self-contained introduction to the theory of electroweak interactions based on the semi-classical approach to relativistic quantum field theory, with thorough discussion of key aspects of the field. The basic tools for the calculation of cross sections and decay rates in the context of relativistic quantum field theory are reviewed in a short, but complete and rigorous, presentation. Special attention is focused on relativistic scattering theory and on calculation of amplitude in the semi-classical approximation. The central part of the book is devoted to an illustration of the unified field theory of electromagnetic and weak interactions as a quantum field theory with spontaneously broken gauge invariance; particular emphasis is placed on experimental confirmations of the theory. The closing chapters address the most recent developments in electroweak phenomenology and provide an introduction to the theory and phenomenology of neutrino oscillations. In this 2nd edition the discussion of relativistic scattering processes in the semi-classical approximation has been revised and as a result intermediate results are now explicitly proven. Furthermore, the recent discovery of the Higgs boson is now taken into account throughout the book. In particular, the Higgs decay channel into a pair of photons, which has played a crucial role in the discovery, is discussed. As in the first edition, the accent is still on the semi-classical approximation. However, in view of the necessity of a discussion of H !, the authors give several indications about corrections to the semiclassical approximation. Violation of unitarity is discussed in more detail, including the dispersion relations as a tool for computing loop corrections; the above-mentioned Higgs decay channel is illustrated by means of a full one-loop calculation; and finally, loop effects on the production of unstable particles (such as the Z0 boson) are now discussed. Finally, the neutrino mass and oscillation analysis is updated taking into account the major achievements of the last years.
Sklep: Libristo.pl 1160,76 zł
Książki / Literatura obcojęzyczna
E = mc2 and the Periodic Table ...RELATIVISTIC EFFECTS IN CHEMISTRY This century's most famous equation, Einstein's special theory of relativity, transformed our comprehension of the nature of time and matter. Today, making use of the theory in a relativistic analysis of heavy molecules, that is, computing the properties and nature of electrons, is the work of chemists intent on exploring the mysteries of minute particles. The first work of its kind, Relativistic Effects in Chemistry details the computational and analytical methods used in studying the relativistic effects in chemical bonding as well as the spectroscopic properties of molecules containing very heavy atoms. The first of two independent volumes, Part A: Theory and Techniques describes the basic techniques of relativistic quantum chemistry. Its systematic five--part format begins with a detailed exposition of Einstein's special theory of relativity, the significance of relativity in chemistry, and the nature of relativistic effects, especially with molecules containing both main group atoms and transition metal atoms. Chapter 3 discusses the fundamentals of relativistic quantum mechanics starting from the Klein--Gordon equation through such advanced constructs as the Breit--Pauli and Dirac multielectron Hamiltonian. Modern computational techniques, of importance with problems involving very heavy molecules, are outlined in Chapter 4. These include the relativistic effective core potentials, ab initio CASSCF, CI, and RCI techniques. Chapter 5 describes relativistic symmetry using the double group symmetry of molecules and the classification of relativistic electronic states and is of special importance to chemists or spectroscopists interested in computing or analyzing electronic states of molecules containing very heavy atoms. An exceptional introduction to one of chemistry's foremost analytical techniques, Relativistic Effects in Chemistry is also evidence of the still unending reverberations of Einstein's revolutionary theory.
Sklep: Libristo.pl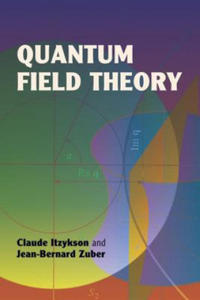 144,03 zł
Książki / Literatura obcojęzyczna
Preface General References 1. Classical Theory 1.1 Principle of Least Action 1.1.1 Classical Motion 1.1.2 Electromagnetic Field as an Infinite Dynamical System 1.1.3 Electromagnetic Interaction of a Point Particle 1.2 Symmetries and Conservation Laws 1.2.1 Fundamental Invariants 1.2.2 Energy Momentum Tensor 1.2.3 Internal Symmetries 1.3 Propagation and Radiation 1.3.1 Green Functions 1.3.2 Radiation 2. The Dirac Equation 2.1 Toward a Relativistic Wave Equation 2.1.1 Quantum Mechanics and Relativity 2.1.2 The Dirac Equation 2.1.3 Relativistic Covariance 2.2 Physical Content 2.2.1 Plane Wave Solutions and Projectors 2.2.2 Wave Packets 2.2.3 Electromagnetic Coupling 2.2.4 Foldy-Wouthuysen Transformation 2.3 Hydrogen-like Atoms 2.3.1 Nonrelativistic versus Relativistic Spectrum 2.3.2 Dirac Theory 2.4 Hole Theory and Charge Conjugation 2.4.1 Reinterpretation of Negative Energy Solutions 2.4.2 Charge Conjugation 2.4.3 Zero-Mass Particles 2.5 Dirac Propagator 2.5.1 Free Propagator 2.5.2 Propagation in an Arbitrary External Electromagnetic Field 2.5.3 Application to the Coulomb Scattering 2.5.4 Fock-Schwinger Proper Time Method 3. Quantization--Free Fields 3.1 Canonical Quantization 3.1.1 General Formulation 3.1.2 Scalar Field 3.1.3 Charged Scalar Field 3.1.4 Time-Ordered Product 3.1.5 Thermodynamic Equilibrium 3.2 Quantized Radiation Field 3.2.1 Indefinite Metric 3.2.2 Propagator 3.2.3 Massive Vector Field 3.2.4 Vacuum Fluctuations 3.3 Dirac Field and Exclusion Principle 3.3.1 Anticommutators 3.3.2 Fock Space for Fermions 3.3.3 Relation between Spin and Statistics--Propagator 3.4 Discrete Symmetries 3.4.1 Parity 3.4.2 Charge Conjugation 3.4.3 Time Reversal 3.4.4 Summary 4. Interaction with an External Field 4.1 Quantized Electromagnetic Field Interacting with a Classical Source 4.1.1 Emission Probabilities 4.1.2 Emitted Energy and the Infrared Catastrophe 4.1.3 Induced Absorption and Emission 4.1.4 S Matrix and Evolution Operator 4.2 Wick's Theorem 4.2.1 Bose Fields 4.2.2 Fermi Fields 4.2.3 General Case 4.3 Quantized Dirac Field Interacting with a Classical Potential 4.3.1 General Formalism 4.3.2 Emission Rate to Lowest Order 4.3.3 Pair Creation in a Constant Uniform Electric Field 4.3.4 The Euler-Heisenberg Effective Lagrangian 5. Elementary Processes 5.1 S Matrix and Asymptotic Theory 5.1.1 Cross Sections 5.1.2 Asymptotic Theory 5.1.3 Reduction Formulas 5.1.4 Generating Functional 5.1.5 Connected Parts 5.1.6 Fermions 5.1.7 Photons 5.2 Applications 5.2.1 Compton Effect 5.2.2 Pair Annihilation 5.2.3 Positronium Lifetime 5.2.4 Bremsstrahlung 5.3 Unitarity and Causality 5.3.1 Unitarity and Partial Wave Decomposition 5.3.2 Causality and Analyticity 5.3.3 The Jost-Lehmann-Dyson Representation 5.3.4 Forward Dispersion Relations 5.3.5 Momentum Transfer Analyticity 6. Perturbation Theory 6.1 Interaction Representation and Feynman Rules 6.1.1 Self-Interacting Scalar Field 6.1.2 Feynman Rules for Spinor Electrodynamics 6.1.3 Electron-Electron and Electron-Positron Scattering 6.1.4 Scalar Electrodynamics 6.2 Diagrammatics 6.2.1 Loopwise Expansion 6.2.2 Truncated and Proper Diagrams 6.2.3 Parametric Representation 6.2.4 Euclidean Green Functions 6.3 Analyticity Properties 6.3.1 Landau Equations 6.3.2 Real Singularities 6.3.3 Real Singularities of Simple Diagrams 6.3.4 Physical-Region Singularities. Cutkosky Rules 7. Radiative Corrections 7.1 One-Loop Renormalization 7.1.1 Vacuum Polarization 7.1.2 Electron Propagator 7.1.3 Vertex Function 7.1.4 Summary 7.2 Radiative Corrections to the Interaction with an External Field 7.2.1 Effective Interaction and Anomalous Magnetic Moment 7.2.2 Radiative Corrections to Coulomb Scattering 7.2.3 Soft Bremsstrahlung 7.2.4 Finite Inclusive Cross Section 7.3 New Effects 7.3.1 Photon-Photon Scattering 7.3.2 Lamb Shift 7.3.3 Van der Waals Forces at Large Distances 8. Renormalization 8.1 Regularization and Power Counting 8.1.1 Introduction 8.1.2 Regularization 8.1.3 Power Counting 8.1.4 Convergence Theorem 8.2 Renormalization 8.2.1 Normalization Conditions and Structure of the Counterterms 8.2.2 Bogoliubov's Recursion Formula 8.2.3 Zimmermann's Explicit Solution 8.2.4 Renormalization in Parametric Space 8.2.5 Finite Renormalizations 8.2.6 Composite Operators 8.3 Zero-Mass Limit, Asymptotic Behavior, and Weinberg's Theorem 8.3.1 Massless Theories 8.3.2 Ultraviolet Behavior and Weinberg's Theorem 8.4 The Case of Quantum Electrodynamics 8.4.1 Formal Derivation of the Ward-Takahashi Identities 8.4.2 Pauli-Villars Regularization to All Orders 8.4.3 Renormalization 8.4.4 Two-Loop Vacuum Polarization 9. Functional Methods 9.1 Path Integrals 9.1.1 The Role of the Classical Action in Quantum Mechanics 9.1.2 Trajectories in the Bargmann-Fock Space 9.1.3 Fermion Systems 9.2 Relativistic Formulation 9.2.1 S Matrix and Green Functions in Terms of Path Integrals 9.2.2 Effective Action and Steepest-Descent Method 9.3 Constrained Systems 9.3.1 General Discussion 9.3.2 The Electromagnetic Field as an Example 9.4 Large Orders in Perturbation Theory 9.4.1 Introduction 9.4.2 Anharmonic Oscillator 10. Integral Equations and Bound-State Problems 10.1 The Dyson-Schwinger Equations 10.1.1 Field Equations 10.1.2 Renormalization 10.2 Relativistic Bound States 10.2.1 Homogeneous Bethe-Salpeter Equation 10.2.2 The Wick Rotation 10.2.3 Scalar Massless Exchange in the Ladder Approximation &n 12.3 The Effective Action at the One-Loop Order 12.3.1 General Form 12.3.2 Two-Point Function 12.3.3 Other Functions 12.3.4 One-Loop Renormalization 12.4 Renormalization 12.4.1 Slavnov-Taylor Identities 12.4.2 Identities for Proper Functions 12.4.3 Recursive Construction of the Counterterms 12.4.4 Gauge Dependence of Green Functions 12.4.5 Anomalies 12.5 Massive Gauge Fields 12.5.1 Historical Background 12.5.2 Massive Gauge Theory 12.5.3 Spontaneous Symmetry Breaking 12.5.4 Renormalization of Spontaneously Broken Gauge 12.5.5 Gauge Independence and Unitarity of the S Matrix 12.6 The Weinberg-Salam Model 12.6.1 The Model for Leptons 12.6.2 Electron-Neutrino Cross Sections 12.6.3 Higher-Order Corrections 12.6.4 Incorporation of Hadrons 13. Asymptotic Behavior 13.1 Effective Charge in Electrodynamics 13.1.1 The Gell-Mann and Low Function 13.1.2 The Callan-Symanzik Equation 13.2 Broken Scale Invariance 13.2.1 Scale and Conformal Invariance 13.2.2 Modified Ward Identities 13.2.3 Callan-Symanzik Coefficients to Lowest Order 13.3 Scale Invariance Recovered 13.3.1 Coupling Constant Flow 13.3.2 Asymptotic Freedom 13.3.3 Mass Corrections 13.4 Deep Inelastic Lepton-Hadron Scattering and Electron-Positron Annihilation into Hadrons 13.4.1 Electroproduction 13.4.2 Light-Cone Dynamics 13.4.3 Electron-Positron Annihilation 13.5 Operator Product Expansions 13.5.1 Short-Distance Expansion 13.5.2 Dominant and Subdominant Operators, Operator Mixing, and Conservation Laws 13.5.3 Light-Cone Expansion Appendix A-1 Metric A-2 Dirac Matrices and Spinors A-3 Normalization of States, S Matrix, Unitarity, and Cross Sections A-4 Feynman Rules Index
Sklep: Libristo.pl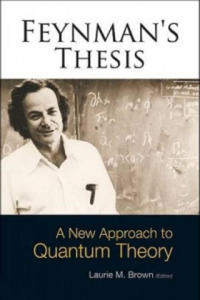 59,22 zł
Książki / Literatura obcojęzyczna
Richard Feynman's never previously published doctoral thesis formed the heart of much of his brilliant and profound work in theoretical physics. Entitled "The Principle of Least Action in Quantum Mechanics," its original motive was to quantize the classical action-at-a-distance electrodynamics. Because that theory adopted an overall space-time viewpoint, the classical Hamiltonian approach used in the conventional formulations of quantum theory could not be used, so Feynman turned to the Lagrangian function and the principle of least action as his points of departure. The result was the path integral approach, which satisfied - and transcended - its original motivation, and has enjoyed great success in renormalized quantum field theory, including the derivation of the ubiquitous Feynman diagrams for elementary particles. Path integrals have many other applications, including atomic, molecular, and nuclear scattering, statistical mechanics, quantum liquids and solids, Brownian motion, and noise theory. It also sheds new light on fundamental issues like the interpretation of quantum theory because of its new overall space-time viewpoint. The present volume includes Feynman's Princeton thesis, the related review article "Space-Time Approach to Non-Relativistic Quantum Mechanics" ["Reviews of Modern Physics" 20 (1948), 367- 387], Paul Dirac's seminal paper "The Lagrangian in Quantum Mechanics'' ["Physikalische Zeitschrift der Sowjetunion", Band 3, Heft 1 (1933)], and an introduction by Laurie M Brown.
Sklep: Libristo.pl 771,16 zł
Książki / Literatura obcojęzyczna
Operational Quantum Theory I is a distinguished work on quantum theory at an advanced algebraic level. The classically oriented hierarchy with objects such as particles as the primary focus, and interactions of these objects as the secondary focus is reversed with the operational interactions as basic quantum structures. Quantum theory, specifically nonrelativistic quantum mechanics, is developed from the theory of Lie group and Lie algebra operations acting on both finite and infinite dimensional vector spaces. In this book, time and space related finite dimensional representation structures and simple Lie operations, and as a non-relativistic application, the Kepler problem which has long fascinated quantum theorists, are dealt with in some detail. Operational Quantum Theory I features many structures which allow the reader to better understand the applications of operational quantum theory, and to provide conceptually appropriate descriptions of the subject. Operational Quantum Theory I aims to understand more deeply on an operational basis what one is working with in nonrelativistic quantum theory, but also suggests new approaches to the characteristic problems of quantum mechanics.
Sklep: Libristo.pl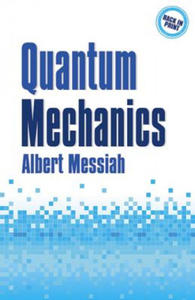 170,11 zł
Książki / Literatura obcojęzyczna
"Strongly recommended" by the American Journal of Physics, this volume serves as a text for advanced undergraduates and graduate students of physics as well as a reference for professionals. Clear in its presentation and scrupulous in its attention to detail, the treatment originally appeared in a two-volume French edition. This convenient single-volume translation begins with formalism and its interpretation, starting with the origins of quantum theory and examinations of matter waves and the Schrödinger equation, one-dimensional quantized systems, the uncertainty relations, and the mathematical framework and physical content of formalism. The second half opens with an exploration of symmetries and invariance, including a consideration of angular momentum, identical particles and the Pauli exclusion principle, invariance and conservation laws, and time reversal. Methods of approximation include those involving stationary perturbations, the equation of motion, variational method, and collision theory. The final chapters review the elements of relativistic quantum mechanics, and each of the two volumes concludes with useful appendixes. Reprint of the John Wiley & Sons, New York, two-volume 1958 edition.
Sklep: Libristo.pl 200,95 zł
Książki / Literatura obcojęzyczna
This book examines the true core of philosophy and metaphysics, taking account of quantum and relativity theory as it applies to physical Reality, and develops a line of reasoning that ultimately leads us to Reality as it is currently understood at the most fundamental level - the Standard Model of Elementary Particles. This book develops new formalisms for Logic that are of interest in themselves and also provide a Platonic bridge to Reality. The bridge to Reality will be explored in detail in a subsequent book, Relativistic Quantum Metaphysics: A First Principles Basis for the Standard Model of Elementary Particles. We anticipate that the current "fundamental" level of physical Reality may be based on a still lower level and/or may have additional aspects remaining to be found. However the effects of certain core features such as quantum theory and relativity theory will persist even if a lower level of Reality is found, and these core features suggest the form of a new Metaphysics of physical Reality. We have coined the phrase "Operator Metaphysics" for this new metaphysics of physical Reality. The book starts by describing aspects of Philosophy and Metaphysics relevant to the study of current physical Reality. Part of this development are new Logics, Operator Logic and Quantum Operator Logic, developed in earlier books by this author (and revised and expanded in this book). Using them we are led to develop a connection to the beginnings of The Standard Model of Elementary Particles. While mathematics is essential in the latter stages of the book we have tried to present it with sufficient text discussion to make what it is doing understandable to the non-mathematical reader. Generally we will avoid using the jargon of Philosophy, Logic and Physics as much as possible.
Sklep: Libristo.pl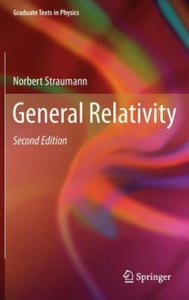 410,93 zł
Książki / Literatura obcojęzyczna
This book provides a completely revised and expanded version of the previous classic edition General Relativity and Relativistic Astrophysics . In Part I the foundations of general relativity are thoroughly developed, while Part II is devoted to tests of general relativity and many of its applications. Binary pulsars our best laboratories for general relativity are studied in considerable detail. An introduction to gravitational lensing theory is included as well, so as to make the current literature on the subject accessible to readers. Considerable attention is devoted to the study of compact objects, especially to black holes. This includes a detailed derivation of the Kerr solution, Israel s proof of his uniqueness theorem, and a derivation of the basic laws of black hole physics. Part II ends with Witten s proof of the positive energy theorem, which is presented in detail, together with the required tools on spin structures and spinor analysis. In Part III, all of the differential geometric tools required are developed in detail. §A great deal of effort went into refining and improving the text for the new edition. New material has been added, including a chapter on cosmology. The book addresses undergraduate and graduate students in physics, astrophysics and mathematics. It utilizes a very well structured approach, which should help it continue to be a standard work for a modern treatment of gravitational physics. The clear presentation of differential geometry also makes it useful for work on string theory and other fields of physics, classical as well as §quantum.
Sklep: Libristo.pl
Sklepy zlokalizowane w miastach: Warszawa, Kraków, Łódź, Wrocław, Poznań, Gdańsk, Szczecin, Bydgoszcz, Lublin, Katowice
Szukaj w sklepach lub całym serwisie
2. Szukaj na wszystkich stronach serwisu
t1=0.043, t2=0, t3=0, t4=0, t=0.044