krainaksiazek restful java web services second edition 20123008
- znaleziono 6 produktów w 1 sklepie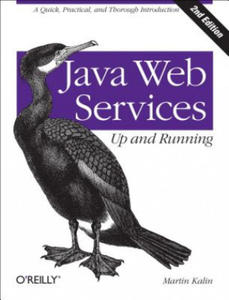 123,66 zł
Książki / Literatura obcojęzyczna
The second edition of Java Web Services keeps the hands-on, example-driven approach, but makes code samples easier to use by providing Ant scripts for the main examples. Also, the author is more forthright in assessing the Java technologies. For example, there are three obvious ways that a Java programmer might deliver a RESTful service: as a standard Java servlet (published in the usual way with a web server such as Tomcat), as a JAX-WS WebServiceProvider, or as a JAX-RS resource and he will rank them accordingly.
Sklep: Libristo.pl
221,24 zł
Książki / Literatura obcojęzyczna
Sams has assembled a team of experts in web services to provide you with a detailed reference guide on XML, SOAP, USDL and UDDI. Building Web Services with Java is in its second edition and it includes the newest standards for managing security, transactions, reliability and interoperability in web service applications. Go beyond the explanations of standards and find out how and why these tools were designed as they are and focus on practical examples of each concept. Download your source code from the publisher's website and work with a running example of a full enterprise solution. Learn from the best in Building Web Services with Java.
Sklep: Libristo.pl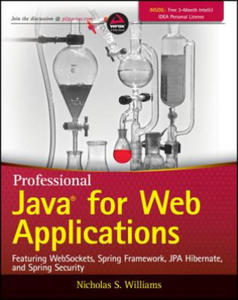 205,76 zł
Książki / Literatura obcojęzyczna
The comprehensive Wrox guide for creating Java web applications for the enterprise This guide shows Java software developers and software engineers how to build complex web applications in an enterprise environment. You'll begin with an introduction to the Java Enterprise Edition and the basic web application, then set up a development application server environment, learn about the tools used in the development process, and explore numerous Java technologies and practices. The book covers industry-standard tools and technologies, specific technologies, and underlying programming concepts. Java is an essential programming language used worldwide for both Android app development and enterprise-level corporate solutions As a step-by-step guide or a general reference, this book provides an all-in-one Java development solution Explains Java Enterprise Edition 7 and the basic web application, how to set up a development application server environment, which tools are needed during the development process, and how to apply various Java technologies Covers new language features in Java 8, such as Lambda Expressions, and the new Java 8 Date & Time API introduced as part of JSR 310, replacing the legacy Date and Calendar APIs Demonstrates the new, fully-duplex WebSocket web connection technology and its support in Java EE 7, allowing the reader to create rich, truly interactive web applications that can push updated data to the client automatically Instructs the reader in the configuration and use of Log4j 2.0, Spring Framework 4 (including Spring Web MVC), Hibernate Validator, RabbitMQ, Hibernate ORM, Spring Data, Hibernate Search, and Spring Security Covers application logging, JSR 340 Servlet API 3.1, JSR 245 JavaServer Pages (JSP) 2.3 (including custom tag libraries), JSR 341 Expression Language 3.0, JSR 356 WebSocket API 1.0, JSR 303/349 Bean Validation 1.1, JSR 317/338 Java Persistence API (JPA) 2.1, full-text searching with JPA, RESTful and SOAP web services, Advanced Message Queuing Protocol (AMQP), and OAuth Professional Java for Web Applications is the complete Wrox guide for software developers who are familiar with Java and who are ready to build high-level enterprise Java web applications.
Sklep: Libristo.pl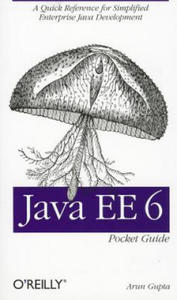 82,16 zł
Książki / Literatura obcojęzyczna
The Java Enterprise Edition 6 platform provides capabilities that make it easier for Java programmers to develop and deploy enterprise and Web applications. This handy guide provides an overview of the main technologies in the Java EE 6 platform, including extensive easy-to-understand code samples that demonstrate many improvements. Whether you're familiar with Java EE 5 or a Java programmer approaching the enterprise edition for the first time, this book will quickly get you up to speed on Java EE 6. Discover how Java EE 6 provides a simplified developer experience and improves on the developer productivity features introduced in Java EE 5 Delve into Java EE 6 profiles, including a comprehensive profile for lightweight, standards-based modern web applications Explore how the platform enables extensibility with open source libraries and frameworks Learn about specifications such as Contexts & Dependency Injection, Java API for RESTful Services, and Servlets 3 make the platform more powerful
Sklep: Libristo.pl 119,88 zł
Książki / Literatura obcojęzyczna
Your modern web applications deserve modern tools. It's time to harness the JVM's rich infrastructure while taking advantage of the expressive power and brisk performance of a modern functional language. Clojure boasts unique advantages for web development, and Web Development with Clojure, 2nd Edition shows you how to exploit them. This edition features new libraries, tools, and best practices, and focuses on developing modern Single Page Applications. Step by step, you'll apply the fundamentals of programming in Clojure to build real-world, professional web applications. Stop developing web apps with yesterday's tools. Today, developers are increasingly adopting Clojure as a web-development platform. See for yourself what makes Clojure so desirable, as you create a series of web apps of growing complexity, exhibiting the full process of web development using a modern functional language. Journey through all the steps in developing a rich Picture Gallery web application--from conception to packaging and deployment. You'll work hands-on with Clojure and build real-world, professional web apps. This fully updated second edition reveals the changes in the rapidly evolving Clojure ecosystem. Get up to speed on the many new libraries, tools, and best practices. Gain expertise in the popular Ring/Compojure stack using the Luminus framework. Learn how Clojure works with databases and speeds development of RESTful services. See why ClojureScript is rapidly becoming a popular front-end platform, and use ClojureScript with the popular Reagent library to build Single Page Applications. This book is for you, whether you're already familiar with Clojure or if you're completely new to the language. What You Need: The latest JVM, Clojure 1.6+, and the Leiningen build tool, as well as an editor such as Emacs, IntelliJ, Eclipse, Light Table, or VI.
Sklep: Libristo.pl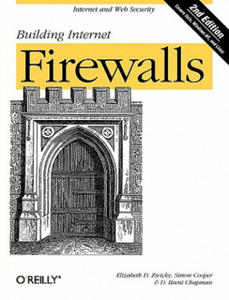 197,72 zł
Książki / Literatura obcojęzyczna
In the five years since the first edition of this classic book was published, Internet use has exploded. The commercial world has rushed headlong into doing business on the Web, often without integrating sound security technologies and policies into their products and methods. The security risks--and the need to protect both business and personal data--have never been greater. We've updated Building Internet Firewalls to address these newer risks. What kinds of security threats does the Internet pose? Some, like password attacks and the exploiting of known security holes, have been around since the early days of networking. And others, like the distributed denial of service attacks that crippled Yahoo, E-Bay, and other major e-commerce sites in early 2000, are in current headlines. Firewalls, critical components of today's computer networks, effectively protect a system from most Internet security threats. They keep damage on one part of the network--such as eavesdropping, a worm program, or file damage--from spreading to the rest of the network. Without firewalls, network security problems can rage out of control, dragging more and more systems down. Like the bestselling and highly respected first edition, Building Internet Firewalls, 2nd Edition, is a practical and detailed step-by-step guide to designing and installing firewalls and configuring Internet services to work with a firewall. Much expanded to include Linux and Windows coverage, the second edition describes: * Firewall technologies: packet filtering, proxying, network address translation, virtual private networks * Architectures such as screening routers, dual-homed hosts, screened hosts, screened subnets, perimeter networks, internal firewalls * Issues involved in a variety of new Internet services and protocols through a firewall * Email and News * Web services and scripting languages (e.g., HTTP, Java, JavaScript, ActiveX, RealAudio, RealVideo) * File transfer and sharing services such as NFS, Samba * Remote access services such as Telnet, the BSD "r" commands, SSH, BackOrifice 2000 * Real-time conferencing services such as ICQ and talk * Naming and directory services (e.g., DNS, NetBT, the Windows Browser) * Authentication and auditing services (e.g., PAM, Kerberos, RADIUS); * Administrative services (e.g., syslog, SNMP, SMS, RIP and other routing protocols, and ping and other network diagnostics) * Intermediary protocols (e. g., RPC, SMB, CORBA, IIOP) * Database protocols (e.g., ODBC, JDBC, and protocols for Oracle, Sybase, and Microsoft SQL Server) The book's complete list of resources includes the location of many publicly available firewall construction tools.
Sklep: Libristo.pl
Sklepy zlokalizowane w miastach: Warszawa, Kraków, Łódź, Wrocław, Poznań, Gdańsk, Szczecin, Bydgoszcz, Lublin, Katowice
Szukaj w sklepach lub całym serwisie
2. Szukaj na wszystkich stronach serwisu
t1=0.057, t2=0, t3=0, t4=0, t=0.057