krainaksiazek revealed preference theory 20131378
- znaleziono 8 produktów w 2 sklepach 149,99 zł
Książki Obcojęzyczne>Angielskie>Economics, finance, business & management>Economics>Econometrics
This Book Examines Situations In Which Empirical Observations Are Consistent Or Inconsistent With Some Of The Best Known Economic Theories.
Sklep: Gigant.pl 149,99 zł
Książki Obcojęzyczne>Angielskie>Economics, finance, business & management>Economics>Econometrics
This Book Examines Situations In Which Empirical Observations Are Consistent Or Inconsistent With Some Of The Best Known Economic Theories.
Sklep: Gigant.pl 290,71 zł
Książki / Literatura obcojęzyczna
In this book, Professor Kreps presents a first course on the basic models of choice theory that underlie much of economic theory. This course, taught for several years at the Graduate School of Business, Stanford University, gives the student an introduction to the axiomatic method of economic analysis, without placing too heavy a demand on mathematical sophistication.The course begins with the basics of choice and revealed preference theory and then discusses numerical representations of ordinal preference. Models with uncertainty come next: First is von Neumann--Morgenstern utility, and then choice under uncertainty with subjective uncertainty, using the formulation of Anscombe and Aumann, and then sketching the development of Savage's classic theory. Finally, the course delves into a number of special topics, including de Finetti's theorem, modeling choice on a part of a larger problem, dynamic choice, and the empirical evidence against the classic models.
Sklep: Libristo.pl 579,99 zł
Książki Obcojęzyczne>Angielskie>Economics, finance, business & management
The Scientific Work Of Oskar Morgenstern.- I: Game Theory.- Vers Une Theorie Generale Des Jeux Positionnels.- Erweitertes Sattelpunktkriterium Und ?-Rand-Spiel.- Differential Games With Active And Passive Variables.- Stochastic Linearisation Of Indeterminateness.- The Existence Problem For Solutions.- Values Of Games With A Priori Unions.- Core, Lindahl Equilibria And Revelation Of Preferences.- Remark On The Transfer Operator And The Value-equilibrium Equivalence Hypothesis.- ?-Gleichgewichtspunkte In N-Personenspielen.- A Simple Game Model Of Kidnapping.- An N-person Bargaining Game In The Extensive Form.- An Extreme Application Of Core Theory.- Optimality And Dynamics In Coalitional Games.- II: Utility Theory And Related Topics.- Expected Utility Theories: A Review Note.- The Bernoulli Principle And The Dirichlet Problem.- Bemerkungen Zur Widerspruchsfreiheit Der Axiome In Der Theorie Der Revealed Preference.- Dynamic Utility Functions.- On Representations Of Social Preferences - An Algebraic Approach.- Eine Axiomatisierung Des Erwarteten Nutzens.- III: Economic Models.- Externalities And Interdependence In A Von Neumann Growth Model.- International Trade And Game Theory In A Context Of Economic Growth.- Economic Equilibrium Under Technological Changes.- Infinite-dimensional Von Neumann Models.- Some Variations On The Mardo? Model.- IV: Economic Theory.- On The Consumer Demand Theory Under Uncertainty.- Anwendung Eines Verallgemeinerten Periodizitatsbegriffes In Makrookonomischen Modellen.- A Paradox In Consumption Theory.- An Application Of The Theorem Of Whitney In Joint Production Theory.- Spieltheoretische Behandlung Der Preisbildung Vor Und Nach Unternehmenszusammenschlussen.- A New Approach To Modelling Some Economic Problems.- Economically Efficient And Politically Sustainable Economic Contraction.- Dynamic Indirect Production Functions.- Dynamic Limit Pricing In A Mature Market.- Coalitions And Clubs - Aspects Of Their Formation And Economic Efficiency.- V: Econometrics And Statistics.- An Econometric Study Of Copper Market Dynamics.- Bemerkung Zur Abschatzung Des Wertes Bei Stop-Problemen.- On The Identifiability Of Continuous Time Economic Models.- Eine Bemerkung Zur Anwendung Der MINIQUE-Methode.- The Use Of Preliminary Data In Economic Time-series Prediction.- Minimaxschatzungen Bei Vorbewertung.- Statistical Aspects Of Economic Aggregation.- On The Transition From Pattern Cognition To Model Building.- VI: Different Topics.- Determination Of Risk Preferences To Faciliate Customer-portfolio Manager Interactions.- When Is It Advantageous To Cast A Negative Vote?.- A Bond-share Portfolio Maximizing Von Neumann-Morgenstern Utility Of Present Real Worth Under Inflation.- Utility And Morality.- A Plea For Preordinators.- The Cost Assignment Of The Cooperative Water Resource Development - A Game Theoretical Approach -.- Addendum.- The Genesis Of Dynamic Systems Governed By Metzler Matrices.- Extremal Properties Of Equilibria In Von Neumann Models.- Banks, Insurance And Futures Markets Of A Trading Economy With Money, Exogenous Uncertainty And An Optimal Bankruptcy Rule.- A New Route To The Turnpike.- A Bibliography Of The Work Of Oskar Morgenstern.
Sklep: Gigant.pl 197,64 zł
Książki / Literatura obcojęzyczna
Japan remains one of the dominant economic powers. Yet the Japanese economy is one of the most misunderstood phenomena in the modern world. Conventionally, Japan is presented as the exception to mainstream economic theory: an exception to the standard models of modern economics. This book demolishes that notion, bringing the full analytical power of economic thought to all aspects of the most dramatic economic success story in recent times. David Flath concentrates on four main themes: Japan's economic growth and development; Japan's integration with the world economy; Government policies and their effects; Economic institutions and practices. By applying common economic tools such as the Solow growth model, Modigliani's life-cycle model of saving, Becker's theory of investment, Samuelson's theory of revealed preference, Coase's exposition of the problem of social cost, and the modern theory of industrial organization, this book shows that the mainstream principles of economics apply in Japan as successfully as they do elsewhere. Revised and updated to take account of recent developments in Japanese banking and macroeconomics, this book is an indispensable resource for students and instructors alike. Lucid explanations and comprehensive and rigorous analysis make it natural choice for anyone interested in comprehending the rise of the Japanese economy.
Sklep: Libristo.pl 232,59 zł
Książki / Literatura obcojęzyczna
Inhaltsangabe:Introduction: Economic theory normally focuses on rational agents optimizing individual utility. Since the second half of the 20th century, this viewpoint has been enriched by findings from the field of psychology. A new trait of research was created called żbehavioral economicsż. It takes into account subjective characteristics such as asymmetric preference and judgment, or limits of rational processing, willpower, and greed. This paper aims to give an overview of two related human traits that have attracted particularly wide interest, namely overconfidence and overoptimism. The two are closely related to each other, and often used synonymously. Broadly speaking, overconfidence results in underestimation of future risks, e.g. the riskiness of future cash flows, whilst overoptimism leads to an overestimation of future positive outcomes, e.g. the future returns of a company. Besides, the paper wants to deduct suggestions for further research, by systematically identifying uncovered topics in existing literature. Usually Alpert and Raiffa are credited with the first discovery of overconfidence. However, the most influential study is probably Russo and Schoemaker. It was published in the Sloan Management Review and communicated the topic to a broader audience for the first time. In particular, it revealed that assumingly rational managers were prone to overconfidence, too. This challenged traditional management doctrines and generated interest in a better understanding of the topic and further research. To exemplify overconfidence, Russo and Schoemaker asked managers to give numerical intervals for ten general-knowledge questions, such that nine out of the ten answers would be correct. On average participants included the correct value within their interval only 5 out of 10 times, i.e. they underestimated potential errors in their estimations. Svenson is probably the most influential source regarding overoptimism. He made the subject intuitively understandable and established a standard measurement method that could be easily used for subsequent research. To give an example of overoptimism: Svenson asked students to compare their driving skills to those of their classmates. Roughly 80% believed they belonged to the top 50%, i.e. they overestimated their abilities. This paper also provides a closer look at the empirical methods normally applied in field studies. Although the phenomena are intuitively understandable, empirical research [...]
Sklep: Libristo.pl 268,99 zł
Książki / Literatura obcojęzyczna
There has been a resurgence of interest in hedonic utility, partly due to the inability of revealed preference theory to account for certain observable behaviors and partly as a result of substantial advances in brain imaging technology. Hedonic Utility, Loss Aversion and Moral Hazard summarizes these recent advances in the modeling and measurement of hedonic utility. It proposes that economists can use these studies to improve their understanding of economic phenomena by analyzing a familiar economic model - the principal-agent relationship with moral hazard - in which the properties of hedonic utility make a difference in how incentives are provided. The idea is that a profit-maximizing principal will design the incentive contract by taking into account the hedonic experiences of the agent. As a result, the optimal contract pays attention to all properties of hedonic utility. The modal transfer is exactly at the reference outcome, the value expected on average by the agent. The diminishing enjoyment of extra rewards is exploited by giving an additional bonus that increases with the level of output, while the occurrence of negative emotions due to losses is minimized by imposing only the biggest possible punishment in states where output is very low. Hedonic Utility, Loss Aversion and Moral Hazard analyzes several extensions of the basic model - competition among principals, aggregate uncertainty, and dynamics - and discusses how their implications relate to the structure of incentive contracts observed in practice. For instance, the presence of hedonic utility implies no response of the modal transfer with respect to the aggregate state of nature but an increase in the probability of the biggest punishment being implemented. In addition, by incorporating future expected outcomes in current hedonic experience, hedonic utility allows for the possibility that stationary contracts may be optimal even if the actual behavior of the agent exhibits deviations from risk neutrality.
Sklep: Libristo.pl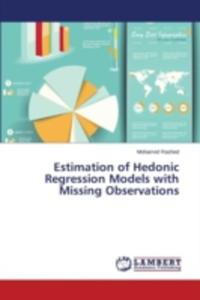 269,99 zł
Książki Obcojęzyczne>Angielskie>Mathematics & science>Mathematics
The Use Of The Word Hedonic To Describe This Technique Stems From The Word S Greek Origin Meaning Of Or Related To Pleasure. In Economics, Hedonic Regression Or Hedonic Demand Theory Is A Revealed Preference Method Of Estimating Demand Or Value. In This Book We Present The Hedonic Regression And Its Important Definitions. Also The Statistical Foundations And Assumption Of Hedonic Price Indices Are Presented. A Short Overview Of Well-known Functional Forms Of Hedonic Equations Is Given. We Also Discuss The Missing Data Problem. We Explore The Type Of Missing Data And The Different Ways Of Handle Missing Observation, The Advantages And Disadvantages Of Each Method. Furthermore We Discuss The Chow Test Of Parameter Stability.Research On The Real Estate Markets Using Hedonic Models Has Not Been Undertaken Previously In Egypt. The Growing Need For A Research On The Economics Of The Real Estate Property Markets Provided A Base For The Present Study.
Sklep: Gigant.pl
Sklepy zlokalizowane w miastach: Warszawa, Kraków, Łódź, Wrocław, Poznań, Gdańsk, Szczecin, Bydgoszcz, Lublin, Katowice
Szukaj w sklepach lub całym serwisie
2. Szukaj na wszystkich stronach serwisu
t1=0.365, t2=0, t3=0, t4=0.019, t=0.365