krainaksiazek revolutionary politics and the cuban working class 20106739
- znaleziono 6 produktów w 1 sklepie 101,61 zł
Książki / Literatura obcojęzyczna
Ernest Tate's memoir is an important contribution to the history of the left in Britain and Canada during a unique period. This is the story of a socialist activist during the fifteen-year period from 1955 to 1970. Volume I covers the political engagement of a working-class immigrant to Canada from Northern Ireland, and his involvement in the Socialist Educational League. Volume II documents Ernest Tate's participation in British radical politics from 1965-1970.
Sklep: Libristo.pl 499,43 zł
Książki / Literatura obcojęzyczna
Cuban music is recognized unanimously as a major historical force behind Latin American popular music, and as an important player in the development of US popular music and jazz. However, the music produced on the island after the Revolution in 1959 has been largely overlooked and overshadowed by the Buena Vista Social Club phenomenon. The Revolution created the conditions for the birth of a type of highly sophisticated popular music, which has grown relatively free from market pressures. These conditions premised the new importance attained by Afro-Cuban dance music during the 1990s, when the island entered a period of deep economic and social crisis that has shaken Revolutionary institutions from their foundations. Vincenzo Perna investigates the role of black popular music in post-Revolutionary Cuba, and in the 1990s in particular. The emergence of timba is analysed as a distinctively new style of Afro-Cuban dance music. The controversial role of Afro-Cuban working class culture is highlighted, showing how this has resisted co-optation into a unified, pacified vision of national culture, and built musical bridges with the transnational black diaspora. Musically, timba represents an innovative fusion of previous popular and folkloric Afro-Cuban styles with elements of hip-hop and other African-American styles like jazz, funk and salsa. Timba articulates a black urban youth subculture with distinctive visual and choreographic codes. With its abrasive commentaries on issues such as race, consumer culture, tourism, prostitution and its connections to the underworld, timba demonstrates at the 'street level' many of the contradictions of contemporary Cuban society. After repeatedly colliding with official discourses, timba has eventually met with institutional repression. This book will appeal not only to ethnomusicologists and those working on popular music studies, but also to those working in the areas of cultural and Black studies, anthropology, Latin American studies, Cuban studies and Caribbean studies.
Sklep: Libristo.pl 580,04 zł
Książki / Literatura obcojęzyczna
"Kevin Murphy has written an important book. It steers a course between the prevailing historical orthodoxy that dismisses the Russian Revolution of October 1917 as a disastrous aberration and the so-called 'revisionists' who have portrayed Stalinism as a phenomenon with strong popular roots." --Alex Callinicos, Professor of European Studies, King's College London and member of Isaac and Tamara Deutscher Memorial Prize Committee "Kevin Murphy has produced an outstanding and original work that is a must-read for all those interested in Soviet history.The judges of the annual Isaac and Tamara Deutscher Memorial Prize have fittingly chosen this book as their winner for 2005, for which they deserve congratulations." --Capital and Class "Murphy draws on an abundant, varied, and multilayered documentary evidence.a tremendous contribution.we all stand in his debt." --New Politics "The workers of the Hammer and Sickle factory come alive here in an exciting story of struggle, victory, and defeat. Their voices ring out to us across the years, as we join them in their meetings and on the shop floor, at the height of revolutionary hopes and the defeats of the Stalin years. Murphy offers an unprecedented view of dissent and accommodation at the grassroots level." --Wendy Goldman, Carnegie Mellon University "Murphy has given us an impeccably researched case study of the vicissitudes of workers politics on the shop floor, which charts the rise and fall of worker activism...This is not a monolithic working class of revolutionary heroes or atomized victims, but a politically and ideologically diverse and contradictory group whose daily struggles and internal battles Murphy charts with subtlety and precision." --Donald Filtzer, University of East London, UK "Kevin Murphy's brilliant new study offers fresh insights into how the political struggle in Russia reverberated in the factories before, during, and after 1917. Significantly, it illuminates the many ways in which Stalinism was asserted on the shop floor." --Andrei Sokolov, The Institute of Russian History, Russian Academy of Sciences "The archives have been open now for fifteen years and few historians of revolutionary Russia have tested previously held assumptions and interpretations of the past through systematic studies of primary source material as Murphy has achieved in this study. --The Russian Review Why did the most unruly proletariat of the Twentieth Century come to tolerate the ascendancy of a political and economic system that, by every conceivable measure, proved antagonistic to working-class interests? Revolution and Counterrevolution is at the center of the ongoing discussion about class identities, the Russian Revolution, and early Soviet industrial relations. Based on exhaustive research in four factory-specific archives, it is unquestionably the most thorough investigation to date on working-class life during the revolutionary era. Focusing on class conflict and workers' frequently changing response to management and state labor policies, the study also meticulously reconstructs everyday life: from leisure activities to domestic issues, the changing role of women, and popular religious belief. Its unparalleled immersion in an exceptional variety of sources at the factory level and its direct engagement with the major interpretive questions about the formation of the Stalinist system will force scholars to re-evaluate long-held assumptions about early Soviet society. Kevin Murphy teaches history at the University of Massachusetts, Boston. His current writing projects include A People's History of the Russian Revolution and a study of the role of trade unions in Soviet society.
Sklep: Libristo.pl 52,92 zł
Książki / Literatura obcojęzyczna
Excerpt from The Tragic Story of the Waihi Strike "The Tragic Story of the Waihi Strike" is issued by the authority of the New Zealand Federation of Labor, and is written by H. E. Holland, "Ballot Box," and R. S. Ross. It is at once an exposition and a vindication. It is a record of occurrences, a statement of facts, a demand for an inquiry. It is an impeachment of the Class State and its Massey Government - is the strikers' case for that final jury which is the unconquerable people. In another place we have alluded to the wide ramifications and the many instructive aspects and sidelights of the strike. We find ourselves regretting that neither time nor space have permitted of the effective treatment of the whole of these. The "story" could with ease have been made twice the length, had such questions as agreements, mining finance, secessions, manifestoes, the exodus from Waihi, the reopening of the mines, the great lying press, Federation policy, and so on been adequately dealt with. Hero and now we cannot forbear making reference to the finely educative nature of strike propaganda and to the significant fact that associated in this responsible and necessary work was a group of Socialist and industrialist organisers of parts and prowess. It may be contended by some that what is said were better unsaid. We think not - for the workers have to learn to do by learning how not to do; and so the traitorous or ignorant conduct dissected in this book may verily make the volume a Beacon to the outraged working-class of Australasia. After this story had been designed and written, and while it was being printed, a notable conference of New Zealand Trade Unions was held in Wellington. As the outcome, a Basis of Unity was adopted, standing for one organisation in industry and one organisation in politics, and unambiguously endorsing the revolutionary foundations of the Labor movement. Parties to this Basis of Unity are organisations and persons attacked in this book, and under the new circumstances we have to ask that final judgment of those indicted be suspended until in the fulness of time they are viewed in proper perspective. However portions of the work be construed in the light, of altered relations, it is, we think, incontestable that the volume's chief value will be its interpretation or portraiture of the living spirit of the things and times with which it deals. Despite all its blemishes, it is at least delineatory of the stirring period and happenings covered by a strike - fierce, grim and notorious: in a sense, to those in the thick of the fray, a revolutionary atmosphere was there as distinctive as historical revolutionary epidemics. To have sacrificed what was felt and said in the fight would have been to surrender the realism of it entirely. Furthermore, to us much depends upon making understood a viewpoint. About the Publisher Forgotten Books publishes hundreds of thousands of rare and classic books. Find more at www.forgottenbooks.com This book is a reproduction of an important historical work. Forgotten Books uses state-of-the-art technology to digitally reconstruct the work, preserving the original format whilst repairing imperfections present in the aged copy. In rare cases, an imperfection in the original, such as a blemish or missing page, may be replicated in our edition. We do, however, repair the vast majority of imperfections successfully; any imperfections that remain are intentionally left to preserve the state of such historical works.
Sklep: Libristo.pl 82,23 zł
Książki / Literatura obcojęzyczna
In Farquhar McHarg's autobiography, a young boy from Glasgow finds himself in the middle of Barcelona's revolutionary underworld at the tail end of World War I. Volume One chronicles McHarg's liaisons between the British Secret Service Bureau and the Spanish anarchists. McHarg tells of a corrupt Spanish regime bent on crushing a rebellious working class and the generous and recklessly idealistic men and women who struggled to transform it after rejecting traditional party politics. When a lifelong friend and fellow anarchist was gunned down, McHarg raced to write this epic history before he too could be silenced. This unique, first-person account of revolutionary activities in 20th-century Europe gives rare perspective and insight into modern revolutionary history.
Sklep: Libristo.pl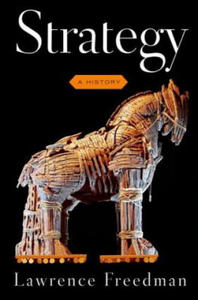 136,62 zł
Strategy Oxford University Press
Książki / Literatura obcojęzyczna
In Strategy: A History, Sir Lawrence Freedman, one of the world's leading authorities on war and international politics, captures the vast history of strategic thinking, in a consistently engaging and insightful account of how strategy came to pervade every aspect of our lives. The range of Freedman's narrative is extraordinary, moving from the surprisingly advanced strategy practiced in primate groups, to the opposing strategies of Achilles and Odysseus in The Iliad, the strategic advice of Sun Tzu and Machiavelli, the great military innovations of Baron Henri de Jomini and Carl von Clausewitz, the grounding of revolutionary strategy in class struggles by Marx, the insights into corporate strategy found in Peter Drucker and Alfred Sloan, and the contributions of the leading social scientists working on strategy today. The core issue at the heart of strategy, the author notes, is whether it is possible to manipulate and shape our environment rather than simply become the victim of forces beyond one's control. Time and again, Freedman demonstrates that the inherent unpredictability of this environment-subject to chance events, the efforts of opponents, the missteps of friends-provides strategy with its challenge and its drama. Armies or corporations or nations rarely move from one predictable state of affairs to another, but instead feel their way through a series of states, each one not quite what was anticipated, requiring a reappraisal of the original strategy, including its ultimate objective. Thus the picture of strategy that emerges in this book is one that is fluid and flexible, governed by the starting point, not the end point. A brilliant overview of the most prominent strategic theories in history, from David's use of deception against Goliath, to the modern use of game theory in economics, this masterful volume sums up a lifetime of reflection on strategy.
Sklep: Libristo.pl
Sklepy zlokalizowane w miastach: Warszawa, Kraków, Łódź, Wrocław, Poznań, Gdańsk, Szczecin, Bydgoszcz, Lublin, Katowice
Szukaj w sklepach lub całym serwisie
2. Szukaj na wszystkich stronach serwisu
t1=0.032, t2=0, t3=0, t4=0, t=0.032