krainaksiazek revolutionary politics and the cuban working class 20106739
- znaleziono 12 produktów w 1 sklepie 71,22 zł
Książki / Literatura obcojęzyczna
Ernest Tate's memoir is an important contribution to the history of the left in Britain and Canada during a unique period. It's a political life of Ernest tate's life as a socialist during the fifteen year period from 1955 to 1970. In volume one, he tells us about his arrival from Toronto in 1955 as a working-class immigrant from Northern Ireland and about how he quickly became engaged in radical politics.
Sklep: Libristo.pl 98,61 zł
Książki / Literatura obcojęzyczna
Ernest Tate's memoir is an important contribution to the history of the left in Britain and Canada during a unique period. This is the story of a socialist activist during the fifteen-year period from 1955 to 1970. Volume I covers the political engagement of a working-class immigrant to Canada from Northern Ireland, and his involvement in the Socialist Educational League. Volume II documents Ernest Tate's participation in British radical politics from 1965-1970.
Sklep: Libristo.pl 215,86 zł
Książki / Literatura obcojęzyczna
This collection of essays by Gareth Stedman Jones proposes a different way of seeing both historians' analytical conceptions of 'class', and the actual manifestation of class in the history of English politics and English culture since the 1830s. As the progenitor of the first generally acknowledged working-class movement, the English working class provided the initial empirical basis for not only the original Marxist theory of modern industry and proletarian revolution, but also subsequent historians' reactions against, or adaptations of, the Marxist theory of class. In Languages of Class Gareth Stedman Jones draws a distinction between two conceptions of class: the everyday and commonplace perception of its pervasiveness in England, and the Marxist idea of its revolutionary significance. He proceeds to challenge the predominant conceptions of the meaning and development of 'class consciousness' by stressing the political and discursive conditions in which particular languages appeared and receded. Among the themes of individual essays in the book are a rethinking of 'the making of the English working class' and the phenomenon of Chartism, a novel exploration of the formation and components of 'working-class culture', and, in the light of these, a new approach to understanding the history of the Labour Party.
Sklep: Libristo.pl 493,57 zł
Książki / Literatura obcojęzyczna
Cuban music is recognized unanimously as a major historical force behind Latin American popular music, and as an important player in the development of US popular music and jazz. However, the music produced on the island after the Revolution in 1959 has been largely overlooked and overshadowed by the Buena Vista Social Club phenomenon. The Revolution created the conditions for the birth of a type of highly sophisticated popular music, which has grown relatively free from market pressures. These conditions premised the new importance attained by Afro-Cuban dance music during the 1990s, when the island entered a period of deep economic and social crisis that has shaken Revolutionary institutions from their foundations. Vincenzo Perna investigates the role of black popular music in post-Revolutionary Cuba, and in the 1990s in particular. The emergence of timba is analysed as a distinctively new style of Afro-Cuban dance music. The controversial role of Afro-Cuban working class culture is highlighted, showing how this has resisted co-optation into a unified, pacified vision of national culture, and built musical bridges with the transnational black diaspora. Musically, timba represents an innovative fusion of previous popular and folkloric Afro-Cuban styles with elements of hip-hop and other African-American styles like jazz, funk and salsa. Timba articulates a black urban youth subculture with distinctive visual and choreographic codes. With its abrasive commentaries on issues such as race, consumer culture, tourism, prostitution and its connections to the underworld, timba demonstrates at the 'street level' many of the contradictions of contemporary Cuban society. After repeatedly colliding with official discourses, timba has eventually met with institutional repression. This book will appeal not only to ethnomusicologists and those working on popular music studies, but also to those working in the areas of cultural and Black studies, anthropology, Latin American studies, Cuban studies and Caribbean studies.
Sklep: Libristo.pl 433,73 zł
Książki / Literatura obcojęzyczna
This volume brings together the latest work in Russian labour history, based on exciting materials from previously closed archives and collections. Sixteen essays, focusing on peasants and workers, explore the lives and struggles of working people. Ranging over a century of dramatic upheaval, from the late 1800s to the present, the essays are organized around three broad themes: workers' politics, incentives and coercion within industrial and rural workplaces, and household strategies. The volume explores the relationship between the peasantry and the working class, a nexus that has been central to state policy, oppositional politics, economic development, and household configuration. It profiles a working class rent by divisions and defined not only by its relationship to the workplace or the state, but also by its household strategies for daily survival. The essays explore many topics accessible for the first time, including the motivations of women workers, roots of revolutionary activism, the revolutionary movement outside the great cities, socialist opposition to the Soviet regime, reactions of workers to Stalinist terror, socialist tourism, peasant families in forced exile, and work discipline on the collective farms.
Sklep: Libristo.pl 171,28 zł
Książki / Literatura obcojęzyczna
This transnational history of Paris in 1919 explores the global implications of the revolutionary crisis of French society at the end of World War I. As the site of the peace conference Paris was a victorious capital and a city at the center of the world, and Tyler Stovall explores these intersections of globalization and local revolution. The book takes as its central point the eruption of political activism in 1919, using the events of that year to illustrate broader tensions in working class, race, and gender politics in Parisian, French, and ultimately global society which fueled debates about colonial subjects and the empire. Viewing consumerism and consumer politics as key both to the revolutionary crisis and to new ideas about working-class identity, and arguing against the idea that consumerism depoliticized working people, this history of local labor movements is a study in the making of the modern world.
Sklep: Libristo.pl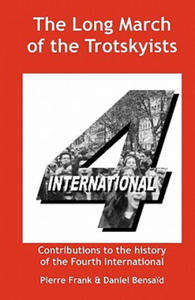 57,04 zł
Książki / Literatura obcojęzyczna
We live in an age where everything has been internationalised. Imperialism brought in its wake world politics and world economics. In this book, Pierre Frank explains how the Fourth International, founded in 1938 by Revolutionary Marxist militants, nuclei, currents and organizations, answered the problem of the construction of anti-capitalist, revolutionary political formations. As Ernest Mandel's biographical essay explains, Frank was secretary to Leon Trotsky in 1932-1933. This book draws on Frank's experience as a central leader of the Fourth International through to 1979. Daniel Bensaďd's appendix explains the following 30 years of the Fourth International life. Two contributions develop its perspective of establishing a new independent political representation of the working class that takes into account the diversity of the working class in defending a resolutely class-based programme: a statement by founders of the French LCR explaining its decision to dissolve into the NPA; and the key resolution adopted by the Fourth International's 2009 world congress.
Sklep: Libristo.pl 62,64 zł
On Marx Liveright Publishing Corporation
Książki / Literatura obcojęzyczna
When Karl Marx was buried at Highgate Cemetery in North London in 1883, his longtime friend and collaborator, Friedrich Engels, remarked that he was "above all a revolutionary." For Marx, the struggle to accurately describe or interpret the world in rational terms was not enough; the point of politics and philosophy was not to diagnose human society but to change it. According to Marx, history was defined by class conflict, with the state heretofore existing as a medium through which the ruling classes can exploit the labor of the productive classes. Only through revolution could true self-government be achieved with the ultimate goal of achieving a stateless, self-administering society free of coercive law, police, and military forces. Marx spent most of his adult life dedicated to uniting the radical working-class movements of Europe around this central idea. In On Marx, Alan Ryan examines Marx's political and economic philosophy within the Victorian context of Marx's own life and times as well as glancing forward to the uses and abuses of his ideas by his many successors. Tracing Marx's influences from Hegel to Feuerbach, from French socialism to British political economy, and documenting his ideological battles with his contemporaries, Ryan provides a sterling explication and critique of Marx s theories of alienation, surplus value, class struggle, and revolution. Situating Marx into the framework of everyday politics is never easy, but this one volume provides the clearest, most accessible introduction to Marx's theories in recent years. On Marx: Revolutionary and Utopian features: a chronology of Karl Marx's life an introduction and text by Alan Ryan that provides crucial context and cogent analysis key excerpts from: "Notes on James Mill," The German Ideology, "Theses on Feuerbach," The Communist Manifesto, Capital, The Civil War in France, and Critique of the Gotha Program"
Sklep: Libristo.pl 73,52 zł
Książki / Literatura obcojęzyczna
Percy Bysshe Shelley is recognised as one of the greatest English poets of the nineteenth century. His work was reviled by contemporaries for his politics and atheism, sentimentalised by Victorians, dismissed by scholars in the early twentieth century but is now receiving its due critical acclaim. Yet from the Chartists and the Suffragettes through Tianenman Squre and the Poll tax protesters to StoptheWar and Greek Solidarity, those fighting back have always quoted Shelley. He was an internationalist and revolutionary who supported the Irish movement and that of Greek Independence, a political activist who wrote pamphlets in defence of justice, free speech and parliamentary reform. Although he wrote when the working class was in its infancy, he had grasped how workers - and women - were oppressed. Radical, reformer, revolutionary, Shelley's politics still resonate today.
Sklep: Libristo.pl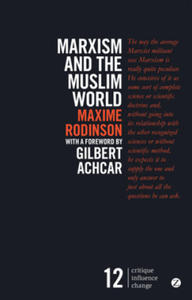 67,92 zł
Książki / Literatura obcojęzyczna
In the aftermath of the Arab Uprisings Maxime Rodinson's Marxist commentary has a new and powerful resonance. Political repression, corruption and economic stagnation stimulated revolt across the Arab world. Now the revolutionary euphoria has faded, leaving violent power struggles, overtly Islamic political parties have begun to take power. Meanwhile hysteria over terrorism and fundamentalism has made Islam the neoliberal West's enemy number one. In this collection Rodinson studies the economic and political, rather than religious, characteristics of Islam. His major themes include: the history of the Marxist Movement in the Islamic Middle East; the dialogue between Socialism and Islam, and Marxism and Arab nationalism; the relationship between national conflicts and class struggle; and the history of Communism in Arab states such as Syria and Egypt. Breaking from colonial "Orientalism" Rodinson invented new critical approaches, helping to define the discipline of Islamic studies. Unashamedly political and polemical, he provides an insightful picture of political Islam and Marxism, and the implications for the Arab working class. The subject of this book could hardly be more relevant to politics today.
Sklep: Libristo.pl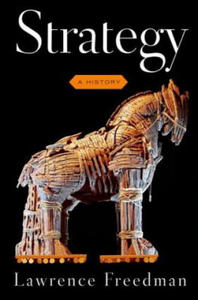 122,82 zł
Strategy Oxford University Press
Książki / Literatura obcojęzyczna
In Strategy: A History, Sir Lawrence Freedman, one of the world's leading authorities on war and international politics, captures the vast history of strategic thinking, in a consistently engaging and insightful account of how strategy came to pervade every aspect of our lives. The range of Freedman's narrative is extraordinary, moving from the surprisingly advanced strategy practiced in primate groups, to the opposing strategies of Achilles and Odysseus in The Iliad, the strategic advice of Sun Tzu and Machiavelli, the great military innovations of Baron Henri de Jomini and Carl von Clausewitz, the grounding of revolutionary strategy in class struggles by Marx, the insights into corporate strategy found in Peter Drucker and Alfred Sloan, and the contributions of the leading social scientists working on strategy today. The core issue at the heart of strategy, the author notes, is whether it is possible to manipulate and shape our environment rather than simply become the victim of forces beyond one's control. Time and again, Freedman demonstrates that the inherent unpredictability of this environment-subject to chance events, the efforts of opponents, the missteps of friends-provides strategy with its challenge and its drama. Armies or corporations or nations rarely move from one predictable state of affairs to another, but instead feel their way through a series of states, each one not quite what was anticipated, requiring a reappraisal of the original strategy, including its ultimate objective. Thus the picture of strategy that emerges in this book is one that is fluid and flexible, governed by the starting point, not the end point. A brilliant overview of the most prominent strategic theories in history, from David's use of deception against Goliath, to the modern use of game theory in economics, this masterful volume sums up a lifetime of reflection on strategy.
Sklep: Libristo.pl 392,02 zł
Książki / Literatura obcojęzyczna
Unearthing new evidence to provide a richer understanding of her life, this study delves beyond the familiar image of Ellen Wilkinson on the Jarrow Crusade. From a humble background, she ascended to the rank of Minister in the 1945 Labour government. Yet she was much more than a conventional Labour politician. She wrote journalism, political theory and novels. She was both a socialist and a feminist; at times, she described herself as a revolutionary. She visited Soviet Russia, the Indian civil disobedience campaign, the Spanish Civil War and the Third Reich. This study deploys transnational and social movement theory perspectives to grapple with the complex itinerary of her ideas. Interest in Wilkinson remains strong among academic and non-academic audiences alike. This is in part because her principal concerns - working-class representation, the status of women, capitalist crisis, war, anti-fascism - remain central to contentious politics today.
Sklep: Libristo.pl
Sklepy zlokalizowane w miastach: Warszawa, Kraków, Łódź, Wrocław, Poznań, Gdańsk, Szczecin, Bydgoszcz, Lublin, Katowice
Szukaj w sklepach lub całym serwisie
2. Szukaj na wszystkich stronach serwisu
t1=0.051, t2=0, t3=0, t4=0, t=0.051