krainaksiazek risking ever after 20118434
- znaleziono 5 produktów w 2 sklepach 42,52 zł
Książki / Literatura obcojęzyczna
In 1998, Sarbjit Athwal was called by her husband to attend a family meeting. It looked like just another family gathering. An attractive house in west London, a large dining room, two brothers, their mother, one wife. But the subject they were discussing was anything but ordinary. At the head of the group sat the elderly mother. She stared proudly around, smiling at her children, then raised her hand for silence. 'It's decided then,' the old lady announced. 'We have to get rid of her.' 'Her' was Surjit Athwal, Sarbjit's sister-in-law. Within three weeks of that meeting, Surjit was dead: lured from London to India, drugged, strangled, and her body dumped in the Ravi River, never to be seen again. After the killing, risking her own life, Sarbjit fought secretly for justice for nine long, scared years. Eventually, with immense bravery, she became the first person within a murderer's family ever to go into open court in an honour killing trial as the Prosecution's key witness, and the first to waive her anonymity in such a trial. As a result of her testimony, the trial led to the first successful prosecution of an honour killing without the body ever being found. But her story doesn't end there. Since the trial, her life has been threatened; her own husband arrested after an allegation of intimidation. Shamed is a story of fear and of horror - but also of immense courage, and a woman who risked everything to see that justice was done.
Sklep: Libristo.pl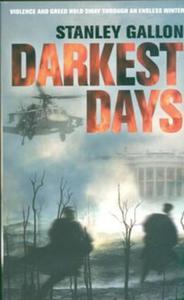 33,60 zł
Powieść zagranicznaSensacja. Thiller. Kryminał
Air Force One crashes into the sea, with the US President aboard. Is it an accident? Yellowstone National Park erupts in the most devastating volcanic catastrophe ever known. But, when evidence points to foreign terrorists, vengeance is swift and merciless. Guided by ruthless commercial interests, a new American President imposes martial law on a starving, demoralized population and plunges the nation into an overseas race against Russia and China to seize control of the world's most valuable remaining natural resources. Darkness falls across the globe, society collapses, liberty vanishes, and soon forces wielding unfettered power are transforming the United States into the greatest threat to global survival. After months of isolation in the Sudanese desert, Lieutenant Adam Burch learns that his parents have gone missing. Risking execution, he deserts his post and journeys back home to a shocking new American landscape. There he uncovers the chilling truth behind an imperialistic agenda responsible for casually extinguishing the lives of millions through starvation, enforced slavery and nuclear reprisal. Despite what Adam learns, it may already be too late, to rescue the world from its ...darkest days.
Sklep: Booknet.net.pl 37,28 zł
Książki / Literatura obcojęzyczna
Changers Book One: Drew opens on the eve of Ethan Miller's freshman year of high school in a brand-new town. He's finally sporting a haircut he doesn't hate, has grown two inches since middle school, and can't wait to try out for the soccer team. At last, everything is looking up in life. Until the next morning. When Ethan awakens as a girl. Ethan is a Changer, a little-known, ancient race of humans who live out each of their four years of high school as a different person. After graduation, Changers choose which version of themselves they will be forever - and no, they cannot go back to who they were before the changes began. Ethan must now live as Drew Bohner - a petite blonde with an unfortunate last name - and navigate the treacherous waters of freshman year while also following the rules: Never tell anyone what you are. Never disobey the Changers Council. And never, ever fall in love with another Changer. Oh, and Drew also has to battle a creepy underground syndicate called 'Abiders' (as well as the sadistic school queen bee, Chloe). And she can't even confide in her best friend Audrey, who can never know the real her, without risking both of their lives. Fans of the books of John Green, the Joss Whedonverse - and empathy between humans - will find much to love in this first of a four-part series that tracks the journey of an average suburban boy who becomes an incredible young woman...who becomes a reluctant hero...who becomes the person she was meant to be. Because, while changing the world can kinda suck, it sure beats never knowing who you really are.
Sklep: Libristo.pl 126,61 zł
Książki / Literatura obcojęzyczna
In the wake of 9/11, personal protection agent Eric Walker is thrust into a collision course with the al-Queda. Abdul Apoli, Eric=s client, is a self-made billionaire who has become a pawn in the terrorist groups insane plan for yet another attack on American soil. After making a bone-chilling discovery that uncovers a sinister network of well placed men who exist to help carry out the attack, Eric is pulled into a storm of violence, intrigue, betrayal, kidnapping, romance, and murder. In his attempt to foil the terrorists plan to use Abduls corporate assets for further destruction against Americans, Eric enters the most dangerous assignment of his career. It will be bigger and deadlier than he ever imagined. A duel that will be fought across the western U.S. He won=t be just risking his career, his life is on the line too.
Sklep: Libristo.pl 36,81 zł
Książki / Literatura obcojęzyczna
From the bestselling author of Ghostman. I work alone. I may be the best thief in the world but no one will ever know a single thing about me. Well, almost no one. A lifetime ago I had a mentor, Angela. She taught me how to be a criminal, how to run a heist. And now, six years after she vanished and left me high and dry on a job in Kuala Lumpur, she's sent me an SOS. Or at least I think it's her. If it is, then I've got to go. I owe her that much. So soon I'll be on a plane to Macau, either to see a friend or walk into a trap. Or both. But that's the way I like it. Sometimes the only thing that makes me happy is risking my life. Time to go.
Sklep: Libristo.pl
Sklepy zlokalizowane w miastach: Warszawa, Kraków, Łódź, Wrocław, Poznań, Gdańsk, Szczecin, Bydgoszcz, Lublin, Katowice
Szukaj w sklepach lub całym serwisie
2. Szukaj na wszystkich stronach serwisu
t1=0.016, t2=0, t3=0, t4=0, t=0.016