krainaksiazek round is a tortilla a book of shapes 20110983
- znaleziono 12 produktów w 2 sklepach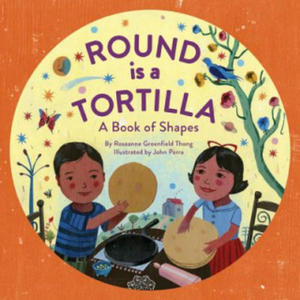 78,98 zł
Książki / Literatura obcojęzyczna
A Playful concept book that reinforces shapes found in every child's day. Many of the featured objects are Latino in origin, but all are universal in appeal. With rich, boisterous illustrations, a fun-to-read rhyming text and an informative glossary, this playful concept book will reinforce the shapes found in every child's day!
Sklep: Libristo.pl 61,99 zł
Książki Obcojęzyczne>Angielskie>Children
A Circle And A Square Play Together To Create An Entire Imaginary World. This Book, Written And Illustrated In 1965 By British Designer Fredun Shapur, Is An Introduction To The Possibilities Of Visual Expression, And Will Delight Young Readers With Its Magical Shapes And Colours.
Sklep: Gigant.pl 38,43 zł
Książki / Literatura obcojęzyczna
Excerpt from A Short Treatise on Head Wear, Ancient and Modern Tradition ascribes the discovery of felting to St. Clem ent. It occurred in this manner: While on one of his charity missions, becoming weary and foot-sore, he took off his sandals to ease his feet, which were all bruised from long walking over rough roads. While resting by the way side an opportunity was afforded him of rescuing a little lamb from the cruel clutches of a wily fox that was pursu ing it. The grateful little creature jumped round him and licked his hand for joy, and it was in fondling it that St. Clement observed some loose wool, which he gathered. While carelessly handling it the thought suddenly struck him that it would be good to bind up the wounds on his feet with. No sooner was it thought than done, and he found it so soothing that he immediately resumed his journey. At night when he came to remove his sandals he was surprised to find, instead of fine, soft wool, a piece of cloth, so firm and thick that he could not pull it apart. This wascalled felt, and St. Clement was made the patron saint of the craft. (however, it is only fair to state that, according to some authorities, there is abundant evidence to show that felting was known to the ancients long before the time of St. Clement or the Christian era.) The most ancient form of head wear we find to be the cap such as is seen on figures representing the goddess of liberty. Hoods, also, of various shapes, date back long before hats appeared, the latter for a long time only being employed as an article of extra clothing in winter, worn over the hood or when going on a journey. About the Publisher Forgotten Books publishes hundreds of thousands of rare and classic books. Find more at www.forgottenbooks.com This book is a reproduction of an important historical work. Forgotten Books uses state-of-the-art technology to digitally reconstruct the work, preserving the original format whilst repairing imperfections present in the aged copy. In rare cases, an imperfection in the original, such as a blemish or missing page, may be replicated in our edition. We do, however, repair the vast majority of imperfections successfully; any imperfections that remain are intentionally left to preserve the state of such historical works.
Sklep: Libristo.pl 88,91 zł
Książki / Literatura obcojęzyczna
Knitting looms are amazingly easy to use and they're available in a wide variety of shapes and sizes. Look at the stylish knits you can create - without knitting needles! All the basic instructions are here. You can make hats, wraps and a cozy blanket with sleeves. There are slippers, scarves, a felted tote and mitts that convert to handwarmers. Kids will go ape over the sock monkey earflap hat and pocket scarf! It's a snap to find the information you need, because the projects include page references for the techniques you'll use. Dozens of photos show how simple it is to make all 18 of these exciting designs by Kathy Norris on round or straight looms!
Sklep: Libristo.pl 117,57 zł
Książki / Literatura obcojęzyczna
"The brightly-coloured cover draws you into this book which aims to rejuvenate home sewing projects through quilting in colourful and bold designs. This is more of a book aimed towards home decorating... There are varied projects ranging from quilts to scarves and needle cases, and with a good variety in between. Each project has diagrams to assist with the design and layout and colour photographs of the finished objects. But the projects themselves are bright and funky and there is a good variety of patchwork techniques to make them all a little out of the ordinary." - Workshop on the Web "Malka Dubrawsky and Interweave books - what an amazing combination - one of my favourite improv quilters and one of my favourite book publishers all rolled up together: Malka's stunning colourful designs, combined with Interweave's attention to detail - love it - and the book delivers! Malka's quilts and patchwork designs are all about colour and pattern. She dyes and over-dyes her own fabric and combines these in eclectic and clashing and fun ways that are part gypsy and part country but the final result is completely modern! Her stitching may be a bit wonky at times and her corners may not meet up perfectly - but for me that not only adds to the charm of these improv quilts but also the accessibility of her style - she is all about fearless quilting and sewing - just getting in there and doing it. Her fearless style embraces flaws but also discovers new methods, exciting colour combinations and fantastic designs." - Whipup.net "A myriad of projects at every skill level for the Modern quilter." - Machine Quilting Unlimited "Quilters looking for a variety of bright, contemporary projects will enjoy this title... This is an ideal book for those looking to reduce their stash." - Ruth Cox, Sewing World "Every project in the book will appeal to quilters at any level of skill." - Bangor Daily News "I've been reading Malka's blog, A stitch in dye, for a very long time now, and I always enjoy all the beautiful eye candy over there. Malka has a way of combining fabrics, both commercially printed as well as her signature hand-dyed fabrics, to create gorgeous works of art." - Filminthefridge.com "Fresh Quilting: Fearless Color, Design & Inspiration is an amazingly beautiful and content rich new book by Malka Dubrawsky. It's no secret I'm a big fan of Malka's work. The first time I saw one of her quilts I totally flipped out. Unique, colorful, and yes, Fresh!" - Kathy, Pinkchalkstudio.com "Her work challenges me to embrace color more passionately, to get more gutsy with free motion Quilting and to allow myself to work with more freedom at times. I simply can't put down this book." - Rachel Hauser, Stitched in Color "Quilt artist Malka Dubrawsky has a way with vibrant colors, prints and shapes. From simple round coasters to a patchwork coin purse, she takes readers step-by-step through colorful techniques for creating a number of practical items." - Detroit News "This book proves there's much more to quilting than warm, cozy bedspreads. Dubrawsky (Color Your Cloth: A Quilter's Guide to Dyeing and Patterning Fabric) begins with a brief, informative description of quilting techniques, from cutting to piecing to hand and machine-quilting, then provides a gallery of projects with step-by-step directions. Dubrawsky's aesthetic is colorful and vintage-inspired, with fun and functional designs. The wide variety of small projects and accessories makes this a good choice for beginning quilters who may not feel ready to take on a full-size quilt and they're excellent scrap-bag busters for quilters with a serious stash." - Library Journal
Sklep: Libristo.pl 78,98 zł
Książki / Literatura obcojęzyczna
Never serve a boring looking cake again! This stunning collection of buttercream cake decorating projects will transform your regular bakes into works of art, using simple techniques and nothing but 100% delicious buttercream. With 30 step-by-step single-tier cake decorating projects on a wide variety of themes, you
Sklep: Libristo.pl 108,61 zł
Książki / Literatura obcojęzyczna
If you love having friends and family round for dinner or simply rustling up fresh, fast food, Mexican cooking is fun, fantastic and full of flavour. One of its brightest stars, Wahaca chef and food writer Thomasina Miers shares the recipes she has gathered since she first fell in love with the country aged 18, reinventing the classics with accessible ingredients to demonstrate how exciting and delicious traditional Mexican food can be. Whether you're looking for street snacks full of punch, rich, hearty stews, or sensational, spicy wraps, Thomasina's Mexican Food Made Simple is bursting with recipes you'll want to eat and share: soft corn tacos and tostados; little cheesy things (Quesadillas); a great Mexican chille con carne; Grilled Seabass or succulent Lamb Chops with homemade salsas and tortilla chips; and to finish churros with chocolate sauce. The book features vibrant food photography throughout, and step-by-step guides to folding the perfect burrito, eating a taco (no knives and forks allowed), making a sizzling table salsa, and much more. And with Thomasina's guide to the world's hottest Chillis, ingenious cheats, and helpful menu planner, Mexican Food Made Simple has everything you need to put together a fantastic Mexican feast at home.
Sklep: Libristo.pl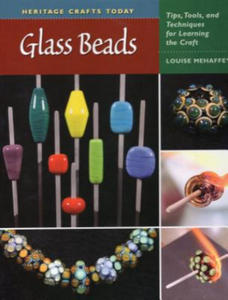 94,45 zł
Książki / Literatura obcojęzyczna
Louise Mehaffey is a master with the torch, melting glass and wrapping it around a metal rod called a mandrel to create beautiful glass beads. In this book she provides safe and easy techniques for making beads of all shapes and sizes, with tips on setting up a studio, buying the necessary tools and materials, and learning the basic skills. Helpful step-by-step instructions and photographs demonstrate how to make various shapes, from round to rectangle, and add interesting effects, such as etching and gold leaf inclusions. There are 22 projects featured, including a dot bead, hollow eye bead, petal bead, Christmas tree, and snowman.
Sklep: Libristo.pl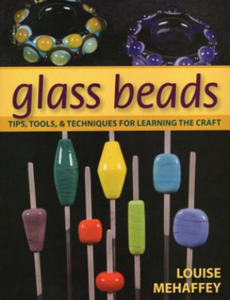 96,40 zł
Książki / Literatura obcojęzyczna
Louise Mehaffey is a master with the torch, melting glass and wrapping it around a metal rod called a mandrel to create beautiful glass beads. In this book, she provides safe and easy techniques for making beads of all shapes and sizes, with tips on setting up a work space, buying the necessary tools and materials, and learning the basic skills. Helpful photographs demonstrate how to make various shapes, from round to rectangle, and add interesting effects, such as etching and gold leaf inclusions. Projects include a dot bead, hollow eye bead, Christmas tree and snowman.
Sklep: Libristo.pl 52,60 zł
Książki / Literatura obcojęzyczna
Whether it's their individual size, their pretty frosting, or just their ability to bring back fond memories of childhood - cupcakes really do have ultimate treat-appeal. Every generation loves them, and even the most curmudgeonly among us find it hard not to smile when presented with a plateful of cupcakes. Cupcakes come in many shapes and guises, but the one thing they all have in common is their small, individual size and the fact that they are baked in a muffin pan or cup-shaped moulds, which are often lined with a crimped foil or paper case. Almost any cake batter can be baked in a cup-shaped mould to make cupcakes. Classic yellow cake or pound cake mixtures are particularly popular, but gingerbread, carrot cakes, fruit cakes, yeasted cakes and brownies can all be transformed into cupcakes. Whether it's a smear of cream cheese frosting or an intricately decorated cake topped with fondant decorations - it's the topping that often provokes the greatest delight. Children and adults alike will love helping to decorate the cakes, and it can make a fun afternoon activity before you even get round to sitting down with a glass of milk to enjoy them. Once you get started on the recipes in this book, you'll realize just how fun baking and decorating cupcakes can be - and you might just find yourself with a new hobby!
Sklep: Libristo.pl 82,23 zł
Książki / Literatura obcojęzyczna
Foliage is often overlooked in a garden, forming a general background that melds into one and against which showy blooms take centre stage. Yet foliage can be fascinating and add architectural form, interest, texture, and colour to the garden all through the year. The Foliage Garden is a directory of more than 1500 plants grown specifically for their foliage. This is a book for gardeners who love plants. In it, the author shows how to use foliage to best effect, by contrasting leaf shapes and textures, how to showcase foliage that has fabulous tints and tonal values, how to achieve colour in the garden all year round, as well as how to use foliage to attract wildlife, screen against noise and traffic pollution, create height and drama, add maturity and unify your garden look. Use foliage to create drama, enhance a garden showstopper, or to rustle in the breeze. Information is provided on perennials, annuals, herbaceous plants, palms, ferns, succulents and herbs.
Sklep: Libristo.pl 124,90 zł
Książki / Literatura obcojęzyczna
Grasses are filigree plants of particular beauty, with a great richness of colours, shapes and textures. Including more than 180 stunning colour photographs, Grasses in the Garden: Design Ideas, Plant Portraits and Care celebrates the versatility of ornamental grasses year-round. It illustrates how to plant grasses for both subtle and explosive colour effects. A section on garden design with grasses offers advice on lines and accents as well as the practicalities of different habitats and light and shade requirements. Grasses can make wonderful accompaniments for planting alongside roses, trees and shrubs, and also look very striking as container plants - detailed advice is given for choosing the right grass for each situation. A highly informative section on the care of grasses - from purchasing the right plants, through to propagation - offers the gardener practical support. This book gives you everything you need to use these fascinating plants to maximum effect.
Sklep: Libristo.pl
Sklepy zlokalizowane w miastach: Warszawa, Kraków, Łódź, Wrocław, Poznań, Gdańsk, Szczecin, Bydgoszcz, Lublin, Katowice
Szukaj w sklepach lub całym serwisie
2. Szukaj na wszystkich stronach serwisu
t1=0.03, t2=0, t3=0, t4=0, t=0.031