krainaksiazek round is a tortilla a book of shapes 20110983
- znaleziono 13 produktów w 1 sklepie 63,80 zł
Książki / Literatura obcojęzyczna
A circle and a square play together to create an entire imaginary world. This book, written and illustrated in 1965 by British designer Fredun Shapur, is an introduction to the possibilities of visual expression, and will delight young readers with its magical shapes and colours.
Sklep: Libristo.pl 49,62 zł
Książki / Literatura obcojęzyczna
For aficionados of hot, spicy food, the humble chilli inspires near-fanatical devotion. Chillies come in a variety of shapes, sizes and colours - from long and thin to round and berry-like, and from green to fiery orange - and there is a huge variation in the degree of hotness (measured on the Scoville scale). There are some 400 varieties of chillies, ranging in strength from the mild jalapeno to the blisteringly hot habanero. Chillies are grown all over the world, and are an essential ingredient (fresh or dried) in many world cuisines. Indeed, it would be hard to imagine a curry, mole poblano or fajitas without the hot stuff. The Hot Book of Chillies is an essential companion to enjoying chillies, and covers the history and biology of the plants, how hotness is measured, chillies and health, nutritional and medicinal value and how to preserve and use chillies. A gallery of chillies presents approximately 100 of the most popular chilli varieties, and the book includes a selection of recipes for salsas, hot sauces, jams and chutneys.
Sklep: Libristo.pl 88,36 zł
Książki / Literatura obcojęzyczna
Knitting looms are amazingly easy to use and they're available in a wide variety of shapes and sizes. Look at the stylish knits you can create - without knitting needles! All the basic instructions are here. You can make hats, wraps and a cozy blanket with sleeves. There are slippers, scarves, a felted tote and mitts that convert to handwarmers. Kids will go ape over the sock monkey earflap hat and pocket scarf! It's a snap to find the information you need, because the projects include page references for the techniques you'll use. Dozens of photos show how simple it is to make all 18 of these exciting designs by Kathy Norris on round or straight looms!
Sklep: Libristo.pl 34,78 zł
Książki / Literatura obcojęzyczna
Bellies come in all shapes and sizes: baby bellies, grown-up bellies, animal bellies. Some bellies are soft. Some bellies are firm. Round or flat, all bellies deserve a happy pat! Celebrate your belly too with this funny book about tummies.
Sklep: Libristo.pl 78,64 zł
Książki / Literatura obcojęzyczna
Never serve a boring looking cake again! This stunning collection of buttercream cake decorating projects will transform your regular bakes into works of art, using simple techniques and nothing but 100% delicious buttercream. With 30 step-by-step single-tier cake decorating projects on a wide variety of themes, you
Sklep: Libristo.pl 107,98 zł
Książki / Literatura obcojęzyczna
If you love having friends and family round for dinner or simply rustling up fresh, fast food, Mexican cooking is fun, fantastic and full of flavour. One of its brightest stars, Wahaca chef and food writer Thomasina Miers shares the recipes she has gathered since she first fell in love with the country aged 18, reinventing the classics with accessible ingredients to demonstrate how exciting and delicious traditional Mexican food can be. Whether you're looking for street snacks full of punch, rich, hearty stews, or sensational, spicy wraps, Thomasina's Mexican Food Made Simple is bursting with recipes you'll want to eat and share: soft corn tacos and tostados; little cheesy things (Quesadillas); a great Mexican chille con carne; Grilled Seabass or succulent Lamb Chops with homemade salsas and tortilla chips; and to finish churros with chocolate sauce. The book features vibrant food photography throughout, and step-by-step guides to folding the perfect burrito, eating a taco (no knives and forks allowed), making a sizzling table salsa, and much more. And with Thomasina's guide to the world's hottest Chillis, ingenious cheats, and helpful menu planner, Mexican Food Made Simple has everything you need to put together a fantastic Mexican feast at home.
Sklep: Libristo.pl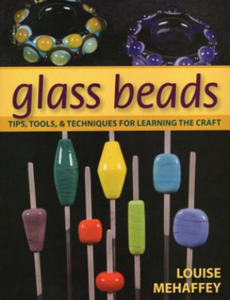 94,96 zł
Książki / Literatura obcojęzyczna
Louise Mehaffey is a master with the torch, melting glass and wrapping it around a metal rod called a mandrel to create beautiful glass beads. In this book, she provides safe and easy techniques for making beads of all shapes and sizes, with tips on setting up a work space, buying the necessary tools and materials, and learning the basic skills. Helpful photographs demonstrate how to make various shapes, from round to rectangle, and add interesting effects, such as etching and gold leaf inclusions. Projects include a dot bead, hollow eye bead, Christmas tree and snowman.
Sklep: Libristo.pl 122,82 zł
Książki / Literatura obcojęzyczna
A breathtaking and beautiful exploration of our planet. This groundbreaking book, which accompanies the new BBC1 TV series, provides the deepest answers to the simplest questions. 'Why is the sky blue?' 'Why is the Earth round?' 'Why is every snowflake unique?' To answer these and many other questions, Professor Brian Cox will reveal some of the most extraordinary phenomena and events on Earth. He will reveal why Earth is the most colourful world we know, exploring the white light of the sun as it travels through the darkness of space until it hits Earth's atmosphere where it begins a new journey, splitting into a rainbow of colours. He will show how our world is built up of myriad shapes which all obey the forces of nature no matter where or what they are. These forces sculpt snowflakes into infinitely variable shapes, as well as setting limits to the height of spectacular, death-defying human towers created by hundreds of people from one town in Spain. In Florida, endangered manatees, large marine mammals also known as sea cows, use the rules of shape to survive. From the great plains of the Serengeti, the volcanoes of Indonesia and the precipitous cliffs in Nepal, to the humpback whales of the Caribbean and the northern lights of the Arctic, Brian will give inspiring answers to our most searching questions that will illuminate our understanding of the planet like never before. Think you know our planet? Think again.
Sklep: Libristo.pl 852,13 zł
Książki / Literatura obcojęzyczna
Much of what is known about the universe came from the study of celestial shadows. This book looks in detail at the way eclipses and other celestial shadows have given us amazing insights into the nature of the objects in our solar system and how they are even helping us discover and analyze planets that orbit stars other than our Sun. A variety of eclipses, transits, and occultations of the mooons of Jupiter and Saturn, Pluto and its satellite Charon, asteroids and stars have helped astronomers to work out their dimensions, structures, and shapes - even the existence of atmospheres and structures of exoplanets.§§Long before Columbus set out to reach the Far East by sailing West, the curved shadow of the Earth on the Moon during a lunar eclipse revealed that we inhabit a round world, a globe. More recently, comparisons of the sunlit and Earthlit parts of the Moon have been used to determine changes in the Earth's brightness as a way of monitoring possible effects in cloud coverage which may be related to global warming. Shadows were used by the Greek mathematician Eratosthenes to work out the first estimate of the circumference of the Earth, by Galileo to measure the heights of the lunar mountains and by eighteenth century astronomers to determine the scale of the Solar System itself.§§Some of the rarest and most wonderful shadows of all are those cast onto Earth by the lovely "Evening Star" Venus as it goes between the Earth and the Sun. These majestic transits of Venus occur at most two in a century; after the 2012 transit, there is not a chance to observe this phenomenon until 2117, while the more common sweep of a total solar eclipse creates one of the most dramatic and awe-inspiring events of nature. Though it may have once been a source of consternation or dread, solar eclipses now lead thousands of amateur astronomers and "eclipse-chasers" to travel the globe in order to experience the dramatic view under "totality." These phenomena are among the most spectacular available to observers and are given their full due in Westfall and Sheehan's comprehensive study.§
Sklep: Libristo.pl 88,86 zł
Książki / Literatura obcojęzyczna
If you want to build a model railway but feel constricted and frustrated because you only have a very limited amount of space available, then this is the book for you. The author demonstrates that a railway modeller need never be 'stuck for space', and shows the reader how to design and construct a rewarding layout in even the smallest of spaces. He emphasizes that once you have found a home for your layout, be it in a garden shed, a spare room, a bookcase or even the top of an ironing board, the same guiding principles apply. These are all fully explained in a very practical way and include the basic layout shapes, the importance of scale, standard and narrow gauges, fiddle yards, train length, curves and turnouts as well as track design elements such as head shunts, kickback sidings and run-round loops.
Sklep: Libristo.pl 124,13 zł
Książki / Literatura obcojęzyczna
Grasses are filigree plants of particular beauty, with a great richness of colours, shapes and textures. Including more than 180 stunning colour photographs, Grasses in the Garden: Design Ideas, Plant Portraits and Care celebrates the versatility of ornamental grasses year-round. It illustrates how to plant grasses for both subtle and explosive colour effects. A section on garden design with grasses offers advice on lines and accents as well as the practicalities of different habitats and light and shade requirements. Grasses can make wonderful accompaniments for planting alongside roses, trees and shrubs, and also look very striking as container plants - detailed advice is given for choosing the right grass for each situation. A highly informative section on the care of grasses - from purchasing the right plants, through to propagation - offers the gardener practical support. This book gives you everything you need to use these fascinating plants to maximum effect.
Sklep: Libristo.pl 211,67 zł
Książki / Literatura obcojęzyczna
Look around New York, and you'll probably see birds: wood ducks swimming in Queens, a stalking black-crowned night-heron in Brooklyn, great horned owls perching in the Bronx, warblers feeding in Central Park, or Staten Island's purple martins flying to and fro. You might spot hawks and falcons nesting on skyscrapers or robins belting out songs from trees along the street. America's largest metropolis teems with birdlife in part because it sits within the great Atlantic flyway where migratory birds travel seasonally between north and south. The Big Apple's miles of coastline, magnificent parks, and millions of trees attract dozens of migrating species every year and are also home year-round to scores of resident birds. There is no better way to identify and learn about New York's birds than with this comprehensive field guide from New York City naturalist Leslie Day. Her book will quickly teach you what each species looks like, where they build their nests, what they eat, the sounds of their songs, what time of year they appear in the city, the shapes and colors of their eggs, and where in the five boroughs you can find them-which is often in the neighborhood you call home. The hundreds of stunning photographs by Beth Bergman and gorgeous illustrations by Trudy Smoke will help you identify the ninety avian species commonly seen in New York. Once you enter the world of the city's birds, life in the great metropolis will never look the same.
Sklep: Libristo.pl 54,57 zł
Książki / Literatura obcojęzyczna
The Bhil people of Central India are amongst the country's oldest indigenous communities. To them, the natural world is not 'a thing apart', but exists in a seamless relationship to their home and the everyday. Gangu Bai, Bhil artist, explores this relationship through her mem- ories and paintings of food, work, festivals, illness, medicine...Her tales centre round trees, and so each of her memories has a tree as its focus. Illustrated in vivid and cheerful colours, the paintings in this book foreground a universe of brightly coloured dots, lines and shapes that encompasses all living beings, big and small and wise and wonderful.
Sklep: Libristo.pl
Sklepy zlokalizowane w miastach: Warszawa, Kraków, Łódź, Wrocław, Poznań, Gdańsk, Szczecin, Bydgoszcz, Lublin, Katowice
Szukaj w sklepach lub całym serwisie
2. Szukaj na wszystkich stronach serwisu
t1=0.051, t2=0, t3=0, t4=0, t=0.051