krainaksiazek s j b sarah jane s babies 20117089
- znaleziono 12 produktów w 3 sklepach 34,18 zł
Książki & Multimedia > Książki
Opis - Zeszyt ćwiczeń do nauki języka angielskiego zawodowego w branży fryzjersko-kosmetycznej obejmuje następujące treści: klasyfikacja zawodów, gabinet fryzjersko-kosmetyczny i jego wyposażenie, czynności i zabiegi fryzjerskie, czynności i zabiegi kosmetyczne, rodzaje włosów, rodzaje skóry, sprzęt i urządzenia, preparaty fryzjersko-kosmetyczne, marketing i reklama zakładu, cennik, przepisy BHP oraz zatrudnienie (umowa o pracę, rozmowa kwalifikacyjna, kwestionariusz osobowy). Nazwa - Język angielski zawodowy w branży fryzjersko-kosmetycznej ćwiczenia Autor - Samulczyk-Wolska Magdalena, Dul Anna, Rochowski Piotr Oprawa - Miękka Wydawca - WSiP Kod ISBN - 9788302133466 Kod EAN - 9788302133466 Wydanie - 1 Rok wydania - 2013 Język - polski, angielski Format - 17.0x24.5cm Ilość stron - 168 Szkoła - Zasadnicza szkoła zawodowa Typ podręcznika - Podręcznik Przedmiot - Przedmioty zawodowe Podatek VAT - 5% Premiera - 2013-09-19
Sklep: InBook.pl 50,03 zł
Książki & Multimedia > Książki
Opis - Książka, posiadająca istotne walory praktyczne, jest pierwszą pozycją polskiej autorki w tak kompleksowy sposób analizującą nie tylko istotę funkcjonowania kredytowych instrumentów pochodnych, ale również modele ich wyceny, doskonalenie których autorka słusznie uznaje za kluczowe dla rozwoju tego rynku. Niewątpliwą zaletą opracowania jest mnogość przykładów, przeprowadzających Czytelnika przez kolejne etapy szacowania wartości omawianych struktur i tworzących idealną bazę dla zrozumienia konstrukcji tych złożonych produktów. Prof. zw. dr hab. Janusz Soboń Publikacja stanowi cenne kompendium wiedzy zarówno dla praktyków rynku finansowego, jak i studentów oraz słuchaczy studiów podyplomowych i doktoranckich, jak również dla pracowników nauki zainteresowanych wdrażaniem metod kwantyfikacji ryzyka kredytowego w praktykę. Prof. nadzw. SGH dr hab. Paweł Niedziółka Nazwa - Pochodne instrumenty kredytowe Autor - Izabela Pruchnicka-Grabias Oprawa - Miękka Wydawca - CeDeWu Kod ISBN - 9788375563733 Kod EAN - 9788375563733 Wydanie - 1 Rok wydania - 2011 Język - polski Format - 16.5x23.0cm Ilość stron - 280 Podatek VAT - 5%
Sklep: InBook.pl 52,44 zł
Książki & Multimedia > Książki
Opis - "Suknia balowa musi przypominać marzenie senne i przeobrażać kobietę w istotę z tego wymiaru" stwierdził kiedyś Christian Dior, dodając iż każda kobieta powinna mieć w szafie przynajmniej jedną suknię balową, gdyż to "znakomicie wpływa na jej morale". Nie ulega wątpliwości, iż posiadanie takiej kreacji potrafi zdziałać cuda dla zdrowia psychicznego również współczesnych kobiet, kilkadziesiąt lat po tym, jak francuski krawiec haute couture przelał te słowa na papier. Kiedy to pisał, suknie wieczorowe wciąż były dla kobiet z towarzystwa symbolem statusu, a przebranie się do kolacji normą de rigueur. Od tego czasu wiele się zmieniło. Jednak ten element garderoby zachował pewien stopień ekskluzywności - gdyż nadal ma w sobie coś z marzenia sennego - a jednocześnie przeszedł swoisty proces "demokratyzacji". "Niezrównana elegancja" to książka o wiecznym pragnieniu piękna i ekskluzywności. Nazwa - Niezrównana elegancja Autor - Maria Maccari Oprawa - Twarda Wydawca - Olesiejuk Kod ISBN - 9788327433954 Kod EAN - 9788327433954 Rok wydania - 2015 Język - polski Format - 25.5x30.0cm Ilość stron - 240 Podatek VAT - 5% Premiera - 2015-11-21
Sklep: InBook.pl 180,64 zł
Książki / Literatura obcojęzyczna
Source: Wikipedia. Pages: 191. Chapters: Brigham Young, Joseph F. Smith, B. H. Roberts, Heber C. Kimball, Sarah Marinda Bates Pratt, John Taylor, Parley P. Pratt, George Q. Cannon, Wilford Woodruff, Lorenzo Snow, Orson Pratt, Jacob Hamblin, Hugh Findlay, Dan Jones, Orson Hyde, Martha McBride Knight, Brigham Young, Jr., Karl G. Maeser, Samuel Brannan, Welcome Chapman, Zina D. H. Young, William Clayton, Helen Mar Kimball, Francis M. Lyman, John Van Cott, W. W. Phelps, Charles Sreeve Peterson, Almon W. Babbitt, Porter Rockwell, Emmeline B. Wells, John Willard Young, Eliza R. Snow, John D. Lee, Louie B. Felt, David Fullmer, Archibald Gardner, Isaac Morley, Carl Christian Anton Christensen, Charles R. Dana, Jesse N. Smith, Orson Spencer, Martha Hughes Cannon, Agnes Taylor, Truman O. Angell, Thomas Rowell Leavitt, Joel H. Johnson, Marriner W. Merrill, John R. Winder, Willard Richards, Emma Lee French, Isaac C. Haight, Luke S. Johnson, Jane Elizabeth Manning James, Cornelius P. Lott, William Weeks, Daniel H. Wells, John Holladay, Abraham O. Smoot, Abraham Marchant, Jefferson Hunt, Levi Savage Jr., Joseph Young, Patty Bartlett Sessions, John S. Fullmer, John R. Murdock, Hosea Stout, Franklin D. Richards, Jesse Knight, Moses Thatcher, Edward Bunker, Gilbert Belnap, David King Udall, James Calvin Sly, Elias Smith, Alfred Milnes, Erastus Snow, Benjamin F. Johnson, Thomas Levi Whittle, Jane McKechnie Walton, Henry Grow, Levi Stewart, William S. Godbe, Leavitt, Alberta, William R. Smith, Emily H. Woodmansee, Phineas Young, Levi W. Hancock, Robert Clift, Jr., Lauritz Smith, A. Milton Musser, David Patten Kimball, Charles John Thomas, Elijah Abel, Daniel Webster Jones, Angus M. Cannon, Samuel W. Richards, William S. S. Willes, John Milton Bernhisel, Ephraim Hanks, Rebecca Winters, Lot Smith, Zebedee Coltrin, Dan Weggeland, Bathsheba W. Smith, Edward Stevenson, Joseph Fielding, Arnold Potter, Charles Ora Card, Orson Pratt Huish, John D. T. McAllister, Jonathan Browning, Peter Maughan, Joseph Angell Young, Joseph S. Murdock, Dimick B. Huntington, Ammon M. Tenney, John Thomas Caine, Ellis Reynolds Shipp, Gudmund Gudmundson, Joseph Toronto, Thomas E. Ricks, Nathaniel H. Felt, Shadrach Roundy, Ira Hatch, Albert Carrington, Thomas Bullock, William Harrison Folsom, Fountain Green Massacre, Theodore Brandley, Charles L. Walker, Aurelia Spencer Rogers, Edward H. Anderson, Joseph Ellis Johnson, Cyrus H. Wheelock, Thomas C. Griggs, Horton D. Haight, John Stilley Carpenter, Dudley Leavitt, Lee Mantle, Newel K. Whitney, Richard Ballantyne, William W. Davies, Ebenezer Beesley, William Adams Hickman, Thomas Grover, Canute Peterson, Orange Seely, Levi Richards, William Henry Hooper, Mary Fielding Smith, Robert T. Burton, Benjamin L. Clapp, Daughters of Utah Pioneers, John Jaques, John Menzies Macfarlane, Caroline LeSueur, John Pack, David O. Calder, Harvey H. Cluff, William J. Flake, Abraham Hoagland, Charles Roscoe Savage, Duncan Spears Casper, Joseph J. Daynes, Leonard W. Hardy, Jesse Carter Little, Mary Ann Angell, Alexander Neibaur, Romania B. Pratt Penrose, James G. Willie, Hiram B. Clawson, Christian D. Fjelsted, John Smith (uncle of Joseph Smith, Jr.), William Huntington, John Parry, Milo Andrus, Louisa Barnes Pratt, George W. Brimhall, Joel Ricks, Milton H. Hardy, Elam Luddington, Theodore B. Lewis, James Sloan, Samuel Claridge, George M. Ottinger, Titus Billings, Louis A. Bertrand, Chauncey W. West, Ralph Partington, Henry Harriman, James Russell Ivie, Reyno...
Sklep: Libristo.pl 228,48 zł
Książki / Literatura obcojęzyczna
Source: Wikipedia. Pages: 262. Chapters: Ursula K. Le Guin, Sylvia Plath, Paul Pimsleur, Biljana PlavSic, Muhammad Yunus, Gabrielle Giffords, Elaine Hamilton-O'Neal, Renée Fleming, Javier Solana, Fulbright Program, Robert Soucy, Robie Macauley, John Lithgow, Joseph Heller, Robert Brustein, Cory Doctorow, John Hope Franklin, Donna Haraway, Frits Bolkestein, Hedwig Gorski, Richard T. Antoun, Thomas R. Pickering, Charles Roy Henderson, Alfred Webre, Randy Altschuler, MiloS Velimirovic, Austan Goolsbee, Marina Karaseva, Satish Alekar, Bruce Dehning, Douglas Kmiec, Nadia Abu El Haj, Ken Rutherford, Raj Aggarwal, Warrington Colescott, Michael A. Rice, Royal Skousen, Nat Hentoff, Evelyn Stokes, Robert Peters, Ruth Simmons, Robert McKee, Christopher Tin, Halim El-Dabh, Som Ranchan, Hilary Koprowski, Andrew Moravcsik, Alexander Berzin, Andrew Lumsden, Mufi Hannemann, Marshall Fishwick, Al Young, Manju Jaidka, James Nagle, Brian Rutenberg, Paul W. Schroeder, Jean Ritchie, J. Bowyer Bell, Shirlee Emmons, James W. Treffinger, Barry McDaniel, David Hamilton, Oleh Lysheha, Anies Baswedan, Anne Gorsuch Burford, Lazarre Seymour Simckes, Edward Herrmann, William Woodruff, Wesley McNair, Theodore R. Sarbin, Milton Glaser, Henry Abraham, Richard Schneirov, Lin Chia-lung, John S. Hilliard, Edward J. Bloustein, Diane Bish, Ed Bishop, Stefan Schaefer, Larisa Miculet, Alexander Djordjevic, Norman Carlberg, Eric Britton, Eric Ghysels, Leon Danaila, Nathan Wang, George Morrison, Joseph Lelyveld, Sharon Lowen, Edmund Keeley, Ruzwana Bashir, Margaret Brennan, Louis Filler, Fritz Bultman, Roderic Ai Camp, Stefans Grové, Lesley Sibner, David Prychitko, Jamie Bishop, William Dickey, Hans Ostrom, Cephas Yao Agbemenu, John T. Fesperman, Robert Pastor, James A. McKernan, Matthew Waxman, Ronald Verlin Cassill, Christopher Theofanidis, Anita Sands, Donald W. Meinig, Colin Thiele, Marilyn Nelson, Patricia Wasley, Imrich Chlamtac, Gary Miranda, Ellis Sandoz, Craig Arnold, Sara Zandieh, Douglas J. Futuyma, David DiChiera, Derek Bok, Sydney Lea, Don Krug, Vanessa Kerry, Francesco Paolo Fulci, Alex Kahn, Allan Vogel, Paul Fletcher, George Balch Wilson, Patrick Phillips, Milton Van Dyke, Alejandra Pizarnik, Daniel Pollack, Crispin Wright, Karl Inderfurth, Mar Elepano, Oksana Zabuzhko, Emmett J. Rice, Leon Burke III, Julian Dashper, William B. Bader, Joelle Schmitz, Anne Bersagel, John Kelly, Massimiliano Versace, A. K. Ramanujan, Gardner Ackley, David Churchman, Wayne Winterrowd, Michal Lipson, James Fankhauser, Anna Clark, Sima Avramovic, Barbara Browning, Grete Prytz Kittelsen, Wayne Brown, Barbara Kellerman, Eric Ash, David Rosand, Bruce L. Edwards, Taghreed El-Khodary, Renee A. Blake, Ruth Whitman, Naana Jane Opoku-Agyemang, Brian Sutton-Smith, David Sawer, Frank Bessac, Nina Gershon, J. Reilly Lewis, Alfred Corn, Danton Remoto, Anton Anton, Francis Beer, Reed Irvine, William Albright, Th. Emil Homerin, David Funderburk, Bradman Weerakoon, Kate Knuth, Emma Lou Diemer, G. S. Maddala, John Bremer, Ellen Gracie, Ron Eglash, Olen Steinhauer, Gaston Allaire, Song Sang-Hyun, Runhild Gammelsćter, C. L. V. Jayathilake, Carmen Acevedo Butcher, Charles Proctor Sifton, Max Kozloff, Thaddeus Strassberger, Reinhard H. Luthin, Ken Jones, Naomi Baron, Michael Auslin, Otto Brendel, Rupert Christiansen, Michael Lowenstern, Christopher Phelps, Thomas Binford, Marian Robertson Wilson, Luther Luedtke, Paul MacKendrick, Lee Stiff, Robert Ebendorf, Michael Green, Sarah Smith, Sehba Hussain, Mar...
Sklep: Libristo.pl 168,16 zł
Książki / Literatura obcojęzyczna
Source: Wikipedia. Pages: 173. Chapters: Terry Gilliam, Lindsay Anderson, David Lean, Ken Loach, David Yates, Jude Law, Mike Bullen, Sebastian Doggart, Powell and Pressburger, Plan B, Simon Hilton, Gabriel Pascal, Brian Desmond Hurst, Emeric Pressburger, Tina Gharavi, James Hill, Sean Mathias, Brian Large, Laurens Postma, Jane Arden, Ozwald Boateng, Christopher Miles, Andy Worthington, David Hugh Jones, Matthew Vaughn, Beeban Kidron, Frederick Baker, Margaret Salmon, Daniel Mulloy, Luke Losey, Gurinder Chadha, Gerald Potterton, John Goldschmidt, Tony Palmer, Andrei Nekrasov, Paul Greengrass, Sarah Townsend, Thorold Dickinson, Clive Donner, Stuart Hazeldine, Grant Gee, Alex Chandon, Norman Thaddeus Vane, Andrew Jones, Jan Pinkava, Marek Losey, Tim Sullivan, Terence Young, Peter Hopkinson, Richard Heslop, Cindy Buxton, Julian Richards, Mark Dornford-May, Wayne Gerard Trotman, Steven Woodcock, Andrew Kötting, John Mackenzie, Alan Parker, Maurice Elvey, Roger Tucker, Jasmin Dizdar, Barney Platts-Mills, Walter Summers, Ryan Davies, Julian Farino, Liam Andrew Wright, Chris Barfoot, Shaun Troke, Marcel Grant, Alex De Rakoff, Liam Garvo, David Tomblin, Sidney Hayers, David Slade, Paul Yule, Jill Daniels, Louise Camrass, Anthony Simmons, Elliot Grove, David Belton, Greg Hall, Amma Asante, Jack Clayton, Paul Kelly, Colin Clark, Ian Iqbal Rashid, Leslie S. Hiscott, Jasmine Dellal, Howard Davies, Jeremy Gilley, Bader Ben Hirsi, Terence Ryan, Simon Hartog, Ladislao Vajda, Peter Brinson, Robin Jacob, Jack Bond, Jonathan Newman, Peter MacDonald, Andrew Gunn, Frank Lloyd, Hammer & Tongs, Roger Manvell, Babar Ahmed, Joe Ahearne, Lucy Mulloy, Charles McDougall, George Pavlou, The Brothers McLeod, Daniel Barber, Ian Dalrymple, Viv Thomas, Gareth Edwards, Tony Kaye, Kolton Lee, Jamie Campbell, Laurence Dunmore, W. P. Lipscomb, Harry Bromley Davenport, Marcus Romer, Luke Dormehl, Travers Vale, Samir Mehanovic, Simon J. Smith, Julian Doyle, Stephen Whittaker, Thomas Bentley, Stephen Hopkins, Suzie Templeton, Sharon Maguire, Don Sharp, Peter Webber, Henry Herbert, 17th Earl of Pembroke, Litza Bixler, Pat Kelman, Jon Harris, James Walker, Neil Johnson, Dan Landin, Gary Chapman, Marcus Dillistone, Simon Fellows, Marc Benardout, Paul Street, Jan Dunn, Havana Marking, James Bobin, Ian Cottage, Ian Mannus, John Baxter, Annie Griffin, Geoffrey Sax, Julian Simpson, Daniel Gordon, Anthony Harvey, Gratian Dimech, Celia Bannerman, Anthony Fabian, Milton Rosmer, Nicky Hamlyn, Peter Newbrook, Harold Huth, Desmond Davis, Charles Jarrott, Chris Jones, Debbie Isitt, John La Bouchardičre, Vernon Sewell, Bharat Nalluri, David Wheatley, Waris Hussein, Penny Woolcock, Shona Auerbach, Andrew McPhillips, Brian Kirk, Rupert Murray, Alan Goodrick, Jack Gold, James Heath, Matt Bloom, Alfred Roome, Maclean Rogers, Steven Rumbelow, John Wayne Stevenson, Lucien Castaing-Taylor, Anand Tucker, Julian Gilbey, Colin Bucksey, Paul Kousoulides, Stuart Paton, Lawrence Pearce, Christopher Smith, Mark Neale, Yousaf Ali Khan, James Kenelm Clarke, Marcus Adams, Iván Noel, Basil Moore, Danny Patrick, Clare Kilner, Nigel Cole, Mansfield Markham, Jack Jewers, Marek Kanievska, Johannes Roberts, Norman Lee, Simon Miller, Louisa Fielden, Benjamin Potter, Tony Kirkhope, Daniel Jewel, Simon Relph, Robert Young, Sarah Gavron, David Lane, Robert Asher, James Martin Brabazon, Angus Cameron, Sinclair Hill, Leon Herbert, Jack Raymond, David Carson, David Cobham, Roy Kellino, Bille Eltringham, Michael Leeston-...
Sklep: Libristo.pl 58,99 zł
Muzyka>Electronica>TranceMuzyka>Electronica>Ambient
1. Chicane - Going Deep (Villanaranjos Remix) 2. Tydi / Tenishia / Rence, Jennifer - Greater Height 3. Hardwell - Spaceman 4. Omnia & Ira - The Fusion 5. Tyas, Sean - Nypd 6. Ronde, Ruben De / Aelyn - She's Already Gone (Wezz 7. Frost, Rafael - Channel 4 8. Mat Zo - It's Yours 9. Jpl / Vitality - Blue 10. Shogun - 550 11. Fast Distance / Dimension / Cami - Promise You 12. Susana / Graham, Max - Down To Nothing 13. Nilsen, Orjan - Amsterdam 14. Devall, Wezz - Kill Of The Year 15. Alex M.o.r.p.h. / Protoculture - Waking Up The Sta 16. Popov, Alexander - Attractive Force 17. Jules, Judge - The Attack 18. Tenishia / Ronde, Ruben De - Marsascala (Alexander 19. W&w - Invasion (Asot 550 Anthem) 20. Ost & Meyer - Safari 21. Buuren, Armin Van / Criado, Ana - Suddenly Summer 22. O'callaghan, John - Stressfest (John Askew Remix) 23. Brandt, Sebastian - Mana 24. Solarstone / Stagg, Clare - The Spell (Solarstone 25. Three Drives - Carrera 2 101. Buuren, Armin Van / Orjan, Nilsen - Belter 102. Gabriel & Dresden / Secret Panda Society - No Rese 103. Cerf, Mitiska & Jaren / Rank 1 - Witness 104. Tiesto / Montana / Storm - Bleckentrommel (Moti Re 105. Wallbridge, Ashley - Mumbai Traffic 106. Wellenrausch - Shape Of Berlin (Basil O'gue Remix) 107. Mundi, Rex - Shocking Blue 108. Fall, Tom / Nicky, Ben - Hammer 109. W&w - Shotgun 110. Romero, Nicky - Se7en 111. Blizzard, The - Piercing The Fog 112. Sunlounger / Taylor, Zara - Try To Be Love (Roger 113. Masoud / Mckenna, Nicole - Fix The Broken 114. Bayer, Andrew / Lange, Matt / Leva, Kerry - In & O 115. Tenishia - Always Loved, Never Forgotten (The Day 116. Pulser / Bancroft, Molly - In Deep (Pulser's Main 117. York / Lifted Emotion - Iphonic (Xgenix Remix) 118. Schulz, Marcus / Shepard, Dennis - Gol 119. Heatbeat - Rocker Monster 120. Stoneface & Terminal / Lawson, Ellie - Breaking Th 121. Moor, Andy / Wallbridge, Ashley / Gabriela - World 122. Otten, Mark - Hyperfocus (Wesz Devall Remix) 123. Lemon & Einar K - We Are What We Are 124. Emery, Gareth / Novelli, Christina - Concrete Ange 125. Solarstone - Seven Cities (Armin Van Buuren Remix) 201. Darey, Matt / Koiev, Stan / Aelyn - Follow You 202. Miller, Jochen - Zodiac 203. Estiva / Zygar, Tania - Death Of Me 204. Within Temptation - Sinead (Alex M.o.r.p.h. Extend 205. Riel, Sied Van - Tunnel Vision 206. Rank 1 / Miller, Jochen / Bettens, Sarah - Wild & 207. Myon & Shane 54 / Aruna - Helpless (Alexander Popo 208. Antillas / Flora - Damaged 209. Buuren, Armin Van / Gaia - J'ai Envie De Toi 210. Durand, Richard / Bobina - Last Train To Moscow 211. Snitker, Wiegel Meimans - Nova Zembla (Armin Van B 212. Parker & Hanson - Afterthought (Heatbeat Remix) 213. Tritonal / Jeza - Can't Keep It In (Tritonal Club 214. Gallagher, Lange & Aubrey - Our Way Home 215. Krasnik, Dima - Corsair (Den Rize Presents Blur8 R 216. Ralphie B - Icarus 217. Soul & Senses - Natural Symbiosis (Indecent Noise 218. Oakenfield, Paul - Glow In The Dark 219. Joint Operations Centre - Glyph 220. Indecent Noise / Ridgewalkers - Full Moon Fever (P 221. Dark Matters / Morgan, Jess - The Real You (Jorn V 222. A.r.d.i. - Premonition 223. Aly & Fila / Jwaydan - Coming Home 224. Dash Berlin / Howells, Sarah - Go It Alone 225. Ascension - Someone
Sklep: Gigant.pl 104,99 zł
Muzyka>Electronica>House
1. Ben Liebrand - Intro Grandmix 2014 2. Dj Snake Ft. Lil Jon - Turn Down For What 3. Kid Ink Ft. Chris Brown - Show Me 4. Usher - Good Kisser 5. Mapei - Don't Wait 6. Cris Cab - Liar Liar 7. Tiksto Ft. Matthew Koma - Wasted 8. Pitbull Ft. G.r.l. - Wild Wild Love 9. Alle Farben Ft. Graham Candy - She Moves (Far Away) 10. Tove Lo - Habits 11. Mr Probz - Waves (Robin Schultz Radio Edit) 12. Pitbull Ft. John Ryan - Fireball 13. Chocolate Puma Ft. Kris Kiss - Step Back 14. Rvyksopp & Robyn - Do It Again 15. Storm Queen - Look Right Through 16. Otto Knows - Parachute 17. Watermdt - Bullit 18. Duke Dumont Ft. Jax Jones - I Got U 19. Klingande - Jubel 20. Avicii - Hey Brother 21. Eelke Klein - Mistakes I've Made 22. Kiesza - Hideaway 23. Gorgon City Ft. Mnek - Ready For Your Love 24. Oliver Heldens - Gecko 25. T Understand 26. Spada Ft. Hosie Neal - Feels Like Home (Red Velvet Dress) (B 27. Fox Stevenson - Sweets (Soda Pop) 28. The Chainsmokers - #Selfie 29. Sharon Doorson - Louder 30. Martin Garrix & Moti - Virus (How About Now) 31. Afrojack & Martin Garrix - Turn Up The Speakers 32. Ummet Ozcan - Superwave 33. W&w - Bigfoot 34. New World Sound & Thomas Newson - Flute 101. Aronchupa - I'm An Albatroz 102. Sander Van Doorn, Martin Garrix & Dvbbs Ft. Aleesia - Gold S 103. Napt - Come On Surrender 104. Dubvison - Backlash (Martin Garrix Edit) 105. Re Forever 106. Firebeatz - Bazooka 107. Afrojack Ft. Wrabel - Ten Feet Tall 108. Bingo Players - Knock You Out 109. Deorro & J-trick - Rambo (Hardwell Edit) 110. Martin Garrix - Proxy 111. Martin Garrix & Firebeatz - Helicopter 112. Martin Garrix & Jay Hardway - Wizard 113. Armin Van Buuren Ft. Lauren Evans - Alone 114. Joey Dale & Ares Carter Ft. Natalie Angiuli - Step Into Your 115. Fatboy Slim & Riva Starr Ft. Beardyman - Eat, Sleep, Rave, R 116. Afrojack Vs. Thirty Seconds To Mars - Do Or Die 117. Blasterjaxx - Mystica (Werewolf) 118. Cosmic Gate & Eric Lumiere - Falling Back 119. Dimitri Vegas & Like Mike Vs Tujamo & Felguk - Nova 120. Dimitri Vegas & Like Mike Vs W&w - Waves (Tomorrowland 2014 121. Jewelz & Scott Sparks Ft. Quilla - Unless We Forget 122. Zhu - Faded 123. Hardwell Ft. Matthew Koma - Dare You 124. Giorgio Moroder - 74 Is The New 24 125. Calvin Harris - Summer 126. Andrew Rayel Ft. Jonathan Mendelsohn - One In A Million 127. Hardwell Ft. Chris Jones - Young Again 128. Jenaux Ft. Jared Lee - Turn Your World Around 129. Afrojack Ft. Spree Wilson - The Spark 130. Zeds Dead Ft. Twin Shadow & D'angelo Lacy - Lost You 131. R3hab & Trevor Guthrie - Soundwave 132. Hardwell & Joey Dale Ft. Luciana - Arcadia 133. Dimitri Vegas, Like Mike & Martin Garrix - Tremor (Sensation 201. Armin Van Buuren - Ping Pong (Hardwell Remix) 202. Armin Van Buuren - Save My Night (Mark Sixma Remix) 203. Jochen Miller Ft. Hellen - Let Love Go 204. Paris Blohm & Taylr Renee - Left Behinds 205. Sidney Samson & Eva Simons - Celebrate The Rain 206. Dannic Ft. Bright Lights - Dear Life 207. Cosmic Gate & Jerome Isma-ae - Telefunken 208. Showtek - We Like To Party 209. Omnia - Tomorrow People 210. Oliver Heldens - Koala 211. Faul & Wad Ad Vs. Pnau - Changes 212. John Martin - Anywhere For You 213. Ariana Grande Feat. Zedd - Break Free 214. Tiksto - Red Lights 215. Dash Berlin & Jay Cosmic Ft. Collin Mcloughlin - Here Tonigh 216. Hardwell - Everybody Is In The Place 217. Gareth Emery Ft. Bo Bruce - U (W&w Remix) 218. Marlo Ft. Jano - Haunted 219. Armin Van Buuren - Hystereo 220. Andrew Rayel Ft. Alexandra Badoi - Goodbye 221. Armin Van Buuren & Andrew Rayel - Eiforya 222. Simon Patterson Ft. Sarah Howells - Dissolve 223. Armin Van Buuren Ft. Laura Jansen - Sound Of The Drums (Bobi 224. Jorn Van Deynhoven - New Horizons (A State Of Trance 650 Ant 225. Gaia - Empire Of Hearts (Johann Stone Remix) 226. Aly & Fila Meets Roger Shah Ft. Sylvia Tosun - Eye 2 Eye (Ex 227. Aly & Fila With Jaren - For All Time (Extended Mix) 228. Aly & Fila With Skypatrol Ft. Sue Mclaren - Running (Extende 229. Ram & Susana - Ramelia (Tribute To Amelia) 230. Afrojack Ft. Snoop Dogg - Dynamite 231. Yellow Claw - Till It Hurt 232. Sigma - Nobody To Love 233. Sigma Ft. Paloma Faith - Changing 234. Ben Liebrand - Outro Grandmix 2014
Sklep: Gigant.pl 124,99 zł
Muzyka>Electronica>Dance
1. Le Grand,fedde - Twisted (Danny Howard Remix) 2. Scotty Feat. Enveray - Long Story Short (Cut Edit) 3. Tide Is High (Sax Mix Edit) - Megane,alex Feat. Cv 4. Lopes,daniel - La Morena (Rico Bernasconi Radio Ed 5. Chris,dim - Gallardo (Radio Edit) 6. Barnes&heatcliff Vs Destineak - Up So High (Origin 7. Brooklyn Bounce&steve Modana - Bounce Attack (Back 8. Mind,marc - Up To You (Radio Edit) 9. Adrima Meers Vinylshakerz - In My Dreams (Adrima E 10. Dohr&mangold Vs Falko Niestoli - Noise 11. Helvetic Nerds - Blood Pressure (Edx&leventina Mix 12. Mirami Feat. Danzel - Upside Down (Extended Versio 13. Crystal Rock&shwann - Overdose (Original Mix) 14. Dawson&creek Feat. Otto Le Bla - Drinks Keep Comin 15. Funky Therapy - Hcmf (Hardcore Motherf ) (Radio 16. Hailing Jordan - Meadows 17. Joyriders - Chillaxin' In The Club (Paul Oaknfold 18. Orjan Nielsen Feat. Christina - Hurricane (Kevin W 19. Dave202 - Cyclone (Original Mix) 20. Silcox,dave - Spark It Up (Original Mix) 21. Qubicon&reunify Feat. Ysoshi B - Utopia (Breem&mek 22. Shanahan Feat. Jackie Mohr&veg - Only You (Origina 23. Simon De Jano&bottai - Delorean (Original Mix) 24. Smash&vengerov - Only Forward (Bobina Mix) 25. Louders - Takeover (Original Mix) 26. Francesco Diaz&young Rebels Fe - Before You Came ( 27. Stadiumx&taylr Renee - Howl At The Moon (Frontload 28. Amfree - Summertime (Radio Edit) 29. Bounce Bro Feat. Destiny - My Life (Radio Edit) 30. Oli Geir - Flocka (Original Mix) 31. Shelco Garcia&teenwolf - That's My Jam (Original M 32. Fazzer Feat Mc Trini - Bubblin (Original Club Mix) 33. Hard Rock Sofa&skidka - Arms Around Me (Original M 34. K La Cuard - Vip (Forget Me Nots) (Klc Radio Edit) 35. Burgundy's - Carnival (Original Mix) 36. Coco Fay&thias - You&me 37. Disfunktion Feat. Max'c - No Matter (2014 Rework) 38. Funkin Matt - Raise The Roof (Original Mix) 39. Jack Holiday&dany Lorence - Wipe Out! 40. Lema Feat. Novelli,christina - Magnetic Nights (Or 41. De Kock,maarten - This Is The Drum (Radio Edit) 42. Marc Lime&k Bastian Feat. Capt - Heat (Turn Me On) 43. Scotty&pit Bailay - Free (Life Is Too Short) (Pit 44. Thomas Petersen Feat. Ina Morg - Suicide (Dj Vega 45. Jaz Von D - Fear Of Silence (Original Mix) 46. First State - Scube (Original Mix) 47. David Hopperman&xantra Feat. D - Spiral (Anthony P 48. Xyloo - Spark In The Night (Radio Edit) 49. Shipperson - Airborne (Original) 50. Paris&simo Feat. Gabrielle Ros - Silent (Club Mix) 51. Nilsen,orjan - Ripasso 52. Greg Gelis Feat. Fab - My Beat, My Religion (Radio 53. David M. - I See You Cry 54. Stelios Feat. Jonny Rose - Sunkissed (Radio Mix) 55. Revero - Eternal (Original Mix) 56. James Durden&ca'z Feat. Bbcr - Unite 57. Mutiny Uk&steve Mac Feat. Nate - Feel The Pressure 58. Cotpit - Out Of Time (Syskey Remix) 59. Vinx,paul - Vdka (Radio Edit) 60. Guenta K - No No No (Please Don't Go) (Bombn Amato 61. Chocolate Puma Feat. Kris Kiss - Step Back (Origin 62. Tomx - In The End (Radio Edit) 63. Fedde Le Grand&funkerman Feat. - 3 Minutes To Expl 64. Eric Smax&fishi Feat. Jimix - Love, Peace&happines 65. Joy,petty - Ready For You 66. C-ro Feat. Nusja - Walk Along (Teenage Mutants Rem 67. Gerber,hugo - Tonight (Original Mix) 101. Bryce - Bounce (Radio Edit) 102. Fedde Le Grand&michael Calfan - Feel The Love (Voc 103. Reboost - Slappin' Da Bass (Original Mix) 104. Laidback Luke (Feat. Gina Turn - Bae (Original Mix 105. Crazibiza - Coco Loco (Original Mix) 106. Rio,stefan - I Won't Hold You Back (Club Edit) 107. Calmani&grey - Indestructible (Crooper Mix) 108. Cassey Doreen Feat. Down Low - Party Like A Freak 109. Sean Finn&gino Montesano - Sunglasses At Night (Or 110. Kramer,arjan - Bright Light (Original Mix) 111. La Funk,patric - Salinas (Matty Menck&basti M Rewo 112. Bomb N Amato - Can't Stop Raving 113. Cube Guys,the - La Verite (Original Mix) 114. Str!ker&parker - Only Heaven Knows 115. Disfunktion - Drone (Original Mix) 116. Cypress,steve - Move Ya Body (Jean Verano Mix) 117. Fucking Role Models Feat. Adee - Leave Me Alone (E 118. Acp - Air Condition (Radio Edit) 119. Dante,veron - My Name Is Dante (Dawson&creek Remix 120. Rodrigezz,rene Feat. Hellen VI - Better Where We A 121. Hallstroem,anders - The Truth (Club Edit) 122. Blasterjaxx - Legend Comes To Life (Original Mix) 123. Kid Massive - Indigo (Adrian Bood Remix) 124. Dbn Vs R.o.o.s. - Instant Moments (Original Mix) 125. Sky Inc - Our Time (Original Mix) 126. Skitz,nick - Say It With Honour (Nicky Starr Remix 127. Stw Project,the Feat. Ashley S - Hollywood (Extend 128. Alchemist Project Feat. Anna T - Nina (Original Mi 129. Mvd&no - The Drum (Original Mix) 130. Schmidt,lucas - Bottles (Festival Radio Edit) 131. Disfunktion - Syxe (Original Mix) 132. Slazy Feat. J-sun - Enemy (Axel F)(amfree Edit) 133. Dabruck,stefan - Mefesarys (Original Mix) 134. Fergusson,etienne - Ain't That Funky (Radio Edit) 135. Redfield,davis Feat. Carl Man - Music Gods (Origin 136. Rozalla Feat Anthony,david - Can You Feel The Love 137. Cosmo - Beat Bang (Original Mix) 138. Silva,sandro - P.l.u.r. (Original Mix) 139. Crew 7 - Money For Nothing (Dancecom Project Edit) 140. Dj Kryst-off Feat Breaker - Never Stop! (Extended 141. Sixma,mark - Shadow (W&w Edit) 142. Brooklyn Bounce - Born To Bounce (Dj Deka Remix) 143. House Rockerz - Tanz Die Ganze Nacht (Festival Mix 144. Sven&olav Ft. Sarah Stay - This Is Berlin (Every B 145. Dj Breeze Feat. Terri B! - Escape To Summer (Summe 146. Moor,micha - Space (Dirty Ducks Remix) 147. Dj Kuba&ne!tan Vs. Cherry Feat - Escape With Me (R 148. Pyero&mikael Weermets - Jump! (Original Mix) 149. Bennett,andrew - Right Here, Right Now (Original M 150. Johan K Feat. Tony T&alba Kras - Summer Summer (Cl 151. Sick Individuals&axwell Feat. - I Am (Original Mix 152. Rico Bernasconi&marc Van Linde - Hypnotic Tango (T
Sklep: Gigant.pl 124,99 zł
Muzyka>Blues
1. Shortenin' Bread (A) 2. Muscle Shoals Blues (B) 3. Pan American Blues (B) 4. Blue Harmonica (A) 5. Kansas City Blues (C) 6. Bay Rum Blues (D) 7. Riding The Blinds (E) 8. Devil In The Woodpile (F) 9. Mean Low Blues (G) 10. Save Me Some (H) 11. Beale Street Breakdown (H) 12. Man Trouble Blues No. 2 (I) 13. Mississippi Swamp Moan (J) 14. Ticket Agent Blues (F) 15. Weary Worried Blues (K) 16. Trouble Trouble Blues (K) 17. Sarah Jane (L) 18. Field Mouse Stomp (M) 19. Insurance Policy Blues (N) 20. Prisoner's Blues (O) 21. Just Like Jesse James (L) 22. Sweet Sweet Woman (L) 23. Grief Will Kill You (P) 24. Lost Baby Blues (P) 25. Sugar Mama Blues No. 2 (Q) 26. You Can't Stop Me From Drinking (R) 27. Harmonica & Washboard Breakdown (S) 28. Bedroom Stomp (T) 29. Hobo Blues (U) 30. Mattie Mae Blues (Q) 31. Three Woman Blues (V) 32. What Will I Do? (W) 33. She's Leaving Me (X) 34. Uncle Sam Done Called (Y) 35. Low Delta Blues (U) 36. She Don't Love Me That Way (Q)
Sklep: Gigant.pl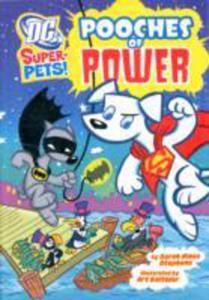 119,99 zł
Książki Obcojęzyczne>Angielskie>Children
Strong, Smart, And Fast ...Unleash The Power Of Super-Pets. This Book Introduces The Pets Of The World's Greatest Super Heroes. They, Too, Are Working Night And Day To Fight Crime And Evil In The DC Universe.
Sklep: Gigant.pl 129,99 zł
Muzyka>Electronica>TranceMuzyka>Electronica>Ambient
1. Chicane / Corsten, Ferry / Burns, Christian - One 2. Nilsen, Orjan - No Saint Out Of Me 3. W&w / Ozcan, Ummet - The Code 4. Sixma, Mark - Requiem 5. O'callaghan, John / Full Tilt / Kelly, Karen - Bre 6. Wellenrausch - F.a.r. (Las Salinas Vocal Mix) 7. Tydi / Zygar, Tania - Vanilla (Dennis Shepherd Rem 8. Shafiev, Timur - Glory (Edu Remix) 9. Myon & Shane 54 / Aruna - Lights 10. Riel, Sied Van - Past Present Future 11. Moor, Andy / Orkidea - Orbithing 12. Tenishia / England, Kyler - Attention 13. Shogun - Supernova 14. Rayel, Andrew - Musa 15. Buuren, Armin Van / Schulz, Markus - The Expeditio 16. Tyas, Sean - Hydro 17. Shah, Roger / Nuera - Guess (Matt Bukovski Remix) 18. Gelardi - Deira 19. B.exp - Overmind (Thomas Datt Remix) 20. Bukovski, Matt - Eterna 21. Wallbridge, Ashley - Vision (Michael Tsukerman Rem 22. Push - Universal Nation (Orjan Nilsen Remix) 23. Kearney, Bryan - The Nettle 24. Solarstone - Please (Pure Mix) 25. Rapid Eye - Stealing Beauty (R.e. Mix) 101. Schulz, Markus - The Spiritual Gateway (Trasmissio 102. Corsten, Ferry - Black Light 103. Berlin, Dash / Madin, Chris - Fool For Life (Estiv 104. Oakenfold, Paul - Southern Sun (Cold Blue's Dark R 105. Gabriel & Dresden / D-wayne - Shatter (Alex M.o.r. 106. Aerofoil / E&g - One Word 107. Rank 1 - 7 Instead Of 8 (P.h.a.t.t. Remix) 108. Conjure One / Nash, Leigh - Under The Gun (Rank 1 109. York - Farewell To The Moon (Alexander Popov Remix 110. Cerf, Mitiska & Jaren / Audien - Play Our Lives 111. Darey, Matt / Tomberlin, Ashley - Lost A Sea (Biot 112. Dinka - Closer 113. Moor, Andy - November Morning 114. Tucandeo - Grey Goose 115. Schiemann, Dave - Heartless 116. Kyau & Albert / Speed, Ronski - Euphonia 117. Shogun - Drop 118. Haines, Steve - Requiem 119. Heredia, Tomas - Alchemist 120. Abstract Vision / Elite Electronic / Aimoon - Gala 121. Rayel, Andrew - Zeus 122. Ayda - Caesar 123. Solarstone - Seven Cities (Thomas Datt Remix) 124. Brandt, Sebastian - Paragon 125. Shane - Too Late To Turn (Armin Van Buuren Remix) 201. Bt - Skylarking 202. Helvetic Nerds - Stormwatch (Chris Reece & Dinka O 203. Graham, Max / Zygar, Tania - Diamonds (Max Graham 204. Omnia - The Light 205. Dankann & Antillas / Laurell - When You Love Someo 206. Tydi / Howells, Sarah - Acting Crazy (Tomas Heredi 207. Hardwell / Shepherd, Amba - Apollo (Dash Berlin 4a 208. Schweizer, Chris / Heredia, Tomas - Darksiders 209. Super8 & Tab - Teardrops 210. Airscape - Welcome Home 211. Popov, Alexander - Lost Language 212. Blizzard, The / Sand, Daniel Van / Thompson, Ju - 213. Davey, Matt - Neutrino 214. Xgenic - Blaster 215. Marlo - Boom 216. Durand, Richard - Trancematic 217. Neelix - Leave Me Alone (Simon Patterson Remix) 218. Sabanci, Faruk / Arisa - Break It Down (James Dymo 219. Porter, Darren - Spellbound 220. Angry Man - Mescaline 221. Abstract Vision / Elite Electronic - Conqueror 222. Neptune Project / Strange, Polly - The Inside (Sne 223. Dymond, James - Millennium 224. Deynhoven, Jorn Van - Superfly 225. Aly & Fila - Rosaires 301. Alex M.o.r.p.h. - New York City 302. Buuren, Armin Van / W&w - Dno. Fat 303. Wallbridge, Ashley - Zorro (Rafael Frost Remix) 304. Dns Project - Gauntlet 305. Aimoon - Avantador 306. Digital X - Raptor 307. Graham, Max / Aldea, Alana - Where Are You 308. Sunlounger & Rocking J - Finca (Pedro Del Mar & Do 309. Da Libra, Terry - Don't Give Up 310. Villanaranjos - Jalon 311. Thrillseekers, The / Grove, Stine - Anywhere With 312. Camz, Aaron - Crytogram 313. Corsten, Ferry - Rock Your Body Rock (Arty Rock-n- 314. M.i.k.e. - Canvas (Club Mix) 315. Heatbeat - Game Over 316. Corderoy - Electrix 317. Devall, Wezz / Aldea, Alana - On The Rise 318. Estiva & Cardinal / Maren, Arielle - Wait Forever 319. Hewitt, Emma - Crucify (Marlo Remix) 320. Protoculture - Laguna 321. Sheperd, Dennis / Cold Blue / Criado, Ana - Fallen 322. Shah, Roger / Losco, Ira - Save It All Today (The 323. Shato / Rockseek, Paul - Deer Friends 324. De Ronde, Ruben / Chen, Danny - Bright (Edu Agress 325. Lost Witness - Happiness Happening (Lange Remix)
Sklep: Gigant.pl
Sklepy zlokalizowane w miastach: Warszawa, Kraków, Łódź, Wrocław, Poznań, Gdańsk, Szczecin, Bydgoszcz, Lublin, Katowice
Szukaj w sklepach lub całym serwisie
2. Szukaj na wszystkich stronach serwisu
t1=0.056, t2=0, t3=0, t4=0, t=0.056