krainaksiazek sales leadership distinctions with a difference 20111894
- znaleziono 4 produkty w 1 sklepie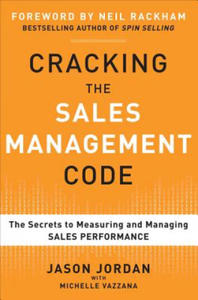 132,71 zł
Książki / Literatura obcojęzyczna
Boost sales results by zeroing in on the metrics that matter most §Sales may be an art, but sales management is a science. Cracking the Sales Management Code reveals that science and gives practical steps to identify the metrics you must measure to manage toward success. § Arthur Dorfman, National Vice President, SAP § Cracking the Sales Management Code is a must-read for anyone who wants to bring his or her sales management team into the 21st century. § Mike Nathe, Senior Vice President, Essilor Laboratories of America §The authors correctly assert that the proliferation of management reporting has created a false sense of control for sales executives. Real control is derived from clear direction to the field and this book tells how do to that in an easy-to-understand, actionable manner. § Michael R. Jenkins, Signature Client Vice President, AT&T Global Enterprise Solutions §There are things that can be managed in a sales force, and there are things that cannot. Too often sales management doesn t see the difference. This book is invaluable because it reveals the manageable activities that actually drive sales results. § John Davis, Vice President, St. Jude Medical § Cracking the Sales Management Code is one of the most important resources available on effective sales management. . . . It should be required reading for every sales leader. § Bob Kelly, Chairman, The Sales Management Association §A must-read for managers who want to have a greater impact on sales force performance. § James Lattin, Robert A. Magowan Professor of Marketing, Graduate School of Business, Stanford University §This book offers a solution to close the gap between sales processes and business results. It shows a new way to think critically about the strategies and tactics necessary to move a sales team from good to great! § Anita Abjornson, Sales Management Effectiveness, Abbott Laboratories §About the Book: §There are literally thousands of books on selling, coaching, and leadership, but what about the particulars of managing a sales force? Where are the frameworks, metrics, and best practices to help you succeed?§Based on extensive research into how world-class companies measure and manage their sales forces, Cracking the Sales Management Code is the first operating manual for sales management. In it you will discover:§The five critical processes that drive sales performance§How to choose the right processes for your own team§The three levels of sales metrics you must collect§Which metrics you can manage and which ones you can t§How to prioritize conflicting sales objectives§How to align seller activities with business results§How to use CRM to improve the impact of coaching §As Neil Rackham writes in the foreword: There s an acute shortage of good books on the specifics of sales management. Cracking the Sales Management Code is about the practical specifics of sales management in the new era, and it fills a void. §Cracking the Sales Management Code fills that void by providing foundational knowledge about how the sales force works. It reveals the gears and levers that actually control sales results. It adds clarity to things that you intuitively know and provides insight into things that you don t. It will change the way you manage your sellers from day to day, as well as the results you get from year to year.§
Sklep: Libristo.pl
49,62 zł
Książki / Literatura obcojęzyczna
A practical, jargon-free and easily accessible book on making a difference as a leader, Damian Hughes' "Liquid Leadership" draws on a diverse list of leaders in everyday life (Kim England, National Sales Training Manager at Unilever), to showbiz celebrities (John Lennon, Walt Disney), to renowned historical leaders (Shackleton, Eisenhower, Steve Jobs). There are no stuffy theories here. Instead, the book jumps energetically between film references from the "Wizard of Oz," "Alfie" and "Superman" to the leadership styles of World-Cup winning coaches Alf Ramsay and Clive Woodward. Speckled throughout are examples of "'Liquid Leaders'," from people you know - like James Timpson, head of the UK-wide group of key-cutting and shoe repair outlets - to people we don't know, including Fergus Findlay of Barnardo's in Ireland. This book offers you a joyous diversion that pushes home important theory effortlessly. It ends with practical exercises designed to galvanise the reader into identifying how they need to change, as well as a very useful annotated bibliography.Both of Damian's books have been credited with helping people build their own houses, fight cancer and run marathons, so come on and be a fellow Liquid Leader!
Sklep: Libristo.pl 94,30 zł
Książki / Literatura obcojęzyczna
Turn an effective sales force into one that is truly outstanding§Drawing on two decades of consulting with leading sales organizations, sales leadership expert Lisa Earle McLeod reveals how a Noble Sales Purpose (NSP) can drive a team to outstanding sales numbers. Using hard data and compelling field stories, Selling with Purpose explains why salespeople who understand earnestly how they make a difference to customers outperform their more quota-driven counterparts. This book shows executives, managers, and aspiring sales leaders how to find your NSP and create a sales force of True Believers who drive revenue and do work that makes them proud.§Explains why sales organizations with a clearly stated Noble Sales Purpose (NSP) dramatically outperform sales organizations driven by numbers alone§Details how to find your NSP using a simple three-part formula§Shares how to use NSP to make your salespeople more assertive, focused, and profitable§In an era where most organizations believe that money is the only way to motivate salespeople, Selling With Purpose offers a sustainable and exciting alternative.
Sklep: Libristo.pl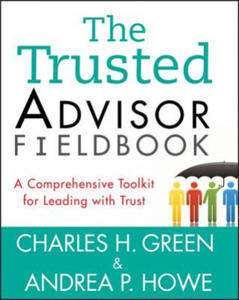 127,93 zł
Książki / Literatura obcojęzyczna
This is a practical guide to being a trusted advisor for leaders in any industry. In this hands-on successor to the popular book "The Trusted Advisor", you'll find answers to pervasive questions about trust and leadership - such as how to develop business with trust, nurture trust-based relationships, build and run a trustworthy organization, and develop your trust skill set. This pragmatic workbook delivers everyday tools, exercises, resources, and actionable to-do lists for the wide range of situations a trusted advisor inevitably encounters. The authors speak in concrete terms about how to dramatically improve your results in sales, relationship management, and organizational performance. Your success as a leader will always be based on the degree to which you are trusted by your stakeholders. Each chapter offers specific ways to train your thinking and your habits in order to earn the trust that is necessary to be influential, successful, and known as someone who makes a difference. Self-administered worksheets and coaching questions provide immediate insights into your current business challenges. Real-life examples demonstrate proven ways to "walk the talk". Action plans bridge the gap between insights and outcomes. Put the knowledge and practices in this fieldbook to work, and you'll be someone who earns trust quickly, consistently, and sustainably - in business and in life.
Sklep: Libristo.pl
Sklepy zlokalizowane w miastach: Warszawa, Kraków, Łódź, Wrocław, Poznań, Gdańsk, Szczecin, Bydgoszcz, Lublin, Katowice
Szukaj w sklepach lub całym serwisie
2. Szukaj na wszystkich stronach serwisu
t1=0.02, t2=0, t3=0, t4=0, t=0.02