krainaksiazek scams all about scams 20116898
- znaleziono 7 produktów w 1 sklepie 53,28 zł
Książki / Literatura obcojęzyczna
There are plenty of books around that tell you how to buy and sell on eBay, but they send you off with a blissful child-like confidence that will only lead to heartache at best, you may even lose thousands of dollars or worse. What are you supposed to do if something goes wrong and you do not receive what you paid for or you sell to someone and the dishonest buyer files a false complaint, what if you received a worthless piece of junk instead of what you paid for? Unfortunately, most people accept the loss and move on because they do not know what options are available and most importantly, they did not know that almost all fraud on eBay could be avoided if they knew the simple warning signs. Don't be a victim! Almost all scammers, both professional and amateur, have certain elements in their auctions that can identify them as criminals before you even place a bid. There are almost 200 common scams on eBay and every one can be identified, IF you know what to look for. This entertaining and sometimes frightening book reveals how scammers work and how you can avoid them as both a buyer and seller on eBay. It relates personal stories about fraud and vindication. It also explains what you can do if you have been the victim of fraud plus what you can do to protect yourself should a purchase go bad. This book is for anyone who uses eBay. Even veteran buyers and sellers often don't know how to spot a fraudulent auction or recognize a buyer who will be trouble later. Your risk is much more than the $20 you might lose on a purchase as well. Professional criminals use eBay to gather victims for other scams. A $20 transaction could wind up costing you $20,000.00, zapped right out of your bank account before you realize it. Even intelligent members can find themselves victims of these polished and rehearsed scammers. Don't be intimidated by eBay. It can be safe, fun, and profitable, but only when you know how to use it safely. Read Scams and Scoundrels now to find out how to trade safely on eBay.
Sklep: Libristo.pl 181,92 zł
Książki / Literatura obcojęzyczna
The Internet is a fertile breeding ground for all kinds of scams and schemes, because it's so large and unregulated. Usually it's your credit card number they're after, and they won't stop there. Not just mere annoyances, these scams are real crimes, with real victims. Now, thanks to "Internet Forensics" from O'Reilly, there's something you can do about it. This practical guide to defending against Internet fraud gives you the skills you need to uncover the origins of the spammers, con artists, and identity thieves that plague the Internet. Targeted primarily at the developer community, "Internet Forensics" shows you how to extract the information that lies hidden in every email message, web page, and web server on the Internet. It describes the lengths the bad guys will go to cover their tracks, and offers tricks that you can use to see through their disguises. You'll also gain an understanding for how the Internet functions, and how spammers use these protocols to their devious advantage. This book is organized around the core technologies of the Internet-email, web sites, servers, and browsers. The chapters describe how these are used and abused and show you how information hidden in each of them can be revealed. The short examples illustrate all the major techniques that are discussed. The ethical and legal issues that arise in the uncovering of Internet abuse are also addressed. Not surprisingly, the audience for "Internet Forensics" is boundless. For developers, it's a serious foray into the world of Internet security; for weekend surfers fed up with spam, it's an entertaining and fun guide that lets them play amateur detective from the safe confines of their home or office.
Sklep: Libristo.pl 70,88 zł
Książki / Literatura obcojęzyczna
The true story of the man who scammed the mob and informed the FBI for over two decades. Eddie Trascher had balls. Born in the bayou of Louisiana, Eddie learned about gambling at the side of his stepfather. Starting his career in 1950s Vegas, he moved to pre-Castro Cuba and became adept at running a casino and stealing from the mobsters who owned it. He was a regular fixture at Rat Pack-era Vegas--stealing chips from the craps table, running gambling out of his bar, and hanging around with a wild assortment of gangsters, conmen, thieves, and celebrities. By the time he moved to Clearwater, Florida, after a stint running a Los Angeles hotel for the Chicago Outfit, Eddie was the biggest bookmaker in the state. But the FBI made him an offer he couldn't refuse: "Help us get the Mafia and we'll let you keep bookmaking." For the next twenty years, Eddie became the Bureau and later the Florida Department of Law Enforcement's eyes and ears as they investigated organized crime in Florida. From the famous Donnie Brasco case to the new guard of the Tampa Mafia, Eddie was in the middle of it all. Eventually, he gave up the booking to become a professor, teaching law enforcement everything there was to know about bookmaking and running the scams. "Balls" is the story of the quintessential gangster, a man who didn't make money for anyone but himself. Instead of working for the Mafia bosses, Eddie stole from right under their noses. And he lived to tell the story.
Sklep: Libristo.pl 68,96 zł
Książki / Literatura obcojęzyczna
Everything you thought you knew about financing a house has changed. Your future depends on knowing today's mortgage and credit realities: Relying on older information could cost you a fortune or keep you from buying a house altogether. In Homebuyers Beware: Who's Ripping You Off Now? - What You Must Know About the New Rules of Mortgage and Credit, Carolyn Warren reveals the new realities of home financing and shows exactly how to take advantage of them, whether you're buying your first home, refinancing, struggling with imperfect credit, or planning to invest in real estate. Homebuyers Beware reveals new secrets homebuyers simply can't afford to miss and exposes new scams that target today's eager consumers--including new loans that look great on paper but are every bit as dangerous as yesterday's subprimes. Unlike other mortgage guides, this book fully reflects today's radically new mortgage requirements, in addition to the latest federal housing legislation and how to improve your credit rating. Warren covers topics from real estate negotiation, to powerful tips on getting lower interest rates, to avoiding bogus junk fees, and everything in between: * High-tech "smoke and mirrors" that can trick you into overpaying * Quick, easy, powerful ways to fix your credit * Uncovering the costly secrets of the Yield Spread Premium * The latest laws and credit rules and what they mean to you * New plans for recovering from bad credit, foreclosures, or short sales "Carolyn Warren is my go-to expert for mortgage industry information. She not only helps you avoid rip-offs, she helps you know what questions to ask and how to ask them. Full of tips, scripts, and sample letters, Homebuyers Beware is an extremely valuable book that I recommend to all my readers!" --Alison Rogers, "Ask the Agent" columnist, CBS Moneywatch.com "In this fun-to-read volume, mortgage industry insider Carolyn Warren tells you what real estate cheats and mortgage scammers do NOT want you to know: the tricks, the deceptions, and the outright frauds that would otherwise add thousands, maybe tens of thousands of dollars to your mortgage. Get it. Read it. And take it to the mortgage broker with you. You'll be glad you did!" --Clayton Makepeace, The Total Package, Makepeacetotalpackage.com "In Homebuyers Beware, Carolyn Warren directs her keen eye at the mortgage and credit markets in the wake of the housing bubble. With an insider's knowledge, plenty of interesting anecdotes, and helpful reference information, Warren is a cheerful teacher leading readers down the path to homeownership and pointing out pitfalls along the way." --Ben Meyer, InternetBrands.com
Sklep: Libristo.pl 184,32 zł
Książki / Literatura obcojęzyczna
With sales of microphones on internet auction sites yielding both bargains and rip-offs, this noted vintage microphone expert has assembled this amazing handbook to help you learn everything you need to know about buying, using, and maintaining your vintage microphone collection. You'll learn: What to look for when buying microphones, how to read through the hype of a sales pitch and pick the best models, get the best price, and avoid the scams online. The meaning of 'vintage' (what makes a microphone fit the description), a history of condenser microphones, some of the hits recorded with vintage mics, past and present. Discover the 'Big Five' all-time greatest vintage mics like Nuemann, Telefunken, and more and what makes them so special. Find out about reissues, clones, replicas, and how to choose a vintage mic model (rent, borrow, buy.) It offers information about the care and feeding of your new old mic and even find resources for service, parts, and restoration.
Sklep: Libristo.pl 52,00 zł
Książki / Literatura obcojęzyczna
Excerpt from Telemarketing Fraud: Putting Phone Scams on Hold; Hearing Before the Committee on Small Business, House of Representatives, One Hundred Third Congress, Second Session, Washington, DC, September 28, 1994 The committee met, pursuant to notice, at 10:20 a.m., in room 2359-A, Rayburn House Office Building, Hon. John J. LaFalce (chairman of the committee) presiding. Chairman LaFalce. The Small Business Committee will come to order. Our committee meets this morning to address telemarketing fraud, a problem of growing national importance both for American consumers and for the business community. At one time or another, most of us have been exposed to a sales pitch that was too good to be true, a sweepstakes in which we are proclaimed to have already won, or a free offer that we later learn contains more than a few catches and conditions. Perhaps because we are all familiar with these types of offers and deals, we assume that telemarketing fraud is an occasional annoyance, a minor event in the modem world of sales and marketing. Unfortunately, that is not the case. We are witnessing a new generation of telemarketing fraud, a landscape of high-tech boiler rooms and computerized phone lists of vulnerable victims. All told, these scam artists took in an estimated $10 billion from consumers in 1993. The total figure may be four times higher than that, as high as $40 billion, because so much of this fraud goes unreported. Welcome to a world where threats and harassment are common sales tactics, where profits are high but prizes are nonexistent. According to an award-winning series of articles that appeared last year in the Buffalo News, one telemarketing firm took in $40,000 per week and paid its workers as much as $250,000 per year. Another sweepstakes firm grossed $11 million per year, but gave away only one car as a prize during that time. In Iowa, a single senior citizen recently lost $167,000 to the telesharks. Today's hearing will focus on both the fraud against small business and on the effects of consumer telemarketing fraud on legitimate telemarketers and legitimate small businesses. In a few minutes, we will hear firsthand how these telemarketing sales pitches take place. It is no secret that the perpetrators of telemarketing fraud prey on the weakest and most vulnerable members of society. In matters of consumer fraud, this typically means senior citizens living on fixed incomes or a small savings account, many of whom are less able to withstand the high-pressure sales tactics of a teleshark. About the Publisher Forgotten Books publishes hundreds of thousands of rare and classic books. Find more at www.forgottenbooks.com This book is a reproduction of an important historical work. Forgotten Books uses state-of-the-art technology to digitally reconstruct the work, preserving the original format whilst repairing imperfections present in the aged copy. In rare cases, an imperfection in the original, such as a blemish or missing page, may be replicated in our edition. We do, however, repair the vast majority of imperfections successfully; any imperfections that remain are intentionally left to preserve the state of such historical works.
Sklep: Libristo.pl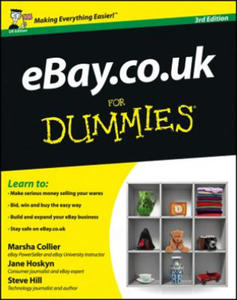 85,76 zł
Książki / Literatura obcojęzyczna
Go from eBay beginner to eBay pro in no time! Whether you aim to browse, buy, sell, or open up your own eBay shop, this third edition of Britain's bestselling guide to eBay gets you up and running with everything you need to know. Fully updated and packed with new information on eBay apps, creating and running an eBay business, becoming a PowerSeller and much more, it covers every aspect of eBay.co.uk, from security issues and avoiding scams to making serious cash in your spare time or as a full-time eBay merchant. Get acquainted - from registering and setting up a homepage to organising eBay sales and communicating using the 'My eBay' page, you'll quickly feel right at home on eBay Bid and buy with confidence - discover how to search for and evaluate items, make bids and win auctions, or use the 'Buy It Now' option Sell like a pro - get the lowdown on how to choose and post items for sale, set prices and conduct auctions for maximum profits, as well as how to ship stuff and collect payments Keep the taxman happy - how to keep track of your earnings and comply with all the relevant tax rules and regulations, including the VAT Give your auctions pizzazz - get expert tips on how to spice up your auctions with pictures and graphics as well as links to other websites Stay safe and secure - learn everything you need to know about avoiding fraudsters, scammers and hackers and safeguarding your privacy and your identity. Open the book and find: how to register and buy and sell on eBay; advice on bidding and winning eBay auctions; expert tips on choosing items to sell and picking the ideal auction time; how to set up sale listings and monitor your transactions; tips for marketing your stuff on eBay. The lowdown on avoiding cons and protecting your privacy Guidance on setting up an eBay business account. How to open your own eBay shop learn to: make serious money selling your wares Bid, win and buy the easy way; build and expand your eBay business; stay safe on eBay.co. uk.
Sklep: Libristo.pl
Sklepy zlokalizowane w miastach: Warszawa, Kraków, Łódź, Wrocław, Poznań, Gdańsk, Szczecin, Bydgoszcz, Lublin, Katowice
Szukaj w sklepach lub całym serwisie
2. Szukaj na wszystkich stronach serwisu
t1=0.026, t2=0, t3=0, t4=0, t=0.026