krainaksiazek scams all about scams 20116898
- znaleziono 9 produktów w 3 sklepach 46,50 zł
Książki
Sklep: KrainaKsiazek.pl 120,18 zł
Książki / Literatura obcojęzyczna
Sure to make you think twice before responding to the next telephone sales call you receive, this volume explores why telephone boiler rooms and other scams thrive and how fraudulent techniques and deception migrate to and from conventional businesses. "The Boiler Room and Other Telephone Sales Scams" is grounded in the nine years Robert Stevenson spent working covertly as a "participant-observer" in telephone rooms (the ethical implications of which he discusses in an epilogue). As Stevenson details boiler room hierarchy, you'll learn why all boilers are telephone salesmen but not all telephone salesmen are boilers. You'll read about the "heat" rising in rooms where experienced pitchmen use tried-and-true manipulative techniques to overcome objections to sales. And you'll marvel at Stevenson's insider knowledge of product houses, service shops, and other aspects of a major industry in which both employees and customers are in daily peril-the former of losing their jobs and the latter of losing their money. "The Boiler Room and Other Telephone Sales Scams" is required reading for anyone who's ever picked up a telephone and been asked to buy a product or a service. It's also an invaluable study of a widespread form of deviance and occupational crime, essential reading for students of criminology and the sociology of occupations.
Sklep: Libristo.pl 90,34 zł
Książki / Literatura obcojęzyczna
Everything you thought you knew about financing a house has changed. Your future depends on knowing today's mortgage and credit realities: Relying on older information could cost you a fortune or keep you from buying a house altogether. In Homebuyers Beware: Who's Ripping You Off Now? - What You Must Know About the New Rules of Mortgage and Credit, Carolyn Warren reveals the new realities of home financing and shows exactly how to take advantage of them, whether you're buying your first home, refinancing, struggling with imperfect credit, or planning to invest in real estate. Homebuyers Beware reveals new secrets homebuyers simply can't afford to miss and exposes new scams that target today's eager consumers--including new loans that look great on paper but are every bit as dangerous as yesterday's subprimes. Unlike other mortgage guides, this book fully reflects today's radically new mortgage requirements, in addition to the latest federal housing legislation and how to improve your credit rating. Warren covers topics from real estate negotiation, to powerful tips on getting lower interest rates, to avoiding bogus junk fees, and everything in between: * High-tech "smoke and mirrors" that can trick you into overpaying * Quick, easy, powerful ways to fix your credit * Uncovering the costly secrets of the Yield Spread Premium * The latest laws and credit rules and what they mean to you * New plans for recovering from bad credit, foreclosures, or short sales "Carolyn Warren is my go-to expert for mortgage industry information. She not only helps you avoid rip-offs, she helps you know what questions to ask and how to ask them. Full of tips, scripts, and sample letters, Homebuyers Beware is an extremely valuable book that I recommend to all my readers!" --Alison Rogers, "Ask the Agent" columnist, CBS Moneywatch.com "In this fun-to-read volume, mortgage industry insider Carolyn Warren tells you what real estate cheats and mortgage scammers do NOT want you to know: the tricks, the deceptions, and the outright frauds that would otherwise add thousands, maybe tens of thousands of dollars to your mortgage. Get it. Read it. And take it to the mortgage broker with you. You'll be glad you did!" --Clayton Makepeace, The Total Package, Makepeacetotalpackage.com "In Homebuyers Beware, Carolyn Warren directs her keen eye at the mortgage and credit markets in the wake of the housing bubble. With an insider's knowledge, plenty of interesting anecdotes, and helpful reference information, Warren is a cheerful teacher leading readers down the path to homeownership and pointing out pitfalls along the way." --Ben Meyer, InternetBrands.com
Sklep: Libristo.pl 82,26 zł
Książki / Literatura obcojęzyczna
Did you know that can you scroll a Web page just by tapping the space bar? How do you recover photos you've deleted by accident? What can you do if your cell phone's battery is dead by dinnertime each day? When it comes to technology, there's no driver's ed class or government-issued pamphlet covering the essentials. Somehow, you're just supposed to "know" how to use your phone, tablet, computer, camera, Web browser, e-mail, and social networks. Luckily, award-winning tech expert David Pogue comes to the rescue with "Pogue's Basics, "a book that will change your relationship with all of the technology in your life. With wit and authority, "Pogue's Basics" collects every essential technique for making your gadgets seem easier, faster, and less of a hassle. Crystal-clear illustrations accompany these 225 easy-to-follow tips.Tips include: Make the type bigger on your screen - Bring a wet phone back from the dead - The fastest way to charge an iPad - The 10 best apps to put on your phone - How to type symbols - Bypass annoyingly long voice mail instructions - Use map apps on your phone without an Internet connection - Sign a contract electronically - See what's in a file without opening it - The 12 best free services on the Web - Turn off automatic bullets, lists, and links in Word - Protect yourself from online scams and viruses - Set up an automatic backup system on your computer - What to do about junk e-mail - Send photos so that they don't bounce back - Print or email articles without ads - How to get money for your used electronics - Rename a bunch of files in one fell swoop - Make YouTube videos sharper - and much more.At last, you can lose that nagging, insecure feeling that you're not the master of your own gadgets. The tech tips in "Pogue's Basics "are all you need--the shortcuts to a happier technological life.
Sklep: Libristo.pl 64,46 zł
Książki / Literatura obcojęzyczna
In the early 1900s, Robert Miller, a.k.a. Count Victor Lustig, moved to Paris hoping to be an artist. A con artist, that is. He used his ingenious scams on unsuspecting marks all over the world, from the Czech Republic, to Atlantic ocean liners, and across America. Tricky Vic pulled off his most daring con in 1925, when he managed to sell the Eiffel Tower to one of the city's most successful scrap metal dealers Six weeks later, he tried to sell the Eiffel Tower all over again. Vic was never caught. For that particular scam, anyway. . . . Kids will love to read about Vic's thrilling life, and teachers will love the informational sidebars and back matter. Award-winner Greg Pizzoli's humorous and vibrant graphic style of illustration mark a bold approach to picture book biography.
Sklep: Libristo.pl 20,97 zł
KSIĄŻKI > obcojęzyczne > Literatura > kryminał, sensacja
FBI Special Agent Kate O'Hare is known for her fierce dedication and discipline on the job, chasing down the world's most wanted criminals and putting them behind bars. Her boss thinks she is tenacious and ambitious; her friends think she is tough, stubborn, and maybe even a bit obsessed. And while Kate has made quite a name for herself for the past five years, the only name she's cared about is Nicolas Fox - an international crook she wants in more ways than one. Audacious, handsome, and dangerously charming, Nicolas Fox is a natural con man, notorious for running elaborate scams on very high-profile people. At first he did it for the money. Now he does it for the thrill. He knows that the FBI has been hot on his trail - particularly Kate O'Hare, who has been watching his every move. For Nick, there's no greater rush than being pursued by a beautiful woman ...even one who aims to lock him up. But just when it seems that Nicolas Fox has been captured for good, he pulls off his greatest con of all: he convinces the FBI to offer him a job, working side by side with Special Agent Kate O'Hare. Problem is, teaming up to stop a corrupt investment banker who's hiding on a private island in Indonesia is going to test O'Hare's patience and Fox's skill. Not to mention the skills of their ragtag team made up of flamboyant actors, wanted wheelmen, and Kate's dad. High-speed chases, pirates, and Toblerone bars are all in a day's work ...if O'Hare and Fox don't kill each other first. Produkt poekspozycyjny lub końcówka magazynowa. Może posiadać nieznaczne uszkodzenia (np. metki cenowe, przybrudzenia, zarysowania, zagięcia).
Sklep: Składnica Księgarska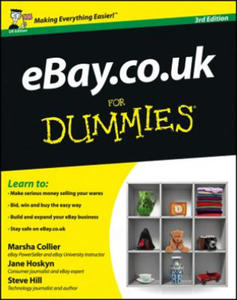 84,40 zł
Książki / Literatura obcojęzyczna
Go from eBay beginner to eBay pro in no time! Whether you aim to browse, buy, sell, or open up your own eBay shop, this third edition of Britain's bestselling guide to eBay gets you up and running with everything you need to know. Fully updated and packed with new information on eBay apps, creating and running an eBay business, becoming a PowerSeller and much more, it covers every aspect of eBay.co.uk, from security issues and avoiding scams to making serious cash in your spare time or as a full-time eBay merchant. Get acquainted - from registering and setting up a homepage to organising eBay sales and communicating using the 'My eBay' page, you'll quickly feel right at home on eBay Bid and buy with confidence - discover how to search for and evaluate items, make bids and win auctions, or use the 'Buy It Now' option Sell like a pro - get the lowdown on how to choose and post items for sale, set prices and conduct auctions for maximum profits, as well as how to ship stuff and collect payments Keep the taxman happy - how to keep track of your earnings and comply with all the relevant tax rules and regulations, including the VAT Give your auctions pizzazz - get expert tips on how to spice up your auctions with pictures and graphics as well as links to other websites Stay safe and secure - learn everything you need to know about avoiding fraudsters, scammers and hackers and safeguarding your privacy and your identity. Open the book and find: how to register and buy and sell on eBay; advice on bidding and winning eBay auctions; expert tips on choosing items to sell and picking the ideal auction time; how to set up sale listings and monitor your transactions; tips for marketing your stuff on eBay. The lowdown on avoiding cons and protecting your privacy Guidance on setting up an eBay business account. How to open your own eBay shop learn to: make serious money selling your wares Bid, win and buy the easy way; build and expand your eBay business; stay safe on eBay.co. uk.
Sklep: Libristo.pl 64,46 zł
Książki / Literatura obcojęzyczna
What do women look for in a man? And what do men look for in a woman? And how and why has this changed over the centuries? Every week thousands of people advertise for love either in newspapers, magazines or online. But if you think this is a modern phenomenon, think again - the ads have been running for over three hundred years. In 1695, a popular London pamphlet published the brave plea of a young gentleman who 'would willingly Match himself to some Good Young Gentlewoman, that has a Fortune of GBP3000 or thereabouts'. This was just the beginning. In the 1730s, papers carried regular ads in which income or respectability were the most desired qualities, though some asked for a 'shapely ankle' or a 'non-dancer'. By 1900 twenty-five British newspapers were dedicated solely to matrimonial ads. Shapely Ankle Preferr'd tells the story of ads of all kinds - from aristocrats and MPs, bus conductors and nurses, country squires and city swells, and even from a man who had lost a leg 'due to the kick of an Ostrich, in the East Indies'. The reasons are strangely familiar: the size of the city makes it hard to meet people; they're busy at work; they've just returned from abroad. Loneliness is not new. The surprising views of Lord Byron, Charlotte Bronte and George Orwell are revealed, and every ad is a snapshot of its age, from the criminal scams of the 1890s to the sad appeals of widows after the Second World War. In this fascinating book Fancesca Beauman uses newly uncovered evidence to answer crucial questions about how humans choose their mates. The result is a startling history of sex, marriage and society over three centuries - hilarious and heartbreaking by turn.
Sklep: Libristo.pl 116,72 zł
Książki / Literatura obcojęzyczna
Information on thousands of scholarships, grants, and prizes is easily accessible in this revised directory with more than 700 new listings that feature awards indexed by career goal, major, academics, public service, talent, athletics, religion, ethnicity, and more. Each entry contains all the necessary information for students and parents to complete the application process, including eligibility requirements, how to obtain an application, how to get more information about each award, sponsor website listings, award amounts, and key deadlines. With scholarships for high school, college, graduate, and adult students, this guide also includes tips on how to conduct the most effective search, how to write a winning application, and how to avoid scams.
Sklep: Libristo.pl
Sklepy zlokalizowane w miastach: Warszawa, Kraków, Łódź, Wrocław, Poznań, Gdańsk, Szczecin, Bydgoszcz, Lublin, Katowice
Szukaj w sklepach lub całym serwisie
2. Szukaj na wszystkich stronach serwisu
t1=0.035, t2=0, t3=0, t4=0.022, t=0.035