krainaksiazek scream out loud 20114910
- znaleziono 8 produktów w 3 sklepach 84,99 zł
Muzyka>Rock
0x008948e400000000
Sklep: Gigant.pl 39,56 zł
Książki / Literatura obcojęzyczna
Welcome to Dillon's world; a world where murderous poultry and evolutionary elephants make their mark. He takes you from the darkness of the illustrated Man and Jif Lemons to the laugh out loud Bunch of c***s. These stories are instantly accessible and always personal. Relationships, places and language are set precisely with few words and no flinching. If you're an alchoholic, recovering alcoholic, insane, a policeman, prisoner, gold digger, farmer, animal lover, Scots or Irish Scots you may well recognise yourself somewhere in this book.
Sklep: Libristo.pl 125,45 zł
Książki / Literatura obcojęzyczna
"I've just finished reading the best computer book [Why Software Sucks...] since I last re-read one of mine and I wanted to pass along the good word...Put this one on your must-have list if you have software, love software, hate programmers, or even ARE a programmer, because Mr. Platt (who teaches programming) has set out to puncture the bloated egos of all those who think that just because they can write a program, they can make it easy to use...This book is funny, but it is also an important wake-up call for software companies that want to reduce the size of their customer support bills. If you were ever stuck for an answer to the question, 'Why do good programmers make such awful software?' this book holds the answer." -John McCormick, Locksmith columnist, TechRepublic.com"I must say first, I don't get many computing manuscripts that make me laugh out loud. Between the laughs, Dave Platt delivers some very interesting insight and perspective, all in a lucid and engaging style. I don't get much of that either!" -Henry Leitner, assistant dean for information technology andsenior lecturer on computer science, Harvard University"A riotous book for all of us downtrodden computer users, written in language that we understand." -Stacy Baratelli, author's barber"David's unique take on the problems that bedevil software creation made me think about the process in new ways. If you care about the quality of the software you create or use, read this book." -Dave Chappell, principal, Chappell & Associates"I began to read it in my office but stopped before I reached the bottom of the first page. I couldn't keep a grin off my face! I'll enjoy it after I go back home and find a safe place to read." -Tsukasa Makino, IT manager"David explains, in terms that my mother-in-law can understand, why the software we use today can be so frustrating, even dangerous at times, and gives us some real ideas on what we can do about it." -Jim Brosseau, Clarrus Consulting Group, Inc.A Book for Anyone Who Uses a Computer Today...and Just Wants to Scream! Today's software sucks. There's no other good way to say it. It's unsafe, allowing criminal programs to creep through the Internet wires into our very bedrooms. It's unreliable, crashing when we need it most, wiping out hours or days of work with no way to get it back. And it's hard to use, requiring large amounts of head-banging to figure out the simplest operations. It's no secret that software sucks. You know that from personal experience, whether you use computers for work or personal tasks. In this book, programming insider David Platt explains why that's the case and, more importantly, why it doesn't have to be that way. And he explains it in plain, jargon-free English that's a joy to read, using real-world examples with which you're already familiar. In the end, he suggests what you, as a typical user, without a technical background, can do about this sad state of our software-how you, as an informed consumer, don't have to take the abuse that bad software dishes out. As you might expect from the book's title, Dave's expose is laced with humor-sometimes outrageous, but always dead on. You'll laugh out loud as you recall incidents with your own software that made you cry. You'll slap your thigh with the same hand that so often pounded your computer desk and wished it was a bad programmer's face. But Dave hasn't written this book just for laughs. He's written it to give long-overdue voice to your own discovery-that software does, indeed, suck, but it shouldn't.
Sklep: Libristo.pl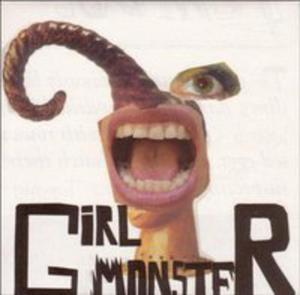 134,99 zł
Muzyka>Pop
1. Planningtorock - Girlmonster (Intro) 2. Scream Club / Adorable, Ben / Peaches - Fine As Fu 3. Mignon - Demons Of Love 4. Le Tigre - Hot Topic 5. Morgenstern, Barbara - Mountain Place 6. Reed, Angie - G.g. (Gaudy Good) 7. Hogg, Pam - Honeyland 8. Rhythm King & Her Friends - Speedometer 9. Elias, Hanin - Get It Back 10. Kevin Blechdom - Me Saw Me Momma 11. Da Silva, Ana - Full Moon 12. Ben-david, Anat - Virtual Leisure 13. Sir Alice - Super Hero 14. Chicks On Speed - Plastic Surgery 15. Goldman, Vivien - Launderette 16. Weymouth, Tina - Incognito 17. Client - Down To The Underground 18. Kids On Tv - Break Dance Hunx (Market Value Mix) 19. Boyskout - School Of Etiquette 20. Erase Errata - Dust 21. No Bra - No Woman No Crime 101. Pulsallama - Ungawa (Part 2) (Way Out Guyana) (Rem 102. Slits, The - Typical Girls (Live) 103. Delta 5 - Mind Your Own Business 104. Sunkist, Cherry - Nameless Dogs 105. Japanese Intelligence Mind Control - Get The Pictu 106. Autonervous: Bettina Koster & Jessie Evans - Ancho 107. Cobra Killer - Mr. Chang 108. Planningtorock - Changes 109. Hanayo - Pita Pata 110. Bjork - Storm 111. Vail, Tobi - Panic Of The Square 112. Gustav - We Shall Overcome 113. Bonnie / Hunter - Our Inventions 114. Cactus, Francoise - You Can't Put Your Arms Around 115. Liliput - Die Matrosen 116. Katastrophe - Your Girlfriend 117. Lesbians On Ecstasy - Sedition 118. Electric Indigo / Chrysler, Dorit - Sheets 119. Tutti, Cosey Fanni - Licking The Juice 201. Hotel Motel - Sucker Man 202. Gut, Gudrun - Girl Boogie 203. Creatures, The - Godzilla! (Siouxsie & Budgie's Gi 204. Soffy O - Maybe A Dog 205. Bandita, Ella - New Year's Eve 206. Las Perras Del Infierno - Somos Las Perras 207. Lewis, Juliette & Licks, The - You're Speaking My 208. Miss Le Bomb - Pinkitan 209. Cat5 - Sexy 210. Robots In Disguise - Get Rid! 211. People Like Us - Fom Fom 212. Melian, Michaela - Manifesto 213. Brokesch, Susanne - Heroes (History Mix) 214. Scream Club / Deleonard, Leonard - International 215. Crystal Cookie - Crystal Cookie (Lesson 1) 216. Snatch, Caro - Say Trees 217. Malaria! - Your Turn To Run 218. Raincoats, The - Shouting Out Loud 219. Goldman, Vivien / Caine, Andy / Manasseh Sound - S 220. Up, Ari - Baby Mother (Toxicgirl Strip Mix) 221. Miss Pain - Sell It 2 The Kids (Megaphone Version)
Sklep: Gigant.pl 34,78 zł
Książki / Literatura obcojęzyczna
"It started low and soft, but grew slowly, increasing in pitch and volume into an unceasing scream so loud and so desperate it pierced his primeval soul. The detective was stunned, his mind blank. On the ragged edges of his consciousness a prophecy took hold. He could see, with shattering clarity, that there would never again be a time in his life when that scream did not exist" London, 1986. A newspaper editor is horrifically murdered, his death quickly followed by a series of more brutal, and often bizarre, slayings. The police are baffled, the only clear link between the murders being a single blood red rose left at the scene of every killing. Why? What does the rose mean? What connects the killer to each bloody corpse? Scotland Yard detective Alan Winters leads a hunt for the elusive prey. As the body count rises, Jennifer Chapman, renowned investigative journalist and daughter of the murdered newspaper editor, sets out on a personal quest for revenge. Drawn together in their pursuit of a deadly quarry, Winters and Jennifer unwittingly face a fatal surprise, for the killer is closer than they think. As they close in on the truth of the blood red rose, their unseen foe plots a shattering end to his reign of terror, and death awaits them all...
Sklep: Libristo.pl 29,00 zł
Składanki > Taniec, Sport
Wykonawca:  Różni wykonawcy Tytuł: Tanz-Marathon Vol. 2. Wydanie 3-płytowe. Wydawnictwo:  Edel Entertainment GmbH Rok wydania: 2007 Nr katalogowy: 0179682ERE Stan: Idealny (pudełko pęknięte) Lista utworów: CD1 - Pop: Nik P. - Ein Stern - Discofox Disco Boys feat. Manfred Mann - For You - Discofox Soccx - Scream Out Loud - Rumba September - Satellites - Cha Cha Cha Tom Gaebel - It's A Good Life - Slow Fox The Platters - Twilight Time - Slow Fox Betty Everett - The Shoop Shoop Song - Cha Cha Cha Jewel Akens - The Birds And The Bees - Boogie Woogie Masquerade - Guardian Angel - Rumba CC Catch - I Can Lose My Heart Tonight - Discofox Chris Norman - No Arms Can Ever Hold You - Rumba Jack Goldbird - Can I Reach You - Samba Mr. Walkie Talkie - Be My Boogie Woogie Baby - Jive The Tremeloes - Silence Is Golden - Rumba Trini Lopez - Lemon Tree - Jive Tracy Young - Living Theater / Kyoko - Sweet Johnny - Rumba The Brand New Heavies - All Fired Up - Quick Step Pate No. I - Shining Star - Samba Starzoom - Billie Jean - Discofox Caramelle feat. Nitro - Self Control - Rumba Olaf Henning - Cowboy Und Indianer - Discofox MSSO - Smooth Criminal - Paso Doble CD2 - Strictly Ballroom: Gozar La Vida - Cha Cha Cha Sweet Memories - Slow Fox Jalousie - Tango Besame Mucho - Rumba Just A Gigolo - Foxtrot Bambolero - Samba Conchita Mambo - Mambo I'm In The Mood For Love - Quickstep I Wanna Wake Up With You - Rumba Mary-Ann - Englischer Walzer What A Wonderful World - Salsa Feel - Bolero Buona Sera - Jive The Winner Takes It All - Merenque Emily Waltz - Wiener Walzer Eviva Espana - Paso Doble CD3 - Famous Tangos: Ole Guapa - Tango Mi Querdo, Mi Viejo, Mi Amigo - Tango Quiereme Mucho - Tango La Paloma - Tango La Cumparsita - Tango Mujer - Tango Noche De Estrellas - Tango Abrazame - Tango Con Sentimientos - Tango Passion - Tango Pampa - Tango Volver - Tango Y Como Es El - Tango Yira Yira - Tango Adios Pampa Mia - Tango Noche Azul - Tango Uno - Tango
Sklep: Cdworld.pl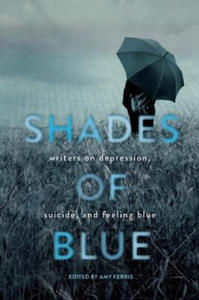 73,19 zł
Książki / Literatura obcojęzyczna
Shades of Blue collects the perspectives of well-known writers on depression, sadness, suicide, and being blue, through stories as personal as they are unforgettable. The silent epidemic of depression affects millions of people and takes dozens of lives everyday, while our culture grapples with a stigma against open discussion of mental health issues. Editor Amy Ferris has collected these stories to illuminate the truth behind that stigma and offer compassion, solidarity, and hope for all those who have felt blue. Contributors to Shades of Blue include: * Barbara Abercrombie * Sherry Amatenstein * Chloe Caldwell * Jimmy Camp * Debra DeAngelo * Marika Rosenthal Delan * Hollye Dexter * Beverly Donofrio * Beth Bornstein Dunnington * Matthew Ebert * Betsy Graziani Fasbinder * Zoe FitzGerald Carter * Pam Houston * David Lacy * Patti Linsky * Mark S. King * Caroline Leavitt * Karen Lynch * Lira Maywood * C.O. Moed * Mark Morgan * Linda Joy Myers * Christine Kehl O'Hagan * Jennifer Pastiloff * Ruth Pennebaker * Angela Giles Patel * Alexa Rosalsky * Elizabeth Rosner * Katie Rountree * Kitty Sheehan * Jenna Stone * judywhite * Samantha White Shades of Blue brings the conversation around depression and sadness into the open with real, first-hand accounts of depression and mental health issues, offering empathy to all those who have been affected by these issues. It's time to scream out loud against this silent annihilator: You are not alone.
Sklep: Libristo.pl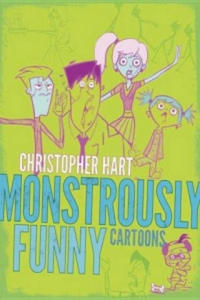 89,35 zł
Książki / Literatura obcojęzyczna
Aspiring artists learn all the drawing tips and tricks they need to create laugh-out-loud renditions of their favourite monsters and scary creatures direct from cartooning master Christopher Hart. This jam-packed cartooning guide shows readers how to capture the lighter side of these creepy creatures by combining them with Hart's incredibly popular cartoon drawing style. Taking readers step by step through each monster type, Hart demonstrates how to draw everything from terrifyingly silly heads to wacky comic strip-like scenes of monstrous menace. Chock-full of hints, humour and horror, Monstrously Funny Cartoons is guaranteed to be a real scream for aspiring and professional artists, as well as all fans of things that go bump in the night.
Sklep: Libristo.pl
Sklepy zlokalizowane w miastach: Warszawa, Kraków, Łódź, Wrocław, Poznań, Gdańsk, Szczecin, Bydgoszcz, Lublin, Katowice
Szukaj w sklepach lub całym serwisie
2. Szukaj na wszystkich stronach serwisu
t1=0.031, t2=0, t3=0, t4=0.016, t=0.032