krainaksiazek seven lessons in leading people to life change 20088064
- znaleziono 9 produktów w 3 sklepach 106,01 zł
Książki / Literatura obcojęzyczna
This book provides a thought provoking evolutionary path toward cultural excellence in a way that addresses a commonly overlooked issue during this or any kind of economic/financial situation-an organizations' culture. Based on 25 years of global/international experience in leading and facilitating purposeful cultural transformations, the author shares Seven Principles for the reader to explore and customize according to the uniqueness of their organizations' culture toward a desired state of excellence. To facilitate this journey, the principles are structured according to a CULTURE acronym allowing for a cultural context to be defined and implemented through ongoing leadership development while dealing with misaligned behavior (Culture Vulture behavior) that flies in face of cultural excellence. The seven action oriented principles are: .Commit to Being a Different Kind of CEO-CULTUREsizing Excellence Officer .Unify the Organization through a Common Unique Cultural Context . Lead, Link & Leverage the Three Primary Modes of Leadership for the Journey .Team Up the Organization for Ongoing Development & Alignment .Underpin All Aspects of Cultural Excellence .Reinforce the Way to Achieve the Desired Cultural Outcomes .Evolve the Journey of CULTUREsizing Excellence Through the exploration of these principles and sizing them up to fit your organizations cultural needs, one will realize a way of life that builds on the diverse magnificence of people to generate and sustain significant results with greater social responsibility. Just remember, any form of change begins with you. Good luck on your journey-alea iacta est!
Sklep: Libristo.pl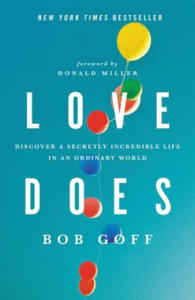 44,77 zł
Książki / Literatura obcojęzyczna
Now a New York Times Bestseller! As a college student he spent 16 days in the Pacific Ocean with five guys and a crate of canned meat. As a father he took his kids on a world tour to eat ice cream with heads of state. He made friends in Uganda, and they liked him so much he became the Ugandan consul. He pursued his wife for three years before she agreed to date him. His grades weren't good enough to get into law school, so he sat on a bench outside the Dean's office for seven days until they finally let him enroll. Bob Goff has become something of a legend, and his friends consider him the world's best-kept secret. Those same friends have long insisted he write a book. What follows are paradigm shifts, musings, and stories from one of the world's most delightfully engaging and winsome people. What fuels his impact? Love. But it's not the kind of love that stops at thoughts and feelings. Bob's love takes action. Bob believes Love Does. When Love Does, life gets interesting. Each day turns into a hilarious, whimsical, meaningful chance that makes faith simple and real. Each chapter is a story that forms a book, a life. And this is one life you don't want to miss. Light and fun, unique and profound, the lessons drawn from Bob's life and attitude just might inspire you to be secretly incredible, too. Endorsements: "If this book does not make your heart beat faster, book the next flight to Mayo Clinic!" --Bill Hybels, Senior Pastor, Willow Creek Community Church, Chairman, Willow Creek Association "Bob Goff is a one-man tsunami of grace, a hurricane of love. He doesn't just talk about change, he really is change, as Love Does chronicles in such a vivid way. Yet, Love Does doesn't leave you feeling like you want to celebrate its author, it awakens a sense deep within that you, too, have an outrageous role to play in God's unfolding story or rescue and repair." --Louie Giglio, Passion Conferences/Passion City Church "An interesting and compelling story (with Young Life roots) that ends with a practical challenge and punch: 'love does' and God can use you to do it!" --Denny Rydberg, President, Young Life "Every once in a while someone like Bob Goff shows up to remind us that some things matter a lot more than others. Love Does has a kind of 'north star' effect that will push you to refocus your life and energy on what is most significant. It doesn't just invite you to respond with your God-given potential, it invites you to become a part of what God can do beyond your potential." --Reggie Joiner, Founder and CEO of Orange "We liked the book a lot. Mostly, the balloons on the cover. The rest was pretty good too. Lots of stories about how God helps us." --Aedan, Asher and Skye Peterson ages 13, 12 and 9 "This may look like a book. It's not. It is an invitation to enter into the greatest adventure you have ever known-your life as it was meant to be lived. Hang on!" --Michael Hyatt, Author, Platform: Get Noticed in a Noisy World, MichaelHyatt.com "Bob's ability to love people brings contagious hope and inspiration wherever he goes. The power of love showcased in this book will surely touch the hearts and souls of many people. Read Love Does and find a friend in one the world's best hidden secrets, a person who shows how love can create connection and make a difference-even across oceans." --George Tsereteli, Deputy Chairman of the Parliament of Georgia (former Russian Republic)
Sklep: Libristo.pl 45,37 zł
Książki / Literatura obcojęzyczna
The book you hold resonates with this conviction: that leaders such as you have the potential to be the most influential forces on planet Earth. Yours is the staggering responsibility and the matchless privilege of rallying believers and mobilizing their spiritual gifts in order to help people who are far from God become fully devoted followers of Christ. Life transformation and the eternal destinies of real people depend on the redemptive message entrusted to the local church. Are you willing to do whatever it takes to lead your church effectively so God's message of hope can change the world? Then this book is for you. Courageous Leadership is Bill Hybels' magnum opus, a book far too important to be written before its time. Only now, after nearly thirty years leading his own church from a handful of people with a burning vision into a globe-spanning kingdom force--only after almost three decades of victories and setbacks, of praying hard and risking big--is Hybels ready at last to share the lessons he has learned, and continues to learn, about Christian leadership. Too much is at stake for you not to maximize your spiritual gift of leadership, insists Hybels. In this passionate, powerful book, he unpacks the tools, tasks, and challenges of your calling. You'll discover the power of vision and how to turn it into action. You'll gain frontline insights for developing a kingdom dream team, discovering your leadership style, developing other leaders, making decisions, walking with God, embracing change, staying your God-given course, and much, much more. Drawing on his own richly varied life experiences, Hybels fleshes out vital principles with riveting firsthand stories. This is far more than another book on leadership strategies and techniques. You'll find those topics in here, to be sure. But beyond them, you'll find the very essence of one of today's foremost Christian leaders--his fervent commitment to evangelism and discipleship and his zeal to inspire fellow church leaders even as he seeks to keep growing as a leader himself. If unchurched people matter to you . . . if you love seeing believers serve passionately with their spiritual gifts . . . if God's heartbeat for the church is your heartbeat as well . . . then this book is a must. Courageous Leadership will convince you to lead with all your might, all your skill, and all your faith. And it will give you the tools to do just that.
Sklep: Libristo.pl 93,32 zł
Książki / Literatura obcojęzyczna
The New York Times bestselling historian takes on a pressing question in modern Religion - will Pope Francis embrace change?§§Pope Francis, the first Jesuit pope and the first from the Americas, offers a challenge to his church. Can he bring about significant change? Should he?§§Garry Wills, the prizewinning historian, argues that changes have been the evidence of life in the Catholic Church. It has often changed, sometimes with bad consequences, more often with good - good enough to make it perdure. In this brilliant and incisive study, he gives seven examples§of deep and serious changes that have taken place (or are taking place) within the last century. None of them was effected by the pope all by himself.§§As Wills contends, it is only by examining the history of the Church that we can understand Pope Francis's and the Church's challenges, and, as history shows, any changes that meet those challenges will have impact only if the Church, the people of God, support them. In reading the Church's history, Wills considers the lessons Pope Francis seems to have learned. The challenge that Pope Francis offers the Church is its ability to undertake new spiritual adventures, making it a poor church for the poor, after the example of Jesus.
Sklep: Libristo.pl 40,00 zł
Historia
For seven decades Katharine Hepburn played a leading role in the popular culture of the twentieth century - reigning as an admired actress, a beloved movie star, and a treasured icon of the modern American woman. She also remained one of the most private of all the public figures of her time.In 1983 - at the age of seventy-five, her career cresting - the four-time Academy Award winner opened the door to biographer A. Scott Berg - then thirty-three - and began a special friendship, one that endured to the end of her illustrious life.From the start, Scott Berg felt that Katharine Hepburn intended his role to be not just that of a friend but also of a chronicler, a confidant who might record for posterity her thoughts and feelings. Over the next twenty years, Kate used their many hours together to reveal all that came to mind, often reflecting on the people and episodes of her past, occasionally on the meaning of life.Here are the stories from those countless intimate conversations, and much more. In addition to recording heretofore untold biographical details of her entire phenomenal career and her famous relationships with such men as Spencer Tracy and Howard Hughes, Kate Remembered also tells the amusing, often emotional story of one of the most touching friendships in her final years. Scott Berg provides his own memories of Katharine Hepburn offstage - quiet dinners in her town house in New York City, winter swims (she swam, he watched) in the Long Island Sound at Fenwick, her home in Connecticut, weekend visits with family members and dear friends...even some unusual appearances by the likes of Michael Jackson and Warren Beatty. Finally, Kate Remembered discusses the legendary actress's moving farewell, during which her mighty personality surrendered at last to her failing body - all the while remaining true to her courageous character.Kate Remembered is a book about love and friendship, family and career, Hollywood and Broadway - all punctuated by unforgettable lessons from an extraordinary life.
Sklep: Albertus.pl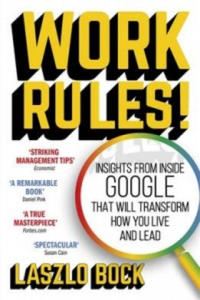 45,22 zł
Work Rules! John Murray Publishers Ltd
Książki / Literatura obcojęzyczna
Google receives over 1,500,000 unique applications for jobs every year. This book shows you why. * How to learn from your best employees - and your worst * Why you should only hire people who are smarter than you are * Take away managers' powers over employees * And why not to trust your gut instinct 'We spend more time working than doing anything else in life. It's not right that the experience should be so demotivating and dehumanizing.' So says Laszlo Bock, visionary head of People Operations at the company that transformed how the world interacts with knowledge: this insight is the heart of his brilliant first book. A compelling manifesto with the potential to change how we work and live, Work Rules! offers both a new philosophy of the new world of work and a blueprint for attracting the most spectacular talent and ensuring the brightest and best prosper. Your workplace and how you treat your employees has a huge effect on your success. In twelve vivid chapters, Bock lays out a series of surprising lessons from a range of industries - from household names to little-known innovators. He also takes us inside one of history's most explosively successful businesses to reveal why Google is consistently rated one of the best places to work in the world. His years of experience are distilled into a series of entertaining principles that are easy to put into action, whether you're a team of one or a team of thousands. Work Rules! shows how to strike a balance between creativity and structure, leading to success you can measure in quality of life as well as market share. Read it to build a better company from within rather than from above; read it to reawaken your joy in what you do. The way we work is changing - are you?
Sklep: Libristo.pl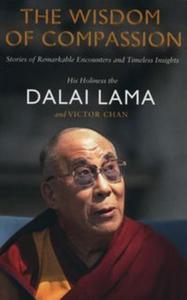 40,90 zł
Książki
The Wisdom of Compassion offers rare insights into the Dalai Lama?s life as he interacts with remarkable people from all walks of life. In these deeply engaging behind-the-scenes stories we see not only the Dalai Lama at his most human, and most humane, but also the way he approaches the world with humour and optimism.As he empathizes with those who are suffering, and demonstrates the tangible benefits of practising forgiveness and compassion, the Dalai Lama reveals the many lessons he has learned, including how* his collaborations with leading neuroscientists, psychologists, teachers and students from around the world have taught him how to educate the heart;* his inspiring friendship with a blind Irishman, the only person he calls his hero, has taught him how one can overcome adversity;* through his encounters with illiterate grandmothers learning how to harness solar power for their communities, a beggar girl, and his soulmate, Archbishop Desmond Tutu, he has discovered how compassion can be translated into action.Enhanced by the Dalai Lama?s seven decades of practice and illuminated through captivating anecdotes, The Wisdom of Compassion can help readers to lead more fulfilling lives. The Dalai Lama also shows how, when we open our hearts and minds to others, we are on the surest path to true happiness.
Sklep: Booknet.net.pl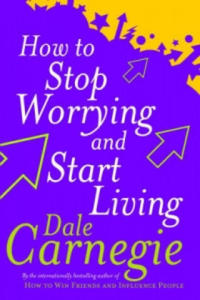 41,42 zł
Książki / Literatura obcojęzyczna
Worry effects everyone and descends with ease upon work, money, family life and relationships. This book offers practical strategies for breaking out of this destructive habit, before it breaks you. Dale Carnegie shows how worry has been conquered by thousands, some famous, but most just ordinary people, and offers practical suggestions for leading a more positive and enjoyable life. Worry-free tips include: * Fundamental facts you should know about worry. * A magic formula for solving worry situations. * How to eliminate fifty per cent of your business worries. * Seven ways to cultivate a mental attitude that will bring you peace and happiness. * How to keep from worrying about criticism. * Six ways to prevent fatigue and worry. * Personal tips from those who have conquered worry. Try his methods today and this book could change the way of your future.
Sklep: Libristo.pl 36,11 zł
Książki / Literatura obcojęzyczna
There have always been tales about people who change their shape to become animals and plants. Shapeshifters is a collection of seven stories from around the world which share the theme of shapeshifting. Captivating versions of some of the best myths and legends from around the world. TreeTops Myths and Legends are fascinating and action-packed stories that will motivate and inspire readers. These are some of the oldest and most enduring stories in the world, retold by leading contemporary children's authors to bring out all of the action, drama, humour and depth of the original stories in a way that makes them as exciting and meaningful today as ever. The stories are beautifully illustrated in a range of styles to bring each tale to life. Books contain inside cover notes to support children in their reading. Help with children's reading development also available at www.oxfordowl.co.uk. The books are finely levelled, making it easy to match every child to the right book.
Sklep: Libristo.pl
Sklepy zlokalizowane w miastach: Warszawa, Kraków, Łódź, Wrocław, Poznań, Gdańsk, Szczecin, Bydgoszcz, Lublin, Katowice
Szukaj w sklepach lub całym serwisie
2. Szukaj na wszystkich stronach serwisu
t1=0.059, t2=0, t3=0, t4=0.022, t=0.06