krainaksiazek sex after 21 russian edition 20118380
- znaleziono 10 produkty w 3 sklepach 657,64 zł
Muzyka>Klasyczna
CD 1: PIANO CONCERTO NO.1 IN F SHARP MINOR Op.1 1 I.Vivace 11'55 2 II. Andante 5'33 3 III. Allegro Vivace 6'42 PIANO CONCERTO NO.4 IN G MINOR Op.40 4 I. Allegro 8'56 5 II. Largo - 5'25 6 III. Allegro Vivace 8'35 7 RHAPSODY ON A THEME OF PAGANINI Op.43 20'32 Total Time: 65'46 EARL WILD PIANO - ROYAL PHILHARMONIC ORCHESTRA - JASCHA HORENSTEIN CD 2: PIANO CONCERTO NO.2 IN C MINOR Op.18 1 I. Moderato 9'19 2 II. Andante Sostenuto 10'25 3 III. Allegro Scherzando 10'38 PIANO CONCERTO NO.3 IN D MINOR Op.30 4 I. Allegro 14'57 5 II. Intermezzo: Adagio - 8'42 6 III. Finale: Allegro 11'37 Total Time: 67'46 EARL WILD PIANO - ROYAL PHILHARMONIC ORCHESTRA - JASCHA HORENSTEIN CD 3: SYMPHONY NO.1 IN D MINOR Op.13 1 I. Grave - Allegro Ma Non Troppo 13'44 2 II. Allegro Animato 7'33 3 III. Larghetto 9'08 4 IV. Allegro Con Fuoco 11'56 SYMPHONY NO.3 IN A MINOR Op.44 5 I. Lento - Allegro Moderato 12'21 6 II. Adagio Ma Non Troppo 11'33 7 III. Allegro 12'24 Total Time: 78'44 USSR MINISTRY OF CULTURE SYMPHONY ORCHESTRA - GENNADY ROZHDESTVENSKY CD 4: SYMPHONY NO.2 IN E MINOR Op.27 1 I. Largo - Allegro Moderato 24'30 2 II. Scherzo: Allegro Molto - Meno Mosso - Allegro Molto 11'13 3 III. Adagio 15'09 4 IV. Allegro Vivace 15'20 LONDON SYMPHONY ORCHESTRA - GENNADY ROZHDESTVENSKY 5 'YOUTH' SYMPHONY IN D MINOR: Grave - Allegro Moderato 11'25 Total Time: 77'38 SAINT LOUIS SYMPHONY ORCHESTRA - LEONARD SLATKIN CD 5: SYMPHONIC DANCES Op.45 1 I. Non Allegro 11'58 2 II. Andante Con Moto (Tempo Di Valse) 10'54 3 III. Lento Assai - Allegro Vivace - Lento Assai - Come Prima - Allegro Vivace 14'16 THE BELLS Op.35* 4 I. Allegro Ma Non Tanto 6'06 5 II. Lento 10'37 6 III. Presto 8'50 7 IV. Lento Lugubre 10'12 Total Time: 73'05 OLGA LUTSIV-TERNOVSKAYA * LEONID BOMSTEIN * VYACHESLAV POCHAPSKY BASS* - RUSSIAN STATE SYMPHONY CAPPELLA * RUSSIAN STATE SYMPHONY ORCHESTRA * VALERY POLYANSKY CD 6: 1 THE ROCK Op.7 Symphonic Poem After A. Chekhov 14'50 2 PRINCE ROSTISLAV Symphonic Poem After A.K. Tolstoy 18'18 3 SCHERZO IN D MINOR 5'30 4 CAPRICE BOHEMIEN Op.12 18'33 5 THE ISLE OF THE DEAD Op.29 Symphonic Poem After A. Bocklin 22'03 Total Time: 79'42 RUSSIAN STATE SYMPHONY ORCHESTRA - VALERY POLYANSKY CD 7: ALEKO - OPERA IN ONE ACT 1 Introduction 3'18 2 Chorus 4'13 3 Story Of The Old Gipsy 6'16 4 Scene And Chorus 2'37 5 Women's Dance 4'58 6 Men's Dance 4'43 7 Chorus 4'04 8 Duettino 2'31 9 Scene At The Cradle 4'54 10 Aleko's Cavatina 6'29 11 Intermezzo 2'54 12 Romance Of The Young Gipsy 1'45 13 Duet And Finale 15'05 Total Time: 64'15 SAMSON ISOUMOV BASS-BARITONE . . . . . . . . . . . . . . . . . . . . . . . . . . . Aleko OLEG KOULKO TENOR . . . . . . . . . . . . . . . . . . . . . . . . . . . . . . . Young Gipsy LEONID TISCHENKO BASS . . . . . . . . . . . . . . . . . . . . . . . . . . . . . Old Gipsy MARINA LAPINA SOPRANO . . . . . . . . . . . . . . . . . . . . . . . . . . . . . . . Zemphira ALEKO CHOIR - DONETSK PHILHARMONIC ORCHESTRA - ROMAN KOFMAN CD 8: THE MISERLY KNIGHT Op.24 - OPERA IN THREE SCENES 1 Prelude 7'43 2 Scene 1: In The Tower 17'33 3 Scene 2: In The Cellar 22'56 4 Scene 3: At The Palace 12'12 Total Time: 60'30 MIKHAIL GUZHOV BASS . . . . . . . . . . . . . . . . . . . . . . . . . . . . . . . . . . . . . . . . . . .The Baron VSEVOLOD GRIVNOV TENOR . . . . . . . . . . . . . . . . . . . . . . . . . . . . . . . . . . .Albert, His Son ANDREI BATURKIN BARITONE . . . . . . . . . . . . . . . . . . . . . . . . . . . . . . . . . . . . . . .The Duke BORISLAV MOLCHANOV TENOR . . . . . . . . . . . . . . . . . . . . . . . . . . . .Jewish Moneylender VITALY EFANOV BASS . . . . . . . . . . . . . . . . . . . . . . . . . . . . . . . . . . . . . . . . . . . . . . .Servant RUSSIAN STATE SYMPHONY ORCHESTRA - VALERY POLYANSKY CD 9: MONNA VANNA, OPERA IN ONE ACT, ORCHESTRATED BY IGOR BUKETOFF 1 Introduction 1'30 2 Scene 1 5'28 3 Scene 2 16'19 4 Scene 3 19'21 Total Time: 42'38 SHERRILL MILNES BARITONE . . . . . . . . . . .Guido, Commander Of The Garrison Of Pisa SETH MCCOY TENOR . . . . . . . . . . . . . . . . . . . . . . . . . . . . . . . . . . .Marco, Guido's Father BLYTHE WALKER SOPRANO . . . . . . . . . . . . . . . . . . . . . . . . . .Monna Vanna, Guido's Wife NICKOLAS KAROUSATOS BARITONE . . . . . . . . . . . . . . . . . . .Torello, Lieutenant To Guido JON THORSTEINSSON TENOR . . . . . . . . . . . . . . . . . . . . . . . .Borso, Lieutenant To Guido THE ICELANDIC OPERA CHORUS - ICELAND SYMPHONY ORCHESTRA - IGOR BUKETOFF CD 10: FRANCESCA DA RIMINI - OPERA IN TWO SCENES, WITH PROLOGUE AND EPILOGUE Op.25 1 Prologue 20'48 2 Tableau 1 20'58 3 Tableau 2 - Epilogue 23'10 Total Time: 65'10 MARIA LAPINA SOPRANO - NIKOLAI VASSILIEV TENOR - VITALI TARASHCHENKO TENOR NIKOLAI RECHETNIAK BARITONE - VLADIMIR MATORIN BASS SVESHNIKOV RUSSIAN ACADEMIC CHOIR - BOLSHOI THEATRE ORCHESTRA - ANDREI CHISTIAKOV CD 11: VESPERS Op.37 1 Come, Let Us Worship 1'46 2 Bless The Lord, O My Soul 4'52 3 Blessed Be The Man 5'40 4 O Serene Light 3'29 5 Now Let Thy Servant Depart 3'59 6 Rejoice, O Virgin 2'26 7 Glory To God In The Highest 2'50 8 Praise The Name Of The Lord 2'33 9 Blessed Art Thou, O Lord 6'02 10 Having Seen The Resurrection Of The Lord 3'16 11 My Soul Magnifies The Lord 9'45 12 Glory To God In The Highest 7'47 13 Troparia Of The Day Of Salvation 1'58 14 Christ Is Risen From The Grave 3'31 15 Thanksgiving To The Mother Of God 1'48 Total Time: 61'50 OLGA BORUSENE SOPRANO - YURI KORINNYK, MYKHAYLO TYSHCHENKO TENORS THE NATIONAL ACADEMIC CHOIR OF UKRAINE 'DUMKA' - YEVHEN SAVCHUK CD 12: LITURGY OF ST JOHN CHRYSOSTOM Op.31 (beginning) 1 Great Ektenia 3'44 2 First Antiphon 6'34 3 Second Antiphon 4'37 4 Third Antiphon 6'02 5 Entrance Hymn 1'52 6 Trisagion Hymn 3'19 7 Fervent Supplication 8'23 8 Cheruvimic Hymn 6'33 9 Ektenia Of The Prothesis 3'47 10 Nicaean Creed 6'49 Total Time: 51'43 RUSSIAN STATE SYMPHONY CAPPELLA - VALERY POLYANSKY CD 13: LITURGY OF ST JOHN CHRYSOSTOM Op.31 (conclusion) 1 Anaphora 5'19 2 Hymn Of Praise 2'59 3 Hymn To The Virgin 7'28 4 The Lord's Prayer 4'41 5 The Elevation 1'21 6 Communion Hymn 3'01 7 Blessing 2'29 8 Hymn Of Praise 8'51 9 Blessed Be His Name 0'52 10 Glory To The Father 2'18 11 O Mother Of God Vigilantly Praying Sacred Concerto For Four-part Unaccompanied Choir 9'29 12 Chorus Of Spirits For Four-part Unaccompanied Choir 1'25 13 Panteley The Healer For Four-part Unaccompanied Choir 4'11 Total Time: 54'54 RUSSIAN STATE SYMPHONY CAPPELLA - VALERY POLYANSKY CD 14: SPRING (VESNA) Op.20 - Cantata For Baritone, Chorus And Orchestra 1 Allegro Moderato 17'00 JORMA HYNNINEN BARITONE THE DANISH NATIONAL RADIO - SYMPHONY ORCHESTRA & CHOIR - DIMITRI KITAJENKO THREE RUSSIAN SONGS Op.41 2 Over The Stream, The Swift Stream 4'18 3 Ah, Vanka, You Are Dashing 6'23 4 My Cheeks, So White, So Rosy! 3'59 RUSSIAN STATE SYMPHONIC - CAPPELLA AND ORCHESTRA - VALERY POLYANSKY SIX CHORUSES Op.15 for Women's Voices And Piano 5 Be Glorious! 1'56 6 Night 3'12 7 The Pine 2'30 8 The Waves Began To Slumber 2'06 9 Captivity 1'56 10 The Angel 2'29 TIGRAN ALIKHANOV PIANO - RUSSIAN STATE SYMPHONIC CAPPELLA - VALERY POLYANSKY 11 SCHERZO IN F MAJOR 4'48 12 VOCALISE Op.34 No.14 5'31 Total Time: 56'08 SAINT LOUIS SYMPHONY ORCHESTRA - LEONARD SLATKIN CD 15: COMPLETE SONGS VOL. 1 1 At The Gates Of The Holy Cloister 3'04 2 Nothing Shall I Say To You 1'49 3 Again You Are Bestirred, My Heart 2'09 4 April! A Festive Day In The Spring 2'04 5 Dusk Was Falling 2'39 6 Song Of The Disenchanted 2'59 7 The Flower Died 3'19 8 Do You Remember The Evening? 2'31 9 O, No, I Beg You, Do Not Leave Op.4 No.11'45 10 Morning Op.4 No.2 1'49 11 In The Silence Of The Secret Night Op.4 No.3 2'43 12 Sing Not, O Lovely One Op.4 No.4 4'20 13 Oh, My Field Op.4 No.5 4'03 14 It Wasn't Long Ago, My Friend Op.4 No.6 1'49 15 Water Lily Op.8 No.1 1'17 16 My Child, Your Beauty Is That Of A Flower Op.8 No.2 1'39 17 Thoughts, Reflections Op.8 No.3 3'01 18 I Fell In Love, To My Sorrow Op.8 No.4 2'19 19 A Dream Op.8 No.5 1'22 20 Prayer Op.8 No.6 3'14 21 I Await You Op.14 No.1 1'46 22 Small Island Op.14 No.2 2'11 23 How Fleeting Is Delight In Love Op.14 No.3 1'32 24 I Was With Her Op.14 No.4 1'16 25 Summer Nights Op.14 No.5 1'36 26 You Are So Loved By All Op.14 No.6 2'05 27 Do Not Believe Me, Friend Op.14 No.7 1'35 28 Oh, Do Not Grieve Op.14 No.8 2'56 29 She Is As Beautiful As Midday Op.14 No.9 2'35 30 In My Soul Op.14 No.10 2'34 31 Spring Torrents Op.14 No.11 2'10 32 It Is Time Op.14 No.12 1'33 Total Time: 76'01 JOAN RODGERS SOPRANO MARIA POPESCU CONTRALTO ALEXANDRE NAOUMENKO TENOR SERGEI LEIFERKUS BARITONE HOWARD SHELLEY PIANO CD 16: COMPLETE SONGS VOL. 2 1 Were You Hiccoughing, Natasha? 1'33 2 Night 3'10 3 Fate Op.21 No.1 7'09 4 By A Fresh Grave Op.21 No.2 1'47 5 Twilight Op.21 No.3 2'04 6 They Replied Op.21 No.4 1'45 7 Lilacs Op.21 No.5 1'59 8 Fragment From A. Musset Op.21 No.6 1'53 9 How Peaceful Op.21 No.7 2'07 10 On The Death Of A Siskin Op.21 No.8 2'29 11 Melody Op.21 No.9 3'00 12 Before The Icon Op.21 No.10 3'20 13 I Am Not A Prophet Op.21 No.11 1'29 14 How Pained I Am Op.21 No.12 1'45 15 There Are Many Sounds Op.26 No.1 2'28 16 All Was Taken From Me Op.26 No.2 0'56 17 We Shall Rest Op.26 No.3 2'13 18 Two Farewells Op.26 No.4 4'27 19 Let Us Leave, My Sweet Op.26 No.5 2'18 20 Christ Is Risen Op.26 No.6 2'46 21 To My Children Op.26 No.7 3'28 22 I Beg For Mercy Op.26 No.8 1'12 23 I Am Again Alone Op.26 No.9 1'46 24 At My Window Op.26 No.10 2'05 25 The Fountain Op.26 No.11 1'22 26 Night Is Sorrowful Op.26 No.12 2'20 27 Yesterday We Met Op.26 No.13 2'54 28 The Ring Op.26 No.14 2'32 29 All Passes Op.26 No.15 1'51 Total Time: 71'54 JOAN RODGERS SOPRANO MARIA POPESCU CONTRALTO ALEXANDRE NAOUMENKO TENOR - SERGEI LEIFERKUS BARITONE HOWARD SHELLEY PIANO CD 17: COMPLETE SONGS VOL. 3 1 Letter To K.S. Stanislavsky 3'16 2 The Muse Op.34 No.1 4'10 3 In The Soul Of Each Of Us Op.34 No.2 2'15 4 The Storm Op.34 No.3 2'28 5 A Passing Breeze Op.34 No.4 3'36 6 Arion Op.35 No.4 2'48 7 The Raising Of Lazarus Op.34 No.6 2'14 8 It Cannot Be Op.34 No.7 1'35 9 Music Op.34 No.8 2'23 10 You Knew Him Op.34 No.9 2'13 11 I Remember This Day Op.34 No.10 1'33 12 The Herald Op.34 No.11 2'52 13 What Happiness Op.34 No.12 2'12 14 Dissonance Op.34 No.13 6'00 15 Vocalise Op.34 No.14 6'04 16 From The Gospel Of St John 1'22 17 At Night In My Garden Op.38 No.1 1'48 18 To Her Op.38 No.2 2'50 19 Daises Op.38 No.3 2'15 20 The Pied Piper Op.38 No.3 2'30 21 Sleep Op.38 No.5 3'20 22 'A-oo' Op.38 No.6 2'21 23 A Prayer 2'33 24 All Glory To God 1'58 Total Time: 68'00 JOAN RODGERS SOPRANO MARIA POPESCU CONTRALTO ALEXANDRE NAOUMENKO TENOR - SERGEI LEIFERKUS BARITONE HOWARD SHELLEY PIANO CD 18: TRIO ELEGIAQUE NO.1 IN G MINOR Op. Posth. 1 Lento Lugubre 15'18 TRIO ELEGIAQUE NO.2 IN D MINOR Op.9 2 I. Moderato - Allegro Moderato 18'41 3 II. Quasi Variazione 17'40 4 III. Allegro Risoluto 7'25 Total Time: 59'32 BORODIN TRIO - LUBA EDLINA, PIANO ROSTISLAV DUBINSKY, VIOLIN - YULI TUROVSKY, CELLO CD 19: MORCEAUX DE SALON Op.6 1 Romance 5'31 2 Danse Hongroise 6'08 CRISTIAN PERSINARU, VIOLIN - NILS FRANKE, PIANO 3 LIED IN F MINOR: Andantino 2'51 TWO PIECES FOR CELLO AND PIANO Op.2 4 Prelude In F Major: Comodo - Con Moto 3'54 5 Danse Orientale In A Major: Andante Cantabile 6'26 6 VOCALISE IN E FLAT MINOR Op.34 No.14: Lento 6'42 ALEXANDER IVASHKIN, CELLO - RUSTEM HAYROUDINOFF, PIANO CELLO SONATA IN G MINOR Op.19 7 I. Lento - Allegro Moderato 13'01 8 II. Allegro Scherzando 6'21 9 III. Andante 5'41 10 IV. Allegro Mosso 10'18 Total Time: 66'52 DANIIL SHAFRAN, CELLO - YAKOV FLIER, PIANO CD 20: ETUDES-TABLEAUX Op.33 1 Allegro Non Troppo In F Minor No.1 2'58 2 Allegro In C Major No.2 2'22 3 Moderato In D Minor No.5 3'38 4 Allegro Con Fuoco In E Flat Major No.7 1'51 5 Grave In C Minor No.3 5'51 6 Non Allegro In E Flat Minor No.6 1'40 7 Moderato In G Minor No.8 4'05 8 Grave In C Sharp Minor No.9 2'36 Etudes-tableaux Op.39 9 Allegro Agitato In C Minor No.1 3'03 10 Lento Assai In A Minor No.2 7'01 11 Allegro Molto In F Sharp Minor No.3 2'32 12 Allegro Assai In B Minor No.4 3'38 13 Appassionato In E Flat Minor No.5 5'15 14 Allegro In A Minor No.6 2'45 15 Lento Lugubre In C Minor No.7 7'41 16 Allegro Moderato In D Minor No.8 3'15 17 Allegro Moderato - Tempo Di Marcia In D Major No.9 3'39 Total Time: 63'57 Nikolai Lugansky, Piano CD 21: PRELUDES Op.23 1 No.1 In F Sharp Minor: Largo 3'14 2 No.2 In B Flat Major: Maestoso 3'38 3 No.3 In D Minor: Tempo Di Minuetto 3'17 4 No.4 In D Major: Andante Cantabile 4'29 5 No.5 In G Minor: Alla Marcia 3'39 6 No.6 In E Flat Major: Andante 3'30 7 No.7 In C Minor: Allegro 2'36 8 No.8 In A Flat Major: Allegro Vivace 3'19 9 No.9 In E Flat Minor: Presto 1'47 10 No.10 In G Flat Major: Largo 4'04 NOCTURNES (1887/88) 11 No.1 In F Sharp Minor 4'43 12 No.2 In F Major 4'06 13 No.3 In C Minor 3'52 14 Song Without Words (1887) 1'19 VARIATIONS ON A THEME OF CORELLI Op.42 15 Theme: Andante 1'01 16 Variation 1: Poco Pi
Sklep: Gigant.pl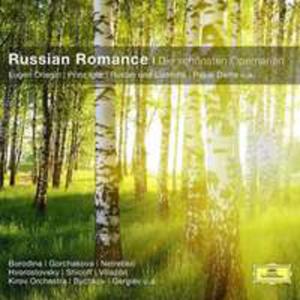 25,99 zł
Muzyka>Klasyczna
1. Ruslan & Lyudmila (Original Version) 2. Mikhail Ivanovich Glinka - Grustno Mne, Roditel' 3. Eugene Onegin Op. 24 (Original Version) 4. Tschaikowsky, Peter I. - Kuda, Kuda, Kuda VI Udal 5. Boris Godounov (Moussorgsky After Pushkin & Kara 6. Mussorgsky, Modest Peter - Ruzya, I Do Not Need Yo 7. The Snow Maiden (Opera In Four Acts With A Prologu 8. Rimsky-korsakoff, Nikolai - Velikiy Car?! Sprosi 9. Mazeppa, Opera In 3 Acts (Original Version) 10. Tschaikowsky, Peter I. - O, Marija, Marija! (Act 11. Knjas Igor (Mariinsky Theatre Edition) 12. Borodin, Alexander Porfirjewitsch - No.4 Cavatina: 13. The Tsar's Bride (Original Version) 14. Rimsky-korsakoff, Nikolai - Scene 5 Vot Do Chego 15. Iolanta Op.69 16. Tschaikowsky, Peter I. - Atchevo Eta Prezhde Ne Z 17. Eugene Onegin Op. 24 (Original Version) 18. Tschaikowsky, Peter I. - Scene & Arioso. Kak Shch 19. Pique Dame Pikovaya Dama (Original Version) 20. Tschaikowsky, Peter I. - Uzh Vecher (Act 1) 21. Sadko (Original Version) 22. Rimsky-korsakoff, Nikolai - Ni Sh'est' Almazaf F 23. Pique Dame Pikovaya Dama (Original Version) 24. Tschaikowsky, Peter I. - Akh! Istomilas Ya Gorem 25. Eugene Onegin Op. 24 (Original Version) 26. Tschaikowsky, Peter I. - Lyubvi Vsye Vozrasti Pok 27. The Tsar's Bride (Original Version) 28. Rimsky-korsakoff, Nikolai - Scene 6 Zachem Ty (A 29. Iolanta Op.69 30. Tschaikowsky, Peter I. - Tvajo Malchan'je Nepan'a
Sklep: Gigant.pl 657,64 zł
Muzyka>Klasyczna
CD 1: SCHEHERAZADE Op.35 - SYMPHONIC SUITE AFTER A THOUSAND AND ONE NIGHTS 1 I. The Sea And Sinbad's Ship 9'26 2 II. The Story Of The Kalendar Prince 12'20 3 III. The Young Prince And The Young Princess 10'22 4 IV. Festival At Baghdad - The Sea - Shipwreck - Conclusion 11'27 5 Sadko - Musical Picture Op.5 11'26 6 Sadko - Song Of India 3'30 Total Time: 58'35 Armenian Philharmonic Orchestra - Loris Tjeknavorian CD 2: THE TSAR'S BRIDE - OVERTURE - FANTASIA ON SERBIAN THEMES SYMPHONIES NOS. 1 & 2 'ANTAR' 1 The Tsar's Bride - Overture 6'18 2 Fantasia On Serbian Themes Op.6 7'11 SYMPHONY NO.1 IN E MINOR Op.1 3 I. Largo Assai - Allegro 9'19 4 II. Andante Tranquillo 8'28 5 III. Scherzo: Vivace 5'02 6 IV. Allegro Assai 6'54 SYMPHONY NO.2 Op.9 'ANTAR' 7 I. Largo - Allegro Giocoso 11'59 8 II. Allegro - Molto Allegro - Allargando 5'11 9 III. Allegro Risoluto Alla Marcia 5'35 10 IV. Allegretto Vivace 8'51 Total Time: 75'15 Philharmonia Orchestra - Yondani Butt CD 3: 1 OVERTURE ON THREE RUSSIAN THEMES Op.28* 11'40 SYMPHONY NO.3 IN C Op.32 2 I. Moderato Assai - Allegro 12'06 3 II. Scherzo: Vivo 4'58 4 III. Andante 8'00 5 IV. Allegro Con Spirito 5'06 6 SKAZKA Op.29 (Fairytale) 15'54 Total Time: 58'06 London Symphony Orchestra *Philharmonia Orchestra - Yondani Butt CD 4: THE GOLDEN COCKEREL - SUITE (arr. Alexander Glazunov & Maximilian Steinberg) 1 I. King Dodon In His Palace 10'05 2 II. King Dodon On The Battlefield 3'52 3 III. King Dodon And The Queen Of Shemakha 7'02 4 IV. The Marriage Feast And Lamentable End Of King Dodon 5'17 TALE OF TSAR SALTAN - SUITE OP.57 5 I. The Tsar's Farewell And Departure 4'51 6 II. The Tsarina In A Barrel At Sea 5'27 7 III. The Three Wonders 8'00 8 Flight Of The Bumblebee (Tale Of Tsar Saltan) 1'13 Christmas Eve - Suite 9 I. Holy Night 5'40 10 II. Games And Dances Of The Stars - Mazurka - 5'49 The Sixth Comet - Csardas And Rain Of The Falling Stars 11 III. The Devil's Christmas 5'50 12 IV. Polonaise 6'07 13 V. Procession To Midnight Mass And Carols 6'05 Total Time: 76'00 Armenian Philharmonic Orchestra Loris Tjeknavorian CD 5: THE LEGEND OF THE INVISIBLE CITY OF KITEZH - SUITE 1 I. Prelude - Hymn To Nature 4'29 2 II. Bridal Procession 3'27 3 III. Tartar Invasion And The Battle Of Kerzenets 4'24 4 IV. Death Of Frevronya And Apotheosis 10'44 PAN VOYEVODA - SUITE Op.59 5 I. Introduction 3'30 6 II. Krakowiak 3'26 7 III. Nocturne 4'30 8 IV. Mazurka 4'53 9 V. Polonaise 6'23 PIANO CONCERTO IN C SHARP MINOR Op.30 10 I. Moderato - Allegretto Quasi Polacca - 6'17 11 II. Andante Mosso 4'11 12 III. Allegro 3'52 Total Time: 60'22 Leningrad Philharmonic Orchestra / Evgeny Mravinsky (1-4) Bolshoi Theatre Orchestra / Evgeny Svetlanov (5-9) Sviatoslav Richter Piano Moscow Youth Symphony Orchestra / Kirill Kondrashin (10-12) CD 6: PIANO TRIO IN C MINOR (completed In 1939 By Maximilian Steinberg) 1 I. Allegro 10'35 2 II. Allegro 4'25 3 III. Adagio 9'17 4 IV. Adagio - Allegro Assai 12'51 QUINTET IN B FLAT 5 I. Allegro Con Brio 7'29 6 II. Andante 8'13 7 III. Rondo: Allegretto 9'42 Total Time: 62,42 Oistrakh Trio (1-4) David Oistrakh Violin Sviatoslav Knushevitsky Cello Lev Oborin Piano Felicja Blumental Piano (5-7) Members Of The New Philharmonia Wind Ensemble, London Gareth Morris Flute John McCaw Clarinet Nicolas Busch Horn Gwydion Brook Bassoon CD 7: 4 SONGS Op.2 1 1. Lean Thy Cheek To Mine 1'04 Heine, Trans. M. Mikhaylov 2 2. Eastern Song: Enslaved By The Rose, The Nightingale A. Kol'tsov 3 3. Lullaby L. May 4 4. From My Tears Heine, Trans. Mikhaylov 4 SONGS Op.3 5 1. The Pine And The Palm Heine, Trans. Mikhaylov 6 2. Southern Night N. Shcherbina 7 3. The Golden Cloud Has Slept Lermontov 8 4. On The Hills Of Georgia Pushkin 4 SONGS Op.4 9 1. What Is My Name To Thee? Pushkin 10 2. The Messenger Heine, Trans. Mikhaylov 11 3. In The Dark The Nightingale Is Silent I. Nikitin 12 4. Quietly Evening Falls A. Fet 4 SONGS Op.7 13 1. My Voice For Thee Is Sweet And Languid Pushkin 14 2. Hebrew Song L. Mey 15 3. The Mermaid Of Lake Switez A. Mickiewicz, Trans. Mey 16 4. Thy Glance Is Radiant As The Heavens Lermontov 6 SONGS Op.8 17 1. Where Thou Art, My Thought Flies To Thee Unknown 18 2. Night A. Pleshcheyev 19 3. The Secret After Chamisso 20 4. Arise, Come Down Mey 21 5. In The Kingdom Of Roses And Wine 22 6. I Believe, I Am Loved Pushkin 2 SONGS Op.25 Heine, Trans. Mikhaylov 23 1. To My Song 24 2. When I Gaze Into Thy Eyes 4 SONGS Op.26 25 1. In Moment To Delight Devoted Byron, Trans. I. Kozlov 26 2. Evocation Pushkin 27 3. For The Shores Of Thy Native Land Pushkin 28 4. Zuleika's Song Byron, Trans. I. Kozlov Total Time: 63'43 Natalia Gerasimova Soprano Vladimir Skanavi Piano (2, 3, 12, 15, 19) Marina Choutova Mezzo-soprano Elena Tcheglakova Piano (5-6, 13-14, 17-18, 28) Alexei Martinov Tenor Aristote Konstantinidi Piano (4, 8, 9, 11, 21, 24-25) Mikhail Lanskoi Baritone Ilya Scheps Piano (1, 16, 20, 22, 26-27) Sergei Baikov Bass Ilya Scheps Piano (7, 10, 23) CD 8: 4 SONGS Op.27 1 1. Softly The Spirit Flew Up To Heaven A.K. Tolstoy 2 2. Echo F. Coppee, Trans. S. Andreyevsky 3 3. Thou And You Pushkin 4 4. Forgive! Remember Not These Tearful Days N. Nekrasov 4 SONGS Op.39 A.K. Tolstoy 5 1. Oh, If Thou Couldst For One Moment 6 2. The West Dies Out In The Pallid Rose 7 3. Silence Descends On The Golden Cornfields 8 4. Sleep, My Poor Friend 4 SONGS Op.40 9 1. When The Golden Cornfield Waves Lermontov 10 2. Across The Midnight Sky Lermontov 3'08 11 3. Of What I Dream In The Quiet Night A. Maykov 12 4. I Waited For Thee In The Grotto At The Appointed Hour A. Maykov 4 SONGS Op.41 13 1. Sun Of The Sleepless A.K. Tolstoy After Byron 14 2. I Am Unhappy Lermontov 15 3. I Love Thee, Moon (Melody From The Banks Of The Ganges) Maykov 16 4. Look In Thy Garden Maykov 4 SONGS Op.42 17 1. A Whisper, A Gentle Breath Fet 18 2. I Have Come To Greet Thee Fet 19 3. The Clouds Begin To Scatter (Elegy) Pushkin 20 4. My Spoiled Darling Mickiewicz, Trans. Mey 4 SONGS Op.43 'Vesnoy' (In Spring) 21 1. The Lark Sings Louder A.K. Tolstoy 22 2. Not The Wind, Blowing From The Heights A.K. Tolstoy 23 3. Cool And Fragrant Is Thy Garland Fet 24 4. Early Spring A.K. Tolstoy Total Time: 52'14 Natalia Gerasimova Soprano Vladimir Skanavi Piano (1, 4, 11, 19, 21-22) Alexei Martinov Tenor Aristote Konstantinidi Piano (3, 13, 15-18, 20, 23-24) Mikhail Lanskoi Baritone Ilya Scheps Piano Sergei Baikov Bass Ilya Scheps Piano CD 9: FIVE SONGS Op.45 'Poetu' (To The Poet) 1 1. The Echo Pushkin 2 2. Art Maykov 3 3. The Octave Maykov 4 4. Doubt Maykov 5 5. The Poet Pushkin 5 SONGS Op.46 'U Morya' (By The Sea) A.K. Tolstoy 6 1. The Wave Breaks Into A Spray 7 2. Not A Sound From The Sea 8 3. The Sea Is Tossing 9 4. Do Not Believe Me, Friend 10 5. The Waves Rise Up Like Mountains 4 SONGS Op.50 Maykov, After Modern Greek Poems 11 1. The Maiden And The Sun 12 2. The Singer 13 3. Quiet Is The Deep Blue Sea 14 4. I Am Still Filled, Dear Friend 5 SONGS Op.51 Pushkin 15 1. Slowly Drag My Days 16 2 Do Not Sing To Me, O Lovely One 17 3. Withered Flower 18 4. The Beauty 19 5. The Rainy Day Has Waned 4 SONGS Op.55 20 1. Awakening Pushkin 21 2. To A Grecian Girl Pushkin 22 3. The Dream Pushkin 23 4. I Died From Happiness L. Uhland, Trans. V. Zhukovsky 2 SONGS Op.56 Maykov 24 1. The Nymph 25 2. Summer Night's Dream Total Time: 55'07 Natalia Gerasimova Soprano Vladimir Skanavi Piano (3, 4, 11, 15, 17, 24-25) Alexei Martinov Tenor Aristote Konstantinidi Piano (1, 2, 5, 9, 12-14, 16, 18, 20-23) Mikhail Lanskoi Baritone Ilya Scheps Piano - Sergei Baikov Bass Ilya Scheps Piano CD 10: CHORAL WORKS 1 Poem About Aleksey, The Man Of God Op.20 For Chorus And Orchestra 2 Song Of Oleg The Wise Op.58 For Two Male Soloists, Male Chorus And Orchestra (Pushkin) 3 From Homer Op.60 Prelude-cantata For Three Voices, Female Chorus And Orchestra 4 Switezianka Op.44 (The Mermaid Of Lake Switez) Cantata For Two Solo Voices, Chorus And Orchestra (L.A. Mey After Mickiewicz) Total Time: 51'03 Dmitri Kortchak Tenor Nikolai Didenko Bass Svetlana Sizova Mezzo-soprano Tatiana Fedotova Soprano - Elena Mitrakova Soprano Dmitri Kortchak Tenor (4) Chorus Of The Moscow Academy Of Choral Art - Victor Popov - Moscow Symphony Orchestra - Vladimir Ziva CD 11: MAY NIGHT - OPERA IN THREE ACTS Libretto By Rimsky-Korsakov After Nikolai Gogol 1 Overture (Orchestra) Act One: 2 No.1: Round Of The Millet (Chorus) 3 No.2: Serenade (Levko) 4 No.3: Duet (Levko/Hanna) 5 No.4: Tale (Levko) 6 No.5: Recitative And Spring-Song (Hanna/Chorus Of Girls) 7 No.6: Hopak Scene (Kalenik/Chorus Of Girls) 8 No.7: Trio (Mayor/Levko/Hanna) 9 No.8: Recitative And Song About The Mayor (Levko/Chorus Of Youths) Act Two - Scene 1 10 No.9: Trio (Mayor/Distiller/Sister-in-Law) 11 No.10: Scene With Kalenik And The Distiller's Tale (Kalenik/Mayor/Distiller/Sister-in-Law 12 No.11: Song About The Mayor, Scene And Trio Beginning Total Time: 65'08 Levko: VITALY TARASCHENKO Hanna: NATALIA ERASOVA Pannochka: MARINA LAPINA The Mayor: VYACHESLAV POCHAPSKY The Distiller: ALEXANDER ARKHIPOV The Clerk: PIOTR GLUBOKY The Mayor's Sister-in-Law: ELENA OKOLYCHEVA Kalenik, The Village Drunkard: NIKOLAI RESHETNIAK Sveshnikov Academic Choir Chorus Master Evgeny Tytianko BOLSHOI THEATRE ORCHESTRA / ANDREY CHISTIAKOV CD 12: MAY NIGHT (conclusion) - Opera In Three Acts Libretto By Rimsky-Korsakov After Nikolai Gogol 1 No.11: Song About The Mayor, Scene And Trio Conclusion 7'03 (Sister-in-law/Mayor/Distiller/Levko/Chorus/Clerk) Scene 2 2 No.12: Finale 6'20 (Mayor/Clerk/Distiller/Sister-in-Law, Chorus/Kalenik) Act Three 3 No.13: Scene Of The Rusalki 33'15 (Chorus/Queen Of The Water Nymphs/Levko) 4 No.14: Scene And Ritual Songs 6'16 (Mayor/Levko/Clerk/Distiller/Chorus/Hanna) 5 No.15: Finale 5'30 (Hanna/Levko/Chorus Of Youths/Mayor/Clerk/Distiller/Chorus/Kalenik/Sister-in-Law) Total Time: 58'30 Levko: VITALY TARASCHENKO Hanna: NATALIA ERASOVA Pannochka: MARINA LAPINA The Mayor: VYACHESLAV POCHAPSKY The Distiller: ALEXANDER ARKHIPOV The Clerk: PIOTR GLUBOKY The Mayor's Sister-in-Law: ELENA OKOLYCHEVA Kalenik, The Village Drunkard: NIKOLAI RESHETNIAK Sveshnikov Academic Choir Chorus Master Evgeny Tytianko BOLSHOI THEATRE ORCHESTRA / ANDREY CHISTIAKOV CD 13: THE SNOW MAIDEN - OPERA IN A PROLOGUE AND FOUR ACTS Libretto By Rimsky-Korsakov After Alexander Ostrowskij Prologue 1 Scene 1. Winter Is Over! The Cocks Have Crowed (Forest Spirit) 2 Recitative: At The Appointed Hour (Spring Fairy) 3 Aria: Where Are Those Lovely Lands Of Sunshine? (Spring Fairy) 4 Recitative: Dear Birds Of Mine (Spring Fairy) 5 Song And Dance Of The Birds (Chorus Of Birds/Spring Fairy) 6 Ah, It Is Snowing! (Chorus Of Birds/Spring Fairy) 7 Scene 2. When The Cold Cracks The Roofs And Walls (King Frost) 8 Recitative: Your Holiday Has Lasted Long Enough (Spring Fairy/King Frost) 9 Scene 3. Hello... Poor Little Child (Snow Maiden/Spring Fairy/King Frost) 10 Aria: To Go Berry-picking In The Woods (Snow Maiden) Recitative: This Handsome Lel (King Frost/Snow Maiden/Spring Fairy) 11 Arietta: I Heard All Of The Loveliest Songs (Snow Maiden) 12 Trio: Do You Hear? (Snow Maiden/ Spring Fairy/King Frost) Appearance Of The Forest Spirit (Forest Spirit/Chorus) 13 Scene 4. Carnival Procession (Chorus) 14 This Summer Soon Will Pass (Carnival Puppet/Chorus) 15 Wait! Is It Already Over? (Cottager & Wife/ Puppet/Snow Maiden/Chorus Of Berendeyans) Act One 16 Introduction (Orchestra) 17 Scene 1. For Your Kind Welcome, Lel Can Offer Nothing (Lel/Cottager/Snow Maiden) 18 Lel's First Song (Lel) 19 Lel's Second Song (Lel) 20 Lel, Handsome Lel (Chorus Of Girls/Snow Maiden) Total Time: 63'55 Snow Maiden: ELENA ZEMENKOVA King Frost: NICOLA GHIUSELEV Spring Fairy: ALEXANDRINA MILCHEVA Tsar Berendei: AVRAM ANDREEV Lel, A Shepherd: STEFKA MINEVA Kupava, A Young Girl: STEFKA EVSTATIEVA Cottager: LYUBOMIR DYAKOVSKI His Wife: VESSELA ZOROVA Misgir, A Merchant: LYUBOMIR VIDENO Forest Spirit: LYUBOMIR DYAKOVSKI - BULGARIAN RADIO SYMPHONY ORCHESTRa & CHORUS / STOYAN ANGELOV CD 14: THE SNOW MAIDEN - (PART 2) OPERA IN A PROLOGUE AND FOUR ACTS Libretto By Rimsky-Korsakov After Alexander Ostrowskij 1 Scene 2. Arietta: Ah, How I Suffer (Snow Maiden) 2 Scene 3. The Snow Maiden Is All Alone (Kupava/Snow Maiden) 3 Scene 4. Wedding Ritual: Young Maidens, Dear Friends (Kupava/ Misgir/Chorus Of Girls) 4 Scene 5. Without Lel, The Snow Maiden Will Be Sad (Kupava/Misgir/ Snow Maiden/Cottager & Wife/Lel) 5 Scene 6. Friends, Aid Me In My Distress (Kupava/Lel/Misgir/Chorus) Act Two 6 Introduction (Orchestra) 7 Scene 1. The Vibrant Tone Of The Gusli (Chorus Of Blind Psalteries) 8 Scene 2. O Beloved Tsar... (Bermyata/Tsar/Page) 9 Scene 3. Duet: O Tsar, My Father! (Kupava/Tsar) 10 Scene 4. Hark My Words, Valiant And Noble Gentlemen (First & Second Criers) 11 Ceremonial Procession Of Tsar Berendey (Orchestra) 12 Hymn (Berendeyans/Kupava/Lel/First & Second Criers/Chorus) 13 Scene 5. I Thank You! (Kupava/Tsar/Misigir/Bermyata/Chorus) 14 Scene 6. Cavatina: Nature Is Almighty (Tsar) 15 My Child... O Great Tsar 7'49 (Tsar/Snow Maiden/Bermyata/Lel/Chorus) 16 Final Chorus: Almighty, All-wise Tsar (Chorus) Total Time: 66'36 Snow Maiden: ELENA ZEMENKOVA King Frost: NICOLA GHIUSELEV Spring Fairy: ALEXANDRINA MILCHEVA Tsar Berendei: AVRAM ANDREEV Lel, A Shepherd: STEFKA MINEVA Kupava, A Young Girl: STEFKA EVSTATIEVA Cottager: LYUBOMIR DYAKOVSKI His Wife: VESSELA ZOROVA Misgir, A Merchant: LYUBOMIR VIDENO Forest Spirit: LYUBOMIR DYAKOVSKI - BULGARIAN RADIO SYMPHONY ORCHESTRA & CHORUS / STOYAN ANGELOV CD 15: THE SNOW MAIDEN - (PART 3) OPERA IN A PROLOGUE AND FOUR ACTS Libretto By Rimsky-Korsakov After Alexander Ostrowskij Act Three: 1 Scene 1. Dance And Song Of The Beaver: Ah, A Linden-tree Grows In The Field (Chorus/Snow Maiden/Lel/Cottager) What Merry Festivities! (Tsar) 2 Cavatina: The Happy Day Fades (Tsar) 3 Recitative: Another Amusement (Tsar) 4 Dance Of The Tumblers (Orchestra) 5 Lel's Third Song (Lel) 6 Recitative: Thank You, Handsome Lel... O Father, Tsar (Tsar/Snow Maiden/Chorus) 7 Scene 2. How Is It, Lel, That Your Heart Is So Cold? (Snow Maiden/Misgir) 8 Andantino: On A Warm Blue Sea (Misgir/Snow Maiden) Wait, Do Not Hurry! (Forest Spirit) 9 Transformation Of The Forest Spirit: All Night He Shall Pursue Her Shadow (Forest Spirit/Misgir) 10 Scene 3. At Last, I Find You (Lel/Kupava/Snow Maiden) Act Four 11 Introduction (Orchestra) 12 Scene 1. O Mother, My Eyes Are Full Of Tears (Snow Maiden/Spring Fairy) 13 Flowers Of The Springtide Dawn(Spring Fairy/Chorus Of Flowers) 14 Oh Mother, What A Miracle (Snow Maiden/Spring Fairy) 15 Scene 2. Duet: Wait, Wait For Me, Snow Maiden (Misgir/Snow Maiden) 16 Scene 3. Finale (Snow Maiden/Misgir/Tsar/Chorus) 17 Hymn Of Praise To The Sun-god Yarilo: Life-giving Yarilo (Chorus) Total Time: 78'46 Snow Maiden: ELENA ZEMENKOVA King Frost: NICOLA GHIUSELEV Spring Fairy: ALEXANDRINA MILCHEVA Tsar Berendei: AVRAM ANDREEV Lel, A Shepherd: STEFKA MINEVA Kupava, A Young Girl: STEFKA EVSTATIEVA Cottager: LYUBOMIR DYAKOVSKI His Wife: VESSELA ZOROVA Misgir, A Merchant: LYUBOMIR VIDENO Forest Spirit: LYUBOMIR DYAKOVSKI - BULGARIAN RADIO SYMPHONY ORCHESTRA & CHORUS / STOYAN ANGELOV CD 16: MOZART AND SALIERI Op.48 Opera In One Act Libretto By Alexander Pushkin 1 Introduction 2 Scene 1 3 Scene 2 Total Time: 40'49 Mozart: ALEXEI MASLENNIKOV Salieri: EVGENY NESTERENKO BOLSHOI THEATRE SYMPHONY ORCHESTRA - GENNADY ROZHDESTVENSKY CD 17: THE NOBLEWOMAN VERA SHELOGA Op.54 - Opera In One Act Libretto By Rimsky-Korsakov After Lev Alexandrovich Mey 1 Overture (Orchestra) Scene 1 2 Look Boyarishnya, Dear, What A Fine String Of Beads! (Vlas'yevna) 3 Lullaby: Lulla, Lullaby, Lulla, Lulla... (Vera) Scene 2 4 Did Olenka Fall Asleep To Your Song (Nadezhda) 5 Who Is It, Then?... Do Not Ask, Nadezhda! (Nadezhda/Vera) 6 I Thought I Heard A Cuckoo... (Vera) Scene 3 7 Stop!... Were You Not Expecting Other Guests? (Vera/Boyar Sheloga) Total Time: 49'13 Vera: STEVKA EVSTATIEVA Nadezhda: ALEXANDRINA MILCHEVA Vlas'yevna: STEFKA MINEVA Boyar Sheloga: PETER BAKARDZHIEV Prince Tokmakov: DIMITER STANCHEV BULGARIAN RADIO SYMPHONY ORCHESTRA- STOYAN ANGELOV CD 18: THE TSAR'S BRIDE - OPERA IN FOUR ACTS Libretto: Il'ya Tyumenev After Lev Mey 1 Overture (Orchestra) Act One 2 Scene 1. Could I Somehow Forget (Gryaznoy) 3 Scene 2. Here Are My Guests! 4 Scene 3. Dear Host! May We Hear (Gryaznoy/Malyuta-Skuratov/Likov/Bomelius) 5 Song Of The Hops (Malyuta-Skuratov/Gryzanoy/Bomelius) 6 Scene 4. Hello, My Beautiful Child! (Gryaznoy/Malyuta-Skuratov/Lyubasha) 7 Scene 5. Bomelius... (Gryaznoy/Bomelius/Lyubasha) 8 Scene 6. What Do You Want? (Lyubasha/Gryaznoy) Act Two 9 Scene 1. There, The End Of The Vespers Has Arrived (Chorus) 10 Scene 2. How Calming This Autumn Evening Is (Marfa/Dunyasha/Petrovna) 11 Scene 3. Ah, What Is Wrong With Me, Why Am I Trembling So? (Marfa/Dunyasha/Likov/Sobakin) Total Time: 75'33 Marfa: EKATERINA KUDRIAVCHENKO Ivan Likov: ARKADY MISHENKIN Grigory Gryaznoy: VLADISLAV VERESTNIKOV Lyubasha: NINA TERENTIEVA Bomelius: VLADIMIR KUDRIASHOV Vasily Sobakin: PYOTR GLUBOKY Dunyasha: ELENA OKOLYSHEVA Saburova: IRINA UDALOVA Grigory Malyuta-Skuratov: NIKOLAI NIZIENKO Servant: NINA LARIONOVA Petrovna: TATIANA PECHURIA Coachman: VLADISLAV PASHINSKY Young Lad: YURI MARKELOV Sveshnikov Academic Choir - BOLSHOI THEATRE ORCHESTRA / ANDREY CHISTIAKOV CD 19: THE TSAR'S BRIDE - (PART 2) OPERA IN FOUR ACTS Libretto: Il'ya Tyumenev After Lev Mey 1 Symphonic Intermezzo (Orchestra) 2 Scene 4. Finally, I Have Managed To Find His Turtledove! (Lyubasha/Bomelius) 3 Scene 5. Ah, My God Forgive Me, Grigory! (Lyubasha/Likov/Sobakin/Bomelius) Act Three 4 Prelude (Orchestra) 5 Scene 1. I Must Thank God, Ivan Sergeyevich! (Likov/Gryaznoy/Sobakin) 6 Scene 2. Tell Me, Please, What Would You Do (Likov/Gryaznoy) 7 Scene 3. My Good Friends, Taste This Wine! (Likov/Gryaznoy/Sobakin/Saburova) 8 Dunishia Pleases The Prince? Not Possible! (Lyubasha/Bomelius) 9 Scenes 4 & 5. This Glass Is For You (Marfa/Dunyasha/Likov/Gryaznoy/Sobakin) Act Four 10 Prelude & Scene 1. A Long Sleep Will Restore The Strength (Sobakin/Saburova/Servant/Coachman) 11 Scene 2. Receive My Prayers, Powerful Boyar (Sobakin/Gryaznoy/Marfa/Saburova/Dunyasha) 12 Ah! (Marfa/Gryaznoy/Dunyasha/ Saburova/Sobakin) 13 Come To The Garden, Ivan Sergeyevich (Marfa) 14 Scene 3. No, No, This Is Enough (Gryaznoy/Lyubasha/Marfa/Malyuta-Skuratov/Saburova) Total Time: 70'41 Marfa: EKATERINA KUDRIAVCHENKO Ivan Likov: ARKADY MISHENKIN Grigory Gryaznoy: VLADISLAV VERESTNIKOV Lyubasha: NINA TERENTIEVA Bomelius: VLADIMIR KUDRIASHOV Vasily Sobakin: PYOTR GLUBOKY Dunyasha: ELENA OKOLYSHEVA Saburova: IRINA UDALOVA Grigory Malyuta-Skuratov: NIKOLAI NIZIENKO Servant: NINA LARIONOVA Petrovna: TATIANA PECHURIA Coachman: VLADISLAV PASHINSKY Young Lad: YURI MARKELOV Sveshnikov Academic Choir - BOLSHOI THEATRE ORCHESTRA / ANDREY CHISTIAKOV CD 20: THE LEGEND OF THE INVISIBLE CITY OF KITEZH AND THE MAIDEN FEVRONIYA Opera In Four Acts Libretto: Vladimir Belsky Act One: 1 Introduction: In Praise Of The Wilderness 2 Ah, You Forest, My Forest, Beautiful Wilderness (Fevroniya) 3 Oh Lord, What Is The Meaning Of This? (Prince Vsevolod/Fevroniya) 4 Whose Child Are You? Where Have You Come From? (Prince Vsevolod/Fevroniya) 5 Tell Me, Fair Maiden, Do You Go To Pray In God's Church? (Prince Vsevolod/Fevroniya) 6 Well Spoken, Fair Maiden! (Prince Vsevolod/Fevroniya) 7 Hail To Thee, Lips Of Honey (Prince Vsevolod/Fevroniya) 8 As Soon As The Marksmen Came Out Into The Open Field (Chorus/Prince Vsevolod/Fevroniya/Poyarok) Act Two: 9 Show Them, Mikhaylushka, Show Them Playful Bear (Bear Leader/Chorus/ Gusli Player/Well-off People) 10 So What Is That To Us? (Kuterma/ Well-off People/Chorus) 11 Hey Lads! I Can Hear Some Bells (Chorus/Poyarok/Well-off People) 12 Get Away, Clear Off, You Dog! (Chorus/Fevroniya/Poyarok/Kuterma) 13 Over The Bridges Of Guelder-tree (Chorus) 14 Gayda! Gay! Gayda! (Tatars/Bedyay/ Burunday/Chorus/Kuterma/Fevroniya) 15 Gayda! Gay! Stop, You Godless Heathens (Chorus/Kuterma) Total Time: 65'48 Prince Yury Vsevolodovich: IVAN PETROV Prince Vsevolod: VLADIMIR IVANOVSKY Fevroniya: NATALIA ROZHDESTVENSKAYA Grishka Kuterma: DIMITRI TARKHOV Fyodor Poyarok: ILJA BOGDANOV Page: LIDIA MELNIKOVA Two Well-off People: VENIARNIN SHEVTSOV, SERGEI KOLTYPIN Gusli Player: BORIS DOBRIN Bear Leader: TIHON CHERNYAKOV Singing Beggar: MIKHAIL SKAZIN Bedyay: LEONID KTITOROV Burunday: GENNADY TROITSKY Sirin: MARIA ZVEZDINA Alkonost: NINA KULAGINA, MOSCOW RADIO CHORUS & SYMPHONY ORCHESTRA / VASSILI NEBOLSIN CD 21: THE LEGEND OF THE INVISIBLE CITY OF KITEZH AND THE MAIDEN FEVRONIYA (PART 2) Opera In Four Acts Libretto: Vladimir Belsky Act Three: 1 Scene 1. Good Fortune To You, Citizens Of Kitezh (Poyarok/Chorus/Prince Vsevolod) 2 Oh Glory, Vain Wealth! (Prince Yury) 3 Wondrous Queen Of Heaven, Our Holy Protectress! (Poyarok/Prince Yury/ Chorus/Page) 4 Kitezh Looted And Us Taken Alive As A Tribute (Prince Yury/Chorus/Prince Vsevolod) 5 What Are We Standing About For, Sisters? (Chorus/Page/Prince Yury/ Poyarok) 6 Entr'acte To The Second Scene: The Battle Near Kerzhenets 7 Scene 2. Here Is The Oak Grove, And Here Is The Lake (Kuterma/Burunday/Bedyay/Chorus) 8 Oh, You Tartar Murzas! I Don't Need The Gold Or Silver (Burunday/Bedyay/Chorus) 9 Ah, My Dear Husband, My Hope! (Fevroniya) 10 Hear Me, Maiden... Lovely Princess! (Kuterma/Fevroniya) 11 Go, Servant Of The Lord! (Fevroniya/Kuterma/Chorus) Total Time: 62'36 Prince Yury Vsevolodovich: IVAN PETROV Prince Vsevolod: VLADIMIR IVANOVSKY Fevroniya: NATALIA ROZHDESTVENSKAYA Grishka Kuterma: DIMITRI TARKHOV Fyodor Poyarok: ILJA BOGDANOV Page: LIDIA MELNIKOVA Two Well-off People: VENIARNIN SHEVTSOV, SERGEI KOLTYPIN Gusli Player: BORIS DOBRIN Bear Leader: TIHON CHERNYAKOV Singing Beggar: MIKHAIL SKAZIN Bedyay: LEONID KTITOROV Burunday: GENNADY TROITSKY Sirin: MARIA ZVEZDINA Alkonost: NINA KULAGINA, MOSCOW RADIO CHORUS & SYMPHONY ORCHESTRA / VASSILI NEBOLSIN CD 22: THE LEGEND OF THE INVISIBLE CITY OF KITEZH AND THE MAIDEN FEVRONIYA (PART 3) Act Four: 1 Scene 1. Oh, I Can't Go On, Grishenka (Fevroniya/Kuterma) 2 Earth, Our Merciful Mother! (Fevroniya/Kuterma) 3 Grishenka!... He Will Not Listen (Fevroniya) 4 The Free Birds Are Toning Up Their Voices (Fevroniya/Voice Of Alkonost) 5 Is That You, Radiant Light Of My Eyes? (Fevroniya/Ghost) 6 The Bridegroom Has Come (Voice Of Sirin/Fevroniya/Ghost) 7 Entr'acte To The Second Scene 8 Scene 2. The Doors Of Paradise Have Opened For You (Alkonost/Sirin/Chorus) 9 Radiant Kingdom! O God! (Fevroniya/Chorus/Prince Vsevolod) 10 May The Grace Of God Be With You! (Prince Yury/Fevroniya/Prince Vsevolod/ Sirin/Alkonost) 11 Stay With Us Here For Ever More (Chorus/Fevroniya/Sirin/Alkonost/Prince Vsevolod/Prince Yury) 12 Grishenka, Even Though You Are Feeble In Mind (Fevroniya/Poyarok/Prince Yury/Chorus) Prince Yury Vsevolodovich: IVAN PETROV Prince Vsevolod: VLADIMIR IVANOVSKY Fevroniya: NATALIA ROZHDESTVENSKAYA Grishka Kuterma: DIMITRI TARKHOV Fyodor Poyarok: ILJA BOGDANOV Page: LIDIA MELNIKOVA Two Well-off People: VENIARNIN SHEVTSOV, SERGEI KOLTYPIN Gusli Player: BORIS DOBRIN Bear Leader: TIHON CHERNYAKOV Singing Beggar: MIKHAIL SKAZIN Bedyay: LEONID KTITOROV Burunday: GENNADY TROITSKY Sirin: MARIA ZVEZDINA Alkonost: NINA KULAGINA, MOSCOW RADIO CHORUS & SYMPHONY ORCHESTRA / VASSILI NEBOLSIN ROMANCES 13 The Rainy Day Has Waned Op.51 No.5 Pushkin 14 The Clouds Begin To Scatter Op.42 No.3 Pushkin 15 Oh, If Thou Couldst For One Moment Op.39 No.1 Tolstoy 16 Not The Wind, Blowing From The Heights Op.43 No.2 Tolstoy 17 The Octave Op.45 No.3 Maykov 18 The Messenger Op.4 No.2 Heine 19 The Upas Tree Op.49 No.1 Pushkin Total Time: 78'41 Ivan Petrov Bass - S. Stuchevsky Piano CD 23: THE GOLDEN COCKEREL - OPERA IN A PROLOGUE, THREE ACTS AND AN EPILOGUE Libretto By Vladimir Belsky After Alexander Pushkin Prologue: 1 Introduction: I Am The Master Magician (Astrologer) Act One: 2 The King's Monologue: I Have Summoned You Here (King Dodon) 3 Guidon's Plan: Great Father (Guidon/King Dodon/Chorus Of Boyars) 4 Afron's Plan (King Dodon/Boyars/Afron/Polkan/Guidon) 5 Hail, Majesty! Sire! (Astrologer) Oh, That's A Fairy Tale! (King Dodon/The Golden Cockerel) 6 Cock-a-doodle-do! The Coast Is Clear - The Parrot Scene (The Golden Cockerel/King Dodon/Amelfa) 7 Dodon's Siesta - Cock-a-doodle-do! Beware! (Chorus Of The People/Amelfa/The Golden Cockerel) Our King! Father Of The People! (Polkan/King Dodon/Afron/Chorus Of Boyars/Guidon) 8 King Dodon's Dream (The Golden Cockerel/King Dodon/Amelfa/Chorus) 9 The Cockerel's Sccene: Cock-a-doodle-do!... Oh! What Misfortune! (The Golden Cockerel/Chorus Of The People/Polkan/King Dodon) Total Time: 46'17 King Dodon: NIKOLAI STOILOV Prince Guidon: LYUBOMIR BODOUROV Afron: EMIL UGRINOV Polkan: KOSTA VIDEV Astrologer: LYUBOMIR DYAKOVSKI Queen Of Shemakha: ELENA STOYANOVA The Golden Cockerel: YAVORA STOILOVA Amelfa: EVGENIA BABACHEVA / SOFIA NATIONAL OPERA ORCHESTRA / DIMITER MANOLOV CD 24: THE GOLDEN COCKEREL - (PART 2) OPERA IN A PROLOGUE, THREE ACTS AND AN EPILOGUE Libretto By Vladimir Belsky After Alexander Pushkin Act Two: 1 Soldiers' Chorus: The Silent Night Is Whispering Fearful Things (Chorus Of Soldiers) What Terrible Sight Is This? - Behold, A Tent! (King Dodon/Polkan/Chorus Of Soldiers) 2 The Queen Of Shemakha's Entrance: Hail, O Ray Of Morning Sun (Queen Of Shemakha/King Dodon/Polkan) 3 Whose Heart Rich In Love (Queen Of Shemakha/King Dodon) 4 Dance Of The Queen Of Shemakha: At First I Shall Dance With A Lowered Veil (Queen Of Shemakha/King Dodon) 5 Sisters, Who Limps Beside The Resplendent Beauty? (Chorus Of Slaves) Ho! Polkan! Sound The Trumpets In Victory (King Dodon/Chorus Of Soldiers) 6 It Is Terrible, Brothers (Chorus Of The People/Amelfa) 7 Who Is That Stranger Standing There? (Queen Of Shemakha/King Dodon) Great King, It Is I (Astrologer) 8 King Dodon's Death: Ha, Ha, Ha! (Queen Of Shemakha) I've Beaten Him To Death (King Dodon/The Golden Cockerel/Chorus Of The People) Epilogue: 9 There, My Story's Ended! (Astrologer) Total Time: 72'24 King Dodon: NIKOLAI STOILOV Prince Guidon: LYUBOMIR BODOUROV Afron: EMIL UGRINOV Polkan: KOSTA VIDEV Astrologer: LYUBOMIR DYAKOVSKI Queen Of Shemakha: ELENA STOYANOVA The Golden Cockerel: YAVORA STOILOVA Amelfa: EVGENIA BABACHEVA / SOFIA NATIONAL OPERA ORCHESTRA / DIMITER MANOLOV CD 25: Historical Recordings SYMPHONY NO.3 IN C Op.32 1 I. Moderato Assai - Allegro 12'51 2 II. Scherzo: Vivo 6'01 3 III. Andante 8'22 4 IV. Allegro Con Spirito 6'18 SCHEHERAZADE Op.35 'Symphonic Suite After A Thousand And One Nights' 5 I. The Sea And Sinbad's Ship 10'09 6 II. The Story Of The Kalendar Prince 11'43 7 III. The Young Prince And The Young Princess 10'53 8 IV. Festival At Baghdad - The Sea - Shipwreck - Conclusion 11'16 Total Time: 77'38 USSR State TV And Radio Symphony Orchestra - Gennady Rozhdestvensky (1-4) David Oistrakh Violin - Bolshoi Theatre Symphony Orchestra - Nikolai Golovanov (5-8
Sklep: Gigant.pl 9,25 zł
Książki & Multimedia > Książki
Opis - Pierwsze na świecie świadectwo ofiary zbrodni honorowej. Miała siedemnaście lat i zakochała się: zhańbiła rodzinę. Więc rodzina wydała na nią wyrok śmierci... Pokochała go pierwszą miłością. Myślała, że się z nią ożeni. Ale ukochany zniknął, a ona odkryła, że jest w ciąży. A w jej świecie to najcięższa zbrodnia... W zapomnianej przez Boga wiosce w Cisjordanii kobiety są warte mniej niż zwierzęta domowe. Tu mężczyzna jest panem życia i śmierci żony, córki, siostry. Brat może bezkarnie zabić siostrę, matka - córkę, kolejną bezużyteczną dziewczynkę, jaka się urodzi. Tu kobiecie odbiera się godność, a nawet życie zgodnie z odwiecznym obyczajem i uświęconą tradycją. A śmierć jest karą dla dziewczyny, która zhańbi rodzinę. Tak jak Souad. Wyrok wydaje jej ojciec. Szwagier dokonuje egzekucji. Oblewa Souad benzyną i podpala... SOUAD przeżyła - cudem, ale rodzina usiłowała zabić ją nawet w szpitalu. Na zawsze jednak pozostanie straszliwie okaleczona - na ciele i duszy. I wciąż musi się ukrywać; dopóki żyje, jej rodzinę okrywa hańba. Spalona żywcem, opublikowana pod pseudonimem szokująca opowieść o piekle, jakim było jej dzieciństwo i młodość, stała się międzynarodowym bestsellerem. Wydana w 37 w krajach książka przerywa tabu milczenia wobec istniejącej nadal w krajach muzułmańskich barbarzyńskiej tradycji. Nieludzkiego obyczaju, prawa mężczyzn, na mocy którego co najmniej pięć tysięcy kobiet pada co roku ofiarą zbrodni honorowej. Nazwa - Spalona Żywcem Wyd. Kieszonkowe Autor - Souad Oprawa - Miękka Wydawca - Amber Kod ISBN - 9788324159406 Kod EAN - 9788324159406 Wydanie - 1 Rok wydania - 2016 Tłumacz - 31182,maria rostworowska; Format - 110 x 175 x 14 Ilość stron - 224 Podatek VAT - 5% Premiera - 2016-06-23
Sklep: InBook.pl 299,99 zł
Muzyka>Klasyczna
1. Sinfonia Da Requiem Op.20 2. Four Sea Interludes & Passacaglia 3. The Young Person's Guide To The Orchestra Op.34 101. Canadian Carnival Op.19 102. Diversions For Piano (Left Hand) & Orchestra Op.21 103. Scottish Ballad Op.26 104. An American Overture Op.27 105. Occasional Overture Op.38 106. Building Of The House Op.79 201. Piano Concerto Op.13 202. Violin Concerto Op.15 203. Young Apollo Op.16 301. Simple Symphony Op.4 302. Variations On A Theme By Frank Bridge Op.10 303. Prelude & Fugue Op.29 304. Lachrymae Op.48a 401. Symphonic Suite From 'Gloriana' Op.53a 402. Cello Symphony Op.68 403. Men Of Goodwill 501. Sinfonietta Op.1 502. Russian Funeral 503. Suite On English Folk Tunes: 'A Time There Was'' 504. Matinees Musicales Op.24 505. Soirees Musicales Op.9 506. Rossini Suite Original Version Of Soirees Musicale 601. The Prince Of Pagodas Op.57 (Act I & Ii) 701. The Prince Of Pagodas Op.57 (Act Iii) 801. Rhapsody For String Quartet 802. Elegy For Solo Viola 803. String Quartet In D 804. Phantasy In F Minor For String Quintet 901. Phantasy For Oboe & String Trio Op.2 902. Three Divertimenti For String Quartet 903. Alla Marcia For String Quartet 904. String Quartet No.1 In D Op.25 1001. String Quartet No.2 In C Op.36 1002. String Quartet No.3 Op.94 1101. Cello Suite No.1 In G Op.72 1102. Cello Suite No.2 In D Op.80 1103. Cello Suite No.3 Op.87 1201. Holiday Diary Op.5 1202. Three Character Pieces 1203. Night Piece (Notturno) 1204. From Sonatina Romantica: Moderato 6 Nocturne 1205. Twelve Variations On A Theme 1206. Five Walztes 1207. Two Lullabies For Two Pianos 1208. Mazurka Elegiaca Op.23 No.2 1209. Introduction & Rondo Alla Burlesca Op.23 No.1 1301. Suite For Violin & Piano Op.6 1302. Cello Sonata In C Op.65 1303. Six Metamorphoses After Ovid For Solo Oboe Op.49 1304. Nocturnal After John Dowland Op.70 1401. War Requiem Op.66 (Part I) 1501. War Requiem Op.66 (Part Ii) 1502. Spring Symphony Op.44 1601. Hymn To St Cecilia Op.27 1602. Ceremony Of Carols Op.28 1603. Missa Brevis In D Op.63 1604. Festival Te Deum Op.32 1605. Rejoice In The Lamb Op.30 1606. Te Deum In C 1607. Jubilate Deo 1701. A Hymn To The Virgin 1702. Saint Nicolas Op.42 1703. Hymn To St Peter Op.56a 1704. A Hymn Of St Columba'regis Regum Rectissimi Op.56a 1705. Sacred & Profane Op.91 1801. The Little Sweep'a Children's Opera In 3 Scenes 1802. A Boy Was Born Op.3 1803. A Shepherd's Carol 1901. Noye's Fludde Op.59 1902. Amdg 1903. The Ballad Of Little Musgrave & Lady Barnard 2001. The Company Of Heaven 2002. Ballad Of Heroes Op.14 2003. Praise We Great Men 2101. Les Illuminations Op.18 2102. Serenade For Tenor, Horn & Strings Op.31 2103. Nocturne Op.60 2201. Quatre Chansons Francaises 2202. Our Hunting Fathers Op.8 2203. Folksong Arrangements 2204. Phaedra Op.93 2205. Five French Folksong Arrangements 2301. Seven Sonnets Of Michelangelo Op.22 2302. Holy Sonnets Of John Donne Op.35 2303. On This Island Op.11 2304. Winter Words Op.52 2401. The Five Canticles 2402. Folksong Arrangements 2501. Two Songs By Thomas Hardy 2502. Beware! ? Three Early Songs 2503. 6 Not Even Summer Yet (Burns) 2504. Two Songs By W.h. Auden 2505. The Oxen (Christmas Eve, & Twelve Of The Clock) 2506. Three Rhymes By William Soutar 2507. Tit For Tat 2508. Two Ballads For Two Voices & Piano 2509. Folksong Arrangements / Folk Songs 2601. Realisations Of Music By Henry Purcell 2602. Suite Of Songs For High Voice & Orchestra 2603. Die Forelle 2604. Fruehlingsnacht 2701. Paul Bunyan (Act I) 2801. Paul Bunyan (Act Ii) 2901. Peter Grimes (Prologue, Act I & Ii, Beg.) 3001. Peter Grimes (Act Ii, Concl. & Act Iii) 3101. The Turn Of The Screw (Prologue & Act I) 3201. The Turn Of The Screw (Act Ii) 3301. A Midsummer Night's Dream (Act I & Act Ii, Beg.) 3401. A Midsummer Night's Dream (Act Ii, Concl. & Act II 3501. The Rape Of Lucretia Op.37 3601. Peter Grimes (Scenes) 3602. Folksong Arrangements
Sklep: Gigant.pl 269,99 zł
Muzyka>Klasyczna
1. The Festival Quartet - Piano Quintet In A Major, O 2. I. Allegro Vivace 3. Ii. Andante 4. Iii. Scherzo. Presto - Trio 5. Iv. Thema - Andantino - Var. I-v - Allegretto 6. V. Finale. Allegro Giusto 101. Dorfmann, Ania - Carnaval, Op. 9 102. I. Preambule 103. Ii. Pierrot 104. Iii. Arlequin 105. Iv. Valse Noble 106. V. Eusebius 107. Vi. Florestan 108. Vii. Coquette 109. Viii. Replique 110. Ix. Papillons 111. X. Lettres Dansantes 112. Xi. Chiarina 113. Xii. Chopin 114. Xiii. Estrella 115. Xiv. Reconnaissance 116. Xv. Pantalon Et Colombine 117. Xvi. Valse Allemande 118. Xvii. Paganini 119. Xviii. Aveu 120. Xix. Promenade 121. Xx. Pause 122. Xxi. Marche Des Davidsbuendler Contre Les Philisti 123. Dorfmann, Ania - Fantasiestuecke, Op. 12 124. I. Des Abends 125. Ii. Aufschwung 126. Iii. Warum? 127. Iv. Grillen 128. V. In Der Nacht 129. Vi. Fabel 130. Vii. Traumes Wirren 131. Viii. Ende Vom Lied 201. Kogan, Leonid - Adagio Cantabile 202. Shostakovich, Dmitri - Preludes, Op. 34 203. No. 10, Moderato Non Troppo 204. No. 15, Allegretto 205. No. 16, Andantino 206. No. 24, Allegretto 207. Kogan, Leonid - Song Without Words In G Major, Op. 208. Kogan, Leonid - Caprice Viennois, Op. 2 209. Kogan, Leonid - Gayne: Dance Of Ayshe 210. Kogan, Leonid - Rondino, Op. 32, No. 2 211. Kogan, Leonid - Clair De Lune, L. 75 212. Kogan, Leonid - Romeo & Juliet, Op. 75: Masques (T 213. Kogan, Leonid - Baal Shem: Nigun 214. Kogan, Leonid - Hungarian Dance No. 1 In G Minor, 215. Kogan, Leonid - Raymonda, Op. 57: Entr'acte 216. Kogan, Leonid - Caprice Basque, Op. 24 301. Zimmermann, Robert - Requiem Mass 302. I. Introitus 303. Ii. Kyrie 304. Iii. Graduale 305. Iv. Offertorium 306. V. Sanctus 307. Vi. Agnus Dei 308. Vii. Communio 309. Viii. Responsorium 401. Mitchell, Howard - Symphony No. 5 In D Minor, Op. 402. I. Moderato - Allegro Non Troppo 403. Ii. Allegretto 404. Iii. Largo 405. Iv. Allegro Non Troppo 501. Forrester, Maureen - Frauenliebe Und -leben, Op.42 502. Seit Ich Ihn Gesehen 503. Er, Der Herrlichste Von Allen 504. Ich Kann's Nicht Fassen, Nicht Glauben 505. Du Ring An Meinem Finger 506. Helft Mir, Ihr Schwestern 507. Suesser Freund, Du Blickest Mich Verwundert An 508. An Meinem Herzen, An Meiner Brust 509. Nun Hast Du Mir Den Ersten Schmerz Getan 510. Forrester, Maureen - Zwei Gesaenge, Op. 91 511. Gestillte Sehnsucht 512. Geistliches Wiegenlied 513. Forrester, Maureen - Zigeunerlieder, Op. 103 514. He, Zigeuner, Greife In Die Saiten Ein! 515. Hochgetuermte Rimaflut, Wie Bist Du Trueb 516. Wisst Ihr, Wann Mein Kindchen Am Allerschonsten Is 517. Lieber Gott, Du Weisst, Wie Oft Bereut Ich Hab' 518. Brauner Bursche Fuehrt Zum Tanze 519. Roslein Dreie In Der Reihe Bluehn So Rot 520. Kommt Dir Manchmal In Den Sinn 521. Rote Abendwolken Ziehn Am Firmament 601. Brailowsky, Alexander - La Plus Que Lente, L. 121 602. Brailowsky, Alexander - Scherzo In E Minor, Op. 16 603. Lyadov, Anatoly - The Musical Snuffbox, Op. 32 604. Brailowsky, Alexander - 3 Ecossaises, Op. 72 No. 3 605. Ecossaise In D Major 606. Ecossaise In G Major 607. Ecossaise In D-flat Major 608. Brailowsky, Alexander - Waltz, Op. 39 No. 3 In G-s 609. Brailowsky, Alexander - Waltz, Op. 39 No. 15 In A- 610. Brailowsky, Alexander - Allegro Barbaro, Sz. 49 611. Brailowsky, Alexander - Children's Corner, L. 113: 612. Brailowsky, Alexander - Songs Without Words, Op. 6 613. Brailowsky, Alexander - Grandes Etudes De Paganini 614. Brailowsky, Alexander - 7 Morceaux De Salon, Op. 1 615. Brailowsky, Alexander - Etude In D-sharp Minor, Op 616. Brailowsky, Alexander - Berceuse In D-flat Major, 617. Brailowsky, Alexander - A Prole Do Bebe No. 1, W14 618. Brailowsky, Alexander - El Amor Brujo: Ritual Fire 701. Valletti, Cesare - Le Gelosie Villane: Lungi Dal C 702. Valletti, Cesare - Le Gare Dell'amor Eroico: A Por 703. Valletti, Cesare - Cara E Dolce 704. Valletti, Cesare - Serse, Hwv 40, Act I: Ne Men Co 705. Valletti, Cesare - Pirro E Demetrio, Ross 342.23, 706. Valletti, Cesare - Il Sedecia, Re Di Gerusalemme, 707. Valletti, Cesare - Il Flavio, Act Iii: Chi Vuole I 708. Valletti, Cesare - Der Juengling An Der Quelle, D. 709. Valletti, Cesare - Nacht Und Traeume, D. 827 710. Valletti, Cesare - Der Musensohn, D. 764 711. Valletti, Cesare - 5 Lieder Und Gesaenge, Op. 127: 712. Valletti, Cesare - 6 Gedichte, Op. 36: No. 4, An D 713. Valletti, Cesare - Myrthen, Op. 25: No. 24, Du Bis 714. Valletti, Cesare - I Pastori 801. Piatigorsky, Gregor - Suite Italienne For Cello & 802. I. Introduzione - Allegro Moderato 803. Ii. Serenata - Larghetto 804. Iii. Aria - Allegro Alla Breve - Largo 805. Iv. Tarantella - Vivace 806. V. Minuetto E Finale - Moderato - Molto Vivace 807. Piatigorsky, Gregor - Cello Sonata In D Minor, L. 808. I. Prologue 809. Ii. Serenade 810. Iii. Final 811. Piatigorsky, Gregor - Kleine Suite Fuer Cello Und 812. Piatigorsky, Gregor - Capriccio For Cello & Piano 901. Fiedler, Arthur - On Your Toes: Slaughter On Tenth 902. Fiedler, Arthur - Interplay (American Concertette) 903. Gavotte 904. Blues 905. Fiedler, Arthur - Fancy Free: Vi. Three Variations 906. Galop 907. Waltz 908. Danzon 909. Fiedler, Arthur - The Three-cornered Hat (Excerpt) 910. The Neighbors' Dance 911. The Miller's Dance 912. Final Dance 913. Fiedler, Arthur - The Age Of Gold Suite, Op. 22a: 914. Fiedler, Arthur - Rodeo: Hoe-down 915. Fiedler, Arthur - Estancia, Op. 8: Danza Final (Ma 916. Fiedler, Arthur - Gayane Ballett Suite, No. 1: Sab 1001. Basile, Arturo - Gianni Schicchi: O Mio Babbino Ca 1002. Basile, Arturo - Madama Butterfly: Un Bel Di, Vedr 1003. Basile, Arturo - Andrea Chenier, Act Iii: La Mamma 1004. Basile, Arturo - La Boheme, Act Iii: D'onde Lieta 1005. Basile, Arturo - Manon Lescaut, Act Ii: In Quelle 1006. Basile, Arturo - Otello, Act Iv: Mia Madre Aveva U 1007. Basile, Arturo - Otello, Act Iv: Ave Maria 1008. Basile, Arturo / Rca Victor Orchestra - Rusalka: M 1101. Shaw, Robert - Ich Will Den Kreuzstab Gerne Tragen 1102. I. Aria: Ich Will Den Kreuzstab Gerne Tragen 1103. Ii. Recitative: Mein Wandel Auf Der Welt 1104. Iii. Aria: Endlich, Endlich Wird Mein Joch 1105. Iv. Recitative & Arioso: Ich Stehe Fertig Und Be 1106. V. Chorus: Komm, O Tod, Du Schlafes Bruder 1107. Shaw, Robert - Ich Habe Genug, Bwv 82 1108. I. Aria: Ich Habe Genug 1109. Ii. Recitativo: Ich Habe Genug! 1110. Iii. Aria: Schlummert Ein, Ihr Matten Augen 1111. Iv. Recitativo: Mein Gott! Wann Kommt Das Schone N 1112. V. Aria: Ich Freue Mich Auf Meinen Tod 1201. The Festival Quartet - Piano Quartet No. 3 In C Mi 1202. I. Allegro Non Troppo 1203. Ii. Scherzo - Allegro 1204. Iii. Andante 1205. Iv. Finale - Allegro Comodo 1301. Gould, Morton - Ouverture Solennelle '1812', Op. 4 1302. Gould, Morton - Bolero, M. 81 1401. Munch, Charles - Symphony No. 1, Op. 3 1402. I. Andante Maestoso - Non Troppo Allegro Ma Con Sp 1403. Ii. Andante Comodo 1404. Iii. Allegretto Grotesco 1405. Iv. Andante Sostenuto 1406. Munch, Charles - Symphony No. 2 1407. I. Maestoso - Doppio Movimento 1408. Ii. Andante 1409. Iii. Maestoso 1501. Walt, Sherman - Bassoon Concerto No. 13 In C Major 1502. I. Allegro 1503. Ii. Largo 1504. Iii. Allegro 1505. Walt, Sherman - Bassoon Concerto No. 14 In C Minor 1506. I. Allegro 1507. Ii. Andantino Quasi Minuetto 1508. Iii. Allegro 1509. Walt, Sherman - Bassoon Concerto No. 8 In F Major, 1510. I. Allegro Non Molto 1511. Ii. Andante 1512. Iii. Allegro Molto 1513. Walt, Sherman - Bassoon Concerto No. 17 In C Major 1514. I. Allegro Non Molto 1515. Ii. Andante Molto 1516. Iii. Allegro 1601. Tchaikovsky, Andre - Fantasy For Piano In C Minor, 1602. Tchaikovsky, Andre - Piano Sonata No. 14 In C Mino 1603. I. Molto Allegro 1604. Ii. Adagio 1605. Iii. Allegro Assai 1606. Tchaikovsky, Andre - Piano Sonata No. 10 In C Majo 1607. I. Allegro Moderato 1608. Ii. Andante Cantabile 1609. Iii. Allegretto 1701. Tchaikovsky, Andre - 24 Preludes, Op. 28 (Excerpt) 1702. No. 18 In F Minor 1703. No. 2 In A Minor 1704. No. 14 In E-flat Minor 1705. No. 4 In E Minor 1706. No. 5 In D Major 1707. No. 8 In F-sharp Minor 1708. No. 19 In E-flat Major 1709. No. 20 In C Minor 1710. No. 23 In F Major 1711. No. 24 In D Minor 1712. Tchaikovsky, Andre - Barcarolle In F-sharp Major, 1713. Tchaikovsky, Andre - Etude In A-flat Major, Op. 10 1714. Tchaikovsky, Andre - Etude In C Major, Op. 10, No. 1715. Tchaikovsky, Andre - Mazurkas, Op. 59 (Excerpt) 1716. No. 1 In A Minor 1717. No. 2 In A-flat Major 1718. Tchaikovsky, Andre - Mazurkas, Op. 56: No. 1 In B 1719. Tchaikovsky, Andre - Ballade No. 3 In A-flat Major 1801. Janigro, Antonio - Cello Concerto No. 9 In B-flat 1802. I. Allegro Moderato 1803. Ii. Andantino Grazioso 1804. Iii. Rondo. Allegro 1805. Janigro, Antonio - Cello Concerto In D Major, Rv 2 1806. I. Allegro 1807. Ii. Larghetto 1808. Iii. Allegro 1809. Janigro, Antonio - Organ Concerto In G Major After 1810. I. Allegro 1811. Ii. Grave 1812. Iii. Presto 1901. Laredo, Jaime - Sonata For Violin & Basso Continuo 1902. Laredo, Jaime - Suite Populaire Espagnole (Excerpt 1903. Nana (Berceuse) 1904. Jota 1905. Laredo, Jaime - Sicilienne In E-flat Major 1906. Laredo, Jaime - Scherzo-tarantelle In G Minor, Op. 1907. Laredo, Jaime - Suite No. 3 In D Major, Bwv 1068: 1908. Laredo, Jaime - 24 Caprices For Solo Violin, Op. 1 1909. Laredo, Jaime - Preludes, Book I, L. 117: No. 8, L 1910. Laredo, Jaime - Concert Fantasy On Carmen, Op. 25 2001. Juilliard String Quartet - String Quartet No. 14 I 2002. I. Allegro 2003. Ii. Andante Con Moto 2004. Iii. Scherzo. Allegro Molto - Trio 2005. Iv. Presto 2006. Juilliard String Quartet - String Quartet No. 12 I 2101. Peters, Roberta - St. John Passion, Bwv 245: I Fol 2102. Peters, Roberta - Ich Hatte Viel Bekuemmernis, Bwv 2103. Peters, Roberta - L'allegro, Il Penseroso Ed Il Mo 2104. Peters, Roberta - Solitudine Amene, Bersaglio D'em 2105. Peters, Roberta - Liederkreis, Op.39: No. 5 Mondna 2106. Peters, Roberta - Six Songs, Op. 89: No. 6 Roselei 2107. Peters, Roberta - Liederkreis, Op.39: No. 12 Frueh 2108. Peters, Roberta - 4 Lieder, Op. 27: No. 4, Morgen! 2109. Peters, Roberta - 6 Lieder, Op. 68: No. 5, Amor 2110. Peters, Roberta - Apparition, L. 53 2111. Peters, Roberta - Fleur Des Bles 2112. Peters, Roberta - Epigrammes De Clement Marot, M. 2113. Peters, Roberta - L'enfant Et Les Sortileges, M. 7 2201. Valletti, Cesare - Dichterliebe, Op. 48 2202. 1. Im Wunderschonen Monat Mai 2203. 2. Aus Meinen Traenen Spriessen 2204. 3. Die Rose, Die Lilie, Die Taube, Die Sonne 2205. 4. Wenn Ich In Deine Augen Seh' 2206. 5. Ich Will Meine Seele Tauchen 2207. 6. Im Rhein, Im Heiligen Strome 2208. 7. Ich Grolle Nicht 2209. 8. Und Wuessten's Die Blumen 2210. 9. Das Ist Ein Floten Und Geigen 2211. 10. Hor' Ich Das Liedchen Klingen 2212. 11. Ein Juengling Liebt' Ein Maedchen 2213. 12. Am Leuchtenden Sommermorgen 2214. 13. Ich Hab' Im Traum Geweinet 2215. 14. Allnaechtlich Im Traume 2216. 15. Aus Alten Maerchen Winkt Es 2217. 16. Die Alten, Bosen Lieder 2218. Valletti, Cesare - Myrthen, Op. 25: No. 3, Der Nus 2219. Valletti, Cesare - 12 Gedichte, Op. 35: No. 4, Ers 2220. Valletti, Cesare - Lieder Und Gesaenge, Vol. 1, Op 2221. Valletti, Cesare - Gedichte Aus 'Liebesfruehling', 2222. Valletti, Cesare - 6 Gedichte Von Nikolaus Lenau U 2223. Valletti, Cesare - 6 Gedichte Von Nikolaus Lenau U 2301. Juilliard String Quartet - String Quartet In G Min 2302. I. Anime Et Tres Decide 2303. Ii. Assez Vif Et Bien Rythme 2304. Iii. Andantino, Doucement Expressif 2305. Iv. Tres Modere 2306. Juilliard String Quartet - String Quartet In F Maj 2307. I. Allegro Moderato 2308. Ii. Assez Vif, Tres Rythme 2309. Iii. Tres Lent 2310. Iv. Vif Et Agite 2401. Laredo, Jaime - Violin Sonata No. 3 In D Minor, Op 2402. I. Allegro 2403. Ii. Adagio 2404. Iii. Un Poco Presto E Con Sentimento 2405. Iv. Presto Agitato 2406. Laredo, Jaime - Violin Partita No. 3 In E Major, B 2407. I. Preludio 2408. Ii. Loure 2409. Iii. Gavotte En Rondeau 2410. Iv. Menuet I & II 2411. V. Bourree 2412. Vi. Gigue 2501. Casadesus, Jean - Preludes, Book I, L. 117 2502. I. Danseuses De Delphes. Lent Et Grave 2503. Ii. Voiles. Modere 2504. Iii. Le Vent Dans La Plaine. Anime 2505. Iv. Les Sons Et Les Parfums Tournent Dans L'air Du 2506. V. Les Collines D'anacapri. Tres Modere 2507. Vi. Des Pas Sur La Neige. Triste Et Lent 2508. Vii. Ce Qu'a Vu Le Vent D'ouest. Anime Et Tumultue 2509. Viii. La Fille Aux Cheveux De Lin. Tres Calme Et D 2510. Ix. La Serenade Interrompue. Moderement Anime 2511. X. La Cathedrale Engloutie. Profondement Calme 2512. Xi. La Danse De Puck. Capricieux Et Leger 2513. Xii. Minstrels. Modere 2601. Shaw, Robert - Carmen, Act Iv: Les Voici! Les Voic 2602. Shaw, Robert - Les Contes D'hoffmann, Act Ii: Pres 2603. Shaw, Robert - Faust, Act Iv: Deposons Les Armes ( 2604. Shaw, Robert - Nabucco, Act Iii: Va', Pensiero (Ch 2605. Shaw, Robert - Otello, Act Ii: Dove Guardi Splendo 2606. Shaw, Robert - Il Trovatore, Act Ii: Vedi! Le Fosc 2607. Shaw, Robert - Lohengrin, Wwv 75, Act Iii: Treulic 2608. Shaw, Robert - Rigoletto, Act I: Zitti, Zitti Movi 2609. Shaw, Robert - Die Meistersinger Von Nuernberg, Ww 2610. Shaw, Robert - Mignon, Act Iii: Ah! Au Souffle Leg 2611. Shaw, Robert - Cavalleria Rusticana: Ah! Gli Aranc 2612. Shaw, Robert - Die Fledermaus, Act Ii: Bruederlein 2701. Vronsky, Vitya - Swan Lake, Op. 20: Waltz (Arrange 2702. Vronsky, Vitya - Serenade For Strings In C Major, 2703. Vronsky, Vitya - The Nutcracker, Op. 71: Waltz Of 2704. Vronsky, Vitya - Eugen Onegin, Op. 24: Waltz (Arra 2705. Vronsky, Vitya - Suite No. 1 In F Major, Op. 15: I 2706. Vronsky, Vitya - The Snow Maiden, Act Iii: Dance O 2707. Vronsky, Vitya - Jamaicalypso 2708. Vronsky, Vitya - Circus Polka 2709. Vronsky, Vitya - Danzon Cubano 2710. Vronsky, Vitya - Der Rosenkavalier, Op. 59: Concer 2801. Eger, Joseph - Trio For Piano, Violin & Horn In E- 2802. I. Andante 2803. Ii. Scherzo. Allegro - Molto Meno Allegro 2804. Iii. Adagio Mesto 2805. Iv. Finale. Allegro Con Brio 2806. Eger, Joseph - Sonata For French Horn & Piano In F 2807. I. Allegro Moderato 2808. Ii. Poco Adagio, Quasi Andante 2809. Iii. Rondo. Allegro Moderato 2901. Szeryng, Henryk - Chaconne In G Minor 2902. Szeryng, Henryk - Violin Sonata In G Minor, B.g5 ' 2903. Szeryng, Henryk - Variations On A Theme By Corelli 2904. Szeryng, Henryk - Orfeo Ed Euridice, Wq. 30: Melod 2905. Szeryng, Henryk - Allegretto In The Style Of Luigi 2906. Szeryng, Henryk - Forest Scenes Op. 82: No. 7, Bir 2907. Szeryng, Henryk - Sonatina: Danza De La Gitana (Ar 2908. Szeryng, Henryk - Scherzo-tarantelle In G Minor, O 3001. Corelli, Societa - The Four Seasons, Violin Concer 3002. I. Allegro 3003. Ii. Largo 3004. Iii. Allegro 3005. Corelli, Societa - The Four Seasons, Violin Concer 3006. I. Allegro Non Molto 3007. Ii. Adagio 3008. Iii. Presto 3009. Corelli, Societa - The Four Seasons, Violin Concer 3010. I. Allegro 3011. Ii. Adagio Molto 3012. Iii. Allegro 3013. Corelli, Societa - The Four Seasons, Violin Concer 3014. I. Allegro Non Molto 3015. Ii. Largo 3016. Iii. Allegro 3101. Szeryng, Henryk - Symphonie Espagnole In D Minor, 3102. I. Allegro Non Troppo 3103. Ii. Scherzando. Allegro Molto 3104. Iii. Intermezzo. Allegretto Non Troppo 3105. Iv. Andante 3106. V. Rondo. Allegro 3201. Janigro, Antonio - Suite For Orchestra No. 2 In B 3202. I. Ouverture 3203. Ii. Rondeau 3204. Iii. Sarabande 3205. Iv. Bourree I & II 3206. V. Polonaise - Double 3207. Vi. Menuet 3208. Vii. Badinerie 3209. Janigro, Antonio - Brandenburg Concerto No. 5 In D 3210. I. Allegro 3211. Ii. Affettuoso 3212. Iii. Allegro 3301. Fiedler, Arthur - Zampa: Overture 3302. Fiedler, Arthur - 2 Elegiac Melodies, Op. 34: No. 3303. Fiedler, Arthur - Le Cid, Act Ii: Aragonaise 3304. Fiedler, Arthur - 6 Hungarian Rhapsody, S. 359: No 3305. Fiedler, Arthur - Fatinitza: Overture 3306. Fiedler, Arthur - Serenade For Strings In C Major, 3307. Fiedler, Arthur - 21 Hungarian Dances, Woo 1: No. 3308. Fiedler, Arthur - Der Freischuetz, Op. 77: Overtur 3401. Mitchell, Howard - Violin Concerto No. 1 In G Mino 3402. I. Vorspiel - Allegro Moderato 3403. Ii. Adagio 3404. Iii. Finale. Allegro Energico - Presto 3405. Mitchell, Howard - Violin Concerto No. 3 In G Majo 3406. I. Allegro 3407. Ii. Adagio 3408. Iii. Rondeau. Allegro - Allegretto - Tempo I 3501. The Festival Quartet - Piano Quartet No. 1 In G Mi 3502. I. Allegro 3503. Ii. Intermezzo. Allegro Ma Non Troppo - Trio. Anim 3504. Iii. Andante Con Moto - Animato 3505. Iv. Rondo Alla Zingarese. Presto - Meno Presto - M 3601. Juilliard String Quartet - String Quartet No. 2 3602. Introduction 3603. I. Allegro Fantastico 3604. Cadenza For Viola 3605. Ii. Presto Scherzando 3606. Cadenza For Cello 3607. Iii. Andante Espressivo 3608. Cadenza For Violin I 3609. Iv. Allegro 3610. Conclusion 3611. Juilliard String Quartet - String Quartet No. 3 3612. I. Introduction & Fugue 3613. Ii. Intermezzo 3614. Iii. Rondo Variations 3701. Vishnevskaya, Galina - 6 Romances, Op. 4: No. 4, O 3702. Vishnevskaya, Galina - 12 Romances, Op. 14: No. 1, 3703. Vishnevskaya, Galina - Lady Macbeth Of The Mtsensk 3704. Vishnevskaya, Galina - The Ugly Duckling, Op. 18 3705. Vishnevskaya, Galina - 7 Songs, Op. 47: No. 7, Was 3706. Vishnevskaya, Galina - 6 Songs, Op. 16: No. 1, Cra 3707. Vishnevskaya, Galina - 6 Songs, Op. 6: No. 5, Why? 3708. Vishnevskaya, Galina - Barcarolle 3709. Vishnevskaya, Galina - To Her 3710. Vishnevskaya, Galina - Do Not Excite Me Without Ca 3801. The Festival Quartet - Piano Quartet No. 2 In A Ma 3802. I. Allegro Non Troppo 3803. Ii. Poco Adagio 3804. Iii. Scherzo. Poco Allegro - Trio 3805. Iv. Finale. Allegro 3901. Juilliard String Quartet - String Quartet No. 11, 3902. I. Allegro 3903. Ii. Poco Adagio E Molto Cantabile 3904. Iii. Scherzo. Allegro Vivo - Trio. L'istesso Tempo 3905. Iv. Finale. Vivace 3906. Juilliard String Quartet - Italian Serenade 4001. Juilliard String Quartet - Lyric Suite 4002. I. Allegretto Gioviale 4003. Ii. Andante Amoroso 4004. Iii. Allegro Misterioso - Trio Estatico 4005. Iv. Adagio Appassionato 4006. V. Presto Delirando - Tenebroso 4007. Vi. Largo Desolato 4008. Juilliard String Quartet - Five Pieces For String 4009. I. Heftig Bewegt (Tempo I) - Ruhig (Tempo Ii) 4010. Ii. Sehr Langsam 4011. Iii. Sehr Bewegt 4012. Iv. Sehr Langsam 4013. V. In Zarter Bewegung 4014. Juilliard String Quartet - Six Bagatelles For Stri 4015. I. Maessig 4016. Ii. Leicht Bewegt 4017. Iii. Ziemlich Fliessend 4018. Iv. Sehr Langsam 4019. V. Aeusserst Langsam 4020. Vi. Fliessend 4101. Gould, Morton - Fall River Legend 4102. I. Prologue & Waltzes 4103. Ii. Elegy 4104. Iii. Church Social 4105. Iv. Hymnal Variations 4106. V. Cotillion 4107. Vi. Epilogue 4108. Gould, Morton - Interplay 4109. I. With Drive & Vigor 4110. Ii. Gavotte 4111. Iii. Blues 4112. Iv. Very Fast, With Verve & Gusto 4113. Gould, Morton - Latin-american Symphonette 4114. I. Tango 4115. Ii. Guaracha 4201. Shafran, Daniel - Sonata For Cello & Piano In D Mi 4202. I. Allegro Non Troppo 4203. Ii. Allegro 4204. Iii. Largo 4205. Iv. Allegro 4206. Shafran, Daniel - Sonata For Cello & Piano In A Mi 4207. I. Allegro Moderato 4208. Ii. Adagio 4209. Iii. Allegretto 4301. Weinrich, Carl - Toccata & Fugue In D Minor, Bwv 5 4302. Weinrich, Carl - Prelude & Fugue In E-flat Major, 4303. Weinrich, Carl - Toccata & Fugue In D Minor, Bwv 5 4304. Weinrich, Carl - Toccata & Fugue In E Major, Bwv 5 4401. Munch, Charles - Organ Concerto In G Minor, Fp 93 4402. I. Andante 4403. Ii. Allegro Giocoso 4404. Iii. Subito Andante Moderato 4405. Iv. Tempo Allegro - Molto Agitato 4406. V. Tres Calme - Lent 4407. Vi. Tempo De L'allegro Initial 4408. Vii. Tempo D'introduction - Largo 4409. Munch, Charles - Jeu De Cartes 4410. First Deal 4411. Second Deal 4412. Third Deal 4501. Nilsson, Birgit - Dem Unendlichen, D. 291 4502. Nilsson, Birgit - 4 Gesaenge Aus 'Wilhelm Meister' 4503. Nilsson, Birgit - An Die Musik, D. 547 4504. Nilsson, Birgit - Wesendonck Lieder (Excerpt) 4505. No.1, Der Engel 4506. No. 5, Traeume 4507. Nilsson, Birgit - 4 Lieder, Op. 27, Trv 170: 2. Ca 4508. Nilsson, Birgit - Melodies Of The Heart, Op. 5: No 4509. Nilsson, Birgit - 5 Songs, Op. 60: No. 3, On The W 4510. Nilsson, Birgit - 5 Songs, Op. 60: No. 5, & I Shal 4511. Nilsson, Birgit - 6 Songs, Op. 25: No. 2, A Swan 4512. Nilsson, Birgit - 5 Songs, Op. 37: No. 5, The Girl 4513. Nilsson, Birgit - 5 Songs, Op. 37: No. 1, The Firs 4514. Nilsson, Birgit - 5 Songs, Op. 37: No. 4, Was It A 4515. Nilsson, Birgit - 6 Songs, Op. 36: No. 4, Sigh, Ru 4516. Nilsson, Birgit - 6 Songs, Op. 36: No. 1, Black Ro 4601. Friedman, Erick - Violin Concerto No. 1 In D Major 4602. I. Allegro Maestoso 4603. Ii. Adagio Espressivo 4604. Iii. Rondo. Allegro Spirituoso 4605. Friedman, Erick - Introduction Et Rondo Capriccios 4701. Juilliard String Quartet - String Quartet No. 14 I 4702. I. Adagio Ma Non Troppo E Molto Espressivo 4703. Ii. Allegro Molto Vivace 4704. Iii. Allegro Moderato 4705. Iv. Andante Ma Non Troppo E Molto Cantabile 4706. V. Presto 4707. Vi. Adagio Quasi Un Poco Andante 4708. Vii. Allegro 4801. Juilliard String Quartet - String Quartet No. 11 I 4802. I. Allegro Con Brio 4803. Ii. Allegretto Ma Non Troppo 4804. Iii. Allegro Assai Vivace Ma Serioso - Piu Allegro 4805. Iv. Larghetto Espressivo - Allegretto Agitato - Al 4806. Juilliard String Quartet - String Quartet No. 16 I 4807. I. Allegretto 4808. Ii. Vivace 4809. Iii. Lento Assai, E Cantante Tranquillo 4810. Iv. Grave Ma Non Troppo Tratto - Allegro 4901. Garnier, Liliane - Variations On A Theme Of Corell 4902. Garnier, Liliane - Polonaise Brillante No.1 In D M 4903. Garnier, Liliane - Romance For Violin & Piano In F 4904. Garnier, Liliane - 24 Caprices For Solo Violin, Op 4905. Garnier, Liliane - Caprice Viennois, Op. 2 4906. Bartok, Bela - Romanian Folk Dances, Sz. 56 (Arran 4907. Garnier, Liliane - Preludes, Book I, L. 117: No. 8 4908. Garnier, Liliane - Tzigane, M. 76 5001. Munch, Charles - Symphony In B-flat Major, Op. 20 5002. I. Lent - Allegro Vivo 5003. Ii. Tres Lent 5004. Iii. Anime 5005. Munch, Charles - Le Chasseur Maudit, Fwv 44 5006. Le Paysage Paisible Du Dimache 5007. La Chasse 5008. La Malediction 5009. La Poursuite Des Demons 5101. Vronsky, Vitya - Suite No. 1 For Two Pianos, Op. 5 5102. I. Barcarolle 5103. Ii. A Night For Love 5104. Iii. Tears 5105. Iv. Russian Easter 5106. Vronsky, Vitya - Suite No. 2 For Two Pianos, Op. 1 5107. I. Introduction 5108. Ii. Waltz 5109. Iii. Romance 5110. Iv. Tarantella 5201. Janigro, Antonio - Pieces En Concert For Cello & O 5202. I. Prelude 5203. Ii. Sicilienne 5204. Iii. Air De Diable 5205. Iv. Plainte 5206. V. La Tromba 5207. Janigro, Antonio - Divertimento For Strings No. 1 5208. I. Allegro 5209. Ii. Andante 5210. Iii. Presto 5211. Janigro, Antonio - Concerto Grosso In D Major, Op. 5212. I. Adagio - Allegro 5213. Ii. Adagio - Vivace 5214. Iii. Allegro 5215. Janigro, Antonio - Simple Symphony For String Orch 5216. I. Boisterous Bourree 5217. Ii. Playful Pizzicato 5218. Iii. Sentimental Saraband 5219. Iv. Frolicsome Finale 5301. Gould, Morton - Finlandia, Op. 26 5302. Gould, Morton - Lemminkaeinen Suite, Op. 22: No. 2 5303. Gould, Morton - Kuolema, Op. 44: Valse Triste 5304. Gould, Morton - Pohjola's Daughter, Op. 49 5305. Gould, Morton - Lemminkaeinen Suite, Op. 22: No. 4 5401. Friedman, Erick - Variations On A Theme Of Corelli 5402. Friedman, Erick - 33 Shakespeare Songs, Op. 24: Se 5403. Friedman, Erick - Scherzo Tarantelle In G Minor, O 5404. Friedman, Erick - Serenade Melancolique In B-flat 5405. Friedman, Erick - Tale Of Tsar Saltan Suite, Op. 5 5406. Friedman, Erick - Minuet In The Style Of Porpora 5407. Friedman, Erick - Romance In D Major, Op. 23 5408. Friedman, Erick - Rondo In C Major, K. 373 5409. Friedman, Erick - 24 Caprices For Violin Solo, Op. 5410. Friedman, Erick - 24 Caprices For Violin Solo, Op. 5411. Friedman, Erick - Hora Staccato (Arranged By Jasch 5412. Friedman, Erick - La Vida Breve: Spanish Dance (Ar 5501. The Festival Quartet - Quartet For Piano, Violin, 5502. I. Sostenuto Assai - Allegro Ma Non Troppo 5503. Ii. Scherzo. Molto Vivace - Trio I -trio II 5504. Iii. Andante Cantabile 5505. Iv. Finale. Vivace 5506. The Festival Quartet - Quartet For Piano, Violin, 5507. I. Grave - Allegro Ma Non Troppo 5508. Ii. Andante Cantabile 5509. Iii. Rondo. Allegro Ma Non Troppo 5601. Schneider, Alexander - Concerto Grosso In G Major, 5602. I. A Tempo Giusto 5603. Ii. Allegro 5604. Iii. Adagio 5605. Iv. Allegro 5606. V. Allegro 5607. Schneider, Alexander - Concerto Grosso In F Major, 5608. I. Andante Larghetto 5609. Ii. Allegro 5610. Iii. Largo - Larghetto Andante E Piano 5611. Iv. Allegro Ma Non Troppo 5612. Schneider, Alexander - Concerto Grosso In E Minor, 5613. I. Larghetto 5614. Ii. Andante 5615. Iii. Allegro 5616. Iv. Polonaise - Andante 5617. V. Allegro Ma Non Troppo 5618. Schneider, Alexander - Concerto Grosso In A Minor, 5619. I. Larghetto Affettuoso 5620. Ii. Allegro 5621. Iii. Largo 5622. Iv. Allegro 5701. Schneider, Alexander - Concerto Grosso In D Major, 5702. I. Larghetto E Staccato 5703. Ii. Allegro 5704. Iii. Presto 5705. Iv. Largo 5706. V. Allegro 5707. Vi. Menuet. Un Poco Larghetto 5708. Schneider, Alexander - Concerto Grosso In G Minor, 5709. I. Largo Affettuoso 5710. Ii. Allegro, Ma Non Troppo 5711. Iii. Musette - Larghetto 5712. Iv. Allegro 5713. V. Allegro 5714. Schneider, Alexander - Concerto Grosso In B-flat M 5715. I. Largo 5716. Ii. Allegro 5717. Iii. Largo E Piano 5718. Iv. Andante 5719. V. Hornpipe 5720. Schneider, Alexander - Concerto Grosso In C Minor, 5721. I. Allemande. Andante 5722. Ii. Grave 5723. Iii. Andante Allegro 5724. Iv. Adagio 5725. V. Siciliana - Andante 5726. Vi. Allegro 5801. Schneider, Alexander - Concerto Grosso In F Major, 5802. I. Largo 5803. Ii. Allegro 5804. Iii. Larghetto 5805. Iv. Allegro 5806. V. Menuet. Andante 5807. Vi. Gigue. Allegro 5808. Schneider, Alexander - Concerto Grosso In D Minor, 5809. I. Ouverture. Grave 5810. Ii. Allegro 5811. Iii. Air - Lentement 5812. Iv. Allegro 5813. V. Allegro 5814. Vi. Allegro Moderato 5815. Schneider, Alexander - Concerto Grosso In A Major, 5816. I. Andante Larghetto E Staccato 5817. Ii. Allegro 5818. Iii. Largo E Staccato 5819. Iv. Andante 5820. V. Allegro 5821. Schneider, Alexander - Concerto Grosso In B Minor, 5822. I. Largo 5823. Ii. Allegro 5824. Iii. Aria - Larghetto E Piano 5825. Iv. Largo 5826. V. Allegro 5901. Owen, Robert - Toccata & Fugue In D Minor, Bwv 565 5902. Owen, Robert - Prelude & Fugue On The Name B-a-c-h 5903. Owen, Robert - Organ Symphony No. 5, Op. 42, No. 1 5904. Owen, Robert - Twelve Pieces For Organ, Op. 59: No 5905. Owen, Robert - Litanies, Ja. 119
Sklep: Gigant.pl 27,90 zł
Książki & Multimedia > Książki
Opis - Kolorowe drewniane strony z pysznymi warzywami zachęcą dziecko do czytania i nazywania swoich ulubionych. Nazwa - Książeczka Warzywa Marka - Hape Kod EAN - 6943478009288 Kod producenta - E0038 Podatek VAT - 23%
Sklep: InBook.pl 51,27 zł
Książki & Multimedia > Książki
Opis - Książka, posiadająca istotne walory praktyczne, jest pierwszą pozycją polskiej autorki w tak kompleksowy sposób analizującą nie tylko istotę funkcjonowania kredytowych instrumentów pochodnych, ale również modele ich wyceny, doskonalenie których autorka słusznie uznaje za kluczowe dla rozwoju tego rynku. Niewątpliwą zaletą opracowania jest mnogość przykładów, przeprowadzających Czytelnika przez kolejne etapy szacowania wartości omawianych struktur i tworzących idealną bazę dla zrozumienia konstrukcji tych złożonych produktów. Prof. zw. dr hab. Janusz Soboń Publikacja stanowi cenne kompendium wiedzy zarówno dla praktyków rynku finansowego, jak i studentów oraz słuchaczy studiów podyplomowych i doktoranckich, jak również dla pracowników nauki zainteresowanych wdrażaniem metod kwantyfikacji ryzyka kredytowego w praktykę. Prof. nadzw. SGH dr hab. Paweł Niedziółka Nazwa - Pochodne instrumenty kredytowe Autor - Izabela Pruchnicka-Grabias Oprawa - Miękka Wydawca - CeDeWu Kod ISBN - 9788375563733 Kod EAN - 9788375563733 Wydanie - 1 Rok wydania - 2011 Język - polski Format - 16.5x23.0cm Ilość stron - 280 Podatek VAT - 5%
Sklep: InBook.pl 252,32 zł
Książki / Literatura obcojęzyczna
For the 100th edition of the world's greatest bike race, and the seventh annual edition of the sport's greatest cycling publication, we sent seven writers and photographers on the road at the Tour de France, each given three stages to record their individual takes on La Grande Boucle. Sebastian Schels captures the rugged beauty of Corsica, contrasting empty mountains with populous roads. Former Guardian sports writer Richard Williams recalls a dramatic grand d part, with numerous crashes and a stuck team bus. Photographer and writer Geoff Waugh follows two careers, one beginning, the other drawing to a close. Danny van Poppel, 19, became the youngest Tour rider since the Second World War, making an immediate impression with third place on the opening stage in Bastia. The hugely popular Jens Voigt, meanwhile, went out in style with numerous attacks during his final Tour at the age of 41. The tiny village of Saint-B at bordering the Pyrenees was devastated by flash floods in late June. Timm K lln and Oliver Nilsson-Julien witness proud locals preparing for the arrival of stage 9 amidst destroyed homes and businesses. Eurosport commentators Carlton Kirby and Sean Kelly spend three weeks in a cramped TV booth on the finish line at each day's stage. Robert Wyatt trains his lens on the broadcasters at Mont Saint-Michel, while Ian Cleverly goes walkabout with roving reporter - and recently retired pro cyclist - Rob Hayles as he interviews riders and managers on the start line. Taz Darling and Rouleur Editor Guy Andrews get up close and personal with the Tour organisation. Race Director Christian Prudhomme and his team conjured up one of the best Tours in decades. Taz and Guy find out how on the road to Mont Ventoux. Patience is a prerequisite of Tour-watching. Paolo Ciaberta finds fans on Alpe d'Huez who have been in position for days. Andy McGrath asks them why, as well as reporting on the Froome phenomenon and a disastrous race for the home nation. Jakob Kristian S rensen and Morten Okbo hook up with Russian team Katusha for the final three stages to Paris - one day in the race car, the next witnessing tears of relief, then finally reaching the Champs- lys es and tears of joy at an emotional after-party in the capital city. 3,404 kilometres, 21 stages, 21 stories.
Sklep: Libristo.pl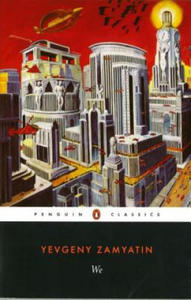 50,10 zł
Książki / Literatura obcojęzyczna
A seminal work of dystopian fiction that foreshadowed the worst excesses of Soviet Russia, Yevgeny Zamyatin's "We" is a powerfully inventive vision that has influenced writers from George Orwell to Ayn Rand. This "Penguin Classics" edition is translated from the Russian with an introduction by Clarence Brown. In a glass-enclosed city of absolute straight lines, ruled over by the all-powerful 'Benefactor', the citizens of the totalitarian society of OneState live out lives devoid of passion and creativity - until D-503, a mathematician who dreams in numbers, makes a discovery: he has an individual soul. Set in the twenty-sixth century AD, "We" is the classic dystopian novel and was the forerunner of works such as George Orwell's "1984" and Aldous Huxley's "Brave New World". It was suppressed for many years in Russia and remains a resounding cry for individual freedom, yet is also a powerful, exciting and vivid work of science fiction. Clarence Brown's brilliant translation is based on the corrected text of the novel, first published in Russia in 1988 after more than sixty years' suppression. Yevgeny Zamyatin (1884-1937) was a naval engineer by profession and writer by vocation, who made himself an enemy of the Tsarist government by being a Bolshevik, and an enemy of the Soviet government by insisting that human beings have absolute creative freedom. He wrote short stories, plays and essays, but his masterpiece is "We", written in 1920-21 and soon thereafter translated into most of the languages of the world. It first appeared in Russia only in 1988. If you enjoyed "We", you might like George Orwell's "1984", also available in "Penguin Classics". "The best single work of science fiction yet written". (Ursula K. LeGuin, author of "The Left Hand of Darkness"). "It is in effect a study of the Machine, the genie that man has thoughtlessly let out of its bottle and cannot put back again". (George Orwell, author of "1984").
Sklep: Libristo.pl
Sklepy zlokalizowane w miastach: Warszawa, Kraków, Łódź, Wrocław, Poznań, Gdańsk, Szczecin, Bydgoszcz, Lublin, Katowice
Szukaj w sklepach lub całym serwisie
2. Szukaj na wszystkich stronach serwisu
t1=0.103, t2=0, t3=0, t4=0.03, t=0.104