krainaksiazek sex guide 35 secrets to better orgasms sex life sex secrets sex guide for men sex guide for women sex guide for couples 20094307
- znaleziono 14 produktów w 3 sklepach 43,99 zł
Książki Obcojęzyczne>Angielskie>Health & personal development>Family & health>Family & relationships>Sex & sexuality, sex manuals
Throwing Open The Bedroom Doors On Gay Women, This Guide Aims To Reveal The Secrets Of Satisfying The Woman You Love, From The Women Who Know. From The Titillating To The Taboo, From Kisses To Climaxes, It Is Filled With The Voices Of Women Speaking About
Sklep: Gigant.pl 128,22 zł
Książki / Literatura obcojęzyczna
Good health and a fit body are inextricably entwined with great sex. On a physical level, fitness makes one a more attractive and skilled lover. On an emotional level, studies show that body image plays a key role in sexual desire and satisfaction. Research has linked a healthy sex life to lower risks of cardiovascular disease, diabetes, depression, and obesity. Based on the latest research on sexual health, behavioral psychology, fitness, and nutrition, "The Men's Health And Women's Health Big Book Of Sex" is brimming with useful tips, exercise photos, practical sidebars, and more. The book also features the Better-Sex Workout, the Better-Sex Diet, a Trouble-Shooter's Guide to Sexual Health, and Q&A columns from the Men's Health "Girl Next Door" and Women's Health "Guy Next Door" and leading sexual health experts. The book's unique flip cover approach, with gender specific chapters that converge in a Theirs section in the middle, creates a playful he said/she said quality. Both genders will eagerly read for the inside scoop on what the opposite sex is thinking, feeling, and doing behind closed doors.
Sklep: Libristo.pl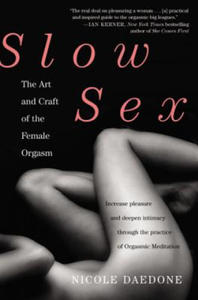 67,88 zł
Slow Sex WARNER INTERNATIONAL
Książki / Literatura obcojęzyczna
The truth is that most women do not have satisfying sex lives. SLOW SEX can change all that. This step-by-step guide teaches men and women how to use the growing practice of Orgasmic Meditation to slow down, connect emotionally and achieve authentic female sexual satisfaction. The promise: In just 15 minutes every woman can become orgasmic. And, with the right partner and the right technique, that orgasm could last four months! Since 1999, Nicole Daedone has been leading the 'slow sex movement' through her popular OneTaste organization. Thousands have attended her Slow Sex workshops to learn the practice of Orgasmic Meditation (OM): the act of slowing down, tuning in and experiencing a deeper spiritual and physical connection during sex. SLOW SEX reveals the philosophy and techniques of OM and includes a step-by-step, ten-day OM starter program, as well as OMing secrets and exercises for an extended and satisfying female orgasm. The book also includes exercises to help enhance reader's 'regular' sex lives, such as Slow Oral for Her, Slow Oral for Him and Slow Sex Intercourse.
Sklep: Libristo.pl 68,54 zł
Książki / Literatura obcojęzyczna
Praise for The Secrets of Happily Married Men "Manly men rest assured: You can hope to become a better husband without having to get in touch with your feminine side...Lively and entertaining, this broad guidebook provides Haltzman's insights illuminated by anecdotes from his online discussion forum for married men." -Psychology Today "Haltzman ...launches his eight strategies with remarkable vigor. More important, they are extraordinarily well fleshed out and convincingly supported with useful 'to do' lists and a multitude of examples. They will no doubt prove helpful to many men struggling to build a happy marriage." -Publisher's Weekly "Scott Haltzman, a psychiatrist and Brown University professor, has been studying marriages good and bad for a long time...View marriage as your most important task, Haltzman urges men, and pursue success as you would anything else that matters." -Washington Post "Men are good at fixing problems, not talking about them, so Haltzman advises playing to your strength. The genius of this book is that it ...asks politically incorrect questions about men and women at home-the neglected front in the gender wars." -New York Times "The insights in this book reveal a new and effective way for men and women to understand and appreciate each other. It shows what it really takes to create a loving and lasting relationship." -John Gray, author, Men Are from Mars, Women Are from Venus Marriage and relationships are in crisis. The breakup and divorce rate remain incredibly high, despite all the couples therapy, afternoon talk shows, and other books in the marketplace, many of which describe men as abusive commitment phobic creeps who'd better change fast or else. But this new book is totally different, a whole different way of looking at how to build a successful long-lasting relationship from a man's point of view, men who are happy in their partnerships, who have figured out what works for them in accomplishing the goal of a loving, intimate, lifetime commitment. Dr. Scott Haltzman, Clinical Assistant Professor of Psychiatry and Human Behavior at Brown University, and founder of www.secretsofmarriedmen.com, has devised a proven method for improving relationships, based on a man's special and unique skills, strengths, powers-as a responsible and motivated worker, manager, leader, problem-solver, partner, husband, and father. Men are different, Dr. Haltzman says. They don't approach relationships with the same skills and techniques that women do-and viva la difference. Dr.Haltzman therefore lays out eight ways, tasks, proven techniques which men have revealed in confidential correspondence to his highly successful website, including The First Way: Make Your Marriage Your Job, The Second Way: Know Your Wife, The Third Way: Be Home Now, The Fourth Way: Expect Conflict and Deal With It, The Fifth Way: Learn to Listen, The Sixth Way: Aim to Please, The Seventh Way: Understand the Truth About Sex, The Eighth Way: Introduce Yourself, and finally, Celebrate Your Love. Within each of these steps, he provides both specific analysis, guidelines and techniques based on male biology, neuro-science, brain differences, unique developmental stages from youth to seniority. To illustrate these ideas in action, he's included wonderful true stories, anecdotes, and confessions from the website. The result is a practical, very entertaining, totally original way to build successful relationships for men and their partners, girlfriends, and wives. For a lasting commitment, a continuing guide to solving inevitable problems and bumps in the road, for more fun, better sex, genuine intimacy, and a life-long partnership-this dynamic new author shows the way in a manner that finally includes an authentic male perspective.
Sklep: Libristo.pl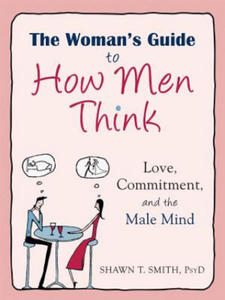 81,00 zł
Książki / Literatura obcojęzyczna
Comedian George Carlin once said, "Women are from earth. Men are from earth. Just deal with it." Though witty, this sentiment fails to recognize one of the real truths in life: that both genders are completely mystified by one another, and often have a mile-long list of complaints for the opposite sex. Yet, generally speaking, both men and women want to get along-especially if there's romance involved. A Woman's Guide to How Men Think offers a practical, humorous, yet compassionate guide for women who want to learn the secrets of the elusive male mind. With author Shawn Smith's trademark humor, you'll come to understand why men think and see the world the way they do, and how to work with men to cultivate understanding and communication in relationships, without expecting men to be creatures that they are not. This isn't a male-bashing book about how men should be more like women, but a book about how men actually are, and how women can use this understanding to get what they need from their relationships. You'll also learn why men often feel frustrated and criticized, how to deal with lack of communication in ways that don't put men on the defensive, and how being curious and compassionate (while not accepting disrespectful or abusive behavior) instead of dismissing men for their inherently male traits can lead to greater understanding between the sexes. The plain truth is that both men and women are from planet earth. But that doesn't mean we are the same. If you are looking for an insider's guide to the ever-elusive male mind, this is the book for you.
Sklep: Libristo.pl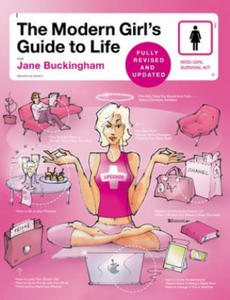 78,37 zł
Książki / Literatura obcojęzyczna
The indispensable bestselling guide to modern life for young women--now fully revised with new, up-to-date content on online dating, exercise trends, social media etiquette, and healthy eating.The Modern Girl's Guide to Life contains all the helpful tips and secrets on entertaining, etiquette, housekeeping, basic home repair, decorating, sex, and beauty that young women today need but may not know.Inside, you'll find of practical, definitive advice on timeless basics, from finding a bra that fits to making a decent cup of coffee to hemming a pair of pants. New knowledge modern girls need is also here: Social media 101: where you should and shouldn't be online Online dating: should you, shouldn't you, and how can you find the right guy The do's and don'ts of sexting Online flash sales: are you really saving? Tips & tricks for eating organic, shopping at Farmer's markets, and juicing safely How to find the exercise that's right for you Interview etiquette: everything from what to wear to what to say Updated recipes Updated information on controlling your financesModern Girl guru Jane Buckingham includes loads of savvy counsel to help you feel more refined, in charge, and together as you navigate the rocky terrain of twenty-first-century womanhood.
Sklep: Libristo.pl 105,43 zł
Książki / Literatura obcojęzyczna
"For Maggie's Sake" by Lora Leigh: Maggie's ex-lover thinks she's hiding information about the deaths of some Navy SEALs. But when a member of a notorious crime family captures and holds her hostage at gunpoint, he realizes he's wrong, and only he can save her life "Bed and Breakfast" by Susan Donovan: A stressed-out corporate dynamo finds a rustic lodge under renovation and the hunky owner with no idea she was coming. After a downpour strands her, he helps "centre" her in ways she never imagined. "Siren's Call" by Lori Wilde: Annie never forgot her first love or the day he pushed her away. But she's back in town and he plans to win her over. What girl could resist a handsome Scotsman to guide her on a treasure hunt? "His Body Electric" by Carrie Alexander: Strange events occur at Karen's farmhouse after an aloof stranger seeks shelter from a violent lightning storm. Alone in the dark with him, Karen uses her skills as a phone sex operator to seduce the mystery man, uncovering secrets and erotic pleasures.
Sklep: Libristo.pl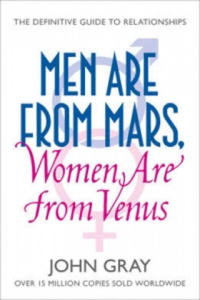 43,61 zł
Książki / Literatura obcojęzyczna
The legendary relationships guide that mothers recommend to their daughters, friends give as gifts and brothers steal from their sisters, MEN ARE FROM MARS AND WOMEN ARE FROM VENUS is inarguably the definitive book on having a happy relationship. 'A treasure', 'a bible' and 'an heirloom' are some of the words used to describe the book that has saved countless relationships and improved innumerable others. Now repackaged to relate to a new generation of readers, this phenomenal book continues to carry its legacy of understanding and trust into the world. Since its first publication, over a staggering 15 million copies of MEN ARE FROM MARS, WOMEN ARE FROM VENUS have sold globally to single men and women looking for guidance on how to find the perfect partner, married couples seeking to strengthen their bond, and divorcees hoping to fathom where it all went wrong. Gray's insights into how to allow your other half to "pull away" like an elastic band, prevent your emotional baggage from polluting your current relationship, and translate the phrases of the opposite sex are as relevant now as when they were first published. With straightforward, honest writing from that precious male perspective, Gray unlocks the secrets hidden in your partner's words and actions to enable you both to reach true mutual understanding and a lifetime of love. Discover for yourself why thousands believe that MEN ARE FROM MARS, WOMEN ARE FROM VENUS should be mandatory reading for everyone.
Sklep: Libristo.pl 87,72 zł
Książki / Literatura obcojęzyczna
Ms. Mentor, that uniquely brilliant and irascible intellectual, is your all-knowing guide through the jungle that is academia today. In the last decade Ms. Mentor's mailbox has been filled to overflowing with thousands of plaintive epistles, rants, and gossipy screeds. A mere fraction has appeared in her celebrated monthly online and print Q&A columns for the Chronicle of Higher Education; her readers' colorful and rebellious ripostes have gone unpublished-until now. Hearing the call for a follow-up to the wildly successful Ms. Mentor's Impeccable Advice for Women in Academia, Ms. Mentor now broadens her counsel to include academics of the male variety. Ms. Mentor knows all about foraging for jobs, about graduate school stars and serfs, and about mentors and underminers, backbiters and whiners. She answers burning questions: Am I too old, too working class, too perfect, too blonde? When should I reproduce? When do I speak up, laugh, and spill the secrets I've gathered? Do I really have to erase my own blackboard? Does academic sex have to be reptilian? From the ivory tower that affords her an unparalleled view of the academic landscape, Ms. Mentor dispenses her perfect wisdom to the huddled masses of professorial newbies, hardbitten oldies, and anxious midcareerists. She gives etiquette lessons to academic couples and the tough-talking low-down on adjunct positions. She tells you what to wear, how to make yourself popular, and how to decode academic language. She introduces you to characters you must know: Professor Pelvic, Dr. Iron Fist, Mr. Upstart Whelp, Dean Titan, Professor McShameless. In this volume Ms. Mentor once again shares her wide-ranging unexpurgated wisdom, giving tips on bizarre writing rituals, tenure diaries, and time management (Exploding Head Syndrome). She decodes department meetings and teaches you the tricks for getting stellar teaching evaluations. Raw, shocking, precise, clever, absurd-Ms. Mentor has it all.
Sklep: Libristo.pl 63,78 zł
Książki / Literatura obcojęzyczna
New edition of the best-selling guide to transforming sexuality and orgasm through sacred ritual and ancient techniques. The New Art of Sexual Ecstasy opens the way to a new stage of fulfillment and bliss, making the sacred lovemaking techniques of the East available to Western readers and extending sensual experience for everyone. This landmark book on human sexuality provides simple techniques that help readers to discover new sexual experiences, combining physical pleasure with intense emotional and spiritual joy. Includes a wide range of practical ways to enhance sexual pleasure and deepen intimacy, including massage, visualisation, breathing, ritual, movement and fantasy. The sexual secrets outlined in this book include: * how to prolong pleasure * how to extend orgasms so it becomes a whole body experience * how to recover sexual sensation * how to have a multiple orgasm - for men and women * how to increase arousal and extend the sexual experience. Also included are many innovative sexual positions for versatility and compatibility. The emphasis in the book is on transforming sexuality beyond the merely physical, making it a truly spiritual experience. This book is ideal for anyone looking to bring spirituality back into sex, using it to bring the body and soul into union to discover a whole new experience.
Sklep: Libristo.pl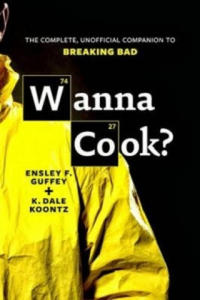 68,54 zł
Książki / Literatura obcojęzyczna
"I am not in danger ...I am the danger." With those words, Breaking Bad's Walter White solidified himself as TV's greatest antihero. Wanna Cook? explores the most critically lauded series on television with analyses of the individual episodes and ongoing storylines. From details like stark settings, intricate camerawork, and jarring music to the larger themes, including the roles of violence, place, self-change, legal ethics, and fan reactions, this companion book is perfect for those diehards who have watched the Emmy Award - winning series multiple times as well as for new viewers. Wanna Cook? elucidates without spoiling, and illuminates without nit-picking. A must have for any fan's collection. Excerpt. (c) Reprinted by permission. All rights reserved. From Wanna Cook's Episode Guide 1.01 Pilot/Breaking Bad Original air date: January 20, 2008 Written and directed by: Vince Gilligan "I prefer to see [chemistry] as the study of change ...that's all of life, right? It's the constant, it's the cycle. It's solution - dissolution, just over and over and over. It is growth, then decay, then - transformation! It is fascinating, really." - Walter White We meet Walter White, Jesse Pinkman, and Walt's family. Walt is poleaxed by some tragic news. With nothing to lose, Walt decides to try to make one big score, and damn the consequences. For that, however, he needs the help of Jesse Pinkman, a former student of Walt's turned loser meth cook and drug dealer. From the moment you see those khakis float down out of a perfectly blue desert sky, you know that you're watching a show like nothing else on television. The hard beauty and stillness of the American Southwest is shattered by a wildly careening RV driven by a pasty white guy with a developing paunch wearing only a gas mask and tighty-whities. What the hell? Like all pilots, this one is primarily exposition, but unlike most, the exposition is beautifully handled as the simple background of Walter's life. The use of a long flashback as the body of the episode works well, in no small part due to Bryan Cranston's brilliant performance in the opening, which gives us a Walter White so obviously, desperately out of his element that we immediately wonder how this guy wound up pantsless in the desert and apparently determined to commit suicide-by-cop. After the opening credits, the audience is taken on an intimate tour of Walt's life. Again, Cranston sells it perfectly. The viewer is presented with a middle-aged man facing the back half of his life from the perspective of an early brilliance and promise that has somehow imploded into a barely-making-ends-meet existence as a high school chemistry teacher. He has to work a lousy second job to support his pregnant wife and disabled teenage son and still can't afford to buy a hot water heater. Executive producer and series creator Vince Gilligan, along with the cast and crew (Gilligan & Co.), take the audience through this day in the life of Walt, and it's just one little humiliation after another. The only time Walt's eyes sparkle in the first half of the episode is when he is giving his introductory lecture to his chemistry class. Here Walt transcends his lower-middle-class life in an almost poetic outpouring of passion for this incredible science. Of course, even that brief joy is crushed by the arrogant insolence of the archetypal high school jackass who stays just far enough inside the line that Walt can't do a damn thing about him. So this is Walt and his life, as sad sack as you can get, with no real prospects of improvement, a brother-in-law who thinks he's a wuss, and a wife who doesn't even pay attention during birthday sex. Until everything changes. The sociologist and criminologist Lonnie Athens would likely classify Walt's cancer diagnosis as the beginning of a "dramatic self change," brought on by something so traumatic that a person's self - the very thoughts, ideas, and ways of understanding and interacting with the world - is shattered, or "fragmented," and in order to survive, the person must begin to replace that old self, those old ideas, with an entirely new worldview. (Athens and his theories are discussed much more fully in the previous essay, but since we warned you not to read that if you don't want to risk spoilage, the basic - and spoiler-free - parts are mentioned here.) Breaking Bad gives us this fragmentation beautifully. Note how from the viewer's perspective Walt is upside down as he is moved into the MRI machine, a motif smoothly repeated in the next scene with Walt's reflection in the top of the doctor's desk. Most discombobulating of all, however, is the consultation with the doctor. At first totally voiceless behind the tinnitus-like ambient soundtrack and faceless except for his chin and lips, the doctor and the news he is imparting are made unreal, out of place, and alien. As for Walt, in an exquisite touch of emotional realism, all he can focus on is the mustard stain on the doctor's lab coat. How many of us, confronted with such tragic news, have likewise found our attention focused, randomly, illogically, on some similar mundanity of life? It is from this shattered self that Walt begins to operate and things that would have been completely out of the question for pre-cancer Walt are now actual possibilities - things like finding a big score before he dies by making and selling pure crystal meth. Remember that Walt is a truly brilliant chemist, and knows full well what crystal meth is and what it does to people who use it. He may not know exactly what he's getting into, but he knows what he is doing. Enter Jesse Pinkman (Aaron Paul, best known previously for his role on Big Love), a skinny white-boy gangster wannabe, who under the name "Cap'n Cook" makes a living cooking and selling meth. He's also an ex-student of Walt's, and after being recognized by his former teacher during a drug bust, Walt has all the leverage he needs to coerce Jesse into helping him. Why does he need him? Because, as Walt says, "you know the business, and I know the chemistry." Symbolizing just how far beyond his old life Walt is moving, he and Jesse park their battered RV/meth lab in the desert outside of Albuquerque, far from the city and any signs of human life. All that is there is a rough dirt road and a "cow house" in the distance. The desert is a place without memory, a place outside of things, where secrets can be kept, and meth can be cooked. This is where Walt lives now. It is in this desert space that Walt becomes a killer, albeit in self defense. Ironically, the one thing that Walt views as holding the keys to the secret of life - chemistry - becomes the means to end lives. Walt, a father, teacher, and an integral part of an extended family - in other words, an agent of life and growth - has now become a meth cook, using chemical weapons to kill his enemies. Walter White has become an agent of death. The transformation is just beginning, but already Skyler (Anna Gunn, previously known for her roles on The Practice and Deadwood) is having some trouble recognizing her husband: "Walt? Is that you?" LAB NOTES Highlight: Jesse to Walt: "Man, some straight like you - giant stick up his ass all of a sudden at age what? Sixty? He's just going to break bad?" Did You Notice: This episode has the first (but not the last!) appearance of Walt's excuse that he's doing everything for his family. There's an award on the wall in Walt's house commemorating his contributions to work that was awarded the Nobel Prize back in 1985. The man's not a slouch when it comes to chemistry, so what's happened since then? At Walt's surprise birthday party, Walt is very awkward when he handles Hank's gun. Speaking of Hank (Dean Norris, whose other roles were in the TV series Medium, and the movies Total Recall, and Little Miss Sunshine), he waits until the school bus has left the neighborhood before ordering his team into the meth lab, showing what a good and careful cop he is. Maybe it's just us, but J.P. Wynne High School (where Walt teaches chemistry) seems to have the most well-equipped high school chemistry lab in the country. As Walt receives his diagnosis, the doctor's voice and all other sounds are drowned out by a kind of numbing ringing, signifying a kind of psychic overload that prevents Walt from being fully engaged with the external world. This effect will be used again several times throughout the series. Walt literally launders his money to dry it out, foreshadowing what's to come. Shooting Up: Thanks to John Toll, who served as cinematographer for the first season of Breaking Bad, the show has one of the most distinctive opening shots ever. Just watch those empty khaki pants flutter across a clear sky. Breaking Bad loves certain camera angles and this section is where we'll point out some of the shots that make the show stand out. Look at that taped non-confession Walt makes for his family when he thinks the cops are coming for him. We're used to watching recordings of characters - shows are filmed (or taped), but here, we're watching him recording himself on tape. Who's the real Walt? Title: Many pilot episodes share the name with the title of the show and Breaking Bad's pilot is no exception. Vince Gilligan, who grew up in Farmville, Virginia, has stated that "breaking bad" is a Southernism for going off the straight and narrow. When you bend a stick until it breaks, the stick usually breaks cleanly. But sometimes, sticks (and men) break bad. You can wind up in the hospital with a splinter in your eye, or you can wind up in Walter White's world. Either way, it's no kind of good. Interesting Facts: Show creator Vince Gilligan's early educational experience was at J. P. Wynne Campus School in Farmville, Virginia. He recycled the name for the high school in Breaking Bad. SPECIAL INGREDIENTS What Is Crystal Meth, Anyway? While there is some evidence that methamphetamine can be found naturally in several species of acacia plants, commercial meth making involves chemistry, not agriculture. The history of the drug dates back to 1893 when Japanese chemist Nagai Nagayoshi first synthesized the substance from ephedrine. The name "methamphetamine...
Sklep: Libristo.pl 42,79 zł
Książki / Literatura obcojęzyczna
What can a husband do to improve his wife's life?" That's the question J. S. Salt asked more than a thousand wives ages 19-78. It's a simple question, yet the answers promise to do more for man/woman relations than chocolates, flowers and all the sweet nothings a man can muster. Honest, revealing, wise and funny, the answers are compiled in this priceless collection. This guide instructs, amuses and provokes as it finally answers the question that has dumbfounded men since Adam bit the apple: "What does a woman want?" Wives tell all: -- What to do when your wife is stressed-- How to get what you want without raising your voice-- What to do before you blow up-- How great sex really begins-- What to do daily and what to do weekly-- The one thing you must never do on Valentine's Day -- and more!This delightful -- yet telling -- glimpse into what women are Really thinking is a catalyst for better behavior and, then, better relationships. At last, husbands can get a clue. And it just might save a marriage or two.
Sklep: Libristo.pl
Sklepy zlokalizowane w miastach: Warszawa, Kraków, Łódź, Wrocław, Poznań, Gdańsk, Szczecin, Bydgoszcz, Lublin, Katowice
Szukaj w sklepach lub całym serwisie
2. Szukaj na wszystkich stronach serwisu
t1=0.101, t2=0, t3=0, t4=0.02, t=0.101