krainaksiazek slow cooker cookbook easy recipes simple to follow food recipes cooking eating and enjoying 20039614
- znaleziono 13 produktów w 1 sklepie 73,88 zł
Książki / Literatura obcojęzyczna
If you want to prepare healthy, homely meals but feel you don't have the time, think again. In as little as 20 minutes, you can make a delicious meal at the start of the day, and then put it in the slow cooker and leave it to cook all day. Come home to a hearty bowl of soup, a warming stew, a fragrant curry or a succulent roast - whatever you want to eat, this book is packed with simple recipes. Slow cooking is ideal for people with all kinds of lifestyles - from mums with a young family who want to put the supper on after the school run, to people who want to cook in the morning before they go to work, to students who are busy in lectures all day and want to come home to a great meal. Delicious dishes for everyday family meals, such as Bistro-style Bolognese Sauce and Fish Pie, sit alongside fabulous food for friends such as Whole Chicken with Creamy Tarragon and Vermouth Sauce and Beef and Sweet Date Tagine. There are also tempting treats, including puddings, cakes and preserves. These simple recipes will help you cut down your shopping bill too. Cheaper cuts of meat are ideal for the slow cooker, as are inexpensive pulses such as lentils. With so many quick to prepare and easy to follow recipes, this book will prove an invaluable addition to every cook's kitchen.
Sklep: Libristo.pl 34,96 zł
Książki / Literatura obcojęzyczna
Crockpot Recipes Scrumptious Crock Pot and Slow Cooker Recipes A New Generation of Crock Pot Cooking Creative Crockpot Cookbook and More for Today's Living Discover how good crockpot recipes have been rejuvenated to fit into today's fast pace. Complete meals, snacks, pastries and much more, are presented with step-by-step, easy to read, directions. This book makes the perfect gift for beginner cooks that have little time, but a desire to eat healthy. Simmered to perfection and delicately seasoned in their own natural juices, slow cooking is not only simple, but inexpensive. By using the right crockpot recipes and ingredients, you can fix your favorite foods without fuss, and little mess. A new generation has exploded into healthier eating, but little time for routine hours of prep and cooking. Woven from the old-fashioned crock pot recipes of the early 70s, you will be introduced to exciting ways to cook almost anything well, and still have time for family and friends.
Sklep: Libristo.pl 67,45 zł
Książki / Literatura obcojęzyczna
The Paleo diet is the latest and greatest eating innovation, helping people everywhere slim down and live healthier lives. Free yourself forever from faddy food replacements and low calorie alternatives, and simply observe one golden rule: stick to the foods the human body has evolved to eat. Follow the example of your caveman ancestors and fuel your body with a diet of meat (organic and grass-fed where possible), fish, vegetables, fruit and roots. This book is your simple and accessible guide to eating simple, delicious food within the Paleo guidelines, with a huge range of ideas for breakfasts, lunches and dinners. This beautifully-designed book has even more ways to make the paleo diet work for you. With full colour illustrations throughout, this book covers all the basics, while over 75 delicious recipes will enhance your repertoire - staying motivated on your journey to better health and weight loss needn't be a trial when you can enjoy satisfying, healthful meals like Spinach-stuffed Squid, Slow-roasted Pork Belly with Celeriac Mash and Jerusalem Artichoke Soup with Parsley Pesto. You can even enjoy desserts such as Blueberry and Raspberry Cobbler.
Sklep: Libristo.pl 63,32 zł
Książki / Literatura obcojęzyczna
All moms know what a struggle it can be to get dinner on the table night after night-you want to prepare healthy and meals for your family, but picky eaters, busy schedules, and way-too-long cooking times always seem to stand in your way. Clean Eating for Busy Families takes the challenge out of putting delicious food on the family table on a nightly basis by providing you with a clear plan for dinner success. With streamlined weekly grocery lists, simple-yet-delicious recipes, and practical tips for healthy family eating, you'll find it a cinch to trade in that uninspired takeout for wholesome meals that don't just put your tummy to ease, but your mind too. It's Quick: From easy sautes and casseroles, to slow cooker meals, to pan-less grilling, all the recipes you'll find inside list both mode and length of cooking time, so there's no time wasted trying to figure out a time plan or what works best for your schedule. Plus, most recipes can be prepared in thirty minutes or less! It's Clean: The ever-growing "clean food" movement, which focuses on a healthy, whole foods-based approach to eating, lies at the foundation of this book, so you can be sure you're feeding your family the very best. From wholesome ingredient lists to nutritional analysis on every recipe, you can feel confident that every meal you prepare is both nutrient-rich and calorie-conscious. It's Green: Featuring eco-friendly tips, along with information on how to go green while shopping and cooking, you'll find it a cinch to keep your family and the planet happy. You'll also find the peak season noted on every recipe, as well as substitutions for ingredients that are out of season, so you can adapt according to what works best for you. And most importantly...it's delicious! From Orange Peel Chicken & Broccoli Stir-fry with Brown Rice to Baja Fish Tacos with Pico de Gallo and Summer Berry Slump with Vanilla Greek Yogurt, you'll enjoy night after night of delicious home cooking-without any of the hassle. Get started creating new and exciting dishes for your family today!
Sklep: Libristo.pl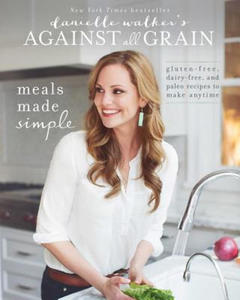 157,49 zł
Książki / Literatura obcojęzyczna
Beloved food blogger and "New York Times" bestselling author Danielle Walker is back with over 100 new Paleo recipes in her sophomore cookbook, "Meals Made Simple"--a collection of gluten-free, dairy-free, and Paleo-friendly recipes for easy weeknight meals. Diagnosed with an autoimmune disease at twenty-two, Danielle Walker spent many years in and out of the hospital and on high dosages of debilitating medications before taking her health into her own hands and drastically changing her diet. In a true lemons-to-lemonade story, Danielle transformed her adversities into opportunities and created her wildly successful blog, "Against All Grain," in an effort to help those in need eat well and feel great, without feeling deprived. With recipes that make cooking for the grain-free family both easy and enjoyable, "Meals Made Simple "answers the age-old question: "What's for dinner?" Danielle takes the guesswork out of meal planning with a full month's worth of dinner ideas, complete with recipes for using up leftovers and full shopping lists. Whether we're moms, students, or business owners, we all want fresh, home-cooked meals that are easy to prepare at the end of the day. And we want lots of choices and variety. Preparing real foods can be time-consuming and monotonous. Danielle brings simplicity and creativity to the everyday meal with an enthusiasm for flavors and textures that can often be lacking in easy weeknight meals. "Meals Made Simple "includes a variety of slow-cooker, one-pot, and thirty-minute meals, as well as ways to create entirely new dishes from leftovers. As in her critically acclaimed first cookbook, "Against All Grain ," Danielle offers special "tidbits" to help ensure your meal turns out picture-perfect. The vibrant flavors and colors in dishes like Slow Cooked Pork Ragu, Beef Stroganoff, Peruvian-Style Chicken, and Summer Shrimp Rolls add delight to any meal and end all those nights of mundane grilled chicken and broccoli. Even the desserts are quick to make, should a craving or last-minute kid's celebration arise. Features include- More than 100 new gluten-free, dairy-free, and Paleo-friendly recipes with full -color photos- 30 days' worth of dinner ideas to make meal planning easy- Complete shopping lists for fast and effortless trips to the grocery store that minimize waste- Suggestions and recipes for using leftovers to save you time and money- Slow-cooker, one-pot, and 30-minute recipes for fast and easy dinners- Make ahead and freezer options- Time saving tips for getting dinner on the table quickly
Sklep: Libristo.pl 89,05 zł
Książki / Literatura obcojęzyczna
300 nutritious recipes--from quick prep dinners to slow cooker favorites
Sklep: Libristo.pl 123,52 zł
Książki / Literatura obcojęzyczna
Tom Aikens is undoubtedly one of the UK's most talented chefs. His first restaurant, Tom Aikens, has received huge critical acclaim and was awarded a Michelin star a year after opening, sealing Tom's reputation as a culinary leading light. Tom also drummed up a further legion of fans with the opening of Tom's Kitchen - an informal all-day brasserie serving familiar and rustic dishes. It is this simple, homely style of cooking that Tom focuses on in his new cookbook. With over 200 easy recipes there's something for every occasion, from fast fixes, such as Peppered Steaks with Crushed Roast Garlic or Spiced Mullet Soup with Paprika and Chorizo; to twists on classic comfort food such as Ham and Mustard Macaroni, Toasted Sourdough with Aubergine, Basil and Sheep's Cheese and Lamb Rump with Rosemary Polenta and Parmesan. There's also a chapter for weekend cooking - pies, slow-roasts and hearty fare - and one on how to get creative with your leftovers. Other highlights are Tom's irresistible desserts: Prune and Armagnac Brioche Pudding, Caramel Mousse and Golden Syrup Sponge. The emphasis is on simplicity - recipes that can be prepared and cooked without any hassle or fuss, making cooking a pleasure rather than a chore. Beautifully illustrated with specially commissioned photography and a fresh, striking design, this is set to be a must-have cookery title.
Sklep: Libristo.pl
122,20 zł
Książki / Literatura obcojęzyczna
'Cooking is not just about joining the dots, following one recipe slavishly and then moving on to the next. In cooking, as in writing, you must please yourself to please others.' Hailed by chefs, reviewers, cookery writers and millions of home cooks worldwide as one of the best cookery books ever written, How To Eat is more than just an imaginative collection of over 350 delicious, simple recipes. Combining Nigella's down-to-earth, practical cookery advice with a passion for food and a friendly, chatty style, you will need two copies of this glorious classic: one for the kitchen, one for the bedside table. This is Nigel Slater's all-time favourite cookbook: "If I could only keep one cookbook, this would be it. How To Eat suits the way I cook. It is as if Nigella is sitting on a stool next to me in the kitchen as I'm cooking...With every page you know she loves this stuff, and she wants you to love it too. It's a very, very special book for me. My own copy is falling apart." With gloriously witty food writing, easy recipes, basic cooking tips and a beautiful hardback design, this is a book you will treasure for many years as well as a delicious gift for friends and family. Features: Basics - from easy bread recipes and basic roast chicken to sauce ingredients and seasonal foods; Cooking in advance - slow cooking, marinades and stress-free, easy recipes; One and two - cooking for one and meals for two people, from the practical to the romantic; Fast food - easy recipes and quick meal ideas; Weekend lunch - Saturday and Sunday lunch menus, for entertaining friends and family meals; Dinner - complete dinner menus for any occasion, from an elegant dinner party to a simple supper; Low Fat - healthy recipes and low-fat meals that still burst with flavour; and Feeding babies and small children - weaning recipes, easy family meals and dishes to tempt that fussy eater.
Sklep: Libristo.pl 64,15 zł
Książki / Literatura obcojęzyczna
In the fifth book of The Delia Collection, Delia teaches us how to cook authentic Italian dishes successfully. Old favourites and new recipes combine to make this a definitive guide to cooking and eating Italian food. Having worked in Italy in her twenties Delia has loved Italian food ever since, and here the reader will find authentic dishes adapted for today's cook. For dedicated Delia followers, this cookbook provides an easily accessible library of her favourite Italian recipes, and her inimitable style and flair for teaching will make this a must-have in any kitchen. Over 50 delicious recipes with advice and tips on cooking in the Italian way, and easy-to-follow instructions, ensure that each dish comes out perfect, every time. Delia is a publishing phenomenon with sales of more than 18 million cookery books. This series is the first time her recipes have been arranged by subject.
Sklep: Libristo.pl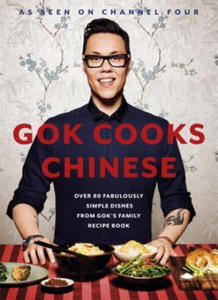 98,61 zł
Książki / Literatura obcojęzyczna
Not only is Gok Wan one of the UK's top fashion stylists, but he can cook too! Gok's fantastic new book, "Gok Cooks Chinese", contains 80 personal and family recipes, which are not only delicious and healthy but incredibly simple to make. His love and passion for Chinese food and cooking techniques shine through from every page. From his unique perspective he gives us his personal and modern take on the Chinese food that he grew up eating, drawing on his Chinese heritage to give us a different angle on how to eat - for Gok, it's all about sitting down, tucking into fantastic food that is fuss-free and relaxed. Gok's food is about balance, health, flavour and fun. From his absolute favourite recipe for Prawn Wonton Noodle Soup (which he calls 'happiness in a bowl') to Perfect Fried Rice or classics like his dad's Honey-glazed Char Siu Pork, through chapters on Dim Sum, Street Food, One Pot Wonders and Feasting, you will find recipes for all occasions and moods, whether entertaining friends or enjoying a meal at home by yourself. Above all, Gok Wan will demystify Chinese ingredients and equipment. "Gok Cooks Chinese" shows us how easy it is to shop and cook just like him. Thanks to the overwhelming success of his "Channel 4" series, "How To Look Good Naked", acclaimed fashion stylist and on-screen consultant, Gok Wan, is now an institution on our screens. Not only has Gok appeared in a further six series, he has also hosted three of "Gok's Fashion Fix" and the follow-on, "Gok's Clothes Roadshow", is into its second series. Gok has also made a moving documentary on child obesity, "Too Fat Too Young", and explored the modern day issues our teenagers are facing in "Gok's Teens: The Naked Truth". He has written four books, including his bestselling autobiography, "Through Thick and Thin". His women's wear collection for Sainsbury's broke UK sales records upon its release in October 2011, allowing women up and down the country to fulfill their dreams and get well and truly Gok'd.
Sklep: Libristo.pl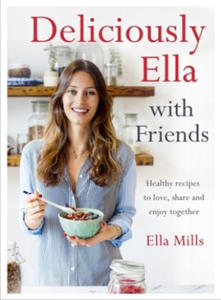 109,17 zł
Książki / Literatura obcojęzyczna
The much-anticipated follow-up cookbook from Deliciously Ella, the inspirational bestselling healthy food writer who has taken the cookery world by storm.In the follow-up to her amazing bestseller Deliciously Ella Every Day, Ella makes it easy for you to prepare delicious healthy food for you, your friends and family, whatever the occasion. No more wondering whether certain dishes go together, Ella makes life simple with her menus - whether you are planning a laid-back brunch, a last-minute lunch or a fancy supper, Ella has it covered with wonderful hearty and filling recipes that celebrate her healthy eating philosophy.With ideas and inspiration for every foodie occasion, including cosy nights in, easy kitchen suppers, flavoursome feasts, birthday parties, picnics and mocktails and cocktails, this is the go-to book for anyone who lives a healthy lifestyle and loves sharing food with friends and family.
Sklep: Libristo.pl 29,68 zł
Książki / Literatura obcojęzyczna
Start cooking-up great food with this essential cookbook, dedicated to teaching you the art of quick and simple cookery. This pocket-sized book features a huge range of tried and tested recipes, with easy-to-follow steps and fresh photography to help you whip up gorgeous food, fast. With over 100 meals that you can prepare in under half an hour, you'll be spoilt for choice. From filling breakfasts to delicious main meals, there's something for everyone in 30 Minute Meals.
Sklep: Libristo.pl 31,50 zł
Książki / Literatura obcojęzyczna
Start cooking-up great food with this essential cookbook, dedicated to teaching you the art of quick and simple cookery. This pocket-sized book features a huge range of tried and tested recipes, with easy-to-follow steps and fresh photography to help you whip up gorgeous food, fast. With over 100 meals that you can prepare in under half an hour, you'll be spoilt for choice. From filling breakfasts to delicious main meals, there's something for everyone in 30 Minute Meals.
Sklep: Libristo.pl
Sklepy zlokalizowane w miastach: Warszawa, Kraków, Łódź, Wrocław, Poznań, Gdańsk, Szczecin, Bydgoszcz, Lublin, Katowice
Szukaj w sklepach lub całym serwisie
2. Szukaj na wszystkich stronach serwisu
t1=0.093, t2=0, t3=0, t4=0, t=0.093