krainaksiazek small business the unconventional entrepreneur s guide to starting your own small business from home 20092051
- znaleziono 13 produktów w 1 sklepie 49,99 zł
Książki / Literatura obcojęzyczna
This is a brilliantly revealing, often laugh-out-loud guide for every dreamer, college-leaver and second career-er who has ever thought about starting their own business but fallen asleep in the first chapter of a typical business book. Based on what entrepreneur Robin Bennett has found to work over the last 20-odd years in business, it is a frank, witty and revealing look at exactly how to become your own boss without going mad or broke. Discover: - what a real USP looks like (and why it doesn't have to change the world, unless you want it to) - the simple secrets of effective business planning (from a man who has started more than ten businesses) - all the places you can get money to start your business (often for free) - the ultimate guide to sales and negotiation (and how to deal with others haggling your prices down) - how to hire the right staff and get the best out of them (without coming across like David Brent) - how to run a business every day whilst keeping a beady eye on the future (so that you don't go broke, your competitors don't put you out of business and you can grow healthily). This book is a detailed description of how to start a small business from scratch, with relatively little money, and how that business can give you a comfortable standard of living with little or no risk in the long term. Read it and find out how you too can make a good living and still live the good life!
Sklep: Libristo.pl 72,46 zł
Książki / Literatura obcojęzyczna
Get the secrets of successful business mums and dads so you can grow a great business too. This essential guide takes you step by step through starting and running a successful business. Read interviews with mumpreneurs who have started small businesses and those who have gone onto achieve BIG success. Determine what success means to you and use the practical exercises to help you plan and achieve your goals. The Mumpreneur Guide is easy to read whether you have toddlers playing at your feet or are waiting to collect the kids from school.
Sklep: Libristo.pl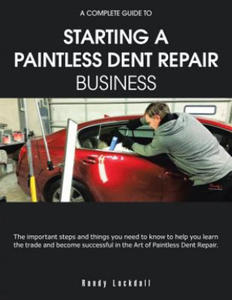 164,31 zł
Książki / Literatura obcojęzyczna
A Complete Guide to Starting Your Own Paintless Dent Repair Business Paintless dent repair or removal (PDR) is an advancing art of removing dents, dings, hail damage, even large dents from automobiles, SUVs, trucks, motorcycles, and appliances. Occasionally, an individual will be able to pop out or remove 80 percent of a very large dent; however, a real PDR technician will not be satisfied until the dent is removed as close to 100 percent as possible. This process of removing the small dents, crease dents, and large dents while saving the finish is called paintless dent removal. The second edition of this book will help the reader learn more about paintless dent repair, the newest innovations and trends, tips to help you learn the craft and how to avoid the pitfalls of the business. It's part of a plan for you, a friend, or a family member to start a PDR business. Whether you're a body shop owner, car dealer, detailer, or a novice wanting to know more about the business of PDR, this book will help guide the way. Along with new ideas and new products, you will read about how to connect with people who are making their mark in the industry. This book is an investment that will help you make good choices and avoid many of the pitfalls of operating and owning a paintless dent removal business. You will learn: the basic process, including how to see your tool behind the metal; how to get the best technical tools at the lowest cost; how to get the new business and learn the trade on the job; how to learn the tricks and disperse the myths; how to develop a business plan for yourself for long-term profitability; and how to travel worldwide and make a good money in the process.
Sklep: Libristo.pl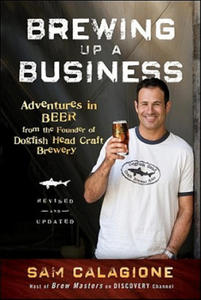 79,79 zł
Książki / Literatura obcojęzyczna
Updated business wisdom from the founder of Dogfish Head, the nation's fastest growing independent craft brewery Starting with nothing more than a home brewing kit, Sam Calagione turned his entrepreneurial dream into a foamy reality in the form of Dogfish Head Craft Brewery, one of America's best and fastest growing craft breweries. In this newly updated Second Edition, Calagione offers a deeper real-world look at entrepreneurship and what it takes to operate and grow a successful business. In several new chapters, he discusses Dogfish's most innovative marketing ideas, including how social media has become an integral part of the business model and how other small businesses can use it to catch up with bigger competitors. Calagione also presents a compelling argument for choosing to keep his business small and artisanal, despite growing demand for his products. Updated to offer a more complete look at what it takes to keep a small business booming An inspiring story of renegade entrepreneurialism and the rewards of dreaming big, working hard, and thinking unconventionally Shows how to use social media to reach new customers and grow a business For any entrepreneur with a dream, Brewing Up a Business, Second Edition presents an enlightening, in-depth look at what it takes to succeed on their own terms.
Sklep: Libristo.pl 140,04 zł
Książki / Literatura obcojęzyczna
Stop Discounting! Start Selling! For more than seven decades, David Oreck has been successfully marketing products to the American consumer. He took his little startup vacuum company and turned it into a household name and not by relying on big advertising or slick sales pitches. He understood that the customer does not want to be 'sold'; they want value! Just like many small business people today, Oreck started his company on a shoestring and a dream but to compete with the national brands and big corporations, he had to get creative. This meant taking his product directly to consumers and bypassing the middlemen. Success was not easy and there were many challenges that could have suffocated his small company - but his persistence and marketing prowess kept the company going - and growing. It is easy to think that times have changed, but the truth is the consumer hasn't and once you really understand your customer you have the key that will solidify your place in the market. This is good news for all the little companies that may be wondering how they could ever compete with the bog box retailers of the world. Through unconventional wisdom that flies in the face of conventional marketing notions, Oreck explains how today's entrepreneur can create their own profitable niche in a very crowded market - no matter the economy. This specific time-tested knowledge can be the key to your business becoming profitable or falling by the wayside this year and offers more than 70 years of priceless real world marketing experience. Don't miss your chance to learn from one of the masters of business!
Sklep: Libristo.pl 129,78 zł
Książki / Literatura obcojęzyczna
"DON'T GET MAD ABOUT OBAMAGEDDON...GET EVEN!" Build your wealth.Protect your faith and family.Secure your freedom. Don't just survive Obama...learn how to outsmart his big-government, socialist system and thrive! Bad times are coming -- how will you protect your family, save enough for retirement, and turn your home into a fortress? In The Ultimate Obama Survival Guide, Wayne Allyn Root provides the answer. First, he explains step by step what Obama has planned. Then, Root presents Y-PODS: Your Personal Obama Defense Shields - a detailed 18 point plan to protect your assets, capitalize, and PROSPER as the rest of the country treads water -- or drowns! And that's just the beginning. Wayne Allyn Root is a passionate Capitalist Evangelist, serial entrepreneur, and small businessman extraordinaire. He knows what it takes to weather any economic storm. You're going to need Root's expertise as you and your family tackle the biggest challenge facing Americans today: Barack Obama's second term in the White House. Root takes you on a tour of the practical, real-life ways you can fight back and WIN, not just at the ballot box, but in your bank account, retirement account, safety deposit box, on your tax forms, at your church, in your home, your schools, and at your doctor's office. The Ultimate Obama Survival Guide also features exclusive advice from 18 superstars of business and finance - millionaires, billionaires, and managers of billion dollar hedge funds, who provide their specific plans for investing in precious metals, real estate, stocks, bonds, ETFs and more. What one investment decision made in 1913 turned $1,000,000 into $87,000,000? What investment decision outperformed Warren Buffet by 300% since 2000? What investment have central bankers around the world bought more of in the past year, than in all the years since 1964 COMBINED? Root provides the answers -- along with detailed advice on the smart investments now, the best places to move to escape Obama's poisonous taxes, the best way to educate your children, survival advice on how to turn your home into a fortress, how to survive if the economy collapses and unrest threatens your family. If you are worried about what Obama has in store (and you should be) then arm yourself with Root's step-by-step instructions to protect yourself and your family RIGHT NOW from the Obama invasion of every aspect of your life.
Sklep: Libristo.pl 64,81 zł
Książki / Literatura obcojęzyczna
Do you dream of turning your creative hobby into a real craft business? Do you sell your handmade products online or at craft fairs? Do you already run your own craft business startup and want to maximise your ability to make money by selling your crafts? You CAN start the craft business you've been dreaming of - this amazing directory and advice guide will be an essential tool to ensuring your craft business success! The Craft Seller's Companion is a comprehensive directory containing all the contacts and information needed to start your own creative craft business, either from home or from your own business premises. The listings section covers everything from stockists and suppliers, to media contacts, craft markets and shows, and self-employment resources - everything you need to know to run a successful craft business. The Craft Seller's Companion also contains ten detailed and helpful interviews with some of the world
Sklep: Libristo.pl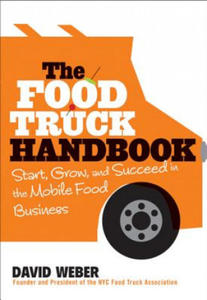 78,98 zł
Książki / Literatura obcojęzyczna
How to start, grow, and succeed in the food truck business. Food trucks have become a wildly popular and important part of the hospitality industry. Consumers are flocking to these mobile food businesses in droves, inspiring national food truck competitions and even a show dedicated to the topic on The Food Network. The relatively low cost of entry as compared to starting a restaurant, combined with free and low-cost ways to market them to the masses via platforms like social media, are just two of the reasons that food truck business are drawing in budding entrepreneurs. Author David Weber, a food truck advocate and entrepreneur himself, is here to offer his practical, step-by-step advice to achieving your mobile food mogul dreams in The Food Truck Handbook. This book cuts through all of the hype to give both hopeful entrepreneurs and already established truck owners an accurate portrayal of life on the streets. From concept to gaining a loyal following to preventative maintenance on your equipment this book covers it all. Includes profiles of successful food trucks, detailing their operations, profitability, and scalability. Establish best practices for operating your truck using one-of-a-kind templates for choosing vending locations, opening checklist, closing checklist, and more. Create a sound business plan complete with a reasonable budget and finding vendors you can trust; consider daily operations in detail from start to finish , and ultimately expand your business. Stay lean and profitable by avoiding the most common operating mistakes. Author David Weber is Founder and President of the NYC Food Truck Association (NYCFTA), which brings together small businesses that own and operate premium food trucks in NYC focused on innovation in hospitality, high quality food, and community development.
Sklep: Libristo.pl 77,19 zł
Książki / Literatura obcojęzyczna
You no longer need a traditional employer plan to get good, affordable health insurance. The New Health Insurance Solution can help you cut your health insurance costs in half if: * You're self-employed, an independent contractor, or your employer doesn't provide health insurance (you can probably get coverage on your own for about $94/month-a fraction of what an employer would have to pay for the same coverage)* You are employed and pay extra to cover your spouse or children under your employer-sponsored plan-you may save 50% by taking them off your employer plan* You own a small business and are getting killed by double-digit premium increases-you can now give employees tax-free money to buy their own plans and get your company out of the health insurance business The book also explains in detail the best solutions for you if:* You can't find affordable health insurance because you or a child have an expensive preexisting medical problem (your state has a program to provide you with guaranteed coverage )* You're currently putting money into an IRA or a 401(k)-because you don't realize that an HSA is always a better option* You're unsure how you or your parents will be able to afford health insurance during retirement, or how to maximize benefits from Medicare-including the new Part D prescription drug plan The New Health Insurance Solution is the definitive guide to the new ways every American can now get affordable health care-without an employer. PAUL ZANE PILZER is a world-renowned economist, a former advisor in two White House administrations, an entrepreneur/employer, an award-winning adjunct professor at NYU, and a New York Times bestselling author.
Sklep: Libristo.pl 534,11 zł
Książki / Literatura obcojęzyczna
Disney has done it. Chemical Bank has also. So, too, have thousands of other companies. In fact, it has become a staple of American business today: mergers and acquisitions. Spreading across all industry lines and encompassing corporations both large and small, merger and acquisition deals are booming. In 1995 alone, the value of all announced deals exceeded $300 billion, including Disney's $19 billion acquisition of Capital Cities and Chemical Bank's $10 billion merger with Chase Manhattan. As a dynamic means of fostering growth, more and more companies will be looking to "do the deal," making it essential for corporate managers and financial officers to know their way around the M&A process. In this authoritative new reference, Jeffrey Hooke-a specialist in the field who has participated in 70 corporate finance transactions-provides a practical, comprehensive, and well-rounded overview to the ins and outs of M&A deals. Using real-life examples, Hooke takes you step by step through the M&A process, outlining the fundamental principles that underlie deals and pinpointing the important strategies that play key roles in successful transactions. The first step is developing a disciplined acquisition plan that includes a researched assessment of management readiness and financial capability. With your finances in order, it's time to find the deal that matches your company's objectives. Hooke shows you how to initiate an acquisition search by starting your own program, screening candidates, and implementing direct contact; and when you're ready to price and close a deal, Hooke's proven valuation and negotiating strategies will have you on firm footing. An invaluable primer for corporate executives and investment professionals involved in the mergers and acquisitions process, M&A is the most complete guide available today. M&A gives you the A to Z on: Key risks that face corporate acquirers-operating issues, the danger of overpayment, financial leverage concerns Valuation tools-using the intrinsic value approach and applying the relative value method such as comparable P/E and EBIT ratios Buyer categories-Window Shopper, Bottom Fisher, Strategic Buyer Maximum deal size guidelines-affordability, management experience, corporate risk tolerance The basics of negotiating and structuring-letter of intent (LOI), due diligence investigation, closing and postmerger integration Selling a business-retaining a financial advisor, approaching the market, confirming a valuation range A savvy guide to mastering the art of M&A From an expert in the M&A field comes a one-of-a-kind book that takes business executives and investment professionals through the complete mergers and acquisitions process. "Jeffrey Hooke has done a fine job explaining the 'ins and outs' of a very complex business. He knows what he's talking about."-John C. Whitehead, former Co-Chairman, Goldman, Sachs & Co. "M&A takes the fear out of the decision-making process-a great pragmatic tool. Hooke has given us a fine 'how-to' manual." -Kenneth Tuchman, Managing Director, Lehman Brothers, Inc. "Hooke's basic outline of the dynamics involved provide a basic overview for both corporate executives and business students. His examples-real transactions coupled with the practicalities and legalities of the deal business-make for informative and enjoyable reading."-Gilbert W. Harrison, Chairman, Financo, Inc. "Jeffrey Hooke has written a first-class primer on the science and art of mergers and acquisitions. This book will be a standard for both students and practitioners in the field."-Glenn H. Hutchins, Senior Managing Director, The Blackstone Group
Sklep: Libristo.pl 74,91 zł
Startup Kit Harriman House Publishing
Książki / Literatura obcojęzyczna
The StartUp Kit contains everything you need to start and run your own business! This book is a friendly guide covering all aspects of starting up - from developing a business idea and setting up a company to marketing your new business, getting that first sale and making the most of the latest tech developments. Full of great advice from start-up expert Emma Jones, it's packed with case studies of people who've successfully started their own businesses. It also comes with great offers from some of the leading brands for small business.
Sklep: Libristo.pl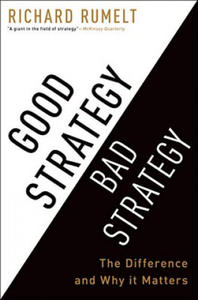 95,59 zł
Książki / Literatura obcojęzyczna
Clears out the mumbo jumbo and muddled thinking underlying too many strategies and provides a clear way to create and implement a powerful action-oriented strategy for the real world§§Developing and implementing a strategy is the central task of a leader, whether the CEO at a Fortune 100 company, an entrepreneur, a church pastor, the head of a school, or a government official. Richard Rumelt shows that there has been a growing and unfortunate tendency to equate Mom-and-apple-pie values, fluffy packages of buzzwords, motivational slogans, and financial goals with "strategy." He debunks these elements of "bad strategy" and awakens an understanding of the power of a "good strategy."§§A good strategy is a specific and coherent response to - and approach for overcoming - the obstacles to progress. A good strategy works by harnessing and applying power where it will have the greatest effect in challenges as varied as putting a man on the moon, fighting a war, launching a new product, responding to changing market dynamics, starting a charter school, or setting up a government program. Rumelt's§nine sources of power - ranging from using leverage to effectively focusing on growth - are eye-opening yet pragmatic tools that can be put to work on Monday morning.§§Surprisingly, a good strategy is often unexpected because most organizations don't have one. Instead, they have "visions," mistake financial goals for strategy,§and pursue a "dog's dinner" of conflicting policies and actions.§§Rumelt argues that the heart of a good strategy is insight - into the true nature of the situation, into the hidden power in a situation, and into an appropriate response. He shows you how insight can be cultivated with a wide variety of tools for guiding your§own thinking.§§Good Strategy/Bad Strategy uses fascinating examples from business, nonprofit, and military affairs to bring its original and pragmatic ideas to life. The detailed examples range from Apple to General Motors, from the two Iraq wars to Afghanistan, from a small local market to Wal-Mart, from Nvidia to Silicon Graphics, from the Getty Trust to the Los Angeles Unified School District, from Cisco Systems to Paccar, and from Global Crossing to the 2007
Sklep: Libristo.pl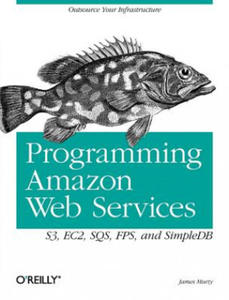 232,05 zł
Książki / Literatura obcojęzyczna
Building on the success of its storefront and fulfillment services, Amazon now allows businesses to 'rent' computing power, data storage and bandwidth on its vast network platform. This book demonstrates how developers working with small- to mid-sized companies can take advantage of Amazon Web Services (AWS) such as the Simple Storage Service (S3), Elastic Compute Cloud (EC2), Simple Queue Service (SQS), Flexible Payments Service (FPS), and SimpleDB to build web-scale business applications. With AWS, Amazon offers a new paradigm for IT infrastructure: use what you need, as you need it, and pay as you go. "Programming Web Services" explains how you can access Amazon's open APIs to store and run applications, rather than spend precious time and resources building your own.With this book, you'll learn all the technical details you need to: store and retrieve any amount of data using application servers, unlimited data storage, and bandwidth with the Amazon S3 service; buy computing time using Amazon EC2's interface to requisition machines, load them with an application environment, manage access permissions, and run your image using as many or few systems as needed; use Amazon's web-scale messaging infrastructure to store messages as they travel between computers with Amazon SQS; leverage the Amazon FPS service to structure payment instructions and allow the movement of money between any two entities, humans or computers; and, create and store multiple data sets, query your data easily, and return the results using Amazon SimpleDB. Scale up or down at a moment's notice, using these services to employ as much time and space as you need. Whether you're starting a new online business, need to ramp up existing services, or require an offsite backup for your home, "Programming Web Services" gives you the background and the practical knowledge you need to start using AWS. Other books explain how to build web services. This book teaches businesses how to take make use of existing services from an established technology leader.
Sklep: Libristo.pl
Sklepy zlokalizowane w miastach: Warszawa, Kraków, Łódź, Wrocław, Poznań, Gdańsk, Szczecin, Bydgoszcz, Lublin, Katowice
Szukaj w sklepach lub całym serwisie
2. Szukaj na wszystkich stronach serwisu
t1=0.139, t2=0, t3=0, t4=0, t=0.139