krainaksiazek so damn beautiful the complete series 20129788
- znaleziono 10 produkty w 3 sklepach 289,99 zł
Muzyka>Rhythm & Blues / Soul
1. Jones, Booker T. - I Was Born To Love You 2. Hayes, Isaac - Precious, Precious 3. Isbell, Alvertis - Send Peace & Harmony Home 4. Jones, Booker T. - Soul Limbo 5. Floyd, Eddie - I've Never Found A Girl (To Love Me 6. Bramlett, Delaney - It's Been A Long Time Coming 7. Crawford, Dave - What A Man 8. Davis, B.b. - I Like Everything About You 9. Daye, Johnny - Stay Baby Stay 10. Jones, Booker T. - Private Number 11. Crutcher, Bettye - So Nice 12. Banks, Homer - Long Walk To D.c. 13. Hayes, Isaac - Give 'Em Love 14. Floyd, Eddie - Funky Mississippi 15. Spector, Phil - Lovin' Feeling 16. Ragni, Gerome - Where Do I Go? 17. Cropper, Steve - Bed Of Roses 18. Cooke, Sam - Bring It On Home To Me 19. Banks, Homer - It's Unbelievable (How You Control 20. Davis, Don - Who's Making Love 21. Merriwether, Arthur - Mighty Cold Winter 22. Frontiere, Dominic - Hang 'Em High 23. Floyd, Eddie - You're Leaving Me 24. Alexander, James - Copy Cat 25. Bell, William - I Forgot To Be Your Lover 26. Ashford, Nickolas - Running Out 27. Hayes, Isaac - My Baby Specializes 28. Hayes, Isaac - I'll Understand 101. Banks, Homer - The Ghetto 102. King, Albert - Blues Power 103. Elliot, Richard - The Echo 104. Arnold, Calvin - Funky Way 105. Banks, Homer - Take Care Of Your Homework 106. Banks - I Like What You're Doing (To Me) 107. Cropper, Steve - I've Got To Have Your Love 108. Hayes, Isaac - Let 'Em Down Baby 109. Jones, Booker T. - Love Is Here Today & Gone Tomor 110. Hayes, Isaac - It Ain't Long Enough 111. Hayes, Isaac - Mellow Way You Treat Your Man 112. Jones, Booker T. - Private Number 113. Dunn, Donald - Time Is Tight 114. Jones, Booker T. - Double Or Nothing 115. Redding, Otis - (Sittin On ) The Dock Of The Bay 116. Hutchinson, Sheila - So I Can Love You 117. Jones, Allen - Don't Stop Dancing (To The Music) ( 118. Turbinton, Wilson - One More Chance 119. Dotson, Jimmy - I Wanna Be Good (To You) 120. Miller, Art - Finger Lickin' Good 121. Hayes, Isaac - Tighten Up My Thang 122. Bell, William - My Whole World Is Falling Down 123. Clinton Jr., George - Testify (I Wonna) 124. Jones, Allan - Drowning On Dry Land 125. Rakes, Pal - Do The Cissy 126. Jones, Booker T. - Don't Tell Your Mama (Where You 201. Simon, Paul - Mrs. Robinson 202. Floyd, Eddie - Love's Sweet Sensation 203. Crutcher, Bettye - Just Because Your Love Is Gone 204. Barnes, J.j. - Chains Of Love 205. Jones, Booker T. - Happy 206. Banks, Homer - The Challenge 207. Banks, Homer - Soul-a-lujah 208. Floyd, Eddie - Never, Never Let You Go 209. Wilson, Clyde - Just Keep On Lovin' Me 210. Floyd, Eddie - I Need You Woman 211. Frierson, Johnnie - I've Got A Feeling 212. Banks, Homer - It's Time To Pay For The Fun (We've 213. Banks, Homer - I Could Never Be President 214. Webb, Jimmy - By The Time I Get To Phoenix 215. Hager, Joan - Long & Lonely World 216. Barry, John - Midnight Cowboy 217. Thomas, Carla - I've Fallen In Love With You 218. Jones, Booker T. - Slum Baby 219. Hayes, Isaac - The Best Part Of A Love Affair 220. By The Time I Get To Phoenix 221. Hayes, Isaac - Original Version 222. Bacharach, Burt - Walk On By 223. Hooker, John Lee - Tupelo (Part 1) 224. Cropper, Steve - Water 225. Hayes, Isaac - The Sweeter He Is (Part 1) 226. Briggs, Freddy - You're Driving Me (To The Arms Of 301. Jones, Allen - Open Up Your Heart (Let Me In) 302. Floyd, Eddie - Why Is The Wine Sweeter (On The Oth 303. Stewart, Randall - When Will We Be Paid 304. Hooker, John Lee - Grinder Man 305. Jones, Booker T. - Born Under A Bad Sign 306. Womack, Bobby - What You Gonna Do 307. Chalmers, Sandra - I'm So Glad 308. Bridges, Fred - Beautiful Feelings (Single Mix) 309. Banks, Homer - Your Love Was Strange 310. Isbell, Alvertis - Love Bones 311. Bramlett, Bonnie - Hard To Say Goodbye 312. Barnes, J.j. - Got To Get Rid Of You 313. Milner, Reggie - Habit Forming Love 314. Lewis, Robert - My Thing Is A Moving Thing 315. Hayes, Isaac - Stealing Love 316. Hayes, Isaac - When Tomorrow Comes 317. King, Albert - Wrapped Up In Love Again (Vocal) 318. Thomas, Jr., Rufus - Do The Funky Chicken 319. Jones, Booker T. - California Girl 320. Hayes, Bernie - Tribute To A Black Woman (Part 1) 321. Alexander, James - Sang & Dance 322. Hayes, Isaac - Hold On I'm Coming 323. Banks, Homer - Love's Gonna Tear Your Playhouse Do 324. Hines, Earnest - Help Me Put Out The Flame (In My 325. Banks, Homer - Black Boy 401. Banks, Homer - Bracing Myself For The Fall 402. Bryant, Boudleaux - All I Have To Do Is Dream 403. Darling, Jean - Singing About Love 404. Banks, Homer - Goodies 405. Hester, Tony - Just The Way You Are Today 406. Willis, Aaron - The Creeper Returns 407. Davis, Don - Guide Me Well (45 Version) 408. Scharf, Stuart - Give A Damn 409. Hughes, Jimmie - Steal Away 410. Briggs, Freddie - Your Sweet Lovin' 411. Butler, William - I Forget To Remember 412. Lee, Larry - Can't See You When I Want To 413. Hathaway, Donny - Never Be True 414. King, Albert - Can't You See What You're Doing To 415. Ward, William Thomas - Sixty Minute Man (Part 2) 416. Richardson, Jape - Preacher & The Bear 417. Harrison, George - Something 418. Briggs, Freddie - Seeing Is Believin' 419. Hester, Tony - You're My Only Temptation 420. Soule, George - What I Don't Know Won't Hurt Me 421. Dixon, Willie - Right, Tight & Out Of Sight 422. Anderson, John W. - (What's Under) The Natural Do 501. White, Ronald - My Girl 502. Jordan, David - I Have Learned To Do Without You 503. Harper - Play The Music Tornados 504. Carter, Calvin - Lonely Soldier 505. Willis, Vince - Heart Association 506. Butler, Jerry - I Stand Accused 507. Kooper, Al - Brand New Day 508. Briggs, Freddie - Sweeter Tomorrow 509. Anderson, Gene - Cool Strut 510. Rice, Bonny - You Put The Sunshine Back In My Worl 511. Bloom, Bobby - Montego Bay 512. Robinson, Rudy - Got It Together (Parts 1 & 2) 513. Lewis, Ramsey - Wade In The Water 514. Tate, Tommy - You're Movin' Much Too Fast 515. Cropper, Steve - The Best Years Of My Life 516. Snyder, Arthur - I Am Somebody (Part 2) 517. Levine - I Loved You Like I Love My Very Life 518. Pashkot, Jim - Soul Machine 519. Nixon, Tom - (Follow Her) Rules & Regulations 520. Thomas, Jr., Rufus - (Do The) Push & Pull (Part 1) 521. Lumbus, Carl - Love Changes 522. Porter, David - Put Your World In My World (Best O 523. Crutcher - Love Is Plentiful 601. Barry - Heavy Makes You Happy (Sha-na-boom Boom) 602. Parker, Deanie - Who Took The Merry Out Of Christm 603. Banks, Homer - Too Many Lovers 604. Staples, Pervis - Black Christmas 605. Hayes, Isaac - The Mistletoe & Me 606. Hunter, Ivy - Ask The Lonely 607. Davis, Don - Jody's Got Your Girl & Gone 608. Lebeau, Roni - Finish Me Off 609. Floyd, Eddie - Oh, How It Rained 610. Bacharach, Burt - The Look Of Love 611. Triplett - Electrified Love 612. Cropper, Steve - Melting Pot 613. Drapkin, Christina - That's The Way I Like It (I L 614. Washington, Carrol - Mr. Big Stuff 615. Crutcher, Bettye - You Make Me Want To Love You 616. Dozier, Lamont - Stop! In The Name Of Love 617. Davis, Melvin - I Don't Wanna Lose You 618. Bridges, Jo - (Girl) I Love You 619. Thomas, Jr., Rufus - The World Is Round 620. Crutcher, Bettye - A Penny For Your Thoughts 621. Davis, Clifton - Never Can Say Goodbye 622. Rice, Mack - I Don't Want To Be Like My Daddy 701. Robinson, Jr., William - You've Got To Earn It 702. Barnes, J.j. - Hold On To It 703. Hester, Tony - Whatcha See Is Whatcha Get 704. Dixon, Willie - Born Too Late 705. Hughes, Jimmy - Just Ain't Strong As I Used To Be 706. Briggs, Dorothy - That Other Woman Got My Man & Go 707. Porter, David - If You Think It (You May As Well D 708. Arnold, Calvin - Shame On The Family Name 709. Cropper, Steve - Blood Is Thicker Than Water 710. Hester, Tony - Hijackin' Love 711. Van Peebles, Melvin - Sweetback's Theme 712. Floyd, Eddie - The Breakdown (Part 1) 713. Crutcher, Bettye - Pin The Tail On The Donkey 714. Moore, Leon - Them Hot Pants 715. Smith - If That Ain't A Reason (For You Woman To L 716. Banks, Homer - It's Good To Be Careful (But It's B 717. Cobb, Joe - Where Would You Be Today 718. Nix, Don - Everybody Wants To Go To Heaven 719. Reese, William Lloyd - Got To Get Away From It All 720. Terry, A. - Love's Creeping Up On Me 721. Hayes, Isaac - Show Me How 722. Lebeau, Roni - If I Give It Up, I Want It Back 723. Crutcher, Bettye - A Woman Named Trouble 801. Giles, Elbert W. - Losing Boy 802. Ingram, Luther - Respect Yourself (Single Edit) 803. Jewel, S. - I'll Kick A Brick (About My Man) 804. Broussard, Joseph - You Think You're Hot Stuff 805. Bell, William - All For The Love Of A Woman 806. Hayes, Isaac - Theme From Shaft 807. Dunn, Donald Duck - Jamaica, This Morning 808. Arnold, Calvin - Gone! The Promises Of Yesterday 809. Lance, Major - Girl, Come On Home 810. Clinton, George - (Let Hurt Put You In The) Loser' 811. Brown, W. - My Baby Love 812. March, Myrna - How Do You Move A Mountain 813. Ellis, T. - Black Nasty Boogie (Part 6) 814. Rice, Bonny - Do The Funky Penguin (Part 1) 815. Banks, Homer - You've Got A Cushion To Fall On 816. Hester, Tony - Get Up & Get Down 817. Banks, Homer - Son Of Shaft 818. Mitchell, Phillip - Don't Cha Mess With My Money, 819. Cropper, Steve - I Can Smell That Funky Music 820. Kaye - A Sadness For Things 821. Campbell, Milton - That's What Love Will Make You 822. Barker, Kent - Standing In For Jody
Sklep: Gigant.pl 46,57 zł
Książki / Literatura obcojęzyczna
From New York Times bestselling New Adult author Monica Murphy comes the exhilarating conclusion to Drew and Fable's story - the star-crossed young romance that began in One Week Girlfriend; perfect for fans of Jessica Sorensen, Abbi Glines and Jamie McGuire's Beautiful Disaster. Lost. Everything in my life can be summed up by that one sickening word. My football coach blames me for our season-ending losses. So does the rest of the team. I wasted two whole months drowning in my own despair, like a complete loser. And I lost my girlfriend - Fable Maguire, the only girl who ever mattered - because I was afraid that being with me would only hurt her. But now I realise that I'm the one who's truly lost without her. And even though she acts like she's moved on and everything's fine, I know she still thinks about me just as much as I think about her. I know her too well. She's so damn vulnerable, all I want to do is be there to help her...to hold her...to love her. I just need her to give me one more chance. We may be lost without each other, but together, we're destined to find a love that lasts for ever. Look out for the next emotional and compelling new romance in Monica Murphy's One Week Girlfriend series, Three Broken Promises!
Sklep: Libristo.pl 3,10 zł
Książki & Multimedia > Książki
Nazwa - Temperówka kum z pojemnikiem fluorescencyjna 210K Fish Wydawca - KUM Kod ISBN - 4064900016314 Kod EAN - 4064900016314 Podatek VAT - 23%
Sklep: InBook.pl 31,05 zł
Książki / Literatura obcojęzyczna
Book 6 of the Kingdom of Silk series. The books explore important themes of love, loss, friendships, home and belonging, in ways that pull at the heartstrings but are never over-sentimental. Honey for the soul. Everyone knows that Saffron Silk has a talent for pretending to be someone else but when the firebirds rage inside her head, and it hurts even to breathe, Saffron barely has the energy to be herself.Saffron's family don't know about the firebirds that come to warn her of terrible headaches. And Saffron doesn't know how to tell them. But her brother Perry Angel has learnt to read hearts and recognise tender moments, and Perry knows that Saffron is frightened.Frightened of what might be wrong with her and afraid that she might have to leave the Kingdom of Silk forever...In Glenda Millard's beautifully written and multi-award-winning Kingdom of Silk series, we meet the uncommon Silk family. Parents Ben and Annie Silk have a brood of five daughters ('the Rainbow Girls'), a son named Griffin, Griffin's best friend Layla who 'might as well be a Silk', Nell - the 'tiny bit magic' fairy grandmother, and Perry Angel - an adopted son who joins the Silk family. REVIEWS: "Every action, every sentiment, every character amongst the pages of this book is a manifesto for family, for joy, for being kind, for never failing to show someone you love them, and for never ever failing to recognise the tiny tender moments that make one's life complete.Those tiny tender moments, they are those that "make the soul tipsy with ordinary happiness". This is why I love this series so much; it reminds us that true happiness is found in the simplest things." -- LIBRARY MICE. "Millard weaves difficult issues in a non-threatening way, but her language is so lyrical and poetic (but without lashings of sentimentality) you cannot helped but be moved." -- SHARON F JONES BLOG. "Like with many other books I review I ended up reading book first, then the previous 4/5 books, then I reread this one. I'm glad I was able to read the others (thanks to the lovely publicist), because my initial thoughts were that Saffron's father was a bit of a lunatic, her family was a bit too wacky, and I didn't entirely understand the various relationships. The first time round I fully related to Saffron's fear of what was wrong with her, just because it is so scary having your body do things which you've no control over & don't understand. The care and support of her friends and family made me cry (I cry when I'm happy, sad, & overwhelmed), especially that of Perry whose personal sacrifice I fully understood when I read the stories where he first appears. This entire series is such a sweet read, covering emotionally complex issues in a way that makes sense. I want a grandmother like Nell! She is heaps of fun, sees the positive in everything, and knows that not everyone can learn the same way, which is why Perry ends up being homeschooled 2 days a week and attending school for the rest. It is never openly said (as far as I can remember) but it's obvious that Perry has some form of Autism or Aspergers, and the way his adopted brother and sisters view him is touching. I loved how Layla brightens everyone's life after their dear sister Tishkin passes away. I admire Saffron's parents for sticking with their way of life and not minding what other people think, for picking meaningful names, for being able to follow their dreams. Liking handicrafts made me like Saffron's dad being a wood carver and a baker - the naming books sounds exquisite! This is a series I'll reread because they are touching, and the illustrations heighten the meaning behind the story. A family focused read with lots of grandmother magic!" -- NAYU'S READING CORNER. "Glenda Millard's Kingdom of Silk books have won many awards in her native Australia, and no wonder: there are very few books, for children or adults, which describe love so clearly or so lyrically. There are seven books in the series, The Tender Moments of Saffron Silk is number six, and it is definitely worth reading them all, and in order, to really get to know the Silks. They are an uncommon lot: the rest of the world might see them as eccentric, even weird, that doesn't bother them at all. Parents Ben and Annie have five daughters ('the Rainbow Girls'), a son named Griffin and an adopted son, Perry Angel, who joins the family midway through the series. Nell is 'the tiny bit magic' grandmother, and Layla, Griffin's best friend, understands them so well she 'might as well be a Silk'. They live on a beautiful plot of land in the Australian countryside, and Millard evokes the sense of place beautifully. Each book describes a different event in their lives, but the emphasis is always on themes of love, friendship and belonging. In The Tender Moments of Saffron Silk, Saffron, the youngest and most dreamy of the Rainbow Girls isn't well. She has terrible headaches, accompanied by blinding lights she thinks of as firebirds. The Silks have already lost one daughter, baby Tishkin, and everyone is scared for Saffron. Little Perry is the one to realise just how frightened Saffron herself is though, and to work out what special help she needs. Everything ends well, and a small Silk miracle takes place at the hospital. Millard has a light touch and avoids sentimentality, this is another beautiful and affecting read." -- LOVEREADING.
Sklep: Libristo.pl 132,43 zł
Książki / Literatura obcojęzyczna
Source: Wikipedia. Commentary (music and lyrics not included). Pages: 125. Chapters: Love?, Kelly Rowland's third album, Detox, Vices & Virtues, The R.E.D. Album, Christina Milian's fourth album, Teargarden by Kaleidyscope, American Tragedy, I Remember Me, Born This Way, The Unforgiving, Make a Scene, Screaming Bloody Murder, Awesome as Fuck, I Will Praise You, Glee: The Music Presents The Warblers, Fishin' for Woos, On a Mission, Jumping Trains, The Taking, The Book of David, Violeta Violeta, Gold Cobra, Imaginarium, Wyclef Jean, Hot Sauce Committee, Pt. 2, Electro Love, Beach Cruiser, Holding On to Strings Better Left to Fray, Follow Me Home, Coldplay's fifth album, Move Like This, Soul Punk, In Your Dreams, From Fear to Eternity, Lupercalia, Perfectionist, Under Your Skin, Europe '72: The Complete Recordings, J. Cole's debut studio album, Panic of Girls, All Things Bright and Beautiful, New World Agenda, Telesterion, Laws of Power, The Album, Transition, Fly from Here, Have It All, Checkmate!, Time, K.I.S.S., Now That's What I Call Music! 78, Adam Ant Is the Blueblack Hussar in Marrying the Gunner's Daughter, Wasting Light, The Mighty Death Pop!, We the Best Forever, WTF, Clockwork Angels, Careless World, Remixes 2: 81-11, I'll Scratch Yours, Block Party, CeCe, Welcome 2 My Nightmare, Walk with Me Now, All 6's And 7's, Helplessness Blues, Bright Black Heaven, WTF?!, Suck It and See, Live on I5, James River, As If!, Illud Divinum Insanus, Brilliant! Tragic!, Înapoi În Viitor, Time of My Life, The Mushroom Cloud Effect, So Beautiful or So What, Blood Alliance, Sounds of a Playground Fading, Volatile Times, Celestial Completion, Director's Cut, Wonderland, Glam Nation Live, Biophilia, When Ronan Met Burt, Safari Disco Club, Ultrawired, Destroyed, The Great Escape, Call to Arms, Cats & Dogs, World of Fantasy, New L.O.X. Order, Back Through Time, The Hardship Diaries, Night of the Living Drums, Black and White America, Daybreak, This Is Country Music, Without Regret, Superheroes, Live at River Plate, Blood Pressures, Euphoric Heartbreak, Live from the Kitchen, We All Bleed, Kairos, In Memory Of..., Goblin, Steady as She Goes, MGMT, The Unseen Empire, The Remedy, Love, Tweet, Hot Sauce Committee, Pt. 1, Emotional Rollercoaster, Diotima, Good & Evil, Loso's Way 2: Rise to Power, Liquid Swords 2: The Return of the Shadowboxer, Nine Types of Light, When I Come of Age, Eclipse, Births, Deaths & Marriages, Simple Math, The Wombats Proudly Present: This Modern Glitch, My Heart, Powerless, Introducing Johnny Reid, I Will Stand by You: The Essential Collection, Tough Love: Best of the Ballads, Getting Laid on a School Bus, Mona, I Am What I Am, Two, The Fastest Kid Alive, Inside This Machine, Year of the Wolf, U2 Duals, Into the Wild, Days of the New Presents Tree Colors, Eureka, Raydiation 2, Laugh Now, Laugh Later, The Best of Mark Schultz, Mind Bokeh, The Graveyard of the Atlantic, First World Manifesto, Flee the Flock, From Chaos to Eternity, Everything Always Now, The Lay Of Thrym, Surrounded by Liars, Bluestars 2, Da Yellow Bus Rydah, Now: The Hits of Autumn 2011, Paper Airplane, Child of the Corn, Muscle Car Chronicles, In Love with Oblivion, If Not Now, When?, One Reality, My Brain Says Stop, But My Heart Says Go!, Född förlorare, Vices and Virtues, Building, A Dying Man's Hymn, Creep On Creepin' On, Free, Midnight in the Labyrinth, Merzcow, Covert Coup, Meredead, Take Care, Take Care, Take Care, The Time of the Sun, A propósito, Apocalyps...
Sklep: Libristo.pl 180,74 zł
Książki / Literatura obcojęzyczna
A dazzling set of maps, featuring original artwork from illustrator and cartographer Jonathan Roberts, transforms Martin's epic saga into a world as fully realized as the one around us. George R. R. Martin's beloved Song of Ice and Fire series, which started with A Game of Thrones, is bursting with a variety and richness of landscapes - from bitter tundra to arid wasteland and everything in between - that provide a sense of scale unrivalled in contemporary fantasy. The centrepiece of this gorgeous map collection is guaranteed to be a must-have for any fan: the complete map of the known world, joining the lands of the Seven Kingdoms and the lands across the Narrow Sea for the first time in series history. But this is just one of many unique maps that aren't available anywhere else. There is an alternate version that tracks the movements of the series' protagonists throughout their vast world, along with more detailed versions of the western, middle, and eastern thirds of the world; a full map of Westeros, combining North and South; one of the Dothraki Sea and the Red Wastes; and the Braavos city map. And here, too, are fan favourites detailing everything from urban sprawl to untamed wilds: maps of King's Landing; The Wall and Beyond the Wall; the Free Cities; and Slaver's Bay, Valyria, and Sothyros. Never before has the entire scope of Martin's universe been so exhaustively and fascinatingly depicted. The maps in this beautiful, one-of-a-kind atlas will enrich your reading or viewing experience, provide another view of your favourite characters' epic journeys, and open up captivating new worlds - plus, they'll look great on any castle wall.
Sklep: Libristo.pl 102,17 zł
Książki / Literatura obcojęzyczna
Ching-He Huang is one of the brightest stars in modern Chinese cooking in the UK. Each week in her new BBC2 series she re-invents the nation's favourite Chinese dishes, modernising them with fresh, easy to buy ingredients, and offering simple practical tips and techniques. These are brought together in this beautiful book to accompany the series. Drawing on the experiences of top chefs, her family and friends, growers and producers and celebrity enthusiasts Ching sets out to discover the best Chinese cooking in the UK today, introducing easy-to-make Chinese food to sometimes resistant Brits, and painting a picture of modern Anglo-Chinese life in the UK as she goes. Chinese Food Made Easy begins with some of the most familiar dishes from a Chinese takeaway menu - Sweet & Sour Prawns, Chicken with Cashew Nuts, Chop Suey and Cantonese Vegetable Stir Fry, each with Ching's special and imaginative twist. Later we explore spicy Szechuan food: Noodles, Dumplings and Dim sum; Seafood; Fast Food; Desserts and finally Celebratory Food, where Ching presents a complete banquet of dishes to celebrate the Chinese New Year. Ching's knowledge, charm and enthusiasm shine through as she shares the 'basic principles' of Chinese cooking including some of the simple techniques and tips taught by her Grandparents for tasty results. Using ingredients from high-street supermarkets and some imaginative suggestions for alternative ingredients, these classic Chinese dishes are updated, fresh and healthily prepared so that anyone can make and enjoy them.
Sklep: Libristo.pl 47,36 zł
Książki / Literatura obcojęzyczna
It
Sklep: Libristo.pl 71,28 zł
Książki / Literatura obcojęzyczna
Source: Wikipedia. Pages: 39. Chapters: Andrea Bocelli, Elio de Angelis, Roberto Carnevale, Francesco Libetta, Alessandro Esseno, Gregorio Nardi, Susanna Parigi, Gianluca Attanasio, Luciano Sgrizzi, Gianfranco Pappalardo Fiumara, Sandro Ivo Bartoli, Debora Petrina, Michele Esposito, Alessandra Celletti, Giuseppe Bamboschek, Alex Staropoli, Francesco Lotoro, Pietro Spada, Antonio Breschi, Beniamino Cesi, Roberto Ruscitti, Piero Gamba, Italo Selvelli, Nicola Piovani, Stefano Giavazzi, Riccardo Malipiero, Ettore Campogalliani, Madame Ravissa, Antonio Pompa-Baldi, Guido Morini, Marcello Abbado, Luca Miti, Serafino Amedeo De Ferrari, Carlo Zecchi, Lucia Contini Anselmi, Giovanni Amighetti, Virginia Mariani Campolieti, Fulvio Caldini, Alessandro Sala, Luciano Di Napoli, Gilda Buttŕ, Fabio Bidini. Excerpt: Andrea Bocelli, (Italian pronunciation: ; born 22 September 1958) is an Italian tenor, multi-instrumentalist and classical crossover artist. Born with poor eyesight, he became completely blind at the age of twelve following a football accident. Since winning the Newcomers section of the Sanremo Music Festival in 1994, Bocelli has recorded thirteen solo studio albums, of both pop and classical music, two greatest hits albums, and eight complete operas, selling over 70 million copies worldwide. Thus, he is the biggest-selling solo artist in the history of classical music. In 1998, he was named one of People Magazine's 50 Most Beautiful People. In 1999, his nomination for Best New Artist at the Grammy Awards marked the first, and so far only time a classical artist had been nominated in the category, since Leontyne Price, in 1961. The Prayer, his duet with Celine Dion for the animated film, The Quest for Camelot, won the Golden Globe for Best Original Song and was nominated for an Academy Award in the same category. With the release of his classical album, Sacred Arias, Bocelli captured a listing in the Guinness Book of World Records, as he simultaneously held the top 3 positions on the U.S. classical albums charts. Five of his albums have since reached the Top 10 on the Billboard 200, and a record-setting 7, have topped the classical albums charts in the United States. With over 5 million units sold worldwide, Sacred Arias became the biggest-selling classical album by a solo artist of all time, and with just under 20 million units sold worldwide, his 1997 pop album, Romanza, became the best-selling album by an Italian artist ever, as well as the best-selling album by a foreign artist in Canada, and a number of other countries in Europe and Latin America. The album's first single, "Time to Say Goodbye", topped charts all over Europe, including Germany, where it stayed at the top of the charts for fourteen consecutive weeks, breaking the all-time sales record, with over
Sklep: Libristo.pl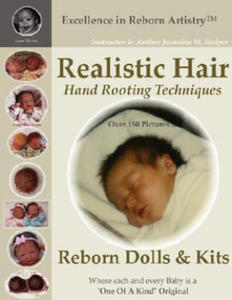 159,51 zł
Książki / Literatura obcojęzyczna
Create Beautiful Heirloom Reborn Babies with Realistic Hair Now includes over 150 Full Color Pictures A very popular Case Study, #6 in the Excellence in Reborn ArtistryT Series to reborn dolls and kits. This book takes you through the steps involved to create a Reborn with Realistic Hand Rooted Hair. It features hair rooting techniques used on several reborn dolls so you can see both Mohair and Human Hair Hand Rooting Techniques. Includes the Basic Hand-Rooting, Mini-Rooting, Micro-Rooting and the Ultra-Micro technique on Hair, Eyebrows and Lashes. These easy techniques can be used on Vinyl and Silicon-Vinyl dolls. Includes Supplies List, Step by Step Instructions, and even a short section on wig application, as well as more Tips & Techniques. Combine this book with the companion "Movie on CD" for a complete package; located at www.lulu.com/content/1700563
Sklep: Libristo.pl
Sklepy zlokalizowane w miastach: Warszawa, Kraków, Łódź, Wrocław, Poznań, Gdańsk, Szczecin, Bydgoszcz, Lublin, Katowice
Szukaj w sklepach lub całym serwisie
2. Szukaj na wszystkich stronach serwisu
t1=0.062, t2=0, t3=0, t4=0.028, t=0.063