krainaksiazek social housing found 20116743
- znaleziono 7 produktów w 2 sklepach 169,08 zł
DIY culture Books LLC, Reference Series
Książki / Literatura obcojęzyczna
Source: Wikipedia. Pages: 187. Chapters: Dumpster diving, Do it yourself, Independent Media Center, McLibel Case, Local Exchange Trading Systems, Squatting, Screen printing, Reclaim the Streets, Green Anarchist, Colin Ward, Zine, Fansub, Critical Mass, Social center, Crass, Riot grrrl, Conflicts involving Critical Mass, Custom car, Freeganism, Hot rod, CrimethInc., M11 link road protest, South Central Farm, Queercore, István Cs. Bartos, Jinx Titanic, Rainwater tank, Vegetable oil fuel, OutRage!, Free party, Guerrilla gardening, Geekfest, Teknival, Rainwater harvesting, Claim club, Chicano Park, DUMBA, Social nudity in Seattle, Black bloc, Midnight Ridazz, Underground Literary Alliance, Homebuilt computer, Razorcake, SchNEWS, Alt porn, Slow sand filter, Food Not Bombs, ConFest, Noisebridge, C-Squat, DiY-Fest, Amateur pornography, Make, Last Hours, Spiral Scratch, St Agnes Place, Urban75, Community Exchange System, Rice burner, RampART, Dos Blockos, Mumblecore, Edupunk, Kustom, The Mylene Sheath, Icarus Project, Virtual tuning, Fremont Arts Council, Hackerspace, Homocore, Soulz at Zero, Free Geek, CzechTek, Hirohata Merc, Guerrilla gig, DIY Network, Megapolis Festival, Fever Zine, Instructables, Mr. Roboto Project, Craft, Salon Mazal, Lava filter, ZineWiki, February Album Writing Month, 491 Gallery, Chimp rock, Fort Pannerden, Frances Street Squats, Hamell on Trial, Swampy, Castlemorton Common Festival, Punk house, Kew Bridge Ecovillage, BIT, Bazaar Bizarre, Fly, Food rescue, ReadyMade, Infoshop, Islewilde, Summer Solstice Parade and Pageant, Sascha Scatter, GOGBOT, Occupied London, Dunst, Black Rock Coalition, London Free School, Kip Kay, RPM Challenge, Kustom Kulture, Beatnik Bandit, Centro 73, Regenesis Movement, Metelkova, ˇTchkung!, Afro-Punk, London Action Resource Centre, Patio Maravillas, Dongas road protest group, Sean Carswell, Basement show, T-bucket, Hebden Bridge Handmade Parade, Geykido Comet Records, Paul Zanetti, Atari Punk Console, David Engwicht, GetPaid, Artivism, Hirvitalo, Nicholas Albery, Time's Up!, Recess Records, Three window coupe, Avoid pi, Maker subculture, Hausmania, Guerrilla punk, Mutant space, Hounslow community land project, Justice?, Street reclamation, Centre International de Recherches sur l'Anarchisme, The Industry Standard Anthology, Black Kat Kustoms, Independent inventor, Rinky Dink, Street party, TPI Specialties, Queeruption, Lead sled, Centro Iberico, Gardenzitty, Stop the City, Franchise activism, Sunrise/Back to the Future, KCDIY, Zine library, PA1N, Pro Street. Excerpt: Squatting consists of occupying an abandoned or unoccupied space or building, usually residential, that the squatter does not own, rent or otherwise have permission to use. According to author Robert Neuwirth, there are one billion squatters globally, that is, about one in every six people on the planet. Yet, according to Kesia Reeve, "squatting is largely absent from policy and academic debate and is rarely conceptualized, as a problem, as a symptom, or as a social or housing movement." Squatter's symbol found in Málaga, Spain In many of the world's poorer countries, there are extensive slums or shanty towns, typically built on the edges of major cities and consisting almost entirely of self-constructed housing built without the landowner's permission. While these settlements may, in time, grow to become both legalised and indistinguishable from normal residential neighbourhoods, they start off as squats with minimal basic infr...
Sklep: Libristo.pl 259,17 zł
Książki / Literatura obcojęzyczna
Octavia Hill (1838
Sklep: Libristo.pl 43,99 zł
Książki Obcojęzyczne>Angielskie>Lifestyle, sport & leisure>Travel & holiday>Travel writingKsiążki Obcojęzyczne>Angielskie>Society & ...
In The Summer Of 2011, Charlie Found The School He Taught At Could Not Afford To Renew His Teaching Contract. With No Job And No Money, But Suddenly All The Time In The World, He Decided To Travel From Cornwall To London In A Peculiarly Old-fashioned, Qui
Sklep: Gigant.pl 43,99 zł
Książki Obcojęzyczne>Angielskie>Biography & True Stories>MemoirsKsiążki Obcojęzyczne>Angielskie>Society & social sciences>Society & ...
To Be Poor And Destitute In 1920s Paris And London Was To Experience Life At Its Lowest Ebb. George Orwell, Penniless And With Nowhere To Go, Found Himself Experiencing Just This As He Wandered The Streets Of Both Capitals In Search Of A Job. By Day, He T
Sklep: Gigant.pl 114,86 zł
Książki / Literatura obcojęzyczna
Exposes and Excess Muckraking in America, 1900 / 2000 Cecelia Tichi "Rich and nuanced readings of works by muckrakers at both ends of the twentieth century."--Daniel Horowitz, Smith College "A quietly eloquent intervention in contemporary critical practice."--American Literature "Tichi provides rich and nuanced readings of works by muckrakers at both ends of the twentieth century, plus a stunning cultural analysis of the booming, insecure world in the U.S., c. 1980-2000. She shows what it means to think of noncanonical texts in multiple ways, including those shaped by literary theory. Finally, she offers wonderful insights into the process by which journalists emerge as writers, and into the problematic differences between journalism and literature."--Daniel Horowitz, Smith College "Tichi shows us the art of muckraking narrative, and how artful it must be. She shows us, too, the state we are in as a society. The cumulative evidence constitutes a devastating critique of where we are as a culture, where we are in the world, and where we are going. Tichi writes with exuberance, but if we take her seriously, this is a profoundly troubling book." --Miles Orvell, Temple University "Tichi makes it clear that she sometimes becomes depressed at the corruption and insensitivity raining down from the top of U.S. society, including the White House, and would like to see more journalists exposing problems. But despite legitimate reasons for concern, her book is largely an affirmation of contemporary investigative journalism. And that's good news."--Christian Science Monitor "Intriguing...Tichi has a firm grasp on contemporary culture in the very early and late 1900s...As much contemporary culture and sociology as journalism."--Choice From robber barons to titanic CEOs, from the labor unrest of the 1880s to the mass layoffs of the 1990s, two American Gilded Ages--one in the early 1900s, another in the final years of the twentieth century--mirror each other in their laissez-faire excess and rampant social crises. Both eras have ignited the civic passions of investigative writers who have drafted diagnostic blueprints for urgently needed change. The compelling narratives of the muckrakers--Upton Sinclair, Ida Tarbell, Lincoln Steffens, and Ray Stannard Baker among them--became bestsellers and prizewinners a hundred years ago; today, Cecelia Tichi notes, they have found their worthy successors in writers such as Barbara Ehrenreich, Eric Schlosser, and Naomi Klein. In Exposes and Excess Tichi explores the two Gilded Ages through the lens of their muckrakers. Drawing from her considerable and wide-ranging work in American studies, Tichi details how the writers of the first muckraking generation used fact-based narratives in magazines such as McClure's to rouse the U.S. public to civic action in an era of unbridled industrial capitalism and fear of the immigrant "dangerous classes." Offering a damning cultural analysis of the new Gilded Age, Tichi depicts a booming, insecure, fortress America of bulked-up baby strollers, McMansion housing, and an obsession with money-as-lifeline in an era of deregulation, yawning income gaps, and idolatry of the market and its rock-star CEOs. With passion and wit, Exposes and Excess brings a literary genre up to date at a moment when America has gone back to the future. Cecelia Tichi is William R. Kenan, Jr. Professor of English, Vanderbilt University, and has served as president of the American Studies Association. Among her books are Embodiment of a Nation: Human Form in American Places and High Lonesome: The American Culture of Country Music. Personal Takes 2003 | 248 pages | 6 x 9 | 14 illus. ISBN 978-0-8122-1926-5 | Paper | $24.95s | GBP16.50 ISBN 978-0-8122-0375-2 | Ebook | $24.95s | GBP16.50 World Rights | American History, Cultural Studies
Sklep: Libristo.pl 74,32 zł
Książki / Literatura obcojęzyczna
New York is a city of highs and lows, where wealthy elites share the streets with desperate immigrants and destitute locals. Bridging this economic divide is New York's underground economy, the invisible network of illicit transactions between rich and poor that secretly weaves together the whole city.§§Sudhir Venkatesh, acclaimed sociologist at Columbia University and author of Gang Leader for a Day, returns to the streets to connect the dots of New York's divergent economic worlds and crack the code of the city's underground economy. Based on Venkatesh's interviews with prostitutes and socialites, immigrants and academics, high end drug bosses and street-level dealers, Floating City exposes the underground as the city's true engine of social transformation and economic prosperity - revealing a wholly unprecedented vision of New York.§§A memoir of sociological investigation, Floating City draws from Venkatesh's decade of research within the affluent communities of Upper East Side socialites and Midtown businessmen, the drug gangs of Harlem and the sex workers of Brooklyn, the artists of Tribeca and the escort services of Hell's Kitchen. Venkatesh arrived in the city after his groundbreaking research in Chicago, where crime remained stubbornly local: gangs stuck to their housing projects and criminals stayed on their corners. But in Floating City , Venkatesh discovers that New York's underground economy unites instead of divides inhabitants: a vast network of - off the books" transactions linking the high and low worlds of the city. Venkatesh shows how dealing in drugs and sex and undocumented labor bridges the conventional divides between rich and poor, unmasking a city knit together by the invisible threads of the underground economy.§§Venkatesh closely follows a dozen New Yorkers locked in the underground economy. His greatest guide is Shine, an African American drug boss based in Harlem who hopes to break into the elusive, upscale cocaine market. Without connections among wealthy whites, Shine undertakes an audacious campaign of self-reinvention, leaving behind the certainties of race and class with all the drive of the greatest entrepreneurs. As Shine explains to Venkatesh - This is New York! We're like hummingbirds, man. We go flower to flower ... Here, you need to float."§§Floating City: A Rogue Sociologist Lost and Found in New York's Underground Economy chronicles Venkatesh's decade of discovery and loss in the shifting terrain of New York, where research subjects might disappear suddenly and new allies emerge by chance, where close friends might reveal themselves to be criminals of the lowest order. Propelled by Venkatesh's numerous interviews and firsthand research, Floating City at its heart is a story of one man struggling to understand a complex global city constantly in the throes of becoming.
Sklep: Libristo.pl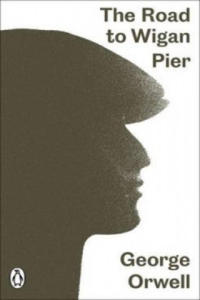 43,11 zł
Książki / Literatura obcojęzyczna
A searing account of George Orwell's observations of working-class life in the bleak industrial heartlands of Yorkshire and Lancashire in the 1930s, The Road to Wigan Pier is a brilliant and bitter polemic that has lost none of its political impact over time. His graphically unforgettable descriptions of social injustice, cramped slum housing, dangerous mining conditions, squalor, hunger and growing unemployment are written with unblinking honesty, fury and great humanity. It crystallized the ideas that would be found in Orwell's later works and novels, and remains a powerful portrait of poverty, injustice and class divisions in Britain.
Sklep: Libristo.pl
Sklepy zlokalizowane w miastach: Warszawa, Kraków, Łódź, Wrocław, Poznań, Gdańsk, Szczecin, Bydgoszcz, Lublin, Katowice
Szukaj w sklepach lub całym serwisie
2. Szukaj na wszystkich stronach serwisu
t1=0.037, t2=0, t3=0, t4=0, t=0.037