krainaksiazek splish splash pop up fun 20128650
- znaleziono 7 produktów w 2 sklepach 34,99 zł
Książki Obcojęzyczne>Angielskie>Children
0x0005c13400000000
Sklep: Gigant.pl 119,99 zł
Muzyka>Rock>Rock & Roll
1. Blue Suede Shoes 2. Boppin' The Blues 3. Honey Don't 4. Everybody's Trying To Be My Baby 5. Gone, Gone, Gone 6. Tutti Frutti 7. All Mama's Children 8. Put Your Cat Clothes On 9. Dixie Fried 10. I'm Sorry, I'm Not Sorry 11. Movie Magg 12. Whole Lotta Shakin' Goin' On 13. Sittin' On Top Of The World 14. Matchbox 15. Your True Love 16. Pop, Let Me Have The Car 17. Glad All Over 18. Pink Pedal Pushers 19. Levi Jacket 20. Jive After Five 101. Laura Lee 102. Ring A Rockin' 103. No Vacancy 104. Fly Don't Fly On Me 105. The Diary 106. I Go Ape 107. Stupid Cupid 108. You're Knockin' Me Out 109. You Gotta Learn Your Rhythm And Blues 110. Oh Carol 111. One Way Ticket (To The Blues) 112. I Ain't Hurtin' No More 113. Going Home To Mary Lou 114. All I Need Is You 115. Fallin' 116. Another Sleepless Night 117. Stairway To Heaven 118. You Mean Everything To Me 119. Run Samson Run 120. Calendar Girl 201. Let's Have A Party 202. Hot Dog! 203. That Made Him Mad 204. Don'a Wan'a 205. Cool Love 206. Let Me Explain 207. Fujiyama Mama 208. Honey Bop 209. Please Call Today 210. You've Turned To A Stranger 211. Mean Mean Man 212. You're The One For Me 213. A Date With Jerry 214. Rock Your Baby 215. Making Believe 216. Money Honey 217. Happy Happy Birthday 218. I Wanna Waltz 219. Savin' My Love 220. Long Tall Sally 301. Jambalaya 302. Bigelow 6-200 303. One Step At A Time 304. Dynamite 305. Love You 'Till I Die 306. Ain't That Love 307. Rock-a-bye Baby Blues 308. Rock The Bop 309. Ring-a My Phone 310. Little Jonah (Rock On Your Steel Guitar) 311. Bill Bailey Won't You Please Come Home 312. Hummin' The Blues Over You 313. Weep No More My Baby 314. Baby Face 315. Just Because 316. When My Dreamboat Comes Home 317. My Baby Likes Western Guys 318. Ballin' The Jack 319. Sweet Nothin's 320. Let's Jump The Broomstick 401. De De Dinah 402. Ginger Bread 403. Blue Betty 404. I'm Broke 405. Shy Guy 406. Oh La La 407. You Excite Me 408. Teacher's Pet 409. At The Hop 410. I'm Walkin' 411. Little Bitty Pretty One 412. Oooh Look-a There Ain't She Pretty 413. Short Fat Fannie 414. Venus 415. Two Fools 416. Just Ask Your Heart 417. I'll Wait For You 418. Shy Guy 419. Bobby Sox To Stockings 420. Why 501. Hula Love 502. Maybelline 503. Rock Your Little Baby To Sleep 504. Party Doll 505. Mary Lou 506. Cause I'm In Love With You 507. Devil Woman 508. Rockhouse 509. Rock Around The Clock 510. Swingin' Daddy 511. I Think I'm Gonna Kill Myself 512. C'mon Baby 513. That's Why I Cry 514. Somebody Touched Me 515. All For You 516. Long Lonely Nights 517. Teasable Pleasable 518. Storm Clouds 519. I Ain't Sharin' Sharon 520. Lovey Dovey 601. Mona Lisa 602. I Vibrate 603. I'll Try 604. It's Only Make Believe 605. Shake It Up 606. The Story Of My Love 607. Double Talkin' Baby 608. Don't You Know 609. Sentimental Journey 610. Teasin' 611. Make Me Know You're Mine 612. Heavenly 613. Hey Little Lucy 614. What Am I Living For 615. Lonely Blue Boy 616. Is A Bluebird Blue? 617. Hey Miss Ruby 618. Pretty Eyed Baby 619. She's Mine 620. Danny Boy 701. Leroy 702. My True Love 703. Two Timin' Woman 704. Leroy 705. Goodbye Baby 706. Go Wild Little Sadie 707. I Never Felt Like This 708. The Way I Walk 709. Midgie 710. Save My Soul 711. Geraldine 712. Baby Baby 713. Good Deal Lucille 714. You Can Bet Your Bottom Dollar 715. Cruel World 716. Looking For Linda 717. Cool Water 718. Found A Woman 719. Lonesome Mary 720. Down By The Riverside 801. Rockin' Little Angel 802. Rockin' Bandit 803. So Young 804. Right Behind You Baby 805. Little Miss Blue 806. Why Why Why 807. You Made A Hit 808. Sail Away 809. That's All Right 810. Blond Hair Blue Eyes 811. Put Your Arms Around Me 812. One Wonderful Love 813. It Makes Me Feel Good 814. I'll Be Coming Home 815. Rebound 816. After This Night Is Through 817. Turn On The Moonlight 818. I Guess I Better Move On 819. Johnny Lee Hummer 820. Did We Have A Party 901. Splish Splash 902. Pretty Betty 903. Judy Don't Be Moody 904. Queen Of The Hop 905. Mighty Mighty Man 906. Plain Jane 907. Dream Lover 908. Bullmoose 909. Clementine 910. I Ain't Sharin' Sharon 911. Pity Miss Kitty 912. Keep A Walkin' 913. Won't You Come Home Bill Bailey 914. Oo Ee Train 915. You Know How 916. Somebody To Love 917. Now We're One 918. Silly Willie 919. Timber 920. Early In The Morning 1001. La Bamba 1002. Come On Let's Go 1003. That's My Little Suzie 1004. Boney Moroney 1005. Ooh My Head 1006. Framed 1007. Cry, Cry, Cry 1008. Paddi-wack Song 1009. Hurry Up 1010. Dooby-dooby-wah 1011. Bluebirds Over The Mountain 1012. Rockin' All Night 1013. Hi-tone 1014. In A Turkish Town 1015. Little Girl 1016. We Belong Together 1017. Stay Beside Me 1018. Big Baby Blues 1019. Fast Freight 1020. Donna 1101. Bo Diddley 1102. I'm A Man 1103. Diddley Daddy 1104. Bo Diddley 1105. Bring It To Jerome 1106. I'm Looking For A Woman 1107. Who Do You Love 1108. Hey! Bo Diddley 1109. Mona (I Need You Baby) 1110. Before You Accuse Me 1111. The Story Of Bo Diddley 1112. Dearest Darling 1113. Say Man 1114. Hush Your Mouth 1115. You Don't Love Me 1116. Deed And Deed I Do 1117. Cops And Robbers 1118. Run Diddley Daddy 1119. Diddy Wah Diddy 1120. Roadrunner 1201. Peggy Sue 1202. That'll Be The Day 1203. Words Of Love 1204. Peggy Sue 1205. Rock Around With Ollie Vee 1206. Everyday 1207. Oh Boy 1208. Maybe Baby 1209. I'm Gonna Love You Too 1210. You're So Square (Baby, I Don't Care) 1211. Rave On 1212. Listen To Me 1213. Think It Over 1214. Early In The Morning 1215. It's So Easy 1216. Heartbeat 1217. It Doesn't Matter Anymore 1218. Tell Me Now 1219. Ting-a-ling 1220. Peggy Sue Got Married 1301. I'm Walkin' 1302. The Big Beat 1303. Whole Lotta Loving 1304. Lil' Liza Jane 1305. I Want To Walk You Home 1306. I'm Ready 1307. I'm Gonna Be A Wheel Someday 1308. Blue Monday 1309. Be My Guest 1310. Bo Weevil 1311. Ain't It A Shame 1312. Margie 1313. Ida Jane 1314. I Want You To Know 1315. I Can't Go On (Rosalie) 1316. I'm In Love Again 1317. When My Dreamboat Comes Home 1318. Blueberry Hill 1319. When The Saints Go Marching In 1320. My Girl Josephine 1401. Willie And The Hand Jive 1402. Shake It 1403. Lucy Baby 1404. Hum Ding A Ling 1405. Good Golly 1406. Ring-a-ling 1407. Three Girls Named Molly 1408. Crazy Country Hop 1409. Hey Baby, Don't You Know 1410. Willie Did The Cha Cha Cha 1411. Mumblin' Mosie 1412. Let The Sun Shine In My Life 1413. Bye Bye Baby 1414. Loop De Loop 1415. I'll Do The Same Thing For You 1416. What Do You Want To Make Those Eyes At Me For? (Feat. Marie Adams) 1417. A Fool In Love (Feat. Marie Adams) 1418. Castin' My Spell (Feat. Marci Lee) 1419. Ma (He's Making Eyes At Me) (Feat. The Three Tons Of Joy) 1420. Telephone Baby (Feat. Marci Lee) 1501. Sweet Little Sixteen 1502. Rock And Roll Music 1503. Roll Over Beethoven 1504. Oh Baby Doll 1505. School Day 1506. Brown Eyed Handsome Man 1507. Too Much Monkey Business 1508. Maybelline 1509. Thirty Days 1510. Back In The Usa 1511. Reelin' And Rockin' 1512. Johnny B. Goode 1513. Around And Around 1514. Beautiful Delilah 1515. Carol 1516. Memphis Tennessee 1517. Sweet Little Rock And Roller 1518. Bye Bye Johnny 1519. Little Queenie 1520. Let It Rock 1601. Tutti Frutti 1602. The Girl Can't Help It 1603. She's Got It 1604. Ready Teddy 1605. Slippin' And Slidin' 1606. Long Tall Sally 1607. Rip It Up 1608. Heebie Jeebies 1609. Can't Believe You Wanna Leave 1610. Lucille 1611. Keep A Knockin' 1612. Send Me Some Lovin' 1613. Miss Ann 1614. Jenny Jenny 1615. Hey Hey Hey 1616. True Fine Mama 1617. Oh My Soul 1618. Baby Face 1619. By The Light Of The Silvery Moon 1620. Good Golly Miss Molly 1701. Summertime Blues 1702. Cut Across Shortly 1703. Somethin' Else 1704. Teenage Heaven 1705. Twenty Flight Rock 1706. Theresa 1707. Skinny Jim 1708. Sittin' In The Balcony 1709. Mean When I'm Mad 1710. Completely Sweet 1711. Stockin's 'N' Shoes 1712. Jeannie, Jeannie, Jeannie 1713. Have I Told You Lately That I Love You 1714. Pretty Girl 1715. Sweetie Pie 1716. Hallelujah I Love Her So 1717. Drive-in Show 1718. Boll Weevil Song 1719. Three Steps To Heaven 1720. C'mon Everybody 1801. Poor Little Fool 1802. I'm Walkin' 1803. Whole Lotta Shakin' Goin' On 1804. Stood Up 1805. Waitin' In School 1806. My Bucket's Got A Hole In It 1807. Shirley Lee 1808. Down The Line 1809. I'm In Love Again 1810. My Babe 1811. There's Good Rockin' Tonight 1812. Milk Cow Blues 1813. Be-bop Baby 1814. Yes Sir, That's My Baby 1815. Half Breed 1816. Mighty Good 1817. Just A Little Too Much 1818. Honeycomb 1819. Never Be Anyone Else But You 1820. It's Late (Burnette) 1901. Great Balls Of Fire 1902. Breathless 1903. Lewis Boogie 1904. Break Up 1905. Mean Woman Blues 1906. Whole Lotta Shakin' Goin' On 1907. It'll Be Me 1908. You Win Again 1909. Pumping Piano Rock 1910. Let's Talk About Us 1911. Big Blon' Baby 1912. Ubangi Stomp 1913. Little Queenie 1914. I'll Sail My Ship Alone 1915. Old Black Joe 1916. Down The Line 1917. Lovin' Up A Storm 1918. Ballad Of Billy Joe 1919. In The Mood 1920. High School Confidential 2001. Move It 2002. High Class Baby 2003. My Feet Hit The Ground 2004. Livin' Lovin' Doll 2005. Steady With You 2006. Mean Streak 2007. Never Mind 2008. Living Doll 2009. Apron Strings 2010. Travellin' Light 2011. Dynamite 2012. Gee Whiz It's You 2013. I Gotta Know 2014. Lamp Of Love 2015. I Cannot Find A True Love 2016. Fall In Love With You 2017. A Voice In The Wilderness 2018. Willie And The Hand Jive 2019. Nine Times Out Of Ten 2020. Please Don't Tease 2101. Be Bop A Lula 2102. Race With The Devil 2103. Woman Love 2104. Gonna Back Up Baby 2105. Blue Jean Bop 2106. Jump Back, Honey, Jump Back 2107. Jumps, Giggles And Shouts 2108. B-i-bickey-bi, Bo-bo-go 2109. Lotta Lovin' 2110. Cat Man 2111. Rocky Road Blues 2112. Git It 2113. Dance In The Street 2114. Say Mama 2115. Wild Cat 2116. Be-bop Boogie Boy 2117. Red Blue Jeans And A Pony Tail 2118. Pink Thunderbird 2119. Crazy Legs 2120. Dance To The Bop 2201. Rock Around The Clock 2202. Crazy Man Crazy 2203. Shake, Rattle And Roll 2204. Mambo Rock 2205. Rock-a-beatin' Boogie 2206. Burn That Candle 2207. Razzle Dazzle 2208. See You Later Alligator 2209. R-o-c-k 2210. Hot Dog Buddy Buddy 2211. The Saints Rock 'N' Roll 2212. Rocket 88 2213. Dim Dim The Lights 2214. Abc Boogie 2215. Birth Of The Boogie 2216. Choo Choo Ch'boogie 2217. Teenager's Mother 2218. Whoa Mabel! 2219. Lean Jean 2220. Skinny Minnie 2301. Heartbreak Hotel 2302. Don't Be Cruel 2303. Hound Dog 2304. Paralyzed 2305. When My Blue Moon Turns To Gold Again 2306. Too Much 2307. All Shook Up 2308. Got A Lot O' Livin' To Do 2309. Jailhouse Rock 2310. Treat Me Nice 2311. Wear My Ring Around Your Neck 2312. Hard Headed Woman 2313. King Creole 2314. One Night 2315. I Got Stung 2316. I Need Your Love Tonight 2317. (Let Me Be Your) Teddy Bear 2318. Stuck On You 2319. A Big Hunk O' Love 2320. It's Now Or Never
Sklep: Gigant.pl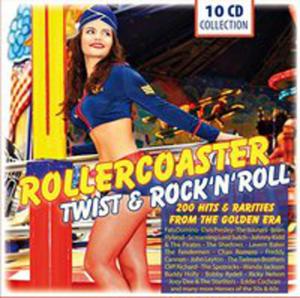 97,49 zł
Muzyka>Inne
1. I'm Ready 2. I Ain't Gonna Be Your Low Down Dog No More 3. The Fly 4. Blame It On The Bossa Nova 5. Shimmy Shimmy 6. Dear One 7. Souvenirs 8. Ginny Come Lately 9. Cotton Pickin' 10. Jailhouse Rock 11. Let's Go 12. Rockin' In The Graveyard 13. Monkey's Uncle 14. At The Hop 15. My Babe 16. Sheila 17. F.b.i 18. Papa Oom Mow Mow 19. 'Til The Following Night 20. Good Luck Charm 101. Baby Sittin' Boogie 102. Kom Va Dat Dak Af 103. Don't Be Cruel 104. Voodoo Voodoo 105. Runaround Sue 106. Baby Sue 107. Mule Skinner Blues 108. Betty Ann 109. Hippy Hippy Shake 110. The Big Beat 111. The Itch 112. Yes Tonight Josephine 113. Dizzy Miss Lizzie 114. Say Mama 115. Treat Me Nice 116. Honey-bun 117. Patty Baby 118. To My Baby 119. Johnny Remember Me 120. Little Joe 201. Jeanette 202. Ya Ya 203. Hey Memphis 204. Record Hop 205. Witch Doctor 206. Let's Rock Little Baby 207. Hound Dog 208. Endless Sleep 209. Summertime Love 210. Kissin' Time 211. If You Don't Want My Lovin' 212. Let's Dance 213. Ajoen Ajoen 214. Tag Along 215. Good Golly Miss Molly 216. Hard Headed Woman 217. Speechless 218. I Can't Go On 219. Twist A St. Tropez 220. Amapola 301. Western Movies 302. You're Still The One 303. The Locomotion 304. The Flying Fish 305. All Shook Up 306. Sadie's Back In Town 307. Shakin' All Over 308. Language Of Love 309. Honey Love 310. The Rockin' Lady 311. Wild One 312. Move It 313. One More Chance 314. What Do You Want To Make Those Eyes At Me For? 315. Itty Bitty Everything 316. My Girl Josephine 317. The Shape I'm In 318. Dirty Robber 319. Boom Ladda Boom Boom 320. Wear My Ring Around Your Neck 401. Yakety Yak 402. Peggy Sue 403. Quartermaster's Stores 404. Stuck On You 405. Go Little Go Cat 406. Let The Four Winds Blow 407. A Picture Of You 408. Candy Lips 409. My Feet Hit The Ground 410. Let's Stomp 411. Sweet Little Sixteen 412. Jeannie, Jeannie, Jeannie 413. Teen Scene 414. Percolator 415. (Let Me Be Your) Teddy Bear 416. Baby Sittin' 417. Walking Back To Happiness 418. One More Time 419. Wild Little Willie 420. Willie And The Hand Jive 501. Woo Hoo 502. Tribute To Buddy Holly 503. I Need Your Love Tonight 504. Skinny Lizzie 505. De Hele Stad Is Gek En Dol 506. Yekety Sax 507. I'll Be Leavin' You 508. Movin' In 509. Summertime Symphony 510. I Love You So Much 511. Almost Eighteen 512. Bumble Boogie 513. A Big Hunk O'love 514. Let's Think About Livin' 515. Charlie Brown 516. Patty Baby 517. High Class Baby 518. Rockin' This Joint To-nite 519. Something Else 520. Dance With Mr. Domino 601. Motorcycle 602. Rollin' Pin Min 603. Heartbreak Hotel 604. Swing It Up 605. Dynamite 606. Nitespot Rock 607. Some Kinda Fun 608. You're A Livin' Doll 609. It's Late 610. I'm In Love Again 611. Hully Gully Twist 612. Lana 613. Rock And Cry 614. Don't You Think It's Time 615. I Got A Rocket In My Pocket 616. Such A Night 617. You Lied To Me Honey 618. Wailin' 619. Wap-dou-wap 620. Red River Rock 701. Jambalaya (On The Bayou) 702. Hula Love 703. Running Bear 704. Lucille 705. Lover Please 706. Stood Up 707. That's The Way 708. Whole Lotta Shakin' Goin' On 709. Cradle Of Love 710. She's Not You 711. Tell Me Baby 712. De De Dinah 713. You Mostest Girl 714. Come On Little Girl 715. Oh Boy 716. You're The One That Done It 717. Roll Over Beethoven 718. I Got Stung 719. Let's Have A Party 720. Shake, Baby, Shake 801. Hello Mary Lou 802. Audrey 803. One Night 804. Let's Jump The Broomstick 805. Trapped Love 806. Long Tall Sally 807. Thunder Express 808. I Go Ape 809. I'm Walkin' 810. Matchbox 811. Waterloo 812. King Of The Whole Wide World 813. Chantilly Lace 814. I'm Ready To Go Steady 815. Splish Splash 816. Get Ready Baby 817. Flip Over You 818. Rock And Roll Music 819. High School Blues 820. Rave On 901. Twist Espanol 902. Robot Man 903. Love Me 904. Nothin' Shakin' 905. Breathless 906. Didi Didi 907. A Mess Of Blues 908. Down On The Farm 909. Come Along With Me 910. Bullmoose 911. Ring A Rockin' 912. Sunglasses After Dark 913. Big Wheel 914. Sweet Little Sixteen 915. The Prom 916. Mean Mean Mean 917. Be My Guest 918. Isle Of Capri 919. Got A Lot O' Livin' To Do 920. Susie Darlin'
Sklep: Gigant.pl 37,99 zł
Muzyka>Pop
1. Dream Lover - Ben E King 2. The Loco-motion - Dee Dee Sharp 3. Summertime Blues - Bobby Vee 4. Up On The Roof - Little Eva 5. A Teenager In Love - Marty Wilde 6. Diana - Conway Twitty 7. Spanish Harlem - Jay & The Americans 8. Love Hurts - Roy Orbison 9. Silhouettes - The Ronettes 10. Whole Lotta Shakin Goin' On - Carl Perkins 11. It's Only Make Believe - Johnny Burnette 12. Dream Baby - The Marvelettes 13. Chantilly Lace - Lloyd Price 14. Bye Bye, Love - Connie Francis 15. Poor Little Fool - Brian Hyland 16. Kansas City - Fabian 17. I've Got A Woman - The Shirelles & King Curtis 18. Be My Guest - Emile Ford 19. Sea Of Love - Ruth Brown 20. Unchained Melody - Sam Cooke 101. Stand By Me - Jay & The Americans 102. Twistin' The Night Away - The Marvelettes 103. Paralysed - Emile Ford 104. I Can't Stop Loving You - Roy Orbison 105. Moon River - Jerry Butler 106. I Walk The Line - Connie Francis 107. Twist And Shout - Dee Dee Sharp 108. Earth Angel - Bobby Vee 109. High School Confidential - Marty Wilde 110. Mona Lisa - Sam Cooke 111. Breaking Up Is Hard To Do - Little Eva 112. Sixteen Tons - Frankie Laine 113. Crying In The Chapel - Johnny Burnette 114. Walk On By - Kay Starr 115. Mack The Knife - Patti Page 116. Havin' A Party - Claudine Clark 117. Sloop John B - Dick Dale 118. Maybellene - Gene Vincent 119. Wooden Heart - The Chordettes 120. Take Five - Carmen Mcrae 201. The Great Pretender - Roy Orbison 202. Secret Love - Sam Cooke 203. Crazy - Kay Starr 204. It's All In The Game - Ben E King 205. Uptown - Little Eva 206. Singing The Blues - Connie Francis 207. Rubber Ball - Marty Wilde 208. Splish Splash - Conway Twitty 209. Such A Night - Johnnie Ray 210. Lolli-pop - Bobby Vee 211. Eddie My Love - The Chordettes 212. Hallelujah, I Love Her So - Eddie Cochran 213. Big Bad John - Patti Page 214. Misty - Sarah Vaughan 215. Please, Mr Sun - Paul Petersen 216. Hey, Good Lookin' - Carl Perkins 217. Tower Of Strength - Frankie Vaughan 218. Goodnight Irene - Jerry Lee Lewis 219. Since I Fell For You - Wilbert Harrison 220. Save The Last Dance For Me - Jay & The American
Sklep: Gigant.pl 46,99 zł
Muzyka>Pop
1. Haley, Bill & His Comets - Rock Around The Clock 2. Chubby Checker - The Twist 3. Lewis, Jerry Lee - Great Balls Of Fire 4. Richard, Little - Good Golly Miss Molly 5. Danny & Juniors, The - At The Hop 6. Holly, Buddy - Peggy Sue 7. Big Bopper - Chantilly Lace 8. Champs, The - Tequila 9. Valens, Ritchie - La Bamba 10. Como, Perry - Papa Loves Mambo 11. Darin, Bobby - Dream Lover 12. Anka, Paul - Diana 13. Martin, Dean - Volare 14. Everly Brothers, The - Bye Bye Love 15. Francies, Connie - Lipstick On Your Collar 16. Sedaka, Neil - Oh! Carol 17. Lymon, Frankie / Teenagers, The - Why Do Fools Fal 18. Dion & Belmonts, The - A Teenager In Love 19. Cash, Johnny - Get Rhythm 20. Eddy, Duane - Rebel Rouser 101. Cochran, Eddie - C'mon Everybody 102. Everly Brothers, The - Wake Up Little Susie 103. Channel, Bruce - Hey Baby 104. Coasters, The - Yakety Yak 105. Holly, Buddy - Rave On 106. Berry, Chuck - Roll Over Beethoven 107. Haley, Bill & His Comets - Shake, Rattle & Roll 108. Eddy, Duane - Peter Gunn Theme 109. Chubby Checker - The Hucklebuck 110. Richard, Little - Tutti Frutti 111. Lewis, Jerry Lee - Whole Lotta Shakin' Goin' On 112. Darin, Bobby - Splish Splash 113. Cash, Johnny - Hey Good Lookin' 114. Chordettes, The - Lollipop 115. Johnny & Hurricanes, The - Red River Rock 116. Wilson, Jackie - Reet Petite 117. Everett, Betty - The Shoop Shoop Song (It's In His 118. Avons, The - Seven Little Girls Sitting In The Bac 119. Mitchell, Guy - Singing The Blues 120. Fisher, Eddie - Outside Of Heaven
Sklep: Gigant.pl 92,49 zł
Książki / Literatura obcojęzyczna
A beautiful, rustic home isn't hard to create. With a splash of color, some pieces that pop, and a little bit of inspiration, even the most standard unit can be flipped into a country haven. Try elegant whites, industrial details, grandiose patterns, or some shabby chic. It's fun and easy to accomplish, and the results will make you proud. Liven up your space with such projects as: * Vintage silhouette art * Antique book decor * Military bed covers * Doorframe bulletin boards * Wallpapering, crocheting, decoupage, and more! So take a quick trip to the flea market, the thrift store, or even the attic--it'll trigger the impulse to decorate! Plus, crafting and decorating is the best form of stress-relief. Paint, sew, sand, sculpt--work with your hands to clear your mind and make your home beautiful in the process. Featuring patterns, step-by-step instructions, and over one hundred photos, Country Style is the perfect how-to for decorators of all experience levels and with any type of home.
Sklep: Libristo.pl 64,81 zł
Książki / Literatura obcojęzyczna
Hadley Freeman brings us her personalised guide to American movies from the 1980s - why they are brilliant, what they meant to her, and how they influenced movie-making forever. For Hadley Freeman, American moves of the 1980s have simply got it all. Comedy in Three Men and a Baby, Hannah and Her Sisters, Ghostbusters, Back to the Future and Trading Places; all a teenager needs to know - in Pretty in Pink, Ferris Bueller's Day Off, Say Anything, The Breakfast Club and Mystic Pizza; the ultimate in action - Top Gun, Die Hard, Young Sherlock Holmes, Beverly Hills Cop and Indiana Jones and the Temple of Doom; love and sex - in 9 1/2 Weeks, Splash, About Last Night, The Big Chill, Bull Durham; and family fun - in The Little Mermaid, ET, Big, Parenthood and Lean On Me. Born in the late 1970s, Hadley grew up on a well-rounded diet of these movies, her entire view of the world, adult relations and expectations of what her life might hold was forged by these cult classics. In this personalised guide, she puts her obsessive movie geekery to good use, detailing the decades key players, genres and tropes, and how exactly the friendship between Dan Aykroyd and John Belushi influenced the evolution of comedy. She looks back to a cinematic world in which bankers are invariably evil, despite this being the decade of Wall Street, where children are always wiser than adults, and science is embraced with an intense enthusiasm, and the future viewed with excitement. She considers how the changes between movies then and movies today say so much about pop culture's and society's changing expectations of women, young people and art, and explains why Pretty in Pink should be put on school syllabuses immediately.
Sklep: Libristo.pl
Sklepy zlokalizowane w miastach: Warszawa, Kraków, Łódź, Wrocław, Poznań, Gdańsk, Szczecin, Bydgoszcz, Lublin, Katowice
Szukaj w sklepach lub całym serwisie
2. Szukaj na wszystkich stronach serwisu
t1=0.041, t2=0, t3=0, t4=0, t=0.041