krainaksiazek stanley stickle for one night only 20094534
- znaleziono 10 produkty w 2 sklepach 99,99 zł
Muzyka>Country
1. How Mountain Girls Can Love (With Hal Ketchum) 2. Shouting On The Hills Of Glory (With Ricky Skaggs) 3. Pretty Polly (With Patty Loveless) 4. The Window Up Above (With George Jones) 5. I Just Got Wise (With Dwight Yoakam) 6. If That's The Way You Feel (With Vince Gill & Patty Loveless) 7. Nobody's Love Is Like Mine (With Ricky Skaggs) 8. Memories Of Mother (With Claire Lynch) 9. The Lonesome River (With Bob Dylan) 10. Old Love Letters (With Laurie Lewis) 11. She's More To Be Pitied (With Marty Stuart) 12. When I Wake Up To Sleep No More (With Judy & David Marshall) 13. Another Night (With Joe Diffie) 14. Gold Watch And Chain (With Gillian Welch) 15. Thy Burdens Are Greater Than Mine (With Ralph Stanley Ii) 16. I'll Take The Blame (With Rhonda Vincent) 17. How Can We Thank Him For What He Has Done (With Diamond Rio) 18. I've Just Seen The Rock Of Ages (With Jeff & Marty Raybon) 101. Pig In A Pen (With Doug Phelps) 102. I Only Exist (With John Anderson) 103. A Lonesome Night (With Vince Gill & Patty Loveless) 104. Pretty Little Miss In The Garden (With Alison Krauss) 105. The Darkest Hour Is Just Before Dawn (With Dwight Yoakam) 106. Stone Walls And Steel Bars (With Junior Brown) 107. Beautiful Star Of Bethlehem (With Connie Smith) 108. Let Me Love You One More Time (With Tim O'brien) 109. The White Dove (With Porter Wagoner) 110. Will You Ever Miss Me At All (With Joe And Sonya Isaacs) 111. Lonesome Banjo Man (With Ralph Stanley Ii) 112. Are You Afraid To Die (With Sonya & Becky Isaacs) 113. Way Down Deep (With Vern Gosdin) 114. If I Lose (With Jim Lauderdale) 115. I'm Going That Way (With The Whites) 116. Gathering Flowers For The Master's Bouquet (With Br5-49) 117. My Deceitful Heart (With Ralph Stanley Ii) 118. Bright Morning Star (With Kathy Mattea)
Sklep: Gigant.pl 23,03 zł
We'll Meet Again Go Entertainment Group / GO ENTERTAIN
Muzyka>JazzMuzyka>PopMuzyka>Blues
1. Goodnight Sweetheart - Al Bowlly 2. Sally - Gracie Fields 3. When I'm Cleaning Windows - George Formby 4. Underneath The Arches - Flanagan & Allen 5. At Eventide - Ambrose 6. I'll Be Seeing You - Anne Shelton 7. Man With The Mandolin, The - Billy Cotton 8. When Daddy Comes Home - Harry Boy And His O 9. Mrs Worthington - No%l Coward 10. Over The Rainbow - Vera Lynn 11. Lion And Albert, The - Stanley Holloway 12. London Pride - Donald Peers 13. My Romance - Al Bowlly 14. Smile When You Say Goodbye - Gracie Fields 15. Bless Em All - George Formby 16. Let's Be Buddies - Flanagan & Allen 17. Day By Day - Ambrose & His Orchestra 18. Yes My Darling Daughter - Anne Shelton 19. Shine - Billy Cotton & His Band 20. It's Funny To Everyone But Me - Harry Roy & 21. Leaning On A Lampost - George Formby 22. Mad Dogs And Englishman - No%l Coward 23. I Only Have Eyes For You - Ambrose & His Or 24. Wish Me Luck As You Wave Me Goodbye - Graci 25. We'll Meet Again - Vera Lynn 101. Boogie Woogie Bugle Boy - The Andrews Sisters 102. Chattanooga Choo Choo - Ray Anthony & His O 103. Juke Box Saturday Night - Tex Beneke 104. Tampico - Stan Kenton & His Orchestra 105. Over There - Dick Powell 106. G. I Jive - Johnny Mercer 107. String Of Pearls - The Glenn Miller Orchest 108. Paper Doll - The Mills Brothers 109. Don't Fence Me In - The Andrews Sisters/bin 110. Why Don't You Do Right - Benny Goodman & Hi 111. Candy - Jo Stafford & The Pied Pipers 112. Tuxedo Junction - The Glenn Miller Orchestr 113. I'll Walk Alone - Martha Tilton 114. As Time Goes By - Dooley Wilson 115. Long Ago - Jo Stafford 116. Swinging On A Star - Bing Crosby 117. I'll Always Remember You - Nat King Cole 118. I've Heard That Song Before - Harry James & 119. American Patrol - The Glenn Miller Orchestr 120. Pistol Packin' Mama - The Andrews Sisters/b 121. Praise The Lord And Pass The Ammunition - K 122. Hot Time In The Town Of Berlin - Bing Crosb 123. I'll Never Smile Again - Tommy Dorsey & His 124. In The Mood - The Glenn Miller Orchestra 201. Love Is The Sweetest Thing - Al Bowlly 202. White Cliffs Of Dover, The - Vera Lynn 203. We Must All Stick Together - Geraldo 204. Run Rabbit Run - Flanagan & Allen 205. Whispering Grass - The Ink Spots 206. Kiss Me Goodnight, Sergeant Major - Arthur 207. Perfidia - Ray Eberle 208. There'll Always Be An England - Joe Loss 209. Lili Marlene - Anne Shelton 210. I've Got My Eyes On You - Hutch 211. You'll Never Know - Dick Haymes 212. Beat Me Daddy, Eight To The Bar - The Andre 213. Ma, I Miss Your Apple Pie - Ambrose 214. Yours - Helen O'connell/bob Eberly 215. Sing As We Go - Gracie Fields 216. At The Woodchopper's Ball - Woody Herman 217. Adolf - Ambrose 218. Darn That Dream - Mildred Bailey 219. In The Mood - The King Sisters 220. I'm Going To Get Lit Up - Carroll Gibbons 221. You'd Be So Nice To Come Home To - Dinah Sh 222. That Old Black Magic - Skip Nelson 223. Lambeth Walk - Eddie Cantor/ambrose DISC ONE 1. Goodnight Sweetheart Al Bowlly 2. Sally Gracie Fields 3. When I'm Cleaning Windows George Formby 4. Underneath The Arches Flanagan & Allen 5. At Eventide Ambrose & His Orchestra 6. I'll Be Seeing You Anne Shelton 7. The Man With The Mandolin Billy Cotton & His Band 8. When Daddy Comes Home Harry Roy & His Orchestra 9. Mrs. Worthington Noel Coward 10. Over The Rainbow Vera Lynn 11. The Lion And Albert Stanley Holloway 12. London Pride Donald Peers 13. My Romance Al Bowlly 14. Smile When You Say Goodbye Gracie Fields 15. Bless 'Em All George Formby 16. Let's Be Buddies Flanagan & Allen 17. Day By Day Ambrose & His Orchestra 18. Yes My Darling Daughter Anne Shelton 19. Shine Billy Cotton & His Band 20. It's Funny To Everyone But Me Harry Roy & His Orchestra 21. Leaning On A Lamp Post George Formby 22. Mad Dogs And Englishmen Noel Coward 23. I Only Have Eyes For You Ambrose & His Orchestra 24. Wish Me Luck As You Wave Me Goodbye Gracie Fields 25. We'll Meet Again Vera Lynn DISC TWO 1. Boogie Woogie Bugle Boy The Andrews Sisters 2. Chattanooga Choo Choo Ray Anthony & His Orchestra 3. Jukebox Saturday Night Tex Beneke And The Modernaires 4. Tampico Stan Kenton & His Orchestra 5. Over There Dick Powell 6. G.I. Jive Johnny Mercer 7. Sentimental Journey Doris Day With Les Brown 8. String Of Pearls Glenn Miller & His Orchestra 9. Paper Doll The Mills Brothers 10. Don't Fence Me In Bing Crosby & The Andrews Sisters 11. Why Don't You Do Right? Benny Goodman & His Orchestra 12. Candy Jo Stafford & The Pied Pipers 13. Tuxedo Junction Glenn Miller & His Orchestra 14. I'll Walk Alone Martha Tilton 15. As Time Goes By Dooley Wilson 16. Long Ago Jo Stafford 17. Swinging On A Star Bing Crosby 18. I'll Always Remember You Nat King Cole 19. I've Heard That Song Before Harry James & His Orchestra 20. American Patrol Glenn Miller & His Orchestra 21. Pistol Packin' Mama Bing Crosby & The Andrews Sisters 22. Praise The Lord And Pass The Ammunition Kay Kyser & His Orchestra 23. Hot Time In The Town Of Berlin Bing Crosby 24. I'll Never Smile Again Tommy Dorsey & His Orchestra 25. In The Mood Glenn Miller & His Orchestra DISC THREE 1. Love Is The Sweetest Thing Al Bowlly 2. The White Cliffs Of Dover Vera Lynn 3. We Must All Stick Together Geraldo 4. Run Rabbit Run Flanagan & Allen 5. Whispering Grass The Ink Spots 6. Kiss Me Goodnight, Sergeant Major Arthur Askey 7. Perfidia Ray Eberle 8. There'll Always Be An England Joe Loss 9. Lili Marlene Anne Shelton 10. I've Got My Eyes On You Hutch 11. You'll Never Know Dick Haymes 12. Beat Me Daddy, Eight To The Bar The Andrews Sisters 13 Ma, I Miss Your Apple Pie Ambrose 14. Yours Bob Eberly & Helen O'Connell 15. Sing As We Go Gracie Fields 16. At The Woodchopper's Ball Woody Herman 17. Adolf Ambrose & His Orchestra 18. (We're Gonna Hang Out) The Washing On The Siegfried Line Flanagan & Allen 19. Darn That Dream Mildred Bailey 20. In The Mood The King Sisters 21. I'm Going To Get Lit Up Carroll Gibbons 22. You'd Be So Nice To Come Home To Dinah Shore 23. That Old Black Magic Skip Nelson 24. Pennsylvania 6-5000 Glenn Miller 25. Lambeth Walk Eddie Cantor & Ambrose's Orchestra
Sklep: Gigant.pl 43,99 zł
Muzyka>Pop
1. In The Mood - Glenn Miller 2. Stardust - Artie Shaw 3. Take The A Train - Duke Ellington 4. Sing, Sing, Sing - Benny Goodman 5. One O Clock Jump - Count Basie 6. Big Noise From Winnetka - Bob Crosby 7. Woodchopper's Ball - Woody Herman 8. Cheek To Cheek - Fred Astaire 9. Bye Bye Blackbird - Josephine Baker 10. Blue Skies - Benny Goodman 11. Blue And Sentimental - Count Basie 12. Drummin' Man - Gene Krupa 13. Night And Day - Artie Shaw 14. Blue Flame - Woody Herman 15. Come On With The Come On - Cab Calloway 16. King Porter Stomp - Benny Goodman 17. I've Got The World On A String - Louis Prima 18. Mood Indigo - Duke Ellington 19. Pavane - Glenn Miller 20. Boogie Woogie On St Louis Blues - Earl Hines 101. As Time Goes By - Dooley Wilson 102. A Foggy Day - Billie Holiday 103. Besame Mucho - Jimmy Dorsey 104. Flying Home - Lionel Hampton 105. Stomping At The Savoy - Chick Webb 106. It's Only A Paper Moon - Nat King Cole Trio 107. Laura - Stan Kenton 108. Jeepers Creepers - Louis Armstrong 109. A String Of Pearls - Benny Goodman 110. American Patrol - Glenn Miller 111. Moonglow - Artie Shaw 112. Clap Hands, Here Comes Charlie - Count Basie 113. Love In My Heart - Gene Krupa 114. Hot Chestnuts - Woody Herman 115. Big John's Special - Benny Goodman 116. Solitude - Duke Ellington 117. The Moose - Charlie Barnet 118. Keep 'Em Flying - Glenn Miller 119. Sweet Georgia Brown - Earl Hines 201. Minnie The Moocher - Cab Calloway 202. Clarinet A La King - Benny Goodman 203. Boogie Woogie - Tommy Dorsey 204. Flight Of The Bumble Bee - Harry James 205. Echoes Of Harlem - Charlie Barnet 206. The Sergeant Was Shy - Duke Ellington 207. Bubbling Over - Earl Hines 208. Life Goes To A Party - Benny Goodman 209. Turn Right - Jimmy Dorsey 210. Rockin' The Blues - Count Basie 211. Hamp's Boogie Woogie - Lionel Hampton 212. One Foot In The Groove - Artie Shaw 213. Bizet Has His Day - Les Brown 214. The Sheik Of Araby - Fats Waller 215. Things Ain't What They Used To Be - Duke Ellingt 216. Moonlight Serenade - Glenn Miller 217. Ol Man River - Paul Robeson 218. Route - Nat King Cole Trio 219. Body And Soul - Frank Sinatra 220. Oh, Lady Be Good - Fred Astaire 301. Goodnight Sweetheart - Al Bowlly 302. Sally - Gracie Fields 303. When I'm Cleaning Windows - George Formby 304. Underneath The Arches - Flanagan And Allen 305. I'll Be Seeing You - Anne Shelton 306. When Daddy Comes Home - Harry Roy & His Orchestr 307. Mrs Worthington - Noel Coward 308. Over The Rainbow - Vera Lynn 309. The Lion And Albert - Stanley Holloway 310. London Pride - Donald Peers 311. Smile When You Say Goodbye - Gracie Fields 312. Bless 'Em All - George Formby 313. Let's Be Buddies - Flanagan And Allen 314. Day By Day - Ambrose & His Orchestra 315. Yes My Darling Daughter - Anne Shelton 316. It's Funny To Everyone But Me - Harry Roy & His 317. Leaning On A Lampost - George Formby 318. Mad Dogs And Englishman - Noel Coward 319. Wish Me Luck As You Wave Me Goodbye - Gracie Fie 320. We'll Meet Again - Vera Lynn 401. Boogie Woogie Bugle Boy - The Andrew Sisters 402. Chattanooga Choo Choo - Ray Anthony & His Orches 403. Juke Box Saturday Night - Tex Beneke And The Mod 404. Tampico - Stan Kenton & His Orchestra 405. Over There - Dick Powell 406. Gi Jive - Johnny Mercer 407. Sentimental Journey - Doris Day With Les Brown 408. String Of Pearls - Glenn Miller & His Orchestra 409. Paper Doll - The Mills Brothers 410. Don't Fence Me In - Bing Crosby And The Andrew S 411. Why Don't You Do Right? - Benny Goodman & His Or 412. Tuxedo Junction - Glenn Miller & His Orchestra 413. I'll Walk Alone - Martha Tilton 414. Long Ago - Jo Stafford 415. Swinging On A Star - Bing Crosby 416. I'll Always Remember You - Nat King Cole 417. I've Heard That Song Before - Harry James & His 418. Pistol Packin' Mama - Bing Crosby And The Andrew 419. Praise The Lord And Pass The Ammunition - Kay Ky 420. Hot Time In The Town Of Berlin - Bing Crosby 501. Love Is The Sweetest Thing - Al Bowlly 502. The White Cliffs Of Dover - Vera Lynn 503. We Must All Stick Together - Geraldo 504. Run Rabbit Run - Flanagan & Allen 505. Whispering Grass - The Ink Spots 506. Kiss Me Goodnight, Sergeant Major - Arthur Askey 507. Perfidia - Ray Eberle 508. There'll Always Be An England - Joe Loss 509. Lili Marlene - Anne Shelton 510. You Ll Never Know - Dick Haymes 511. Beat Me Daddy Eight To The Bar - The Andrews Sis 512. Sing As We Go - Gracie Fields 513. I'm Going To Get Lit Up - Carroll Gibbons 514. Adolf - Ambrose & His Orchestra 515. Darn That Dream - Mildred Bailey 516. You'd Be So Nice To Come Home To - Dinah Shore 517. That Old Black Magic - Skip Nelson 518. Doing The Lambeth Walk - Eddy Cantor Ambrose & H
Sklep: Gigant.pl 539,99 zł
Muzyka>Rock>Funk
1. Gift Of Dreams - Funkincise 2. Ron Banks - This Love Is For Real 3. Barbara Fowler - Come And Get My Lovin' 4. Toney Lee - Love So Deep 5. Phyllis St. James - Ain't No Turnin Back (Frankie Rodriquez 6. New Jersey Connection - Love Don't Come Easy 7. Darlene Davis - I Found Love 8. Samson & Delilah - I Can Feel Your Love Slippin' Away (Frank 9. Gene Dunlap - Take My Love 10. Desi - I Want To Be With You 11. Superior Movement - Wide Shot 12. The Jamaica Girls - Need Somebody New 13. Linda Taylor - (You're) In The Pocket 101. Lisa Richards - Hooked On Your Love 102. Real To Reel - Can You Treat Me Like She Does? 103. Fantasy - Live The Life I Love 104. Final Edition - Betcha Can't Love Just One (Can't Keep Runni 105. Amra - Special Kind Of Love (I Need What You Got) (Dance Mix 106. Shawne Jackson - Loveline 107. Nijel - Dance So Fine 108. Central Parque - Funkin' After Midnight 109. Steve Shelto - Don't You Give Your Love Away 110. Feel - Got To Have Your Lovin' 111. Mckenzie & Gardiner - From Time 112. Michael Henderson - You Wouldn't Have To Work At All 113. Us - Keep On Looking 201. Jones Girls - Keep It Comin 202. Atlantic Starr - One Love 203. Freda Payne - In Motion (Vocal) 204. Indeep - The Record Keep Spinning 205. Legacy - Word Up 206. Marz - Everybody Get Up 207. Pleasure - Sending My Love 208. Lew Kirton - Talk To Me 209. Mona Rae - Do Me 210. Spencer Jones - Miss Friday 211. Jerry Knight - She's Got To Be (A Dancer) 212. Michael Wycoff - Still Got The Magic (Sweet Delight) 213. Mike And Brenda Sutton - We'll Make It 301. Penney Ford - Change Your Wicked Ways (Extended Version) 302. Gladys Knight & The Pips - Save The Overtime (For Me) 303. Aurra - Like I Like It 304. New Horizons - Get Ready Letas Party (Long Version) 305. Jimi Tunnell - U-turn 306. Mass Production - Come Get Some Of This 307. Eleanor Grant - Lovin' Your Good Thing Away 308. Carl Anderson - Don't Make Me Wait 309. Herley Johnson Jr. - Do It 310. Ruth Dawes - I Love Only You 311. Champaign - Off And On Love 312. Denroy Morgan - I'll Do Anything For You 313. Con Funk Shun - She's A Star 401. Evan Rogers - Stay Here With Me 402. Lanier & Co. - I Don't Know 403. Loose Ends - Emergency (Dial 999) 404. Bryan Loren - Easier Said Than Done 405. Carol Williams - You've Reached The Bottom Line 406. Lillo Thomas - (You're A) Good Girl 407. Tavares - Deeper In Love 408. Tyzik - Jammin' In Manhattan 409. Louise Thomas - Head Over Heels 410. Victor Tavares - Show Me 411. Sugar - Can't Fight The Feeling 412. Marlena Shaw - Never Give Up On You 413. Prime Time - I Owe It To Myself 501. Luther Vandross - I Wanted Your Love 502. The Brothers Johnson - Kick It To The Curb 503. Carl Carlton - Private Property 504. Cool Runners - Checking Out 505. Steven & Sterling - Can I Be With You Tonight 506. Fredi Grace & Rhinstone - Help (A Save This Frantic Heart Of 507. Karen Silver - Nobody Else 508. Dunn & Bruce Street - Shout For Joy 509. Scott White U I Don't Understand It 510. Mtume - C.o.d. (I'll Deliver) 511. Freddie Jackson - He'll Never Love You 512. The Chi-lites - Stop What You're Doing 513. Stanley Clarke - Heaven Sent You 601. Bobby King - Lovequake 602. Brick - Sweat (Til You Get Wet) 603. John White - Night People 604. Central Line - You've Said Enough 605. Direct Drive - Anything? 606. Inner Life - Let's Change It Up 607. Private Eye - Hot Girl 608. Funk Deluxe - This Time 609. Intrigue - Let Sleeping Dogs Lie 610. Jean Jones - Love At First Sight 611. Renee Aldrich - Just Begun To Love You 612. R.j.'s Latest Arrival - Cry Like A Wolf 613. I Level - Give Me 701. Cherrelle - Will You Satisfy? 702. Melba Moore - Love Me Right 703. Yvonne Gage - Lover Of My Dreams 704. Pure Energy - Spaced Out 705. Patrice Rushen - Watch Out 706. Kenny G & Kashif - Love On The Rise 707. Tom Browne - Brighter Tomorrow 708. Fonzi Thornton - The Leader 709. Randy Hall - I've Been Watching You (Jamie's Girl) 710. Robert Brookins - Our Lives 711. Oliver Cheatham - Just To Be With You 712. Brick - Wide Open 713. Omni - All For The One 801. The Whispers - Emergency 802. Starpoint - I Want You Closer 803. Blue Feather - Baby Don't Say Maybe 804. Dayton - Promise Me 805. George Duke - Got To Get Back To Love 806. Carrie Lucas - I Just Can't Do Without Your Love 807. Steven Dante - Love Follows 808. Cuca - Young Love 809. S.o.s. Band - I'm Still Missing Your Love 810. Mtume - Green Light 811. The Chi-lites - I Keep Comin' Back To You 812. Rose Royce - New Love 813. Luther Vandross - For The Sweetness Of Your Love 901. Love Bug Starski - You've Gotta Believe 902. Ritchie Family - Real Love 903. Bon Rock - Give Me (What I Want) 904. Kashif - Say Something Love 905. Jennifer Holliday - Just Let Me Wait 906. Lemelle - A Man Like You 907. Motivation - Are You Ready? 908. Tom Browne - Mr. Business 909. Gladys Knight & The Pips - Ainat No Greater Love 910. Paradise - One Mind Two Hearts 911. Gary Taylor - Looking Back 912. Celena Duncan - I Want Your Love Back 913. Total Contrast - Be With You Tonight 914. Steve Harvey - Tonight
Sklep: Gigant.pl 69,01 zł
Książki / Literatura obcojęzyczna
Henry Fairfax's life is one of orderly routine: accounting and management by day, the writing of radio plays by night, and a circle of friends. But only a few years ago he had lived through a painful divorce after nine years. And very early in the narrative, surprised by a sudden attack in the night, Fairfax stops a would-be mugger with a heavy right-hand blow. But what is he to think when Laura, now an independent, successful businesswoman, suggests that they marry again? They had parted loathing each other. And yet it possible that Henry's heart, like the mugger, may surprise him. Stanley Middleton's novel treats once more of the choices that seemingly comfortable people have to make. The issues he raises speak to the human condition, and make moving drama of our daily lives.
Sklep: Libristo.pl 539,99 zł
Muzyka>Rock>Funk
1. Gift Of Dreams - Funkincise 2. Ron Banks - This Love Is For Real 3. Barbara Fowler - Come And Get My Lovin' 4. Toney Lee - Love So Deep 5. Phyllis St. James - Ain't No Turnin Back (Frankie Rodriquez 6. New Jersey Connection - Love Don't Come Easy 7. Darlene Davis - I Found Love 8. Samson & Delilah - I Can Feel Your Love Slippin' Away (Frank 9. Gene Dunlap - Take My Love 10. Desi - I Want To Be With You 11. Superior Movement - Wide Shot 12. The Jamaica Girls - Need Somebody New 13. Linda Taylor - (You're) In The Pocket 101. Lisa Richards - Hooked On Your Love 102. Real To Reel - Can You Treat Me Like She Does? 103. Fantasy - Live The Life I Love 104. Final Edition - Betcha Can't Love Just One (Can't Keep Runni 105. Amra - Special Kind Of Love (I Need What You Got) (Dance Mix 106. Shawne Jackson - Loveline 107. Nijel - Dance So Fine 108. Central Parque - Funkin' After Midnight 109. Steve Shelto - Don't You Give Your Love Away 110. Feel - Got To Have Your Lovin' 111. Mckenzie & Gardiner - From Time 112. Michael Henderson - You Wouldn't Have To Work At All 113. Us - Keep On Looking 201. Jones Girls - Keep It Comin 202. Atlantic Starr - One Love 203. Freda Payne - In Motion (Vocal) 204. Indeep - The Record Keep Spinning 205. Legacy - Word Up 206. Marz - Everybody Get Up 207. Pleasure - Sending My Love 208. Lew Kirton - Talk To Me 209. Mona Rae - Do Me 210. Spencer Jones - Miss Friday 211. Jerry Knight - She's Got To Be (A Dancer) 212. Michael Wycoff - Still Got The Magic (Sweet Delight) 213. Mike And Brenda Sutton - We'll Make It 301. Penney Ford - Change Your Wicked Ways (Extended Version) 302. Gladys Knight & The Pips - Save The Overtime (For Me) 303. Aurra - Like I Like It 304. New Horizons - Get Ready Letas Party (Long Version) 305. Jimi Tunnell - U-turn 306. Mass Production - Come Get Some Of This 307. Eleanor Grant - Lovin' Your Good Thing Away 308. Carl Anderson - Don't Make Me Wait 309. Herley Johnson Jr. - Do It 310. Ruth Dawes - I Love Only You 311. Champaign - Off And On Love 312. Denroy Morgan - I'll Do Anything For You 313. Con Funk Shun - She's A Star 401. Evan Rogers - Stay Here With Me 402. Lanier & Co. - I Don't Know 403. Loose Ends - Emergency (Dial 999) 404. Bryan Loren - Easier Said Than Done 405. Carol Williams - You've Reached The Bottom Line 406. Lillo Thomas - (You're A) Good Girl 407. Tavares - Deeper In Love 408. Tyzik - Jammin' In Manhattan 409. Louise Thomas - Head Over Heels 410. Victor Tavares - Show Me 411. Sugar - Can't Fight The Feeling 412. Marlena Shaw - Never Give Up On You 413. Prime Time - I Owe It To Myself 501. Luther Vandross - I Wanted Your Love 502. The Brothers Johnson - Kick It To The Curb 503. Carl Carlton - Private Property 504. Cool Runners - Checking Out 505. Steven & Sterling - Can I Be With You Tonight 506. Fredi Grace & Rhinstone - Help (A Save This Frantic Heart Of 507. Karen Silver - Nobody Else 508. Dunn & Bruce Street - Shout For Joy 509. Scott White U I Don't Understand It 510. Mtume - C.o.d. (I'll Deliver) 511. Freddie Jackson - He'll Never Love You 512. The Chi-lites - Stop What You're Doing 513. Stanley Clarke - Heaven Sent You 601. Bobby King - Lovequake 602. Brick - Sweat (Til You Get Wet) 603. John White - Night People 604. Central Line - You've Said Enough 605. Direct Drive - Anything? 606. Inner Life - Let's Change It Up 607. Private Eye - Hot Girl 608. Funk Deluxe - This Time 609. Intrigue - Let Sleeping Dogs Lie 610. Jean Jones - Love At First Sight 611. Renee Aldrich - Just Begun To Love You 612. R.j.'s Latest Arrival - Cry Like A Wolf 613. I Level - Give Me 701. Cherrelle - Will You Satisfy? 702. Melba Moore - Love Me Right 703. Yvonne Gage - Lover Of My Dreams 704. Pure Energy - Spaced Out 705. Patrice Rushen - Watch Out 706. Kenny G & Kashif - Love On The Rise 707. Tom Browne - Brighter Tomorrow 708. Fonzi Thornton - The Leader 709. Randy Hall - I've Been Watching You (Jamie's Girl) 710. Robert Brookins - Our Lives 711. Oliver Cheatham - Just To Be With You 712. Brick - Wide Open 713. Omni - All For The One 801. The Whispers - Emergency 802. Starpoint - I Want You Closer 803. Blue Feather - Baby Don't Say Maybe 804. Dayton - Promise Me 805. George Duke - Got To Get Back To Love 806. Carrie Lucas - I Just Can't Do Without Your Love 807. Steven Dante - Love Follows 808. Cuca - Young Love 809. S.o.s. Band - I'm Still Missing Your Love 810. Mtume - Green Light 811. The Chi-lites - I Keep Comin' Back To You 812. Rose Royce - New Love 813. Luther Vandross - For The Sweetness Of Your Love 901. Love Bug Starski - You've Gotta Believe 902. Ritchie Family - Real Love 903. Bon Rock - Give Me (What I Want) 904. Kashif - Say Something Love 905. Jennifer Holliday - Just Let Me Wait 906. Lemelle - A Man Like You 907. Motivation - Are You Ready? 908. Tom Browne - Mr. Business 909. Gladys Knight & The Pips - Ainat No Greater Love 910. Paradise - One Mind Two Hearts 911. Gary Taylor - Looking Back 912. Celena Duncan - I Want Your Love Back 913. Total Contrast - Be With You Tonight 914. Steve Harvey - Tonight
Sklep: Gigant.pl 204,35 zł
Książki / Literatura obcojęzyczna
Source: Wikipedia. Pages: 230. Chapters: Prince, Grateful Dead, Monty Python, The Alan Parsons Project, Whitney Houston, Meat Loaf, Sherrié Austin, Carlos Santana, Sarah McLachlan, The Allman Brothers Band, Aretha Franklin, Deep Dish, Avril Lavigne, Dionne Warwick, Milli Vanilli, Gil Scott-Heron, Alan Jackson, The Kinks, Carrie Underwood, Barry Manilow, Usher, Annie Lennox, Carly Simon, Toni Braxton, Brooks & Dunn, Pink, Monica, Brad Paisley, Ace of Base, Ministry, Kelis, Jermaine Jackson, Diamond Rio, Real McCoy, Thompson Twins, Exposé, Air Supply, Adema, Taylor Dayne, Kenny G, The Icicle Works, Brand Nubian, Anthony Hamilton, Lee Roy Parnell, Jeff Healey, Melissa Manchester, Anthony Braxton, Kristy Lee Cook, Archie Shepp, Pam Tillis, Adam Brand, Krokus, Jerrod Niemann, Blackhawk, Phil Vassar, Deborah Cox, BR549, Pharoah Sanders, Gigi D'Agostino, Deana Carter, Keith Anderson, Dixie Dregs, Brett James, Naughty by Nature, Linda Davis, Misia, Gary Bartz, The Tractors, Jason Michael Carroll, Larry Coryell, Kashif, Rebecca Lynn Howard, Bobby Broom, Paula DeAnda, Andrea Martin, Jypsi, Rob Crosby, Tammy Graham, Robert Earl Keen, Dude Mowrey, Tha' Rayne, Tom Browne, Clint Daniels, Larry Young, Stanley Cowell, No Mercy, Ben Sidran, Zones, Hughie Thomasson, Norman Connors, Ryan Tyler, The Limit, Brecker Brothers, Society of Soul. Excerpt: Whitney Elizabeth Houston (born August 9, 1963) is an American R&B/pop singer, actress, and former fashion model. Houston is the most awarded female artist of all time, according to Guinness World Records, and her list of awards include 2 Emmy Awards, 6 Grammy Awards, 16 Billboard Music Awards, 22 American Music Awards, among a total of 415 career awards as of 2010. Houston is also one of the world's best-selling music artists, having sold over 170 million albums and singles worldwide. Inspired by several prominent soul singers in her extended family, including mother Cissy Houston and cousins Dionne Warwick and Dee Dee Warwick, as well as her godmother, Aretha Franklin, Houston began singing with New Jersey church's junior gospel choir at age 11. After she began performing alongside her mother in night clubs in the New York City area, she was discovered by Arista Records label head Clive Davis. As of 2011, Houston has released six studio albums and three movie soundtrack albums, all of which have had diamond, multi-platinum, platinum, or gold certification. Houston's 1985 debut album, Whitney Houston, became the best-selling debut album by a female act at the time of its release. Her second studio album, Whitney (1987), became the first album by a female artist to debut at number one on the Billboard 200 albums chart. Houston's crossover appeal on the popular music charts as well as her prominence on MTV, starting with her video for "How Will I Know", enabled several African-American female artists to follow in her success. Houston's first acting role was as the star of the feature film The Bodyguard (1992). The movie's original soundtrack won the 1994 Grammy Award for Album of the Year. Its lead single, "I Will Always Love You", became the best-selling single by a female artist in music history. The album makes her the only female act ranked in the list of the top-10 best-selling albums, at number four. Houston continued to star in movies and contribute to soundtr
Sklep: Libristo.pl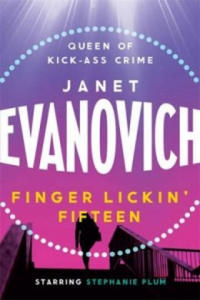 47,76 zł
Książki / Literatura obcojęzyczna
Sunday Times bestseller, JANET EVANOVICH, author of PLUM SPOOKY and SMOKIN' SEVENTEEN, delights with yet another Stephanie Plum adventure. Recipe for disaster: Celebrity chef Stanley Chipotle comes to Trenton to participate in a barbecue cook-off and loses his head - literally. Throw in some spice: Bail bonds office worker Lula is witness to the crime, and the only one she'll talk to is Trenton cop Joe Morelli. Pump up the heat: Chipolte's sponsor is offering a million-dollar reward to anyone who can provide information leading to the capture of the killers. Stir the pot: Lula recruits bounty hunter Stephanie Plum to help her find the killers and collect the moolah. Add a secret ingredient: Stephanie Plum's Grandma Mazur. Enough said. Bring to a boil: Stephanie Plum is working overtime tracking felons for the bonds office at night and snooping for security expert Carlos Manoso, a.k.a. Ranger, during the day. Can Stephanie hunt down two killers, a traitor, and five skips, keep her grandmother out of the sauce, and solve Ranger's problems and not jump his bones?
Sklep: Libristo.pl 51,99 zł
Muzyka>Pop
1. John Williams - Out Of Africa: Main Title 2. Caravelli - Chariots De Feu 3. Nini Rosso - Il Silenzio 4. Ennio Morricone - Once Upon A Time In The West 5. Percy Faith - The Theme From A Summer Place 6. John Van De Ven - Verde 7. The Shadows - Wonderful Land 8. Edward Simoni - Dolannes Melodie 9. Enrico Vallarta - Blue Bayou 10. Henry Mancini & His Orchestra - The Pink Panther T 11. Andre Kostelanetz - I Will Wait For You 12. Ricky King - Le Reve 13. Ricci Ferra - Unchained Melody 14. Michael David - One More Night 15. Ricci Ferra - Mondschein-sonate 16. Pat Halling - Cavatina 101. Mike Oldfield - Arrival 102. Santana; Santana - Aqua Marine 103. Joe Satriani - Slow Down Blues 104. Fleetwood Mac ; Fleetwood Mac - Albatro 105. Clannad - The Fairy Queen 106. Jeff Beck - Declan 107. A Band Called 'O' - Within Reach 108. Stanley Clarke - Lisa 109. Chet Atkins - Dream 110. Tommy Emmanuel - Hellos & Goodbyes 111. Roedelius - Poetry 112. Al Dimeola - Bianca's Midnight Lullaby 113. Buckethead - Whitewash 114. Stevie Ray Vaughan & Double Trouble - Riviera Para 115. Peter White - Lullaby 116. Sailor - Jacaranda 117. The London Philharmonic Orchestra; Mike Batt - Car 201. Deep Forest; Ana Torroja - Sweet Lullaby 202. Cusco - Flying Condor 203. Santana; Santana - Samba Pa Ti 204. Edward Simoni - Conquest Of Paradise 205. John Barry - You Only Live Twice 206. Miles Davis; Gil Evans - Corcovado (Quiet Nights O 207. David Arkenstone - The Dragon's Breath 208. Elysia - Genesis 209. Ginkgo Garden - Secret Call 210. G.e.n.e. - The Flight Of The Clouds 211. Monteoro - From The Homeland Of My Soul 212. Rondo Veneziano - Arcobaleno 213. Ricky King - If You Could Read My Mind 214. Software - Present Voice 215. Dagda - Mise Liom Fein 216. Alan Silvestri - Suite From Forrest Gump
Sklep: Gigant.pl 239,99 zł
Muzyka>Rhythm & Blues / Soul>Soul
1. I Wish I Knew (How It Would Feel To Be Free) - S 2. Nearer To You - Bettye Lavette 3. Private Number (Extended Version) - William Bell 4. Free Me (Take 1) - Otis Redding 5. A Touch Of The Blues - Bobby Bland 6. This Love Won't Run Out - Dee Dee Sharp 7. I Got Everything I Need - Eddie Floyd 8. Please Don't Desert Me Baby - Gloria Walker And 9. Sugarman (Extended Version) - Sam Baker 10. Sure As Sin - Jeanie Greene 11. What's That You Got - Rudolph Taylor 12. I Found What I Wanted - Mary Wells 13. I've Got Memories (Demo) - Melvin Carter 14. Message From Maria - Joe Simon 15. Problems - Mable John 16. I've Been Searching - O.v. Wright 17. She Ain't Gonna Do Right (Demo) - Clarence Carte 18. Give Me Back The Man I Love - Barbara West 19. You're Gonna Want Me - Bill Coday 20. I'm Just Livin' A Lie - Bettye Swann 21. Home For The Summer - Jimmy Braswell 22. Too Weak To Fight (Extended Version) - Ella Wash 23. Everytime It Rains (Teardrops From My Eyes) - Na 24. Yesterday - The Soul Children 101. The Only Girl I've Ever Loved - Joe Tex 102. Rainy Night In Georgia - Brook Benton 103. Love Comes In Time - John Fred And The Playboys 104. Somebody Done Took My Baby And Gone - Joey Gilmo 105. I Found All These Things - C.p. Love 106. A Woman Will Do Wrong - Helene Smith 107. Depend On Me - Steve Dixon 108. I'm In Love - Esther Phillips 109. Easier To Say Than Do - Sam Dees 110. Without Love What Would Life Be - Terrie & Joy L 111. I've Got To Tell You - Count Willie With Lrl And 112. You Need Me - Joe Wilson 113. Nearer To You - Joe Medwick 114. Your Love Is All I Need - Della Humphrey 115. Nothing Takes The Place Of You - Toussaint Mccal 116. How Sweet It Would Be - George Perkins 117. Daydreamin' - Warren Storm 118. No More Ghettos In America - Stanley Winston 119. Do Right Man - Little Beaver 120. (Sometimes) A Man Will Shed A Few Tears Too - Jo 121. Asking For The Truth - Reuben Bell 122. I Can't Stand To See You Go - Joe Valentine 123. You Got Everything I Need - Don Hollinger 124. A Sad Sad Song - Charles Crawford 125. Tell It Like It Is - Aaron Neville 201. Going Back Home - Ground Hog 202. Cry To Me - Freddie Scott 203. Looking For A Home - Little Buster 204. The Girls From Texas (Extended Version) - Jimmy 205. Ain't No Way - Aretha Franklin 206. I Found A Man In My Bed - Roy C 207. Take Your Time - Clay Hammond 208. Just A Touch Of Your Hand - Al Gardner 209. You're Good For Me - Don Covay 210. I Found The One - Billy Sha-rae 211. Don't Make Me Pay For His Mistakes - Zz Hill 212. That's How It Is (When You're In Love) - Otis Cl 213. Go On Fool (Extended Version) - Marion Black 214. I Want Everyone To Know - Fontella Bass 215. You Wants To Play - Oscar Weathers 216. (I Want Her) By My Side - The Fuller Brothers 217. Shackin' Up - Barbara Mason 218. Don't Blame Me - Willie Hightower 219. Stop - Lester Young 220. Someone To Take Your Place - Bill Locke 221. Easy As Saying 1-2-3 - Timmy Willis 222. Mary Jane - Bobby Rush
Sklep: Gigant.pl
Sklepy zlokalizowane w miastach: Warszawa, Kraków, Łódź, Wrocław, Poznań, Gdańsk, Szczecin, Bydgoszcz, Lublin, Katowice
Szukaj w sklepach lub całym serwisie
2. Szukaj na wszystkich stronach serwisu
t1=0.077, t2=0, t3=0, t4=0, t=0.078