krainaksiazek starting a business for dummies uk edition 20128562
- znaleziono 12 produktów w 2 sklepach 79,99 zł
Książki / Literatura obcojęzyczna
Starting a Business on eBay.co.uk For Dummies covers all the essentials an eBay user or budding entrepreneur needs to start a money-making venture by trading on eBay.co.uk. It features straight-talking advice on every aspect of starting and growing a successful business, including; setting-up shop, running successful auctions, delivering goods, keeping customers happy, and maximising profits.
Sklep: Libristo.pl 112,47 zł
Książki / Literatura obcojęzyczna
Written by a team of business and finance experts, Starting & Running a Business All-In-One For Dummies is a complete guide to every aspect of setting up and growing a successful business. Featuring straight-talking advice on everything from business planning and marketing, managing staff and dealing with legal issues, to bookkeeping and taking care of tax obligations, this book is your one-stop guide to turning your business plans into profit. With Starting and Running a Business All-In-One For Dummies, 2 nd Edition , you'll discover how to: Identify new business opportunities Put together a business plan Find the money you need to get started Keep track of your finances -bookkeeping and forecasting Find, manage and retain good employees Deal with the legal aspects of running a business Market and sell your product Use new technology Grow and expand your business
Sklep: Libristo.pl 79,99 zł
Książki Obcojęzyczne>Angielskie>Economics, finance, business & management>Business & management>Ownership & organization of enterprisesKsi...
Starting Your Own Business Is An Exciting - And Challenging - Time. This Updated Edition Of The Startup Classic Shows You How To Build A Business Agile Enough To Take Advantage Of Emerging Trends And Opportunities, And Sturdy Enough To Weather Any Storm.
Sklep: Gigant.pl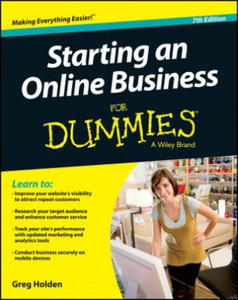 109,46 zł
Książki / Literatura obcojęzyczna
Mind your business with this updated edition of the bestselling online business how-to guide Have a computer, an Internet connection, and a dream? Then, you're already on your way to starting your very own online business. This fun and friendly guide can help you turn your big idea into big bucks whether you're expanding your real-world storefront online or creating your own virtual startup. Starting an Online Business For Dummies, 7th Edition will show you how to identify a market need, choose a web hosting service, implement security and privacy measures, open up shop, and start promoting to the world. Covers the latest trends and techniques for online discoverability - from social media marketing to search engine rankings, online couponing to optimization for mobile devices,and beyond Highlights business issues that are of particular concern to online entrepreneurs Walks you through the best practices of successful online businesses, including customer service, marketing, analytics, and website optimization tools Provides advice on choosing an e-commerce platform, protecting your domain name, securing trademarks, working with vendors and distributors, and keeping your customer's personal data safe There's no time like now to start a new endeavor and no guide like Starting an Online Business For Dummies, 7th Edition to get your online business going.
Sklep: Libristo.pl 84,99 zł
Książki Obcojęzyczne>Angielskie>Economics, finance, business & management>Business & management>Entrepreneurship
The Gold Standard For EBay Users Who Want To Get Serious About Selling Want To Turn Your EBay Use Into A Steady Revenue Stream? Come To Where Everyone Starts, With A Copy Of The Latest Edition Of Starting An EBay Business For Dummies.
Sklep: Gigant.pl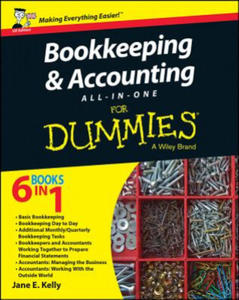 112,47 zł
Książki / Literatura obcojęzyczna
Accounting may not be fun, but you simply cannot run a business without it. "Bookkeeping & Accounting All-In-One For Dummies" includes all the latest accounting practices and bookkeeping software, and features lots of practical exercises and templates. It gets you up and running with what you need to keep your finances in order, your books balanced and the tax inspector off your back."Bookkeeping & Accounting All-In-One For Dummies" contains a wealth of practices and examples to hone your skills - plus, online samples of bookkeeping forms, accounting templates & resources, and spreadsheets for you to use. Contents include topics which make up the six minibooks below: Book 1 Basic BookkeepingBook 2 Bookkeeping Day to DayBook 3 Additional Monthly/Quarterly Bookkeeping TasksBook 4 Bookkeepers and Accountants Working Together to Prepare Financial StatementsBook 5 Accountants: Managing the BusinessBook 6 Accountants: Working With the Outside WorldGet started - find out why accounting & bookkeeping are essential to your company success, how they are done and where to start.
Sklep: Libristo.pl 109,30 zł
Książki / Literatura obcojęzyczna
The home is the most popular place for start-ups. With the rate of new business start ups being unaffected by the recession, more than a quarter of a million people in the UK start a business from home each year and four times that number giving it serious consideration. Entrepreneurs need little more than a laptop and a telephone line to start off with, but when the new business starts to expand they face the challenge of staying at home without sacrificing their growth potential. "Starting a Business from Home" identifies business opportunities, gives advice on preparation and set up, and how you run, control and manage its growth. Now with extra exercises and end of chapter advice, this new edition includes: researching the market, business ownership and title issues, raising the money and managing finances, building and operating a website, bringing a product to market and starting up overseas. With appendices giving home-based business ideas and sources of help, as well as advice on research, getting the business started and an indication of how much money could be made out of each business, "Starting a Business from Home" is an invaluable practical guide for the aspiring entrepreneur.
Sklep: Libristo.pl 97,10 zł
Książki / Literatura obcojęzyczna
The easy way to come to grips with Sage 50 Accounts§§Written by a Sage 50 Accounts expert and packed with step-by-step instructions, this hands-on, accessible guide is the easiest way to master this popular small business accounting software. Walking you through every aspect of setting up and using Sage 50 Accounts--from installing software to running VAT returns and producing year-end accounts--Sage 50 Accounts For Dummies offers easy-to-follow guidance on the quickest way to complete tasks and customise Sage to suit your specific business needs.§§Recommended by 90% of accountants, Sage 50 Accounts is Europe's best-known small business accounting package. Now completely updated to reflect the latest version of Sage 50 Accounts, this friendly guide takes the hassle out of working with the software. In no time, you'll be navigating your way around the new Sage 50 Accounts interface, making sense of the latest changes to backups, and confidently taking control of your business' finances--freeing you up to spend your time managing other areas of your business.§Reflects the latest changes in the 2015 edition of Sage 50 Accounts software§Shows you how to set up and use Sage 50 Accounts with minimal fuss§Provides helpful screenshots to help you every step of the way§Offers guidance on going mobile with the Sage 50 app§§Whether you're new to Sage 50 Accounts or just need to get up and running on the newest software, this no-nonsense guide makes it easy.
Sklep: Libristo.pl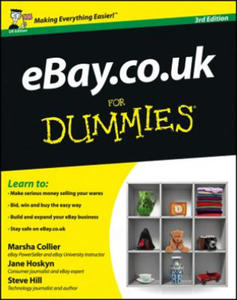 87,76 zł
Książki / Literatura obcojęzyczna
Go from eBay beginner to eBay pro in no time! Whether you aim to browse, buy, sell, or open up your own eBay shop, this third edition of Britain's bestselling guide to eBay gets you up and running with everything you need to know. Fully updated and packed with new information on eBay apps, creating and running an eBay business, becoming a PowerSeller and much more, it covers every aspect of eBay.co.uk, from security issues and avoiding scams to making serious cash in your spare time or as a full-time eBay merchant. Get acquainted - from registering and setting up a homepage to organising eBay sales and communicating using the 'My eBay' page, you'll quickly feel right at home on eBay Bid and buy with confidence - discover how to search for and evaluate items, make bids and win auctions, or use the 'Buy It Now' option Sell like a pro - get the lowdown on how to choose and post items for sale, set prices and conduct auctions for maximum profits, as well as how to ship stuff and collect payments Keep the taxman happy - how to keep track of your earnings and comply with all the relevant tax rules and regulations, including the VAT Give your auctions pizzazz - get expert tips on how to spice up your auctions with pictures and graphics as well as links to other websites Stay safe and secure - learn everything you need to know about avoiding fraudsters, scammers and hackers and safeguarding your privacy and your identity. Open the book and find: how to register and buy and sell on eBay; advice on bidding and winning eBay auctions; expert tips on choosing items to sell and picking the ideal auction time; how to set up sale listings and monitor your transactions; tips for marketing your stuff on eBay. The lowdown on avoiding cons and protecting your privacy Guidance on setting up an eBay business account. How to open your own eBay shop learn to: make serious money selling your wares Bid, win and buy the easy way; build and expand your eBay business; stay safe on eBay.co. uk.
Sklep: Libristo.pl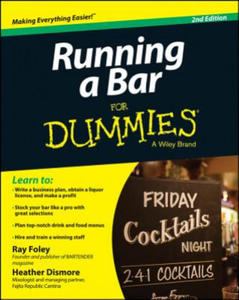 87,76 zł
Książki / Literatura obcojęzyczna
Get insider details on how to operate a successful bar Running a Bar For Dummies, 2 nd Edition shows established and future bar owners how to establish and maintain a successful business. Using clear, concise language, this For Dummies guide contains all the information you need to start your bar off on the right foot. From grand opening to last call, you'll discover the insider tricks that keep the business end running smoothly and the customers happily engaged. With updated information on marketing and social media, the book walks you step by step through the entire process, revealing the nitty-gritty details most new bar owners only discover after starting. The bar business continues to grow; however, securing running capital and having knowledge about the business are cited as the two biggest reasons new bars fail. Running a Bar For Dummies, 2 nd Edition shines a light on these issues to help bar owners prepare properly. The book helps you find your way through the maze of licensing and permits, developing a business plan, and preparing for your grand opening, plus offers clear, no-nonsense guidance on dealing with tough customers. Every step of the way, Running a Bar For Dummies, 2 nd Edition is a reference you can count on. Understand the bar business and important legal issues Stock the necessities, including equipment and inventory Promote your business using marketing and social media Manage expenses and control cash flow When run correctly, a bar can be an extremely profitable business, but the key to success is knowing exactly what you're getting into. By recognizing common problems and teach you how to adapt quickly to changing conditions, Running a Bar For Dummies, 2 nd Edition provides the information you need to develop those skills, and get your bar started.
Sklep: Libristo.pl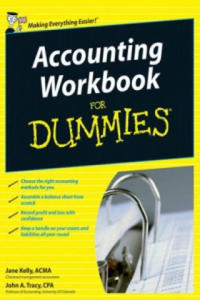 81,74 zł
Książki / Literatura obcojęzyczna
Want to become an accountant? Own a small business but need help balancing your books? Worried about managing your finances under the cloud of the recession? This hands-on workbook gets you up to speed with the basics of business accounting, including reading financial reports, establishing budgets, controlling cash flow, and making wise financial decisions. The question and answer sections encourage you to find your own solutions to challenging accounting problems - and there's plenty of space to scribble your workings out! Accounting Workbook For Dummies is the only book that makes truly light work of the financial fundamentals that many businesspeople try to bluff their way through every day. Accounting Workbook For Dummies, UK Edition covers: Part I: Business Accounting Basics Chapter 1: Elements of Business Accounting Chapter 2: Financial Effects of Transactions Chapter 3: Getting Started in the Bookkeeping Cycle Chapter 4: The Bookkeeping Cycle: Adjusting and Closing Entries Part II: Preparing Financial Statements Chapter 5: The Effects and Reporting of Profit Chapter 6: Reporting Financial Condition in the Balance Sheet Chapter 7: Coupling the Profit & Loss Statement and Balance Sheet Chapter 8: Reporting Cash Flows and Changes in Owners' Equity Chapter 9: Choosing Accounting Methods Part III: Managerial, Manufacturing, and Capital Accounting Chapter 10: Analysing Profit Behavior Chapter 11: Manufacturing Cost Accounting Chapter 12: Figuring Out Interest and Return on Investment Part IV: The Part of Tens Chapter 13: Ten Things You Should Know About Business Financial Statements Chapter 14: A Ten-Point Checklist for Management Accountants Main changes in the UK edition include: UK Accounting practice Currency UK institutions - Inland Revenue and Customs and Excise etc National Insurance, PAYE UK taxation and VAT Partnerships and Limited company information UK legal practice UK specific forms UK specific case studies
Sklep: Libristo.pl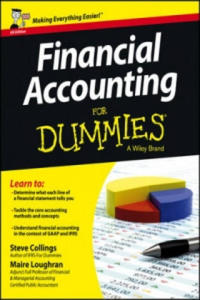 102,17 zł
Książki / Literatura obcojęzyczna
Your plain--English guide to financial accounting for students and trainees. Financial Accounting For Dummies provides students who are studying finance, accounting and business with the basic concepts, terminology, and methods to interpret, analyse, prepare and evaluate financial statements. Covers concepts accountants and other business professionals use to prepare reports; mergers and acquisitions purchase and pooling; free cash flow; and financial statement analysis. Whether you're a student on your way to earning a degree, working towards your ACCA qualification, or a trainee just starting out in your accounts career, Financial Accounting For Dummies gives you a wealth of information to grasp the subject. This UK version is adapted to take in UK accounting practice and international reporting standards Provides a firm grounding in interpreting, analysing, preparing and evaluating corporate financial statements Includes easy--to--understand explanations and real-life examples to consolidate learning
Sklep: Libristo.pl
Sklepy zlokalizowane w miastach: Warszawa, Kraków, Łódź, Wrocław, Poznań, Gdańsk, Szczecin, Bydgoszcz, Lublin, Katowice
Szukaj w sklepach lub całym serwisie
2. Szukaj na wszystkich stronach serwisu
t1=0.039, t2=0, t3=0, t4=0, t=0.039