krainaksiazek structure and evolution of stars 20107051
- znaleziono 14 produktów w 3 sklepach
451,92 zł
Książki / Literatura obcojęzyczna
§Dieses Lehrbuch gibt eine vollständige Darstellung der Physik der Sternatmosphäre, deren physikalische Prozesse und Größen. Behandelt werden die Sternmodelle, die die Stabilität, Dynamik, und Entwicklung von Sternen beschreiben, und die verschiedenen Lebensstadien eines Sterns. Das Buch bietet Studenten und Wissenschaftlern einen einzigartigen Überblick über das Forschungsgebiet. This text gives a complete and comprehensive treatment of the physics of the stellar interior and the underlying fundamental processes and parameters. The models developed to explain the stability, dynamics and evolution of the stars are presented, and great care is taken to detail the various stages in a star's life. The authors have written a unique text based on their own pioneering work in stellar modeling. Since its publication, this textbook has come to be considered a classic by readers and teachers in astrophysics. This study edition is meant for students in astronomy and physics alike.
Sklep: Libristo.pl 479,99 zł
Książki Obcojęzyczne>Angielskie>Mathematics & science>Astronomy, space & time>Galaxies & starsKsiążki Obcojęzyczne>Angielskie>Mathem...
Thoroughly Revised For Its 2nd Edition, This Book Presents State-of-the-art Coverage Of Stellar Physics, And Interprets Sophisticated Current Stellar Models. A Comprehensive View Of The Physics Of The Stellar Interior And Underlying Processes And Paramete
Sklep: Gigant.pl 1137,02 zł
Książki / Literatura obcojęzyczna
The rapid progress in research on mass-losing pulsating stars has now taken us far from its early photographic light variation study to the world of massive photometry and interferometic observations. Still some fundamental problems such as the pulsational mode and the mass-loss mechanism remain a mystery. §In this volume the modern theoretical works are confronted with the latest observations and the active discussions indicate the directions of future research. §Among the subjects presented in this workshop are: recent results of massive photometry; pulsation and properties of mass-losing stars; optical and infrared observations of circumstellar matter; radio and mm observations of circumstellar matter; distribution of maser sources in the Galaxy; VERA and other future projects. §Thorough and up-to-date information on mass-losing stars provides invaluable references for all researchers and students who are interested in the AGB evolution, pulsation models, circumstellar matter, precision astrometry, and the Galactic structure.
Sklep: Libristo.pl 510,38 zł
Książki / Literatura obcojęzyczna
The zeta Aurigae stars are the rare but illustrious sub-group of binary stars that undergo the dramatic phenomenon of "chromospheric eclipse". This book provides detailed descriptions of the ten known systems, illustrates them richly with examples of new spectra, and places them in the context of stellar structure and evolution.§§Comprised of a large cool giant plus a small hot dwarf, these key eclipsing binaries reveal fascinating changes in their spectra very close to total eclipse, when the hot star shines through differing heights of the "chromosphere", or outer atmosphere, of the giant star. The phenomenon provides astrophysics with the means of analyzing the outer atmosphere of a giant star and how that material is shed into space. The physics of these critical events can be explained qualitatively, but it is more challenging to extract hard facts from the observations, and tough to model the chromosphere in any detail.§§The book offers current thinking on mechanisms for heating a star's chromosphere and on how a star loses mass, and relates this science synergistically to studies of other stars and binaries, and to the increasing relevance of contributions from new techniques in interferometry and asteroseismology. It also includes a detailed discussion of the enigmatic star epsilon Aurigae, which had recently undergone one of its very infrequent and very baffling eclipses. Though not a zeta Aurigae system, epsilon Aurigae is a true "Giant" among eclipsing stars.§§The 7 chapters of this book, written by a group of experts, have been carefully edited to form a coherent volume that offers a thorough overview of the subject to both professional and student.§
Sklep: Libristo.pl 239,99 zł
Książki Obcojęzyczne>Angielskie>Mathematics & science>Astronomy, space & time>Galaxies & starsKsiążki Obcojęzyczne>Angielskie>Mathem...
The Physics Of Stars, Second Edition, Is A Concise Introduction To The Properties Of Stellar Interiors And Consequently The Structure And Evolution Of Stars. Strongly Emphasising The Basic Physics, Simple And Uncomplicated Theoretical Models Are Used To Illustrate Clearly The Connections Between Fundamental Physics And Stellar Properties.
Sklep: Gigant.pl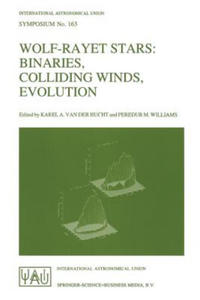 451,92 zł
Książki / Literatura obcojęzyczna
In this IAU Symposium on Wolf--Rayet stars, binary aspects received ample attention, notably because of the recognition that many observations of spectral and photometric variability at all accessible wavelengths are related to colliding winds or other forms of wind interaction. §The basic structure of the conference and its proceedings is basic parameters and general properties of WR stars; state of the art model atmospheres for WR stars, anisotropic mass loss and disk formation of WR stars, properties of WR binaries; influence of stellar winds on mass transfer in hot massive binary evolution; dust formation near WR stars and other circumstellar phenomena; and hydrodynamics and high-energy physics of colliding winds in WR+O binaries and of WR winds interacting with compact objects. Within this framework 20 invited reviews, 38 invited oral contributions, and 76 poster papers were presented at the Symposium, entertaining 111 astronomers from 24 countries. These proceedings provide up-to-date information on all aspects of Wolf--Rayet atmospheres, binaries, and colliding winds. §
Sklep: Libristo.pl 292,25 zł
Książki / Literatura obcojęzyczna
Like the Earth and planets, stars rotate. Understanding how stars rotate is central to modelling their structure, formation and evolution, and how they interact with their environment and companion stars. This authoritative volume, first published in 2000, provides a lucid introduction to stellar rotation and the definitive reference to the subject. It combines theory and observation in a comprehensive survey of how the rotation of stars affects the structure and evolution of the Sun, single stars and close binaries. This book will be of primary interest to graduate students and researchers studying solar and stellar rotation and close binary systems. It will also appeal to those with a more general interest in solar and stellar physics, star formation, binary stars and the hydrodynamics of rotating fluids - including geophysicists, planetary scientists and plasma physicists.
Sklep: Libristo.pl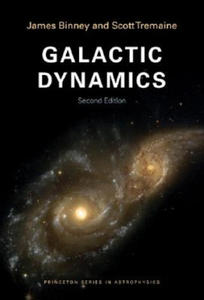 478,06 zł
Książki / Literatura obcojęzyczna
Since it was first published in 1987, Galactic Dynamics has become the most widely used advanced textbook on the structure and dynamics of galaxies and one of the most cited references in astrophysics. Now, in this extensively revised and updated edition, James Binney and Scott Tremaine describe the dramatic recent advances in this subject, making Galactic Dynamics the most authoritative introduction to galactic astrophysics available to advanced undergraduate students, graduate students, and researchers. Every part of the book has been thoroughly overhauled, and many sections have been completely rewritten. Many new topics are covered, including N-body simulation methods, black holes in stellar systems, linear stability and response theory, and galaxy formation in the cosmological context. Binney and Tremaine, two of the world's leading astrophysicists, use the tools of theoretical physics to describe how galaxies and other stellar systems work, succinctly and lucidly explaining theoretical principles and their applications to observational phenomena. They provide readers with an understanding of stellar dynamics at the level needed to reach the frontiers of the subject. This new edition of the classic text is the definitive introduction to the field. A complete revision and update of one of the most cited references in astrophysics Provides a comprehensive description of the dynamical structure and evolution of galaxies and other stellar systems Serves as both a graduate textbook and a resource for researchers Includes 20 color illustrations, 205 figures, and more than 200 problems Covers the gravitational N-body problem, hierarchical galaxy formation, galaxy mergers, dark matter, spiral structure, numerical simulations, orbits and chaos, equilibrium and stability of stellar systems, evolution of binary stars and star clusters, and much more Companion volume to Galactic Astronomy, the definitive book on the phenomenology of galaxies and star clusters
Sklep: Libristo.pl 76,03 zł
Książki / Literatura obcojęzyczna
INTRODUCTION PART ONE: ASTRONOMY IN THE ANCIENT WORLD 1. Life and the Stars 2. Agriculture and the Calendar 3. Old Babylonian Sky-Lore 4. Assyrian Astrology 5. New-Babylonian Science 6. Chaldean Tables 7. Egypt 8. China 9. Greet Poets and Philosophers 10. Calendar and Geometry 11. Systems of World Structure 12 Hellenistic Astronomy 13. The Epicycle Theory 14. The Close of Antiquity 15. Arabian Astronomy PART TWO: ASTRONOMY IN REVOLUTION 16. Dark Europe 17. The Renascence of Science 18. Copernicus 19. Astronomical Computing 20. Tycho Brahe 21. The Reform of the Calendar 22. The Struggle over the World System 23. Kepler 24. Mechanics and Philosophy 25. The Telescope 26. Newton 27. Practical Astronomy 28. Astronomers on the Move 29. Refined Practice 30. Refined Theory PART THREE: ASTRONOMY SURVEYING THE UNIVERSE 31. The World Widens 32. The Technical Basis 33. Distances and Dimensions 34. Celestial Mechanics 35. Plurality of Worlds 36. Cosmogony and Evolution 37. The Sun 38. Passing Luminaries 39. Peculiar Stars 40. Common Stars 41. The Galactic System 42. Into Endless Space 43. The Life of the Stars APPENDICES REFERENCES INDEX
Sklep: Libristo.pl 588,94 zł
Książki / Literatura obcojęzyczna
The Fundamentals of Modern Astrophysics provides an overview of the modern science of astrophysics. It covers the Sun, Solar System bodies, exoplanets, stars, and star life cycle, planetary systems origin and evolution, basics of astrobiology, our galaxy the Milky Way, other galaxies and galactic clusters, a general view of the Universe, its structure, evolution and fate, modern views and advanced models of cosmology as well as the synergy of micro- and macro physics, standard model, superstring theory, multiversity and worm holes. The main concepts of modern astrophysics and prospects for future studies are accompanied by numerous illustrations and a summary of the advanced projects at various astronomical facilities and space missions. Dr. Marov guides readers through a maze of complicated topics to demystify the field and open its wonders to all.
Sklep: Libristo.pl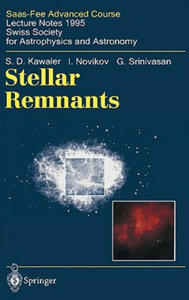 680,34 zł
Książki / Literatura obcojęzyczna
Three eminent scientists, each well known for the clarity of their writing, present for students and researchers what is known about the internal structure, origin and evolution of White Dwarfs, Neutron Stars and Black Holes, all objects at the final stage of stellar evolution. They cover fascinating topics such as pulsation of white dwarfs, millisecond pulsars or the dynamics around black holes. The book is written for graduate students in astrophysics, but is also of interest to professional astronomers and physicists.
Sklep: Libristo.pl
1117,85 zł
Książki / Literatura obcojęzyczna
Knowledge about the outer heliosphere and the interstellar medium, which were long treated as two separate fields, has improved dramatically over the past 25 years as a consequence of recent developments: The discovery of interstellar pickup ions and neutral helium inside the heliosphere, the determination of the interstellar hydrogen distribution in the heliosphere obtained using backscattered solar Lyman-alpha radiation, the prediction and subsequent detection of the hydrogen wall just outside of the heliopause, the development of detailed global models for the interaction of solar wind plasma with the interstellar medium, and most recently, direct in-situ plasma and field measurements inside of the heliosheath. At the same time, our understanding of the nearby galactic environment, including the composition and dynamics of the warm gas clouds and hot gas in the local bubble, has benefited greatly from absorption-line spectroscopy using nearby stars as background sources and dynamic modeling. The present volume provides a synopsis of these developments organised into seven sections: Dominant physical processes in the termination shock and heliosheath, three-dimensional shape and structure of the dynamic heliosphere, relation of the plasmas and dust inside and outside of the heliosphere, origin and properties of the very local interstellar medium, energy and pressure equilibria in the local bubble, physical processes in the multiphase interstellar medium inside of the local bubble, and the roles that magnetic fields play in the outer heliosphere and the local bubble. The last theme is probably the most basic of all as magnetic fields play important roles in most of the phenomena discussed here. The volume concludes with four papers providing the "big picture" by looking at the time evolution of both the heliosphere and the local bubble, looking beyond the local bubble, and finally addressing the challenges in modeling the interface between the two media.
Sklep: Libristo.pl 40,80 zł
Powieści i opowiadania
1543 saw the publication of one of the most significant scientific works ever written: "De revolutionibus (On the Revolutions of the Heavenly Spheres)", in which Nicolaus Copernicus presented a radically different structure of the cosmos by placing the sun, and not the earth, at the centre of the universe.But did anyone take notice? - Harvard astrophysicist Owen Gingerich was intrigued by the bold claim made by Arthur Koestler in his bestselling "The Sleepwalkers" that sixteenth-century Europe paid little attention to the groundbreaking, but dense, masterpiece. Gingerich embarked on a thirty-year odyssey to examine every extant copy to prove Koestler wrong...Logging thousands of hours and hundreds of thousands of miles Gingerich uncovered a treasure trove of material on the life of a book and the evolution of an idea. His quest led him to copies once owned by saints, heretics, and scallywags, by musicians and movie stars; some easily accessible, others almost lost to time, politics and the black market.Part biography of a book and a man, part bibliographic and bibliophilic quest, Gingerich's "The Book Nobody Read" is an utterly captivating piece of writing, a testament to the power
Sklep: Albertus.pl 342,47 zł
Książki / Literatura obcojęzyczna
A new and detailed picture of Mercury is emerging thanks to NASA s MESSENGER mission that spent four years in orbit about the Sun s innermost planet. Comprehensively illustrated by close-up images and other data, the author describes Mercury s landscapes from a geological perspective: from sublimation hollows, to volcanic vents, to lava plains, to giant thrust faults. He considers what its giant core, internal structure and weird composition have to tell us about the formation and evolution of a planet so close to the Sun. This is of special significance in view of the discovery of so many exoplanets in similarly close orbits about their stars. Mercury generates its own magnetic field, like the Earth (but unlike Venus, Mars and the Moon), and the interplay between Mercury s and the Sun s magnetic field affects many processes on its surface and in the rich and diverse exosphere of neutral and charged particles surrounding the planet.§§There is much about Mercury that we still don t understand. Accessible to the amateur, but also a handy state-of-the-art digest for students and researchers, the book shows how our knowledge of Mercury developed over the past century of ground-based, fly-by and orbital observations, and looks ahead at the mysteries remaining for future missions to explore.§
Sklep: Libristo.pl
Sklepy zlokalizowane w miastach: Warszawa, Kraków, Łódź, Wrocław, Poznań, Gdańsk, Szczecin, Bydgoszcz, Lublin, Katowice
Szukaj w sklepach lub całym serwisie
2. Szukaj na wszystkich stronach serwisu
t1=0.061, t2=0, t3=0, t4=0.027, t=0.062