krainaksiazek supporting newcomers in software development projects 20124268
- znaleziono 8 produktów w 2 sklepach 359,99 zł
Książki Obcojęzyczne>Angielskie>Computing & information technology>Information technology: general issues
0x00c2cc4a00000000
Sklep: Gigant.pl 652,37 zł
Książki / Literatura obcojęzyczna
The topic of the research reported here is direct user participation in the task-based development of interactive software systems. Building usable software demands understanding and supporting users and their tasks. Users are a primary source of usability requirements and knowledge, since users can be expected to have intimate and extensive knowledge of themselves, their tasks and their working environment. Task analysis approaches to software development encourage a focus on supporting users and their tasks while participatory design approaches encourage users' direct, active contributions to software development work. However, participatory design approaches often concentrate their efforts on design activities rather than on wider system development activities, while task analysis approaches generally lack active user participation beyond initial data gathering. This research attempts an integration of the strengths of task analysis and user participation within an overall software development process. This work also presents detailed empirical and theoretical analyses of what it is for users and developers to cooperate, of the nature of user-developer interaction in participatory settings. Furthermore, it makes operational and assesses the effectiveness of user participation in development and the impact of user-developer cooperation on the resulting software product. The research addressed these issues through the development and application of an approach to task based participatory development in two real world development projects. In this integrated approach, the respective strengths of task analysis and participatory design methods complemented each other's weaker aspects.
Sklep: Libristo.pl 244,06 zł
Książki / Literatura obcojęzyczna
"Companies have been implementing large agile projects for a number of years, but the 'stigma' of 'agile only works for small projects' continues to be a frequent barrier for newcomers and a rallying cry for agile critics. What has been missing from the agile literature is a solid, practical book on the specifics of developing large projects in an agile way. Dean Leffingwell's book Scaling Software Agility fills this gap admirably. It offers a practical guide to large project issues such as architecture, requirements development, multi-level release planning, and team organization. Leffingwell's book is a necessary guide for large projects and large organizations making the transition to agile development." -Jim Highsmith, director, Agile Practice, Cutter Consortium, author of Agile Project Management"There's tension between building software fast and delivering software that lasts, between being ultra-responsive to changes in the market and maintaining a degree of stability. In his latest work, Scaling Software Agility, Dean Leffingwell shows how to achieve a pragmatic balance among these forces. Leffingwell's observations of the problem, his advice on the solution, and his description of the resulting best practices come from experience: he's been there, done that, and has seen what's worked." -Grady Booch, IBM Fellow Agile development practices, while still controversial in some circles, offer undeniable benefits: faster time to market, better responsiveness to changing customer requirements, and higher quality. However, agile practices have been defined and recommended primarily to small teams. In Scaling Software Agility, Dean Leffingwell describes how agile methods can be applied to enterprise-class development. * Part I provides an overview of the most common and effective agile methods. * Part II describes seven best practices of agility that natively scale to the enterprise level. * Part III describes an additional set of seven organizational capabilities that companies can master to achieve the full benefits of software agility on an enterprise scale. This book is invaluable to software developers, testers and QA personnel, managers and team leads, as well as to executives of software organizations whose objective is to increase the quality and productivity of the software development process but who are faced with all the challenges of developing software on an enterprise scale. Foreword Preface Acknowledgments About the Author Part I: Overview of Software Agility Chapter 1: Introduction to Agile Methods Chapter 2: Why the Waterfall Model Doesn't Work Chapter 3: The Essence of XP Chapter 4: The Essence of Scrum Chapter 5: The Essence of RUP Chapter 6: Lean Software, DSDM, and FDD Chapter 7: The Essence of Agile Chapter 8: The Challenge of Scaling Agile Part II: Seven Agile Team Practices That Scale Chapter 9: The Define/Build/Test Component Team Chapter 10: Two Levels of Planning and Tracking Chapter 11: Mastering the Iteration Chapter 12: Smaller, More Frequent Releases Chapter 13: Concurrent Testing Chapter 14: Continuous Integration Chapter 15: Regular Reflection and Adaptation Part III: Creating the Agile Enterprise Chapter 16: Intentional Architecture Chapter 17: Lean Requirements at Scale: Vision, Roadmap, and Just-in-Time Elaboration Chapter 18: Systems of Systems and the Agile Release Train Chapter 19: Managing Highly Distributed Development Chapter 20: Impact on Customers and Operations Chapter 21: Changing the Organization Chapter 22: Measuring Business Performance Conclusion: Agility Works at Scale Bibliography Index
Sklep: Libristo.pl 181,73 zł
Książki / Literatura obcojęzyczna
This guide will empower you to improve software development efficiency by implementing "rightsized" configuration management processes that fully align with Agile principles. World-class SCM experts show you how to implement agile configuration management and application lifecycle management practices that work in the real world, combining structure, traceability, and repeatability with shorter time-to-market and lower cost. The authors clearly describe the principles and practices that are essential to Agile SCM, explaining proven Agile technical and project management (PM) practices in detail, and showing how they can meet the critical compliance and IT governance challenges that face many large development organizations. You'll learn how to deploy realistic SCM practices in the context of supporting continuous integration, delivery and iterative development. Coverage includes: * Agile source code management, build engineering, environment management, change control, release engineering, and deployment * Supporting Agile in organizations that rely on non-Agile practices * Implementing highly effective Agile branching and overall variant management practices * Using Agile SCM with co-located small teams, larger teams, mixed agile/non-agile teams, and distributed/remote projects * Understanding the unique challenges of Agile SCM in virtualized and cloud environments
Sklep: Libristo.pl 338,72 zł
Książki / Literatura obcojęzyczna
Software Systems Architecture, Second Edition is a highly regarded, practitioner-oriented guide to designing and implementing effective architectures for information systems. It is both a readily accessible introduction to software architecture and an invaluable handbook of well-established best practices. With this book you will learn how to * Design and communicate an architecture that reflects and balances the different needs of its stakeholders * Focus on architecturally significant aspects of design, including frequently overlooked areas such as performance, resilience, and location * Use scenarios and patterns to drive the creation and validation of your architecture * Document your architecture as a set of related views Reflecting new standards and developments in the field, this new edition extends and updates much of the content, and * Adds a "system context viewpoint" that documents the system's interactions with its environment * Expands the discussion of architectural principles, showing how they can be used to provide traceability and rationale for architectural decisions * Explains how agile development and architecture can work together * Positions requirements and architecture activities in the project context * Presents a new lightweight method for architectural validation Whether you are an aspiring or practicing software architect, you will find yourself referring repeatedly to the practical advice in this book throughout the lifecycle of your projects. A supporting Web site containing further information can be found at www.viewpoints-and-perspectives.info.
Sklep: Libristo.pl 415,57 zł
Książki / Literatura obcojęzyczna
Computer Graphics: Principles and Practice, Third Edition, remains the most authoritative introduction to the field. The first edition, the original "Foley and van Dam," helped to define computer graphics and how it could be taught. The second edition became an even more comprehensive resource for practitioners and students alike. This third edition has been completely rewritten to provide detailed and up-to-date coverage of key concepts, algorithms, technologies, and applications. §The authors explain the principles, as well as the mathematics, underlying computer graphics - knowledge that is essential for successful work both now and in the future. Early chapters show how to create 2D and 3D pictures right away, supporting experimentation. Later chapters, covering a broad range of topics, demonstrate more sophisticated approaches. Sections on current computer graphics practice show how to apply given principles in common situations, such as how to approximate an ideal solution on available hardware, or how to represent a data structure more efficiently. Topics are reinforced by exercises, programming problems, and hands-on projects. §The revised edition features §New coverage of the rendering equation, GPU architecture considerations, and importance-sampling in physically based rendering §An emphasis on modern approaches, as in a new chapter on probability theory for use in Monte-Carlo rendering §Concrete principles of graphics algorithm design §Implementations of hardware shaders, software rendering, and graphics-intensive 3D interfaces §3D real-time graphics platforms - their design goals and trade-offs - including new mobile and browser platforms §Programming and debugging approaches unique to graphics development §The text and hundreds of figures are presented in full color throughout the book. Programs are written in C++, C sharp, or pseudocode - whichever language is most effective for a given example. The wealth of information in this book makes it the essential resource for anyone working in or studying any aspect of computer graphics.§
Sklep: Libristo.pl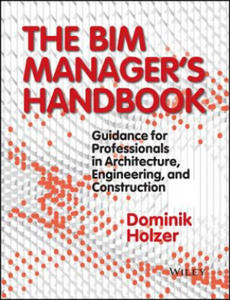 146,44 zł
Książki / Literatura obcojęzyczna
ePart 1 Best Practice BIM: Seeking to get BIM right? This ePart provides a touchstone for good practice by introducing a number of Key Performance Indicators (KPIs), which represent benchmarks for successful BIM implementation. It explains what good BIM looks like and the pitfalls to avoid with bad BIM and pseudo BIM . It highlights the part that the BIM Manager can play in achieving excellence by outlining the various responsibilities the BIM Manager s role encompasses, while also emphasising how these responsibilities have changed over time and how they are set to evolve. By drawing on interviews with the top BIM Managers worldwide, it delivers up-to-date expert insights from the field. Obook ISBN: 9781118987780; ePub ISBN: 9781118987858; ePDF ISBN: 9781118985618; publishing April 2015 ePart 2 Change Management: A BIM Manager might be hired for their technical skills, but their success relies heavily on their ability to be an agent of change within their organisation, facilitating transition to BIM processes and mentoring staff through the cultural and procedural shifts. This ePart outlines strategies to manage an organisation s transition to BIM successfully and to master supporting its continuous evolution. Based on accounts from top practitioners, it highlights how the BIM manager might approach interfacing with their organisation s leadership by successfully lobbying and leading on BIM from the inside, while overcoming change-resistance and managing teams expectations. It concludes with a Tips and Tricks section that provides in-depth advice for running BIM audits and for setting up in-house BIM workshops, which are instrumental for any BIM Manager seeking a better understanding of their organisational context and to raise the level of awareness of the BIM knowledge of key decision-makers. Obook ISBN: 9781119092308; ePub ISBN: 9781118987797; ePDF ISBN: 9781119092292; publishing April 2015 ePart 3: Focus on Technology: How do you ensure your organisation gets the most out of the BIM technology available? Dedicated to the main technology-related aspects of a BIM Manager s role, this ePart explains how to establish and manage an organisation s BIM-related tool-ecology and how to use BIM in order to link from design to fabrication. What do BIM Managers need to do in order ensure their teams use the right tools for the various tasks in design, construction and beyond? How do they connect them and how do they keep up with updates in this rapidly changing environment. This ePart highlights the challenges BIM Managers need to overcome in software, hardware and network selection. It also brings into focus the opportunities BIM Managers face in the changing context of BIM in the Cloud. Extending beyond technical know-how, it also offers advice on how to create a successful interface between the BIM Manager and the IT specialist(s). Obook ISBN: 9781118987803; ePub ISBN: 9781118987773; ePDF ISBN:9781118987766; publishing August 2015 ePart 4: Building up a BIM Support Infrastructure: Addressing the back of house aspect of BIM Management, this ePart outlines how to go about developing a range of in-house BIM standards and guidelines. It highlights how BIM Managers go about establishing a training programme for staff and the setting up and management of an organisation s BIM content library. It covers the support needed to move BIM information into the field and further into facilities and asset management. It emphasises the importance of internal messaging, and articulating how to nurture a culture of peer-to peer support and advancement of skills by individual staff members. Looking beyond a single firm s or organisation s requirements, the ePart positions BIM support infrastructure in the wider context of key global BIM policies and guidelines. Obook ISBN: 9781118987896; ePub ISBN: 9781118987919; ePDF ISBN:9781118987834; publishing August 2015 ePart 5: Day-to-Day BIM Management: How do you go about mastering hands-on support BIM for your team? ePart 5 introduces the operational tasks a BIM Manager is expected to accomplish. Depending on an organisation s size BIM Managers either supervise the rollout of BIM on various projects, or they actively get involved in mentoring those authoring or coordinating information in BIM. By providing a strong project focus, this ePart, firstly, addresses requirements for in-house BIM project support; secondly, it explains how to support the integration and coordination of BIM data across a multi-disciplinary project team. Leading BIM experts from the US, UK and Australia divulge their recipes for successful operational management. Obook ISBN: 9781118987902; ePub ISBN:9781118987919; ePDF ISBN: 9781118987926; publishing November 2015 ePart 6: Excelling your BIM Efforts: In this final ePart, BIM is taken to the next level by outlining what is required to truly excel as a BIM Manager. It highlights how BIM Managers acquire the necessary communication skills to maximise an efficient information flow between the BIM Manager and others. It illustrates how BIM Managers tie their activities to cutting-edge BIM research and development globally. Lastly, the ePart will lay out how to promote BIM excellence both within an organisation and beyond. Obook ISBN: 9781118987971; ePub ISBN: 9781118987988; ePDF ISBN: 9781118987964; publishing November 2015
Sklep: Libristo.pl 124,67 zł
Książki / Literatura obcojęzyczna
Navigate the Mobile Landscape with Confidence and Create a Mobile Strategy That Wins in the Market Place Mobile Strategy gives IT leaders the ability to transform their business by offering all the guidance they need to navigate this complex landscape, leverage its opportunities, and protect their investments along the way. IBM's Dirk Nicol clearly explains key trends and issues across the entire mobile project lifecycle. He offers insights critical to evaluating mobile technologies, supporting BYOD, and integrating mobile, cloud, social, and big data. Throughout, you'll find proven best practices based on real-world case studies from his extensive experience with IBM's enterprise customers. Coverage includes * Understanding the profound implications and challenges of consumerized IT in the mobile space * Uncovering powerful new opportunities to drive value from mobile technology * Transforming "systems of record" to "systems of engagement" that fully reflect context and intelligence * Identifying proven patterns for delivering common mobile capabilities in operations, commerce, collaboration, and marketing * Managing security threats related to lost/stolen devices, insecure Wi-Fi, and built-in cameras * Choosing mobile data protection, security, and management options: wrappers, containers, virtualization, mobile Software Development Kits (SDKs), virtual private networks (VPNs), Mobile Device Management (MDM), Mobile Application Management (MAM), and anti-malware * Handling the "app store" distribution model and managing updates * Using mobile middleware to support multiple platforms and back-end connectivity with less complexity * Building and integrating high-quality mobile apps-and getting useful customer feedback to improve them * Addressing international considerations and emerging markets * Mastering methodologies for successfully and rapidly executing mobile projects * Converging mobile, cloud, social, and big data into a single high-value IT delivery platform
Sklep: Libristo.pl
Sklepy zlokalizowane w miastach: Warszawa, Kraków, Łódź, Wrocław, Poznań, Gdańsk, Szczecin, Bydgoszcz, Lublin, Katowice
Szukaj w sklepach lub całym serwisie
2. Szukaj na wszystkich stronach serwisu
t1=0.045, t2=0, t3=0, t4=0, t=0.045