krainaksiazek surviving ptsd a combat marine s story 20090006
- znaleziono 5 produktów w 2 sklepach 121,12 zł
Książki / Literatura obcojęzyczna
May 6, 1986: Nick Popaditch arrives at the Receiving Barracks, Marine Corps Recruit Depot, San Diego, California.returncharacterreturncharacterApril 9, 2003: An AP photographer captures a striking image seen around the world of the Gunny Sergeant smoking a victory cigar in his tank, the haunting statue of Saddam Hussein hovering in the background. Popaditch is immortalized forever as "The Cigar Marine."returncharacterreturncharacterApril 6, 2004: The tanker fights heroically in the battle for Fallujah and suffers grievous head wounds that leave him legally blind and partially deaf. The USMC awards him with a Silver Star for his valor and combat innovation.returncharacterreturncharacterApril 18, 2004: "Gunny Pop" comes home to face the toughest fight of his life-a battle to remain the man and Marine he was. This is the central drama of Nick's inspiring memoir, Once a Marine: An Iraq War Tank Commander's Inspirational Memoir of Combat, Courage, and Recovery.returncharacterreturncharacterReaders in and out of the military will stand up and cheer for this valiant Marine's Marine, a man who embodies everything noble and proud in the Corps' long tradition. Never has modern mechanized combat seemed so immediate and real, or the fight in Iraq seemed so human and worth believing in.returncharacterreturncharacterAt first, Nick fights to get back to where he was in Iraq-in the cupola of an M1A1 main battle tank, leading Marines in combat at the point of the spear. As the seriousness and permanence of his disabilities become more evident, Nick fights to remain in the Corps in any capacity, to help the brothers in arms he so aches to rejoin. Facing the inevitable following a medical retirement, he battles for rightful recognition and compensation for his permanent disabilities. Throughout his harrowing ordeal, Nick fights to maintain his honor and loyalty, waging all these battles the same way-the Marine way-because anything less would be a betrayal of all he holds dear.returncharacterreturncharacterThe real triumph in Once a Marine is its previously untold, behind-the-scenes tale of the day-to-day life of a career Marine noncommissioned staff officer. In most books and movies, a "Gunny" is little more than a cardboard character. Nick's portrayal is a man complete: a husband and father, as well as a warrior and a molder of young warriors. He reveals himself completely, something no memoirist in his position has ever done before. This includes our very personal introduction to his wife April, whose heroics in the story equal Nick's, together with dozens of others who, as Sgt. Popaditch writes, gave so much, so selflessly and freely, to him. Like the man himself, Once a Marine is full of gratitude and refreshingly free of false bravado and braggadocio.returncharacterreturncharacterAll Americans, of all political persuasions, have a duty to meet this courageous and admirable fighting man, an exemplar of all our military men and women who give so much out of love for their nation. Meeting Gunny Sergeant Popaditch through the pages of his inspirational memoir offers up new reasons to be proud and shoulder our own responsibilities as Americans.returncharacterreturncharacterOnce a Marine will instantly take its place among outstanding combat classics. And once you read this remarkable and uplifting book, The Marine's Hymn will never sound the same.returncharacterreturncharacterFINALIST: The Indie Book Awards, Autobiography / Memoirs 2009returncharacterreturncharacterreturncharacterreturncharacter returncharacterreturncharacter REVIEWS returncharacterreturncharacter" Nick Popaditch's transcendent memoir of military service and its personal consequences should be read by every one of our nation's political leaders-to help them understand the incomparable quality of those who fight on the front lines. Read this inspiring story, recommend it to friends-and send a copy to your member of Congress!"returncharacterreturncharacter- Ralph Peters (Lt. Col., ret.), New York Post columnist and author of Looking For Trouble and Wars Of Blood and Faithreturncharacterreturncharacter"Retired Gunny Sergeant Nick Popaditch's narrative will burn through your heart, and then settle deep in your gut. . . . Readers will shed a tear, and simultaneously burst out with eagle, globe and anchor emotive-pride. That, I guarantee!"returncharacterreturncharacter--Leatherneck Magazine (USMC)returncharacterreturncharacter"America has always been blessed by wonderful, patriotic, and often anonymous men and women who have sacrificed so much in defense of liberty and freedom. Once a Marine, Gunny Sergeant Nick Popaditch's heart-wrenching and inspiring memoir, puts a name and a face on this sacrifice. Every American should read this book to remind them of what these brave warriors of freedom endure on our behalf."- Congressman Bob Filner, Chairman of the House Committee on Veterans' Affairs.returncharacterreturncharacter"Gunny Popaditch's story is as inspiring as it is dramatic. This wounded warrior suffered grievous injuries - an RPG to the head! - but refused to give up on life, even when his wounds forced him out of the Corps. Once a Marine is a 'must read' story of one of today's real heroes."- Jerry D. Morelock, PhD, Colonel, U. S. Army (Ret.), Editor in Chief, Armchair General returncharacterreturncharacter"Author Gunny Sergeant Nick Popaditch, a Silver Star recipient and the subject of the world-famous AP photo, has penned what must surely be classed as among the best personal memoirs of any combat soldier in recent memory. Once a Marine is an in-your-face blast of raw emotion and realism that will strike a raw nerve and keep you up at night. This autobiography of combat, courage, and recovery should be required reading for every American, young and old, who yearns to grasp the true cost of freedom." returncharacterreturncharacter- Caspar Weinberger Jr., Military and Current Affairs Columnistreturncharacterreturncharacter"A riveting and inspirational story of the consummate professional warrior. It is impossible to read Once a Marine without being proud of our military and grateful that our Nation produces men like Gunnery Sergeant Nick Popaditch."- Michael F. Nugent, Major, US Army (Ret.), co-author of One Continuous Fight: The Retreat From Gettysburg and the Pursuit of Lee's Army of Northern Virginia, July 4-14, 1863returncharacterreturncharacterreturncharacterreturncharacter"Only a few books leap off the shelves and demand to be read- and "Once a Marine" is one of those few...a spellbinding story...the type of book that the reader will devour in an evening."The Midwest Book Review, 12/2008 returncharacterreturncharacterreturncharacterreturncharacter"Gunny Popaditch's story makes me incredibly proud to have worn the same uniform. Without intending to, Once a Marine articulates life in the modern Marine Corps more clearly than anything I've read. No blindly loyal fanatic, Popaditch candidly acknowledges the bullshit, yet artfully captures the inimitable spirit of camaraderie and commitment that makes the Marine Corps unique. Extraordinarily motivating and compellingly honest book, it made me pine for my own long-finished Marine Corps career."- Jay A. Stout, Lt.Col. USMC (Ret.), author of Hornet's Over Kuwaitreturncharacterreturncharacter"Gunny Pop" Popaditch's courageous memoir of his life in and out of the Marine Corps is intelligently written and imbued with a brazen honesty rarely found elsewhere. His personal courage-and that of his wife, April-gives the term "home of the brave" an entirely new meaning."- Sgt. Michael Volkin, author of The Ultimate Basic Training Guidebook: Tips, Tricks, and Tactics for Surviving Boot Campreturncharacterreturncharacter
Sklep: Libristo.pl 859,99 zł
Muzyka>Rock
1. Kingston Trio, The - Where Have All The Flowers Go 2. Shirelles, The - Soldier Boy 3. Gaye, Marvin - Soldier's Plea 4. Medwick, Joe - Letter To A Buddie 5. Mckuen, Rod - Soldiers Who Want To Be Heroes 6. Peter, Paul & Mary - The Cruel War 7. Droge, Dolf - The Infiltration Blues 8. President Eisenhower Warns Of A Military Industri 9. Dylan, Bob - Masters Of War 10. Reeves, Jim - Distant Drums 11. Senator Wayne Morse: We're At War In Violation Of 12. Gunty, Morty - There's A War 13. President Johnson Reports Attacks In The Gulf Of T 14. Paxton, Tom - What Did You Learn In School Today 15. Necaise, Bob & 'Lil' Gary D With The Delta Sho- - 16. Ochs, Phil - Talking Vietnam 17. Sandy & Sue (The Powell Sisters) - Our Daddy's In 18. Seeger, Pete - The Willing Conscript 19. Dee, Tommy - Goodbye High School (Hello Viet Nam) 20. Hemphill, Janie With The Tynsions - Teenage Soldie 21. Sainte-marie, Buffy - Universal Soldier 22. Berry, Jan - The Universal Coward 23. Mcguire, Barry - Eve Of Destruction 24. Spokesmen, The - The Dawn Of Correction 25. Teachers, The - We Ain't At War 26. Paxton, Tom - Lyndon Johnson Told The Nation 27. Simon & Garfunkel - 7 O'clock News/silent Night 28. Bowens, Private Charles & The Gentlemen From Ti - 101. Bell, William - Marching Off To War 102. Jack, Jimmy - Battle Of Vietnam 103. Willis, Hal - The Battle Of Viet Nam 104. Wright, Johnnie - Hello Vietnam 105. Hildebrand, Ray - Hello Viet Nam (Goodbye My Love) 106. Tubb, Ernest & His Texas Troubadours - It's For Go 107. Reed, Jerry - Fightin' For The U.s.a. 108. Moore, Charlie & Bill Napier - Is This A Useless W 109. Sadler, Ssgt Barry, U.s. Army Special Forces - The 110. Sgt. Barry Sadler Interviews By Four Students 111. Miller, Lesley - He Wore The Green Beret 112. Arthur, Craig - The Son Of A Green Beret (A Childs 113. Sadler, Ssgt Barry - The 'A' Team 114. Lay, Staff Sgt. Bob (Usmc) - Marine's Ballad 115. Sharpe, Jacqueline - Mind Your Manners, Boys 116. Cbs's Morley Safer With Marines At The Village Of 117. Bonn, Skeeter - Off To Viet Nam (In The Green) 118. Simpson, Sue - Soldier In Viet Nam 119. Black, June - Postmarked Viet Nam 120. Thomas, Mike - A Fearless Soldier 121. Mckinley Dirksen, Senator Everett - Gallant Men 122. Bob Hope Introduces Honey Ltd. While On Tour In VI 123. Honey Ltd. - The Warrior 124. Robbins, Marty - Private Wilson White 125. Harrison, Eddy - Danny Fernandez 126. Burdon, Eric & The Animals - Sky Pilot (Part One) 127. Ray, Neil - The Medic 128. Francis, Connie - Nurse In The U.s. Army Corps 129. Braun, Bob With The Hometowners - Brave Men Not Af 130. U.s. Ambassador To Vietnam, Henry Cabot Lodge: Se 131. Herrington, Capt. Ty, U.s. Special Forces - Gre - 201. Weston, Arthur - Uncle Sam Called Me (I Got To Go) 202. Shorty Long & The Santa Fe Rangers - Greetings (Un 203. Kaye, Richie - Here Comes Uncle Sam 204. Lenoir, J. B. - Vietnam 205. King, Bob & The King's Court - The Ballad Of Our T 206. President Johnson Warns That There Will Be Some N 207. Combinations, The - Hey! Uncle Sam 208. Hooker, John Lee - I Gotta Go To Vietnam 209. Hughes, Jimmy - Uncle Sam 210. Prophets, The - Fightin' For Sam 211. Ochs, Phil - The Draft Dodger Rag 212. Midnight Sons, The - Draft Time Blues 213. Monitors, The - Greetings (This Is Uncle Sam) 214. Everett, Keith - Conscientious Objector 215. Flying Burrito Brothers - My Uncle 216. David Mcreynolds Explains Why He Burned His Draft 217. Steppenwolf - Draft Resister 218. The First Draft Lottery Birth Date - September 14 219. Speeks, Verlin 'Red' - The Red White & Blue 220. Psa To Parents From Bing Crosby 221. Lundberg, Victor - An Open Letter To My Teenage So 222. Every Father's Teenage Son - A Letter To Dad 223. Wade, Brandon - Letter From A Teenage Son 224. Jones, Dewey - Please Mr. Johnson 225. Lamb, Becky - Little Becky's Christmas Wish 226. Fawns, The - Wish You Were Here With Me 227. Lois & Karen - Army Bound 228. Nancy Nally & Jubilee Wranglers - I Will Wait 229. Ginger & Jean - What's Been Going On In Viet Nam 230. Dells, The - Does Anybody Know I'm Here? 301. Ochs, Phil - I Ain't Marching Anymore 302. Jones, Matt & Elaine Laron - Hell No, I Ain't Gonn 303. Donovan - The War Drags On 304. Fugs - Kill For Peace 305. Country Joe & The Fish - I-feel-like-i'm-fixin'-to 306. Baez, Joan - Saigon Bride 307. Seeger, Pete - Waist Deep In The Big Muddy 308. Psa By Merv Griffin Regarding Upcoming 1968 Electi 309. Peter, Paul & Mary - Eugene Mccarthy For President 310. Senator Eugene Mccarthy Speaks On Vietnam (January 311. Hardin, Tim - Simple Song Of Freedom 312. President Nixon Speaks On Vietnam & The Future O 313. Revere, Paul & The Raiders - Fortunate Son 314. Moratorium Speaker: No More War... (October 1969 315. Melanie With The Edwin Hawkins Singers - Lay Down 316. Inman, Autry & Bob Luman - Ballad Of Two Brothers 317. President Nixon Complains About Bums On Campus... 318. Dyke, Leroy Van - Mister Professor 319. President Nixon Announces Cambodian Incursion (A 320. Brigadier General Robert Canterbury, Ohio National 321. Third Condition - Monday In May (The Kent State Tr 322. Dane, Barbara - The Kent State Massacre 323. A Kent State Student: They Didn't Have Blanks... 324. Arthur Krause, Kent State Father: Is This A Reaso 325. Boys, Beach - Student Demonstration Time 326. Starr, Edwin - War 327. Payne, Freda - Bring The Boys Home 328. Reeves, Martha & The Vandellas - I Should Be Proud 329. Grand Funk Railroad - People Let's Stop The War 401. Dudley, Dave - What We're Fighting For 402. Sanders, Jack - The Viet Nam Blues 403. Roberts, Derrik - There Won't Be Any Snow (Christm 404. Holiday, Jimmy - I Wanna Help Hurry My Brothers Ho 405. Tubb, Ernest - It's America, Love It Or Leave It 406. Wright, Johnny - Keep The Flag Flying 407. Carr, Billy - What's Come Over This World 408. Jackson, Stonewall - The Minute Men (Are Turning I 409. Sea, Johnny - Day For Decision 410. Beach Bums, The - The Ballad Of The Yellow Beret 411. Boone, Pat - Wish You Were Here, Buddy 412. Gen. Westmoreland: Militarily We Have Never Been 413. Bullington, Jim - We Are Winning 414. Hoffman, Little Kathy - Kathy's Letter 415. Gillson, Lee - Dear Mr. President 416. Dauler, Mark - Letter From A Boy In Vietnam 417. Frady, Garland - Ballad Of The Unknown Soldier 418. Floyd, Bill - Freedom's Cause 419. Psa For Patriotism By Anita Bryant 420. Withers, Bob - What The... (Is Going On In Washi 421. Haggard, Merle & The Strangers - Okie From Muskoge 422. Vice President Spiro Agnew Becomes The Outspoken V 423. Kizziah, Tommy - Keep Our Country Free 424. Haggard, Merle & The Strangers - The Fightin' Side 425. Senators, The - War's Cross 426. Mckinney, Matt - Ballad Of My Lai 427. Mike Wallace, Cbs News, Interviews Paul Meadlo Abo 428. Parrott, Thom - Pinkville Helicopter 429. C Company Featuring Terry Nelson - Battle Hymn Of 430. Lt. Calley Found Guilty Of Crimes At My Lai (March 431. Adams Brothers, The - The U.s.a. Soldier 432. Free Blue - Set Calley Free Part 1 501. Doors, The - The Unknown Soldier 502. Lewis, Hugh X. - War Is Hell 503. Morley Safer, Cbs News Reports A Death In The Jung 504. Southern Bells, The - Viet Nam 505. Parker, Sgt. Gayle - Waitin' For The V.c. To Come 506. Snow, Hank - A Letter From Viet Nam (To Mother) 507. Finch, Tommy - Street Without Joy Pt. 1 508. Blaskey, Lindy - Out Here In Viet-nam 509. A Soldier Writes Home From Hamburger Hill (May 1 510. Donovan - To Susan On The West Coast Waiting 511. Lovett, Colleen - Freckle-faced Soldier 512. Scott, Tony - The Gentle Soldier 513. Foxx, Inez & Charlie - Fellows In Vietnam 514. Shelletts, The - My Soldier Boy Over There 515. King, Ric - The Return Of A Soldier 516. Edmond, Winola, Edmond Sisters & The Jordanians - 517. Zabka - & They Were Five 518. Epps, Earle - 4:00 A.m. In Viet Nam 519. Wyles, Capt. Gene - Follow Me 520. John Laurence, Cbs News, Interviews A G.i. About 521. Meehan, Don - Sir, My Men Refuse To Go 522. Revere, Paul & The Raiders - Run Through The Jungl 523. Campbell, Glen - Galveston 524. Cliff, Jimmy - Viet Nam 525. President Nixon Sets Out His Vietnamization Poli 526. Pritchett, Lefty - Vietnam Rotation Blues 527. Ott, Paul - The Soldier's Prayer 528. Wilburn Brothers - The War Keeps Draggin' On 601. Gober, Hershel - Goodbye Travis Air Force Base 602. High Priced Help, The - Vietnam 603. Sadler, Ssgt. Barry - Saigon 604. Sadler, Ssgt. Barry - Bamiba (Ba Muoi Ba) 605. Merrymen, The - Saigon Girls 606. Maggie - Saigon Warrior 607. Unknown Singer - Battle Hymn Of The Republic Of VI 608. Secretary Of Defense Robert Mcnamara Comments On T 609. Droge, Dolf - Mcnamara's Band 610. Droge, Dolf - Southeast Asia's Disneyland 611. Ellis, Bill - Grunt 612. Gober, Hershel - Six Klicks 613. George, Radioman Hughes - Ballad Of The Uss St. Fr 614. Bullington, Jim - Brave Boys 615. Hatch, Jim - The Men Of Mag-16 616. Mckay, Dave - I Fly The Line 617. Mcpeak, Tony - Phu Cat Star 618. Hughes, Toby - Tchepone 619. Merrymen, The - Army Aviation 620. Durham, Bull - Jolly Green 621. This Is The American Forces Vietnam Network, Wher 622. Revere, Paul & The Raiders - Armed Forces Radio 623. Revere, Paul & The Raiders - We Gotta Get Out Of T 624. Introduction To A Date With Chris; Chris Noel, A 625. Peter, Paul & Mary - Leaving On A Jet Plane 626. Cash, Johnny - Singing In Viet Nam Talking Blues 627. Rosenberg, Chuck - Boonie Rat Song 628. Dockery, Chip & Dick Jonas - I've Been Everywhere 629. Rosenberg, Chuck, Saul Broudy & Bull Durham - Play 630. Ellis, Bill - Freedom Bird 701. Ochs, Phil - The War Is Over 702. Plastic Ono Band - Give Peace A Chance 703. Bloom, Bobby - Sign Of The V 704. Jay, George - The Real Silent Majority 705. Hopkins, Lightning - Please Settle In Vietnam 706. Freberg, Stan & Lynn Murray - Winding The War Down 707. Zehm, Bobby - Johnny's Not A Toy Soldier 708. Cargill, Henson - Pencil Marks On The Wall 709. Coast - Why (A Peace Medley) 710. Melanie - Peace Will Come (According To Plan) 711. People - Chant For Peace 712. Gaye, Marvin - What's Going On 713. John & Yoko & The Plastic Ono Band With The H - Ha 714. Harden, Arlene - Congratulations (You Sure Made A 715. President Nixon: I Call On Hanoi To Release All P 716. Canty, Captain John, U.s.a.f. - Mia/pow (Prisoner 717. Carpenter, Norma Jean & Bobby Adams - Prisoner Of 718. Nancy - I Promise I'll Wait 719. President Nixon: Peace With Honor In Vietnam (1/ 720. Nu Page, The - When The Brothers Come Marching Hom 721. John Laurence, Cbs News: A Cease Fire Has Come... 722. Glover, Bob - The Story Of Vietnam 723. Sp4 Tom Fowlston, Afvn News, Reports On Pow Releas 724. Holeman, Billy - Prisoner Of War (Welcome Back Hom 725. Fault, Eldon - Welcome Home Pow 801. All Of The Above - The War Is Over 802. Cash, David L. - We Are Glad That Our Boys Are Com 803. Moss, Bill & The Celestials - Welcome The Boys Bac 804. Lloyd, Mick - A Long Long Time Ago 805. St. Pierre, Robin - Ballad Of The Plastic Prince 806. Auditions, The - Returning Home From Vietnam 807. Truly, Jr., Dr. William - (The Two Wars Of) Old Bl 808. Wallace Terry Interviews Black Fighting Men In Vie 809. Rogers, Kenny & The First Edition - Ruby, Don't Ta 810. Prine, John - Sam Stone 811. Hanoi Hannah News Broadcast Excerpt, Courtesy Of T 812. Mcguinn, Roger - Hanoi Hannah 813. Jane Fonda Hanoi Press Conference Excerpt Courtesy 814. Rausch, Leon - Hanoi Jane 815. Covered Wagon Musicians, The - Napalm Sticks To Ki 816. Sinclair, Gordon - The Americans (A Canadian's Opi 817. Ashman, Charles - An American's Answer (To Gordon 818. Text Of President Jimmy Carter's Pardon For Draft 819. Aden, Bob - True Red White & Blue Never Run (Amnes 820. Brennan, John Paul - Vietnam 821. Paxton, Tom - Born On The Fourth Of July 822. Chisel, Cold - Khe Sanh 823. Callender, Mike - Soldier Of 'Nam 824. Charlie Daniels Band, The - Still In Saigon 901. 10 Maniacs - The Big Parade 902. Anthony, Johnny - Long Black Wall 903. Statler Brothers, The - More Than A Name On The Wa 904. Redgum - I Was Only 19 (A Walk In The Light Green) 905. Hardcastle, Paul - 19 906. Kennedy, Pete & Bound For Glory - 19 In Vietnam 907. Lewis, Huey & News - Walking On A Thin Line 908. R.e.m. - Orange Crush 909. Bellamy Brothers - Old Hippie 910. Earle, Steve - Copperhead Road 911. The Dead Milkmen - Beach Party Vietnam 912. Weaver, J. C. - Salute The Boys Of Vietnam 913. Huggens, Stu & The Sussquehanna River Band - They' 914. Parent, Fred - Song For The Unsung Soldiers 915. Gates, Reggie & Tim Nowland - Bring 'Em On Home Fr 916. Benoit, Joleen - The Forgotten Man 917. Winter, Cathy - The Vets' Song 918. Jeffrey D's - Veteran's Song (Welcome Home) 919. Murphy, Pat - Combat Vet 1001. Axton, Hoyt - Cowboys On Horses With Wings 1002. Old Crow Medicine Show - Big Time In The Jungle 1003. Springsteen, Bruce - Galveston Bay 1004. Ball, David - Riding With Private Malone 1005. Revere, Paul & The Raiders - Ride To The Wall 1006. Big & Rich - 8th Of November 1007. Cyrus, Billy Ray - Some Gave All 1008. Peacemakers, The - Vietnam Foreign Correspondent 1009. Yanah - The Girl In The Picture (Napalm Girl) 1010. Wes & Victoria - Ballad Of Billy Saigon 1011. Rovics, David - Song For Hugh Thompson 1012. Ross, Alan Haynes - Back In Vietnam 1013. Seeger, Pete & Friends - Bring Them Home 1014. Carlson, Paulette - Thank You Vets 1015. Garvey, Pat & Sons & Daughters In Touch - Sons & D 1016. Williams Jr., Hank - Don't Give Us A Reason 1017. Taylor, Chip - Theme For An American Hero 1101. Martin, Michael J.& Tim Holiday - I Ain't Here Alo 1102. Sky, Patrick - Luang Prabang 1103. Homans, Bill (Merry Airbrakes) - Quang Tri City 1104. Stev - Pretty Place 1105. Jonas, Dick - Viet Vet 1106. Levine, Irv - Get Me Out Of Vietnam 1107. Jones, 'Bubba' Lee - I Didn't Go To 'Nam But I Do 1108. Waszkiewicz, Marc & Lea Jones - Warspeak 1109. Duvall, Rick - Johnny Rambo 1110. Lee, Bobby - I Should Have Been In Tokyo 1111. Ferrazano, Phil - Bobby's Saigon Boogie 1112. Nighthawk, Jessie - A.p.o. San Francisco 1113. Barkemeyer, Larry - Borderline 1114. Somers, Jim - Dustoff 1115. Mcdonald, Country Joe - The Girl Next Door (Combat 1116. Black, John - The Women On The Wall 1117. Martin, Michael & Tim Holiday - Who Are The Names 1118. Mccann, Michael - The Wall 1119. Ross, Lt. 1st Bobby - Finally Welcomed Home 1120. Fpo San Francisco (Featuring Bill Mckenna) - Vietn 1121. Black, John - Dr. Fall 1201. Maxner, Stephen - Walking Time Bomb 1202. Price, Chuck - Leroy's Song 1203. Lintecum, Sarge - This Shirt Of Mine 1204. Ole 1/27 Grunts - It's Just A Nam Thing 1205. Blind Albert - Shell Shock Ptsd 1206. Stev - Hot L. Z. (Thorazine Shuffle) 1207. Craft, Bill - I'm Certified 1208. Chance, Lonnie - The Jungleman 1209. Mcdonald, Country Joe - Agent Orange Song 1210. Logston, Jimmy - Thanks, Secret Agent 1211. Price, Chuck - It Ain't Over 'Till It's Over, Over 1212. Walktendonk, Jim - The Claymore Polka 1213. Martin, Michael J. - Va Shuffle 1214. Noel, Chris - Forgotten Man 1215. Cook, Jim & Taylor Mckinnon - Veteran's Lament 1216. Barkemeyer, Larry - Twenty Years Of Tears 1217. Duvall, Rick - What Kind Of Men 1218. Vettz - American Heroes 1219. Black, John - Vietnam I'm Dreamin' Dreamin'on 1220. Martin, Michael J. & Tim Holiday - Time To Lay It
Sklep: Gigant.pl 82,15 zł
Książki / Literatura obcojęzyczna
The last great battle of the Second World War was fought on the island of Okinawa; situated about three-hundred miles southwest of the Japanese mainland it is bordered by the China Sea on the west and the vast Pacific Ocean to the east. On a map, the island resembles a large pod full of irregular peas, lying at an angle pointing northeast. The Allied forces had been battling the Japanese Empire in the Pacific War since 1941, flattening island after island for three and a half years. Now, it was Okinawa's turn. The Japanese engineers had scarred the paradise by building three major airfields, affording a tempting morsel for the American juggernaut and a strategic entry point to Japan itself. On April 1, 1945, ironically April Fool's Day and Easter Sunday, the invasion of Okinawa began. Thousands of warships and aircraft appeared, dumping tons of high explosives on the pristine little island. Tens of thousands of American infantrymen stormed their beaches. Within the flick of an eyelash the quaint little villages were reduced to rubble. The beautiful fields of rice and sugar cane looked as though a giant heavenly shotgun had blasted them into a quagmire of mud and broken debris. Many of the riflemen who survived the flames of combat in the south were sent north and allowed to mingle with these gracious people. This story belongs to them. Jack Carroll enlisted in the United States Marine Corps in 1944, trained in Camp Pendleton, and later served under Chesty Puller. He served four years in the Marine Corps and was honorably discharged. His experiences were to both enlighten and haunt him for a lifetime. His "time in hell" was spent fighting the Japanese army during the islanding hopping campiagn, then surviving Guadalcanal as a gunnery sargeant. His most horrific story was when an armed Japanese foot-soldier opted to blow himself up with a hand-granade, rather than risk capture. Jack returned to a job with Merrill Lynch after the war and lived in Southern Califonia with his wife, Mary, and two children. Leon Uris, a fellow Marine and friend, thought the dialog was "Right on the mark." Jack died unexpectedly in 2000.
Sklep: Libristo.pl 162,68 zł
Książki / Literatura obcojęzyczna
In May 1943 a self-described really young, green, ignorant lieutenant" assumed command of a new Marine Corps company. His even younger enlisted Marines were learning to use an untested weapon, the M4A2 "Sherman" medium tank. His sole combat veteran was the company bugler, who had salvaged his dress cap and battered horn from a sinking aircraft carrier. Just six months later the company would be thrown into one of the ghastliest battles of World War II. On 20 November 1943 the Second Marine Division launched the first amphibious assault of the Pacific War, directly into the teeth of powerful Japanese defenses on Tarawa. In that blood-soaked invasion, a single company of Sherman tanks, of which only two survived, played a pivotal role in turning the tide from looming disaster to legendary victory. In this unique study Oscar Gilbert and Romain Cansiere use official documents, memoirs, interviews with veterans, as well as personal and aerial photographs to follow Charlie Company from its formation, and trace the movement, action-and loss-of individual tanks in this horrific four-day struggle.The authors have used official documents and interviews with veterans to follow the company from training through the brutal 76-hour struggle for Tarawa. Survivor accounts and air photo analysis document the movements -and destruction - of the company's individual tanks. It is a story of escapes from drowning tanks, and even more harrowing escapes from tanks knocked out behind Japanese lines. It is a story of men doing whatever needed to be done, from burying the dead to hand-carrying heavy cannon ammunition forward under fire. It is the story of how the two surviving tanks and their crews expanded a perilously thin beachhead, and cleared the way for critical reinforcements to come ashore. But most of all it is a story of how a few unsung Marines helped turn near disaster into epic victory."
Sklep: Libristo.pl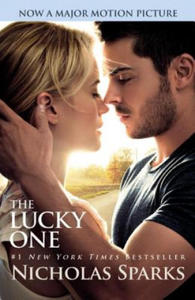 69,70 zł
Książki / Literatura obcojęzyczna
In his 14th book, bestselling author Nicholas Sparks tells the unforgettable story of a man whose brushes with death lead him to the love of his life. §After U.S. Marine Logan Thibault finds a photograph of a smiling young woman buried in the dirt during his tour of duty in Iraq , he experiences a sudden streak of luck -- winning poker games and even surviving deadly combat . Only his best friend, Victor, seems to have an explanation for his good fortune: the photograph -- his lucky charm. §Back home in Colorado , Thibault can't seem to get the woman in the photograph out of his mind and he sets out on a journey across the country to find her. But Thibault is caught off guard by the strong attraction he feels for the woman he encounters in North Carolina - Elizabeth, a divorced mother -- and he keeps the story of the photo, and his luck, a secret. As he and Elizabeth embark upon a passionate love affair, his secret soon threatens to tear them apart -- destroying not only their love, but also their lives. §Filled with tender romance and terrific suspense, THE LUCKY ONE is an unforgettable story about the surprising paths our lives often take and the power of fate to guide us to true and everlasting love. §
Sklep: Libristo.pl
Sklepy zlokalizowane w miastach: Warszawa, Kraków, Łódź, Wrocław, Poznań, Gdańsk, Szczecin, Bydgoszcz, Lublin, Katowice
Szukaj w sklepach lub całym serwisie
2. Szukaj na wszystkich stronach serwisu
t1=0.052, t2=0, t3=0, t4=0, t=0.052