krainaksiazek textbook of engineering drawing 20109994
- znaleziono 10 produkty w 4 sklepach 179,99 zł
Książki Obcojęzyczne>Angielskie>Technology, engineering, agriculture>Technology: general issues>Engineering graphics & technical drawing
0x004ef7d800000000
Sklep: Gigant.pl 161,12 zł
Medycyna > English Division
Construction is a complex industry, operating with ever changing legislative needs, new materials and technologies, and constant demands on resources.Professionals are now expected to deliver a broad spectrum of skills and competencies, and this new textbook will help them achieve this. Whilst other textbooks concentrate on individual topics, this brings together the key principles and operating practices of surveying and building engineering. It will enable the practitioner of the future to appreciate the interface between both technical and procedural requirements, identifying barriers and conflicts. The textbook is ideal for final year undergraduates in building surveying, construction management and quantity surveying, and will provide a core resource for the BSc(Hons) degree in building engineering developed in conjunction with the Association of Building Engineers. It will also provide a handy quick reference for practitioners, drawing as it does on a wealth of experience, both academic and professional, from the author team. "This publication brings together a team of highly qualified academics and practising building engineers who have produced a textbook covering the many and varied skills, knowledge and competencies demanded by today's construction industry." ( Building Engineer , October 2008)
Sklep: Ksiazki-medyczne.eu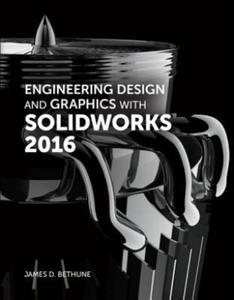 350,15 zł
Książki / Literatura obcojęzyczna
Engineering Design and Graphics with SolidWorks 2016 shows students how to use SolidWorks to create engineering drawings and designs. The textbook has been updated to cover the new features in SolidWorks 2016. It focuses on the creation of engineering drawings, including dimensions and tolerances and the use of standard parts and tools. Each chapter contains step-by-step sample problems that show students how to apply the concepts presented in the chapter. Effective pedagogy throughout the text helps students learn and retain concepts: Objectives: Each chapter begins with objectives and an introduction to the material. Summaries: Each chapter concludes with a summary and exercise problems. Numerous illustrations: The multitude of illustrations, accompanied by explanatory captions, present a visual approach to learning. Students see in the text what they see on the screen with the addition of explanatory text. Practical application: The text provides hundreds of exercise projects of varying difficulty (far more than any other computer graphics text). These exercises reinforce each chapter's content and help students learn by doing. Flexibility: With the hundreds of problems presented in the book, instructors can assign different problems within the same class and from year to year without repeating problems for students. Meets standards: The text teaches ANSI standards for dimensions and tolerances. This helps students understand how their designs are defined for production and the importance of proper tolerancing. Step-by-step approach: In presenting the fundamentals of engineering drawing using SolidWorks, the text uses a step-by-step approach that allows students to work and learn at their own pace.
Sklep: Libristo.pl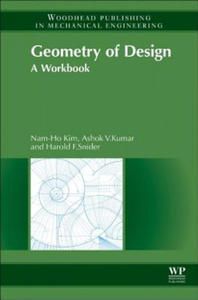 170,79 zł
Książki / Literatura obcojęzyczna
Engineering drawing is the "instrument of communication" upon which the designer must place all information necessary to define a new product. Computer-aided design (CAD) courses often involve teaching solid modelling software, and we view CAD as an engineering communication tool for manufacturing. As the technology of engineering design is in transition from paper drawings to solid models, its education must address the challenge of covering both technologies. Geometry of design integrates drafting technology based on experience with engineering design education. This workbook has evolved from the course "Computer-Aided Graphics and Design" at the University of Florida, and many pages of this textbook can be used for student assignments. In order to help students to familiarize themselves with the manufacturing field experience, most assignments are to be submitted in the form of complete working drawings of the parts and assembly. The first three chapters introduce basic engineering drawing definitions and practices. The following four chapters cover design and descriptive geometry, and subsequent chapters move on to dimensions, assembly line design and surface development.
Sklep: Libristo.pl 182,30 zł
Inne 1
A thoroughly contemporary approach to teaching essential technical graphics skills has made Bertoline and Wiebe's Fundamentals of Graphics Communication the leading textbook in introductory engineering graphics programs. The fifth edition continues to integrate design concepts and the use of CAD into its outstanding coverage of the basic visualization and sketching techniques that enable students to create and communicate graphic ideas effectively. As in past editions, the authors have included many examples of how graphics communication pertains to "real-world" engineering design, including current industry practices and breakthroughs; as one example, the Motorola RAZR cellular phone is used as a case study to synthesize the design concepts in the text. A dynamic Online Learning Center provides additional resources such as an image bank, animations, quizzes, and links to current industry and career sites."Dream High Tech Jobs" boxes introduce students to interesting careers and people in the fields of graphics, CAD, and design. "Design in Industry" boxes are updated and more closely tied to each chapter, improving Bertoline's unique integration of design content. Practice Exercises, Practice Problems, Questions for Review, and End-of-Chapter Problems have been updated and expanded to reflect the latest advances in the field.The Online Learning Center is enhanced with new exercises, projects, and links to web resources.More than 30 tear-out drawing worksheets are printed on uncoated paper for easy sketching.Unique Visualization Chapter assists the student in understanding the concepts and importance of visualization and offers techniques for reading and visualizing engineering drawings. Unique 3-D modeling chapter is devoted exclusively to the theory and practice of 3-D modeling. Photographs and computer screen shots in 4-color clearly illustrate the use of modern CAD tools in the real-world. Step-by-step illustrated drawing technique examples clearly demonstrate how to create graphics and solve problems.Over 370 problems, cross-checked for accuracy, are included. Most end-of-chapter problems are parts or assemblies of modern devices and productsAn online learning center (OLC) provides students with free access to interactive exercises, animations, self-grading quizzes, chapter summaries, case studies, a team 3-D project, and more. Instructors have secure access to the Solutions Manual, Instructor's Manual, presentation materials including an image bank, and additional exercises. CAD books are available in packages for those who wish to cover specific programs such as AutoCAD and Pro/E. Visit www.mhhe.com/ for information about CAD titles to be used with Fundamentals of Graphics Communication. Students can view the animations, exercises, and projects to better understand the content they are reading about Clearly illustrates the use of modern CAD tools in the real-world.How do your students currently learn concepts of visualization? How do your student learn techniques for reading and visualizing How do your students learn about careers within graphics? Would a text that showed students about interesting careers and people in the field of graphics be helpful?How do your students currently learn about design content? Would a text that showed the integration of design content be helpful for your students? How do your studnets apply what they are currently learning in your course? Would a text that offered the ability to view animations and exercises be helpful for your studnets? Do you feel students would then be able to better apply what they are learning?Do you feel that a 4 color text may do a better job in showing photographs and computer screen shots to students?
Sklep: Albertus.pl 490,40 zł
Inne książki
Given the predominance of residual soils in the under-developed parts of the United States and the Southern Hemisphere, and the increasing rate of new construction in these regions, the understanding of residual soils is expected to increase in importance in the coming years. Drawing on the author's thirty years of practical experience, this is the first textbook to provide equal treatment to both sedimentary and residual soils, and the unique engineering properties of both. It presents the fundamentals of soil mechanics from a geotechnical engineering perspective, pointing to the similarities between soil types and, more importantly, the differences. Numerous worked problems demonstrate the differences between sedimentary and residual soil, while numerous end of chapter exercises supported by an online solutions manual provide hands-on practice.
Sklep: Albertus.pl 432,08 zł
Książki / Literatura obcojęzyczna
Why do you switch from walking to running at a specific speed? Why do tall trees rarely blow over in high winds? And why does a spore ejected into air at seventy miles per hour travel only a fraction of an inch? Comparative Biomechanics is the first and only textbook that takes a comprehensive look at the mechanical aspects of life--covering animals and plants, structure and movement, and solids and fluids. An ideal entry point into the ways living creatures interact with their immediate physical world, this revised and updated edition examines how the forms and activities of animals and plants reflect the materials available to nature, considers rules for fluid flow and structural design, and explores how organisms contend with environmental forces. Drawing on physics and mechanical engineering, Steven Vogel looks at how animals swim and fly, modes of terrestrial locomotion, organism responses to winds and water currents, circulatory and suspension-feeding systems, and the relationship between size and mechanical design. He also investigates links between the properties of biological materials--such as spider silk, jellyfish jelly, and muscle--and their structural and functional roles. Early chapters and appendices introduce relevant physical variables for quantification, and problem sets are provided at the end of each chapter. Comparative Biomechanics is useful for physical scientists and engineers seeking a guide to state-of-the-art biomechanics. For a wider audience, the textbook establishes the basic biological context for applied areas--including ergonomics, orthopedics, mechanical prosthetics, kinesiology, sports medicine, and biomimetics--and provides materials for exhibit designers at science museums. Problem sets at the ends of chapters Appendices cover basic background information Updated and expanded documentation and materials Revised figures and text Increased coverage of friction, viscoelastic materials, surface tension, diverse modes of locomotion, and biomimetics
Sklep: Libristo.pl 125,29 zł
Książki / Literatura obcojęzyczna
In modern mechanical design 3D modeling is widely used. The 3D parametric design differs a lot from traditional 2D drawing. The effective use of 3D save time and costs.§Training SolidWorks 2014 is a textbook for practical training of mechanical design using SolidWorks software. It includes chapters in pedagogically chronological order which helps students to understand the efficient use of the software tool in everyday mechanical engineering design.§It is the first English edition of popular Finnish textbook that recently appeared as 6. edition.
Sklep: Libristo.pl 323,94 zł
Książki / Literatura obcojęzyczna
Full of features and applications, this acclaimed textbook for upper undergraduate level and graduate level students includes all the major topics of computational linear algebra, including solution of a system of linear equations, least-squares solutions of linear systems, computation of eigenvalues, eigenvectors, and singular value problems. Drawing from numerous disciplines of science and engineering, the author covers a variety of motivating applications. When a physical problem is posed, the scientific and engineering significance of the solution is clearly stated. Each chapter contains a summary of the important concepts developed in that chapter, suggestions for further reading, and numerous exercises, both theoretical and MATLAB
Sklep: Libristo.pl 130,56 zł
Książki / Literatura obcojęzyczna
Dissecting the Hack: The V3rb0t3n Network ventures further into cutting-edge techniques and methods than its predecessor, Dissecting the Hack: The F0rb1dd3n Network. It forgoes the basics and delves straight into the action, as our heroes are chased around the world in a global race against the clock. The danger they face will forever reshape their lives and the price they pay for their actions will not only affect themselves, but could possibly shake the foundations of an entire nation. The book is divided into two parts. The first part, entitled "The V3rb0t3n Network," continues the fictional story of Bob and Leon, two hackers caught up in an adventure in which they learn the deadly consequence of digital actions. The second part, "Security Threats Are Real" (STAR), focuses on these real-world lessons and advanced techniques, as used by characters in the story. This gives the reader not only textbook knowledge, but real-world context around how cyber-attacks may manifest. "The V3rb0t3n Network" can be read as a stand-alone story or as an illustration of the issues described in STAR. Scattered throughout "The V3rb0t3n Network" are "Easter eggs"-references, hints, phrases, and more that will lead readers to insights into hacker culture. Drawing on "The V3rb0t3n Network," STAR explains the various aspects of reconnaissance; the scanning phase of an attack; the attacker's search for network weaknesses and vulnerabilities to exploit; the various angles of attack used by the characters in the story; basic methods of erasing information and obscuring an attacker's presence on a computer system; and the underlying hacking culture. * All new volume of Dissecting the Hack by Jayson Street, with technical edit by Brian Martin* Uses actual hacking and security tools in its story - helps to familiarize readers with the many devices and their code* Features cool new hacks and social engineering techniques, in real life context for ease of learning
Sklep: Libristo.pl
Sklepy zlokalizowane w miastach: Warszawa, Kraków, Łódź, Wrocław, Poznań, Gdańsk, Szczecin, Bydgoszcz, Lublin, Katowice
Szukaj w sklepach lub całym serwisie
2. Szukaj na wszystkich stronach serwisu
t1=0.076, t2=0, t3=0, t4=0.021, t=0.076