krainaksiazek the biblical age of the earth 20093312
- znaleziono 8 produktów w 3 sklepach 95,29 zł
Książki / Literatura obcojęzyczna
We live in an age of vast and rapid destruction of habitats and species. Yet Christianity holds great potential for healing this situation. Indeed, the Bible and Christian tradition are a treasure trove of rich images and stories about God as an "earthen" being who sustains the natural world with compassion and thereby models for humankind environmentally healthy ways of being. Mark Wallace's stimulating book retrieves a central but often neglected biblical theme - the idea of God as carnal Spirit who indwells all things - as the basis for constructing a "green spirituality" responsive to the environmental needs of our time. In the biblical tradition, he writes, God as Spirit is an ecological presence that shows itself to us daily by living in and through the earth. One message of Christianity, therefore, is celebration of the bodily, material world - ancient redwoods, vernal springs, broad-winged hawks, everyday pigweed - as the place that God indwells and cares for in order to maintain the well-being of our common planetary home. Alongside his green reading of the Bible and tradition, Wallace employs the resources of deep ecology, Neopagan spirituality, and the environmental justice movement to rethink Christianity as an earth-based, body-loving religion. He also analyzes color images reproduced in the book. Wallace's bold yet careful work reawakens our sense of the sacrality of the earth and the life that the trinitarian God creates there. It also grounds the impulses of New Age spirituality in a profoundly biblical notion of God's being and activity.
Sklep: Libristo.pl 40,80 zł
Literatura faktu
'Only with the greatest of simplifications, for the sake of convenience, can we say Africa. In reality, except as a geographical term, Africa doesn't exist'. Ryszard Kapuscinski has been writing about the people of Africa throughout his career. In a study that avoids the official routes, palaces and big politics, he sets out to create an account of post-colonial Africa seen at once as a whole and as a location that wholly defies generalised explanations. It is both a sustained meditation on the mosaic of peoples and practises we call 'Africa', and an impassioned attempt to come to terms with humanity itself as it struggles to escape from foreign domination, from the intoxications of freedom, from war and from politics as theft. The Beginning: Collision, Ghana 1958 More than anything, one is struck by the light. Light everywhere. Brightness everywhere. Everywhere, the sun. Just yesterday, an autumnal London was drenched in rain. The airplane drenched in rain. A cold, wind, darkness. But here, from the morning
Sklep: Albertus.pl 82,26 zł
Książki / Literatura obcojęzyczna
* Examines the many corresponding giant mythologies throughout the world, such as the Greek and Roman titans, Norse frost giants and the biblical Nephilim * Reveals recent finds of giant skeletons in the deserts of Saudi Arabia and India * Explains how giants passed on their sophisticated culture and civilisation to humanity before being wiped out in the great age of cataclysms and floods Giants are a cornerstone of the myths, legends and traditions of almost every culture on Earth. Stories of giants are often considered fantasies of the ancients or primitive attempts to explain natural phenomena, but archaeological discoveries of 10- and 12-foot skeletons - many of which have been suppressed - confirm the existence of a forgotten golden age of giants before recorded history. Patrick Chouinard examines the staggering number of corresponding giant mythologies throughout the world, such as the Greek and Roman titans, Norse frostgiants, the Hindu Daityas, the biblical Nephilim, the Celtic Formorach, the Sumerian Anunnaki and the multitude of myths in which the sky or world is held aloft on the shoulders of a giant. He links these stories to Atlantis as well as other legends of prehistoric civilisations lost to cataclysm and great floods whose survivors spawned the rise of ancient civilisations. The author reveals how physical remains of giant-size peoples have been found on almost every continent, including recent finds in the deserts of Saudi Arabia, Afghanistan and northern India as well as hundreds of excavations of giant mummies and skeletons across the United States. He, also, examines reports from famous explorers such as Magellan, Sir Francis Drake and Desoto of their encounters with giants on the North American continent. Revealing how giants represent the true earthborn race, Chouinard explains how they engaged in open conflict with the extraterrestrial gods who created humanity for forced labour and how they passed their sophisticated culture and civilisation on to humanity before being nearly wiped out in the great age of cataclysms.
Sklep: Libristo.pl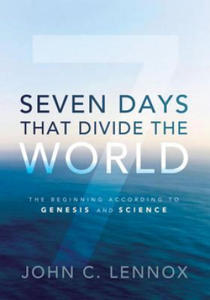 77,48 zł
Książki / Literatura obcojęzyczna
What did the writer of Genesis mean by 'the first day'? Is it a literal week or a series of time periods? If I believe that the earth is 4.5 billion years old, am I denying the authority of Scripture? In response to the continuing controversy over the interpretation of the creation narrative in Genesis, John Lennox proposes a succinct method of reading and interpreting the first chapters of Genesis without discounting either science or Scripture. With examples from history, a brief but thorough exploration of the major interpretations, and a look into the particular significance of the creation of human beings, Lennox suggests that Christians can heed modern scientific knowledge while staying faithful to the biblical narrative. He moves beyond a simple response to the controversy, insisting that Genesis teaches us far more about the God of Jesus Christ and about God's intention for creation than it does about the age of the earth. With this book, Lennox offers a careful yet accessible introduction to a scientifically-savvy, theologically-astute, and Scripturally faithful interpretation of Genesis.
Sklep: Libristo.pl 67,92 zł
Książki / Literatura obcojęzyczna
When Columbus first returned to Spain from the Caribbean, he dazzled King Ferdinand and Queen Isabella with exotic parrots, tropical flowers, and bits of gold. Inspired by the promise of riches, countless seafarers poured out of the Iberian Peninsula and wider Europe in search of spices, treasure, and land. Many returned with strange tales of the New World. Curiosity began to percolate through Europe as the New World s people, animals, and plants ruptured prior assumptions about the biblical description of creation. The Church, long fearful of challenges to its authority, could no longer suppress the mantra Dare to know! Noblemen began collecting cabinets of curiosities; soon others went from collecting to examining natural objects with fresh eyes. Observation led to experiments; competing conclusions triggered debates. The foundations for the natural sciences were laid as questions became more multifaceted and answers became more complex. Carl Linneaus developed a classification system and sent students around the globe looking for specimens. Museums, botanical gardens, and philosophical societies turned their attention to nature. National governments undertook explorations of the Pacific. Eminent historian Joyce Appleby vividly recounts the explorers triumphs and mishaps, including Magellan s violent death in the Philippines; the miserable trek of the new Argonauts across the Andes on their mission to determine the true shape of the earth; and how two brilliant scientists, Alexander Humboldt and Charles Darwin, traveled to the Americas for evidence to confirm their hypotheses about the earth and its inhabitants. Drawing on detailed eyewitness accounts, Appleby also tells of the turmoil created in the all societies touched by the explorations. This sweeping, global story imbues the Age of Discovery with fresh meaning, elegantly charting its stimulation of the natural sciences, which ultimately propelled Western Europe toward modernity."
Sklep: Libristo.pl 203,76 zł
Novel Science University of Chicago Press
Książki / Literatura obcojęzyczna
"Novel Science" is the first in-depth study of the shocking, groundbreaking, and sometimes beautiful writings of the gentlemen of the "heroic age" of geology and of the contribution these men made to the literary culture of their day. For these men, literature was an essential part of the practice of science itself, as important to their efforts as mapmaking, fieldwork, and observation. The reading and writing of imaginative literatures helped them to discover, imagine, debate, and give shape and meaning to millions of years of previously undiscovered earth history. Borrowing from the historical fictions of Walter Scott and the poetry of Lord Byron, they invented geology as a science, discovered many of the creatures we now call the dinosaurs, and were the first to unravel and map the sequence and structure of stratified rock. As Adelene Buckland shows, they did this by rejecting the grand narratives of older theories of the earth or of biblical cosmogony: theirs would be a humble science, faithfully recording minute details and leaving the big picture for future generations to paint. Buckland also reveals how these scientists - just as they had drawn inspiration from their literary predecessors - gave Victorian realist novelists such as George Eliot, Charles Kingsley, and Charles Dickens a powerful language with which to create dark and disturbing ruptures in the too-seductive sweep of story.
Sklep: Libristo.pl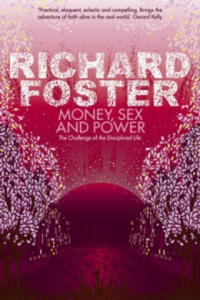 44,68 zł
Książki / Literatura obcojęzyczna
No issues touch us more profoundly or universally,' writes Richard Foster. 'No topics cause more controversy. No human realities have greater power to bless or curse. No three things have been more sought after or are more in need of a Christian response.' Money, Sex and Power discerns the biblical principles that enable us to live out a relevant and authentic response to the three greatest temptations of our age.Gerard Kelly writes: 'Foster follows a road few in recent years have travelled, and does so with depth, wit and down-to-earth wisdom. Don't assume for one moment that this book is anti-money, anti-sex or anti-power: the author has a healthy respect and admiration for all three as sacred gifts of a loving creator. What he does urge us to do, though, is to "live rightly" in respect of these key ares, and so to be freed into a life of creative celebration.
Sklep: Libristo.pl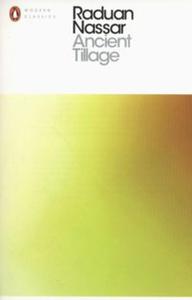 38,70 zł
Powieść zagraniczna
'I felt the powerful strength of my family overrunning me like a heavy rush of water'For André, a young man growing up on a farm in Brazil, life consists of 'the earth, the wheat, the bread, our table and our family'. He loves the land, fears his austere, pious father who preaches from the head of the table as if it is a pulpit, and loathes himself, as he starts to harbour shameful feelings for his sister Ana. Lyrical and sensual, told with biblical intensity, this classic Brazilian coming-of-age novel follows André's psychological and sexual awakening, as he must choose between body and soul, duty and freedom.
Sklep: Booknet.net.pl
Sklepy zlokalizowane w miastach: Warszawa, Kraków, Łódź, Wrocław, Poznań, Gdańsk, Szczecin, Bydgoszcz, Lublin, Katowice
Szukaj w sklepach lub całym serwisie
2. Szukaj na wszystkich stronach serwisu
t1=0.042, t2=0, t3=0, t4=0.024, t=0.042