krainaksiazek the book of isaiah chapter thirty two 20093537
- znaleziono 13 produktów w 2 sklepach 48,71 zł
Książki / Literatura obcojęzyczna
Sklep: Libristo.pl 58,19 zł
Książki / Literatura obcojęzyczna
Sklep: Libristo.pl 103,47 zł
Książki / Literatura obcojęzyczna
Excerpt from Isaiah: With Notes, Critical, Explanatory and Practical, Designed for Both Pastors and People Isaiah was not only a prophet, but also a prophet-histofian - a. Prominent instance, under the general law, that the prophets, as a class, wrote out the historic annals of their respective times. He wrote the acts of Uzziah (2 Chron. 26: 22) and of Heze kiah (2 Chron. 32: The close resemblance between the two extant histories of the great Assyrian invasion, the first in 2 Kings, 18: 13, to the end of chapter 20, and the second in Isaiah, chapters 36 to 39, leaves scarcely a doubt that Isaiah wrote the former as well as the latter, and if so, then also, generally, the annals of his time. About the Publisher Forgotten Books publishes hundreds of thousands of rare and classic books. Find more at www.forgottenbooks.com This book is a reproduction of an important historical work. Forgotten Books uses state-of-the-art technology to digitally reconstruct the work, preserving the original format whilst repairing imperfections present in the aged copy. In rare cases, an imperfection in the original, such as a blemish or missing page, may be replicated in our edition. We do, however, repair the vast majority of imperfections successfully; any imperfections that remain are intentionally left to preserve the state of such historical works.
Sklep: Libristo.pl
228,67 zł
Książki / Literatura obcojęzyczna
FROM THIRTY YEARS WITH FREUD THE ODOR REIK TRANSLATED FROM THE GERMAN. CONTENTS PAGE. EDITORIAL PREFACE......7.PREFACE A PORTRAIT COMES TO LIFE 9. PART I: FREUD AND HIS FOLLOWERS. CHAPTER I. MEMORIES OF SIGMUND FREUD 13. II. LAST VISIT TO FREUD 32. III. FREUD AND HIS FOLLOWERS 39. IV. STUDENTS OR SORCERERS APPRENTICES? ......50 PART HAN UNKNOWN LECTURE OF FREUD SV. AN UNKNOWN LECTURE OF FREUDS 63 PART HI FREUD AS A CRITIC OF OUR CULTUREVL CIVILIZATION AND ITS DISCONTENTS 90VII. THE FUTURE OF AN ILLUSION 108VIIL NOTE ON A RELIGIOUS EXPERIENCE 127IX. THE STUDY ON DOSTOYEVSKY 142 PART IVESSAYS ON DIVERSE SUBJECTSCHAPTER PAGEX. EMBARRASSMENT IN GREETING 159XL ON THE NATURE OF JEWISH WIT 164 XII. THE WAY OF ALL FLESH 174 XIIL THE LATENT MEANING OF ELLIPTICAL DISTORTION.....188XIV. MANS DUAL NEED FOR SOCIETY ANDSOLITUDE 198XV. THE ECHO OF THE PROVERB 201 INDEX 213. EDITORIAL PREFACE: DESPITE Freuds personal frankness in his writings he retained a deep inner reserve andso is likely to remain a man of mystery to future generations, who will greatly like to understand what manner of mind it was that was able unaided to penetrate so profoundly into its own secrets and into those of humanity. Any scraps of information,therefore, concerning his remarkable personality will be welcome, and the present book provides some of undoubted interest. Dr. Reik throws light on several aspects of Freuds personality, among which special attention may be called to the convincing evidence of Freuds fundamental hopefulness and the falsity of designating him a pessimist.The author would be the last to deny that the glimpses he gives us are but partial ones, and tha the does not pretend to paint a complete picture. He would further, I am sure, admit that the passage of years has brought an increasing risk of strengthening the subjective factor in some of his judgements and possibly also in his memories. Two little instances occur to me. He says that after Freuds serious illness the only thing noticeable was that he cleared his throat when he lectured. In fact, Freud never lectured after that date and only on one occasion did he ever even attend a meeting of the Society.Clearing the throat was a habit he had always had what the illness brought was the difficulty of articulation. The second instance concerns Dr. Reiks quoting Freuds prohibiting the celebration of his seventieth birthday with the remark, alluding to Karl Abrahams recent death, one cannot celebrate with a corpse in the house. In fact there was an important celebration of that birthday I went to Vienna myself to attend it. And Freuds birthday was in May, while Abraham had died in the previous December. If Dr. Reiks memory is correct about Freuds remark, then it is certainly not to be takenas an expression of conventional piety on Freuds part this would have been not in the least characteristic of himbut as an illustration of the way hewould snatch at any pretext to avoid, or at least minimise, a ceremonial occasion.
Sklep: Libristo.pl 103,47 zł
Książki / Literatura obcojęzyczna
Excerpt from A Commentary Upon the Prophecy of Malachi: By That Late Reverend, and Fuller Learned Divine, Richard Stock, Sometime Rector of Allhallows, Bread Street, London, Whereunto Is Added, an Exercitation Upon the Same Prophecy Richard Stock, by his surname gave a handle to just such verbal quip and jest as we have indicated. Upon his 'monument' there was inscribed (besides others) these punning lines, by those who loved him dearly, the 'merchants of the city, who all but adored him,' says Masson: - 'Thy livelesse trunk(0 Reverend Stock) Like Aaron's rod, sprouts out again; And, after two full winters past, Yields blossoms and ripe fruit amaine. For why, this work of piety, Performed by some of thy flocke To thy dead corps and sacred urne, Is but the fruit of this old Stocke.' A volume of his posthumous 'Sermons' bears in like manner for its title, 'A Stock of Knowledge' - none the less noticeable that the joke was perpetrated by the James Cranford who so 'vexed' Richard Baxter. All which may be placed beside the grimmer humour of the Puritans in their denunciation of the 'Wren's Nest,' and the Kitchen as more loved than the Church' - hitting therein Bishops Wren and Kitchen :a kind of wit to which even stately Sir John Harrington condescended.+ Sometimes the name is spelled with and sometimes without a final 'e,' and in; Truth's Champion' - which, if it be his, is perhaps, though the smallest, the best of all his writings, - it appears as 'Stooks.' In his 'Churches Lamentation for the Losse of the Godly,' to wit, the young John Lord Harrington, he himself uses Stock' in the title-page, and signs the 'Epistle Dedicatorie' as 'Stocke.' The name is also met with as 'Stoke' and 'Stokes.' 'Stoke' occurs repeatedly in the Tower-Records of the age of John; and in 1370, a Richard de Stoke was Rector of Birdbroke (Middlesex), and another (if another?), without the de, was Rector of South Shobury, near Sheerness.§ A Robert Stock appears among the founders of New England,' - a contemporary, but we know not if any relative. Richard Stock was born in the city of York, and is placed among its 'Worthies' by Fuller, along with St Alcuinus, martyred Valentine Freese, his equally noble brother Edward Freese, and Bishop Thomas Morton; as more onward, Dr Nuttal adds, the Nonconformist brothers James and Thomas Calvert - the latter, author of 'Mel Coeli,' a rich old quarto on Isaiah liii., which book-lovers covet in its rare occurrence, - and good Matthew Pool; and still more recently, John Flaxman, Dr Conyers Middleton, Archdeacon Nares, and Bishop Porteous. Master Richard's age on entering the University, as we shall see, lets us know that he must have been born in 1568 or 1569. Of his parentage and outward circumstances, nothing has been transmitted. His portrait in Clarke's well-known folio of 'Thirty-Two Lives,' is that of a very noble-looking man, having the presence of one 'every inch a king;' but we suspect he was sprung of 'the common people,' though of a good Puritan 'stock,' no doubt, as the after-selection of his College shewed. If York be now shorn of some of its grandeur, as contrasted with the proud aspirations of its famous proverb, - about which Fuller has so much characteristic -persiflage,- in the child-time of Richard Stock it was 'no mean city.' Its noble Minster rose then as now into the azure. About the Publisher Forgotten Books publishes hundreds of thousands of rare and classic books. Find more at www.forgottenbooks.com
Sklep: Libristo.pl 219,48 zł
Medycyna > English Division
Get the experts perspective on the top journals of the 20th century! The Journals of the Century project gathered some of America 's top subject expert librarians to determine the most influential journals in their respective fields. Thirty-two contributing authors led by Editor Tony Stankus reviewed journals from over 20 countries that have successfully shaped the evolution of their individual specialties worldwide. Their choices reflect the history of each discipline or profession, taking into account rivalries between universities, professional societies, for-profit and not-for-profit publishers, and even nation-states and international ideologies, in each journal 's quest for reputational dominance. Each journal was judged using criteria such as longevity of publication, foresight in carving out its niche, ability to attract & sustain professional or academic affiliations, opinion leadership or agenda-setting power, and ongoing criticality to the study or practice of their field. Journals of the Century presents wholly independent reviewers; none are in the employ of any publisher, but each is fully credentialed and well published, and many are award-winners. The authors guide college and professional school librarians on limited budgets via an exposition of their analytical and critical winnowing process in determining the classic resources for their faculty, students, and working professional clientele. The chapters are logically grouped together in six clusters that reflect the commonly shared interests of library liaisons and the range of like-minded academic departments they typically serve. These clusters include: The Helping Professionals (chapters on social work, education, psychology, sociology, and library and information sciences) Music, Museums, and Methodists (chapters on visual arts, anthropology, archaeology, philosophy, and the American religious experience) Business and Law (chapters on business and economics, plus legal literature) War and Peace (chapters on modern history, political science and international relations, and military affairs) Physical Sciences and Engineering (chapters on mathematics and the physical sciences as well as engineering and computer science) Life, Health, and Agriculture (chapters on medicine and surgery, pharmacy, physical therapy and nutrition, agriculture, and veterinary medicine) Journals of the Century answers questions such as: Which university press leads in high-ranking titles in the helping professions? In what crime-fighting journal, ironically mentioned within the Music, Museums, and Methodists cluster, do anthropologists routinely publish? What two journals cover the biggest yearly expense of most working Americans and rankly highly within both chapters of the Business and Law cluster? What family of British publications has remained indispensable reading for political and military readers for over a century in the War and Peace Cluster? What society in the Physical Sciences and Engineering cluster publishes more journals than any other publisher in this book, covering topics from light bulbs and computers to MRIs and windmills? What one-word-titled journal has joined the venerable pair of Nature and Science as the most important reporters of world-class breakthroughs in basic biomedical science? and many, many more! Journals of the Century includes extensive commentaries on each cluster by the editor, with graphical representations by world regions and publishing sectors contributing to each chapter. ISSN numbers for print editions, and URL addresses for online editions are provided in a comprehensive title index. This unique book is an essential resource for serials librarians in academia, new reference librarians familiarizing themselves with classic titles, and collection evaluators and college accreditation examiners.
Sklep: Ksiazki-medyczne.eu 193,85 zł
Książki / Literatura obcojęzyczna
Description: Anabaptists have often felt suspicious of American evangelicalism, and in turn evangelicals have found various reasons to dismiss the Anabaptist witness. Yet at various points in the past as well as the present, evangelicals and Anabaptists have found ample reason for conversation and much to appreciate about each other. The Activist Impulse represents the first book-length examination of the complex relationship between evangelicalism and Anabaptism in the past thirty years. It brings established experts and new voices together in an effort to explore the historical and theological intersection of these two rich traditions. Each of the essays provides fresh insight on at least one characteristic that both evangelicals and Anabaptists share--an impulse to engage society through the pursuit of active Christian witness. Endorsements: ""From George Marsden's wise foreword, the editors' informative introduction, and Steve Nolt's superb survey of Anabaptist-evangelical relationships in American and Canadian history, right through to the last chapter and Sara Wenger Shenk's discerning afterword, this volume sparkles. Its examination of Anabaptists among North American evangelicals brims with discerning historical insight. For Anabaptists, evangelicals, and evangelical Anabaptists with eyes to see, it also provides a bracing challenge to live up to the best in these respective traditions. There have been good books before on the complexity of evangelical-Anabaptist relationships, but this one is the best."" --Mark A. Noll Francis A. McAnaney Professor of History, University of Notre Dame Author of Protestantism: A Very Short Introduction (2011) ""This is a very timely and helpful set of essays. It is timely because more than a few evangelicals are finding themselves attracted to Anabaptism. It is helpful because this set of essays offers many avenues through which to explore the tensions and intersections between these two traditions."" --Mark Thiessen Nation Professor of Theology, Eastern Mennonite Seminary Author of John Howard Yoder: Mennonite Patience, Evangelical Witness, Catholic Convictions (2006) ""A significant collection of essays by seasoned scholars and new voices to the conversation. . . . This is a cutting-edge volume of scholarship on the intersection of Anabaptist and evangelical history, theology, and political theory."" --Barry G. Hankins Professor of History and Church-State Studies, Baylor University Author of American Evangelicals: A Contemporary History of a Mainstream Religious Movement (2008) About the Contributor(s): Jared S. Burkholder is Associate Professor of History and Director of the Office of Faith, Learning and Scholarship at Grace College (IN). He has published articles or reviews in several journals, including Fides et Historia, The Pennsylvania Magazine of History and Biography, and The Mennonite Quarterly Review. David C. Cramer, previously Adjunct Professor of Religion and Philosophy at Bethel College (IN), is currently pursuing a PhD in Religion (Theology) at Baylor University. He has published articles or reviews in several journals, including The Mennonite Quarterly Review, Priscilla Papers, and Philosophia Christi.
Sklep: Libristo.pl 200,23 zł
Książki / Literatura obcojęzyczna
Heinrich Meier's guiding insight in Political Philosophy and the Challenge of Revealed Religion is that philosophy must prove its right and its necessity in the face of the claim to truth and demand obedience of its most powerful opponent, revealed religion. Philosophy must rationally justify and politically defend its free and unreserved questioning, and, in doing so, turns decisively to political philosophy. In the first of three chapters, Meier determines four intertwined moments constituting the concept of political philosophy as an articulated and internally dynamic whole. The following two chapters develop the concept through the interpretation of two masterpieces of political philosophy that have occupied Meier's attention for more than thirty years: Leo Strauss's Thoughts on Machiavelli and Jean-Jacques Rousseau's Social Contract. Meier provides a detailed investigation of Thoughts on Machiavelli, with an appendix containing Strauss's original manuscript headings for each of his paragraphs. Linking the problem of Socrates (the origin of political philosophy) with the problem of Machiavelli (the beginning of modern political philosophy), while placing between them the political and theological claims opposed to philosophy, Strauss's most complex and controversial book proves to be, as Meier shows, the most astonishing treatise on the challenge of revealed religion. The final chapter, which offers a new interpretation of the Social Contract, demonstrates that Rousseau's most famous work can be adequately understood only as a coherent political-philosophic response to theocracy in all its forms.
Sklep: Libristo.pl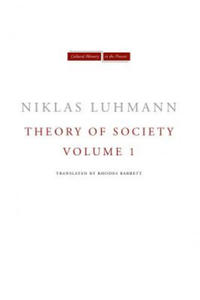 143,18 zł
Książki / Literatura obcojęzyczna
This first volume of Niklas Luhmann's two-part final work was initially published in German in 1997. The culmination of his thirty-year theoretical project to reconceptualize sociology, it offers a comprehensive description of modern society on a scale not attempted since Talcott Parsons. Beginning with an account of the fluidity of meaning and the accordingly high improbability of successful communication, Luhmann analyzes a range of communicative media, including language, writing, the printing press, and electronic media as well as "success media," such as money, power, truth, and love, all of which structure this fluidity and make communication possible. An investigation into the ways in which social systems produce and reproduce themselves, the book asks what gives rise to functionally differentiated social systems, how they evolve, and how social movements, organizations, and patterns of interaction emerge. The advent of the computer and its networks, which trigger potentially far-reaching processes of restructuring, receive particular attention. A concluding chapter on the semantics of modern society's self-description bids farewell to the outdated theoretical approaches of "old Europe," that is, to ontological, holistic, ethical, and critical interpretations of society, and argues that concepts such as "the nation," "the subject," and "postmodernity" are vastly overrated. In their stead, "society"--long considered a suspicious term by sociologists, one open to all kinds of reification--is defined in purely operational terms. It is the always uncertain answer to the question of what comes next in all areas of communication.
Sklep: Libristo.pl 75,19 zł
Książki / Literatura obcojęzyczna
Excerpt from The Shorter Bible, the New Testament: Translated and Arranged The Shorter Bible does not aim to take the place of the complete text or of the time-honored versions, but simply to single out and set in logical and as far as possible in chronological order those parts of the Bible which are of vital interest and practical value to the present age. It represents the combined judgment not of one but of the many who have generously cooperated in this important task. In the Bible, accounts of the same events or teachings are frequently repeated. The Book of Genesis alone contains between thirty and forty such repetitions. Seven-eighths of Mark is quoted in Matthew and three-fourths in Luke. The reader is often confused by these different versions of the same incidents and teachings. It is quite natural that Paul, even with his astounding versatility, should repeat certain teachings in his letters. About one-third of the Old Testament and about two-thirds of the New represent what is most frequently read or used by the average Bible student. These passages contain the true heart of the Bible that has proved the inspiration of past generations and will prove in increasing measure the guide of those to come. In the Shorter Bible the distracting and often misleading chapter and verse divisions, which were added in the thirteenth century, have been eliminated. About the Publisher Forgotten Books publishes hundreds of thousands of rare and classic books. Find more at www.forgottenbooks.com This book is a reproduction of an important historical work. Forgotten Books uses state-of-the-art technology to digitally reconstruct the work, preserving the original format whilst repairing imperfections present in the aged copy. In rare cases, an imperfection in the original, such as a blemish or missing page, may be replicated in our edition. We do, however, repair the vast majority of imperfections successfully; any imperfections that remain are intentionally left to preserve the state of such historical works.
Sklep: Libristo.pl 64,40 zł
Książki / Literatura obcojęzyczna
Preface by William J. Mitchell In American Architects and Texts, Juan Pablo Bonta analyzes the indexes of nearly 400 architectural books and articles published over the past century and a half to reveal changing societal preferences in architecture and to literally measure the reputations of individual architects. The result is a provocative study -- part book, part electronic database and analysis software -- that follows the ups an downs of more than 7,000 architects' standing in the literature and, indirectly, their standing in the profession. There is a ranked list of the "100 most famous architects," along with views of evolving architectural careers and the response to them by critics and historians. The complete database and analysis is available in machine-readable form.Bonta dates the appearance on the literary scene of past and present superstars, like Jefferson, Latrobe, Richardson, Sullivan, Wright, Gropius, Mies van der Rohe, Saarinen, Johnson, Venturi, and Meier. From his vast database emerge some surprising observations, for example Maya Ying Lin, the designer of the Vietnam Memorial in Washington, reached in just two years a level of visibility in the literature that Frank Lloyd Wright only achieved after thirty years of practice.By analyzing an index and comparing it to other indexes stored in the database, the system designed by Bonta tentatively assesses whether an architecture text delivers what it promises. It can identify areas calling for further coverage, and flag unexpected or unusual names as well as any names that may have been left out deliberately or inadvertently. The system also automatically identifies influential publications like Hitchcock and Johnson's The International Style, Stern's various Forty and Forty collections, or Reagan's American Architecture, which were instrumental in launching yet unknown names destined to brilliant careers.In a chapter devoted to gender equity, Bonta sounds the alarm on an impending sex war in the literature, with authors giving preference in their writing for architects of their own gender. Ada Louise Huxtable and Barbara Lee Diamondstein are credited for being exceptions to the trend.
Sklep: Libristo.pl 236,02 zł
Sublime Desire JOHNS HOPKINS UNIVERSITY PRESS
Książki / Literatura obcojęzyczna
Has twentieth-century political violence destroyed faith in historical knowledge? What happens to historical fiction when history is seen as either a form of Western imperialism or a form of postmodern simulation? In Sublime Desire, Amy Elias examines our changing relationship to history and how fiction since 1960 reflects that change. She contends that postmodernism is a post-traumatic imagination that is pulled between two desires: the political desire to acknowledge the physical violence of twentieth-century history, and the yearning for an escape from that history into a ravishing realm of historical certainty. Torn between these desires, both historical fiction and historiography after 1960 redefine history as the "sublime," a territory beyond lived experience that is both unknowable and seductive. In the face of a failure of Enlightenment ideals about knowledge and the West's own history of violence, post-World War II history becomes a desire for the "secular sacred" sublime-for awe, certainty, and belief. Sublime Desire is an eloquent melding of theory and practice. Mixing the canonical with the unexpected, Elias analyzes developments in the historical romance genre from Walter Scott's novels to novels written today. She correlates developments in the historical romance to similar changes in historiography and philosophy. Sublime Desire draws engagingly on more than thirty relevant texts, from Tolstoy's War and Peace to Jeanette Winterson's Sexing the Cherry, Charles Johnson's Dreamer, and Charles Frazier's Cold Mountain. But the book also examines theories of postmodern space and time and defines the difference between postmodern and postcolonial historical perspectives. The final chapter draws from trauma theory in Holocaust studies to define how fiction can pose an ethical alternative to aestheticized history while remaining open to pluralism and democratic values. In its range and sophistication, Sublime Desire is a valuable addition to postmodernist studies as well as to studies of the historical romance novel.
Sklep: Libristo.pl 105,43 zł
Książki / Literatura obcojęzyczna
Excerpt from The Edinburgh Medical Journal, 1907, Vol. 22 Harvey made no attempt, even in that chapter which forms the most beautiful part of his immortal work, to explain the causes of the pulsation of the heart, and we have to pass on till a period a hundred and thirty years later before we encounter any attempt to define the problem. Cardiac movements were originally attributed by Albrecht von Haller to an inherent power of contraction belonging to the heart itself. It has been claimed that be regarded the automatic movements of the heart as due to an inherent faculty of the heart muscle. This, however, is not specifically stated, and, as the intimate nervous connections were then unknown, it is probable that the intrinsic nature of the movements did not particularly trouble the mind of that great Observer. Senac also regarded the pulsation of the heart as due to special cardiac activities, but he at the same time laid greater stress upon external sources of interference. With these vague views, pathologists as well as physicians were content until the middle of last century. The discovery of the ganglia at the junction of the sinus and auricle by Remak, of those between the auricle and ventricle by Bidder, and of those between the two ventricles by Ludwig, necessarily opened up the possibility of some definite explanation, and the formal presentation of the views which resulted was given by Volkmann, who enunciated the theory that the pulsation of the heart was due to the auto matic action of its intrinsic ganglia. About the Publisher Forgotten Books publishes hundreds of thousands of rare and classic books. Find more at www.forgottenbooks.com This book is a reproduction of an important historical work. Forgotten Books uses state-of-the-art technology to digitally reconstruct the work, preserving the original format whilst repairing imperfections present in the aged copy. In rare cases, an imperfection in the original, such as a blemish or missing page, may be replicated in our edition. We do, however, repair the vast majority of imperfections successfully; any imperfections that remain are intentionally left to preserve the state of such historical works.
Sklep: Libristo.pl
Sklepy zlokalizowane w miastach: Warszawa, Kraków, Łódź, Wrocław, Poznań, Gdańsk, Szczecin, Bydgoszcz, Lublin, Katowice
Szukaj w sklepach lub całym serwisie
2. Szukaj na wszystkich stronach serwisu
t1=0.086, t2=0, t3=0, t4=0.024, t=0.086