krainaksiazek the book of ruth a commentary 20116625
- znaleziono 3 produkty w 1 sklepie 203,76 zł
Książki / Literatura obcojęzyczna
The latest in the JPS Bible Commentary series.The moving story of Ruth, with its themes of loyalty, loving kindness (hesed), and redemption, is one of the great narratives of the Bible. Socially, the Israelites were aware of their responsibility to protect the weak and unprotected among them. Redemption secures the life of the people as a community, not just as individuals. In this story, Boaz fills the familial obligation to marry the widow of a deceased relative who never was able to father children, both to continue the family line and protect an otherwise vulnerable woman. The authors provide a critical, line-by-line commentary of the biblical text, presented in its original Hebrew, complete with vocalization and cantillation marks, as well as the 1985 JPS English translation. The extensive introduction places the book within its historical, literary, and critical context, discusses contemporary interpretations of the story of Ruth, and examines its major motifs and themes, among them: family, marriage and levirate marriage in biblical and ancient Israel, redemption and inheritance, hesed, and the book's connection with the Jewish holiday of Shavuot.
Sklep: Libristo.pl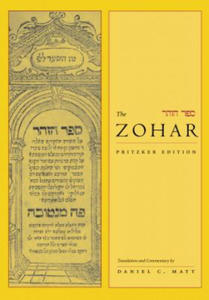 260,68 zł
Kniha Zohar Stanford University Press
Książki / Literatura obcojęzyczna
"Sefer ha-Zohar" (The Book of Radiance) has amazed and overwhelmed readers ever since it emerged in medieval Spain toward the end of the thirteenth century. Written in a unique, lyrical Aramaic, this masterpiece of Kabbalah exceeds the dimensions of a normal book; it is virtually a body of literature, comprising over twenty discrete sections. The bulk of the "Zohar" consists of a fascinating mystical commentary on the Torah, from Genesis through Deuteronomy. This sixth volume of "The Zohar: Pritzker Edition" completes the "Zohar's" commentary on the book of Exodus. Some of the volume focuses on the Dwelling (or "mishkan") built by Moses and the Israelites in the Sinai Desert. The "mishkan" symbolizes "Shekhinah," the feminine presence of God who "dwells" on earth. The construction of the "mishkan" is intended to ensure Her intimacy with the people--and especially with Moses, who is actually called Her husband. The dramatic episode of the Golden Calf receives special treatment. The worship of the calf is seen as a rejection of "Shekhinah." Normally, She would have restrained the wrath of God's masculine aspect and prevented Him from striking Israel; but having been rejected, She instead departed, leaving the people vulnerable. Whereupon the blessed Holy One hinted to Moses that it was up to him to defend Israel from divine destruction. By invoking the three patriarchs, Moses pinned God's arms, as it were, and immobilized Him, saving his people. With the appearance of this volume, "The Zohar: Pritzker Edition" has reached its halfway point. The projected Volumes VII-IX will complete the "Zohar's" main commentary on the Torah. Volumes X-XII will include the "Zohar's" commentary on various other books of the Bible (such as Ruth and Song of Songs) as well as several independent compositions.
Sklep: Libristo.pl 79,56 zł
Książki / Literatura obcojęzyczna
Source: Wikipedia. Pages: 38. Chapters: Aggadah, Alphabet of Akiba ben Joseph, Ein Yaakov, Midrash HaGadol, Midrash Hashkem, Midrash Iyyob, Midrash Shmuel (aggadah), Midrash Tehillim, Midrash Vayisau, Pesikta de-Rav Kahana, Pesikta Rabbati, Pirke De-Rabbi Eliezer, Seder Olam Rabbah, Seder Olam Zutta, Sefer haYashar (midrash), Tanhuma, Tanna Devei Eliyahu, Yalkut Shimoni. Excerpt: 81 article summaries including: Pirke de-Rabbi Eliezer and Eastern Christian Exegesis . Pesikta de-Rav Kahana. Pirke de-Rabbi Eliezer: Nach der Edition Venedig 1544 unter Berücksichtigung der Edition Warschau 1852. Pirke de-Rabbi Eliezer: Nach der Edition Venedig 1544 unter Berucksichtigung der Edition Warschau 1852(Book review). Midrash and Multiplicity: Pirke de-Rabbi Eliezer and the Renewal of Rabbinic Interpretive Culture. Pesikta Rabbati. Midrash Tehillim. Midrash Samuel. Manuscripts, Hebrew. 500 bce500 ce. 5001500. Hebrew Book Titles. Bible. Braude, William Gordon. Midrashim, Smaller. Song of Songs Rabbah. Buber, Solomon. Ruth Rabbah. The Name. Lyck. Peki'in. Living Traditions of the Bible: Scripture in Jewish, Christian and Muslim Practice(Book review). Jonah's journey. What is your favorite Jewish book (other than the Torah and the Talmud)(ASK THE RABBIS). Lamentations Rabbah. The Name. The Structure. Mandelbaum, Bernard. A Biblical Text and Its Afterlives: The Survival of Jonah in Western Culture. Barrenness and Fertility. Mehlsack, Eliakim ben Judah Ha-Milzahgi. Midrash and Multiplicity(Book review). Luzki (Lucki), Simah Isaac ben Moses. Seder Olam. Seder Olam Rabbah. Israel, Kingdom of. Ratner, Dov Baer. Menahem Mendel of Shklov. Synagogue, The Great. Chronology. Habakkuk: from perplexity to faith(Essay). Genesis Rabbah. Title. Structure. anokh Zundel ben Joseph. Quintilius Varus°. Simah ben Samuel of Speyer. Esther Rabbah. The Structure. Ten Martyrs, The. Al-Nakawa, Israel ben Joseph. Nathan ben Jehiel of Rome. Elijah and Elisha: Part I Moses and Joshua(Essay). Divine Garb: A Hasidic Teaching on the Revelation at Sinai. Luria, David ben Judah. Numbers Rabbah. Structure. Numbers Rabbah i. Isaac ben Jacob Min Ha-Leviyyim. Margolioth, Ephraim Zalman ben Menahem Mannes. Avelei Zion. The Provo International Conference on the Dead Sea Scrolls--Technological Innovations, New Texts, and Reformulated Issues . Friedmann, Meir. Huna (Huna, Hunya, Nehunya) ben Avin Ha-Kohen. Prijs, Joseph. Tanuma Bar Abba. Zodiac. Translation, midrash, and commentary through the eyes of Onkelos(Essay). Isaac ben Samson Ha-Kohen. Yalkut (ha-) Makhiri. Athirat. Sun Goddess. Imma Shalom. Mattathias Ha-Yihari. Meir Simhah Ha-Kohen of Dvinsk. Plants. In the Bible. Urbach, Ephraim Elimelech. Vigenčre, Blaise de°. Yudelovitz, Abraham Aaron. Articles noted. Exodus Rabbah. The Structure. Exodus Rabbah i. Ibn Shuaib, Joshua. Kunteres. Merkabah Mysticism or Ma'aseh Merkavah. Midrash Leka Tov. Preil, Elazar Meir. And From There you Shall Seek(Book review). Zerstorungen des Jerusalemer Tempels: Geschehen--Wahrnehmung--Bewaltigung(Book Review). Abner of Burgos. Abraham ben Azriel. Hezekiah ben Manoah. Joshua. Poetry, midrash, and feminism. Yarmuk. Talmud goes to the stock market (AT Religious Library Database Management goes public)
Sklep: Libristo.pl
Sklepy zlokalizowane w miastach: Warszawa, Kraków, Łódź, Wrocław, Poznań, Gdańsk, Szczecin, Bydgoszcz, Lublin, Katowice
Szukaj w sklepach lub całym serwisie
2. Szukaj na wszystkich stronach serwisu
t1=0.02, t2=0, t3=0, t4=0, t=0.02