krainaksiazek the boy scout and other stories for boys 20093407
- znaleziono 13 produktów w 2 sklepach 68,44 zł
Książki / Literatura obcojęzyczna
Excerpt from The Indian Scout: A Story of the Aztec City "Gustave Aimard," whose baptismal name, Olivier Gloux, is almost forgotten, can claim to have been in his heyday the favourite Indian romancer of the French schoolboy. Translated into English, his stories and novels of wild life held their own in other countries too, by the side of Fenimore Cooper's and Captain Mayne Reid's. They dealt boldly and freely in the sensations of the camp and backwoods; and they had, like the best works of the other romance-writers just mentioned, the advantage of being based upon the real experience of their author. Born at Paris in 1818, young Olivier Gloux sailed to America as a midshipmite when he was still a boy; and there began his adventures in foreign lands. An air of mystery is cast over some of the succeeding years when he lived "among the Indians" as the phrase goes. In a Page of My Life, prefixed to El Dorado and Le Guaranis, he gives us a personal clue to his method in treating the realities which he afterwards cast into a romantic form. He speaks there of the comparatively slight modifications which he made in his crude material; and he shows us the impulse that prompted him in his wanderings. "What did I go there to do?" he asks (it is to Brazil that he refers in this case); and he replies, "I did not know myself: I obeyed a need of emotions, a desire for the unforeseen which I could not have explained, but which pushed me on with irresistible force. During twenty years this desire led me, without serious motives or reasons that would have seemed logical in the eyes of men used to the pleasures and easy comforts of European life, to leave the print of my feet in the depths of the most unexplored deserts, where it procured me ineffable happiness, strange and nameless ecstasies, and in the outcome, cruel suffering." About the Publisher Forgotten Books publishes hundreds of thousands of rare and classic books. Find more at www.forgottenbooks.com This book is a reproduction of an important historical work. Forgotten Books uses state-of-the-art technology to digitally reconstruct the work, preserving the original format whilst repairing imperfections present in the aged copy. In rare cases, an imperfection in the original, such as a blemish or missing page, may be replicated in our edition. We do, however, repair the vast majority of imperfections successfully; any imperfections that remain are intentionally left to preserve the state of such historical works.
Sklep: Libristo.pl 34,99 zł
Książki Obcojęzyczne>Angielskie>Children
David Was Only Trying To Be Cool When He Helped Some Other Boys Steal An Old Lady's Cane. But When The Plan Backfires, He Is The One Whom She 'curses'. Now David Can't Seem To Do Anything Right. But Is This The Curse At Work Or Is David Turning Into A Tot
Sklep: Gigant.pl 97,93 zł
Książki / Literatura obcojęzyczna
"The Lost Road" - Published in 1913 and updated with three additional stories in 1917, this is a collection of ten of Davis's dramatic and gripping stories. From soldiers who never give up, to how a Boy Scout saved hundreds of jobs and large company from disaster, you will find these stories well worth your time. The stories included are: "The Lost Road," "The Miracle of Las Palmas," "Evil to Him Who Evil Thinks," "The Men of Zanzibar," "The Long Arm," "The God of Coincidence," "The Buried Treasure of Cobre," "The Boy Scout," "Somewhere in France", and "The Man Who Had Everything" (also known as "The Deserter"). Includes a commemorative foreword written by John T. McCutcheon. * * * * "The Lion and the Unicorn" - Published in 1899, these five stories continue Davis's fine tradition of dramatic and gripping writing. A playwright goes to London to make his name, but finds love instead; A wounded soldier on a hospital ship struggles through hallucinations and delirium and refuses to die because his girl is on her way to care for him, she has promised so; a politician is placed in an awkward situation; a vagrant turns out to be more than he first appears; and three viewpoints on a rebellion in South Africa. The stories are: "The Lion and the Unicorn," "On the Fever Ship," "The Man with One Talent," "The Vagrant," and "The Last Ride Together - A Sketch Containing Three Points Of View." * * * * This volume includes the complete text of all the stories, published in 1899, 1913, 1915, and 1917. Also included are the original 14 illustrations that graced these stories. * * * * Check our other Children's, Juvenile, and Adult books at www.FlyingChipmunkPublishing.com, or Like us on Facebook for our latest releases.
Sklep: Libristo.pl 79,66 zł
Książki / Literatura obcojęzyczna
The tiny Sun studio at 706 Union Avenue in Memphis, Tennessee, may not have looked like much from the outside, but inside musical miracles were being performed daily by its enigmatic owner, Sam Phillips. Phillips began more or less as a talent scout for other record labels, such as the legendary Chess Records in Chicago. However, after discovering a wealth of talent in his own backyard in the Mid-South area, Phillips began his own record label-Sun Records-with an emblematic rising sun and rooster logo. A white man who loved and understood African-American music, Phillips recorded soon-to-be blues icons such as Howlin' Wolf, Rufus Thomas and B.B. King. A seismic shift occurred during one session in 1951 when Phillips recorded "Rocket 88" with Jackie Brenston and Ike Turner. That shift was to become known as rock and roll. A shy white boy named Elvis Presley came into the studio to record a song for his mother's birthday. Phillips recognized something in the young man, and a moment of silliness in the studio ruptured into the first record of the future King of Rock & Roll, "That's All Right." Elvis shot to stardom; Sun Records didn't stop there. Hot on his heels came Jerry Lee Lewis, Carl Perkins and Johnny Cash. However, there wasn't a day that the studio wasn't searching for other artists, other hits. Sun Records: An Oral History (2nd edition) brings to readers the voices of the pillars of Sun Records, the artists, producers and engineers who made the place tick. Thomas (the first hit-maker for Sun), Scotty Moore, Rosco Gordon, Little Milton Campbell, Billy Lee Riley, producer and musician Roland Janes, producer Cowboy Jack Clement and others all tell their inimitable stories about the making of a music empire, the label that put rock and roll on the world map. Music journalist and critic John Floyd has woven together dozens of priceless stories and anecdotes with his own insightful and artful narrative to make this book definitive for anyone interested in Sun Records or the birth and rise of rock and roll. For example, there are firsthand accounts of the early Elvis sessions by Moore, Riley's own account of his legendary drunken rampage in the Sun studio, and a transcript of the back-and-forth hell and damnation conversation between a reluctant Lewis and Phillips just prior to the recording of "Great Balls of Fire." This second edition updates the masterful original book which was critically acclaimed and considered one of the canon of must-have music books.
Sklep: Libristo.pl 67,00 zł
Książki / Literatura obcojęzyczna
In the early 1950s, an eleven-year-old boy boards a huge liner bound for England - a 'castle that was to cross the sea'. At mealtimes, he is placed at the lowly 'Cat's Table' with an eccentric group of grown-ups and two other boys, Cassius and Ramadhin. As the ship makes its way across the Indian Ocean, through the Suez Canal, into the Mediterranean, the boys become involved in the worlds and stories of the adults around them, tumbling from one adventure and delicious discovery to another, 'bursting all over the place like freed mercury'. And at night, the boys spy on a shackled prisoner - his crime and fate a galvanizing mystery that will haunt them forever. As the narrative moves from the decks and holds of the ship and the boy's adult years, it tells a spellbinding story about the difference between the magical openness of childhood and the burdens of earned understanding - about a life-long journey that began unexpectedly with a spectacular sea voyage, when all on board were 'free of the realities of the earth'. With the ocean liner a brilliant microcosm for the floating dream of childhood, The Cat's Table is a vivid, poignant and thrilling book, full of Ondaatje's trademark set-pieces and breathtaking images: a story told with a child's sense of wonder by a novelist at the very height of his powers.
Sklep: Libristo.pl 68,44 zł
Książki / Literatura obcojęzyczna
In SHE-MALE SENSATIONS, one of America's hottest she-male erotica writers, Blake Worthington, combines all of the stories from the She-Male Seductions series, Tranny Tempations, Ladyboy Lust, and Triple Tranny Temptations in one exciting, fully-functional volume about hot girls with a "little something extra" for their man. Stories include: LADIES' NIGHT- A twenty-something small town guy heads out to Ladies' Night at a local bar and meets a beautiful woman with a little something "extra." In PLANE JANE, a she-male erotica writer stuck at an airport hotel after her plane is grounded during New Year's meets a pilot in the lobby bar. It's then that things really begin to take off! There's always a first time. In "LOCKER ROOM CHANGE," Nick is a high school boy a little on the pretty and sweet side versus macho and manly. He feels different than the other boys, and he fantasizes about the new jock in school named Sam. When Sam corners Nick in the locker room at the gym and demands that he put on a dress and wig "just for him," Nick begins the transformation to Nicky. Just who's on the other side of that online chat? In "YOU'VE GOT SHE-MALE," an adventurous she-male finds herself exploring a fantasy of public sex with her online blind date. Just how far will she go with pedestrians walking by just a few feet away? In SHEE BANG, Shelia, or Shee for short, is a twenty year old hot and ready she-male with a knack for putting on just the right act to get men to submit to her desires. In WET NOODLE, a chance encounter with a sexy, passable she-male leaves a Las Vegas convention attendee completely wet in more ways than one!
Sklep: Libristo.pl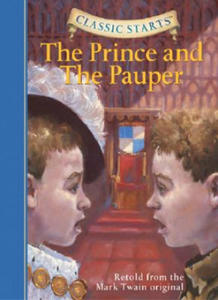 32,70 zł
Książki / Literatura obcojęzyczna
One boy, penniless and in rags, forced to beg in the street. The other, a king's son, coddled and given all he could want. What happens when the two boys change clothes and places and learn how the other half lives? Mark Twain's satirical and suspenseful novel about the thin line that separates prince and pauper is a perennial favourite. Abridged for easier reading and carefully rewritten, with "Classic Starts[trademark]", young readers can experience the wonder of timeless stories from an early age.
Sklep: Libristo.pl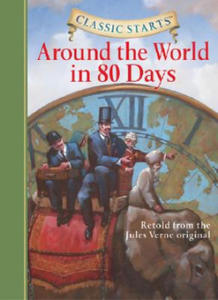 26,29 zł
Książki / Literatura obcojęzyczna
One boy, penniless and in rags, forced to beg in the street. The other, a king's son, coddled and given all he could want. What happens when the two boys change clothes and places and learn how the other half lives? Mark Twain's satirical and suspenseful novel about the thin line that separates prince and pauper is a perennial favourite. Abridged for easier reading and carefully rewritten, with Classic Starts[trademark], young readers can experience the wonder of timeless stories from an early age.
Sklep: Libristo.pl 30,99 zł
Książki Obcojęzyczne>Angielskie>Children
One Boy, Penniless And In Rags, Forced To Beg In The Street. The Other, A King's Son, Coddled And Given All He Could Want. What Happens When The Two Boys Change Clothes And Places And Learn How The Other Half Lives? This Novel Is About The Thin Line That
Sklep: Gigant.pl 99,21 zł
Książki / Literatura obcojęzyczna
Source: Wikipedia. Commentary (films not included). Pages: 71. Chapters: The Princess Bride, The Goonies, Naughty Marietta, Captain Blood, The Black Pirate, Peter Pan, Hook, The Pirates of Dark Water, List of pirate films by year, Swiss Family Robinson, Captain Horatio Hornblower R.N., Jonah: A VeggieTales Movie, The Secret of Treasure Island, The Sea Hawk, The Pirate Movie, The Crimson Pirate, The Pirates Who Don't Do Anything: A VeggieTales Movie, Yellowbeard, Queens of Langkasuka, Garfield's Halloween Adventure, Cutthroat Island, Tom and Jerry: Shiver Me Whiskers, The Crimson Permanent Assurance, Pirate Treasure, The Light at the Edge of the World, The Princess and the Pirate, Against All Flags, Swashbuckler, Shipwrecked, Captain Kidd, Blackbeard's Ghost, The Black Swan, Buccaneer Bunny, Pirates of the High Seas, The Boy and the Pirates, Abbott and Costello Meet Captain Kidd, Pirates of the Plain, A High Wind in Jamaica, Anne of the Indies, Davy Crockett and the River Pirates, China Seas, Frenchman's Creek, Shiver My Timbers, Labou, The Island, Nate and Hayes, The Buccaneer, The Sea Hound, Pippi in the South Seas, Ghost in the Noonday Sun, His Majesty O'Keefe, The Spanish Main, Perils of the Wild, Captain Sabertooth, La Isla misteriosa y el capitán Nemo, The Fabulous World of Jules Verne, Blackie the Pirate, Blackbeard the Pirate, Underwater!, Mysterious Island, The Devil-Ship Pirates, Sengoku Yaro, Daphne and the Pirate, Pirates!, Captain Kidd's Kids, Captain Pirate, The Black Pirates, Pirates of Blood River, Pirates of Malaysia, Captain Kidd and the Slave Girl, Pirate Gold, The King's Pirate, Fair Wind to Java, Caribbean Gold, True Caribbean Pirates, Morgan, the Pirate. Excerpt: Peter Pan is a 1953 American animated film produced by Walt Disney and based on the play Peter Pan, or The Boy Who Wouldn't Grow Up by J. M. Barrie. It is the fourteenth film in the Walt Disney Animated Classics series and was originally released on February 5, 1953 by RKO Pictures. Peter Pan is the final Disney animated feature released through RKO before Walt Disney's founding of his own distribution company, Buena Vista Distribution, later in 1953 after the film was released. Peter Pan is also the final Disney film in which all nine members of Disney's Nine Old Men worked together as directing animators. The film was entered into the 1953 Cannes Film Festival. A sequel titled Return to Never Land and a prequel titled Tinker Bell were released in 2002 and 2008 respectively. The film changes the original Barrie play by having the Darling children know all about Peter Pan before they ever meet him. Peter goes to the nursery window, not to hear Wendy's mother tell her the story of Cinderella, but to hear Wendy tell her brothers stories about Peter himself. The Lost Boys are not adopted at the end by the Darlings as in the play, television, and other film versions; they return to Never Land and stay there with Peter, never growing up. The Disney film also lightens the storyline by carefully eliminating all the potentially tragic overtones of the story, even going so far as to have the Darling children's absence from the nursery go completely unnoticed by their parents. (In the original play and its 1954 musical version, after Wendy, John and Michael go to Never Land with Peter, the parents are plunged into a period of mourning until the children return home.) As the narrator tells the viewing audience, the action about to take place "has happ...
Sklep: Libristo.pl 31,42 zł
Książki / Literatura obcojęzyczna
'there were only seven out of the twenty-six on whom we knew we could rely; and out of those seven one was a boy ...' When a mysterious seafarer puts up at the Admiral Benbow, young Jim Hawkins is haunted by his frightening tales; the sailor's sudden death is the beginning of one of the most exciting adventure stories in literature. The discovery of a treasure map sets Jim and his companions in search of buried gold, and they are soon on board the Hispaniola with a crew of buccaneers recruited by the one-legged sea cook known as Long John Silver. As they near their destination, and the lure of Captain Flint's treasure grows ever stronger, Jim's courage and wits are tested to the full. Stevenson reinvented the genre with Treasure Island, a boys' story that appeals as much to adults as to children, and whose moral ambiguities turned the Victorian universe on its head. This edition celebrates the ultimate book of pirates and high adventure, and also examines how its tale of greed, murder, treachery, and evil has acquired its classic status. ABOUT THE SERIES: For over 100 years Oxford World's Classics has made available the widest range of literature from around the globe. Each affordable volume reflects Oxford's commitment to scholarship, providing the most accurate text plus a wealth of other valuable features, including expert introductions by leading authorities, helpful notes to clarify the text, up-to-date bibliographies for further study, and much more.
Sklep: Libristo.pl 37,19 zł
Książki / Literatura obcojęzyczna
From the lady who taught dragons to fly and rockets to sing...The Smallest Dragon Boy. The only thing Keevan wanted in his life was to be a dragonrider just like his father. Surely nothing could be as thrilling as soaring through the air between the powerful wings of a dragon...But Keevan was small and there were always more boys than there were dragons -- someone must be disappointed. Keevan wasn't exactly the foremost candidate but dragons have their own standards, especially the bronzes, the most jighly-prized dragons of all...This and thirteen other superb stories are collected for the first time here, in Get Off the Unicorn.
Sklep: Libristo.pl 43,99 zł
Książki Obcojęzyczne>Angielskie>Children
Did You Ever Wonder What Happened To Jo March From Little Women? She Grew Up, Of Course, And Followed Her Dream To Become A Writer. In Addition, She Opened A School, Home To Her Two Children And Twelve Other Boys. Into This Large, Unusual Family Arrives Nat - A Skinny, Nervous Orphan Boy With No Schooling, Just A Fearless Talent For The Violin.
Sklep: Gigant.pl
Sklepy zlokalizowane w miastach: Warszawa, Kraków, Łódź, Wrocław, Poznań, Gdańsk, Szczecin, Bydgoszcz, Lublin, Katowice
Szukaj w sklepach lub całym serwisie
2. Szukaj na wszystkich stronach serwisu
t1=0.077, t2=0, t3=0, t4=0, t=0.078