krainaksiazek the cambridge introduction to theatre and literature of the absurd 20054777
- znaleziono 12 produktów w 2 sklepach 93,97 zł
Książki / Literatura obcojęzyczna
Michael Y. Bennett's accessible Introduction explains the complex, multidimensional nature of the works and writers associated with the absurd - a label placed upon a number of writers who revolted against traditional theatre and literature in both similar and widely different ways. Setting the movement in its historical, intellectual and cultural contexts, Bennett provides an in-depth overview of absurdism and its key figures in theatre and literature, from Samuel Beckett and Harold Pinter to Tom Stoppard. Chapters reveal the movement's origins, development and present-day influence upon popular culture around the world, employing the latest research to this often challenging area of study in a balanced and authoritative approach. Essential reading for students of literature and theatre, this book provides the necessary tools to interpret and develop the study of a movement associated with some of the twentieth century's greatest and most influential cultural figures.
Sklep: Libristo.pl 124,99 zł
Książki Obcojęzyczne>Angielskie>The arts>Theatre studiesKsiążki Obcojęzyczne>Angielskie>Literature & literary studies>Literature: hi...
0x001a334200000000
Sklep: Gigant.pl 134,99 zł
Książki Obcojęzyczne>Angielskie>The arts>Theatre studiesKsiążki Obcojęzyczne>Angielskie>Literature & literary studies>Literature: hi...
0x0138342a00000000
Sklep: Gigant.pl 104,52 zł
Książki / Literatura obcojęzyczna
Tragedy is the art-form created to confront the most difficult experiences we face: death, loss, injustice, thwarted passion, despair. From ancient Greek theatre up to the most recent plays, playwrights have found, in tragic drama, a means to seek explanation for disaster. But tragedy is also a word we continually encounter in the media, to denote an event which is simply devastating in its emotional power. This introduction explores the relationship between tragic experience and tragic representation. After giving an overview of the tragic theatre canon - including chapters on the Greeks, Shakespeare, Ibsen, Chekhov, post-colonial drama, and Beckett - it also looks at the contribution which philosophers have brought to this subject, before ranging across other art-forms and areas of debate. The book is unique in its chronological range, and brings a wide spectrum of examples, from both literature and life, into the discussion of this emotional and frequently controversial subject.
Sklep: Libristo.pl 120,18 zł
Książki / Literatura obcojęzyczna
Albert Camus is one of the iconic figures of twentieth-century French literature, one of France's most widely read modern literary authors and one of the youngest winners of the Nobel Prize for Literature. As the author of L'Etranger and the architect of the notion of 'the Absurd' in the 1940s, he shot to prominence in France and beyond. His work nevertheless attracted hostility as well as acclaim and he was increasingly drawn into bitter political controversies, especially the issue of France's place and role in the country of his birth, Algeria. Most recently, postcolonial studies have identified in his writings a set of preoccupations ripe for revisitation. Situating Camus in his cultural and historical context, this 2007 Companion explores his best-selling novels, his ambiguous engagement with philosophy, his theatre, his increasingly high-profile work as a journalist and his reflection on ethical and political questions that continue to concern readers today.
Sklep: Libristo.pl 120,18 zł
Książki / Literatura obcojęzyczna
This book offers a comprehensive account of modern Spanish culture, tracing its dramatic and often unexpected development from its beginnings after the Revolution of 1868 to the present day. Specially-commissioned essays by leading experts provide analyses of the historical and political background of modern Spain, the culture of the major autonomous regions (notably Castile, Catalonia, and the Basque Country), and the country's literature: narrative, poetry, theatre and the essay. Spain's recent development is divided into three main phases: from 1868 to the outbreak of the Spanish Civil War; the period of the dictatorship of Francisco Franco; and the post-Franco arrival of democracy. The concept of 'Spanish culture' is investigated, and there are studies of Spanish painting and sculpture, architecture, cinema, dance, music, and the modern media. A chronology and guides to further reading are provided, making the volume an invaluable introduction to the politics, literature and culture of modern Spain.
Sklep: Libristo.pl 171,28 zł
Książki / Literatura obcojęzyczna
Edward Albee, perhaps best known for his acclaimed and infamous 1960s drama Who's Afraid of Virginia Woolf?, is one of America's greatest living playwrights. Now in his seventies, he is still writing challenging, award-winning dramas. This collection of essays on Albee, which includes contributions from the leading commentators on Albee's work, brings fresh critical insights to bear by exploring the full scope of the playwright's career, from his 1959 breakthrough with The Zoo Story to his recent Broadway success, The Goat, or Who is Sylvia? (2002). The contributors include scholars of both theatre and English literature, and the essays thus consider the plays both as literary texts and as performed drama. The collection considers a number of Albee's lesser-known and neglected works, provides a comprehensive introduction and overview, and includes an exclusive, original interview with Mr Albee, on topics spanning his whole career.
Sklep: Libristo.pl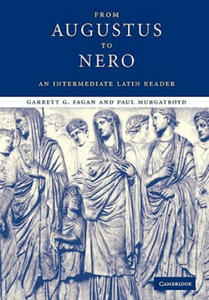 190,41 zł
Książki / Literatura obcojęzyczna
This reader contains selections from Tacitus, Suetonius and Seneca on the first five Roman emperors. They present a dark world of murder, mayhem, debauchery and palace intrigue: Augustus with his firm moral policies and secret adulterous affairs; the sour and depraved Tiberius; the extravagance and madness of Caligula; the slobbering and ineffective Claudius; and Nero with his absurd artistic pretensions. Exciting, horrific and moving, the selections are also valuable for studying style and rhetoric, human nature and the roles of women, imperialism and corruption. The book is aimed at students moving on to genuine, unsimplified Latin prose after completing an introductory Latin course. It contains a useful introduction, detailed notes providing a lot of help with grammar, expression and translation, a full vocabulary, and an appreciation offering historical comment for context and analysis and literary criticism to make the passages come alive as literature and enhance students' perception and enjoyment.
Sklep: Libristo.pl 147,54 zł
Książki / Literatura obcojęzyczna
Introducing readers to the key texts, theatrical practice and context of late seventeenth-century drama, David Roberts combines literary and theatrical approaches to show how Restoration plays were written, performed, received, and printed. Structured according to the 'life cycle' of the dramatic text, this book reproduces extracts from twenty-four of the most influential Restoration plays to provide readers with a comprehensive and colourful introduction to the period's drama. Roberts encourages readers to look beyond a limited canon of established plays and practice, and to see how Restoration drama has been revived and adapted on the modern stage and on screen. Restoration Plays and Players is of great interest to undergraduate and non-specialist readers of seventeenth-century drama, Restoration literature and theatre studies.
Sklep: Libristo.pl 466,53 zł
Książki / Literatura obcojęzyczna
'You speak a language that I understand not.' Hermione's words to Leontes in The Winter's Tale are likely to ring true with many people reading or watching Shakespeare's plays today. For decades, people have been studying Shakespeare's life and times, and in recent years there has been a renewed surge of interest into aspects of his language. So how can we better understand Shakespeare? How did he manipulate language to produce such an unrivalled body of work, which has enthralled generations both as theatre and as literature? David Crystal addresses these and many other questions in this lively and original introduction to Shakespeare's language. Covering in turn the five main dimensions of language structure - writing system, pronunciation, grammar, vocabulary, and conversational style - the book shows how examining these linguistic 'nuts and bolts' can help us achieve a greater appreciation of Shakespeare's linguistic creativity.
Sklep: Libristo.pl 93,97 zł
The Alchemist Cambridge University Press
Książki / Literatura obcojęzyczna
Originally published in 1928, this book presents the text of The Alchemist by Ben Jonson. An editorial introduction is included, along with extensive notes. Spelling and punctuation are occasionally modernised and a few passages are omitted, but aside from this the text of William Gifford's 1816 edition is followed. This book will be of value to anyone with an interest in English theatre and early modern literature.
Sklep: Libristo.pl 323,94 zł
Książki / Literatura obcojęzyczna
In this collection of essays from leading scholars, the dynamic interplay between evolution and Victorian culture is explored for the first time, mapping new relationships between the arts and sciences. Rather than focusing simply on evolution and literature or art, this volume brings together essays exploring the impact of evolutionary ideas on a wide range of cultural activities including painting, sculpture, dance, music, fiction, poetry, cinema, architecture, theatre, photography, museums, exhibitions and popular culture. Broad-ranging, rather than narrowly specialized, each essay provides a brief introduction to key scholarship, a central section exploring original insights drawn from primary source material, and a conclusion offering overarching principles and a projection towards further areas of research. Each essay covers the work of significant individuals and groups applying evolutionary theory to their particular art, both as theorists and practitioners. This comprehensive examination of topics sheds light on larger and previously unknown Victorian cultural patterns.
Sklep: Libristo.pl
Sklepy zlokalizowane w miastach: Warszawa, Kraków, Łódź, Wrocław, Poznań, Gdańsk, Szczecin, Bydgoszcz, Lublin, Katowice
Szukaj w sklepach lub całym serwisie
2. Szukaj na wszystkich stronach serwisu
t1=0.045, t2=0, t3=0, t4=0, t=0.045