krainaksiazek the christian woman s journal 20123627
- znaleziono 5 produktów w 1 sklepie 138,82 zł
Książki / Literatura obcojęzyczna
Black women are strong. At least that's what everyone says and how they are constantly depicted. But what, exactly, does this strength entail? And what price do Black women pay for it? In this book, the author, a psychologist and pastoral theologian, examines the burdensome yoke that the ideology of the Strong Black Woman places upon African American women. She demonstrates how the three core features of the ideology--emotional strength, caregiving, and independence--constrain the lives of African American women and predispose them to physical and emotional health problems, including obesity, diabetes, hypertension, and anxiety. She traces the historical, social, and theological influences that resulted in the evolution and maintenance of the Strong Black Woman, including the Christian church, R & B and hip-hop artists, and popular television and film. Drawing upon womanist pastoral theology and twelve-step philosophy, she calls upon pastoral caregivers to aid in the healing of African American women's identities and crafts a twelve-step program for Strong Black Women in recovery. Too Heavy a Yoke is a much-needed, thoughtful, and nuanced examination of the 'Strong Black Woman' stereotype--a significant new contribution to multiple disciplines of pastoral care and counseling, psychology, sociology, African American and womanist-feminist studies, and constructive theology. Walker Barnes draws on both womanist and Trinitarian theologies to examine how the church can play a part in healing and liberating black women from 'the burden of strength.' Meticulously researched and beautifully written, this book belongs on the shelf of every minister and pastoral counselor, and indeed every woman who knows in her soul the burdens of being a 'StrongBlackWoman.' --Pamela Cooper-White, Ben G. and Nancye Clapp Gautier Professor of Pastoral Theology, Care, and Counseling, Columbia Theological Seminary Well done! This book is a much-needed gift to the field of pastoral theology. It is a well nuanced and explicated research volume and a practical guide for caregivers, pastors, those who love women struggling with the ideology of the 'StrongBlackWoman,' as well as those in recovery. --Marsha Foster Boyd, President Emerita, Ecumenical Theological Seminary A prayerful, prophetic, poetic, pastoral, powerful womanist analysis of the StrongBlackWoman, from an interdisciplinary, experiential perspective names the context, content, complexities, and pathology of many Black women's embodied archetypal, systemic oppression and posits hopeful options for a paradigmatic shift of recovery. Woven with artistry and passion, Too Heavy a Yoke is a must-read for clergy, therapists, caregivers, and any persons or groups committed to the liberation of black women, ultimately the liberation of all society. --Cheryl A. Kirk-Duggan, Professor of Religion, Shaw University Divinity School Chanequa Walker-Barnes is Assistant Professor of Pastoral Care and Counseling at McAfee School of Theology, Mercer University, Atlanta, Georgia. She is a licensed psychologist and a candidate for ordination in the United Methodist Church. Her articles have been published in a wide range of scholarly journals, including Journal of Pastoral Theology, Child Development, and American Journal of Community Psychology.
Sklep: Libristo.pl 177,69 zł
Książki / Literatura obcojęzyczna
Source: Wikipedia. Pages: 190. Chapters: Viz, White Dwarf, Valkyrie, Tales of the Reaching Moon, The Excellent Prismatic Spray, Skin Two, Private Eye, Fortean Times, Doctor Who Magazine, Oz, The Guardian of Education, All the Year Round, Tribune, Tatler, Power Slam, BLAST, Maxim, New Internationalist, Ritz Newspaper, Review of Reviews, Industrial Minerals, Radio Times, Doctor Who DVD Files, Timeform, The Ecologist, Owl and Weasel, Hello, Amateur Photographer, Stuff, Time Out, Words & Pictures, Cornucopia, Ikonz, Standpoint, Press Complaints Commission, Which?, Heat, Sugar Magazine, First Magazine Limited, The Motorship, Big Picture, Match, CorpComms Magazine, Nang!, Prospect, Dazed & Confused, Blackwood's Magazine, Decanter, Sparta, The Week, Arty, The London Magazine, Times Higher Education, What Satellite and Digital TV, Battle Games in Middle-earth, Borderline Comics Magazine, National Trust Magazine, Deadline, Neo, Lloyd's List, The First Post, 4Q Magazine, Fever Zine, Collecticus, Source, House & Garden, OK!, The Skeptic, Notes and Queries, The End Is Nigh, Venue, Military Times, The Oldie, SFX, BBC History, Oxford Today, Nightshift, Lobster, Medieval History Magazine, Super Play, Dreamwatch, Torchwood Magazine, Litebook, Current Archaeology, Erotic Review, The Idler, LeftLion, Creative Boom magazine, The Month, Philosophy Now, Pentacle, The Law Society Gazette, Current World Archaeology, Bizarre, TVTimes, The Friend, The Rambler, The LIME Magazine, INOUT, Third Way Magazine, First Empire: The International Magazine for the Napoleonic Enthusiast, Historian, and Gamer, Leader Magazine, Courier, The Black Dwarf, The Public Ledger, The Rebel magazine, International Textiles, Soraya french, BBC Sky at Night, Model Engineer magazine, Muso's Guide, The World of Fine Wine, Poker Player, ArtReview, Cornhill Magazine, Port Strategy, RadCom, Shout, Top Gear: Turbo Challenge, British Critic, Royalty Magazine, Sidney Hunt, The Englishwoman's Domestic Magazine, British Amateur Press Association, Loot, Delayed Gratification magazine, Paranormal Magazine, History Today, What's on TV, Ziggy Lichman, Farmers Guide, Due South Magazine, Wine & Spirit, The Gospel Magazine, International Pinguicula Study Group Newsletter, Front, Youthwork Magazine, British Chess Magazine, The Problemist, Frieze, Contemporary, Grafik Magazine, Zero Tolerance Magazine, Caravan magazine, Ancient Egypt, Theological Repository, Shortlist, Magonia, Horse & Hound, Science Fiction Monthly, Wanderlust, New Electronics, Inside Soap, Bad Idea, Icon Magazine, The Eagle, Igizmo, Marmalade Magazine, TV Choice, Fireworks, Meat magazine, TV Zone, Emel, Frost Magazine, Cruise International Magazine, New Media Age, Sleazenation, Retail Week, Supply Management, Classic Boat, Theatre Record, Practical Photography, The Carnivorous Plant Society Journal, Mobile Choice, The Woman's World, London Society, Soaplife, Warlock, 3rd Stone, GrapesTALK, Faithworks Magazine, Mizz Magazine, Sales Promotion, Vole, Christianity Magazine, Museums Journal, The Grocer, Replica Magazine, Look, Your Family Tree Magazine, Ulster Tatler, Practical Fishkeeping, Intellectual Asset Management, Diecast Collector Magazine, Just Seventeen, Liberator, The Mind's Construction Quarterly, MS&T, The Artist, Modern Review, Toxic, The Owl, World Trademark Review, Disability Now, SA Promo, Roughler, Christian Marketplace, All About Soap, Amateur Gardening, Fraser's Magazine, Shoreditch Twat, Morning Advertiser, Sesame, Chil...
Sklep: Libristo.pl 91,86 zł
Książki / Literatura obcojęzyczna
A shocking true story of a double life undone by murder. When North Carolina farmer Stuart Taylor died after a sudden illness, his 46-year-old fiancée Velma Barfield, was overcome with grief. Taylor's family grieved with her--until the autopsy revealed traces of arsenic poisoning. Turned over to the authorities by her own son, Velma stunned her family with more revelations. This wasn't the first time the born-again Christian and devout Sunday school teacher had committed cold-blooded murder. Tried by the "world's deadliest prosecutor," and sentenced to death, Velma turned her life around and gained worldwide attention. With chilling precision,New York Times bestselling author Bledsoe probes Velma's stark descent into madness. From her harrowing childhood to the shocking crimes that incited a national debate over the death penalty, to the dark, final moments of her execution--broadcast live on CNN--Velma Barfield's riveting life of crime and punishment, revenge and redemption is true crime reporting at its most gripping and profound. "A painfully intimate, moving story about the life and death of the only woman executed in the U.S. between 1962-1998... explores a facet of human behavior that defies easy definitions or easy answers... with graceful writing and thorough reporting, it makes the reader look hard at something dark and sad in the human soul... breathes new life into the true crime genre." -Raleigh News & Observer "Bledsoe has written a detailed account of Barfield's troubled life and motives...holds the reader's interest with a true story that reads like a novel." -Library Journal "Undertakes to answer the questions about the justice system and the motives that drive women to kill." -Washington Post Book World "An extraordinary piece of writing... the most chilling description of a legal execution that we are ever likely to get." -Asheville Citizen Times "Substantial... focused and intensive... genuinely instructive." -The Spectator "Bledsoe has been long known as one of the most prodigiously talented reporters and writers in the country." -Tom French "Taut and engrossing on the nature of justice and the death penalty as well as on guilt and responsibility." -Booklist
Sklep: Libristo.pl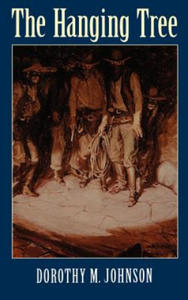 90,75 zł
Hanging Tree COMBINED ACADEMIC PUBLISHERS
Książki / Literatura obcojęzyczna
"Short stories worthy of the most discerning of readers."--Chicago Sunday Tribune. "Johnson writes with a clearwater style and has the gift for showing that even the most questionable characters are worthy of love."--Christian Science Monitor. "Storyteller Johnson's memories are authentic; she grew up in Whitefish, Montana, with wide ears for tall tales...And she has a surprising quality of humor."--Time. "Stories free from the patterns and stereotypes of western horse opera, with real men and women reacting credibly to the dangers and hardships of pioneer life."--Horn Book. The title story, The Hanging Tree, is based on a true episode in Montana's gold-mining past. Three amazing characters meet: the cynical Doc Frail; the boy robber named Rune, whom Doc saves and enslaves; and Elizabeth, the young easterner who survives an Indian assault and comes under the care of Doc and Rune. In the gold-mining camp of Skull Creek Elizabeth becomes the mysterious Lucky Lady. A vigorous, psychological western, The Hanging Tree was made into a movie starring Gary Cooper. The stories in this book consolidate Dorothy M. Johnson's reputation for authenticity and artistic integrity. "Lost Sister" is based on the recapture of Cynthia Ann Parker, a white woman abducted by the Comanche Indians. "The Man Who Knew the Buckskin Kid" tells of two married people and an outlaw who share a secret. Fully as arresting are "The Last Boast," "Journal of Adventure," "I Woke Up Wicked," "The Gift by the Wagon," "A Time for Greatness," "The Story of Charley," and "Blanket Squaw."
Sklep: Libristo.pl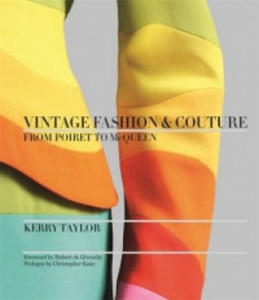 180,39 zł
Książki / Literatura obcojęzyczna
"I thought I knew almost everything about the history of fashion until I met Kerry Taylor. The inside-out knowledge she has of garments will inspire both students and designers to look at fashion with fresh eyes." - Sarah Mower, US Vogue "This beautiful book by Kerry Taylor - the go-to woman for vintage and antique couture - is a treat for collectors and fashion lovers alike." - The Wall Street Journal "Whatever my question about vintage, Kerry Taylor has the answer. Her expertise, knowledge and historical anecdotes have raised the level of interest in this subject hugely." -Lisa Armstrong, Daily Telegraph Named one of Glamour Magazine's "Must-Read Style Books"! Profiled by Vogue and The New York Times and courted by style icons with wardrobes to sell and top designers in search of inspiration, Kerry Taylor is one of the world's leading experts on vintage fashion and couture. In this lavishly illustrated book, Kerry tells the story of a century of fashion through the work of its key design talents and the memorable women who have worn their creations. All the fashion stars are here from Poiret to McQueen via Lanvin, Chanel, Schiaparelli, Madame Gres, Dior, Balenciaga, Mary Quant, Ossie Clark, Vivienne Westwood, Alaia, and Margiela. For each designer Kerry explores their career through a dazzling range of clothes and accessories, explaining what makes each item so desirable to the collector or wearer of vintage fashion. Each chapter includes at least one 'style icon' whose relationship with fashion has had a lasting impact, including Baba D'Erlanger, Lauren Bacall, Grace Kelly, Catherine Deneuve, Paloma Picasso and Kate Moss. Illustrated with a mix of gorgeous fashion photography plus images from Kerry's own astonishing archive, this book is set to become an invaluable guide for collectors of vintage (whatever their budget) and all those who love fashion. Contents includes...Foreword by Hubert de Givenchy Prologue by Christopher Kane 1900s Paul Poiret Lucile Mariano Fortuny 1920s Jean Patou Jeanne Lavin Chanel in the Twenties 1930s Elsa Schiaparelli Style Icon Wallis Simpson Madeleine Vionnet - The Architect of Couture 1940s The effects of War on Fashion in Europe American Fashion in the Forties Christian Dior - The Saviour of French Haute Couture 1950s Pierre Balmain Cristobal Balenciaga - The Master Style Icon Grace Kelly 1960s Mary Quant Hubert de Givenchy Style Icon Audrey Hepburn 1970s Yves Saint Laurent in the Seventies Zandra Rhodes Vivienne Westwood and Malcolm McLaren 1980s Italian Masters Azzedine Alaia John Galliano 1990s The New Romantics Thierry Mugler Style Icon Kate Moss 2000s Later McQueen Style Icon Daphne Guinness Collecting Vintage Taking Care of your Collection . .And so much more!
Sklep: Libristo.pl
Sklepy zlokalizowane w miastach: Warszawa, Kraków, Łódź, Wrocław, Poznań, Gdańsk, Szczecin, Bydgoszcz, Lublin, Katowice
Szukaj w sklepach lub całym serwisie
2. Szukaj na wszystkich stronach serwisu
t1=0.02, t2=0, t3=0, t4=0, t=0.021